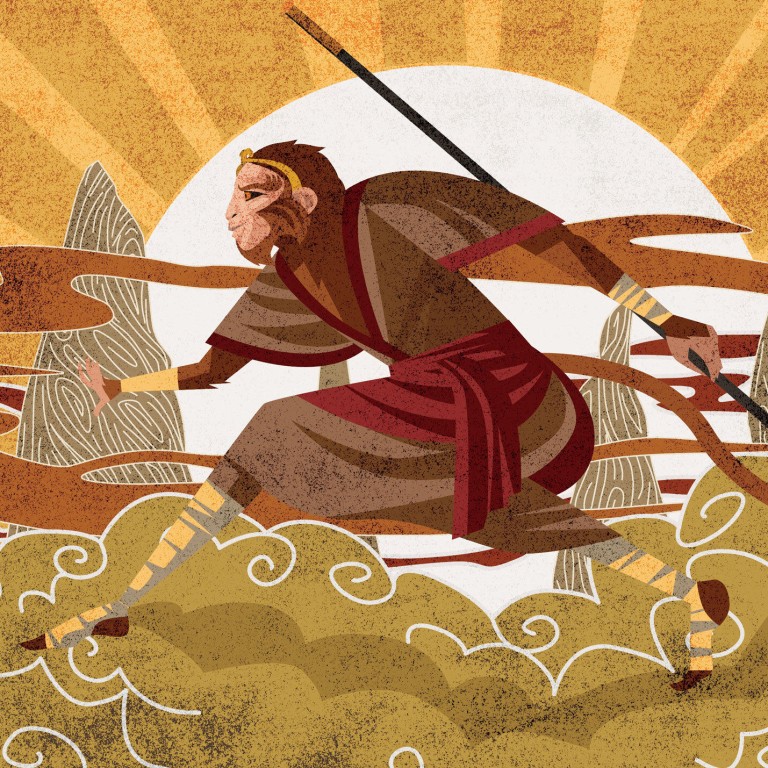 Review
Monkey King brought vibrantly to life for 21st century readers by translator Julia Lovell
Julia Lovell has put a modern spin on Wu Cheng'en's irrepressible supernatural hero
Unlike previous versions, the new abridged version of Journey to the West is accessible even to young readers
Monkey King
by Wu Cheng'en, translated by Julia Lovell
Penguin Classics
Five stars
One of Xian's landmarks is its Giant Wild Goose Pagoda, a buff-coloured tower built during the Tang dynasty (618-907AD), when the city – then called Chang'an – was the imperial capital.
The pagoda was built to store the sacred Buddhist texts brought back to China by Xuanzang, a monk who, in the seventh century, undertook a 17-year pilgrimage to India.
Today, in a square just to the south of the pagoda, a bronze statue of Xuanzang commemorates the monk, best known to the world today through a fictionalised and hugely popular 16th century account of his travels generally attributed, without much firm evidence, to an otherwise obscure writer named Wu Cheng'en: Journey to the West.
One might expect, given his historical significance and the epic hardships of his journey, that the monk would take the role of hero in Journey to the West.
However, the rather earnest and ineffectual pilgrim is entirely eclipsed in narrative interest by one of his disciples: the mischievous monkey, Sun Wukong, "one of the most memorable reprobates in world literature", as Julia Lovell writes in the introduction to her brilliant new translation of the novel.
Like the best-known previous English translation, Arthur Waley's Monkey (1942), Lovell's abridged version also takes its name from the novel's true hero – born of a magical stone atop Flower-Fruit Mountain, bestowed with supernatural powers and ready at all times to disturb earthly and heavenly hierarchies.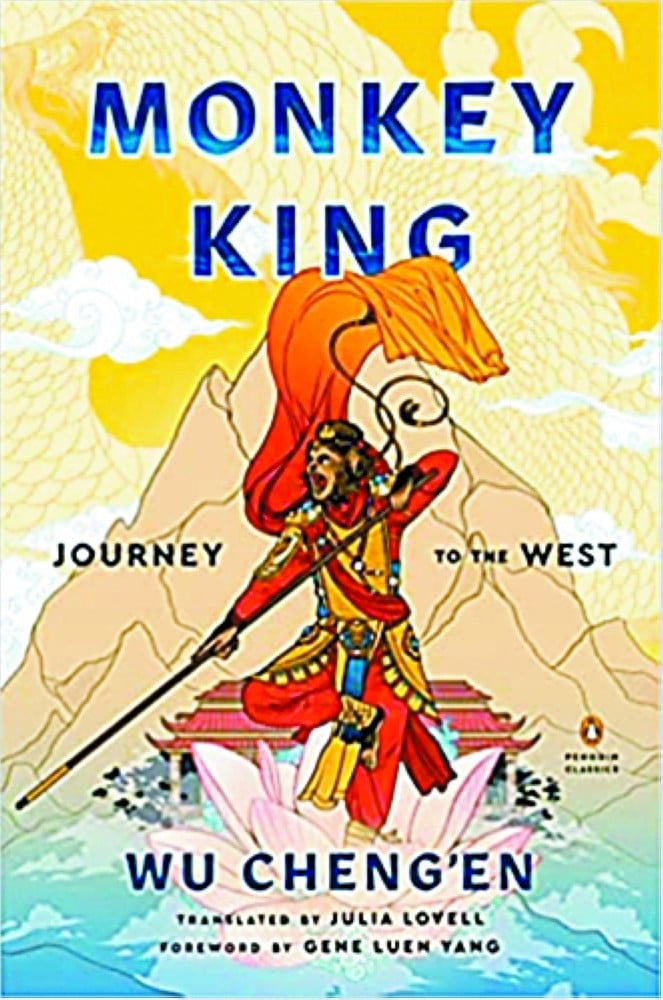 During the course of their journey to India, the Monkey King and Tripitaka (the monk Xuanzang) are joined by two further disciples, both fallen immortals: Sandy, a reformed river-monster, and Pigsy, porcine and insatiably greedy.
As the quartet progress towards their destination, they must overcome various obstacles, including impassable rivers, fiery mountains, serial imprisonment and hungry monsters.
Their repeated escapes and eventual arrival at their destination owe much to the quick wit and transformative powers of Monkey, who, with occasional help from Pigsy and Sandy, manages to rescue Tripitaka and permit the journey to continue.
In its unabridged form, Journey to the West is 100 chapters long; there is a full English translation by Anthony C. Yu, which runs to four substantial volumes.
The novel's length is one reason cited by Julia Lovell, professor of modern Chinese history and literature at Birkbeck, University of London, for undertaking a new translation. The other, as she simply states, is that "language changes".
Arthur Waley's abridged translation is now almost 80 years old, and has a formality and indirectness that Lovell's vibrant new rendering avoids. Take, for example, the opening of chapter five, where Waley describes Monkey's relationships with the heavenly hierarchy: "When there was nothing else going on, he went round and made friends with the other denizens of heaven. He was careful to address the members of the Trinity as 'Venerable', and the four Emperors as 'Majesty'; but all the rest, Planets, Lunar Mansions, spirits of the Hours and Days, he treated as equals."
Lovell's translation renders this passage far more simply: "In his unlimited free time, he cloud-toured other palaces and grew friendly with a constellation of heavenly luminaries: stars, generals, and guardians."
This clarity and brevity is characteristic of the prose throughout the new translation. Lovell's characters speak in colloquial voices, which brings them vividly to life for modern readers. Her Monkey King is accessible enough to be read with young children – not something that could necessarily be said for other translations.
Such a rendering returns readers to a question that the author addresses in her introduction: namely, what kind of book Journey to the West is. With its epic battles and magical creatures, is this quest narrative simply to be read as "good-humoured supernatural slapstick"? Or should it be read as a form of allegory, akin to John Bunyan's Pilgrim's Progress, where the journey is analogous of the spiritual or personal struggle of the individual and the novel's characters representative of different parts of human nature?
That Journey to the West can sustain such readings reflects its openness as a text, but any readerly desire to impose clear order and meaning on the novel goes against its subversive and playful nature – narrative tendencies exemplified by the disruptive, chaotic energy of its main character, Monkey, whose shape-shifting confounds his foes and whose transgressive behaviour authority figures are consistently keen to curb.
"With discipline, he might become a force for supernatural good," the prologue informs us. "Without it, he was pure animal – a wrecking ball in Heaven." By the end of the novel, Monkey has been somewhat brought to heel, but he remains, like other great literary travellers such as Don Quixote and the Wife of Bath, an unfinished article, irrepressibly himself.
Monkey begins Journey to the West in a quest to live forever; one hopes that Julia Lovell's wonderful 21st century account of his adventures will bring him continued literary immortality.