Personal visions – of climate change, post-colonialism, and more – bubble up from below the surface of This Devastating Fever, Sophie Cunningham's metafictional novel about a writer
Australian writer Sophie Cunningham returns to fiction with a story ostensibly about a writer composing a novel about Leonard Woolf, Virginia's husband
In fact it is a vehicle for her to write with passion and clarity about issues close to her heart, from climate change to queer sensibility
The metafictional preoccupations of Australian Sophie Cunningham's first novel in many years are clear from the very beginning.
This Devastating Fever's opening chapter, set in 1936, is an imagined exchange between Bloomsbury stalwart Leonard Woolf and his wife, Virginia, while they are preparing for a fancy-dress party. Virginia has decided they will be "each of us a bookshelf. One labelled Fiction, the other Non-fiction".
Cut to 2020, and author Alice Fox is struggling to complete her first novel in many years – on Leonard Woolf. In the first breathless 10 pages alone, potential titles are teased for her agent, of which This Devastating Fever is her favourite.
Alice teaches a course on writing novels, without "ACTUALLY WRITING A NOVEL", and considers any number of alternative plot lines, characters and stylistic and narrative tropes in pursuit of her literary goal. So far, so self-conscious.
But it is a mark of the perverse artlessness of Cunningham's writing that we not only remain invested in Alice's quest – the arc of which follows Leonard's long and productive life and Alice's more recent peregrinations through the process of researching and writing the novel – but are genuinely anxious to see if she can pull it off, even as we hold in our hands a novel on Leonard called This Devastating Fever by the author Sophie Cunningham.
"I did think of writing a version where Alice died of Covid," says Cunningham, on a Zoom call from her home in Melbourne, "but I thought that was a bit of a cop-out."
Along the way, any number of other versions suggested themselves: a doctoral thesis on Leonard and his early career as an administrator in British Ceylon; a three-hander with a librarian, a taxidermist and an author called "The Author"; and another iteration in which Alice appeared in more concrete form.
"I tried to keep it short," Cunningham sighs, "but Virginia kept barging in. And after a while I couldn't remember exactly why I had wanted to write about the Woolfs in the first place."
"I don't mind if you say that," she adds under her breath. Indeed, both Woolfs haunt the novel as literal and metaphoric ghosts.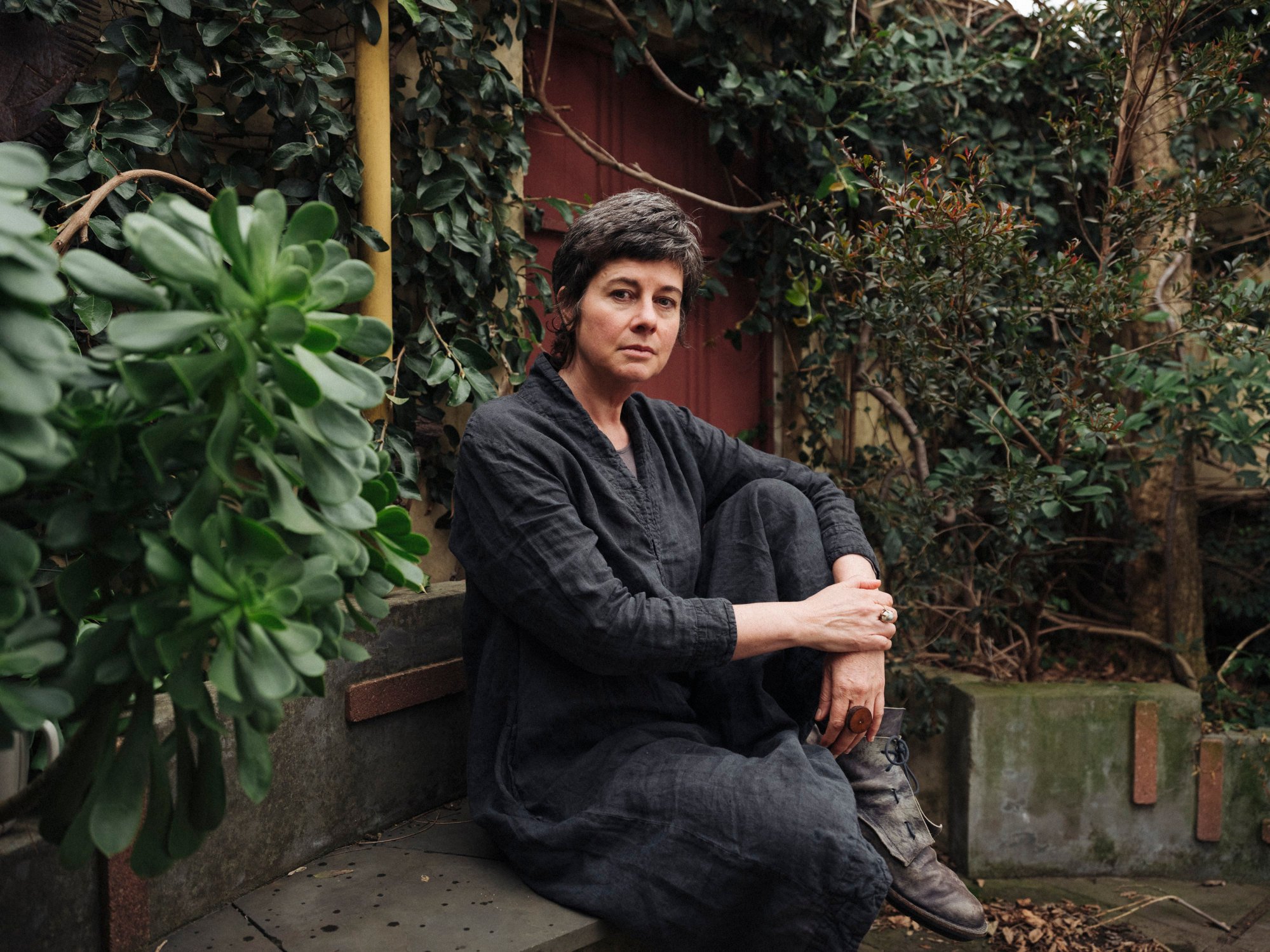 A good book, Cunningham says, "isn't just about the writing being good" – although her prose crackles and spits with a quintessentially Australian wryness, and soars when depicting the natural world in all of the novel's vibrantly drawn locales (Australia, England and Sri Lanka). "It's about the journey on which the reader is taken, and to what end."
In this sense, the literary self-consciousness of the novel is a decoy, however much Cunningham – and Alice – believe the book to be about the process of writing books. Its meta-ness belies engagement with politics as lived experience and an acutely personal vision: post-colonialism, climate change, the indignities of old age, queer sensibility, the burdens of care.
This is not the relentless, domestic auto-fiction of Karl Ove Knausgard, or the arch autobiographical philosophising of Rachel Cusk's Outline trilogy (neither of which Cunningham has much time for). It is a much more playful conceit by which Cunningham creates space for topics not just close to her life, but to her fierce intellect and passionate heart.
"Interesting ideas do not in and of themselves make for interesting novels," posits Cunningham clearheadedly, "though they help."
This intersection of the personal and political has been apparent throughout Cunningham's career. Her first novel, Geography (2004), imbued with a certain contemporary Bohemianism that also draws on Cunningham's own "complicated family structure", charts a highly erotic and self-destructive heterosexual relationship over seven years, but ends with the protagonist and her female travelling companion falling in love.
Her next, Bird (2008), the novel Cunningham "is least happy with", weaves a similarly intense web of mother/daughter psychodrama against a backdrop of Buddhism and 20th century world politics.
In the 14 or so years since last publishing fiction, Cunningham has turned more explicitly to a natural or built world under threat as a means to telling her story: Melbourne (2011) plays to Cunningham's great obsession with walking, and takes the reader on a part-history, part-memoir tour of her hometown.
The more recent City of Trees (2019) follows her to an extended stay in the United States while also laying out her increasing love of all things arboreal. (See, and contribute to, Cunningham's wonderful tree-dedicated @sophtreeofday on Instagram, and watch for her next book, on a West Australian forest in which she's setting out to "do a Robert Macfarlane", after the eminent British nature writer.)
Throughout, the rising cadence of political indignation is subtle but irrefutable. "We're already here," Cunningham says, as we discuss the coming dystopia.
Preparing for our interview, she sends me from Meanjin (an Australian literary journal that Cunningham once edited) her essay on the devastating 2020 bushfires, which she says "gives you an idea of the head space I was in when I wrote This Devastating Fever".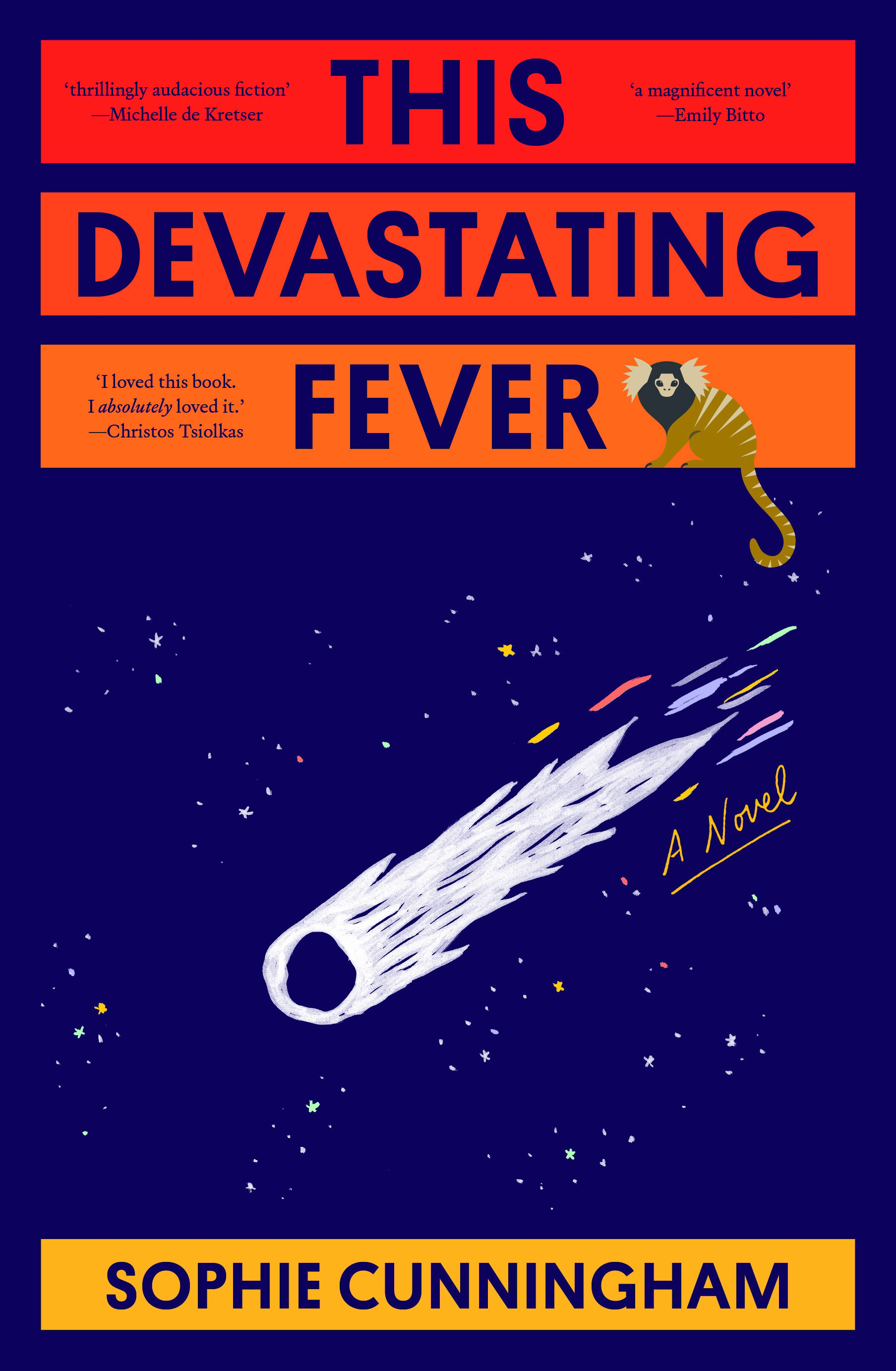 Let's just say the essay's title – "If you stay, we may not be able to save you" – only scratches the surface of her outrage, which, compounded by writing during the punitive Melbourne lockdowns, draws poetic correlation between the pandemic, systemic loss of natural habitat and the increased frequency of cross-species viral transmission.
Even her sweet and tender children's book,
Tippy and Jellybean: The True Story of a Brave Koala who Saved her Baby from a Bushfire
(2020), reflects the "gut punch" of her own sense of
loss of the up to three billion animals in the bushfires
. In these latter works at least, you "know what's in the jar", to quote Alice's merciless and constantly disappointed agent, Sarah.
But it is to Cunningham's credit, of course, that this mindset of righteous despair never overwhelms the experience of reading This Devastating Fever, even against a backdrop of parlous overheating and deadly disease. "I've been thinking a lot about the importance of hope," she says. "Giving up is a kind of luxury."
It is no coincidence, then, that the novel finishes with Alice stepping out of her cottage in the Macedon Ranges above Melbourne, her students occupied with a writing exercise, to witness an electrical blackout of the city caused by "the largest wind gusts for a hundred years, maybe a thousand, who the f*** knew?"
The author surrenders herself to the "cold beautiful violence" of the elements and is both frightened and comforted by the loud, close cry of an owl.
As Cunningham points out, Macedon itself, with its quasi hill-station vibe and old English gardens, is a "place of colonisation"; even the traditional novel bears part responsibility for the unchecked "extraction" of the planet it charted but did too little to argue against.
So maybe there is a case, we both suggest, for the novel to be replaced by something new, less constrained and buttoned-up. Perhaps, rather slyly, This Devastating Fever is attempting something quite radical.
This Devastating Fever by Sophie Cunningham is published by Ultimo Press