When he visited a three-storey village house for sale in Clear Water Bay two years ago, architect Edmond Wong Hon-chun was confronted with windows of opportunity.
The previous owner, who had no architectural or design experience, had tried to cut renovation costs by employing a company that drew up plans for the site without even having viewed it. The property ended up with two large windows facing a tall retaining wall while a small toilet, helper's room and kitchen had little windows that overlooked the garden and greenery on the other side of the house.
Wong, of Design Corporation Limited (DCL), saw the property's potential, so bought it, gutted it and changed the layout, keeping all communal living areas downstairs, a bedroom and study on the first floor, and the master bedroom and a guest room on the top floor.
He blocked the picture windows on the ground floor (see Tried + tested) and instal­led a working fireplace to add an interesting focal point. In addition, he removed the small downstairs rooms and demolished part of the first floor to create a double-height void, thereby visually connecting the living room to the upper gallery. Installing double-height glass windows instead of small fragmented panes allowed natural light to flood the living area while making the best of views overlooking a stream.
A French art curator's gallery-like home in Hong Kong
Used to designing homes for Hong Kong's rich and famous, Wong was slightly hampered by his own, more limited budget and too many ideas. Utilising all available space, he kept the 2,100 sq ft house clean and simple, with a grey-and-white colour scheme and concrete flooring downstairs.
The result is exactly what Wong's current tenant, Helen Smeaton, was after. The Australian runs The Art House Asia from home, offering eclectic pieces by emerging artists from Asia and Europe as well as photographs by Hong Kong-based Phillipa Bloom.
"The combination of the light with the bare white walls works perfectly to showcase the artwork," says Smeaton, who manages to juggle art-buying trips with her role as business partner at Chalice advertising agency. "I've never had both before. Normally, the houses I go for have lots of glass, which restricts you from hanging canvases."
Designer bows to artist in Hong Kong flat revamp
Having previously lived in Australia and Singapore, Smeaton moved to Hong Kong last year after her husband, who works in the shipping industry, was transferred here. At the time, she had decided to start afresh and chose to leave all her furniture in Australia. When she started shopping for new pieces, however, she was staggered by how much it would cost to kit out a home.
A piece of art can change the look and mood of a room – and it can even look different itself when you change its loca­tion
"I was absolutely despairing because I found everything was so expensive and I couldn't believe how stupid I'd been not to bring anything from Australia," she recalls. "By chance, I went into Home Essentials. I was snappy and teary because I didn't know how on earth I was going to furnish an entire house and luckily met Christopher [Exline, chief executive of the furniture retailer]. Together, we set a budget and he kept within it to the dollar."
Minimalist chic: a Hong Kong apartment shows how it's done
Not that you would know it. Smeaton's home looks elegantly top end – even Arthur, the family's rescue dog, blends in perfectly. Furniture, which is predominantly grey, white or natural wood, is kept to a minimum and there is a complete absence of clutter. It makes the house the perfect backdrop for Smeaton's art collection and, she says, first-time clients often can't believe they are in a family home (one child lives at home; one is at university).
Bringing life, energy and colour even to a bare landing, the photographs, ceramics, canvases and sculptures are swapped around regularly and swiftly replaced when sold.
Hong Kong couple's growing art collection finds a home in Southside house
"A piece of art can change the look and mood of a room – and it can even look different itself when you change its loca­tion, which always amazes me," Smeaton says.
Wong, who has become Smeaton's friend as well as her landlord, is thrilled that his house is doing double duty.
"It's a great idea – a very personal, very relaxed way of buying art – and I think it is the way of the future," he says. "It is also very satisfying to see my house come alive."
Living area The glass coffee table (HK$2,900), easy chairs (HK$3,500 each), ottoman (HK$3,600), dining table (HK$13,800) and White Tower chairs (HK$990 each) were all from Home Essentials. The Moroccan rug was HK$12,000 from Shambala (now closed). The silver vase on the dining table was HK$199 from H&M Home. The two artworks, called Woman, by Chu Van, and Dali, by Anuchit Klinkulab, were sourced by The Art House Asia.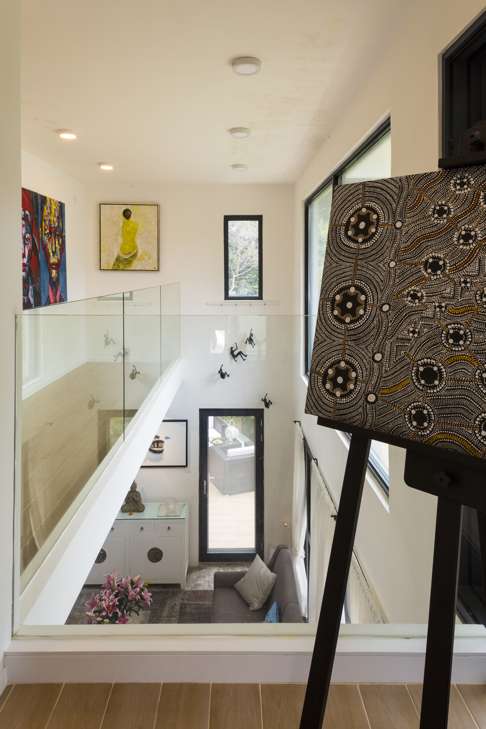 Landing gallery Sapa Girl and Serious Man (left), by Nguyen Manh, and Dreamtime Map (right), by Wiradjuri, are all from The Art House Asia. The nude is by Chu Van.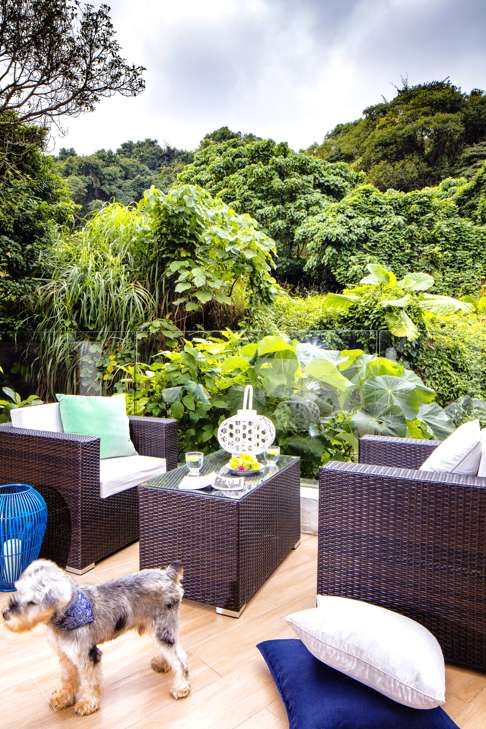 Terrace The outdoor armchairs (HK$3,800 each) and table (HK$1,600) were from Home Essentials.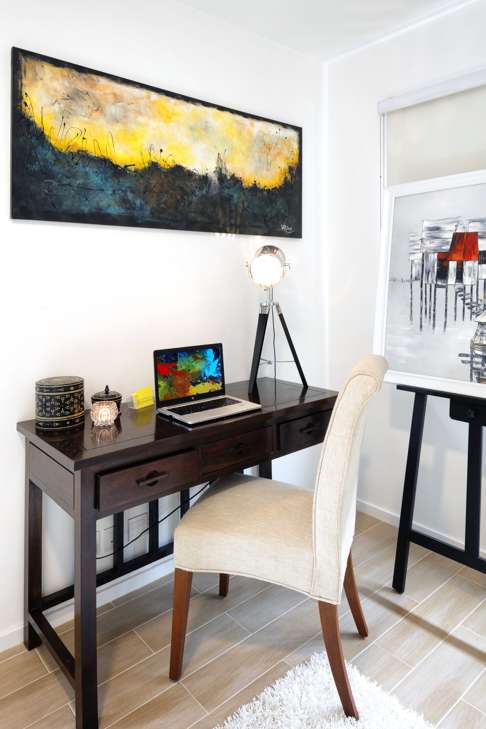 Study The Java desk (HK$4,100), lamp (HK$1,850), Indian cotton rug (HK$1,280) and chair were all from Home Essentials. Haxos Island, by Veronica Vilsan, and Stilt House were sourced through The Art House Asia.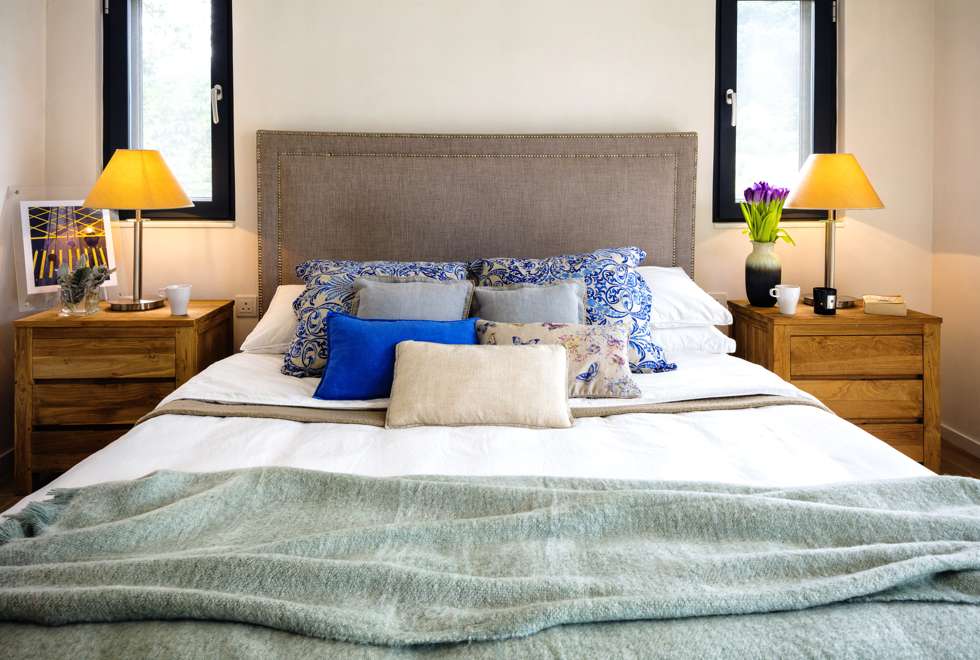 Master bedroom The Lincoln Park storage bed (HK$13,500), Anguila teak nightstands (HK$3,600 each) and lamps (a housewarming gift) were from Home Essentials. The mint throw was HK$299 from H&M Home and the cushions (from HK$99 each) were from Zara Home. Rainy Day Blues, by Phillipa Bloom, was sourced through The Art House Asia.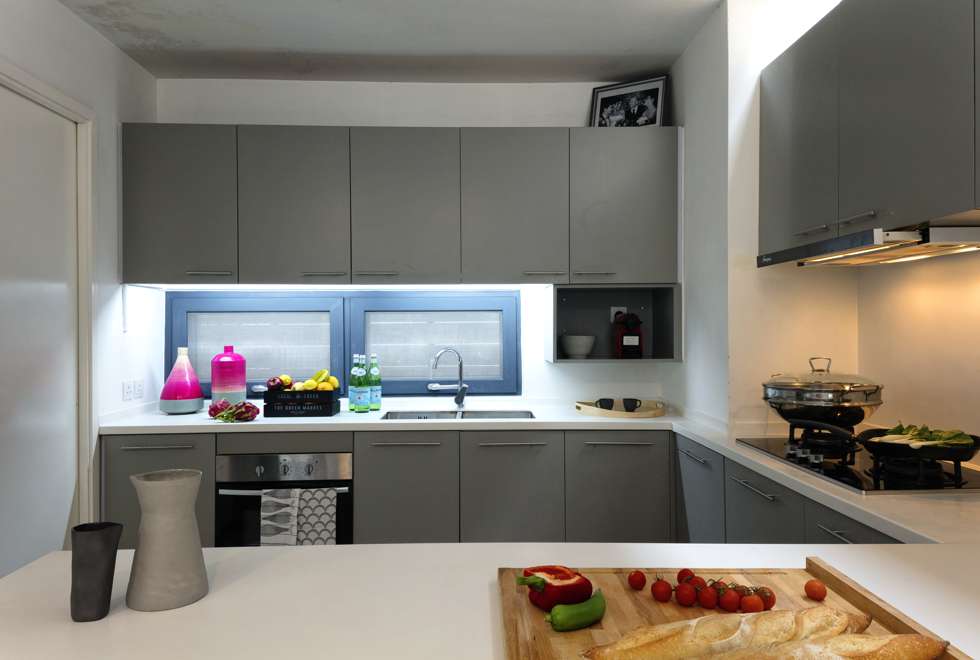 Kitchen The kitchen, with Corian countertops, cost HK$100,000 and was installed by DCL. The pink vases and charcoal cup and jug were from Bamboo Village, Hanoi, Vietnam.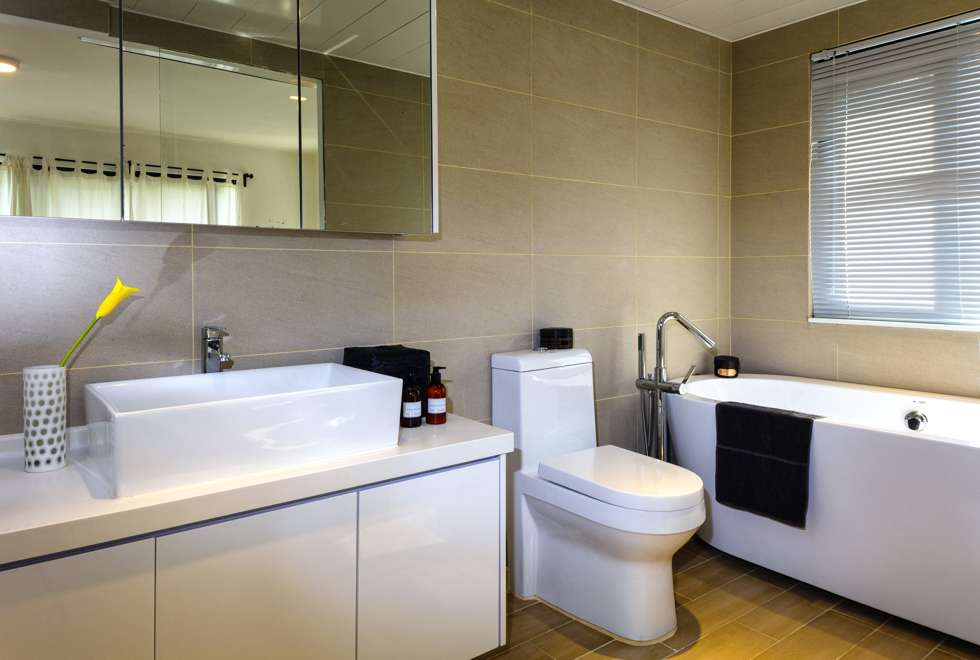 Bathroom The bathroom was installed by DCL.
TRIED + TESTED
In a good light Architect Edmond Wong Hon-chun, of Design Corporation Limited, blocked out an ugly view while retaining light by keeping the existing recessed window structure and inserting a skylight above it. The solution not only allows light to enter the living area but also adds depth and interest to what would otherwise have been a solid wall.