Nick Troedson had been flat hunting for 18 months and seen 60 to 70 properties when he resigned himself to the possibility that nothing out there would suit his style or pocket. But then – like others who have "given up" yet continue to scratch the itch – he stumbled across a rental apartment that unsettled him, in a good way.
"It looked really familiar," he says, recalling the sleepless night in 2015 when he saw the flat online. "Then I remembered I'd been to the apartment before. One of my friends used to live there. It was like a frat house when he had it."
After more memory plumbing, Troedson, an Australian who grew up in Hong Kong, realised he also knew the flat's owner (a relative of his friend). Previously, as a guest, he'd been in the open-plan living areas only. So what lay beyond the corridor was make or break.
Green with envy: unusual colour used to transform art-filled Hong Kong flat into spacious home
Luckily, it clinched the deal. The landlord had judiciously renovated both sides of the 1,600-sq-ft flat and created not only a beautiful front half but also roomy private quarters with the sort of appointments (among them a walk-in wardrobe) important to Troedson. It also boasted a bright study with views over a quiet pocket of Happy Valley, an airy bedroom surrounded by greenery and, perhaps most alluring of all, a capacious open en suite in mono-chrome hues.
One look at these rooms and Troedson was certain he had found his new home.
"I'd never seen anything like it in Hong Kong and immediately wanted it. The owner said, 'I'd love you to take it because I know you'll care for it.'"
An all-white Hong Kong apartment turns to the dark side
Troedson – Asia-Pacific public relations head of online fashion retailers Net-a-Porter and Mr Porter – has done more than that. Like a well-cut suit turned into a work of art with gorgeous lining, the apartment has been transformed with bold superficial enhancements (he is only a tenant, after all) and look-and-you're-hooked collectible furniture and accessories bearing the impri­matur of, among others, Carl Hansen & Søn, Maison Margiela and, of course, Mr Porter.
Troedson's most effective design decision, however, was to choose jet black for many of the walls, continuing where his landlord had left off: handsome black mosaic tiles make a statement on the floor of a sunny enclosed balcony off the living room.
A 395 sq ft Sheung Wan flat gets a modern monochrome facelift
A trend that has steadily gained traction in the past few years, black surfaces counter-intuitively invigorate interiors, especially when contrasting elements are added to the mix. In Troedson's home, lustrous metal accessories (in bronze, copper and gold hues) do the trick, adding warmth to the cool dark­ness and, in the process, enhancing both.
"I wanted it to be modern and masculine," Troedson says, acknowledging that his walls were painted in stages because of worries more might be less. "I was sitting [in the living room] one night and it started to bother me. The kitchen was still quite white and it was not working."
Now all black (save for the floor and wooden counter­tops), the more public areas are distinguished from the pale private rooms. Wall-to-wall cupboards, with doors covered in muted metallic wallpaper, separate the study from the sole bedroom.
Scandinavian couple's Hong Kong village home a homage to Danish design
"When I moved into this flat it was a new start for me," says Troedson, who began his career at a young age, working initially in visual merchandising and as a stylist. His flair – and love of interior design and pop culture – is evident throughout, although something else lay behind his wanting stylish surroundings.
"I'm a homebody so that's why it was important to me," he says. "A lot of people said, 'By Hong Kong standards the flat is too big for one person,' and I was like, 'I don't care!'
"If I am not at work, I want to be home. I love having somewhere I can invite friends and just chill."
What better vindication for having waited so long for the perfect flat to make the perfect home.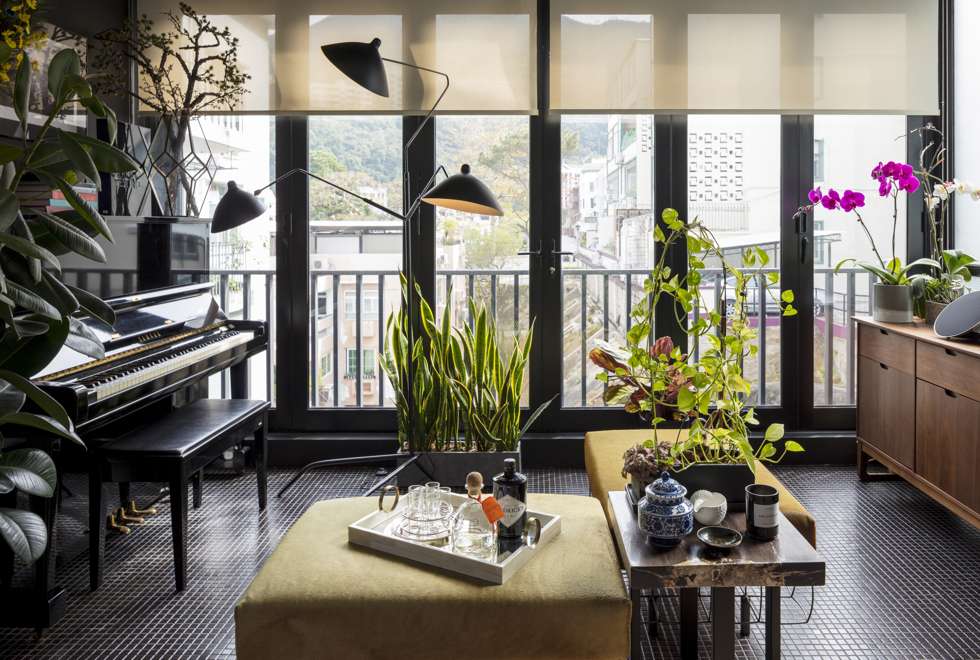 Balcony A deep enclosed balcony floods the flat with light and forms the perfect piano room for tenant Nick Troedson. The two mustard-coloured benches were gifts from a now-closed shop in Sheung Wan. The table (HK$10,800) between them, made of petrified wood, was from OVO. The floor lamp is a discontinued item from Indigo.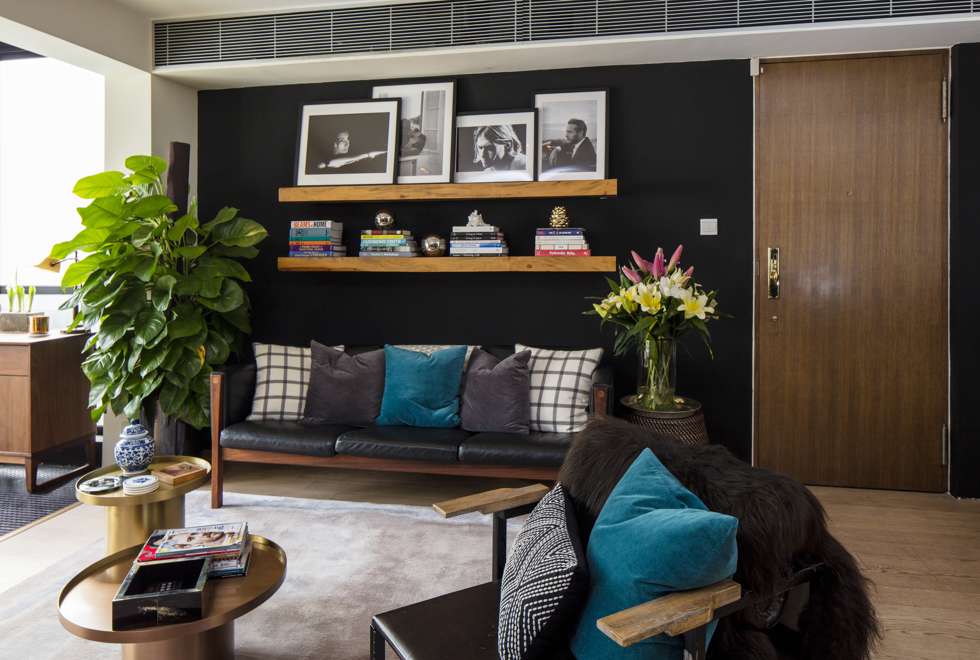 Living room The front door opens directly into the living area, which features a Carl Hansen sofa (HK$68,000) from Manks. The armchair was a gift and the two metallic coffee tables were from a friend who changed his mind after having bought them. By the door, the stool (HK$1,800) came from Tree. The rug (HK$21,500) came from Omar Khan Rugs. The Sonic Editions limited-edition black-and-white photographs were bought through Mr Porter.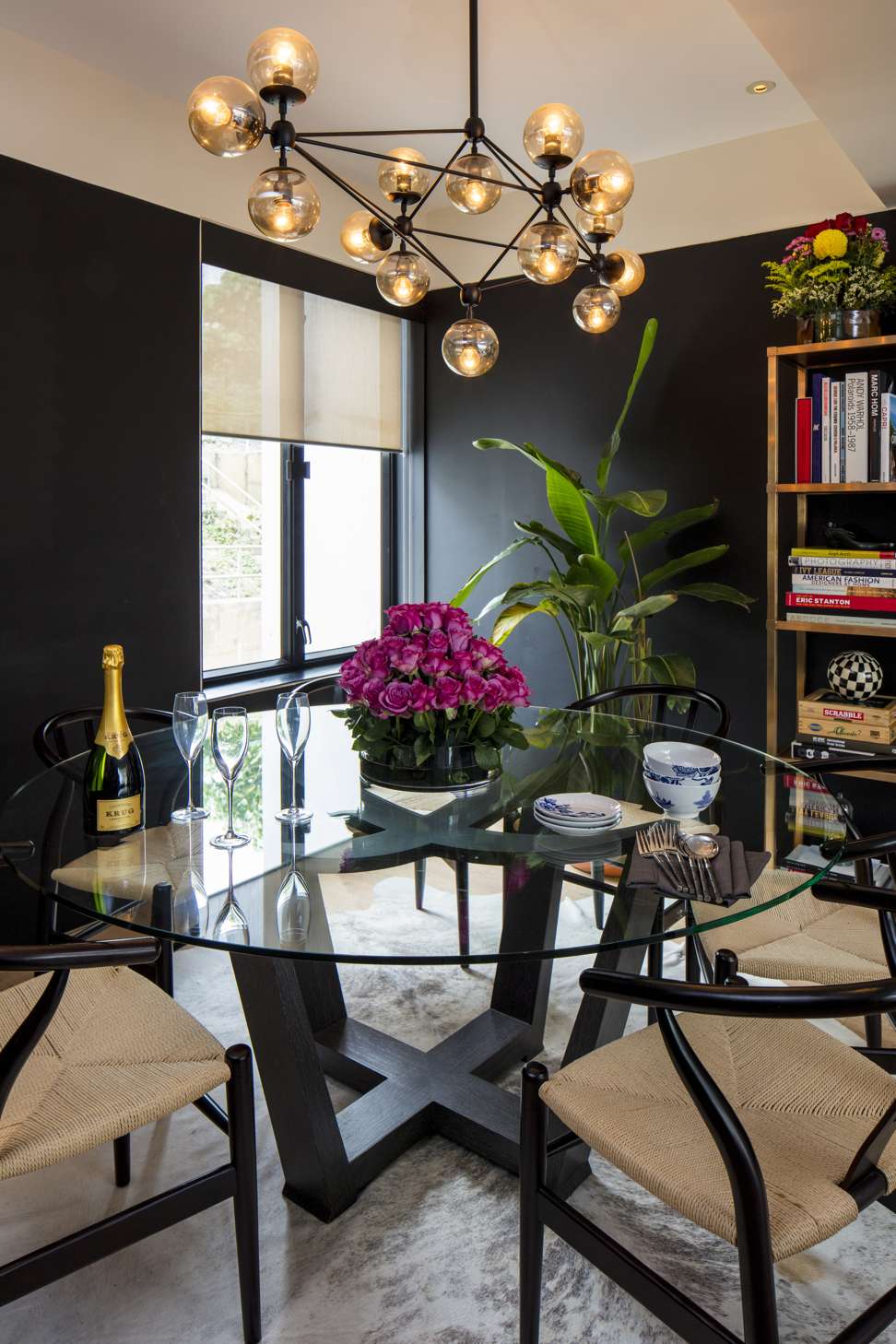 Dining area The Head chandelier (HK$6,080) came from Nature Evolution. OVO was the source for the dining table (HK$13,500). The dining chairs (HK$40,000 for six) came from Manks and the bookshelf (HK$13,990) was from Indigo.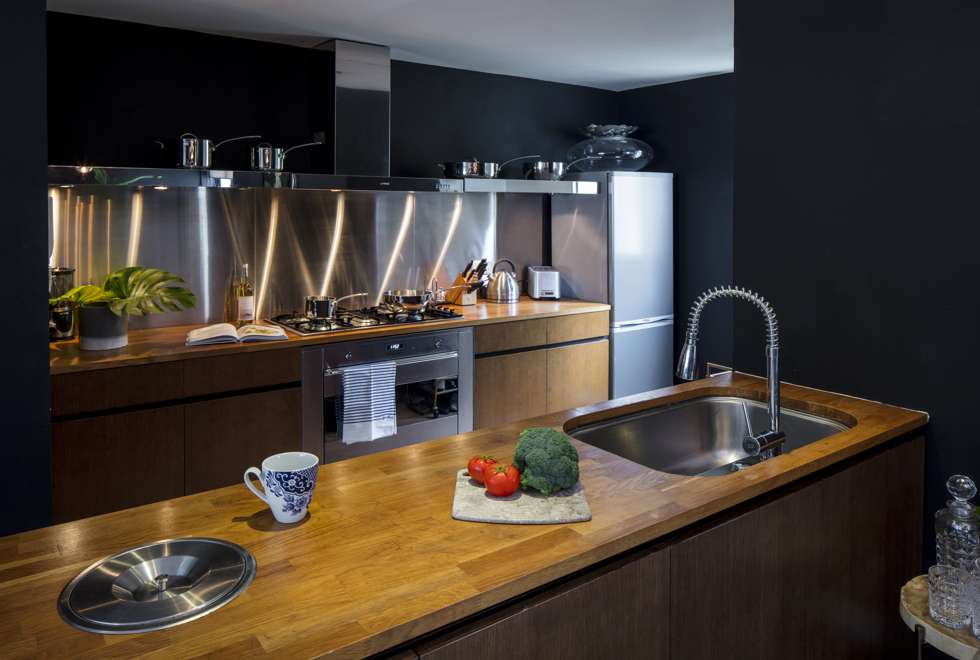 Kitchen One of the last areas to be painted black, the open kitchen, by the dining area, was otherwise untouched.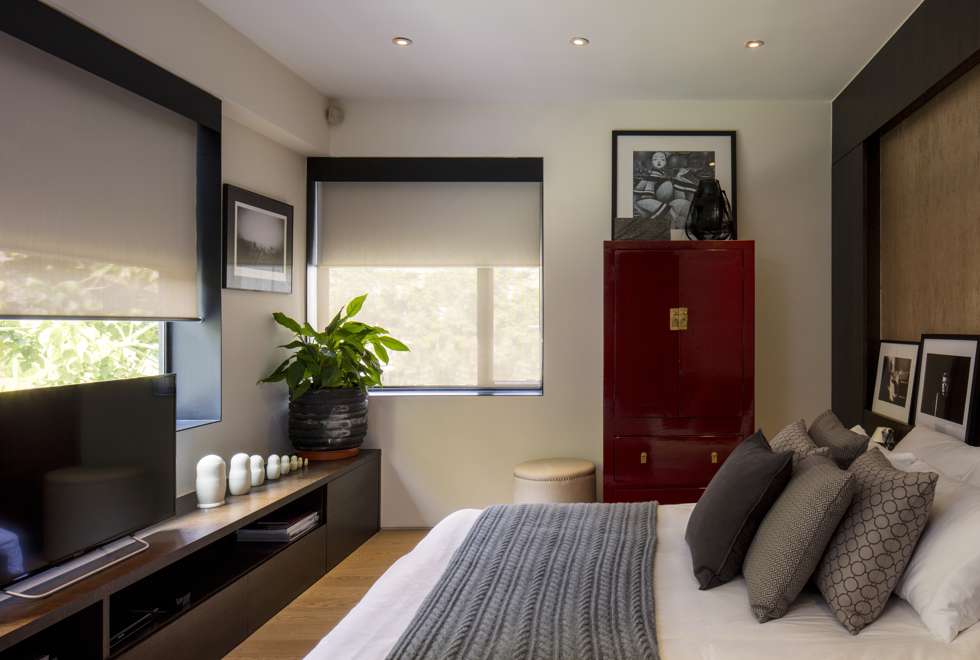 Bedroom The sole bedroom segues into the open en-suite bathroom. The Chinese cupboard (HK$14,800) came from OVO and the Bontempi Casa Tone Pouf (HK$4,999) from Aluminium. The Matryoshka doll set (about HK$1,370) by Maison Margiela is sold through Mr Porter. The cushions (from HK$750 to HK$900) were from Bowerbird Home. The photograph on the wall was a gift.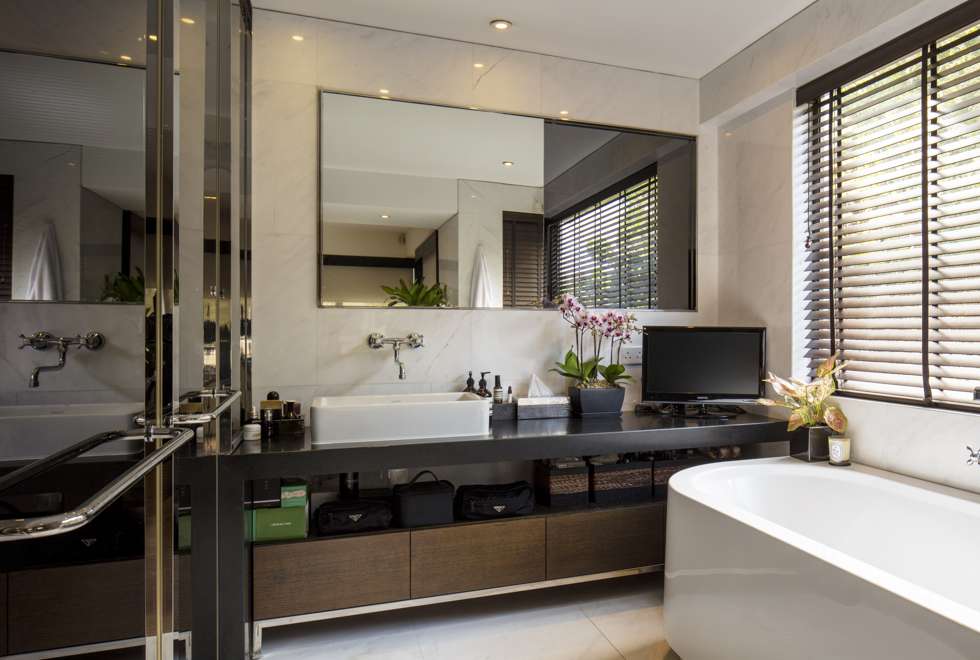 En suite The open en-suite bathroom set the tone for Troedson's decorating. The plants throughout the house are from OVO Garden and the flower market in Prince Edward.
Tried + tested
N-ice place! Nothing says it's time to party like an ice bucket fitted into a kitchen counter. These flush-mounted buckets are designed as drop-ins, and can also be used to chill wine, hold soup and ... stash keys. The bucket in Nick Troedson's home was fitted years ago but similar indoor and outdoor versions are available from Home Depot, in the United States, and Rakuten, in Japan. The poster was a gift.