Hanging on a wall of a Sai Ying Pun flat is an atmospheric black-and-white photograph of a child working on a make­shift desk in an alley. Steam drifts past shuttered windows; shadows fall in mysterious ways. Shot in 1963 by Fan Ho, who died last year, Her Study is the type of image that resonates with Jackie Ng Pun-lam.
"I'm really into old Hong Kong," says Ng, a lawyer who, with husband James Black, infused a generous dollop of nostalgia into their 44-year-old apartment.
Going back in time for the couple, however, meant more than just shopping for the desired look. As important was saving everything they could from what they already had.
That meant restoring the original parquet flooring, a second time, throughout much of the 860-sq-ft flat, where the pair have lived for the past six years. In 2011, having acquired the apartment, the couple undertook a renovation that saw them project-manage the work to save on costs. That first attempt resulted in a relaid floor that soon dipped and cracked.
How to fit two boys and parents' pricey toys in a Hong Kong flat
This time, in part to fix the foibles of the initial refurbishment ("James and I were inexperienced," Ng says) and because they are now busy parents to two boys, aged two and three, they chose a team they hoped would take care of (almost) everything and leave them stress-free.
Familiar with the work of Hintegro's Keith Chan Shing-hin, which they had seen in Post Magazine, they interviewed him, among others, hoping to find a designer whose modus operandi matched their own.
"Most people fobbed me off when I said I wanted to keep the floor," says Ng, who grew up in Hong Kong and Australia.
The excuses given were many: restoring the parquet would be technically difficult, sourcing the materials (if anything broke) would be impossible and why do it when it would be cheaper to rip it all out and start again.
"In Hong Kong, when you ask for things, the first answer will be 'can-not'," says Black, an English chef who has lived here since 2005. "But with Keith, his eyes lit up. I thought, 'Good, we're on the same wavelength.'"
Apart from reinstating the old floor, Chan returned the flat to its original three-bedroom layout. Before becoming parents, the couple had collapsed one bedroom to create a walk-in wardrobe, in the process enlarging the living room.
To create more storage opportunities now that two have become four, Chan built a wall unit and storage bench into the living room. He also stole space from the disprop­or­tion­ately large kitchen for a capacious floor-to-ceiling unit in the middle of the floor (re-tiled in mosaic tiles reminiscent of those found in cha chaan teng).
"Jackie wanted somewhere to keep my bicycle," says Black. "She doesn't want to see my stuff."
Another major change was the creation of a "gentleman's bathroom".
"We did it from scratch because the first time around it was poorly executed," he says. "I wanted it to feel like a barbershop. I wanted to be able to shave properly because I have a collection of straight razors. And I wanted everything to be accessible."
Elsewhere, Chan improved where it made sense to do so. That included installing black-metal-framed "Central market" windows, with double-glazing to reduce electricity bills, and small transom openings above doors that would have aided ventilation in the days of yore. The openings, now fitted with wire glass instead of boarded over, help illu­minate the rooms when doors are closed.
A kid-friendly Hong Kong home that doesn't scrimp on style
Having a home completed the way they wanted it, and on budget, the couple have learned the hard way that renovations need not end in tears. There may also have been a lesson on when and why to delegate.
"We visited the site three times over the [two-month refurbishment] period, whereas for the previous time we were here every day," says Ng. "We're happiest about the complete lack of stress. This time around it was: 'You do it, Keith.'"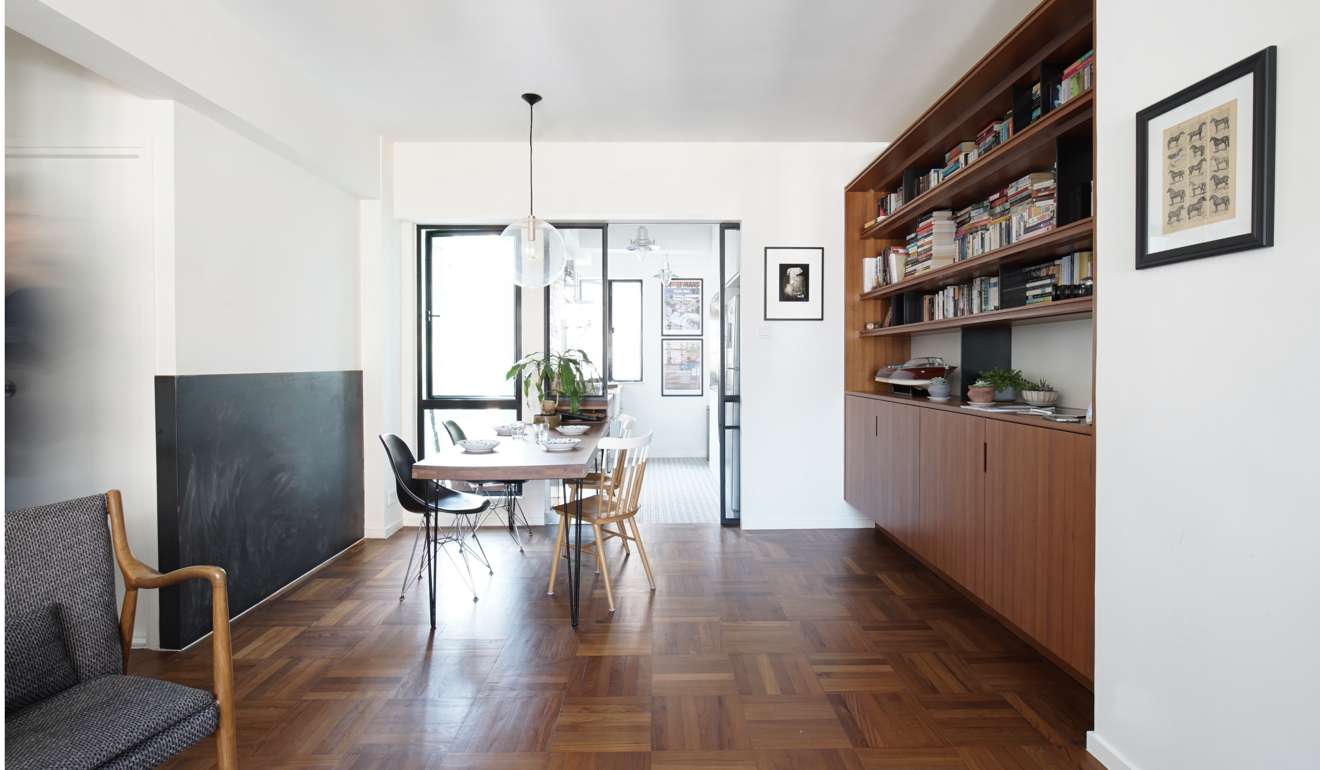 Dining area The photograph on the wall by the kitchen, titled Her Study (1963), is by Fan Ho. The black-framed windows and doors throughout the apartment were sourced through Hintegro for HK$1,000 per square metre. Retained from the first renovation of the flat were the dining table and chairs. Behind the black chairs, a piece of steel with transparent coating (HK$2,600) was affixed to the bottom half of the wall to act as a protective panel and as a blackboard for the children. The round Barnaby Pendant lamp (HK$1,490) came from Indigo. The teak-veneer wall shelving unit was designed and built by Hintegro for HK$35,000.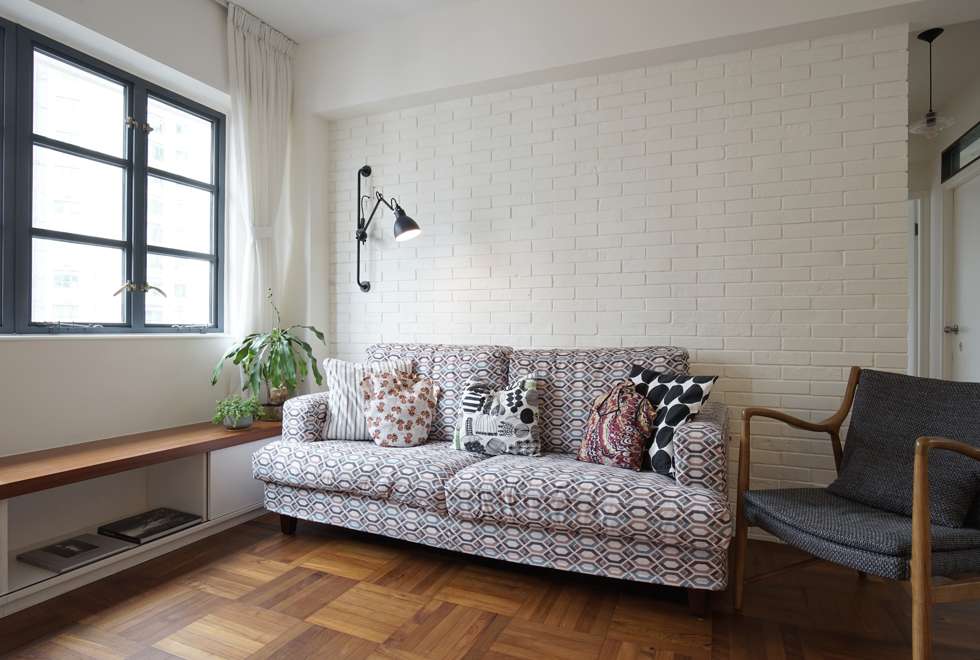 Sitting area Cushions covered with fabric from old clothes sit on a re-upholstered sofa. The GRAS DCW wall lamp (HK$4,000) came from Mr Blacksmith and the armchair is old. The teak-veneer-top bench with storage (HK$19,000) was designed and built by Hintegro. Adding texture to the simple living room is a wall created with conventional bricks painted with white emulsion and sliced for a slimline profile. The sliced bricks cost about HK$150 per sq ft.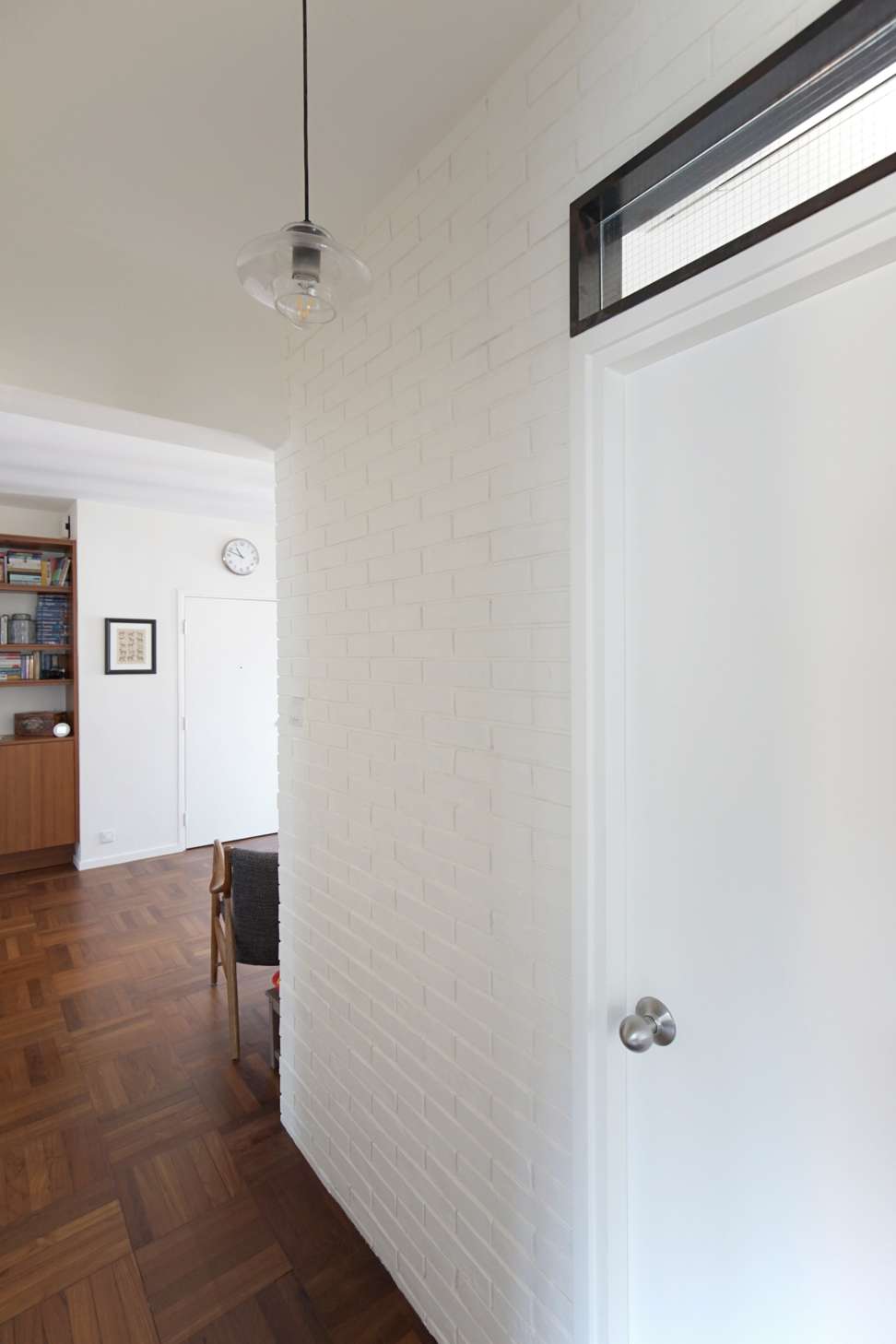 Living area detail Boards blocking the transom windows above doors to the children's rooms were removed and the openings were fitted with wire glass. The pendant lamp was bought years ago in Shenzhen.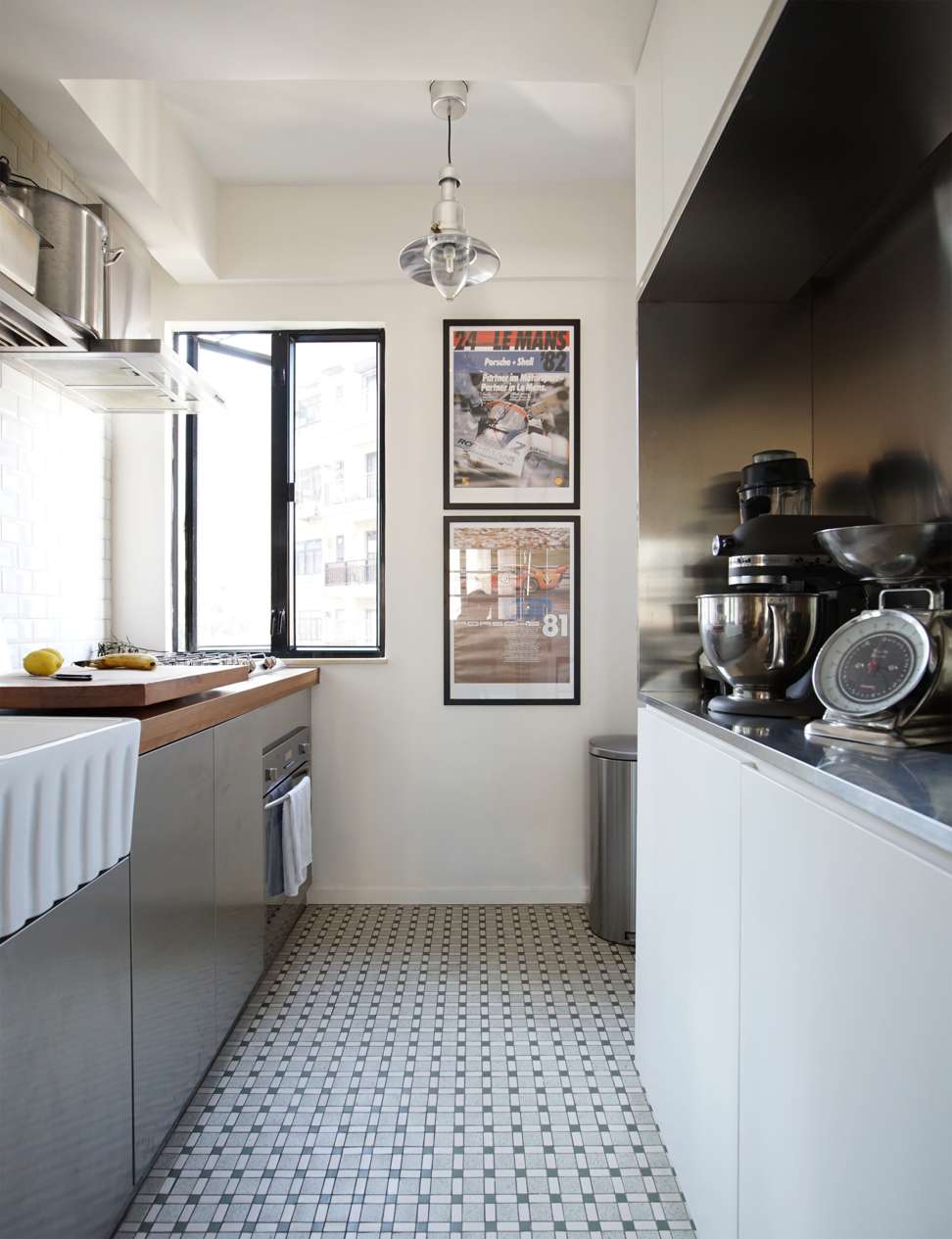 Kitchen Bisecting the space is a floor-to-ceiling storage unit (HK$27,000) designed and built by Hintegro. The floor tiles (HK$20 per square foot) came from Hop Hing Lung Material. The Ikea pendant lamp was reused and the extant sink bench was re-oiled and its hinges fixed.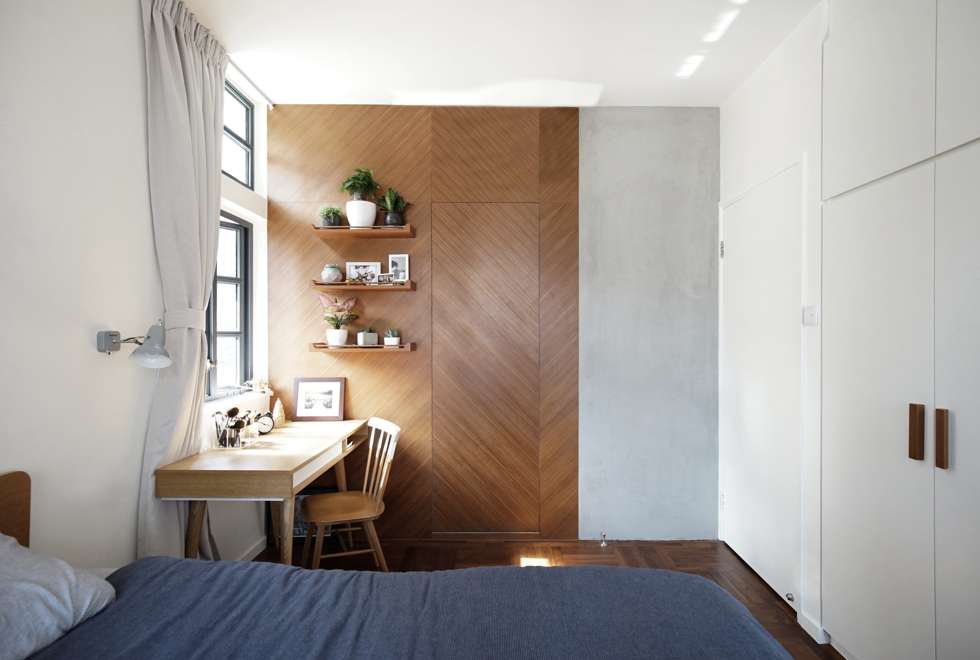 Main bedroom For feng shui purposes, the door to the ensuite bathroom was concealed. Hintegro re-clad the wall (HK$17,000) and treated one corner with cement plastering, for visual interest. The Case Furniture Celine Desk from bought five years ago at Lane Crawford and repaired recently by Hintegro. The Anglepoise mini-wall light (HK$1,200) came from Archetypal. Jackie Ng updated the chair, a pair of which had been abandoned in a previous apartment.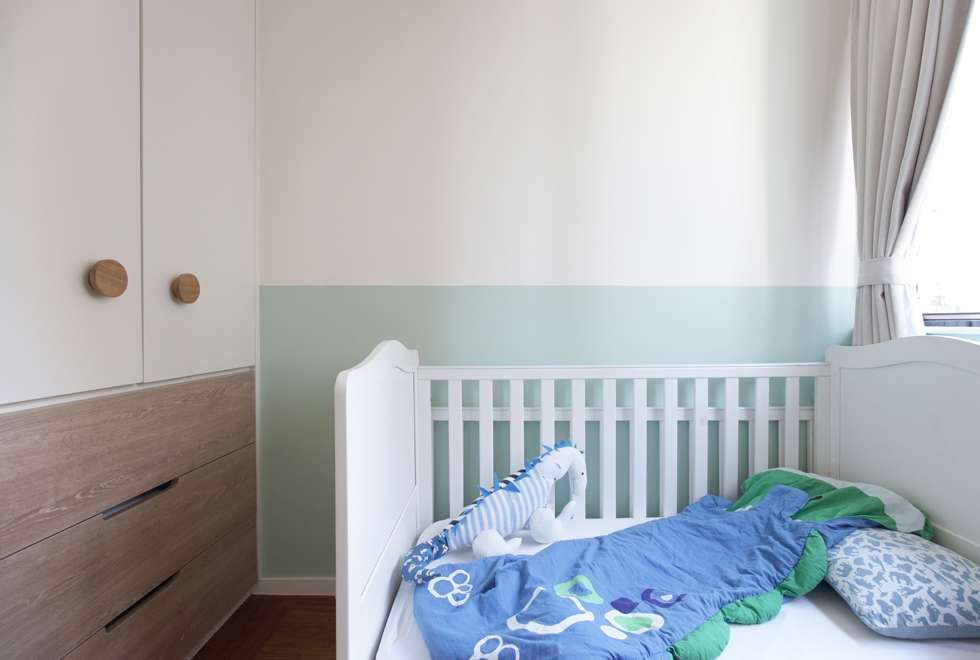 Child's room Peppermint-green half walls feature in one of two children's rooms (the other is painted in blue). The cupboard (HK$14,500) was designed and built by Hintegro. The bed was a hand-me-down from a friend.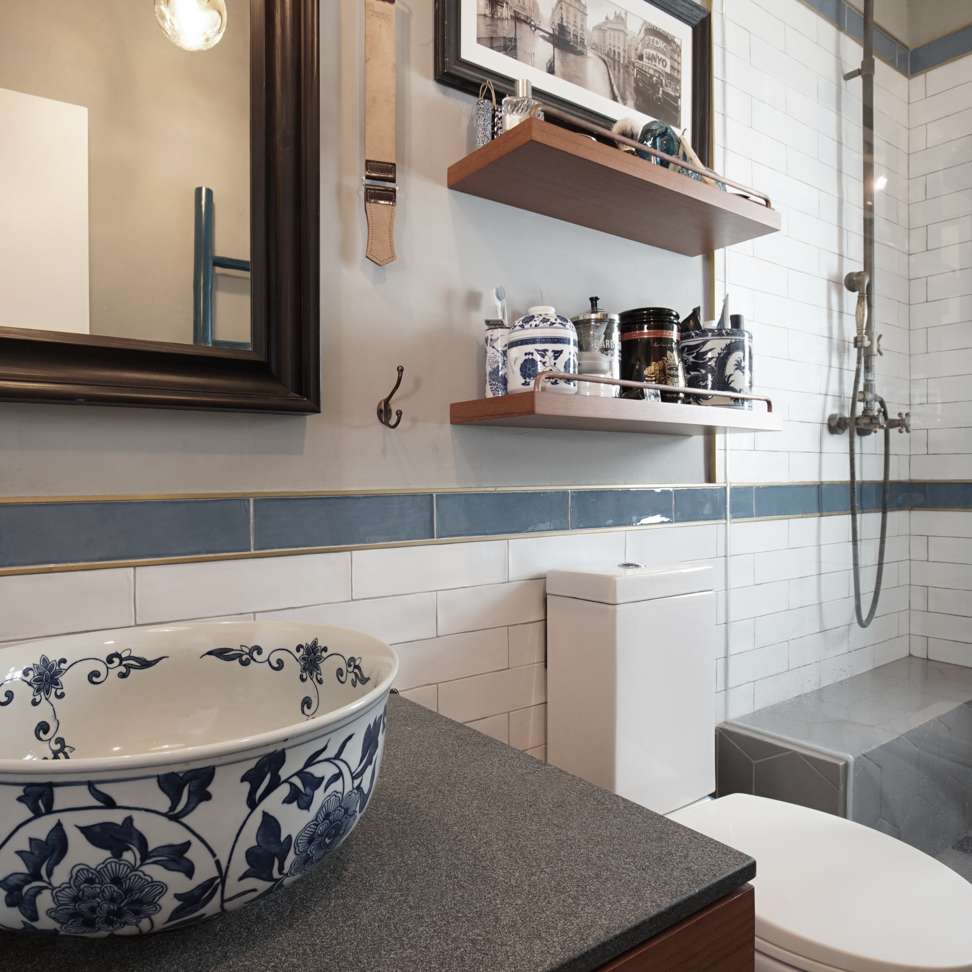 Gentleman's bathroom The shower fixtures, basin and hooks were retained for the new bathroom, which allows James Black to shave in style. Hintegro designed and built the shower cubicle (HK$10,000) and exposed shelving (HK$600 a piece). The subway tiles (HK$12 per tile) came from Hop Hing Lung Material (235 Lockhart Road, Wan Chai, tel: 2511 3013). The sepia photograph is of Piccadilly Circus, London, and was bought years ago.
TRIED + TESTED
Hold on to your seat Inspired by Pinterest, Jackie Ng had an old chair updated. Hintegro fixed the legs, sanded and re-lacquered the wood and painted a top section white to give meaning to the expression "what's old is new again". It cost HK$1,500 to give the chair a second life.