When Kevin Chu Yau-wing and his Italian wife, Giulia Dibonaventura, bought and renovated a flat in Discovery Bay on Hong Kong's Lantau Island in 2015, they decided it should be as eco-friendly as possible. The decision came naturally: Chu is the founder of COC Design, an architecture firm that specialises in sustainable design.
"In Hong Kong, when a flat is nice looking, it is only nice looking – there isn't much environmental consciousness," he says. "I wanted to prove you could have both."
Chu believed that could be achieved without a massive overhaul of the 1,293 sq ft, three-bedroom flat, which comes with a roof terrace overlooking Discovery Bay's harbour. He and Dibonaventura outfitted the space with furniture and finishings made from recycled or upcycled materials.
Reclaimed and recycled wood cuts waste in family home refit
"There's nothing real here – it's all artificial," says Chu, of the living room.
All the floor and wall tiles in the flat are made from recycled particle porcelain – a fancy name for construction waste that has been ground down and compressed into a tile, with a digitally printed texture on top.
"The surface of these tiles is very solid, not porous like stone," he says. That means they won't be damaged by moisture or crack with changes in temperature and humidity.
WATCH: Inside Kevin Chu and Giulia Dibonaventura's Discovery Bay home. Music credit: www.bensound.com
In the living room, Chu is particularly proud of a wall covered with oriented strand board, also known as aspenite, which is similar to particle board.
"It's commonly used in retail spaces but not in Hong Kong residential [units]," says Chu, who likes the warmth and rawness of the material.
Architect couple create a spa-like retreat amid Hong Kong hubbub
In the master bedroom, a cork wall was installed for similar reasons. "Cork is one of the most sustainable materials, because they just take off the bark, rather than chopping down the whole tree," he says.
Recycled materials have been used to make a lot of the flat's furniture, such as the living-room bookshelf, which consists of styrofoam packaging remoulded into interconnecting units that can be stacked and rearranged at will.
Why health-improving homes are the new green, and the designers helping you sleep better than anyone you know
"It's lightweight, too, which was important because we don't have a lift in the building," says Chu.
The couple's many house plants serve a secondary purpose: they were chosen for their ability to filter the air, which eliminates the need for electric purifiers. Polyscias, devil's ivy and lucky bamboo are some of the hard-working species chosen for the space.
The mentality of the government to adopt renewable energy is really backward compared with most developed countries
While the apartment came with air condi­tioners, Chu says he rarely uses them. "This flat is lucky because it's relatively dry," he says. And he didn't have to double-glaze the windows to cut down on electricity usage because he insulated the roof instead. That keeps the flat cool in the summer, he says.
Chu has converted part of the rooftop into a vegetable garden stocked with four one-square-metreplanting beds (see Tried + tested).
"This supplies 60 per cent of our yearly vegetables," says Chu. Nearby, he installed a vertical herb garden on a wall – a nod to the 2011 vertical farming concept that won Chu international attention. "It's all herbs because that's what I need most for my cooking."
The rooftop is lit using solar-powered lamps that convert one day of exposure to the sun into 48 hours of illumi­nation. Solar panels or wind turbines would have been installed to power the entire apartment but, he says, building regulations wouldn't have allowed it.
One man's trash becomes treasure for HK's new age designers
"The mentality of the government to adopt renewable energy is really backward compared with most developed countries," he says.
Despite using so many recycled materials, Chu wanted the flat and its rooftop to look as clean and contemporary as possible.
"One of my rules is a maximum of four colours in any room," he says. "Otherwise it looks too cluttered."
More than a year after moving in, Chu says he is happy with how everything turned out.
"We managed to build a modern-looking flat out of what is essentially garbage."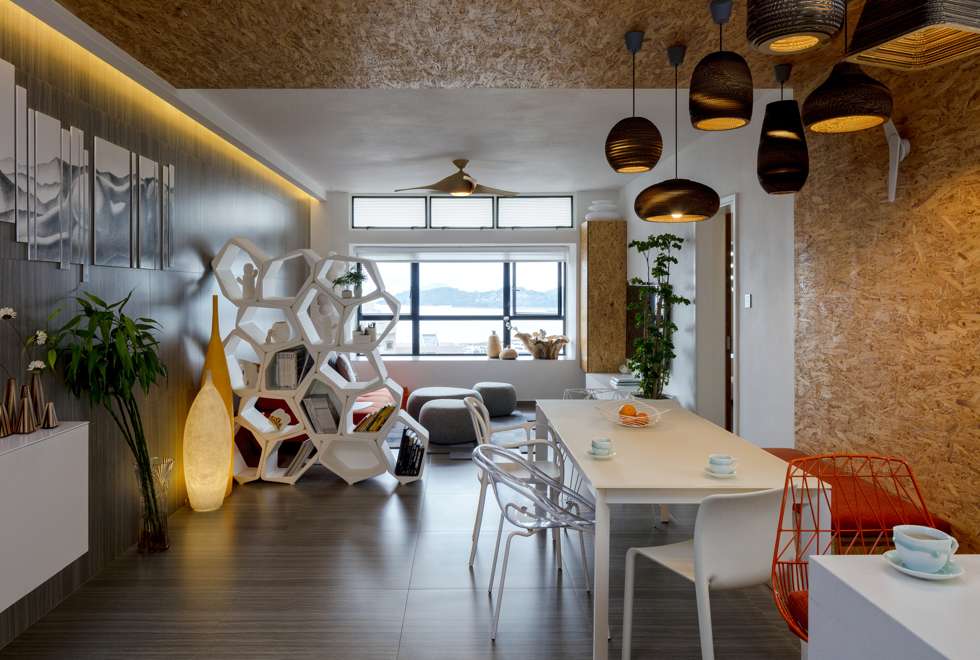 Living and dining area The Scraplight Classic pendant lamps (HK$2,500 each), made of recycled cardboard, came from Graypants. The extendable acid-etched Baron glass dining table (HK$21,140), with a matte white anti-scratch finish and steel structure, was by Calligaris, which also supplied the transparent moulded polycarbonate Bloom dining chairs (HK$2,180 each). The armless First Chair in white moulded polypropylene (HK$1,600), by Stefano Giovannoni, and the Milà chair (HK$1,800) both came from Magis. The welded-steel RePOLY bar chair (HK$1,500) was designed by Kevin Chu, of COC Design. Chu also designed the oriented strand board bench and storage unit (HK$6,000). The Build modular bookshelf, made of recycled styrofoam, came from Movisi (HK$460 per unit; hellobuild.com). The floor lamps are made of reconstituted fibreglass and were bought from In-es.artdesign, for which COC Design is a supplier (HK$3,000, tall; HK$2,800, short). The wall art was made with offcuts from timber yards and pencil drawn by Chu (coc.design/page/artworks). The white wall cabinet (HK$5,300) came from Songdream and the Artemis ceiling fan (HK$3,980) was from G.O.D.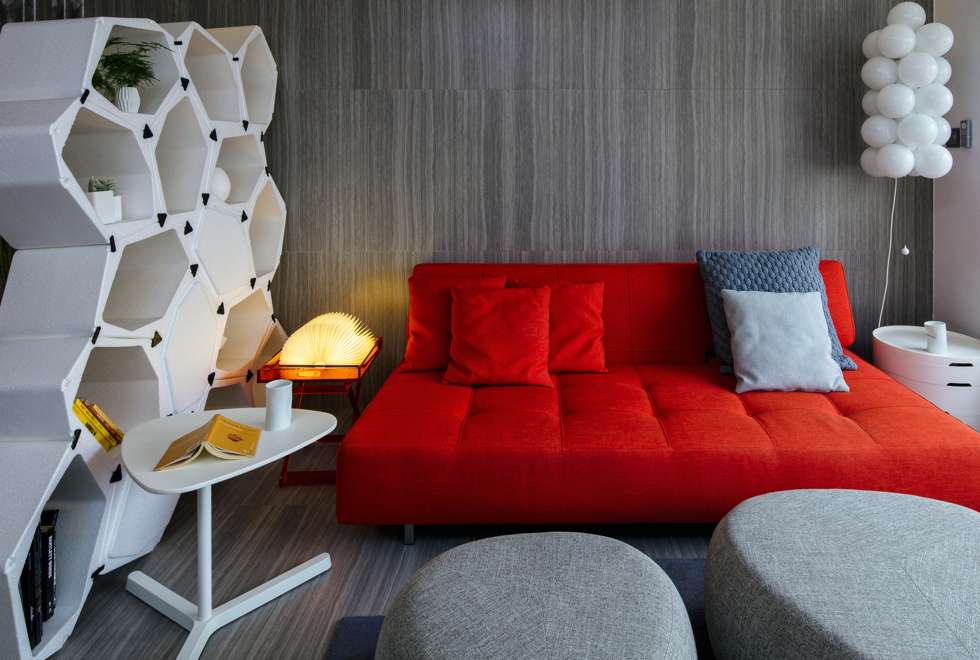 Living room detail The sofabed is a Long Horn Deluxe from Innovation Sofa (HK$29,500). Chu designed the pebble-inspired ottomans (HK$425 each). The Niro tiles on the wall and floor are made of recycled construction material and digitally printed to resemble granite tiles. The tray table came from a shop that has since closed and the book-shaped light (HK$1,600) was from Lumio (hellolumio.com). The triangular and round side tables are discontinued items from Ikea. Chu bought the balloon-like suspension lamps (HK$19,500) from the De Majo factory, in Italy.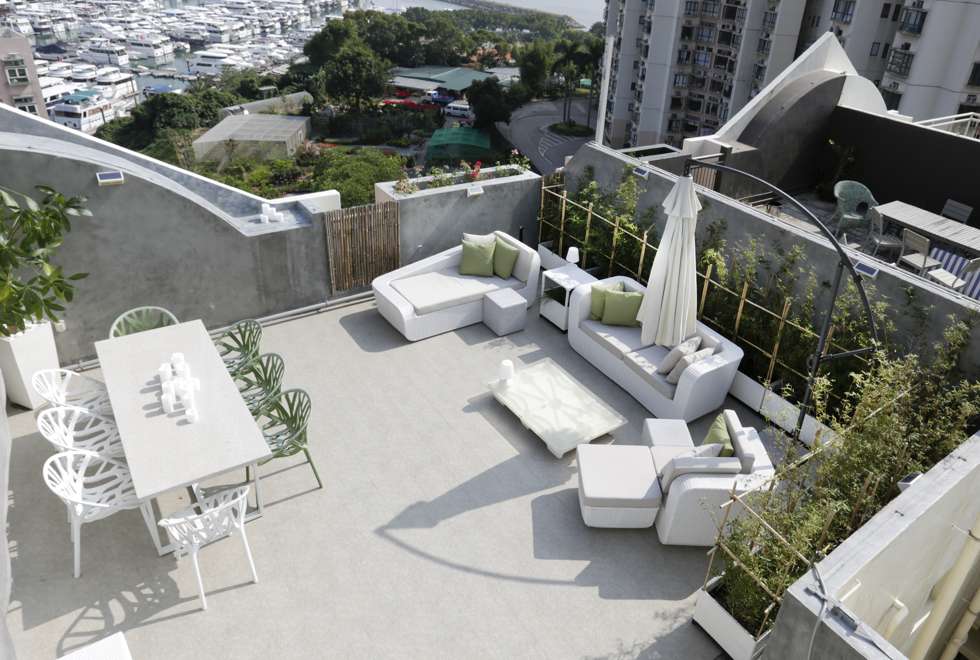 Rooftop terrace Chu designed the outdoor furniture, including the sofa, chaise longue and armchair, and had it built for HK$15,500. He also designed and built the illuminated block stool, next to the sofa, for HK$350. The Vegetal dining chairs (HK$3,600 each) are made with recyclable polyamide by Vitra while the dining table was designed and built by Chu from a salvaged piece of marble and scrap metal. The coffee table was made using particle board and wooden crates that Chu scavenged from a nearby beach.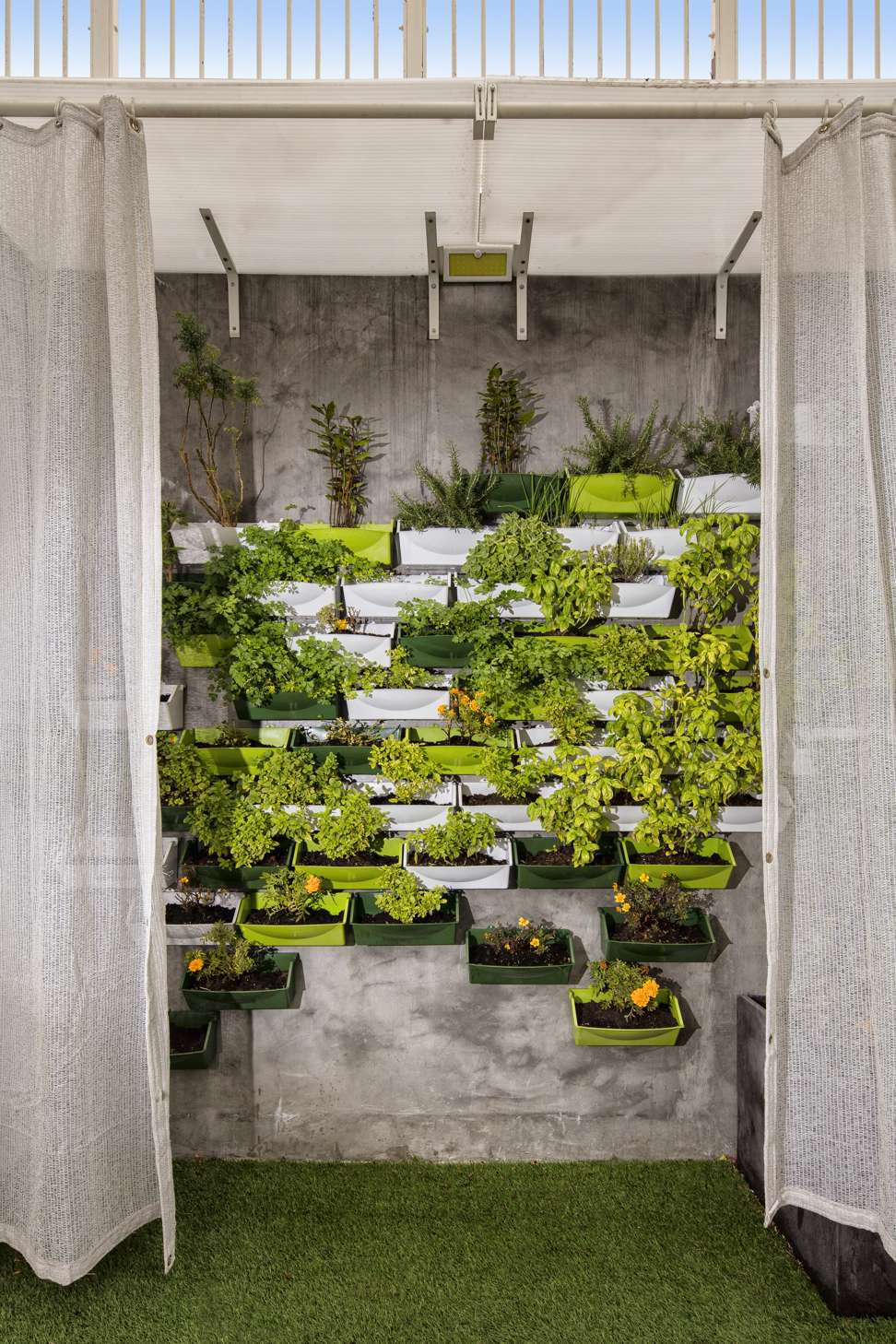 Rooftop terrace detail Chu designed the vertical herb garden system, which cost HK$29,500 to build. It includes 53 wall-mounted pots arranged according to a solar gain analysis, with ultraviolet-resistant shading panels and automated watering.
Study The long desk (HK$2,200) and windowsill desk (HK$500) were from Ikea. The Wizard 2 desk chairs (HK$4,200 each) came from Kokuyo. The wall-mounted planters were made by a ceramic artisan in Jingdezhen, Jiangxi province, for HK$1,850 in total. The bookcase (HK$8,200) was from SongDream.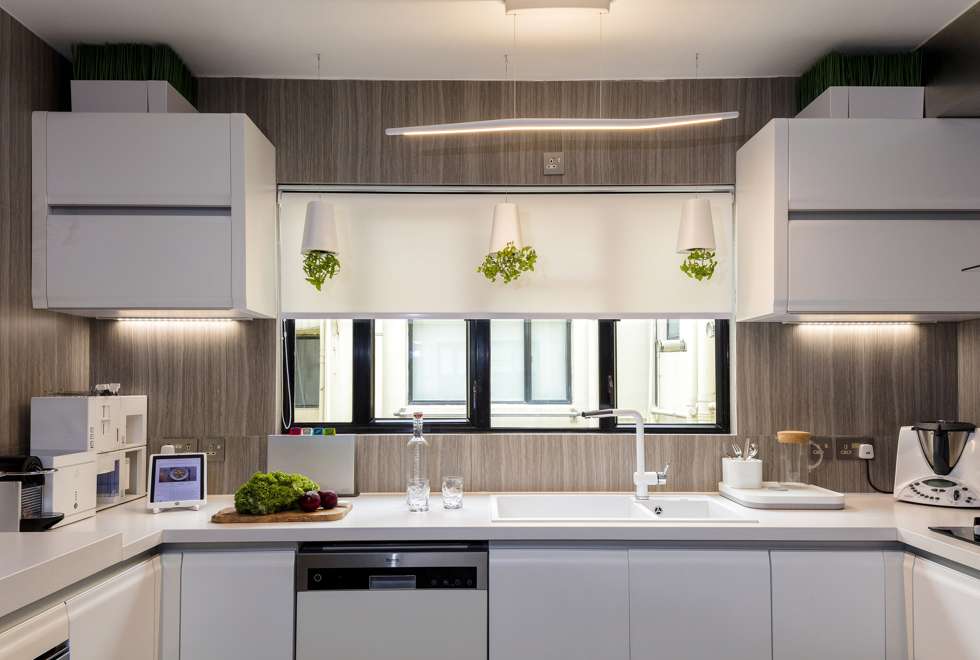 Kitchen Chu designed the kitchen (HK$145,000), which includes ultra-durable and easy-to-clean quartz countertops. The suspended planters (HK$340 each) are made from recycled plastic by Boskke.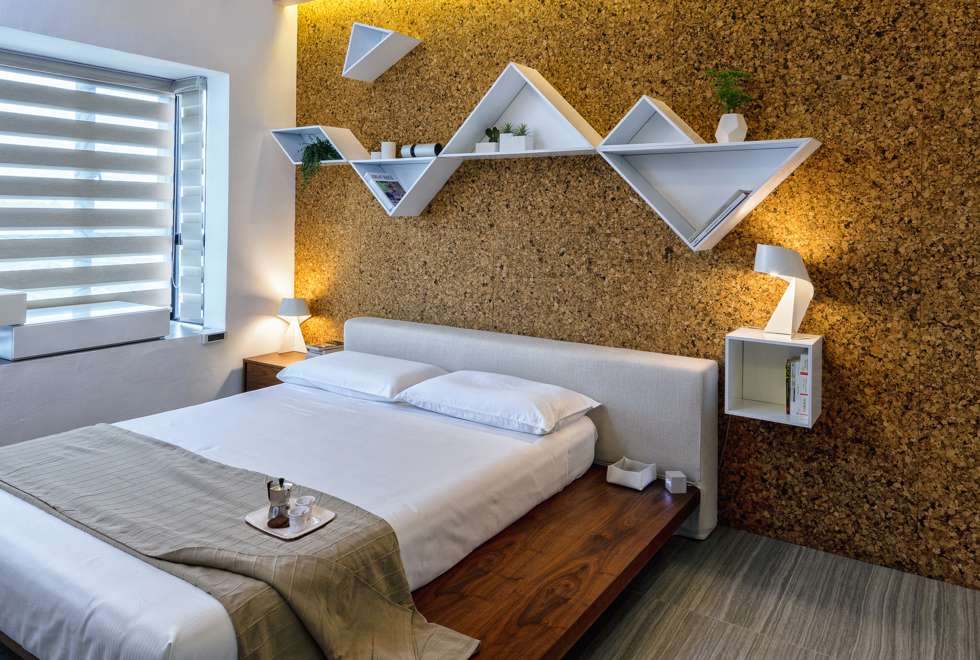 Bedroom The queen-size bed cost HK$11,500 from Songdream, which also supplied the bedside table (HK$2,500). The Tangram wall-mounted storage system (including the bedside cubicle) cost HK$13,000 from Lago. The reading lamps (HK$710 each) are made from folded recycled steel and came from Habitat (habitat.eu). The feature wall is made of cork tiles (about HK$500 for each 60cm x 60cm panel) and COC Design is the supplier. The white WinSill box (HK$2,999) on the bay window came from Pricerite.
TRIED + TESTED
Pipe dream Each recycled plastic container with built-in drainage cost Kevin Chu HK$650 to design and build, but he needed something to shield the vegetables he grows from Hong Kong's unrelenting summer sun, so he used leftover PVC pipes from his contractor to create a framework on which he can place protective nets that filter the harsh light.