The reasons design minimalists grow up to be maximalists are varied: getting married and having children is one. Ability to acquire more is another. Inability to edit could also be a factor.
Sean Niem, however, has remained true to the stripped-down aesthetic that guided the design of the first flat he created, 11 years ago, for his family of three. In 2006, Post Magazine visited that apartment and remarked on how everything in it had been "aligned, tucked in and straightened out".
During an afternoon spent with the Hong Kong-born, Canadian-educated architect/interior designer at his new Mid-Levels apartment, we discovered the same could be said again. Only this time around, things seemed neater and even more concealed.
Video soundtrack: www.bensound.com
"It became almost an obsession," acknowledges Niem, referring to his and wife May's desire to conceal things. In their 1,848 sq ft open-plan home, accommodating two bedrooms and a shared study, capacious cupboards create order. Storage space begins at the front door, curves around the living room and flows into the dining/kitchen space before appearing again in the private quarters.
"The storage space goes hand in hand with the design of the flat, which we wanted to be open plan," says Niem. "It allows us to hide all of our stuff that isn't attractive, so what's left are the beautiful things that we enjoy having people see. Storage allows us to be minimal."
It also enabled Niem to turn a curved living area into a rectilinear one.
"I didn't know how to arrange furniture in this weird shape so I ended up straight­en­ing it out," he says, pointing also to the leftover spaces by the cabinetry that can now be used to stash odds and ends.
Not surprisingly, along with the tele­vision and other audiovisual equipment, kitchen gadgets, crockery and comes­tibles are hidden in cupboards, which themselves are discreet. The storage spaces – in neutral colours, like much else in the flat – act as part of the architecture and are used as feature walls. They also deter­­mined how doorways would be treated.
Making minimalism pop in a Hong Kong apartment
"The cupboards go from floor to ceiling, end to end, and having doorways interrupts that," says Niem. So instead of emphasising entrances, he installed hidden doors that continue the surfaces of the walls.
The built-ins allow Niem to highlight his collections of furniture and art (swapped around for display in purpose-built niches).
"I find sometimes in people's homes that there are all these beautiful things but they've put too much out and they've lost the focus," he says.
Along with the Geoffrey Harcourt and Eames chairs the couple have had for years, they now own a handful of other designer classics by, among others, Norman Cherner and Peter Opsvik. Then there are the new Barcelona chairs, by mid-century modern master Ludwig Mies van der Rohe, occupy­ing prime space in the airy lounge opening onto a long, skinny balcony.
How Hong Kong architect made a 449 sq ft mess his hyper-minimalist haven
"Before I bought them I went to see the fake ones," says Niem. "You can really tell the difference."
You can also see how much thought went into the ambience of the individual rooms. The white work room is a case in point.
"I like how it turned out, modern and sharp, like it's out of 2001: A Space Odyssey," says Niem.
The room's deep cupboards with double shelving accommodate books and other paraphernalia, behind coplanar doors (sliding doors that close flush for a clean look). Indeed, there are so many neat doors in this flat it's not hard to understand how an entire cupboard could have been missed after the family's belongings were unpacked last July.
Minimalist chic: a Hong Kong apartment shows how it's done
Three months after they had moved in, Niem realised a wardrobe remained empty in the master bedroom.
"I said to my wife, 'Did you realise there's another closet here, for your handbags?"
One can only imagine her response.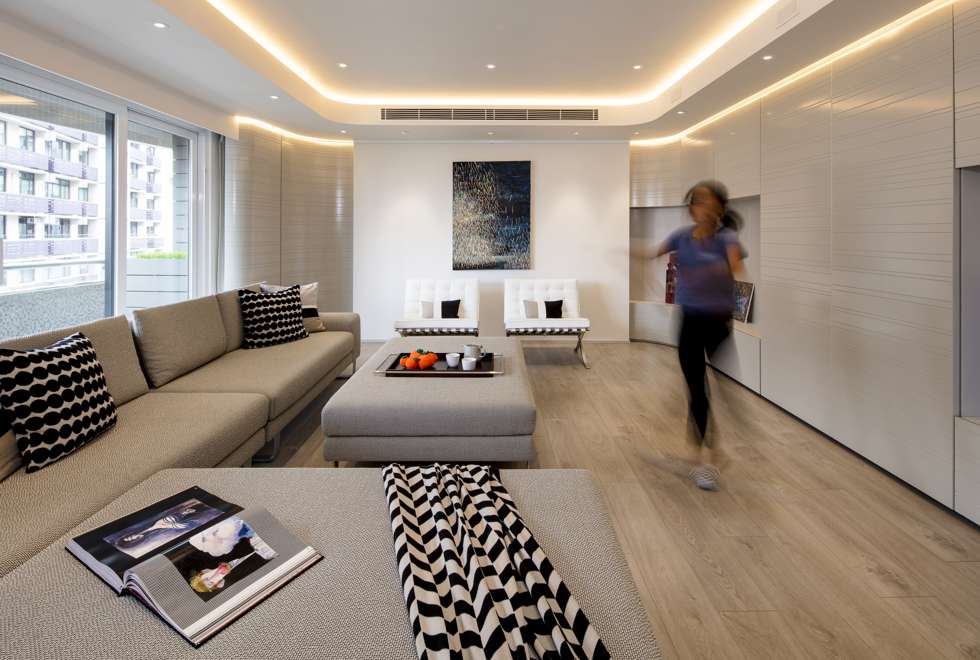 Living room The sofa, bought more than a decade ago, was reupholstered in Kvadrat's Colline fabric (HK$2,125 a metre), from Lane Crawford (lanecrawford.com). The Barcelona chairs (HK$55,425 each) came from Dream Interiors (5/F, Yu Yuet Lai Building, 43 Wyndham Street, Central, tel: 2881 9122). The large painting is by Sean Niem ([email protected]); the smaller ones, in a dedicated cabinet niche, are by his daughter, Claire. Behind the art wall is more storage space.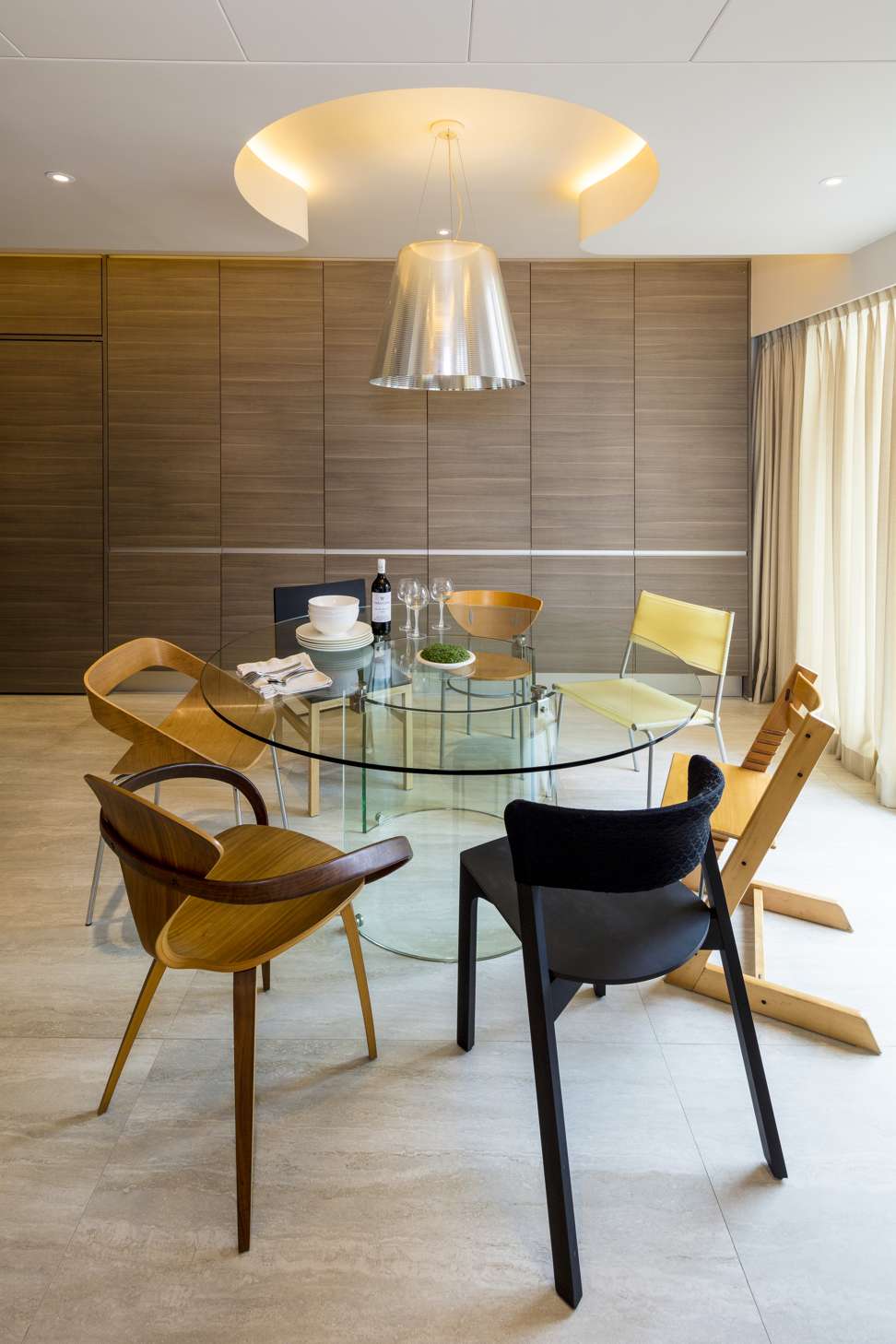 Dining area The custom-made dining table, chairs and KTribe S3 Suspension Light, from Flos (flos.com), all came from Niem's previous homes. The chairs (clockwise from forefront) are: Jonathan Prestwich's Café Chair in black; the Pretzel, by Norman Cherner; the Geoffrey Harcourt-designed C130; Sebastian Wrong's Wrong for Hay Slope Chair; a chair whose name has been forgotten; Tito Agnoli's Miss B1; and Peter Opsvik's Tripp Trapp. The Edilcuoghi Dolce Vita porcelain floor tiles (HK$660 per square metre) came from Fei Concept (177 Lockhart Road, tel: 2153 3288).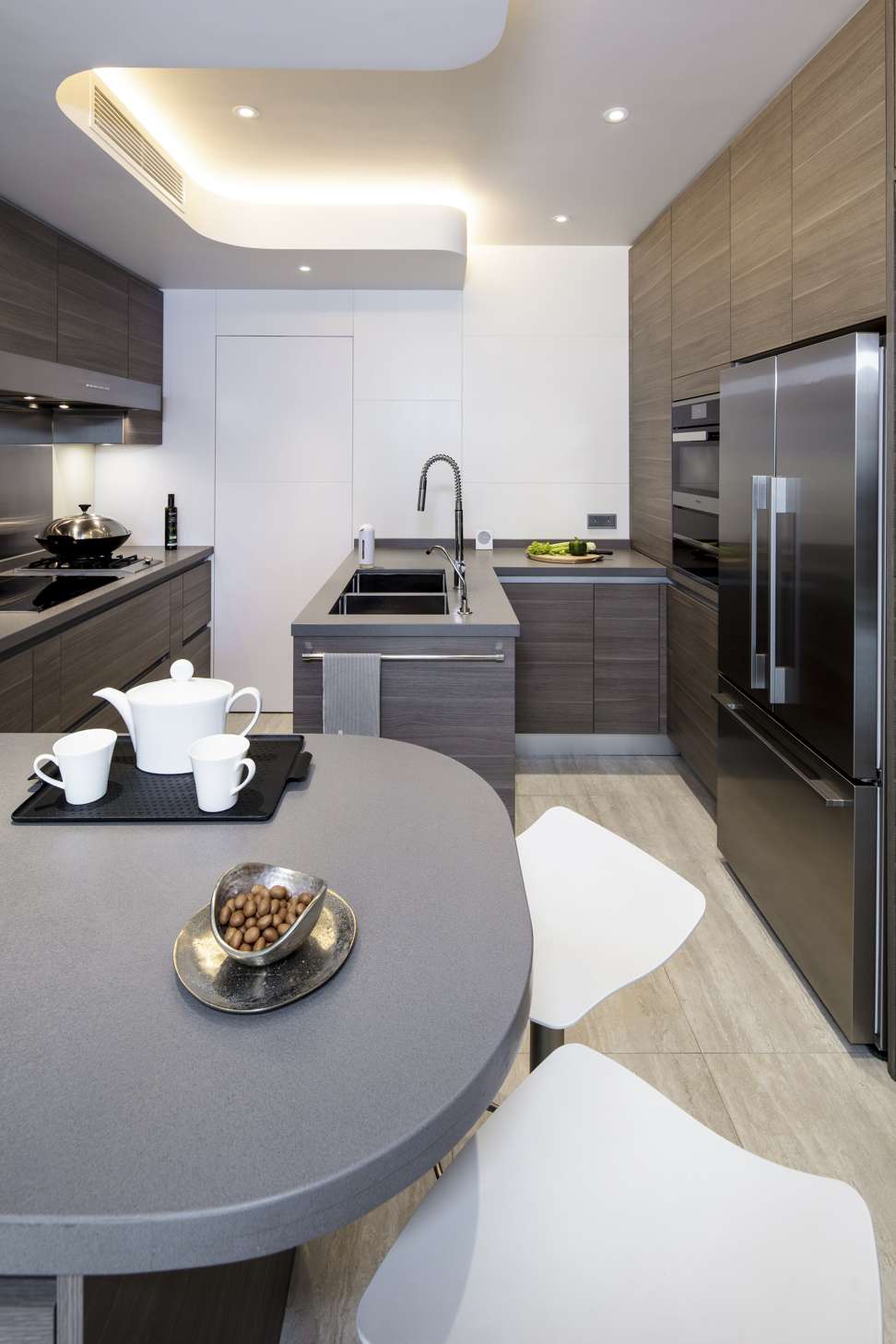 Kitchen The kitchen cabinetry with Silestone countertops (HK$373,000 in total) came from Kitench (kitench.com). Beside the fridge is a corridor leading to the bedrooms, bathrooms and study.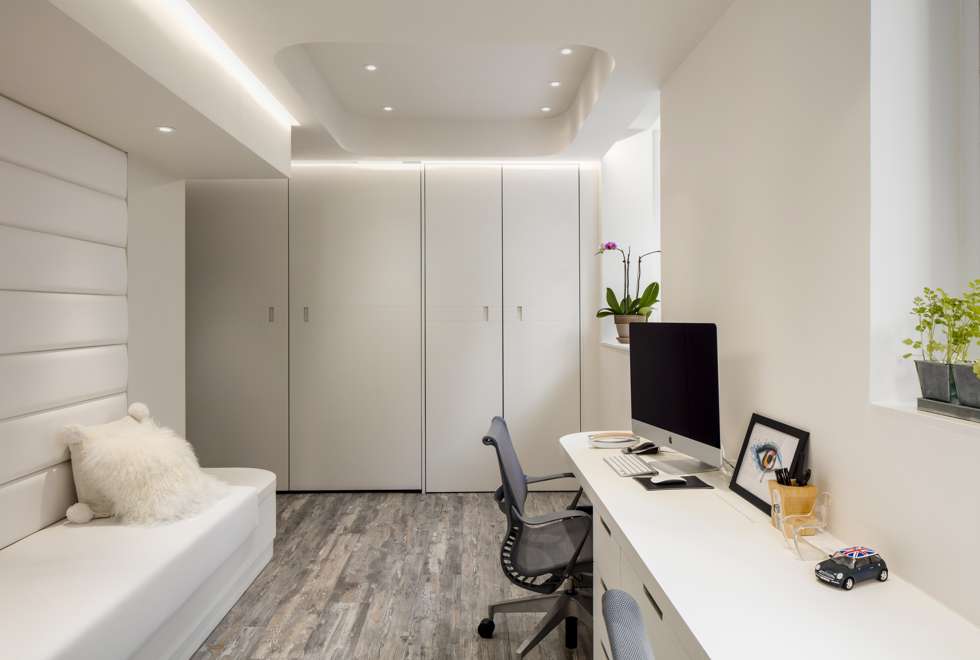 Study The desk, finished with faux leather-textured plastic laminate, was designed by Niem and made by Charles Lam, of Fame (tel: 2642 0996) for HK$44,350. The flooring is again Kronoswiss laminate, from Boden. The Herman Miller Setu Chair (HK$5,859) was from Posh (www.posh.com.hk). The wardrobes were made by Fame and cost about HK$30,000 a metre, including the coplanar sliding mechanism for the doors on the left.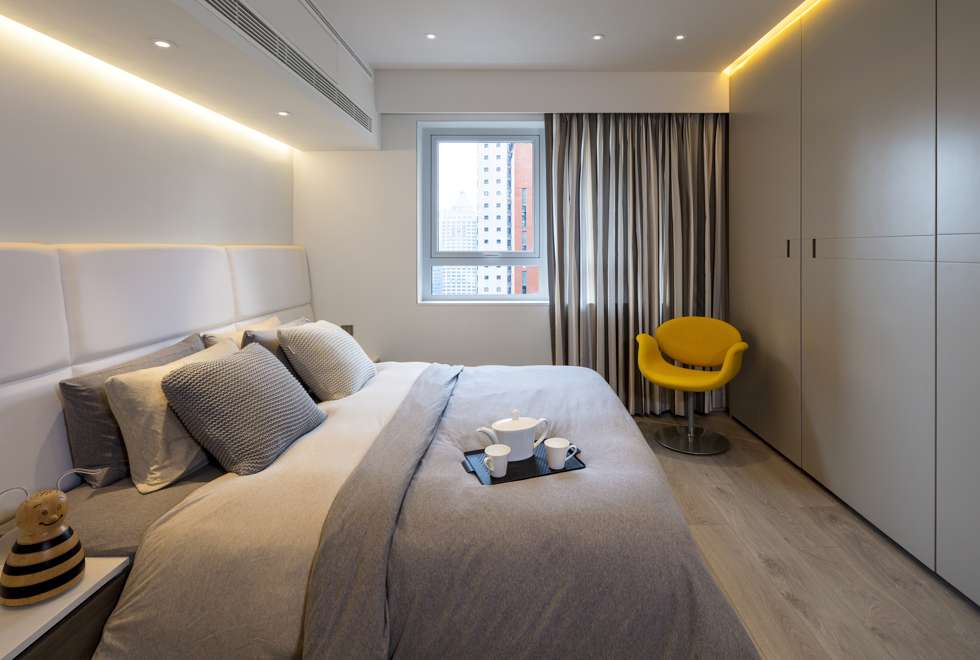 Master bedroom The Tulip Chair was bought more than a decade ago from Louvre Gallery (louvre.com.hk). The bedhead, in faux leather, was supplied and installed by Phoenix Curtains (16/F, Horizon Plaza, 2 Lee Wing Street, Ap Lei Chau, tel: 2866 6691). The Kronoswiss laminated flooring (HK$313 per square metre) came from Boden (5/F, Kiu Fu Commercial Building, 300 Lockhart Road, Wan Chai, tel: 3460 2801). The wooden honeybee is a diffuser.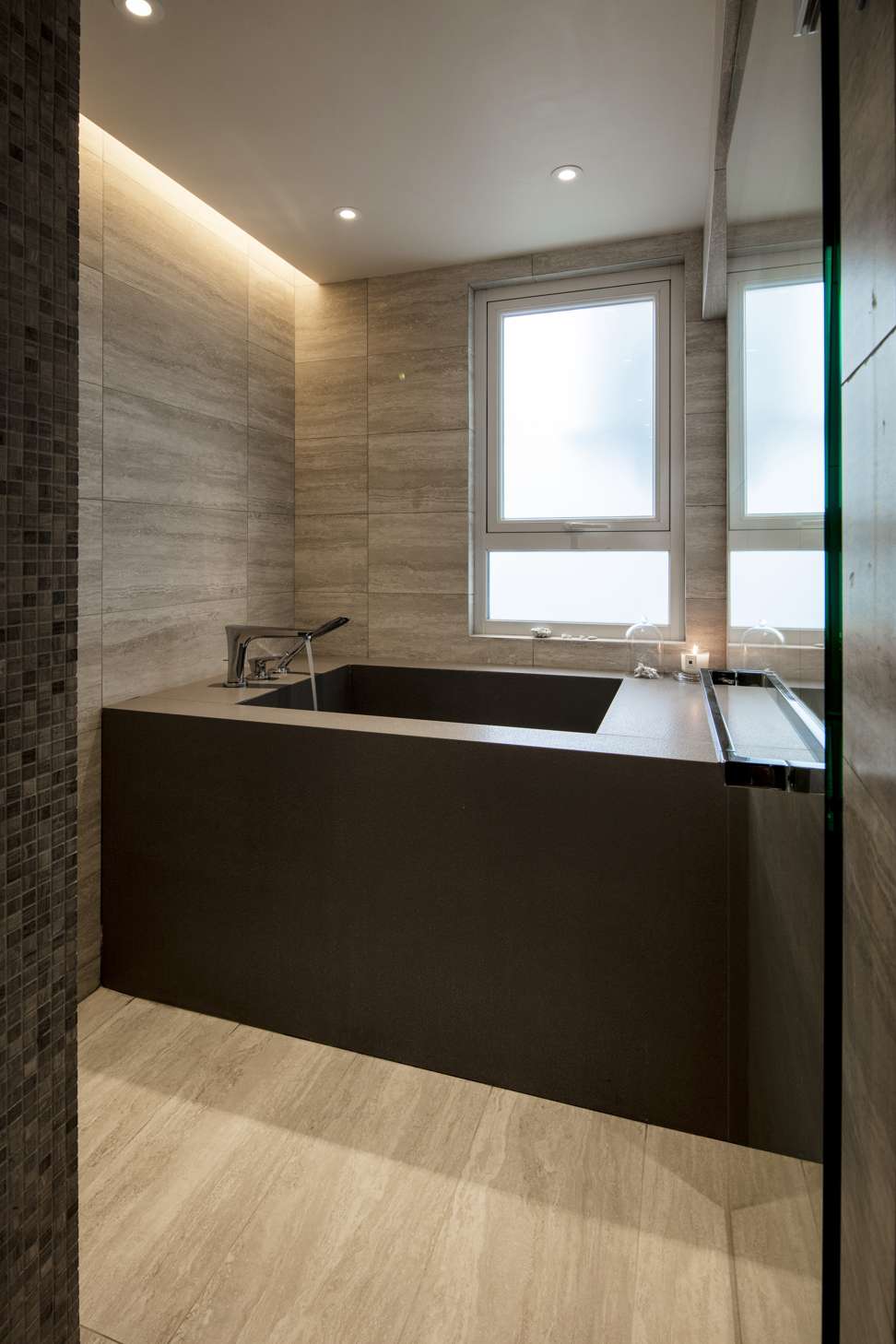 Master en-suite bathroom The Silestone-clad Japanese bath (HK$76,000) was designed by Niem and made by Fame.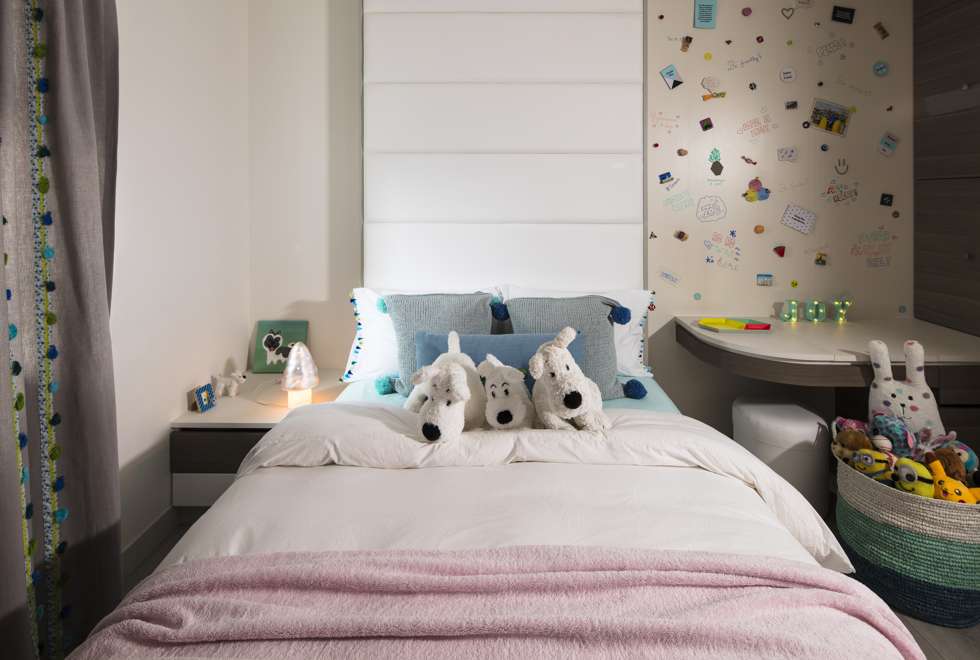 Daughter's bedroom The bedside table (HK$6,850) and dressing table (HK$32,700), with flip-up mirror panel and light, were designed by Niem and built by Fame. The whiteboard is an artwork in itself.
TRIED + TESTED
Garden on wheels Sean Niem grows wheatgrass in trays on a trolley housed on the balcony beside the living room. Fast-growing, the grass is regularly trimmed and used to make health juices. Niem designed the trolley, which was built by Boden for about HK$11,000 using ArchitWood artificial boards. When wheeled out, gardening tools stored in the bowels of the trolley can be accessed.