Accommodation can make or break a holiday. You can visit an idyllic location but if the property you're staying in is disappointing, chances are you won't revisit.
This was the situation Frederic and Catherine Bourquin, of Atelier B, wanted to avoid, when they were commissioned to refurbish a company's 4,000-sq-ft weekend holiday home in Mui Wo, on Lantau Island, in 2014. It would be the second home the husband-and-wife team would refurbish for the same client; the first had a distinctive, retro Chinese feel, with walls and furnishings in a riot of colours.
"The client loved what we had done with the house next door and wanted us to recreate the same vibe," says Catherine, a British designer. "However, we were told that the end users of this [second] house would be primarily local and we felt they might not think that 1970s Chinese décor was particularly exotic. Plus, it was more fun for us to look into another scheme."
The concepts they came up with were "retro Cote d'Azur villa" and "Moroccan fantasy". The Bourquins preferred the latter; fortunately, so did the client.
Wan Chai flat offers a magic carpet ride to Morocco and India
"One of our biggest challenges was sourcing the 'Moroccan' furniture, lighting and accessories," says Catherine. "Originally, we had planned a shopping trip to Morocco. However, due to family and work constraints, that trip did not happen, so we ordered everything online through two Moroccan specialists in Britain."
Moroccan geometric patterns dominate in the four-bedroom, four-bathroom house, with motifs repeated from room to room to tie the house together. Wallpaper inspired by tile work in Marrakesh appears in the entrance hall and living room. In the indoor dining room, chairs are covered in fabric that echoes the design of the wavy wallpaper in the two bunk rooms.
Bold colours make Hong Kong holiday home memorable
"Another challenge we had was not to go over the top by creating a Moroccan-themed house as Disney might do it," says Catherine. "The ceilings in the house were not that high and the rooms not as expansive as a Moroccan palace so we had to water down our ideas constantly."
Yet bold and striking features abound, such as the master bedroom's large keyhole-shaped archway, reminiscent of those found in Moorish architecture. Having knocked down a run-of-the-mill door, Frederic, a Swiss architect, made life-sized templates of the archway and worked with local carpenters to mould French oak into the required shape. The arch frames an octagonal bathroom window, cleverly connecting the two areas in theme and form.
Bohemian splendour in a remote Hong Kong island home
Moorish architecture also inspired the headboard in the master bedroom and the same arched shape – which also appears on the front door – transforms what might otherwise have been ordinary wardrobes in the bunk rooms into something exotic. Hexagonal plaster mouldings add a distinctive Moroccan flavour to the living and dining areas.
The eclectic wallpaper, by Martyn Lawrence Bullard, in the interconnecting bunk rooms adds graphic interest to an otherwise bare space. The bunk rooms can be partitioned off with a tasselled curtain for privacy (see Tried + Tested), or combined into one big play space.
Blue and white Lantau family home lets the living be easy
The bunk rooms were designed with young guests in mind, so furnishings are deliberately kept spare, featuring little else besides Philippe Starck stools and Moroccan-inspired leather pouffes.
Add to all this a 12,000-sq-ft garden, with a large swimming pool, and perhaps the biggest problem the company might encounter is finding its staff love the house so much they never want to leave.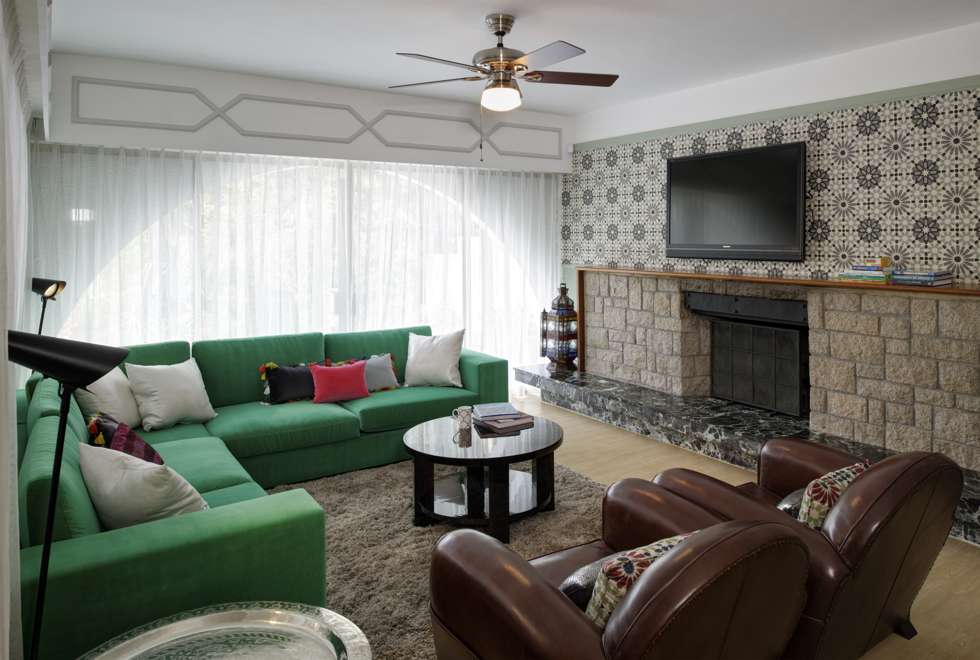 Living room The sofa (HK$70,000, including fabric) was made by Ovo Home in green Villamayor fabric by Gaston y Daniela from Altfield Interiors. The leather armchairs (about HK$20,000 each) and coffee table (about HK$12,000) were from bFelix and the silver side table (HK$6,200) was from Maroque. The black floor lamps (HK$450 each) came from Ikea and the lantern (HK$4,500) was from Moroccan Decor. The Marrakesh wallpaper is from Martyn Lawrence Bullard.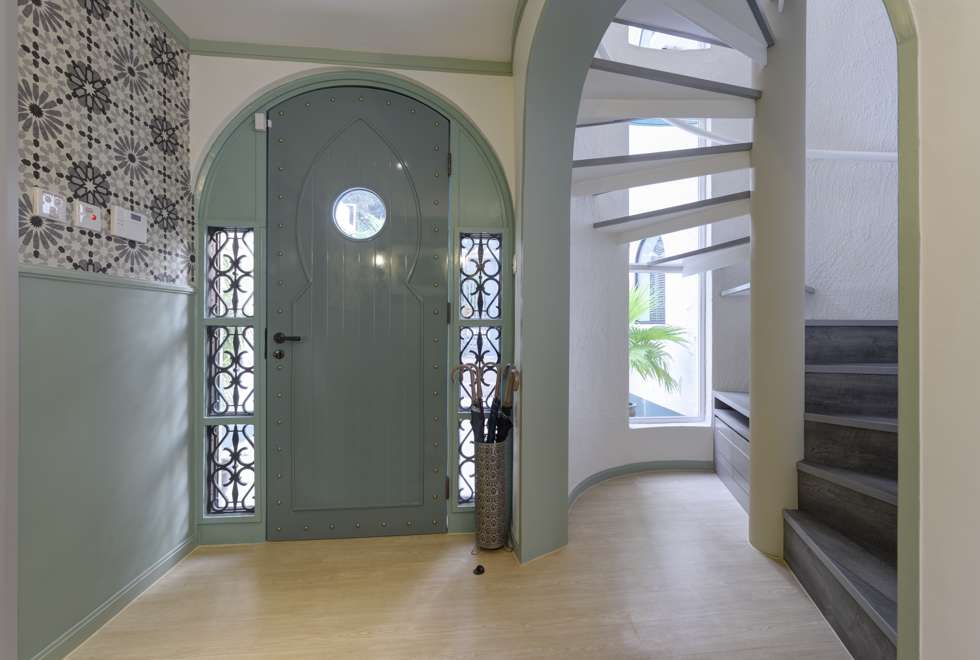 Entrance The architecture of riads (a traditional Moroccan villa) inspired the front door, which is complemented by Marrakesh wallpaper by Martyn Lawrence Bullard.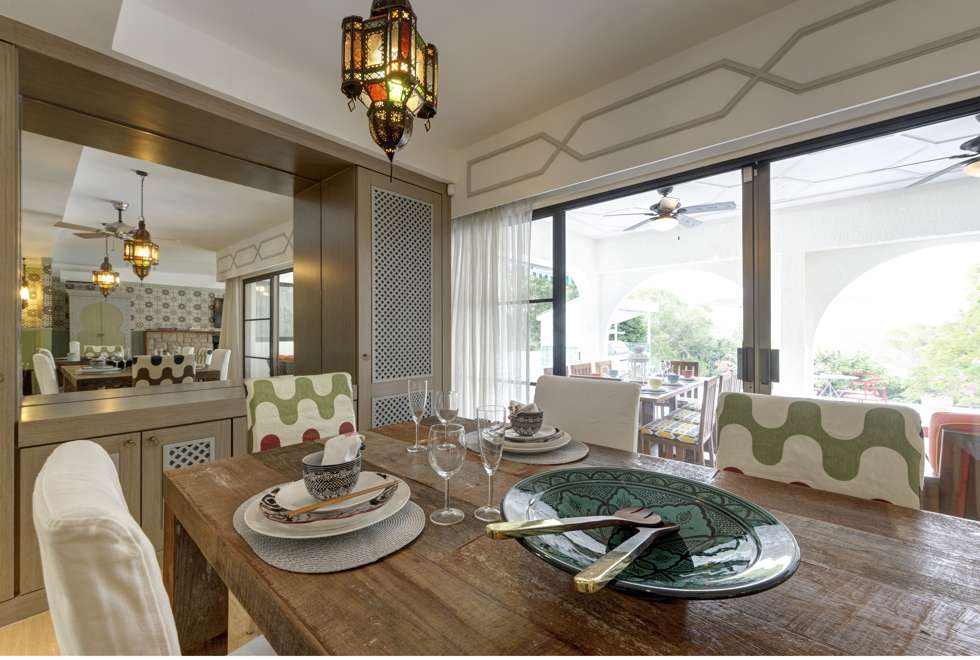 Dining room The Casbah Collection pendant lamps cost HK$4,800 each from Moroccan Decor. Two dining tables (HK$12,950 each, from Tree) were combined to make one long one. The dining chairs were about HK$450 each from Ikea; their covers were made out of Westbury's Sizani fabric (HK$990 per metre; from Altfield Interiors) and Martyn Lawrence Bullard's Majorelle wavy fabric (US$115 per yard).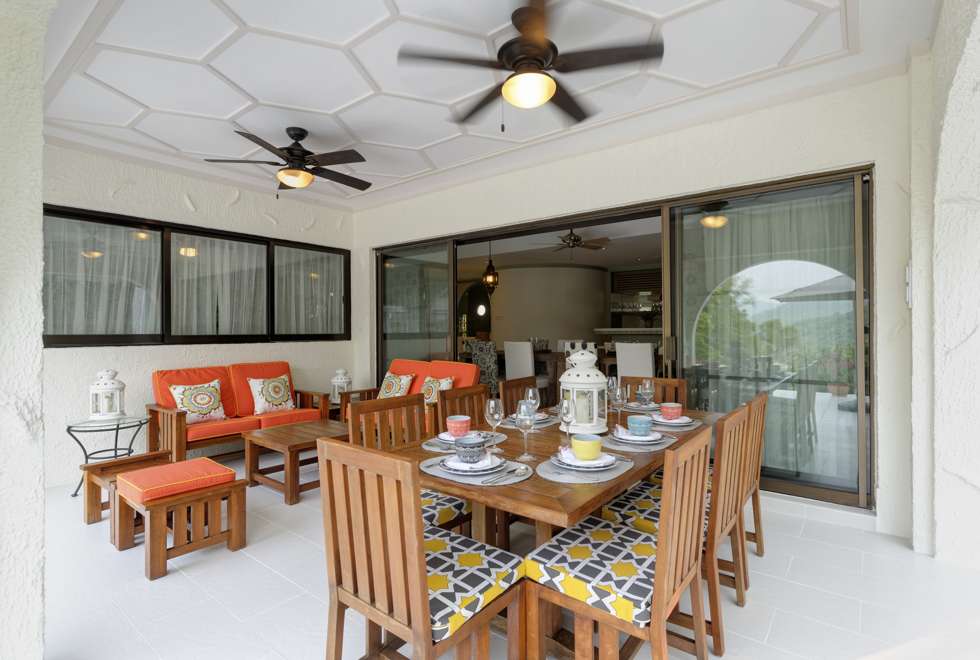 Outdoor dining area Existing dining chairs were reupholstered with Collins Avenue outdoor fabric by Gaston y Daniela (HK$660 per metre, from Altfield Interiors) and the sofa set was reupholstered in orange outdoor fabric by Sunbrella (HK$300 per metre, from New Bedford Interiors, 67 Queen's Road East, Wan Chai, tel: 2520 0330). The coffee table and wrought-iron side table had both been in the house for years. The honeycomb moulding on the relatively low ceiling was a simple way to add depth. The fans came from Life's A Breeze.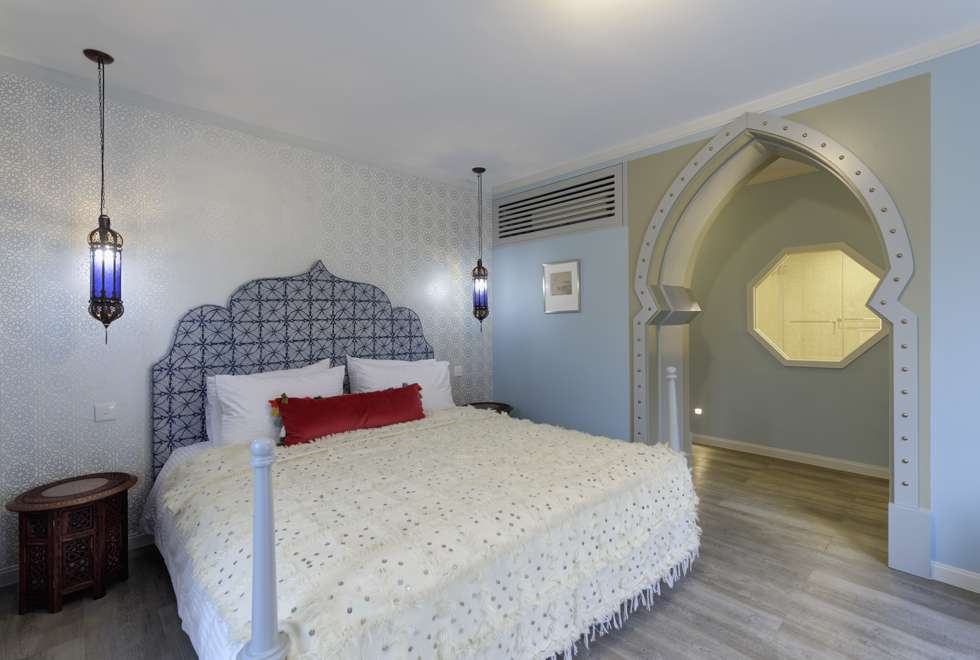 Master bedroom The contractor, Kam Fung ([email protected]), made the bed base (HK$10,000) and upholstered the headboard in Kabba Kabba Dot fabric (US$95 per yard) by Martyn Lawrence Bullard, which also supplied the wallpaper. The bedside tables were HK$4,800 each from Maroque. The Casbah Collection lanterns were HK$4,300 each from Moroccan Decor.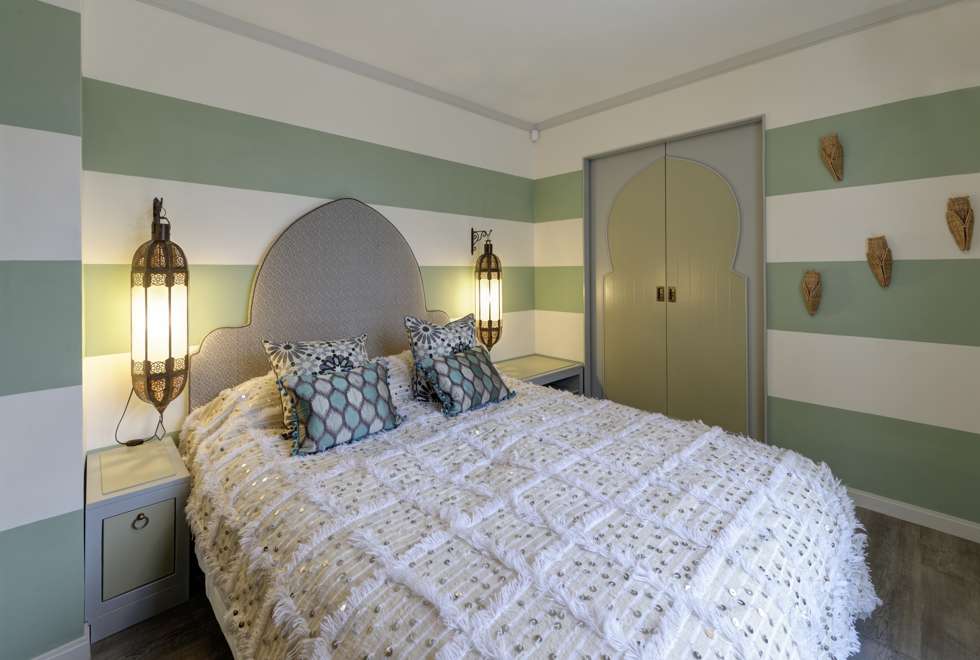 Guest bedroom Whimsical wicker cicadas (about HK$200 each, from Un Brin d'Osier) decorate the wall beside sliding doors to an en-suite bathroom. The Casbah Collection lanterns (HK$4,300 each) came from Moroccan Decor. The bedhead was upholstered in Jim Thompson fabric from Altfield Interiors. The "1000 Coin Berber Wedding Blanket" (HK$2,000) came from Maroque.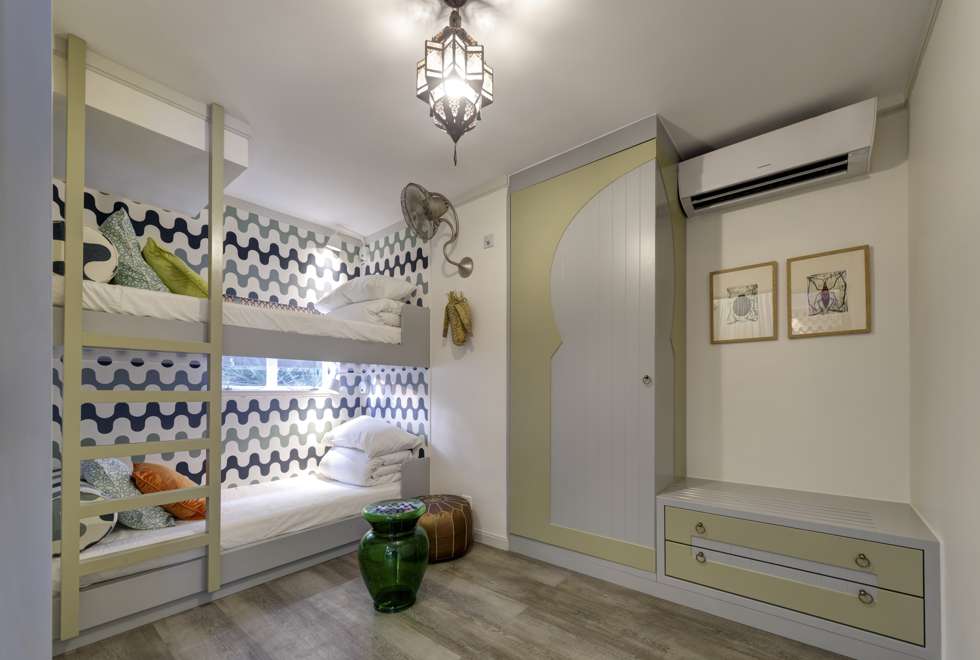 Bunk room The bunk beds and cabinetry were made to order by Kam Fung. The Majorelle wallpaper was by Martyn Lawrence Bullard and the Casbah Collection lantern was HK$2,800 from Moroccan Decor. The wall-mounted fan was HK$2,450 from Life's A Breeze. The green stool, by Philippe Starck for Kartell, came from E Lighting Group. The leather pouffe was HK$1,950 from Eclectic Cool. The pictures are by the late French painter Bernard Buffet.
TRIED + TESTED
Curtain call A tasselled shower curtain (HK$3,000 from Anthropologie) was cut up and sewn onto two pieces of white linen fabric. These were each backed with blackout fabric and sewn together to make one large curtain (HK$7,800 for fabric and tailoring) by New Bedford Interiors. It serves as a room divider between the two bunk bedrooms.