Three years ago, when Agatha Kwan and Ephraim Lam decided to buy an apartment in a new waterfront development in Tai Po, they missed one crucial facet of what would be their first home as a married couple.
"This floor has the highest ceiling height in the block," says Lam, laughing at the memory of how he and his wife made the happy discovery only after having bought the property, a 900-sq-ft apartment that sits beneath a duplex penthouse.
"We knew it was more expensive [than similar flats in the building] but we thought it was because of the high floor it was on," says Kwan, who, like her husband, grew up in Hong Kong.
My concept of 'loft-style' is that it allows you to mix and match many things
The extra head height (three metres, in contrast to the 2.7 metres of lower floors) made even more attractive the couple's choice of a "loft-style" interior – something neither of them had attempted in their previous, respective homes, but both felt was a look they could adopt and adapt.
Where the label once referred to urban units converted from non-residential spaces, it has evolved to assume a variety of mean­ings while continuing to embrace certain features, among them rustic charm, mini­mal­ist décor and loads of natural lighting. Then there is Lam's understanding of what makes it so popular.
"My concept of 'loft-style' is that it allows you to mix and match many things," he says.
To achieve this aesthetic, and to balance the loft style's raw appeal with the couple's desired level of comfort, they enlisted designer Cindy Chan Sin-yu, of Pure AW's Designers, who helped stamp her clients' wishes onto what would otherwise have been a standard space bearing the cookie-cutter choices of the developer.
How a couple made two average Hong Kong flats into a two-storey family duplex
Like other buyers in Hong Kong, the couple were denied a say in the way their flats were finished. As previous clients of Chan have done, Kwan, a lawyer, and Lam, who works in the technology industry, changed what was important to them but kept intact the kitchen, bathrooms and floor – not because they would have chosen the same for their apartment, but so as not to add to Hong Kong's landfill problems.
The flat's basic layout was also retained, although two small rooms were knocked into one to create a multifunctional space. Now the room can accommodate guests (on a Murphy bed), provide a quiet place to work (from a custom-designed desk attached to a bay window) and afford the couple, both Buddhists, room to pray and meditate (in front of a collection of custom-made Buddhas housed in a specially designed glass cabinet).
Making minimalism pop in a Hong Kong apartment
In the living room, the book display allowed the couple to make a feature of a library-style shelf ladder. And in familiar loft style they chose a statement-making brick wall as a focal point, although how rugged to make it was a subject of debate.
"I was a bit particular about the rough­ness, but he wanted it raw," says Kwan. "It's still a home in the end and I wanted it to feel homey."
The result is a wall clad in brick-look tiles carefully chosen from different batches for the desired colour and texture.
Hong Kong home's glam touches add a luxe vibe to an industrial style
"We wanted it to be warm but not too red because that's too stimulating for a home," says Lam.
While Kwan may have brought her husband around in creating a refined brick wall, he got his way with the second feature wall, this time clad in slate, in the corridor leading to the bedroom.
Because each piece of stone had to be individually selected to create the desired effect, she wondered whether it was worth the effort.
Hong Kong family's one-bedroom home makes for open-plan living
"He kept saying, 'We need metal; we need wood; we need stone in a home to feel homey,'" she recalls.
That they have done, and proof is in how the couple spend their time in the flat on weekends.
"We lie here on the sofa with the dog and we're content," Kwan says. "It's nice to have a place where we can lie down and not do too much."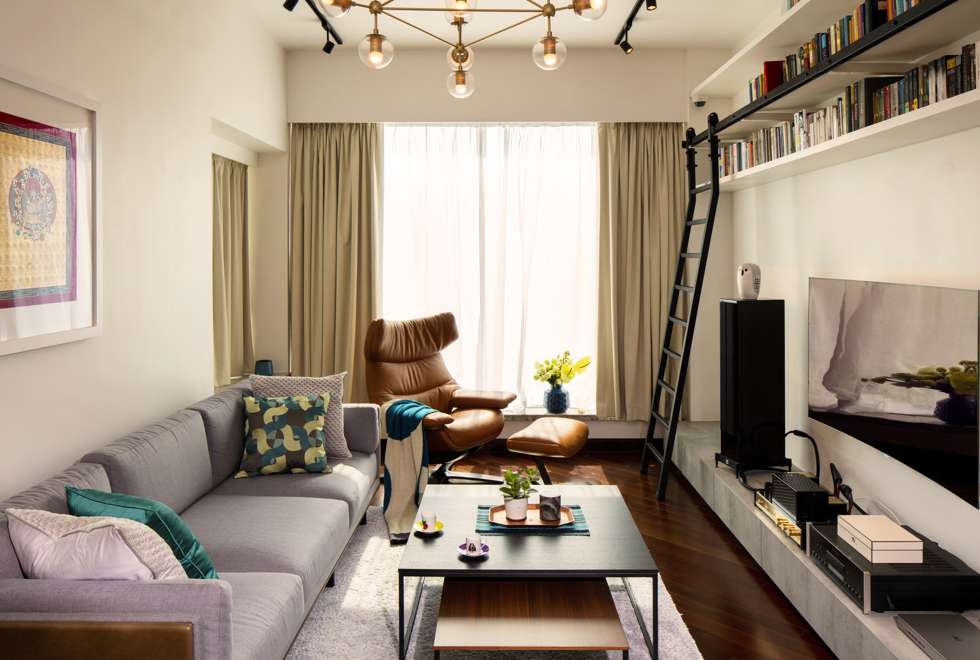 Living room Ephraim Lam and Agatha Kwan's books were given prominence in the living room, with a sliding ladder and track (HK$30,000 in total), designed by Pure AW's Designers, to access the wide shelving. The sofa (HK$44,000) was from Amelie & Tulips; armchair and footstool (HK$33,100 for the set) from Natuzzi; large and small coffee tables (HK$7,458 for the pair) from Boconcept; and rug (HK$7,000) from Yarns. The chandelier was a gift.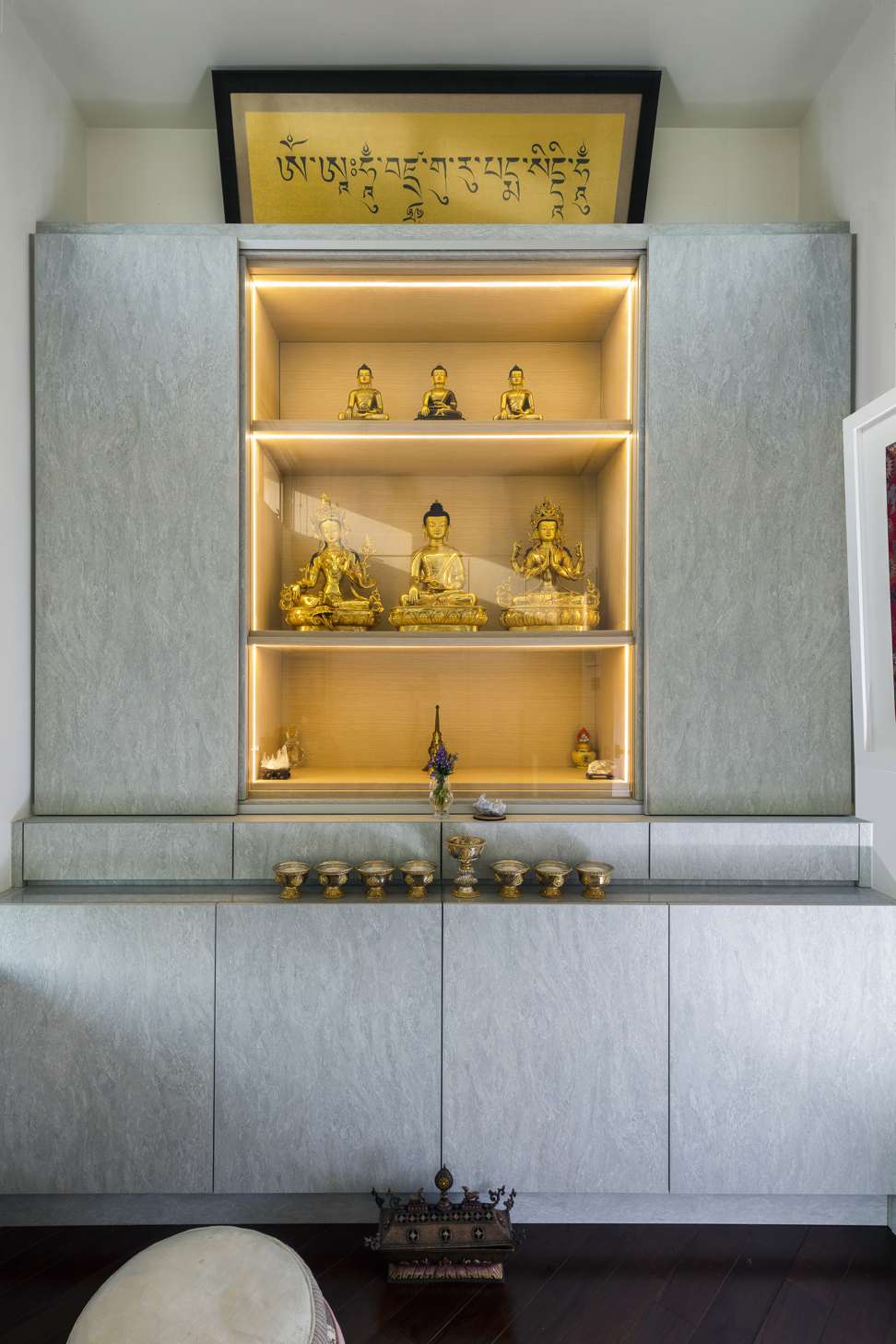 Multifunctional room One half of the second room features cabinetry, installed by Pure AW's Designers for HK$90,000, designed to house the couple's collection of Buddhas and other religious items. When guests are using the room, the glass cabinet can be concealed behind sliding panels.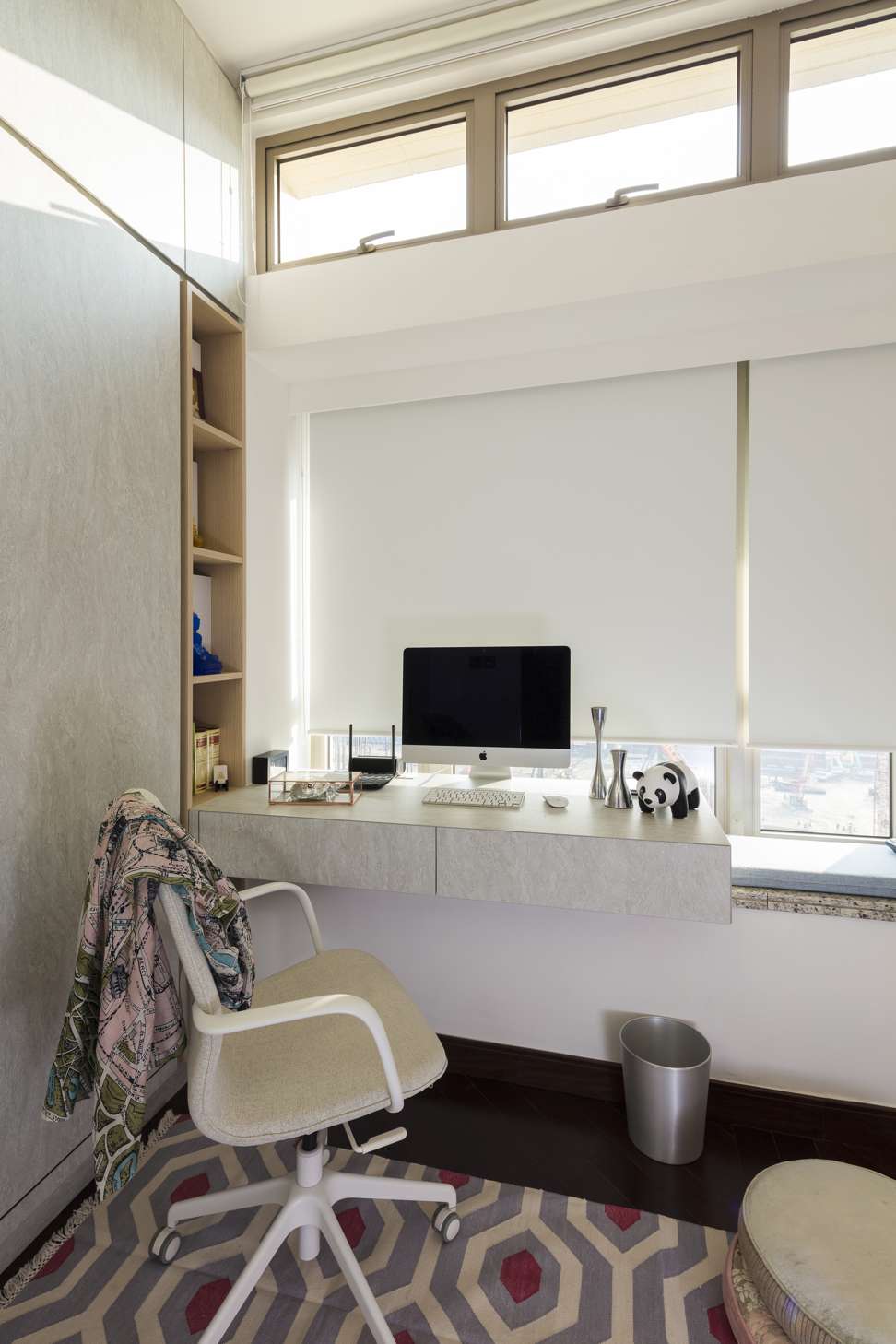 Multifunctional room detail One part of the room contains a desk, built over the bay window, clad with chipboard from Italy. The cabinetry and desk cost HK$95,000 and was designed and built by Pure AW's Designers. The chair (HK$1,490) was bought from Ikea and the rug (HK$5,800) came from Inside.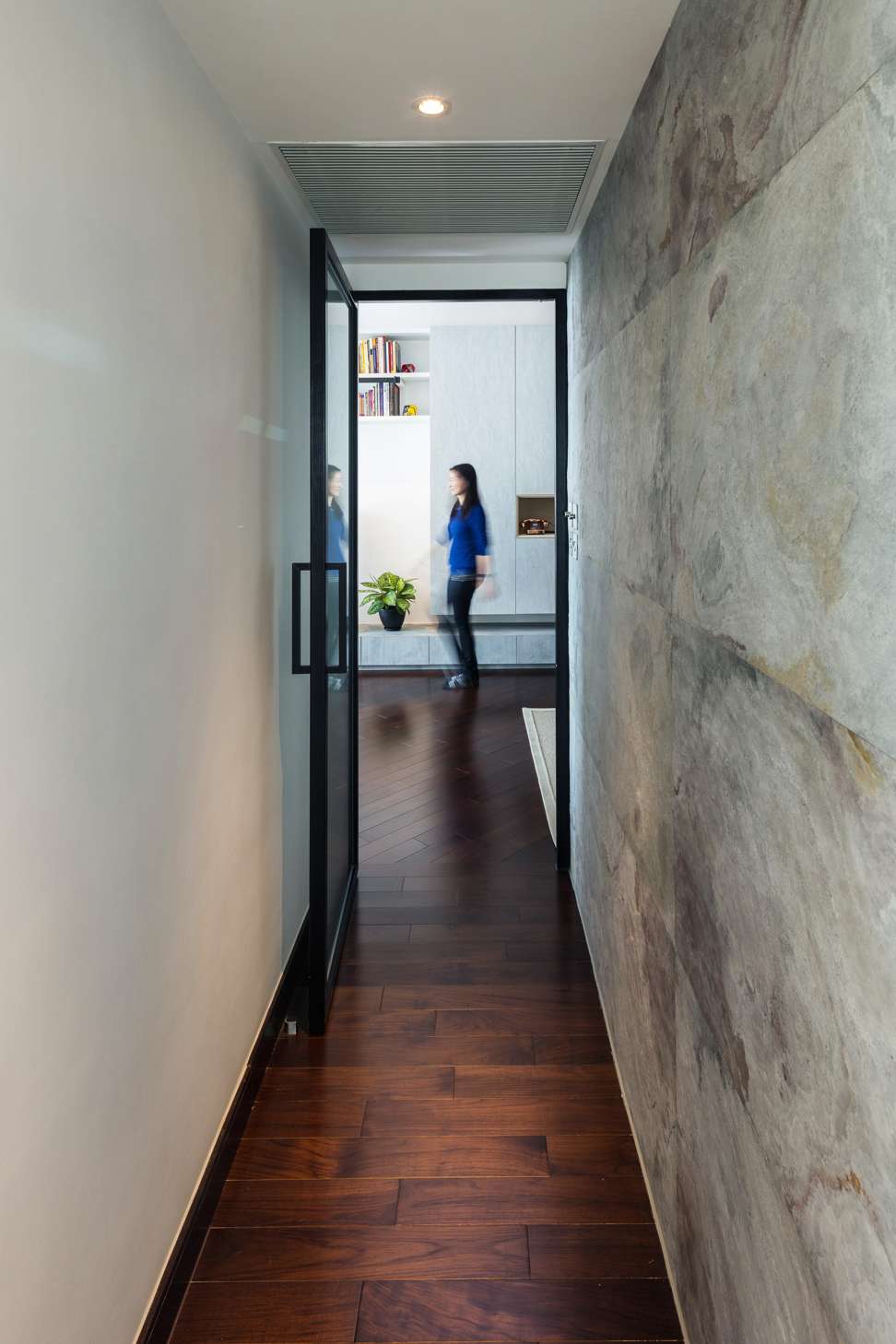 Corridor The couple decided on slate veneer for one wall in the corridor to the bedroom and study. The cladding, sliced from natural stone, is only 2mm-3mm thick and cost HK$12,000 (for 170 square feet) from Spacio.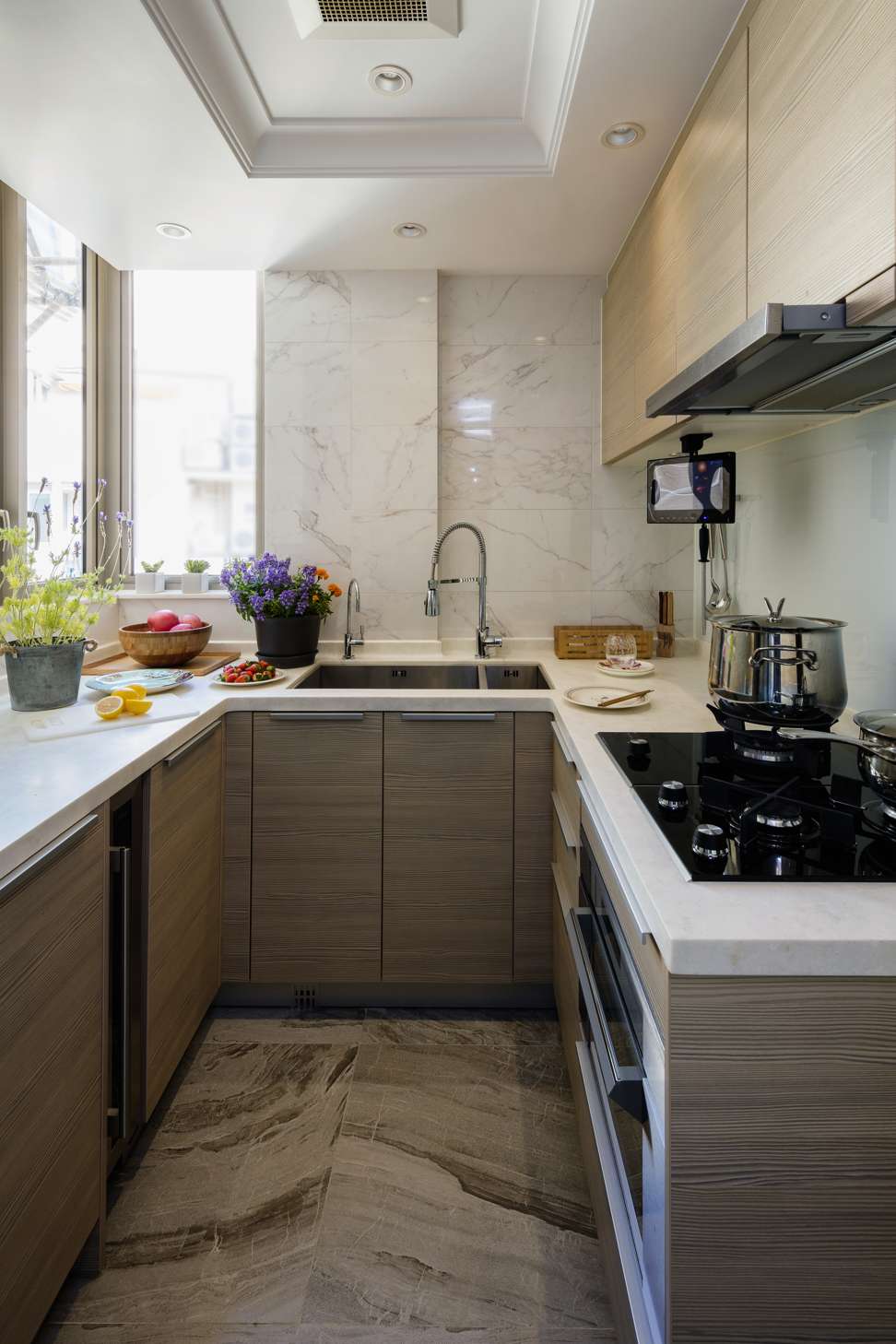 Kitchen Apart from a new door to the kitchen, the room was left untouched.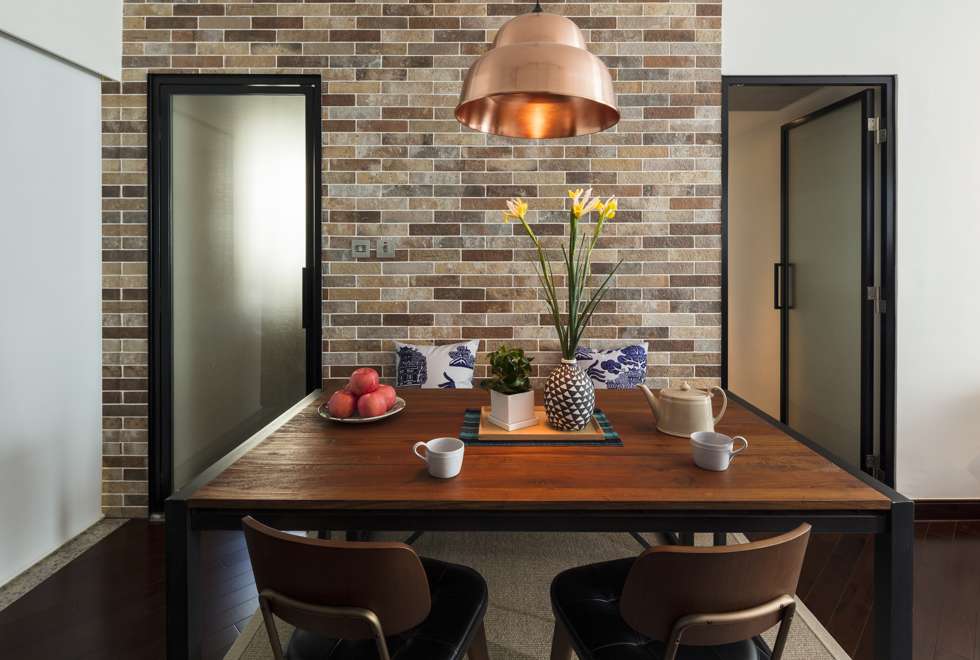 Dining area Pure AW's Designers put in glass doors to close off the kitchen (left) and corridor, and created a feature wall from brick-look tiles (HK$5,000 for the materials) to cover the 100-sq-ft expanse. The dining table (HK$14,850) came from Tree; chairs (HK$5,500 each) from Amelie & Tulips; pendant light (HK$4,000) from Spacio; and rug (HK$9,800) from Yarns.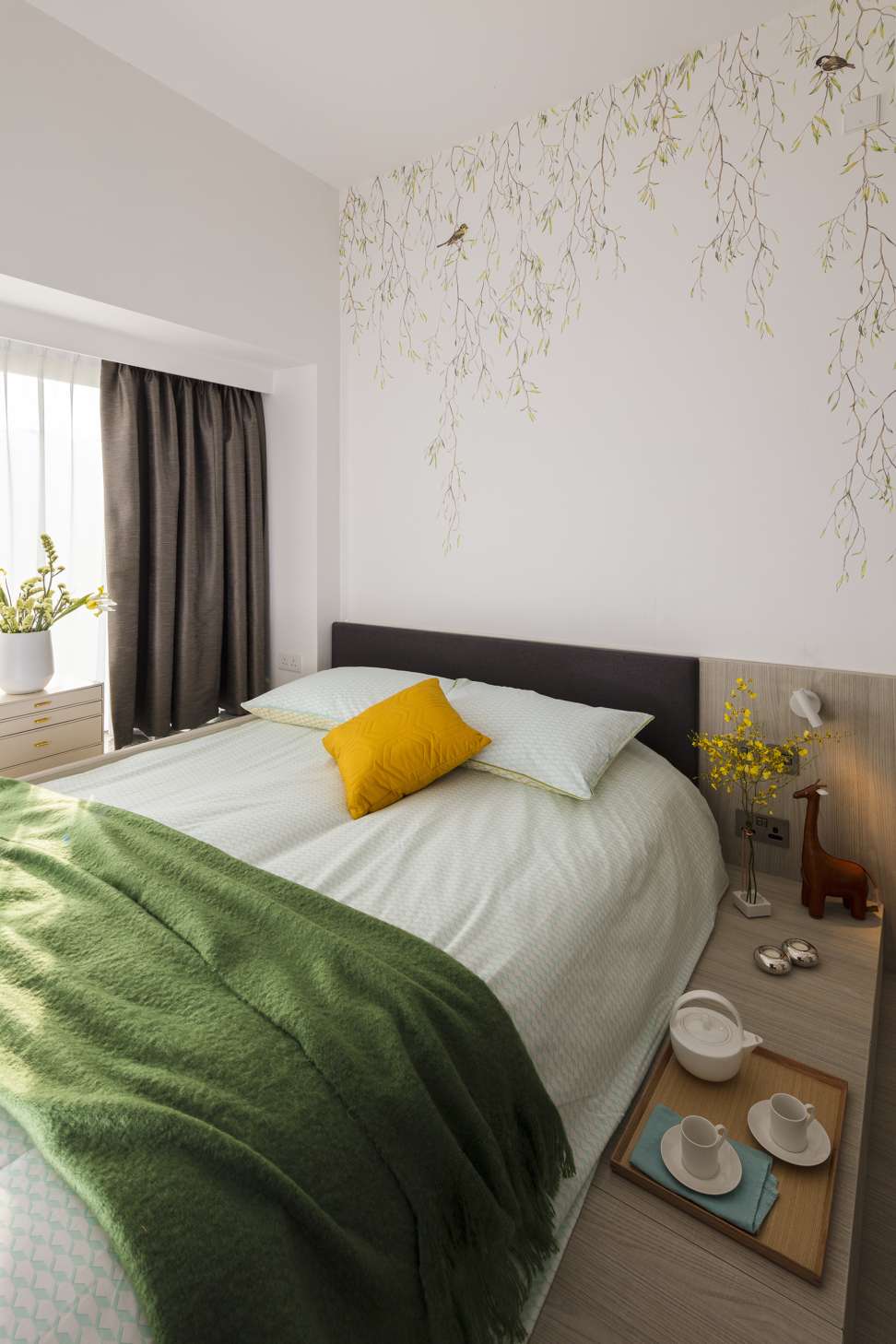 Bedroom A platform (HK$50,000) supports the mattress and provides storage space. On the bay window is a chest – provided by the developer to hold remote controls and instruction booklets – that has been repurposed as a jewellery box. The wallpaper (HK$6,500) came from Tak Lee Wallpaper.
---
TRIED + TESTED
Wall hanging Wall-mounted bicycle racks have come into their own in recent years, with increasingly creative designs available to store bikes indoors and display them as works of art. When they moved to Tai Po, Ephraim Lam and Agatha Kwan bought themselves a couple of Tokyo Bikes, which they keep by the entrance, adding an element of fun to their loft-style interior. They bought their mounts (HK$1,180 for two) from Saturn Wood Workshop, which at their request added a small shelf on which to perch a potted plant.