Hong Kong interior designer Mary Wong Ho-yan believes a home should reflect the people who live there. It's a philosophy that informed the design of the 875-sq-ft Wan Chai apartment she shares with her partner, Greg, and their Mini Lop rabbit, Fluffy.
"It took two years of planning and construction," Wong says. "There were a lot of fights."
The upshot is a meticulously planned home in a striking combination of black and white marble (Greg) and warm wood (Mary), with a built-in rabbit hutch in the living area and even a "run" behind the sofa (Fluffy).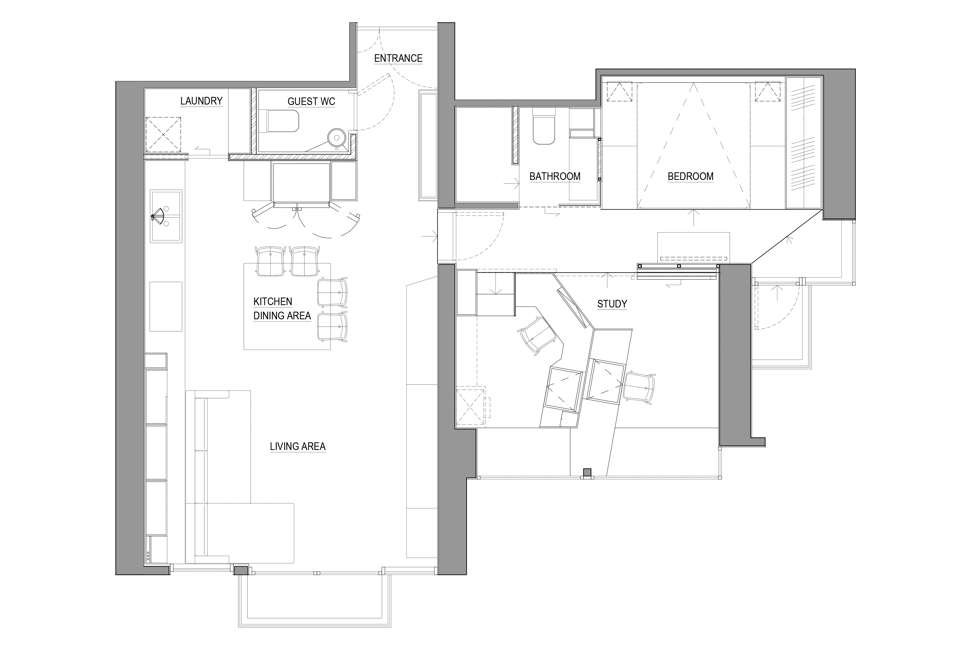 The apartment is divided into two open-plan spaces, public and private: a living room, dining area and kitchen, and, through a door, a bedroom, bathroom and double office. The original, conventional three-bedroom, two-bathroom apartment was gutted to create a blank canvas, and the living-room ceiling raised by about 45cm.
Defining the space are strong diagonal lines. One starts at the front door, slashes through the kitchen island and angles up the wall units to the ceiling. Bisecting it is a second line that zigzags through the living space and into the private areas. On one side is wood, on the other black-and-white polished marble.
"We wanted practical flooring in the kitchen and something warmer in the living room. The diagonal lines extend the two areas into each other and make the space more dynamic," says Wong.
Back in black: a PR executive's home turns to the dark side
The black-and-white palette extends to the kitchen appliances, with a black oven set into black cabinets, and a matching white steamer built into the white side of the marble island. A discreet door opens to reveal a perfectly fitted trolley for barbecue tools.
"We wheel it down to the shared barbecue area when we have guests," Wong says.
More trolleys are tucked into the cabinets behind the sofa, ready for crafting projects and games. On the opposite wall – kept deliberately blank for use as a projec­tion screen – a bespoke low black unit houses a slide-out ottoman and there's a small hole left for a robot vacuum cleaner.
A 395 sq ft Sheung Wan flat gets a modern monochrome facelift
"Although it's mainly used by Fluffy," admits Wong.
Ah yes, Fluffy. The five-year-old rabbit has bespoke quarters in glossy white veneer. She usually has the run of the apartment, which meant some pet proofing was required. Rabbits, it seems, have a taste for electric wiring.
Compared with the dynamic living room, the private space is calmer. It houses a bath­room, platform bed and, behind a trio of sliding doors, a large double office. At its heart is a split-level wooden "pod", with built-in desks for Mary and Greg, a video-game designer.
Industrial-chic Hong Kong studio helps Dutch product designer feel at home
"We both work from home and were happy to share an office but we didn't want to be looking over each other's shoulders all day. We went through loads of ideas before coming up with split-level desks," says Wong.
Made from MDF on a metal frame, with triangular cutouts echoing the strong diagonals in the living space, the final design was the result of trial and error. Wong and the contractor used large sheets of plywood to test various combinations and angles. Her office is on the mezzanine, with a built-in drawing board and a cosy carpeted window seat overlooking Morrison Hill and Happy Valley.
Wong used the flooring to define the space.
A Hong Kong architect continues his love affair with minimalism
"We raised the floor to the private areas so as you walk through the door you also mentally prepare to move into a new space. And different materials define the areas," she says.
As well as her pale-wood office eyrie, Wong created a raised, dark-grey wood "corridor" and platform bed, while Greg's concrete office floor is on a lower level. Adding further texture to the monochrome colour palette are raw black slate tiles, which wrap around the shower cubicle and the wall outside.
"It's like a black box in the middle of the apartment," Greg says. "It's very me."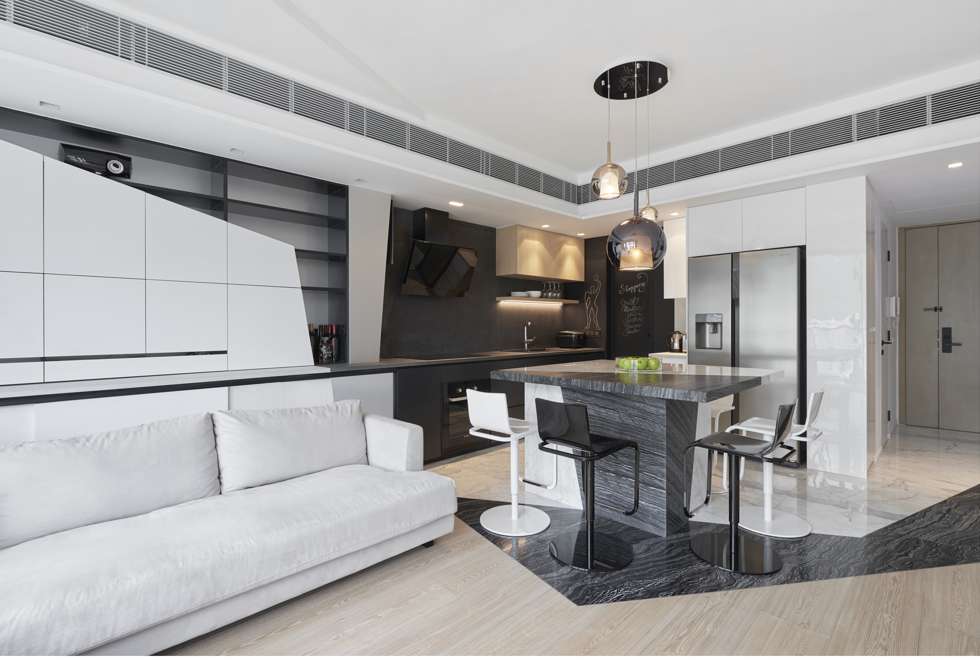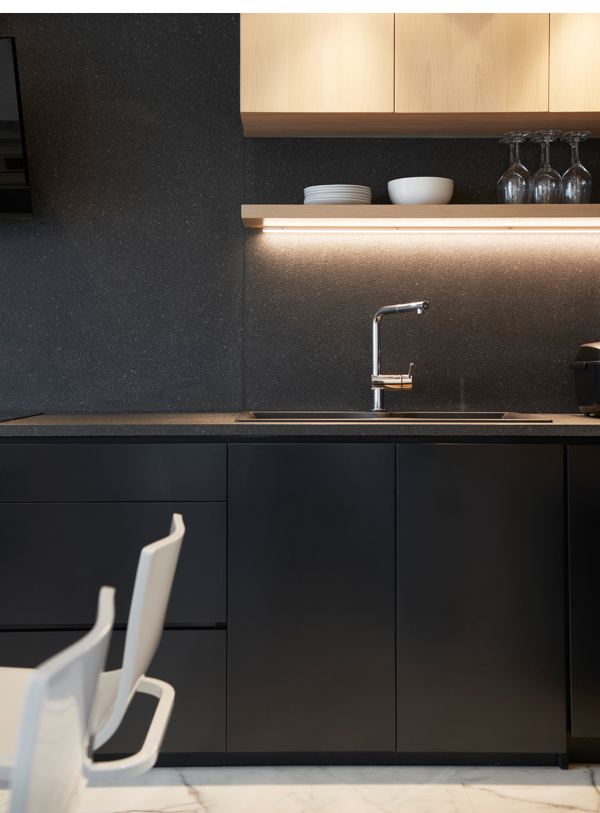 Living room and kitchen The L-shaped sofa was HK$28,000 from Artura Ficus. The Jolie barstools were HK$5,500 each from Ligne Roset. The Penta Glo pendant lamp was HK$35,000 from Zodiac Lighting. Contractor Lee Pok-man, of H Limited (tel: 9842 3022), built the bespoke cabinets (HK$90,985 in total) and kitchen island (HK$15,000). The white Carrara marble (HK$550 per square foot) and black marble (HK$75 per square foot) for the floor and island were from Wing Ming Marble (160 Lockhart Road, Wan Chai, tel: 2598 8430). The Hattco ash white timber floor was HK$143 per square foot from Karlian International. The Technistone countertop (HK$1,400 per linear foot) was from Stonetech Supply (7/F, Corn Yan Centre, 3 Jupiter Street, Fortress Hill, tel: 2887 9398).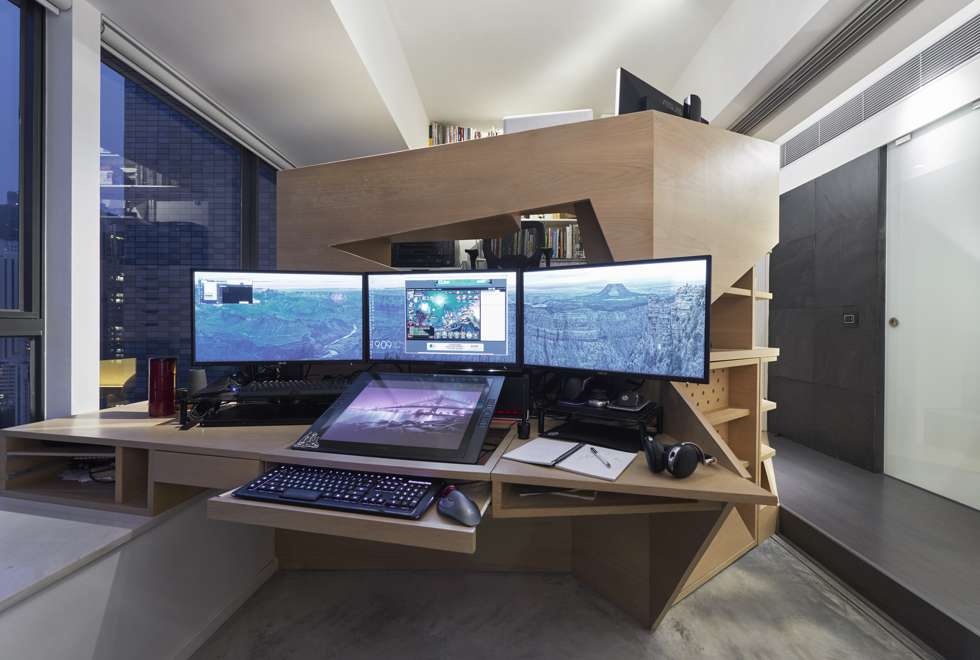 Greg's office At the heart of the open-plan office and bedroom space is a bespoke, split-level desk pod (HK$109,400) designed by Mary Wong, of Haven Design (email: [email protected]), and built by her contractor. Greg works on the lower level. To the right, the black slate tiles of the shower cubicle (HK$150 each, from Omega Culture Stone & Construction Material, 191 Lockhart Road, tel: 9879 8784) continue into the corridor and contrast with the sleek opaque-glass bathroom door, designed to allow light into the windowless bathroom.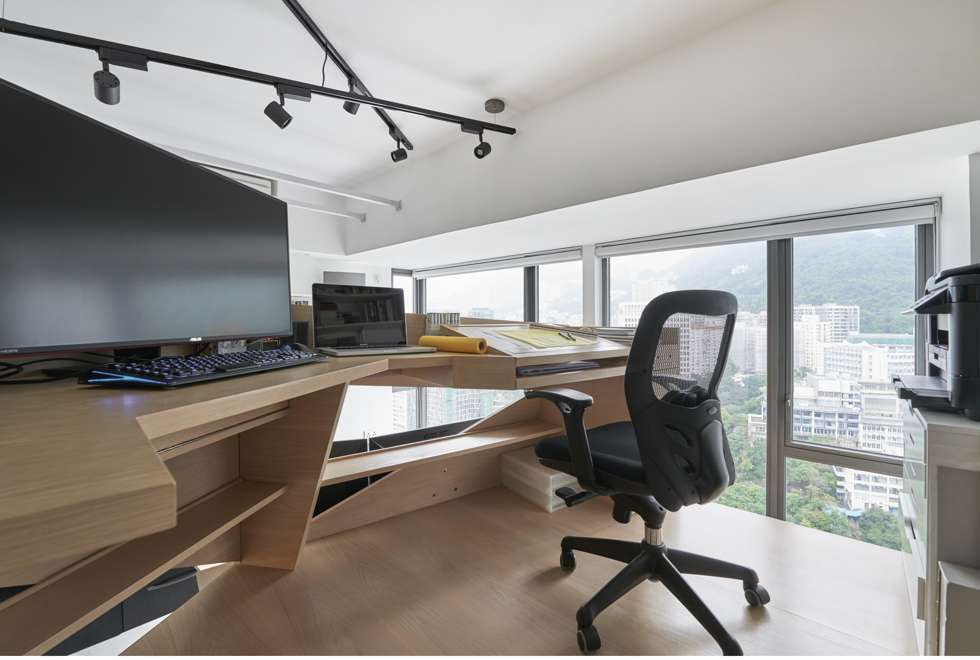 Mary's office Wong's desk is on the upper level of the office "pod", accessed by three steps. To the right is a built-in drawing board. The chair was HK$2,500 from Matisse (4/F, Nan Dao Commercial Building, 359 Queen's Road Central, Sheung Wan, tel: 3184 0903).
Fluffy's hutch The rabbit is housed in a box designed by Wong and made by the contractor for HK$12,600. The lids open for easy cleaning and petting.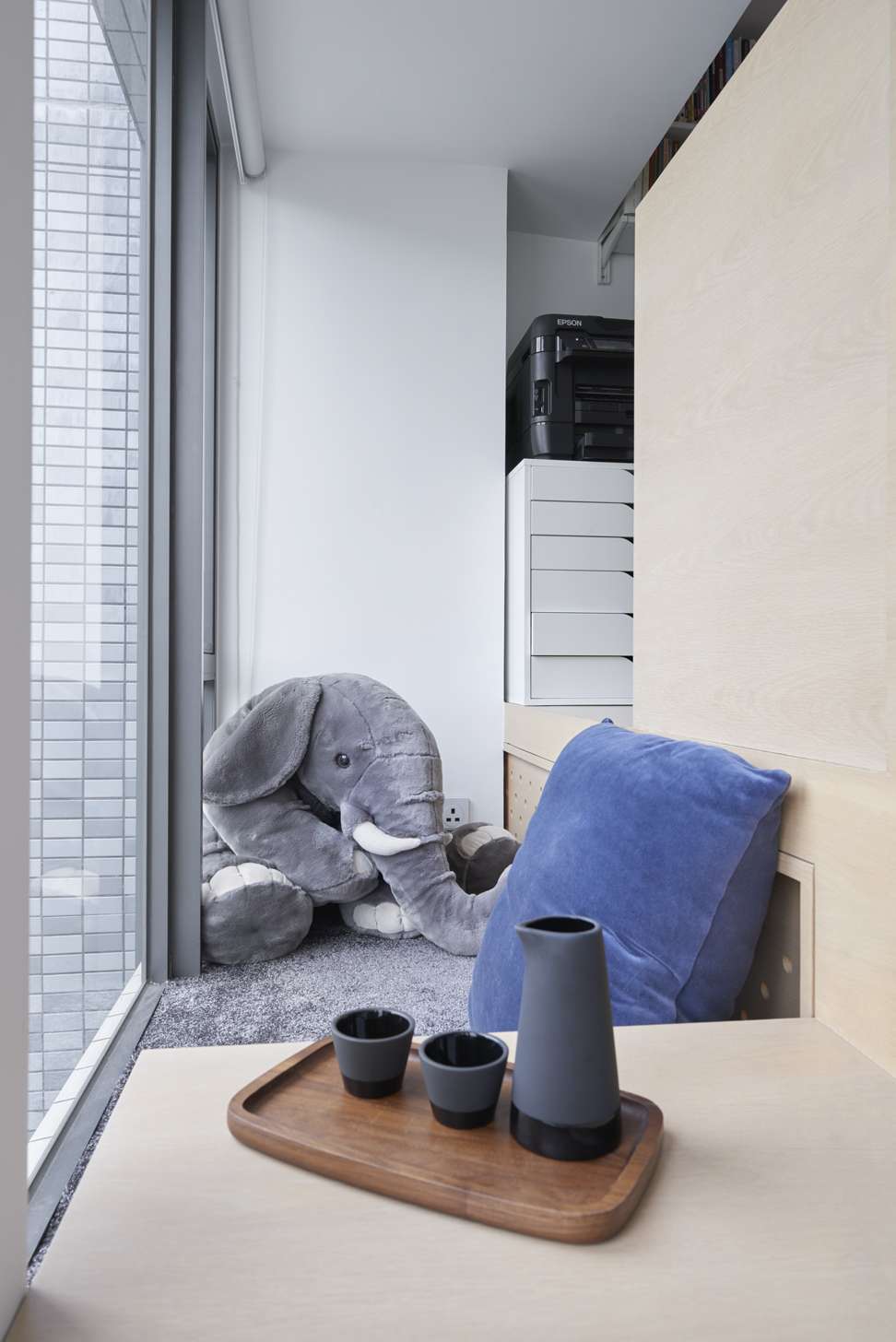 Window seat Accessed from Wong's office, the window seat has bird's-eye views of Morrison Hill and Happy Valley. "It's a great place to make phone calls," Wong says. The Alex drawers were HK$1,290 from Ikea.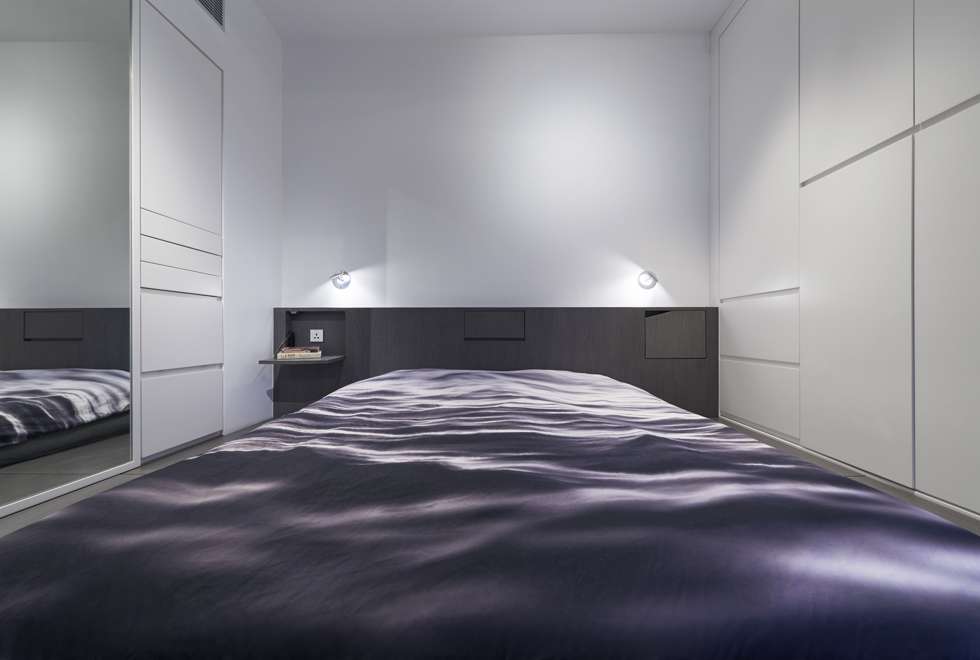 Bedroom The bedroom is a masterpiece in hidden storage, with drop-down tables in the headboard, under-bed storage and a drop-down dressing table (left; Mary Wong sits on the bed to use it). Her jewellery hangs from pegs in a shallow cupboard above the dressing table, which backs onto a unit in the bathroom. The bed and headboard (HK$15,000 in total) and wardrobe system (HK$27,900) were custom built by the contractor. The Flos wall lights were HK$2,200 each from Zodiac Lighting.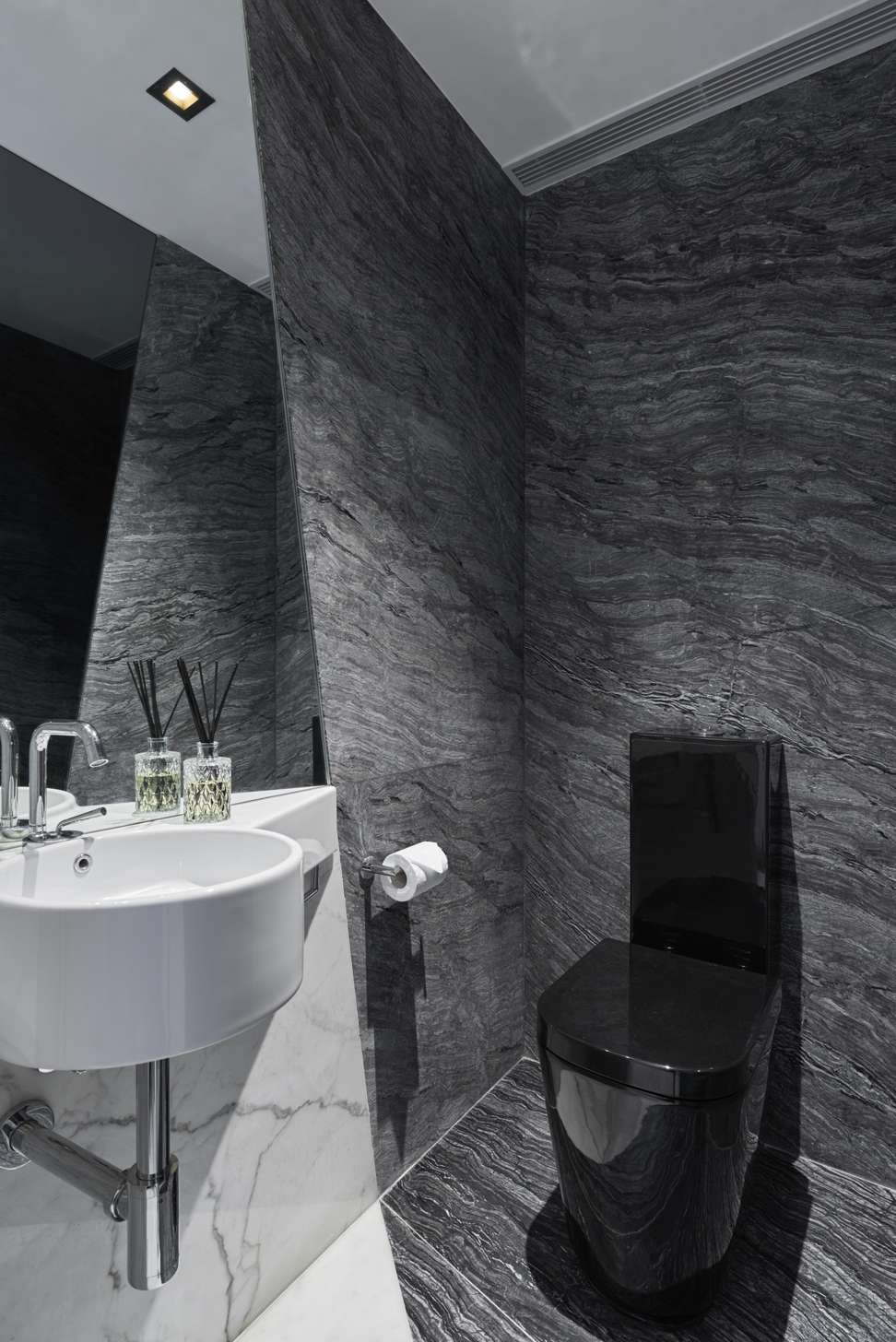 Guest toilet A dynamic diagonal adds drama to the guest toilet, which has polished marble on the floor and textural natural marble on the walls. "I love the shiny bits," Wong says. The white Carrara marble and black marble, also used in the living area, came from Wing Ming Marble. The Kerasan Tao wall-hung basin (HK$3,680) and Galassia toilet (HK$6,700) were from E&I International (8/F, Block B, Chung Mei Centre, 15 Hing Yip Street, Kwun Tong, tel: 2384 0682).
TRIED + TESTED
Play time Concealed beneath Mary Wong's mezzanine desk in the office "pod" is a low-roofed, thickly carpeted hidden room that houses Greg's soft-toy collection, and will one day have a mini projection system for watching films. Just high enough to sit up in, it's a fun space designed to appeal to the "inner child".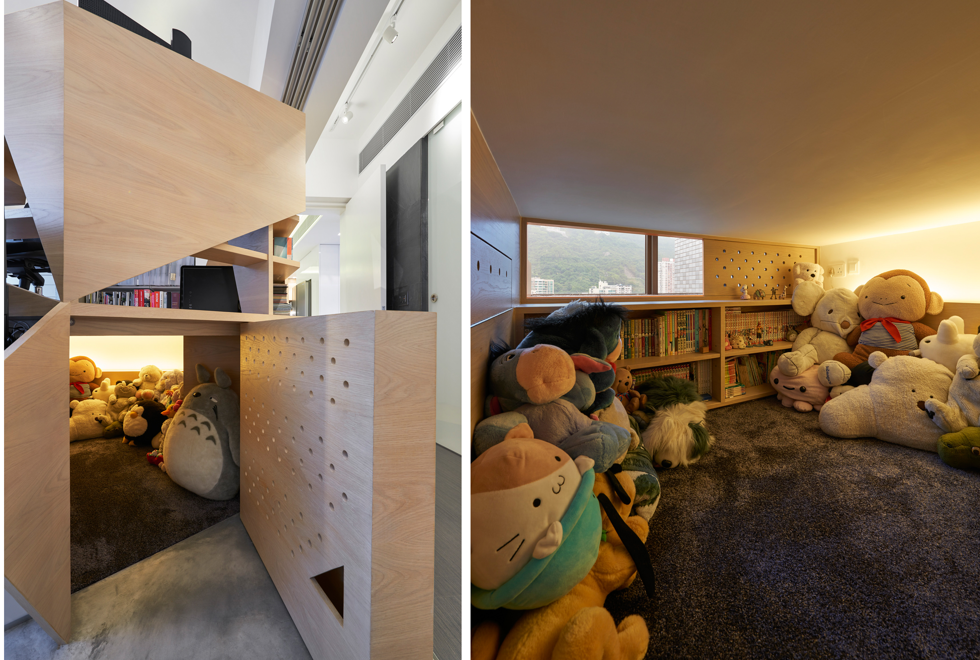 "We could have used it for storage, but we have more than enough already," Wong says. "It's a great place to curl up and read or even take a nap – it's very cosy. Our friends' kids love it."
Contractor Lee Pok-man custom built the hidden room, with sliding window panels, shelving and under-stairs storage, as part of the office pod. The deep-pile carpet was HK$44 per square foot from Forever Wallpaper & Carpet (260 Lockhart Road, tel: 2519 0178).