The ultimate accessory for a Hong Kong girl about town has to be a stylishly designed pied-à-terre in the heart of the city. For Sarah Wong, who runs her own business, it made perfect sense to buy a 496 sq ft flat in Wan Chai: a bolthole close to work and social venues.
She enlisted the help of Y.C. Chen, founder and creative director of interior design brand "hoo", to turn the compact two-bedroom apartment into a chic and comfortable space that seems larger than its footprint might suggest.
"Sarah chose the flat based on location because she needed somewhere very convenient," says Chen, who last year won a 40 Under 40 award for interior design from Perspective magazine, which recog­nises rising stars in Asia. "She also wanted a place with a lot of natural light that didn't need too much work done to it."
A dated Hong Kong apartment gets a contemporary makeover
The apartment had been just completed before it became Wong's property, in 2015, but it was too ornate for her tastes. On Chen's advice, she changed the wood flooring for something lighter but kept the fitted kitchen and bathroom (to save both costs and the planet). She also agreed to make the flat more open plan and give it a studio feel.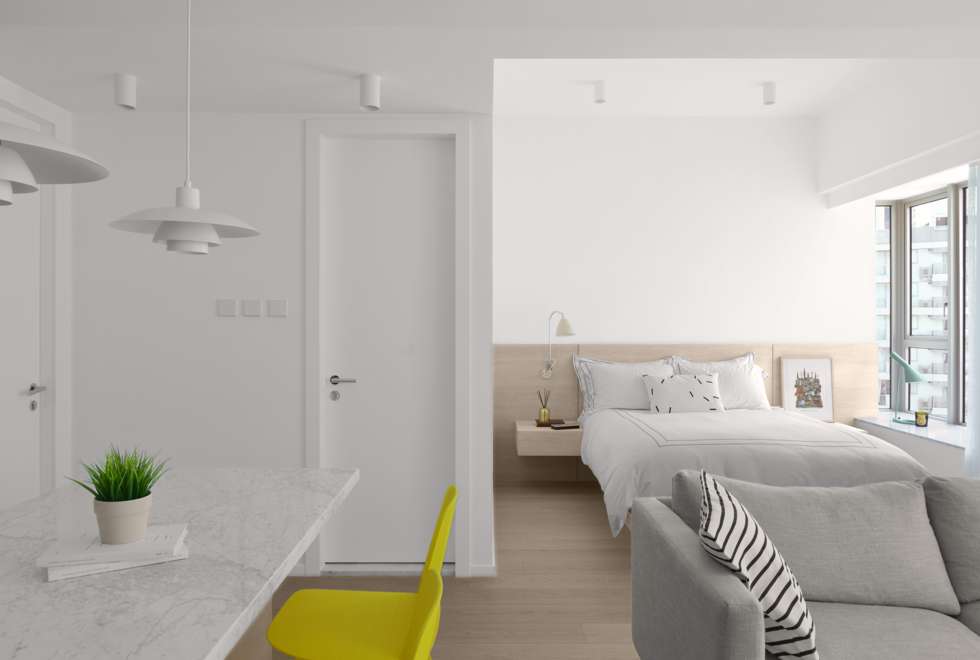 Chen knocked down the wall between one of the bedrooms and the living room to make an L-shaped space, which he semi-divided with a sizeable three-seater sofa into sleeping and living areas. He kept the bathroom separate and turned what had been a second bedroom into a walk-in wardrobe.
As for the rest of the design brief … there wasn't one. Wong gave Chen free rein to do whatever he thought appropriate.
How Hong Kong architect made a 449 sq ft mess his hyper-minimalist haven
"I like to create a unique haute couture home for each client, but modern Scandi­navian is one of my signature designs and it was perfect for this project because it is typically fresh and clean," he says. "Sarah was in her early 20s so I wanted to come up with a young, playful look that would fit her lifestyle and personality."
The colour palette evokes Nordic style. Pure white walls and ceilings combine with pale wood flooring to give a light, unfussy feel that is a hallmark of this type of décor. Cool grey curtains and matching sofa break up the white but still contribute to the requisite pared-back look. But Scandi style isn't just about neutrals, says Chen, who introduced a single pop of colour into the flat in the form of two canary yellow Nerd chairs. These lift the entire scheme and create a dramatic design statement.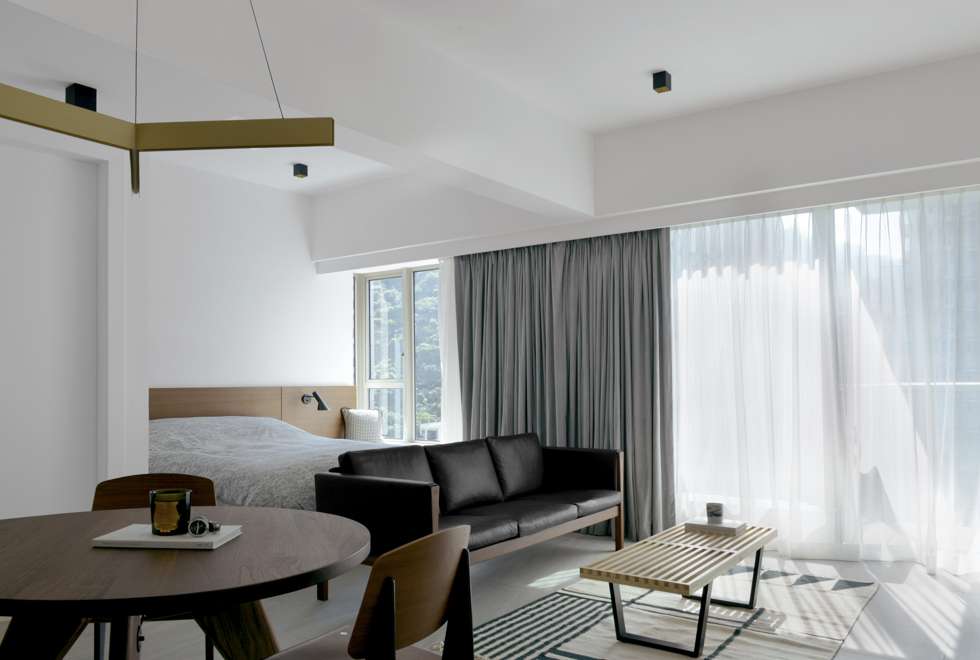 "Yellow isn't always an easy colour to incorporate and certainly isn't the norm for chairs," says Chen. "But used sparingly it can add so much life, vibrancy and interest into a space."
Also preventing the apartment from appearing bland are geometric patterns on cushions and a rug, which act as accents.
Chen bought all the furniture specifi­cally for the apartment. Since minimal chic was the order of the day, he says, the key to achieving an understated but nevertheless elegant look was to invest in a few timeless, top-end pieces. As the bed, rug and sofa were to be the main items in the apart­ment, and always on show, it was worth going for the best the budget could afford.
Scandinavian couple's Hong Kong village home a homage to Danish design
"This kind of style demands good-quality furniture and lighting," says Chen. "It wasn't outrageously expensive but nor was it throwaway cheap."
And should Wong get tired of her pad, she has only to head downstairs to her brother's flat, also designed by hoo, with exactly the same layout but a much more masculine look.
"That was probably my biggest challenge of the whole project – to simultaneously come up with something similar but totally different for both brother and sister," says Chen.
Living area The Salone three-seater sofa (HK$29,000), from Content by Terence Conran, and the rug (HK$28,000), by The Rug Company, both came from Lane Crawford Home Store. The engineered-wood flooring from Finland cost HK$130 per square foot and came from Karlian (17/F, Yue On Commercial Building, 385 Lockhart Road, Wan Chai, tel: 2388 3938).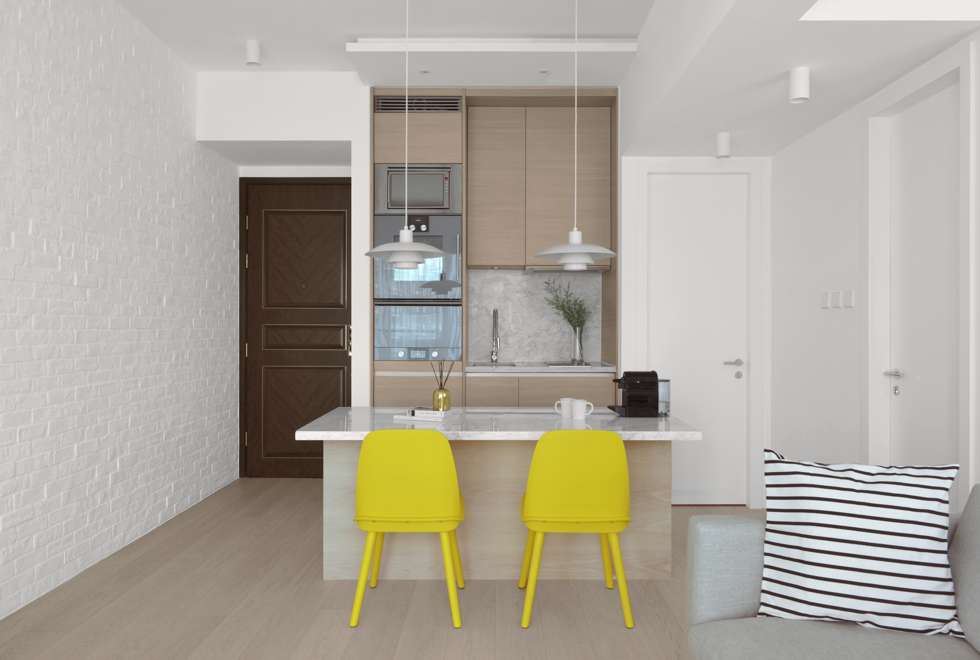 Dining area The Louis Poulsen PH 4/3 pendant lights (HK$5,000 each) and yellow Nerd chairs by Muuto (HK$3,500 each) were all from Establo. The marble island was custom designed by hoo for HK$25,000.
Kitchen The kitchen had been installed by the developer and was left untouched.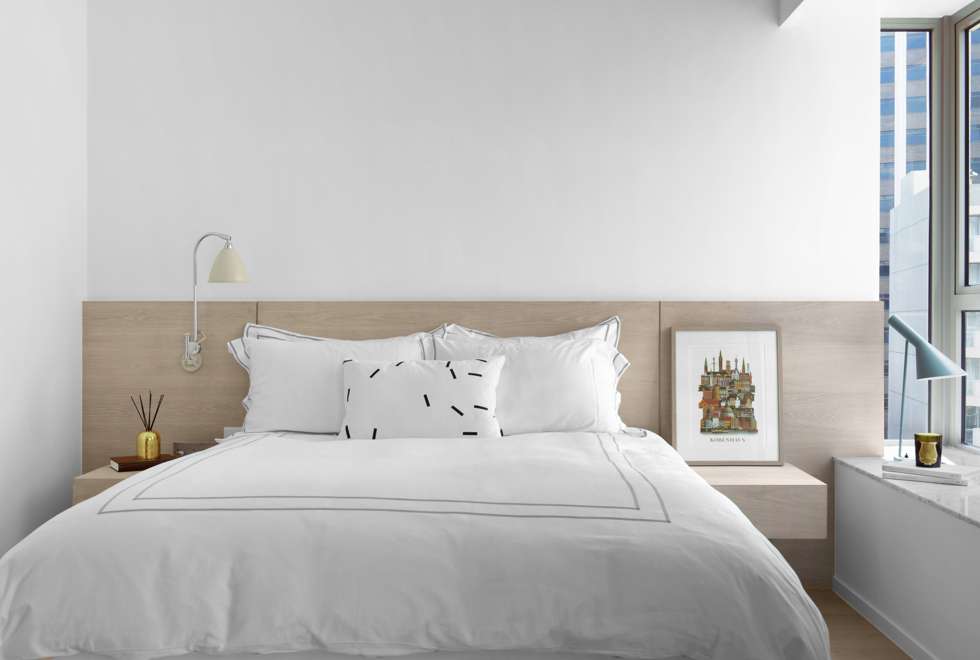 Bedroom The bed and integrated bedside tables (HK$25,000 in total) were custom designed by hoo. The BL6 bedside light, by Gubi, was HK$5,500, from Establo. The AJ table lamp, by Louis Poulsen, was HK$7,500, from Manks. The artwork, from Copenhagen, Denmark, was part of hoo's collection.
TRIED + TESTED
Brick trick A whitewashed uneven brick wall lends a touch of loft cool to an interior but full-scale bricks can take up valuable space. With this in mind, Y.C. Chen used brick "slips" (HK$300 a box, or about one square metre, from Hop Hing Lung Material, 235 Lockhart Road, tel: 2511 3013). He then painted the 8mm slices of real brick white.