In 2015, when architect Jessica Lee Yi-chi was approached to refurbish a family friend's new flat in Jardine's Lookout, her initial remit was simply to draw up cabinets for the couple and their three children, two boys and a girl.
As often happens with home makeovers, however, the job ballooned. Soon, it was apparent she on her own would be hard-pressed to figure out how to accommodate in style and comfort a family of five, their two helpers, computers (going back as far as the boxy 1984 Macintosh) … and a white piano.
So the couple decided to have their whole flat redesigned, handing Lee not only her first residential project since starting her company, Jessica Lee Architecture, the same year, but also an interesting brief that would see her working out how to slot everyone's needs into a 973-sq-ft space.
Of course, there were several other pieces of the puzzle, which would take nine months to complete: the position of furniture and white goods had to abide by feng shui rules; the children's rooms needed to be flexible spaces; and the aesthetic preferred was Japanese-y.
"The parents wanted something mainly for themselves," says Lee, adding that the couple work in finance and technology (hence the old computers) and their children return to Hong Kong from boarding schools in Canada only during term breaks. Because of a lack of space, the living area needed to be able to be converted into their bedrooms.
Inside the shape-shifting 452-square-foot Hong Kong flat dubbed the 'city transformer'
With that in mind, Lee created a lounge where, similar to traditional Japanese homes, futons could be pulled out for sleep. Instead of installing deep oshiire cupboards in which to store the mattresses, however, she raised the floor by 25cm to allow them to be stashed under hatches with other bedding. The wardrobes would take clothes and other paraphernalia, as well as hide in-built desks.
She also installed panels that fold out to bisect the space. A small door inserted along a corridor allows the daughter to enter and exit without having to disturb her brothers. And when the room is not in use, the same door, designed with shelving on one side, can be kept shut so that from within it looks like a bookcase (see Tried + tested).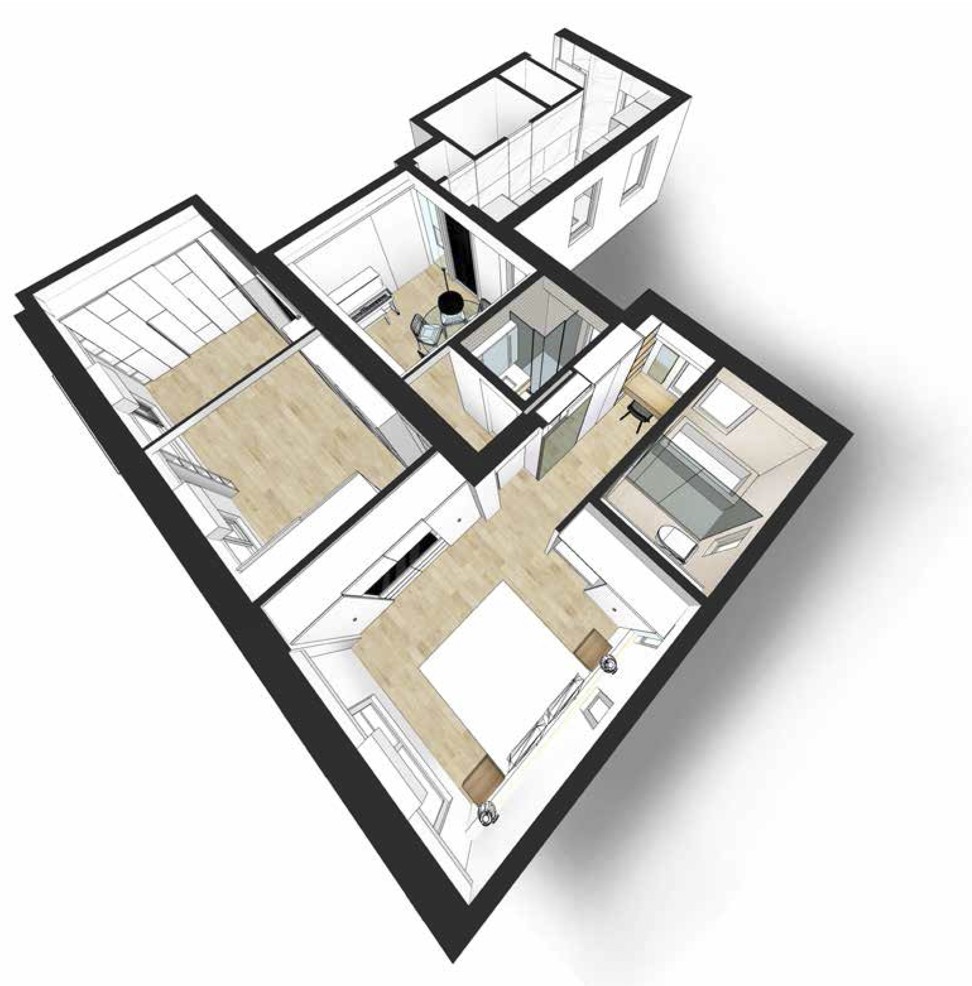 To save space, Lee installed sliding doors elsewhere. These were built using mirrors and ripple glass to reflect light or allow it to pass through, especially in the dining room, positioned between the lounge and kitchen.
"When we first visited, the apartment was quite dim, so on a day like this it would have been dark inside," says Lee. That's why white was used for walls and fittings, teamed with a light ash wooden floor.
To animate the look, simple patterns were introduced on the doors of several cupboards and a hint of grey added to other surfaces. (Light purple was proscribed because, Lee says, "It represents sickness, according to their beliefs.")
A Hong Kong flat with a very Japanese interior and hand-drip coffee
Her clients also had firm ideas about where the oven should be positioned for feng shui reasons: by the kitchen entrance. "We flipped the whole kitchen around so the fridge is now inside, which is rare because normally it is near the door," Lee says.
Feng shui principles also influenced the couple's en-suite bedroom, which occupies about a third of the flat. For those reasons, or perhaps just because it made sense to do so, the table in the walk-in dressing-cum-work area faces greenery, as does the bathtub, positioned by a large picture window.
An interior glass panel between these two areas maximises light streaming through that window.
How a couple transformed their Hong Kong apartment to make room for two kids
"They liked having a visual connection between the dressing room and bathroom," says Lee, while showing off another of her well-planned doors. When the mirror door leading to the dressing area and bathroom is swung open, it neatly closes a cupboard on the inside.
With so many clever bits to the flat, it's hard to pick holes in the design – except, perhaps, when it comes to the idiot box, the scourge of so many living rooms. Cupboards built into the walls of that space left no obvious room for a screen.
But a solution was found for that, too. "Movie nights take place in the master bedroom," says Lee, smiling. "They're a very close family in that sense."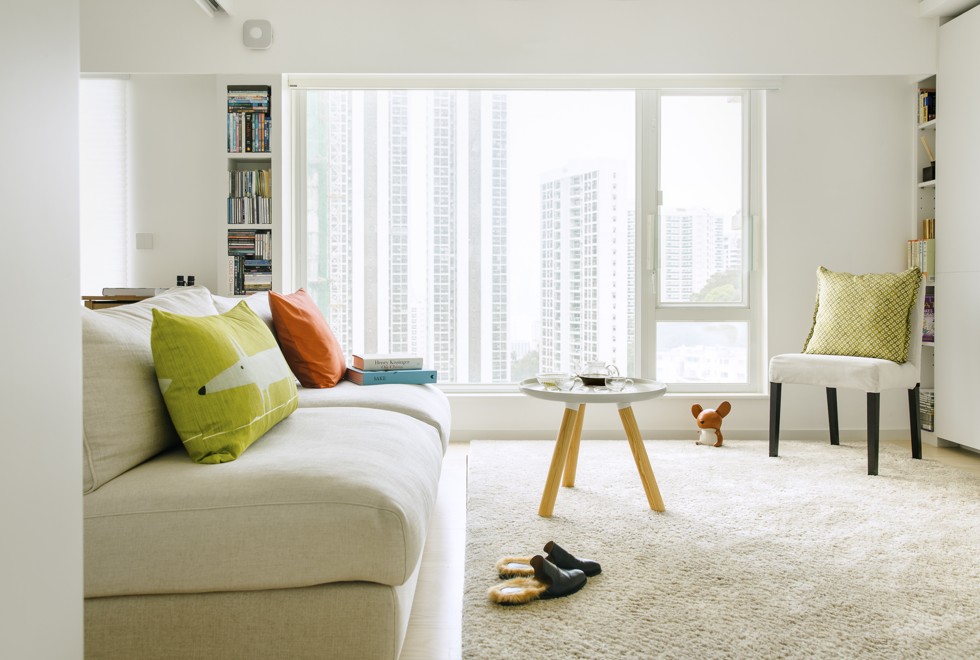 Living room One half of the living room serves as a sitting area when it is not being used as the boys' bedroom. The Malmo sofa (HK$4,490) and rug (HK$5,000) were from Indigo Living and the coffee table (HK$4,250) from Normann Copenhagen. The chair was given a new lease of life with a cover (HK$520) from Fabricsmith.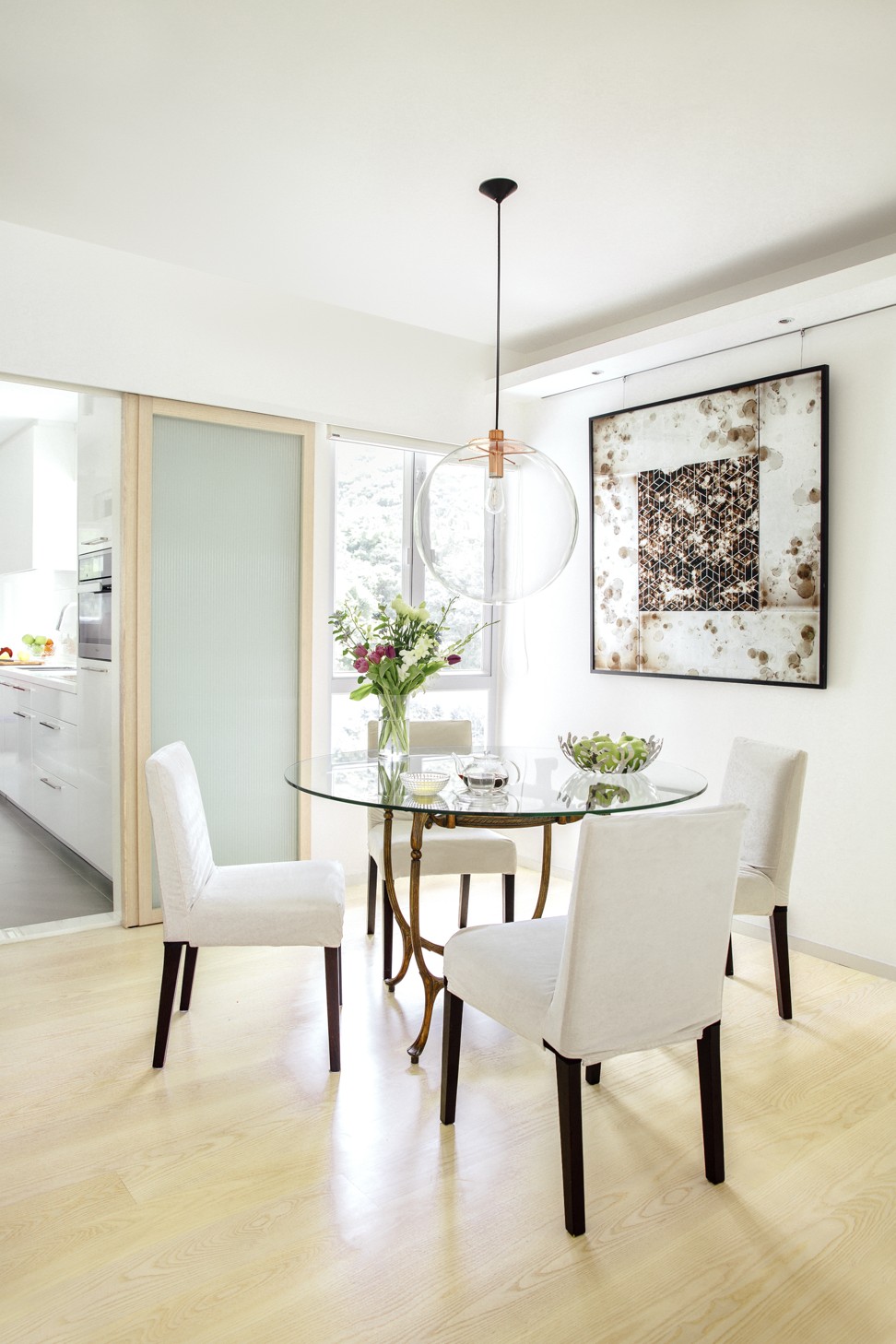 Dining room The dining area can be closed off with ripple-glass sliding doors. The Boen Ash engineered timber flooring (HK$1,392 per square metre) came from Equal. The table came from the couple's previous flat, but had a new glass top cut to fit the space. The chairs are also old, but reupholstered with covers from Fabricsmith. The artwork came from Indigo Living, as did the Barnaby pendant lamp (HK$1,490).
Work room The other half of the living room, which turns into the daughter's bedroom, features wardrobes with an in-built desk. The other desk and chair came from the couple's previous home. The rug (HK$5,000) was from Indigo Living.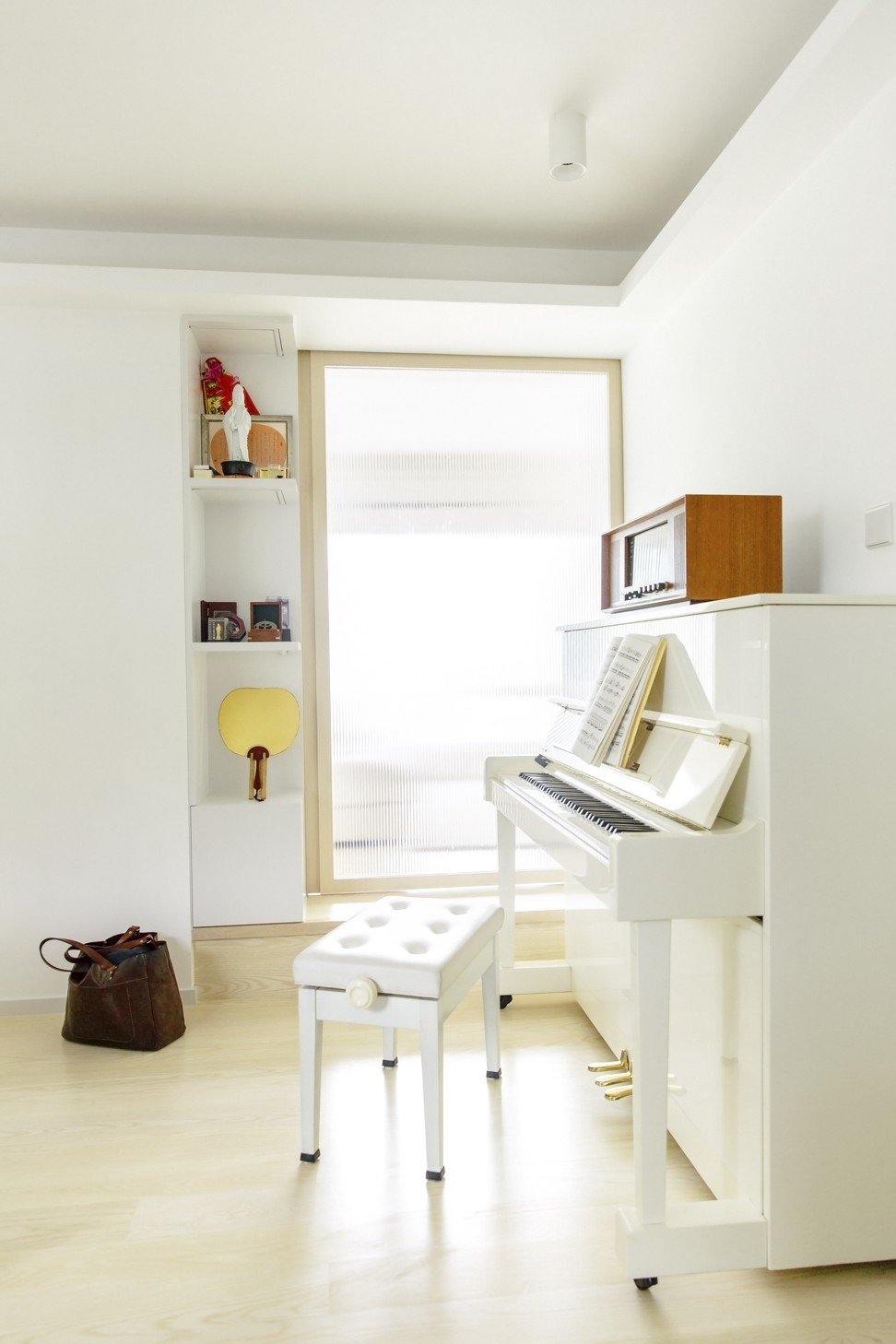 Piano area The piano and Saba radio, bought on eBay, came from the couple's previous home.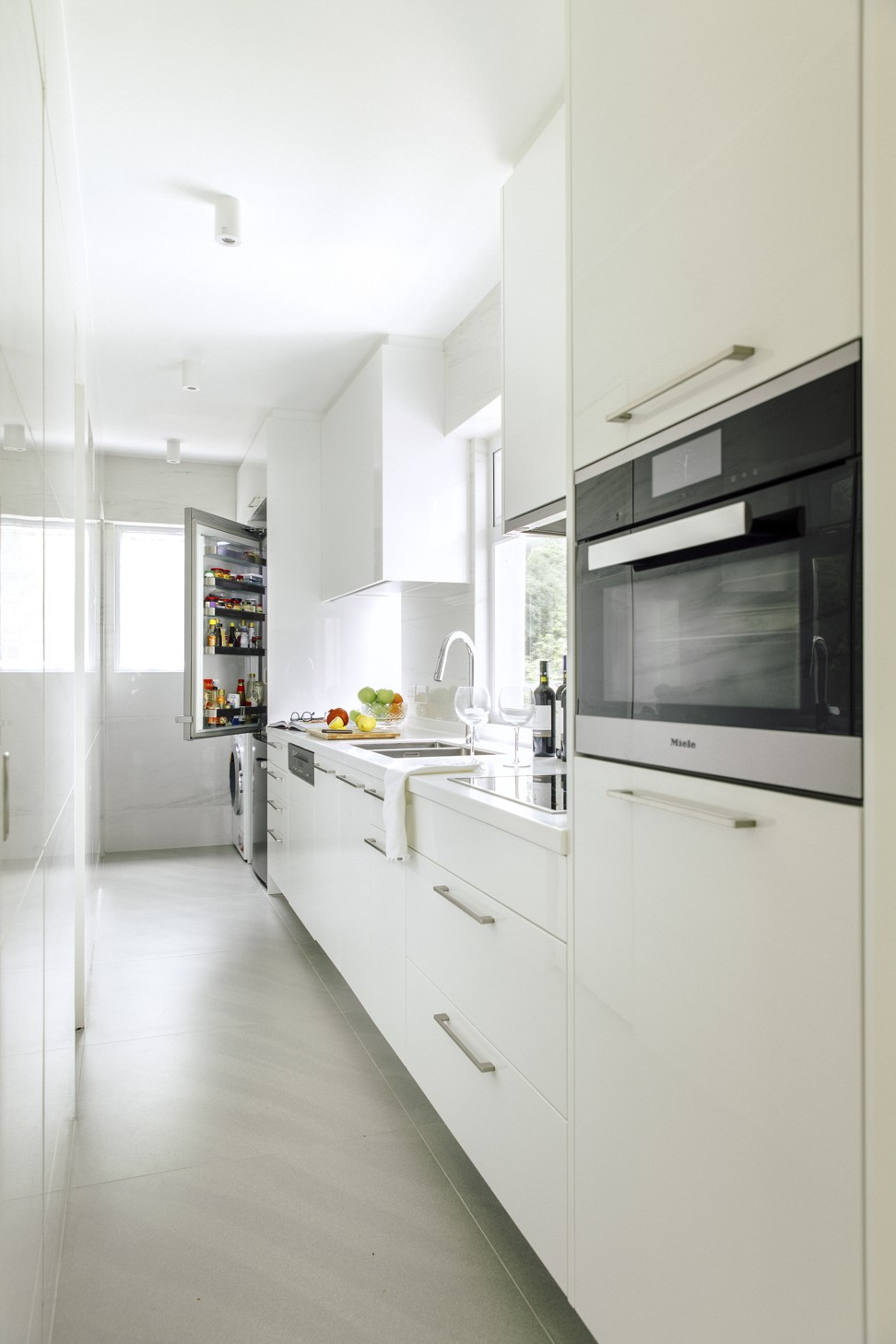 Kitchen The cabinetry (HK$127,800) and Corian benchtop (HK$11,856) came from Kitench. The positions of the fridge and oven were swapped for feng shui reasons.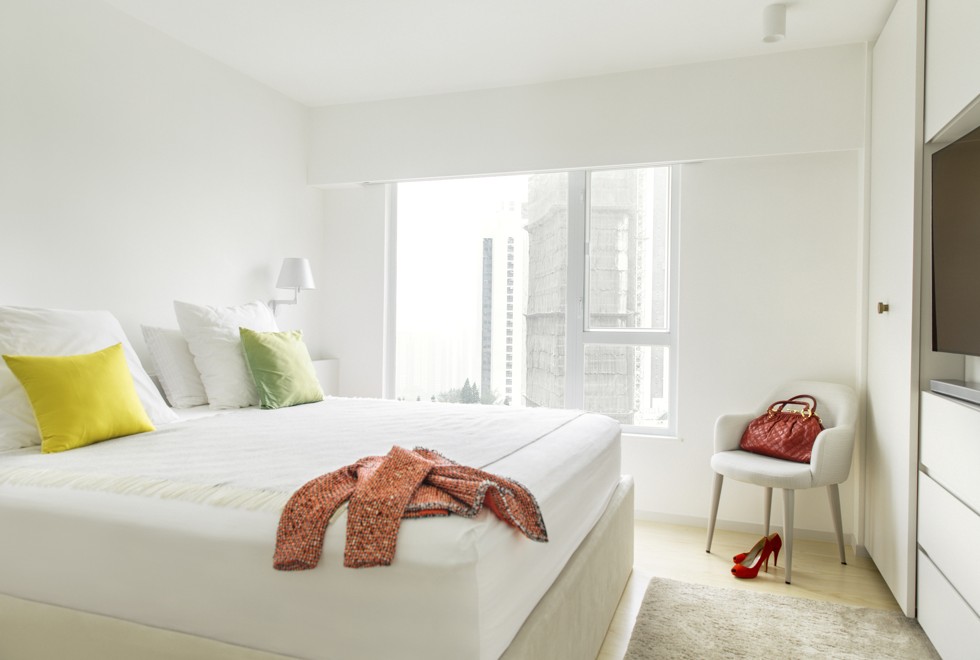 Bedroom The bed, elevated to provide room for storage beneath, was custom made for HK$12,515 by Red Cabinet. The chair (HK$2,190) came from Indigo Living. The Artemide Melampo wall lamp (HK$$1,665) was from Amuse Lighting & Consultancy.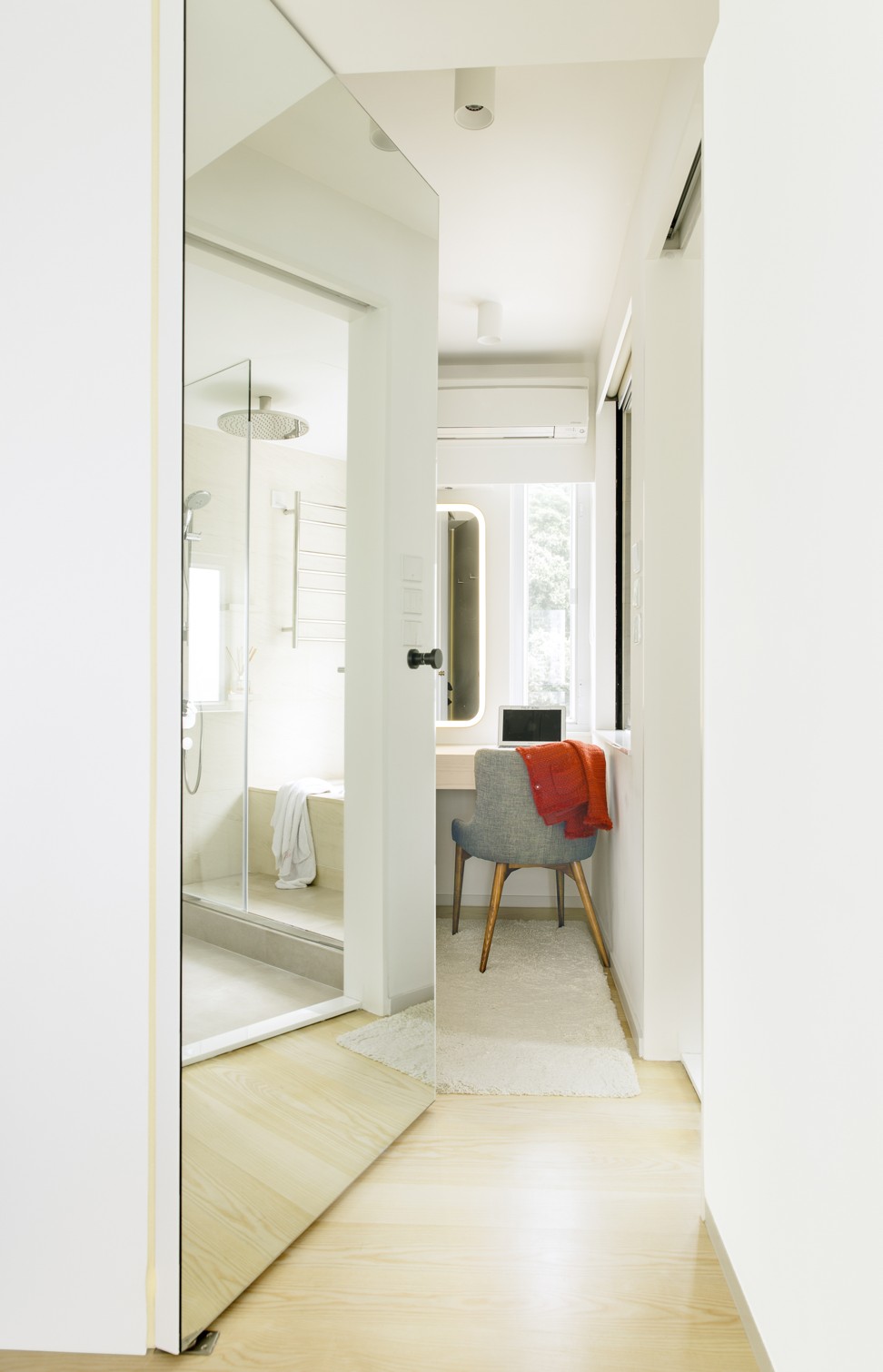 Dressing room The door into the dressing area and bathroom pivots to close off a wardrobe when opened. The Harlequin chair (HK$2,190) came from Indigo Living, as did the rug (HK$3,000). The illuminated mirror (HK$3,500) was custom made by contractor Keepway Decoration (tel: 6428 5881).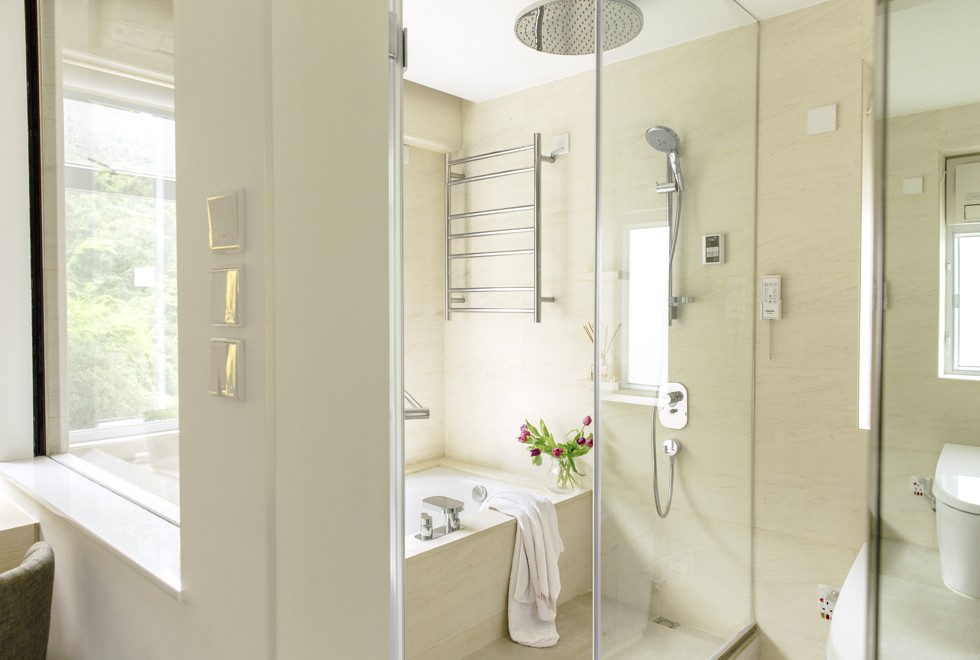 Bathroom The en-suite bathroom enjoys large windows along two sides: one to look out at greenery outside, one that provides visual connection with the dressing table-cum-desk. The Cristina rainshower (HK$36,000), bath tap (HK$12,480) and Hansgrohe Axor handshower set came from Axor Duravit (www.ebon.com.hk). The Heirloom towel warmer (HK$4,800) was from Vincent Sanitaryware (288 Lockhart Road, Wan Chai, tel: 2511 2687).
TRIED + TESTED
Page turner The secondary door into the living area provides access to the daughter's half when the space is transformed into bedrooms. To make the door doubly useful, Jessica Lee, of Jessica Lee Architecture, put a bookcase on one side and installed a concealed handle to ensure the door is hidden when closed. Keepway Decoration built the door (HK$15,000), which is about 25cm deep and can take a maximum weight of about 25kg.