Hong Kong is world renowned for its high-octane buzz and bustle, but even the most exciting places can lose their lustre after a while.
Having lived her entire life on Hong Kong Island, Monita Foo Hang-luen decided two years ago that she needed a change of pace. Sha Tin beckoned and, before she knew it, Foo and her husband had bought a newly finished apartment that was just under 1,000 square feet.
Aspects of the new flat, however, didn't suit the couple so she enlisted the help of her boss, Kim Robinson, a hairdresser who also turns his hand to interior design.
"I had a budget to work with but investing in quality products rather than quantity was one of the design briefs," says Robinson, who is currently designing a store concept for accessories brand Folli Follie. "We chose the best flooring and light fittings that Monita and her husband could afford and worked with a local team of contractors who were specialists in their field, such as carpentry experts, to cut down on time."
Robinson thought the flat's two bed­rooms felt claustrophobic so he knocked down walls to open up the space and increase the size of the living/dining area, and create a single bedroom and two bathrooms.
A contemporary look was the order of the day.
Inside celebrity hairstylist Kim Robinson's moody, masculine Hong Kong home
"Everyone has their own ideas about what constitutes modern style. For Monita, it was about keeping the main tones neutral and having a simple, pared-down look," says Robinson. "At the same time, she wanted to have somewhere that felt cosy, comfortable and friendly."
To achieve this, he incorporated texture with copper accessories, luxurious fabric wallpaper, hand-crocheted blankets and dining chairs covered in shaggy faux fur. He also added pops of warm colour with cushions and art. Robinson is an exhibited artist and has painted several bespoke pieces for Foo.
"One of the highlights of the apartment is the green view but the green with the neutrals still seemed a bit too cold," he says. "By bringing colour into the flat through the art, we could add warmth and richness to each room.
Family swap Hong Kong Island for Tai Po home with rich feng shui
"My own taste in art is eclectic but too many styles make a small space busy, so all the art here works together and reflects Monita's taste. She can change it if she wants to incorporate different colours."
The furniture was bought especially for the apartment. Again, Foo and her husband decided less was more and purchased investment pieces that would stand the test of time.
"We splurged on furniture because it was something we believed in. Previous experiences of buying cheaply have shown that it doesn't last and you end up replacing items again and again," says Robinson. "[Similarly with lighting], there are a lot of copies available and, of course, you can go down that route. But it's not ideal to experiment with electrical products that aren't proven and registered, so I always insist that clients go for quality over something that's cheaper."
A Hong Kong house that is also an art gallery
This mindset extended to the flooring. Foo initially wanted real wood but with three puppies running around, this wasn't a practical option. On Robinson's advice, she opted for tiles, going for a top-end product that looks like wood but is able to withstand claws and puddles.
A lack of storage is always a problem in Hong Kong, but even more so when you're downsizing, as Foo and her husband have. Robinson used a contemporary shelving-and-drawer unit to semi-partition the dining area, and built into the living area a wall of easy-to-access cupboards, half of which is mirrored on the facade, to give the illusion of depth and space.
How designer turned Indian artist's Hong Kong flat into a home away from home
"You can put things into cupboards, but they might stay there for years out of sight, out of mind, without you even getting to them," says Robinson. "When Monita opens a cupboard she can see what she's got and it's all easy to get to."
And therein lies the key to the apart­ment. Everything about it, from its layout and decor to the quick commute to Hong Kong Island for work and across the border for golf, makes living here easy.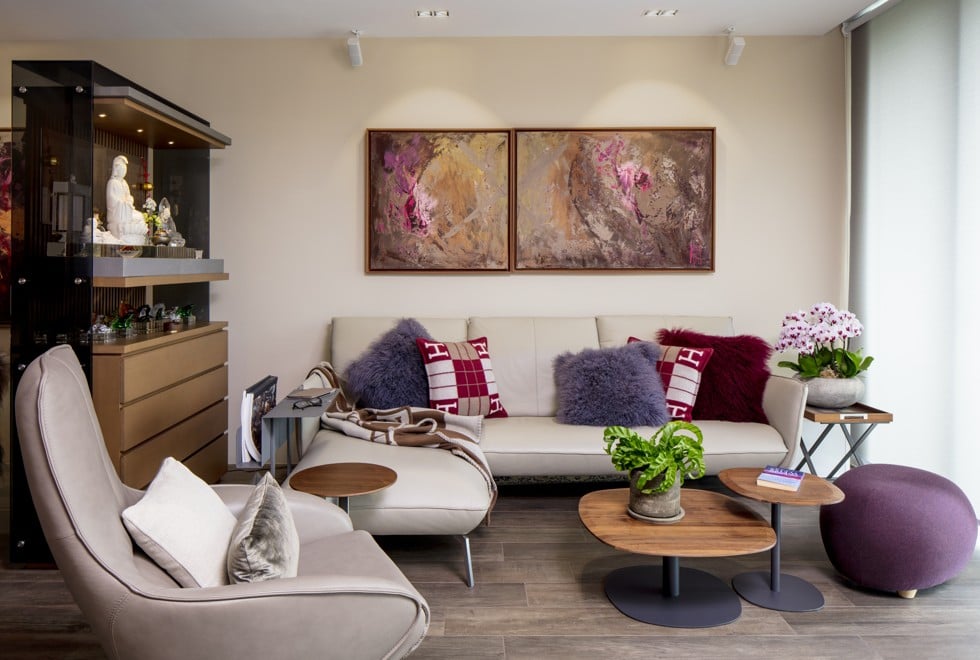 Living room The artwork was specially created by Kim Robinson ([email protected]; tel: 2121 8484). The Flirt corner sofa (HK$99,800), by Koinor, and the Twice armchair (HK$59,800), by Sitting Vision, both came from Décor Collection. The round stool cost about HK$2,000 from Kartell. The shelving unit (HK$60,000) was custom made by contractor Rok's Hong Kong (tel: 9023 8064). The cushions, magazine rack and tables were all purchased years ago.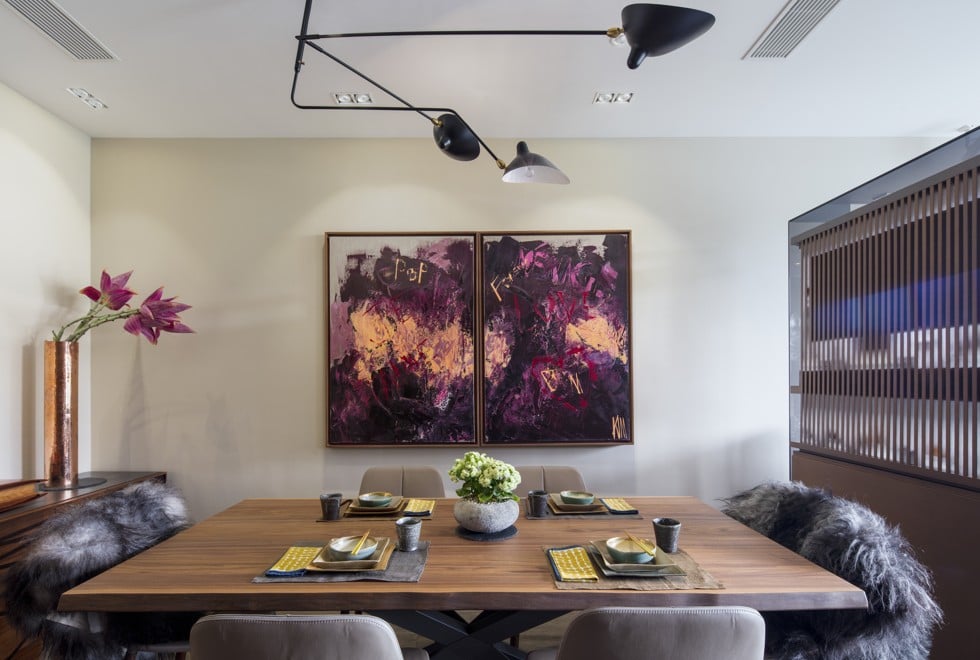 Dining area The ceiling light (HK$49,320), by Serge Mouille, came from Magazzini (Ruttonjee Centre, 11 Duddell Street, Central, tel: 2521 3282). The art is by Robinson. The Spyder table (HK$99,660), by Cattelan Italia, and By Chairs (HK$12,160 each), by Bonaldo, were all from Décor Collection. Two of them are covered in faux fur.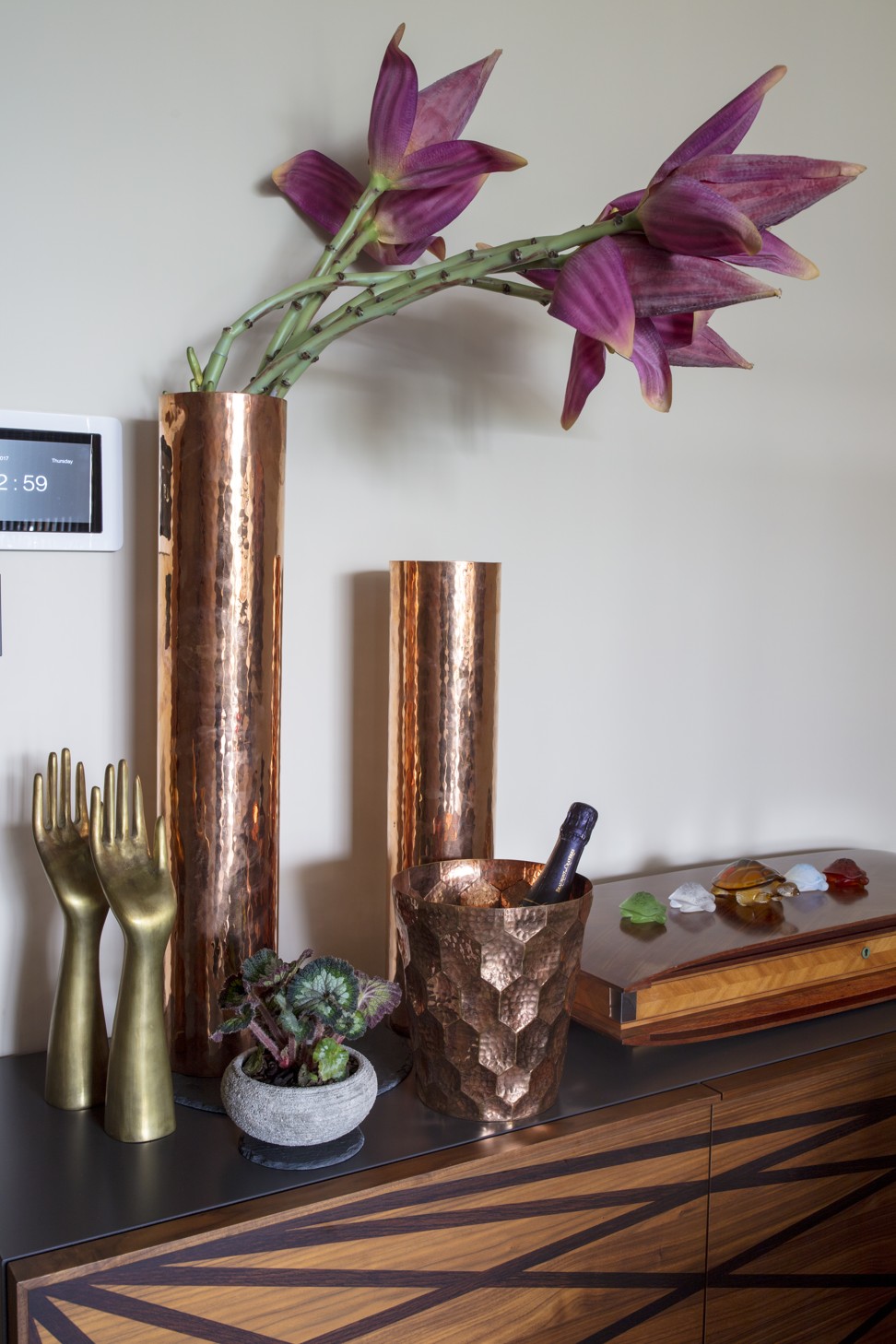 Dining area detail The Webber sideboard, by Cattelan Italia, was HK$76,000 from Décor Collection. The vases (HK$2,400, small; HK$3,000, large) and the Tom Dixon Hex Champagne bucket (HK$2,500) were all from Lane Crawford. The hand sculptures are by Los Angeles-based Kelly Wearstler.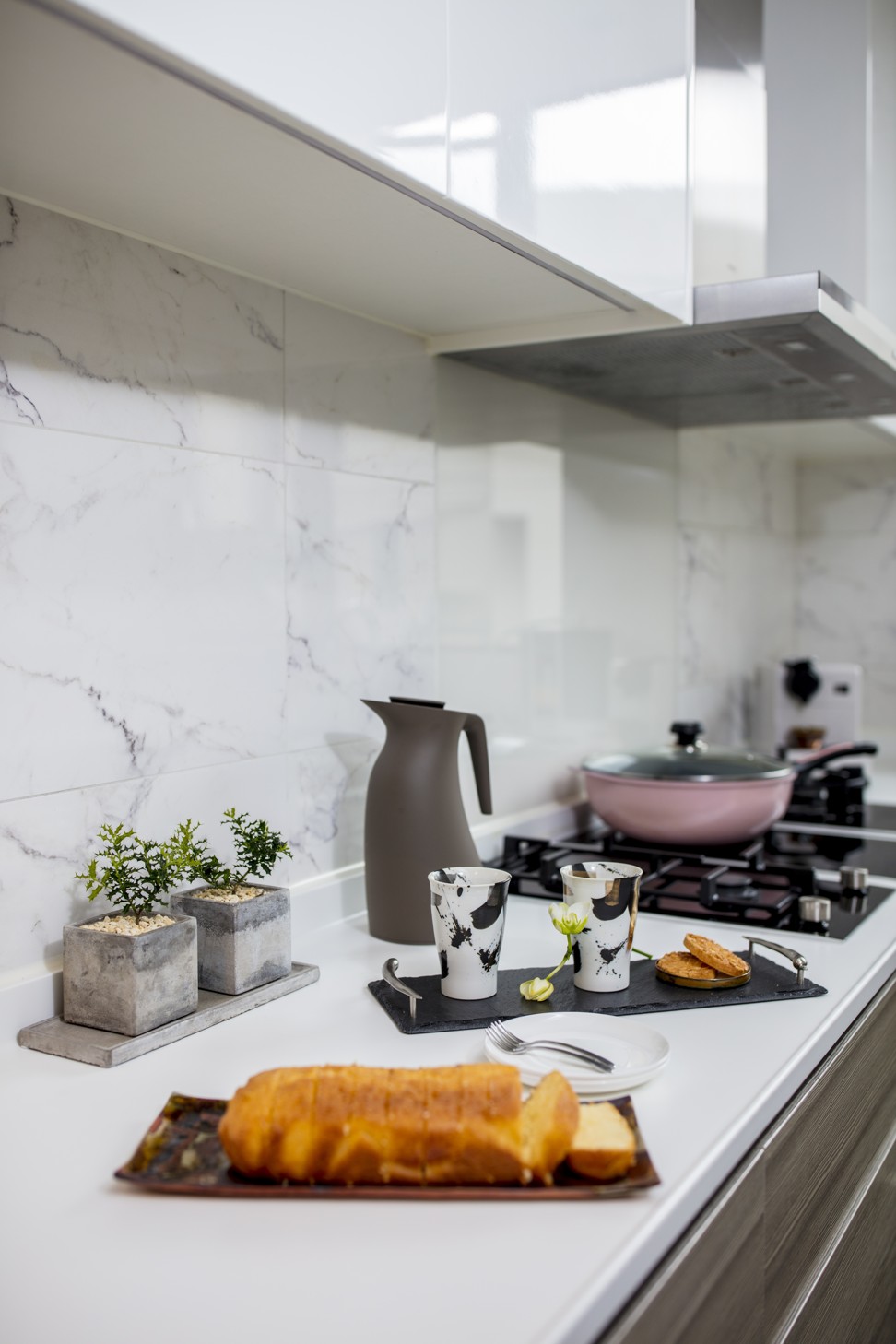 Kitchen The kitchen was installed by the developer.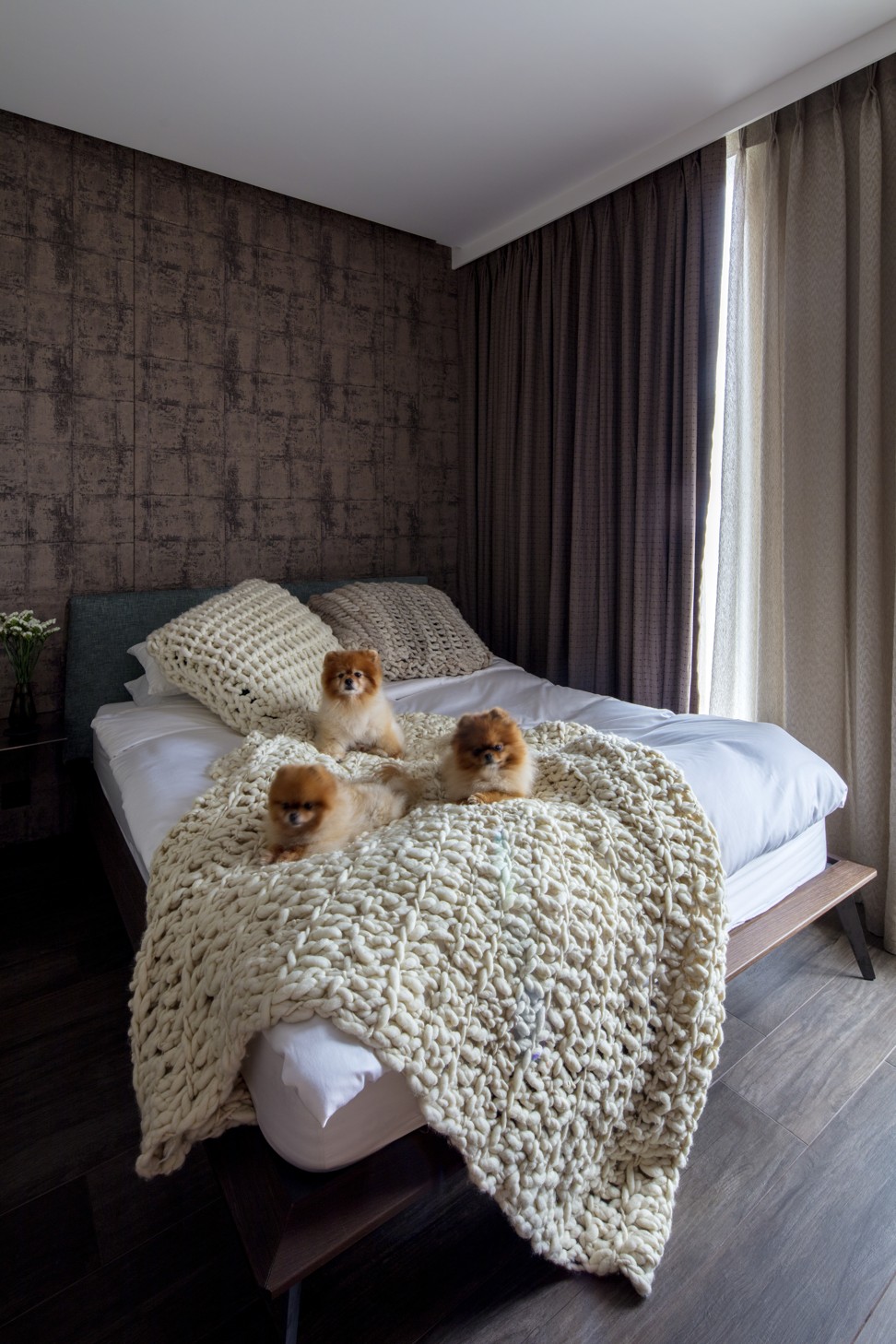 Bedroom The Xilo bed, by Alf, was HK$48,000 from Décor Collection. Lining the wall behind the bed is Pearldust fabric (HK$670 per metre) from Cetec. The wood-look tile flooring by Supergres cost HK$170 per tile (197mm x 1,200mm) from Muse (187 Lockhart Road, Wan Chai, tel: 2519 6108).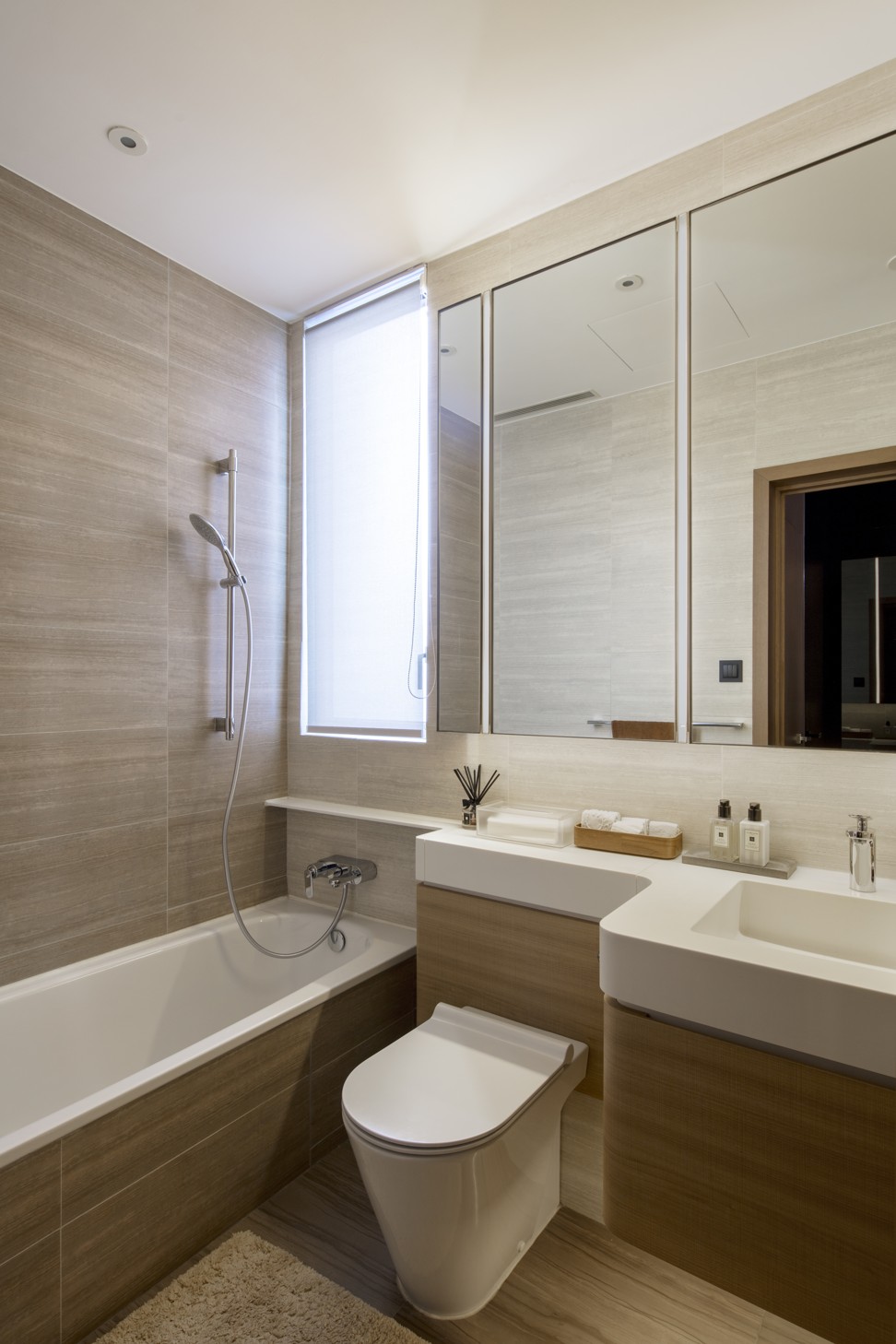 Bathroom The bathroom was installed by the developer.
TRIED + TESTED
Best foot forward Monita Foo's contractor Rok's Hong Kong (tel: 9023 8064) designed a cupboard specially for this shoe rack (HK$2,000). It can be moved in, out and around and allows room for more shoe storage behind it.