We all know what can happen when people with different tastes and needs attempt to find aesthetic harmony. Yet, the family home of interior designer Laura Cheung – whose siblings include art consultant Anne Cheung and restaur­ateur Chris Cheung – proves that accom­modating points of view doesn't necessarily mean compromising on style and personality.
"Of course, it is challenging to always please everyone but my parents are massively supportive and very hands-off, allowing us to each do what we are good at," Laura Cheung says.
The only rule: each sibling is expected to be mindful and respectful of their parents' tastes.
WATCH: Inside Laura Cheung's home
In practice, this means the three-storey, art-deco house that is part of the Kadoorie Estate, in Kowloon, reflects a blend of contradictions, with antique sitting comfortably with modern, intimate with theatrical, and refined with relaxed. The semi-detached, 5,380-sq-ft residence, one of 86 built in the luxury residential enclave during the 1930s, can be decorated but not renovated, and features the high ceilings, spacious rooms and verandahs typical of its era.
Cheung studied at New York's Parsons School of Design before completing her master's in fine and decorative arts at Sotheby's Institute of Art, in London. Having worked with brands from Tom Ford and Estée Lauder to Zegna, she returned to Hong Kong in 2010 to found her own home-furnishings boutique, Lala Curio.
Her trademark style is a highly decor­ative, contemporary interpretation of traditional Asian arts and crafts. Think intricate hand-embroidered silk cushions, cloisonné tiles, vintage Japanese obi-upholstered slipper chairs, lacquered boxes and hand-painted wallpaper.
Stunning 2,400 sq ft Hong Kong duplex has views that stop you in your tracks
In the house, where her family have lived since 2010, spacious living, dining and salon spaces overlooking a private leafy garden feature an ever-changing collection of Cheung's vintage textiles and decorative pieces alongside antique Chinese porcelain and Japanese ceramics.
The tastes of Laura's mother, Hellena Cheung, who prefers an understated aesthetic with strong, simple forms, are met with a pair of sleek, monochrome sofas by Ligne Roset in the living area and a 16-seat burl wood dining table. Laura Cheung's parents' families were involved in traditional Chinese decorative arts, with her mother's side in cloisonné and her father's in rosewood furniture.
A Hong Kong house that is also an art gallery
"We make compromises," says Cheung.
"I come in and throw my fun cushions on. I often change the look by the season. Currently, we have a nude pink palette inspired by fashion but that also has a mid-century feel reflecting our celebration of the old crafts, reinventing artisanship and making it fun and fashionable."
Cheung says younger people tend to "live with things in a different way".
"My mother tends to keep her collec­tibles safe and preserved but I am about playing with them and taking them out to see," she says. "There is no life to things if you don't live with them so I like to create areas for favourites, like my grandmother's cloisonné, to shine."
Hong Kong couple's growing art collection finds a home in Southside house
This diplomatic approach has stood Cheung in good stead when it comes to designing homes for clients in Hong Kong, Singapore, France, Dubai and Australia.
"A lot of that also comes from my experience working for luxury brands, where you have to translate that identity into a space. Now, with my clients, it is about telling their story, helping them turn it into something usable and harmonious."
Cheung's family home is large enough to provide privacy; each of the four bedrooms is en suite.
A Hong Kong interior designer's home that's full of stories
Cheung's own room features her signature theatrical touch, with silk wall­paper hand-embroider­ed with a coral pattern of pearls, and a dramatic monu­mental white beaded chandelier, whereas her mother's room is a more subdued affair.
"We are all in the decorative-arts busi­ness so my mother often wants a break from it all," Cheung says. "In the end, our home works because it is not designed as a showroom. It's made for family life where you can sit, talk and relax, or escape."
---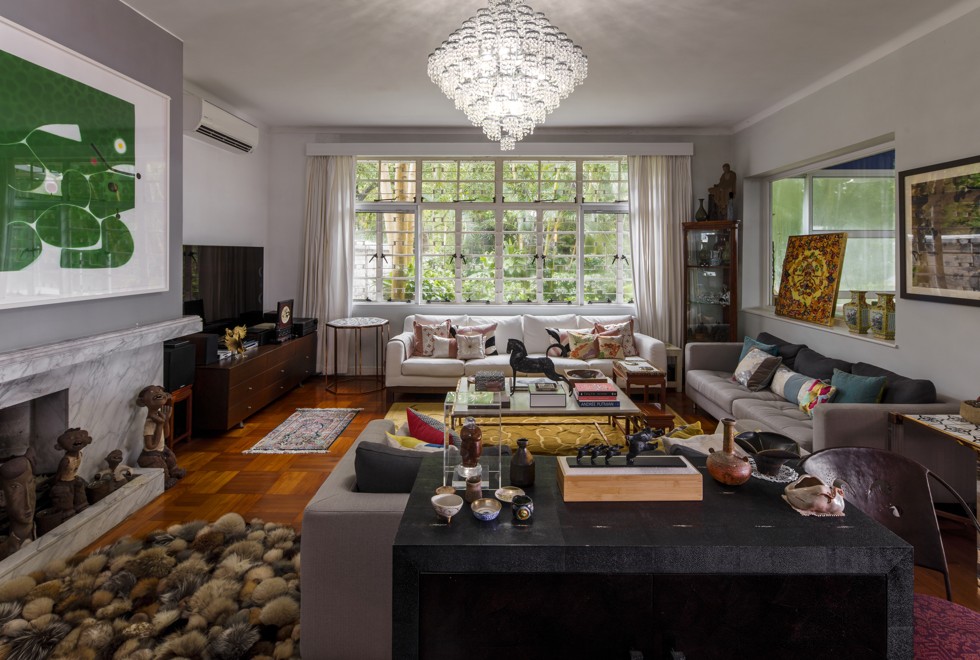 Living room The abstract painting above the fireplace is by Victor Pasmore. The fur rug (about HK$120,000) was custom made from scraps by a friend. The Japanese obi cushions (from HK$1,800 to HK$3,800) and cloisonné tile side table with lucite and brass legs (HK$25,000) came from Lala Curio. The Ligne Roset sofas and the other side tables and rugs were bought years ago, as was the rosewood corner cabinet displaying Laura Cheung's grandmother's collection of antique cloisonné and Chinese blue-and-white porcelain. The chandelier has been with the family for decades, and the sculptures in the fireplace were gifts.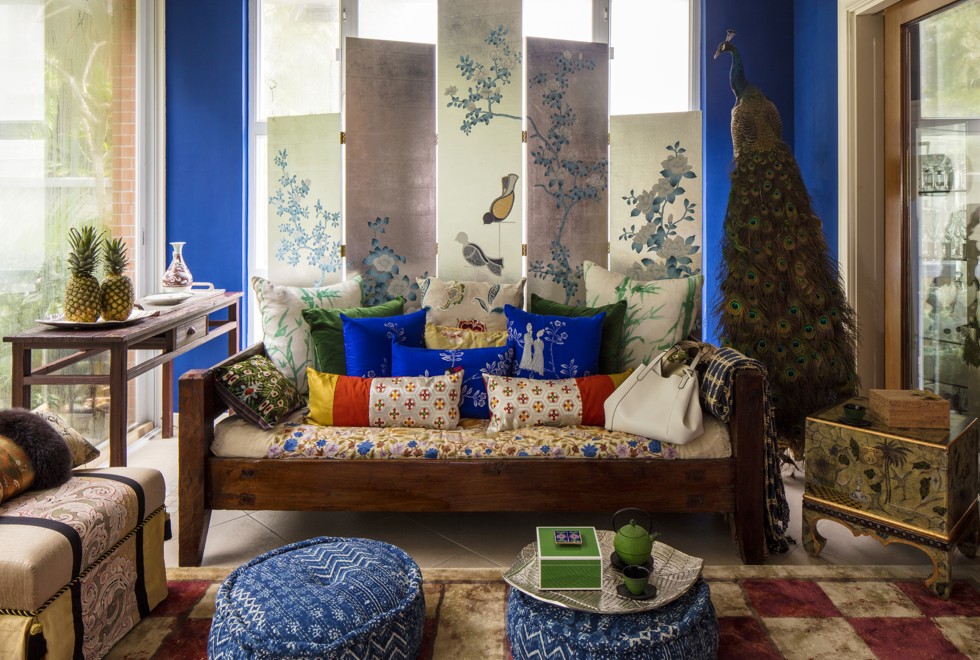 Salon The screen (HK$36,000), hand painted on silver leaf, came from Lala Curio. The stuffed peacock (HK$180,000), obi chair (HK$38,000) and gold-leaf hand-painted bureau (HK$25,000) also came from Lala Curio. The indigo blue pouf stools (HK$3,800 each) were from HD Buttercup. The antique Chinese console was bought years ago in Beijing. The rug (HK$89,100) came from Fort Street Studio. The carpet was bought from Tai Ping Carpets 20 years ago. The bed-like seating came from a shop that has since closed.
Stairwell A sculptural staircase creates a focal point within the house. The art-deco Porta Romana wall sconce was bought years ago from Altfield. The obi chair (HK$38,000) was from Lala Curio.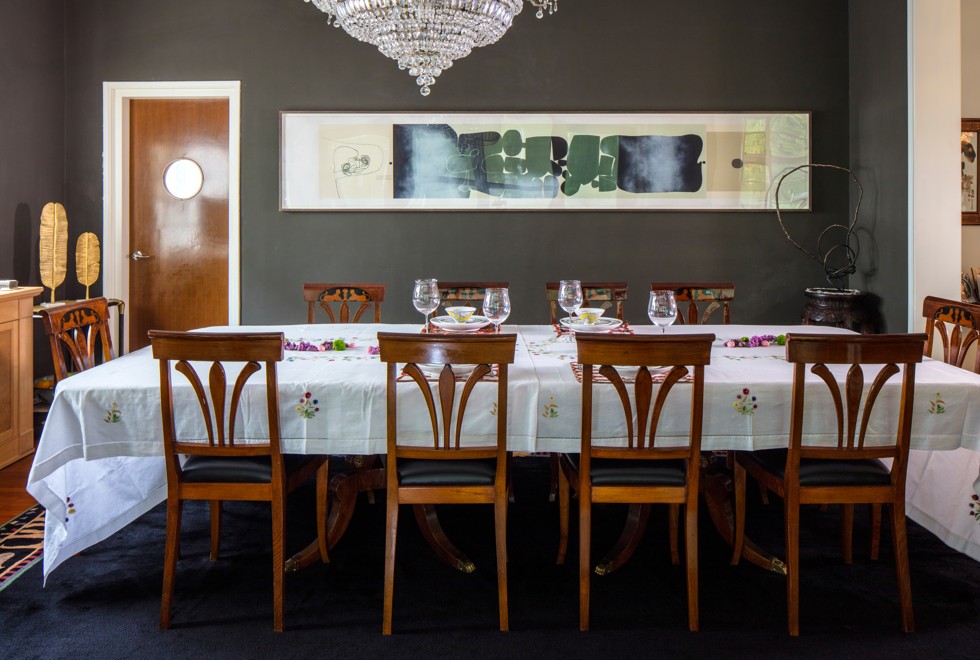 Dining room The dining table and chairs, made from burl wood marquetry, were from Lane Crawford. The painting, by Pasmore, and the bronze contemporary sculpture below it, were sourced by Cheung's art-collector sister, Anne. The gold-leaf feathers (from HK$820 to HK$1,320) were from HD Buttercup. The chandelier and rug were bought years ago.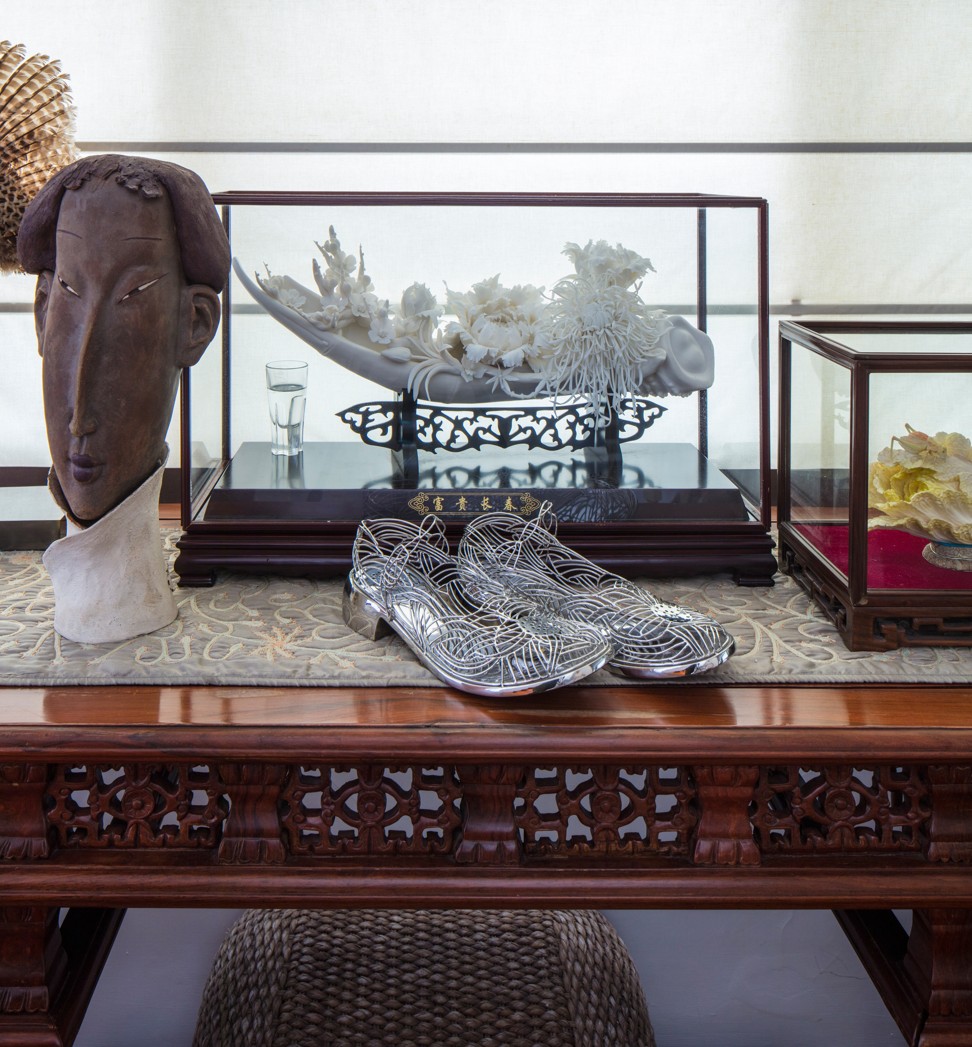 Art collection On the first-floor landing, a Chinese antique rosewood console, which belonged to Laura Cheung's grandmother, displays some of the family's collection of art, including a pair of wire shoes, by local artist Man Fung-yi (represented by Ora-Ora), and a ceramic sculpture alongside an intricately carved porcelain sculpture in a glass case, by artisans in Chaozhou. On the right is a carved ivory cabbage her mother received as a wedding gift. "The antiquity we have inherited from my grandmother is the key inspiration for what we live with now," says Cheung.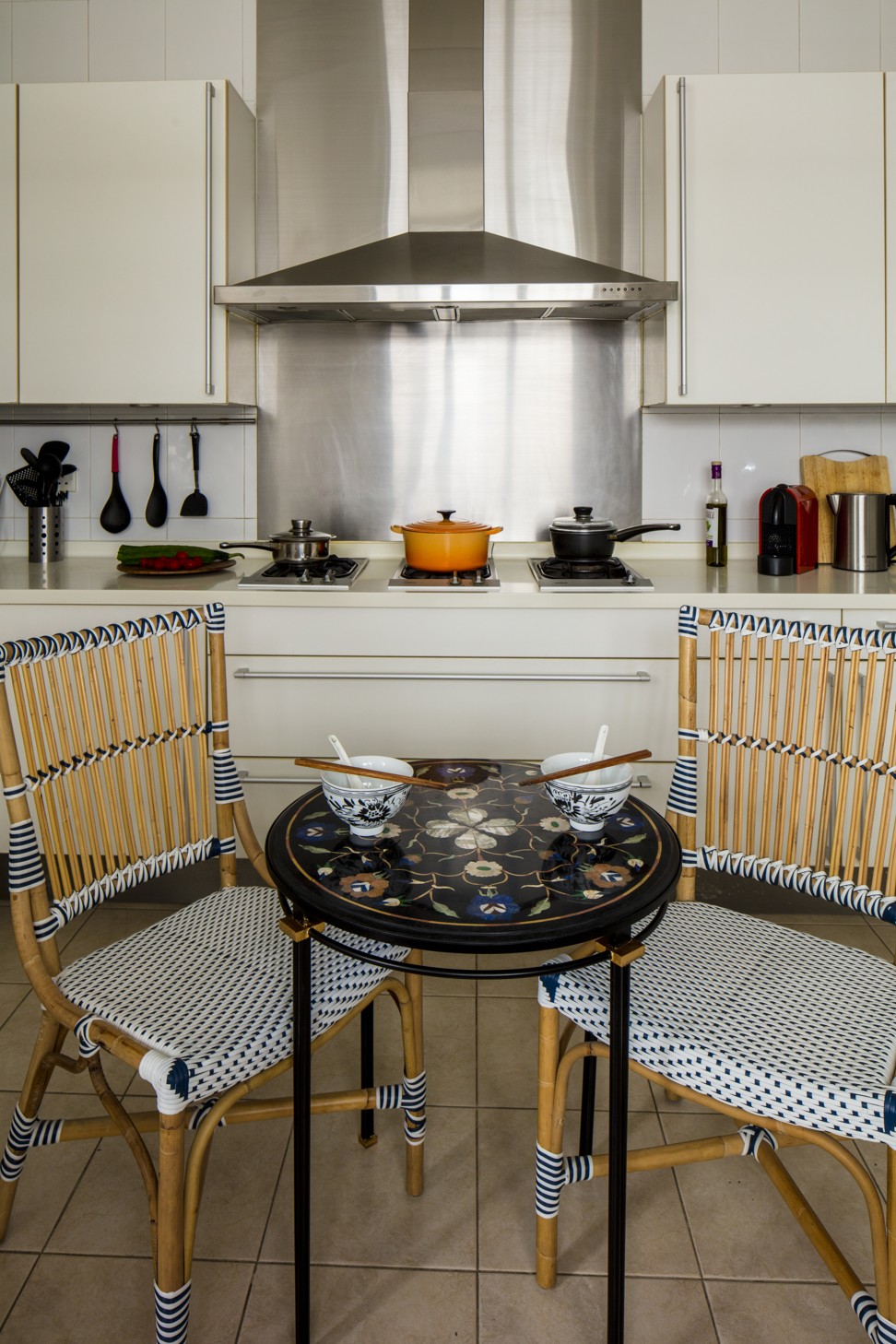 Kitchen The pietre dure marble inlay breakfast table (HK$25,000) was from Lala Curio and the rattan/bamboo chairs (HK$1,840 each) came from HD Buttercup.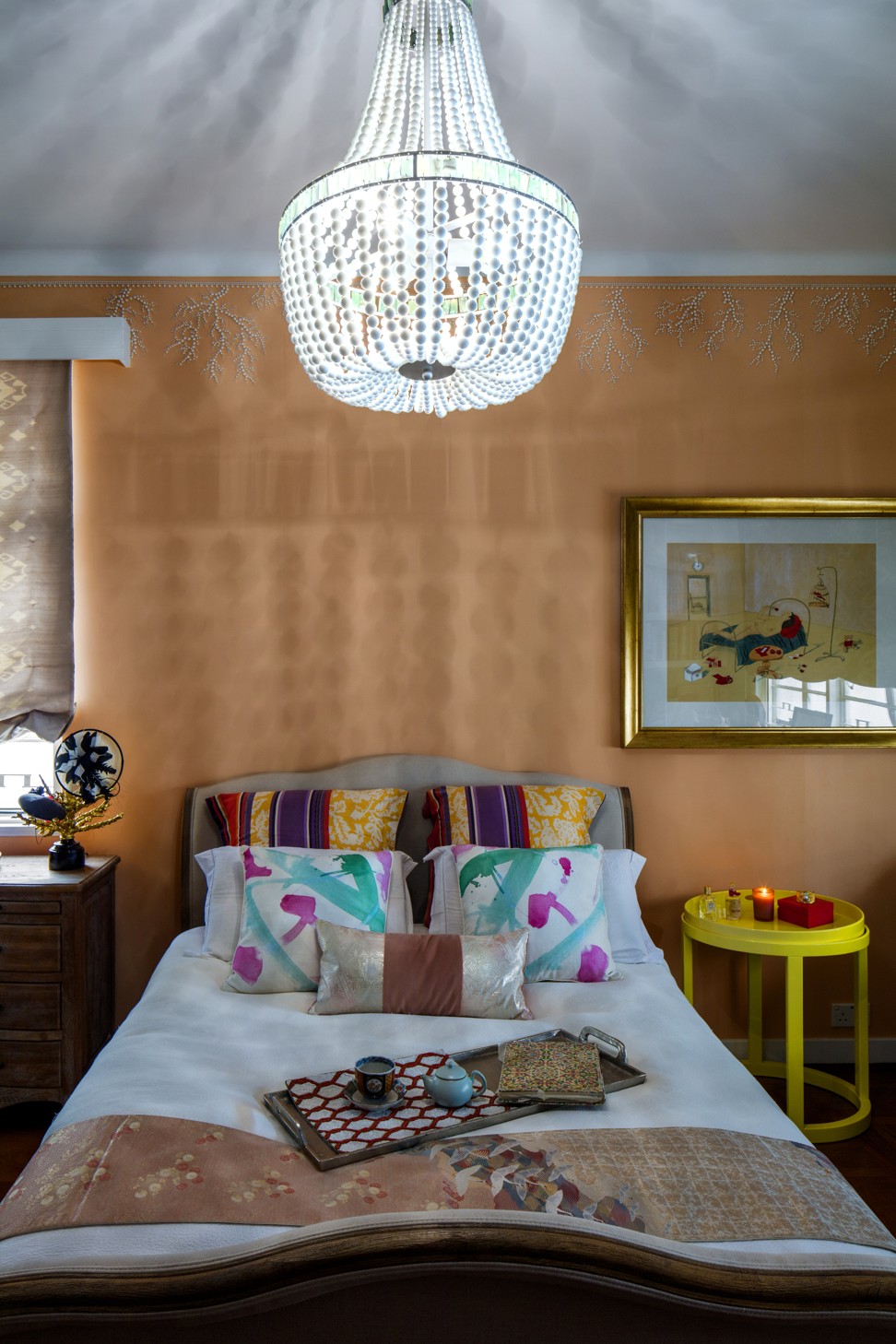 Bedroom The chandelier (HK$38,000), French provincial-style bed (HK$38,000), lacquer side table (HK$8,000) and silk wallpaper (HK$1,600 per metre) all came from Lala Curio. The painting, by Chen Lianqing, was from Yan Gallery. The cushions are from Lala Curio and HD Buttercup.
TRIED + TESTED
Comfort zone Each of the landings in the three-storey house features comfortable seating, which transforms utilitarian spaces into sociable mini-lounges. The French provincial-style day bed, antique side table and ceiling light were bought years ago from Qooltango, in Dongguan.