You'd be forgiven for thinking that the interior of Jane Michael's 2,400-sq-ft apartment in Repulse Bay had been designed by a professional. With its grey walls and gorgeous furnishings, it strikes a balance between homely and stylish. However, the editor-at-large at Luxe City Guides begs to differ.
"I'm fairly haphazard when it comes to my design choices," says Michael, who is from Australia. "I tend to see something I like and buy it without thinking how it will fit in my home. I would say it's an organic process."
WATCH: Inside Jane Michael's home
Her preference, she says, is for exotic, vintage accents and, thanks to her job, she has travelled extensively and been pointed in the direction of the best lifestyle retailers in the world. The chandelier above the dining table, for example, was purchased in New York and hauled back to Hong Kong.
Confronting her eclectic collection is her spouse's design style.
"My husband and I have quite different tastes. He likes a more classic, elegant style and I prefer a bohemian flair in a space, so marrying those styles is a challenge," she says. "Trying to get the best of those aesthetics into our home so it would feel like it belonged to both of us is how we've ended up with the style we have."
Bohemian splendour in a remote Hong Kong island home
Having lived in Hong Kong for 10 years, the couple moved into their current three-bedroom, three-bathroom apartment two years ago, just before the birth of the first of their two sons. An older property than some complexes in the area, the flat, Michael says, appealed because of its high ceilings, large, airy rooms and sea views. While she couldn't change the layout, she decided to stamp her mark on the place by decorating the walls.
"We've always enjoyed having colour in a space because I think it makes a home feel lived in," she says. "We had feature walls in bold colours in our previous home but when we moved here, we decided we wanted something on all the walls. We opted for a more neutral tone so it wasn't too jarring or so strong it made the space seem smaller. The grey we chose is warm and works well with all our linens, rugs and textiles. It makes those elements pop."
A Moroccan design fantasy comes true in Hong Kong
It is not only the adult areas that have been given the grey treatment. The nursery embraces a softer, lighter variation on the theme. As well as the muted palette, layered textures and natural elements, such as stone, shell, wood and greenery, make the space feel calming. Michael wanted this room in particular to be age- and gender-neutral so it could be multifunctional. The only concessions to babyhood are a cot and a chic changing table that folds up into a wall-mounted cupboard; otherwise, the room, which also houses a wrought-iron daybed, is perfect for accommodating adult guests.
Keeping things looking the way you want them to with two young children is a daily battle so I think the key is to make things functional and stylish but fun
Michael's two-year-old son's room is also painted grey but incorporates bursts of colour in the form of books, toys and cushions.
"Keeping things looking the way you want them to with two young children is a daily battle so I think the key is to make things functional and stylish but fun," she says. "There's no point spending a fortune on children's furniture because it's going to get trashed but that doesn't mean it can't look good. For example, we installed basic Ikea shelving in my son's room that allows the books to face outwards. We display hardcover books with beautiful and interesting covers so the shelving serves as a piece of artwork while also being functional."
Stunning 2,400 sq ft Hong Kong duplex has views that stop you in your tracks
Budget-friendly items rub shoulders with more valuable pieces such as the recycled wood dining table that Michaelsays she will keep for life. One of her passions is rugs – she jokes that her husband has put her on a rug-buying ban – another is incorporating nature into her home.
"I love being in nature. If I can't physically be outdoors, I like to bring it in," she says. "We are lucky to have such fantastic views here, which are part of the décor, but I also adore plants. They make me feel relaxed and as though I'm breathing in fresher air."
Hong Kong couple brightens up Repulse Bay rooftop apartment with bold art and beautiful garden
Making use of empty spaces is one of Michael's fortes. A child's table and chairs in the hallway ensure that the area is used for more than just passing through; an otherwise redundant corner in the living room has been turned into a cosy breakfast nook.
"It's an odd space and we didn't get much use out of it until I saw how a neighbour was using a similar area in her home," she says. "I added a bench seat and a round table and it is now one of my favourite places to hang out.
"We use it for casual dining, for colouring … it draws my whole family together and generally the spaces where I get to spend time with my kids are very close to my heart."
---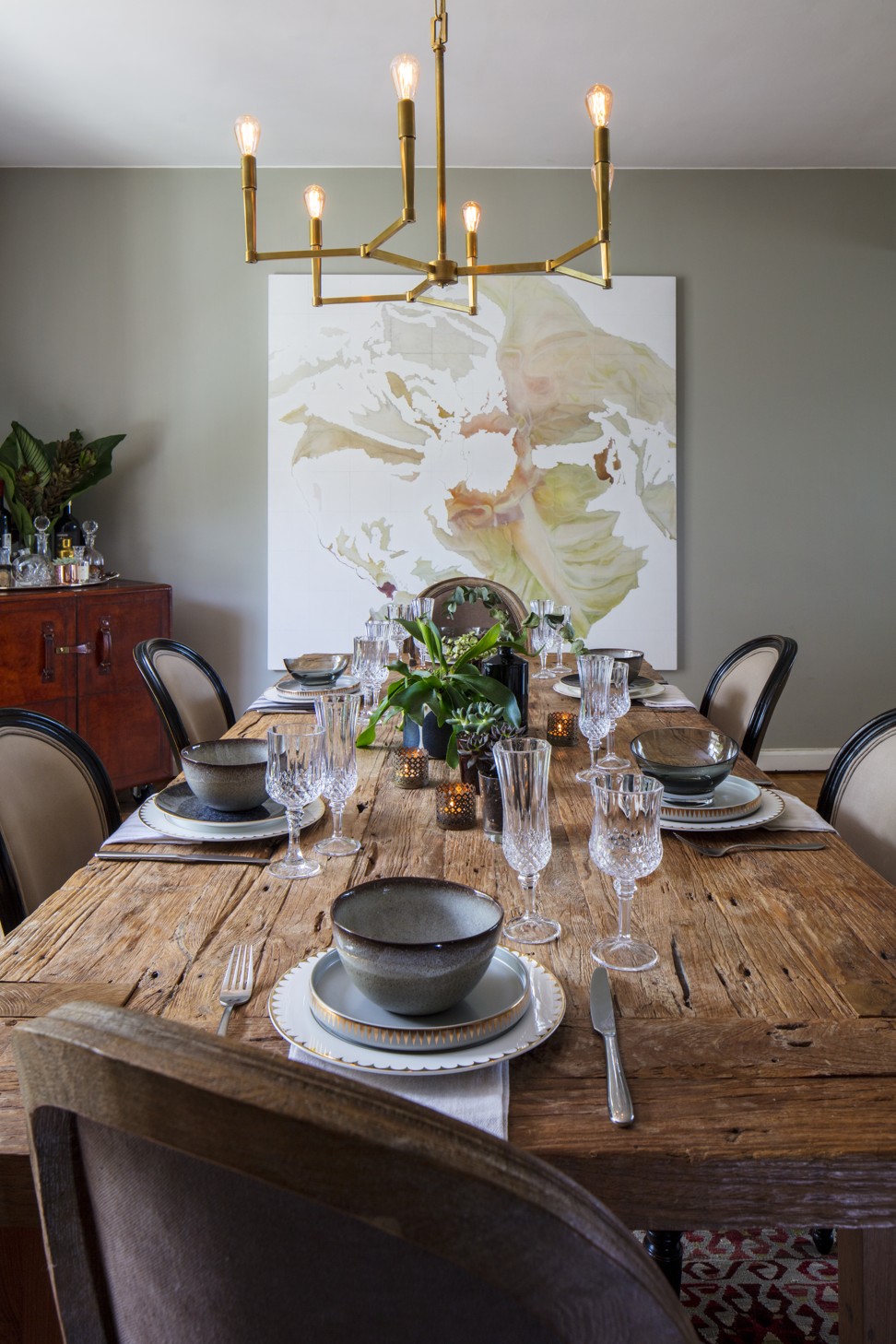 Dining room The drinks cabinet was about HK$15,000 from Indigo Living and the painting, by Kokok P. Sancoko, came from Sin Sin Fine Art. The pendant light was from Anthropologie. The dining table (about HK$18,000) came from Tree and the chairs (HK$1,300 to HK$2,500 each) from Bowerbird Home. The tableware came from iDecorateshop. The rug was bought at the Grand Bazaar, in Istanbul, Turkey.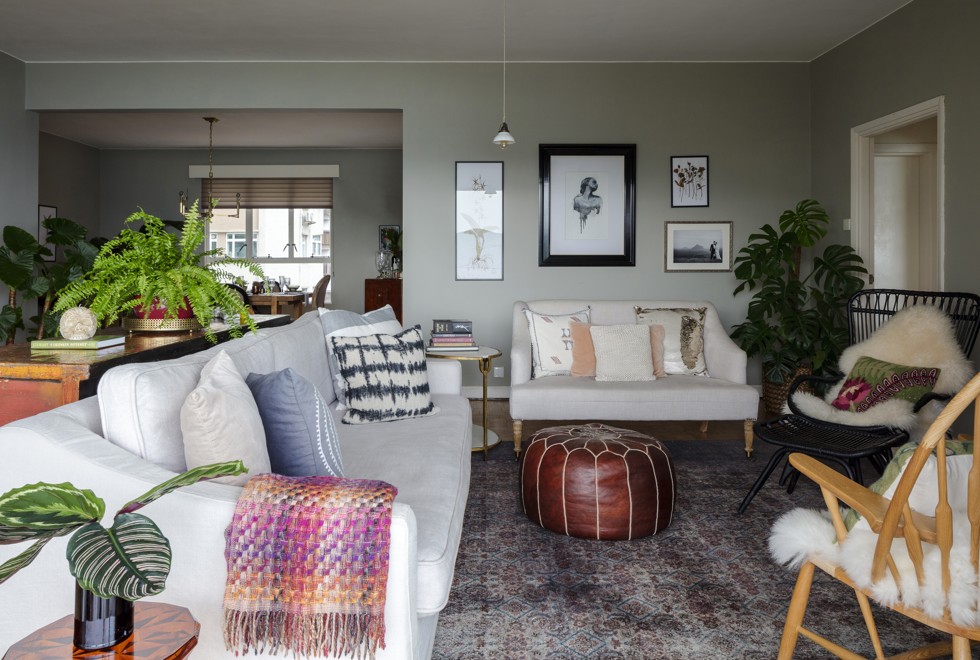 Living room The three-seater sofa (HK$17,990), circular marble side table (HK$12,700), smaller sofa (HK$7,990) and black chair with footstool were all from Bowerbird Home. The leather pouf was HK$1,500 from Thorn & Burrow. The wooden Peacock chair was S$482 (about HK$2,700) from Fred Lives Here, in Singapore. The pendant light and rug were bought from Casa Capriz a while ago. The female portrait, by Mark Demsteader, came from Panter & Hall and the botanical art, by Hayden Blest, was bought directly from the artist.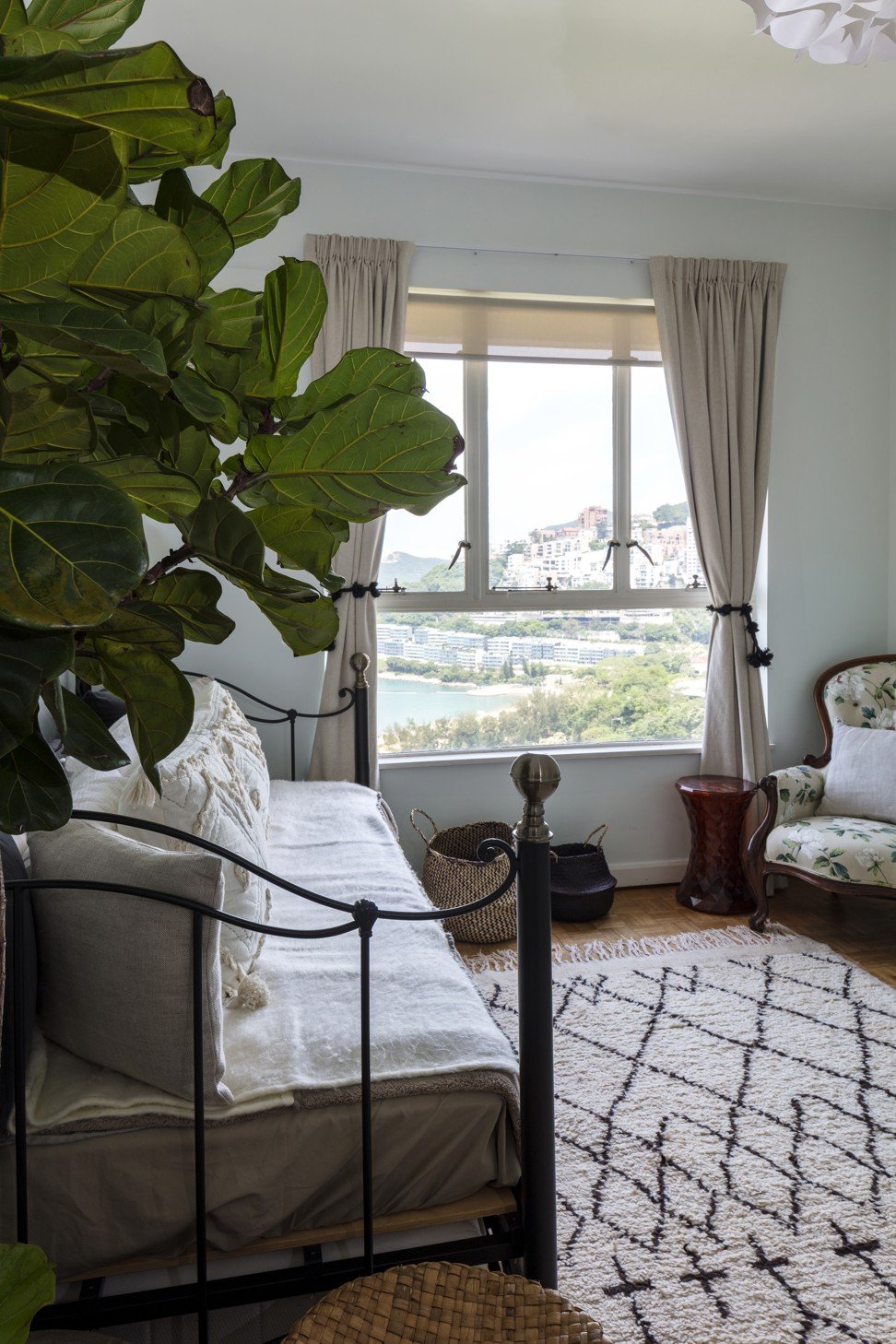 Nursery/guest room The wrought-iron daybed is a discontinued item from Tequila Kola. The armchair, bought second-hand, was reupholstered by New Bedford Interiors (67 Queen's Road East, Wan Chai, tel: 2520 0330). The rug was HK$8,000 from Pink Rug (etsy.com). The wicker baskets came from Dos Ombre and the Stone Stool (HK$2,110), by Marcel Wanders for Kartell, was from Aluminium.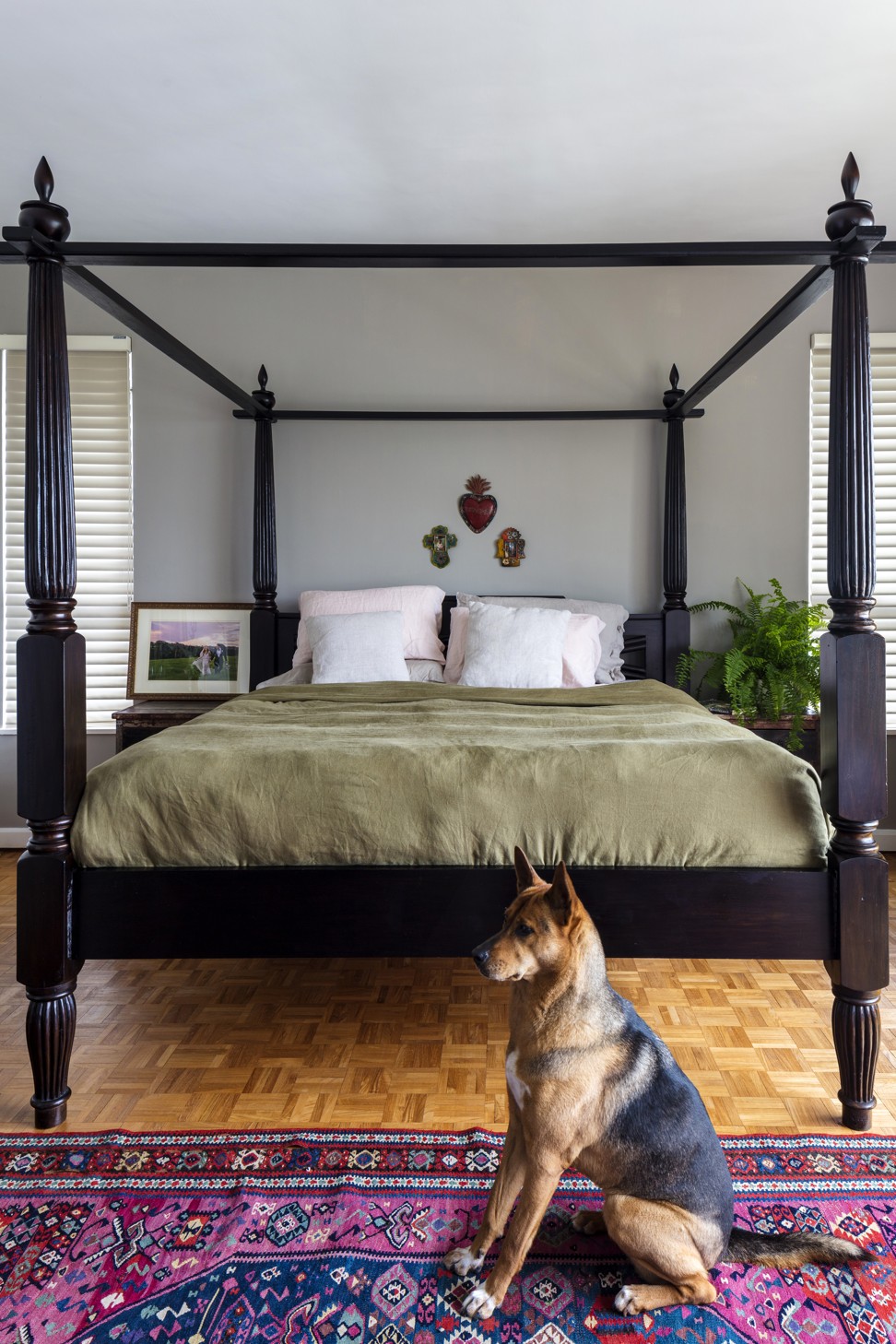 Main bedroom The bed was about HK$13,000 from Tequila Kola and the bedside tables came from Shambala (now closed). The wall-mounted heart and frames above the bedhead were bought on a trip to San Miguel de Allende, Mexico, and the rug came from the Grand Bazaar, in Istanbul.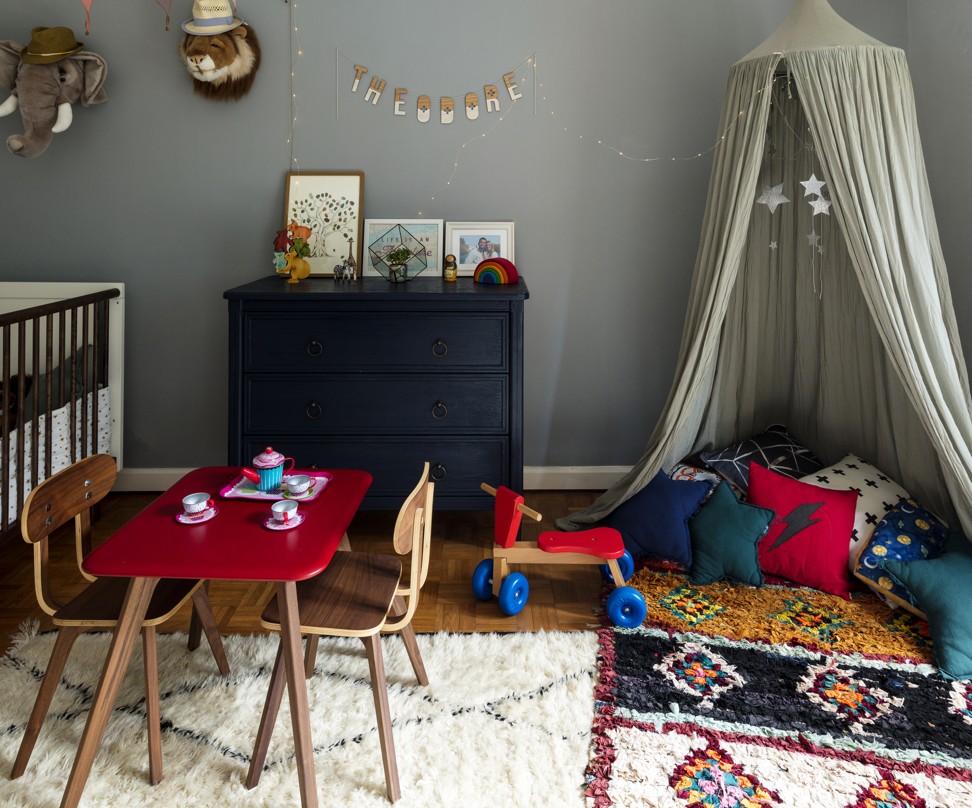 Son's room The Sparrow cot (US$820) by Oeuf, the wall-mounted animal heads, the Numero 74 Bunting Garland (HK$160), canopy (HK$1,250) and silver Falling Star Garland (HK$290) were all purchased from Petit Bazaar. The chest of drawers was custom made and the letters above it were a gift. The table (HK$1,950) and chairs (HK$1,450 each) were from Tree. The white rug came from Pink Rug and the colourful one from Callixto.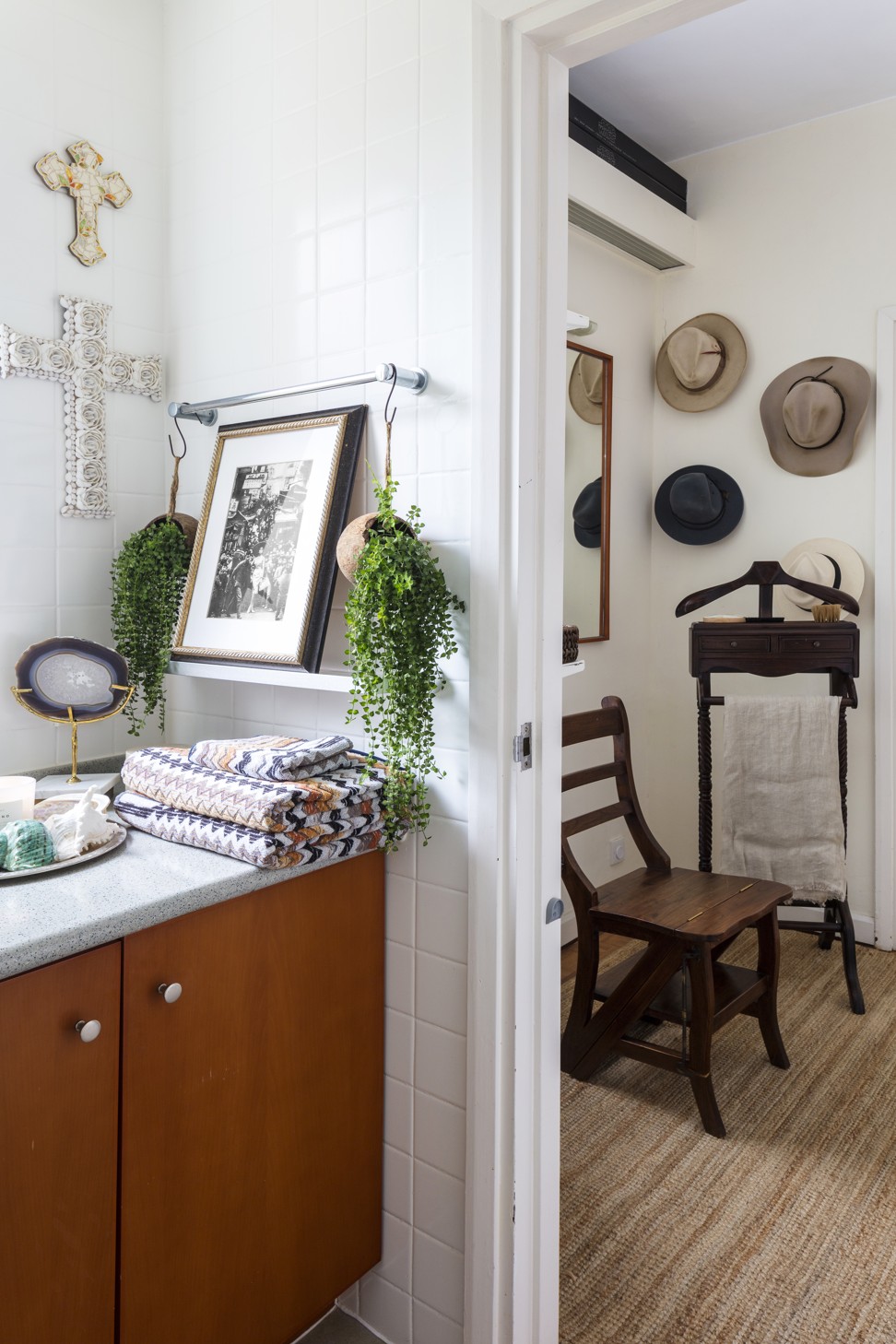 Bathroom/dressing area The crucifixes were HK$340 each from Thorn & Burrow and the hanging planters came from the Flower Market, in Prince Edward. The crystal was from iDecorateshop. The chair and suit hanger were from Shambala and the rug was purchased from Ikea.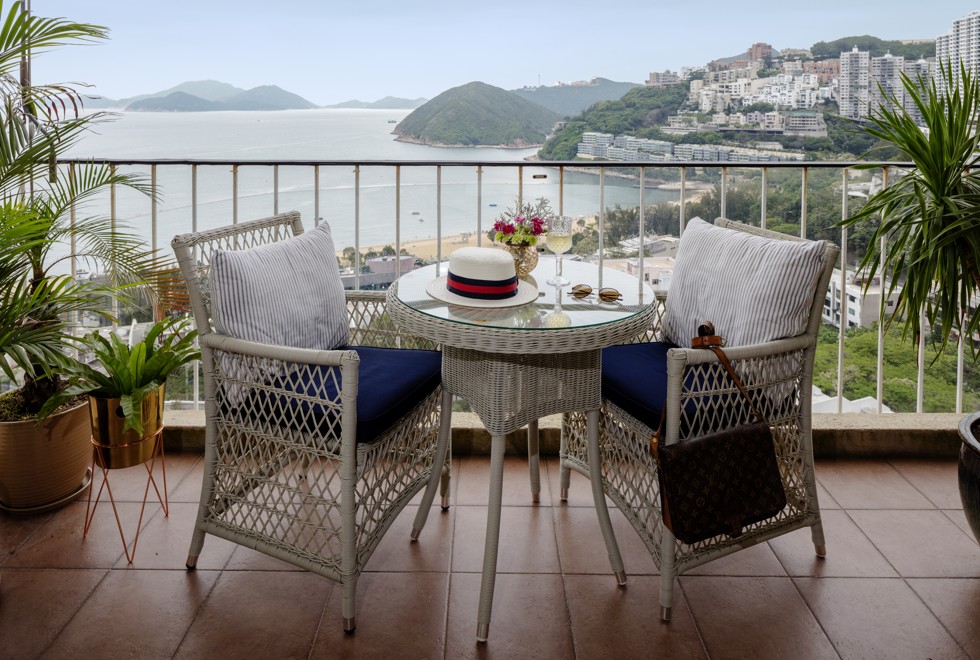 Balcony The wicker table and chairs were bought from Lift Lifestyle a few years ago. The vase (HK$50) and copper plant stand (HK$740) came from iDecorateshop.
TRIED+TESTED
Crate expectations Crates (HK$945 each) made out of reclaimed teak, from Tree, are given a new lease of life as wall-mounted shelving. They fill an awkward space, look quirky and are ideal for storing essential bits and pieces, such as keys. The Tulip-style marble table (HK$1,980) from Décor8 and the chairs (HK$1,300 each) from Bowerbird Home. The artwork, by Jai Vasicek (Ahoy Trader), was purchased from iDecorateshop.