See those two sofas in the living room? And the bench? The mirror? You might not the next time Alex Slavycz has his home photographed, as happens often because of his reputation for style.
The Canadian creative director can't help himself when it comes to changing the look of his 1,580 sq ft rented apartment in Ap Lei Chau because, he says, "I can't concentrate if things aren't exactly the way I want them."
And the perfect look is never static because, as a frequent traveller in tune with trends, Slavycz is inspired from all directions, leading him constantly to acquire items, shift furniture, redesign pieces and generally refurbish as the mood takes him.
A Hong Kong interior designer's home that's full of stories
"I tried four sofas before I landed on these two," he says. "My friends always laugh at me because they'll come over one week and my place looks like this, but when they visit a month later it'll be completely different."
It's no surprise, then, that Slavycz is preparing to monetise his love of interior design by starting a furniture business called, appropriately, Dong Xi Gallery. "It stands for 'east [dong]', 'west [xi]', and also 'stuff'," he says. "I do have a lot of stuff."
Slavycz, of Ecuadorean and Ukrainian heritage, also has what can simply be described as an eye for beauty. From fashion (modelling, styling) to his current job with an American cosmetics company, which brought him to Hong Kong from Shanghai almost three years ago, he has always relied on strong likes and dislikes for creating picture-perfect settings.
Back in black: a PR executive's home turns to the dark side
"I'm always attracted to the same sort of thing so it does all look curated," he says. "I like natural textures – wood, plants – and, thankfully, everything I've collected over the years manages to work together."
The dark backdrop Slavycz introduced to the three-bedroom, three-bathroom flat helps. Since moving in a year and a half ago, he has mixed vintage pieces with to-be-completed prototypes, found items, furniture swapped with a friend and quirky buys, including a salvaged barn window he picked up years ago in New York, stashed away and rediscovered recently. All give meaning to the expression "pop", when it comes to being presented in their best light.
My friends always laugh at me because they'll come over one week and my place looks like this, but when they visit a month later it'll be completely different
Indeed, it was the abundant natural illumination that allowed his apartment – which enjoys immediate views of Aberdeen Marina Club – to be painted black and grey. The same hues dominate artwork, furniture and Slavycz's collection of clothes, which hangs from simple, portable Muji racks in a bedroom-cum-walk-in closet.
"People assume that if you use dark colours your space will look smaller," he says. "But, actually, dark colours make smaller rooms look bigger."
That could be the reason his work room, where previously he slept, looks vast. Slavycz gave it up for a cosier, quieter space on the other side of the corridor.
An all-white Hong Kong apartment turns to the dark side
"It was too big and at night there are dogs down there that are loud," he says. "And I'm a light sleeper."
Facing the boats, the room is as eclectically furnished as the rest of the flat. A black lacquer Chinese cabinet stands at one end of the room, facing a Ming-dynasty calligraphy table-turned-work desk, Slavycz's first major purchase years ago while living in Shanghai.
"I was attracted to the patina, I love the size, and the height was perfect," he says. "I wanted to try mixing Chinese antiques with mid-century modern. It kind of works."
What never fails for Slavycz are plants, which he buys obsessively and moves around the flat, including the room that persuaded him to rent the apartment a year ago, after an extensive search.
"When I walked in and saw the tub with the view, I loved it," he says.
Previous iterations have seen the bath area even more festooned with plants.
"In my dreams I'd want this whole place to look like a jungle," he says.
But other plans will probably overtake his plants.
"It never ends," he acknowledges, scanning the living room. "I get ideas, change things, move things around. It's constantly evolving."
---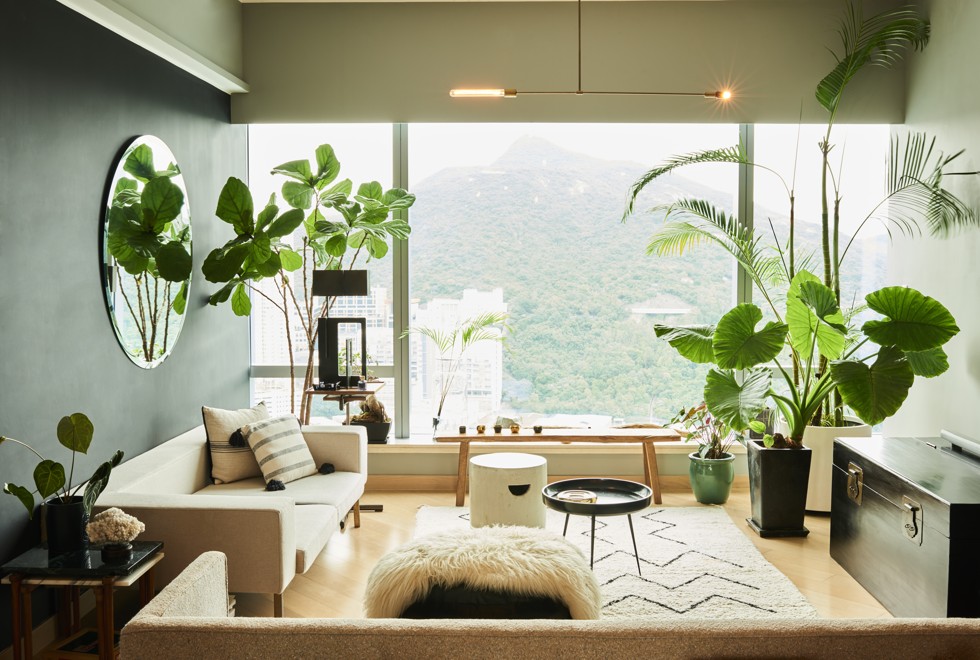 Living room Overlooking Aberdeen Marina Club, the living room is furnished with several pieces available at Alex Slavycz's Dong Xi Gallery, including the custom-designed mirror, the side table by the window, the Angelo Brotto table lamp, the Moroccan carpet and the set of three stackable side tables, designed by Slavycz. The sofa beneath the mirror came from Organic Modernism; the rustic African bench from 1st Dibs; the round ceramic table/stool from Chai Living Gallery, in Shanghai; the round black table from Manks; and the ceiling light from Canadian shop Apparatus. The antique black chest was from Artek (26/F, Horizon Plaza, 2 Lee Wing Street, Ap Lei Chau, tel: 2515 2333).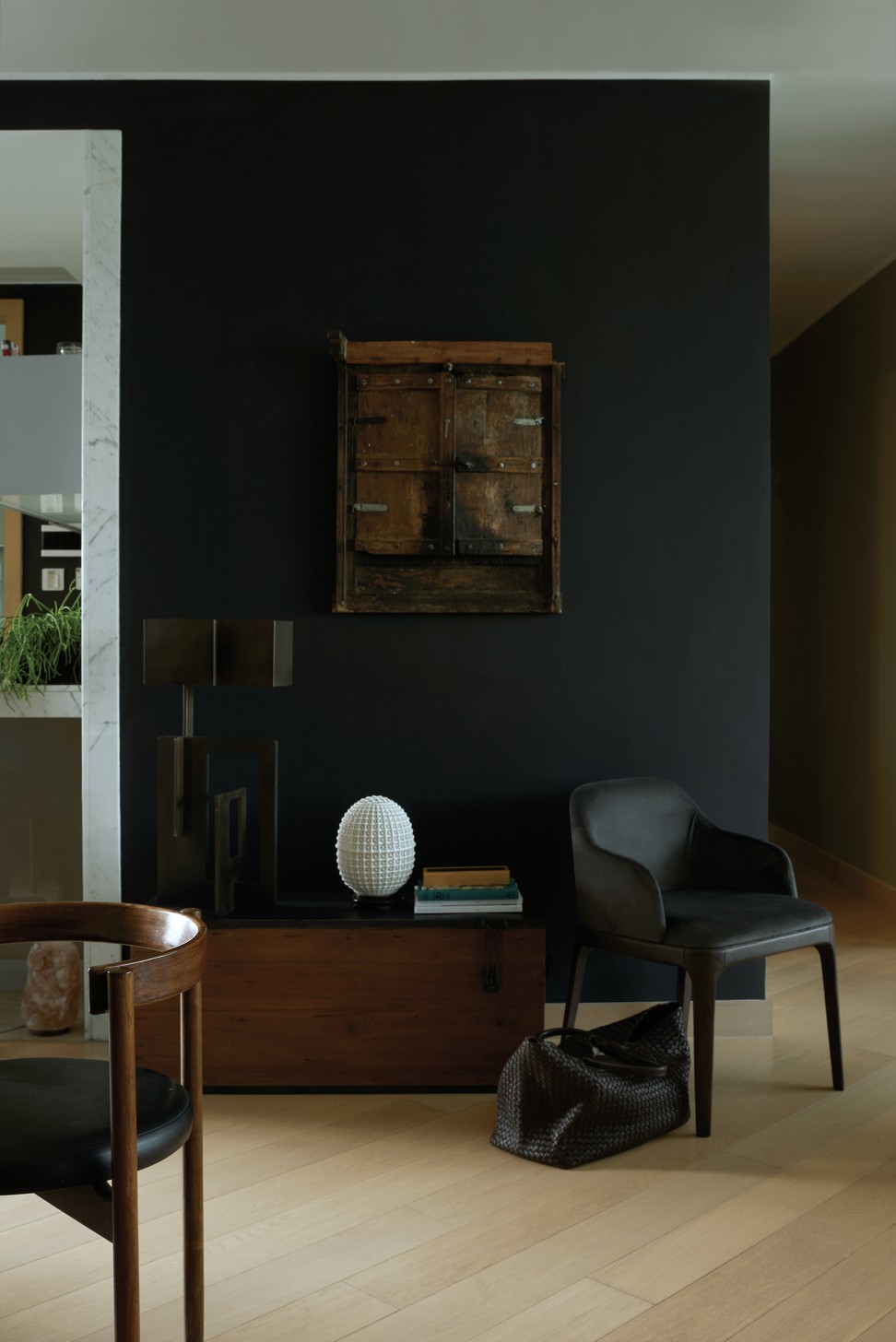 Living room detail By the corridor to the bedrooms hangs a barn window, available at Dong Xi Gallery. The ceramic egg came from Xiamen years ago. The all-black chair is a sample of a design by Slavycz.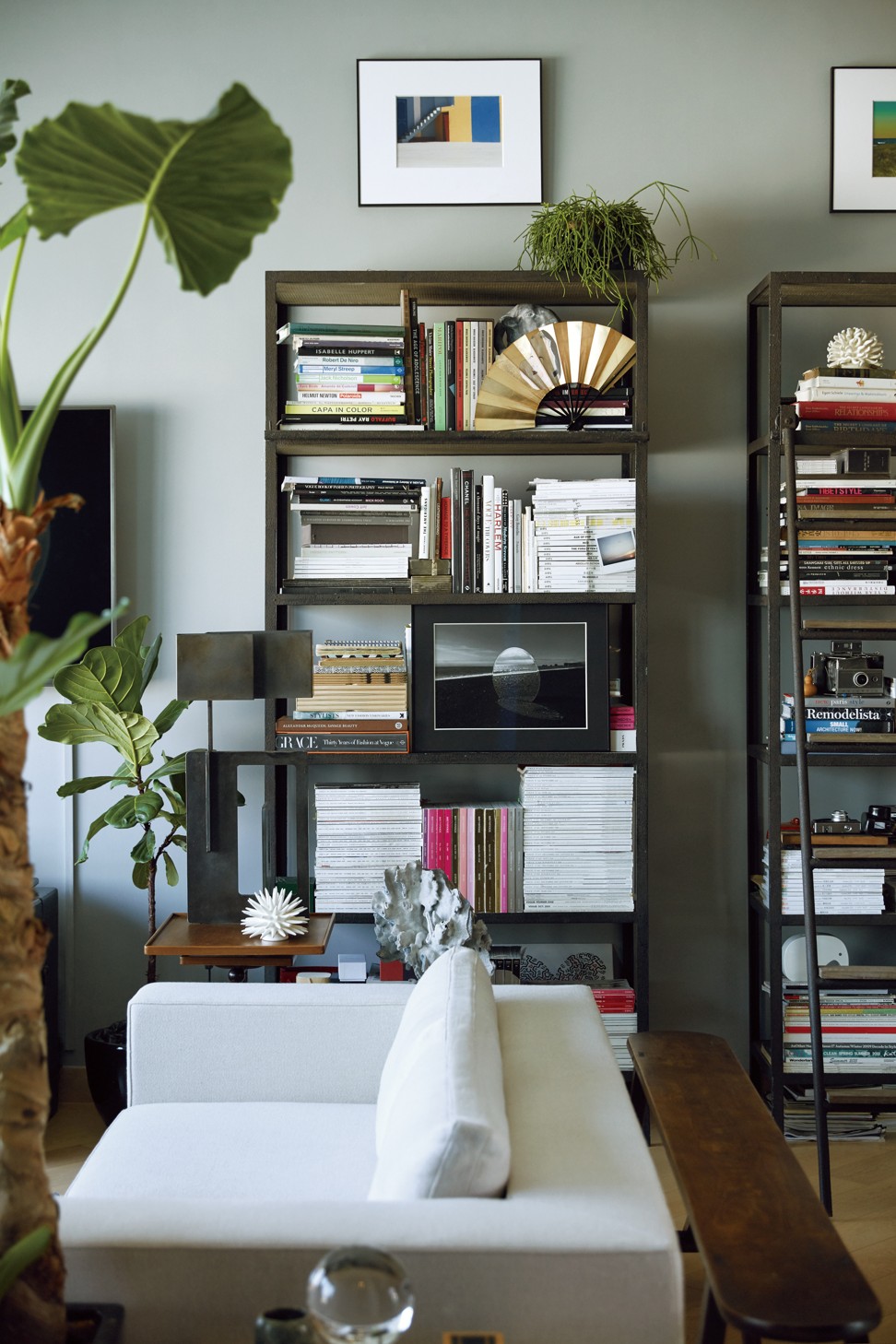 Living room detail The bookcases came from a shop in Horizon Plaza that has since closed. The sofa was from Organic Modernism. Above the bookcase, the Charles Guo photographic print was a gift. The African bench was bought through 1st Dibs.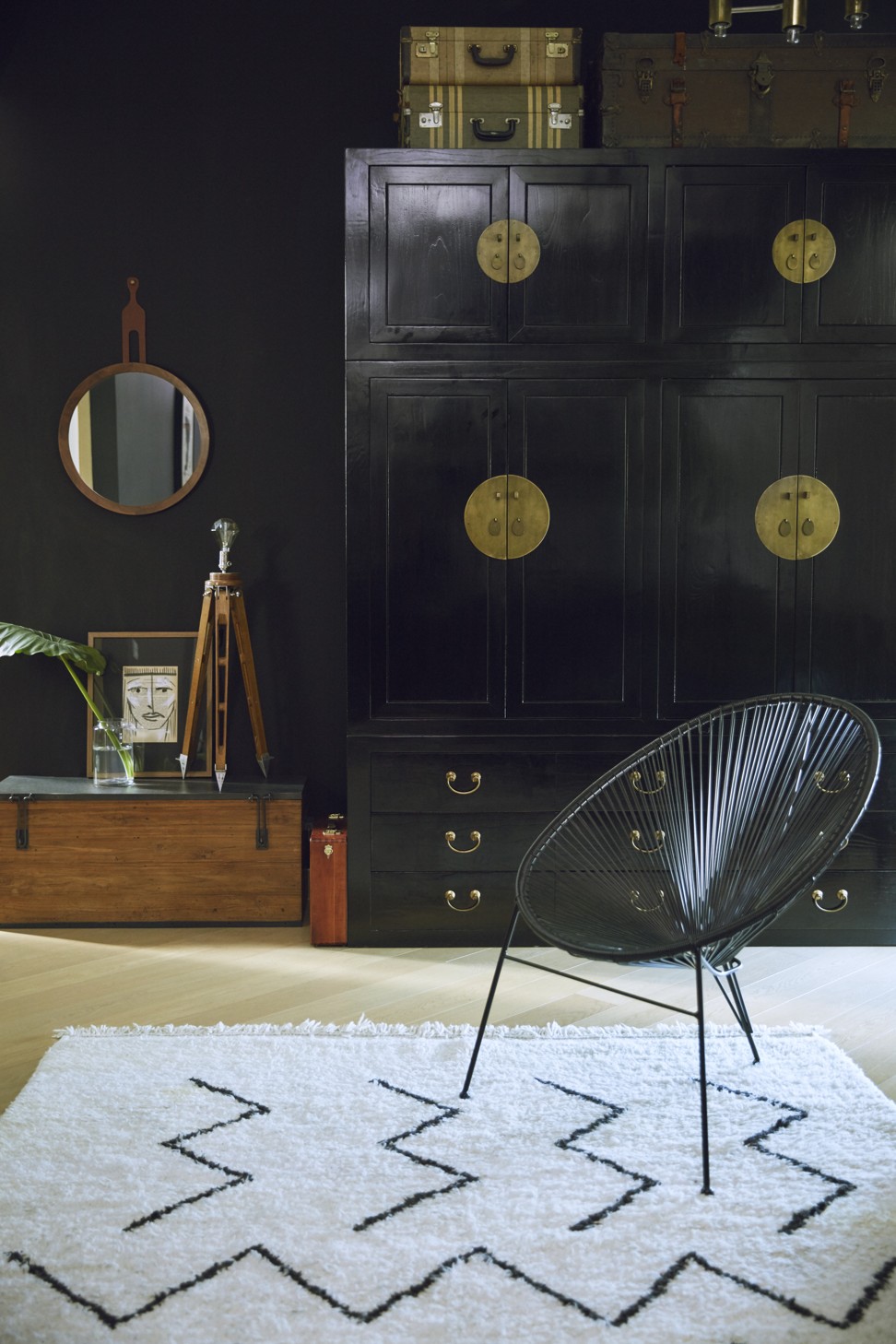 Study Originally a bedroom, the study now houses a black cabinet from Old Shanghai, vintage suitcases and a chest found at the Clignancourt flea market in Paris, France, and a mirror from Organic Modernism. The chair was a gift, the portrait was painted by Slavycz and the rug was from Morocco. The tripod, with added light fixture, is available at Dong Xi Gallery.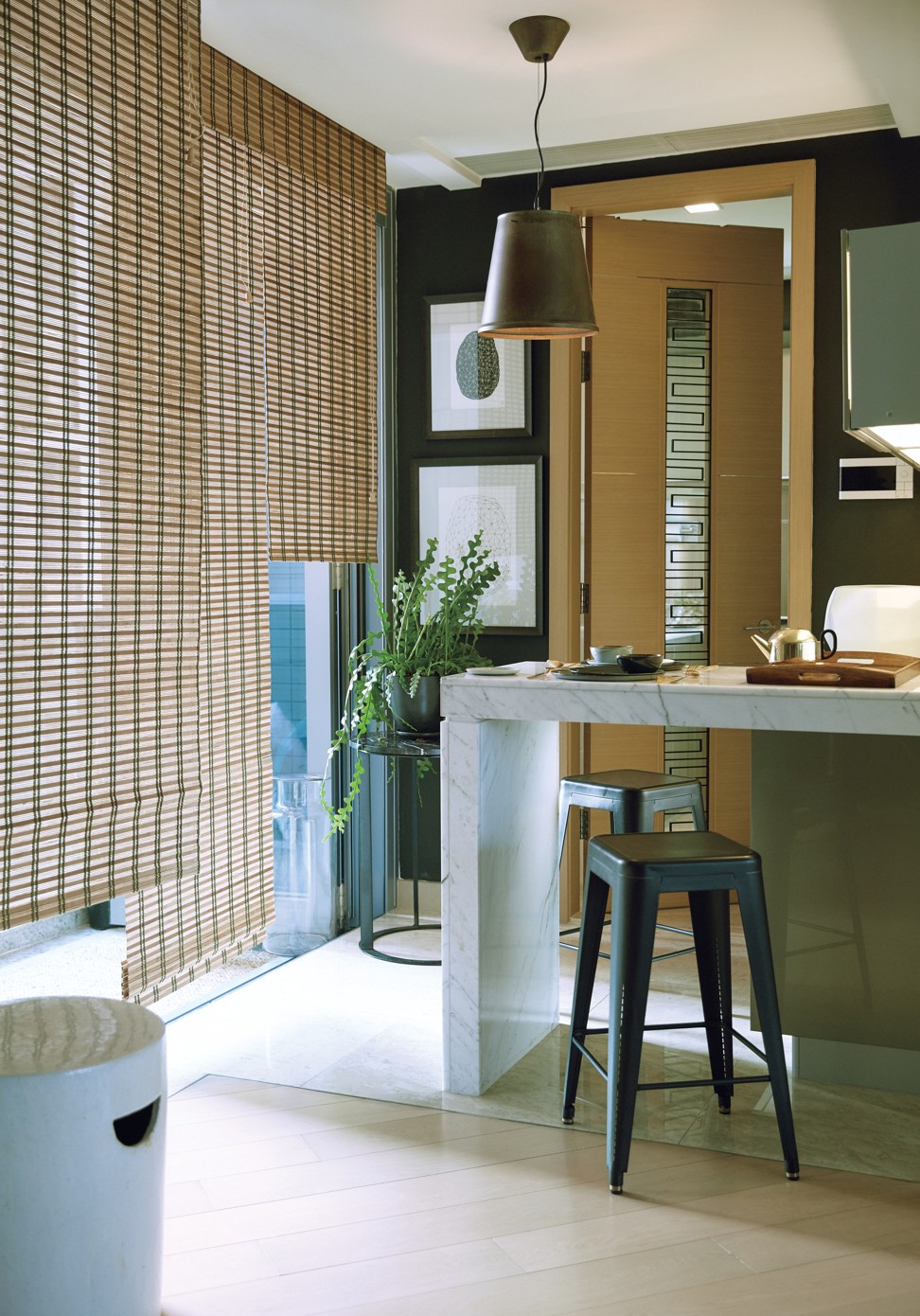 Counter The marble counter in front of the kitchen came with the flat. The stools were from Organic Modernism, the pendant lamp from Tom Dixon and the side table in the corner from Chai Living Gallery. The prints were picked up near Venice Beach, in Los Angeles, in the United States.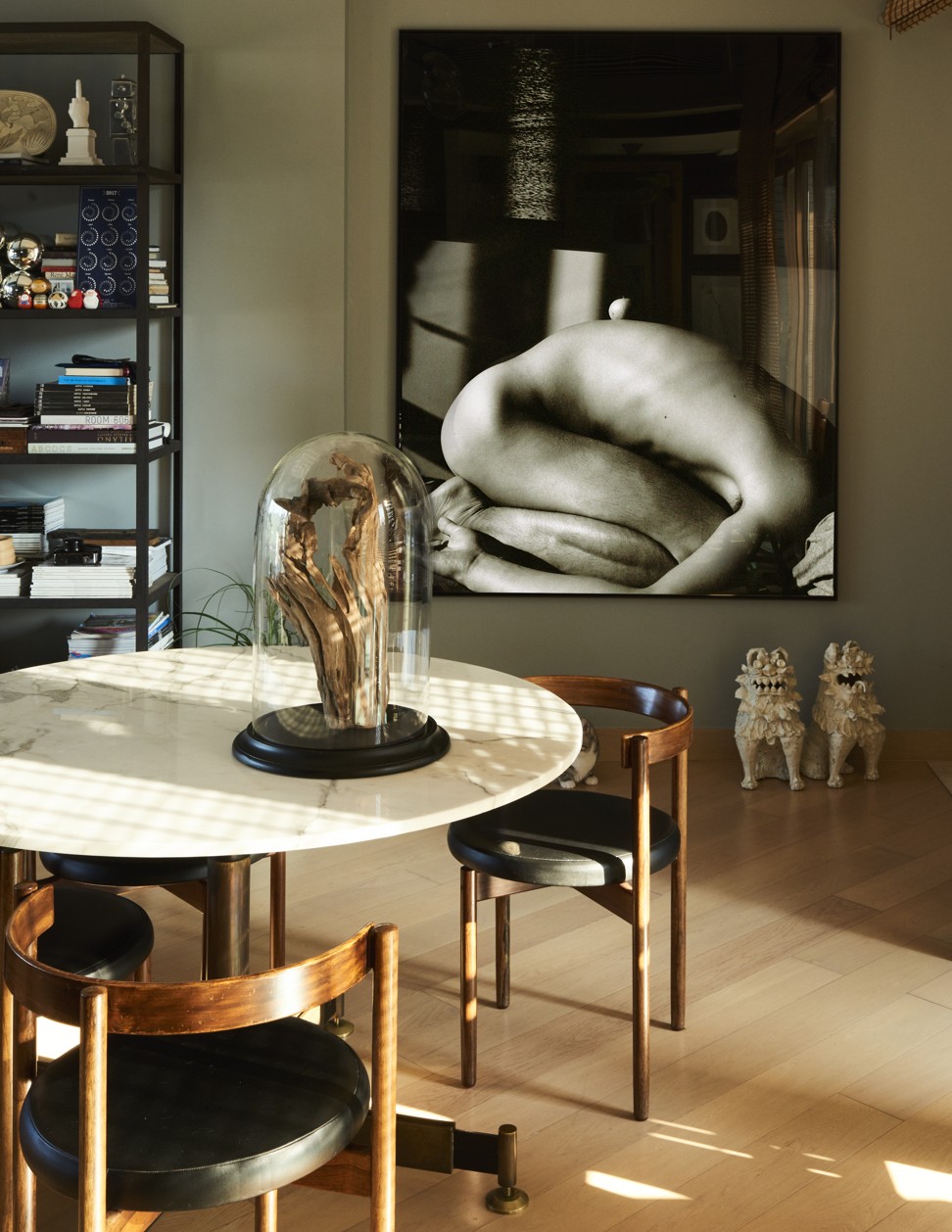 Dining area The nude photograph was taken by Slavycz. The two ceramic lions were sourced in Japan and are available at Dong Xi Gallery. Also to be sold at Dong Xi is the customised dining table with vintage base. The Scandinavian mid-century modern chairs came from Artek.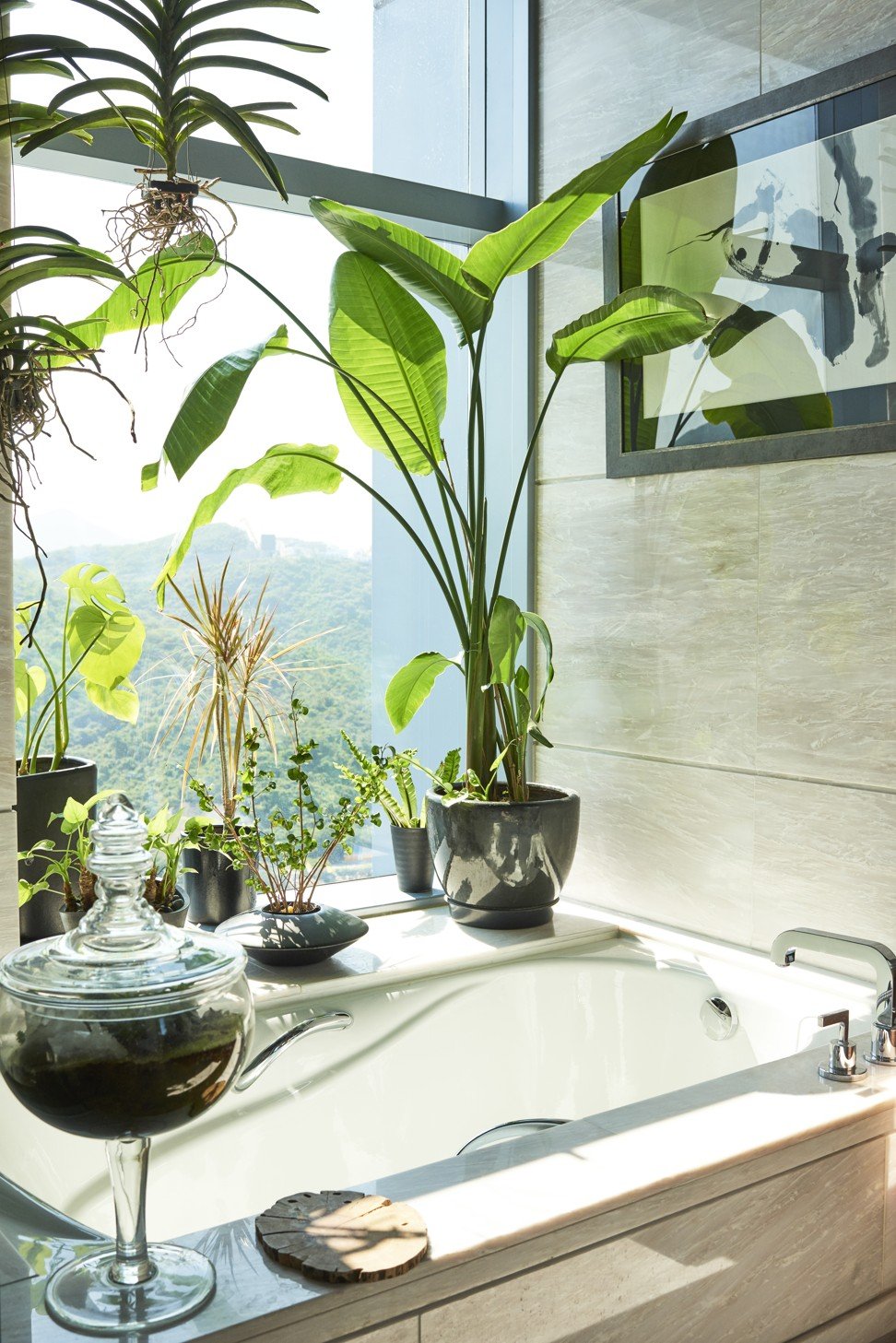 Bathroom The ink painting is by Li De and the terrarium came from The Stalk Room (Caravan Court, 141 Caine Road, Mid-Levels, tel: 2517 2525).
---
TRIED + TESTED
Putting the mat in mattress Discovering in Japan that sleeping on tatami mats improved his back problems, Alex Slavycz got rid of his mattress and had Bedding Shop custom-make a couple of mats to fit his bed base. The photo on the wall, by Charles Guo, was a gift; the bedside lamp came from Kare Design.