Tastes have moved on since 2005. Back then, when new owners moved into this 2,300-sq-ft, split-level house, in Stanley, it had just been renovated. It had pure white walls, polished white limestone floors, a state-of-the-art kitchen and an open-plan layout centred round a three-floor atrium. It was bright, white, glossy and very "now".
But that was then. By 2016, it was time for a change. The minimalist kitchen on the second floor had been tweaked in 2010, with shiny white cabinetry and a second oven. In the first-floor living room, the glossy white flooring had been replaced with walnut.
"The limestone was easily damaged – it looked great for about a week. Besides, I really like wood," says the woman owner, who, like her Welsh husband, is retired from the market-research industry.
Now they were ready to give their home a more extensive facelift.
"We wanted more character, more colour. We got bored with all the white," she says.
Enter interior designer Mary Wong Ho-yan, of Haven Design.
Rather than renovate the entire house, Wong was asked to focus on three floors: the games room, the master suite and the conservatory. (The split-level house has one room per floor, starting at the basement: games room, entry lobby, lounge, kitchen, master suite, study-bedroom, conservatory and guest suite.)
Wong's starting point was the couple's extensive collection of sports memorabilia, including a series of vintage Monaco Grand Prix prints, signed Wales rugby shirts and old-school oars.
Stark contrast: a striking black-and-white Hong Kong home
"That they had so many things made it easier to get to know them," Wong says. "I felt I knew what they would like very quickly."
The games room hosts an impressive array of bar games, including a pool table, pinball machine, dartboard, table football and vintage computer games, as well as a Rock-Ola jukebox and a couple of guitars. There's also a desk, a large bar and a wall of wine fridges, backlit by colour-changing LEDs. Helping to delineate the hard-working space was a slate feature wall, and a built-in purple sofa. The owners wanted to keep it all.
Back in black: a PR executive's home turns to the dark side
"With white walls, the games room looked cluttered and it didn't showcase the items. It wasn't cohesive," Wong says. "To bring every­thing together, we wanted a colour that was bold and fun, and would work with the teal-blue wine fridges. This is mainly a night-time space, so we went for dark blue and grey walls, and wainscoting. It's very 'gentlemen's club'."
Adding to the clubby vibe are new items, including a glass Timothy Oulton bar table and leather office chair and desk. Wong rearranged the room to improve the flow, creating activity areas and spaces to gather on party nights. To solve the problem of the damaged flooring, pale wood laminate was laid over the existing limestone tiles.
Hong Kong home's glam touches add a luxe vibe to an industrial style
"It's easy to replace if it gets damaged, especially near the dartboard," says Wong. "They can simply cut out any damaged section and lay down a new piece of laminate. There's no glue."
Colour was also a defining feature in the conservatory, where Wong turned bland into Bali. Working with the existing furniture, she gave the space and the attached balcony a beachy makeover, featuring images of the couple's Balinese beach house (see Tried + tested) and a dynamic paint scheme in shades of blue and grey. Whatever the weather is like outside – clear blue sky, haze, clouds – one of the colours matches it exactly, say the owners.
An all-white Hong Kong apartment turns to the dark side
In the master suite, the owners' love of wood helped to inspire a new look. Out went the white and in came walnut, used on the floor, dressing table and the acres of hidden storage behind the bed. On the opposite wall, a row of floor-to-ceiling cupboards was clad in grey wood, with studded grey leather panels.
Balancing the dark materials, the bay window was extended to floor level and framed in more walnut. It makes the perfect backdrop for a prized Aston chair by David Linley, based on the Aston Martin car seat (the real McCoy sits outside – an even more prized possession).
The wood theme continues into the en-suite bathroom. A Japanese-style red cedar tub, complete with lid, was sourced in Alaska, and cedar panels extend from the tub into the shower and up the wall. Charcoal-grey tiles, smoky glass panels and glamorous pendant lamps vamp up the bathroom's sex appeal.
But the owners' favourite feature, they say, is the underfloor heating: "It's fantastic – no more cold feet. We even use it in summer."
---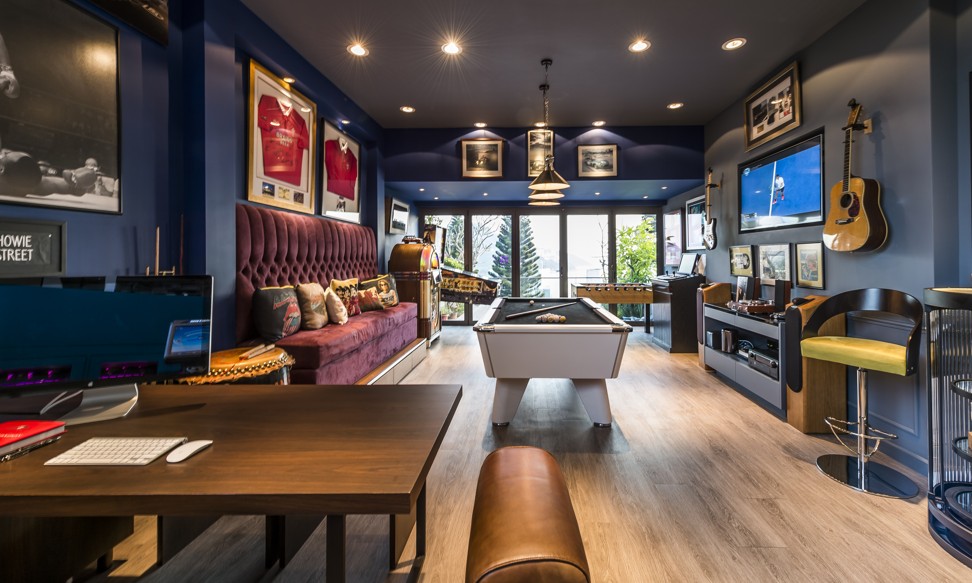 Games room The desk (HK$20,000) and television cabinet (HK$13,500) were by Henley Consultants (Kuen Chuck, tel: 9199 9663). The leather gym bench (HK$5,900) and glass Bio Hazard bar table (HK$28,000) both came from Timothy Oulton. The pool table and overhead lamps; Rock-Ola jukebox (about HK$60,000) and table football (about HK$8,000) were from British company Liberty Games. The pinball machine (about HK$50,000) was from Pinball Heaven, in Britain.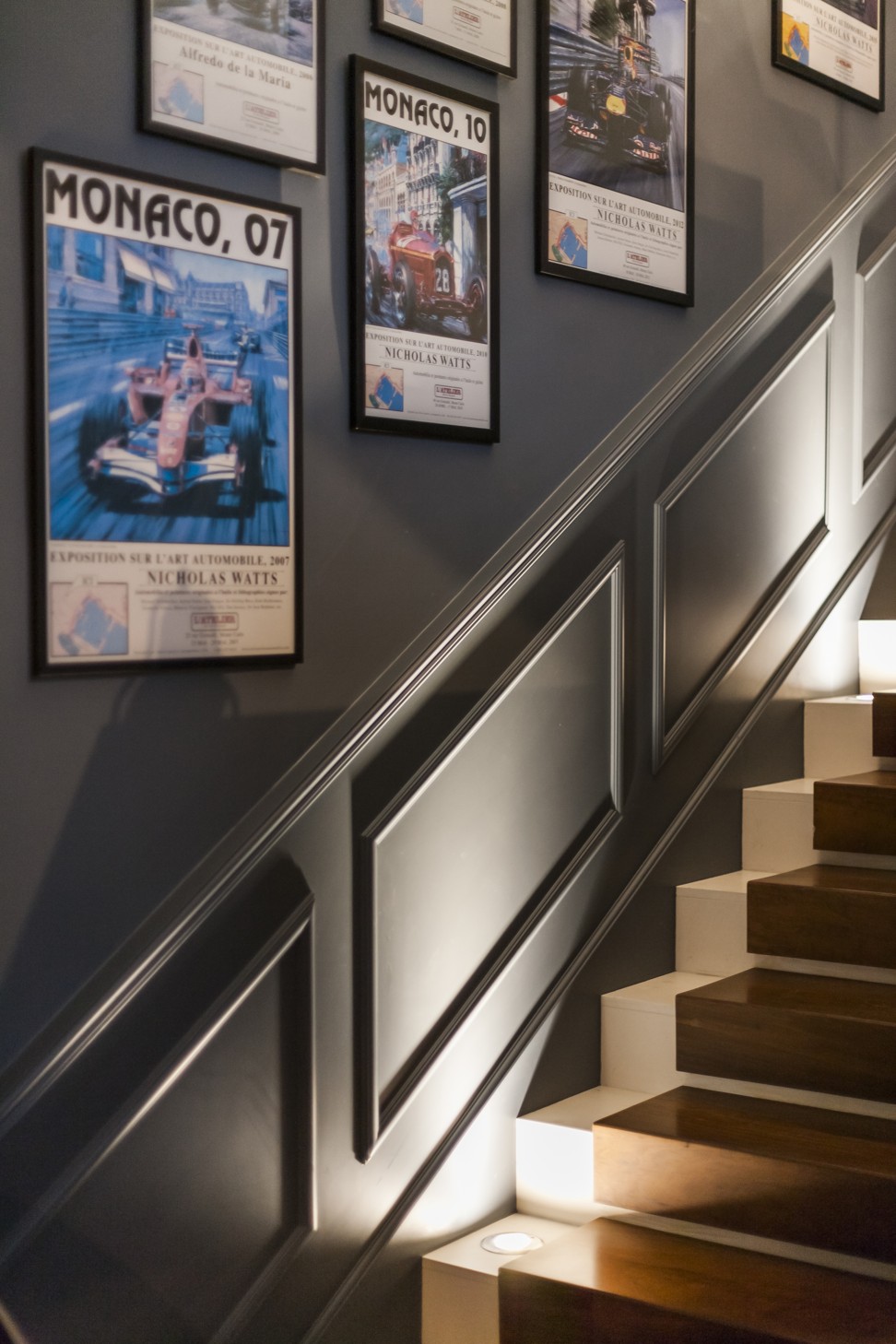 Staircase Adding to the gentlemen's-club style of the games room are wainscoting panels that continue from the basement up to the entrance level. The uplights on the stair treads, installed years ago, create visual interest via light-and-shadow contrast.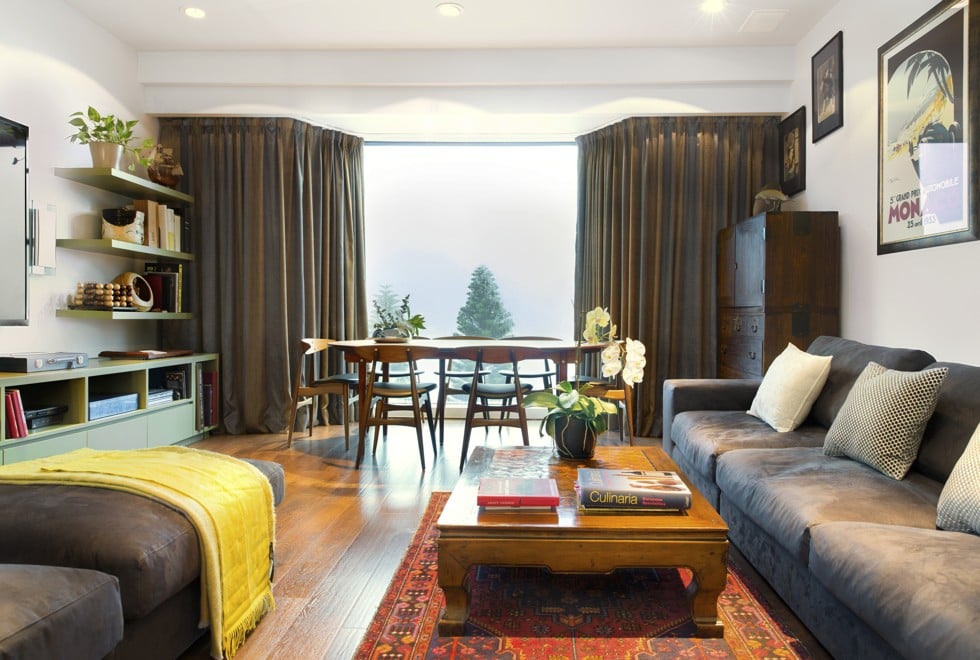 Living room The antique coffee table (HK$8,000) was originally used as a wardrobe base. Both it and the kimono cabinet (about HK$10,000) came from Honeychurch Antiques. The Carl Hansen & Son dining table and chairs cost about HK$160,000 in total from Manks. The sofa and custom-made TV cabinet were bought years ago.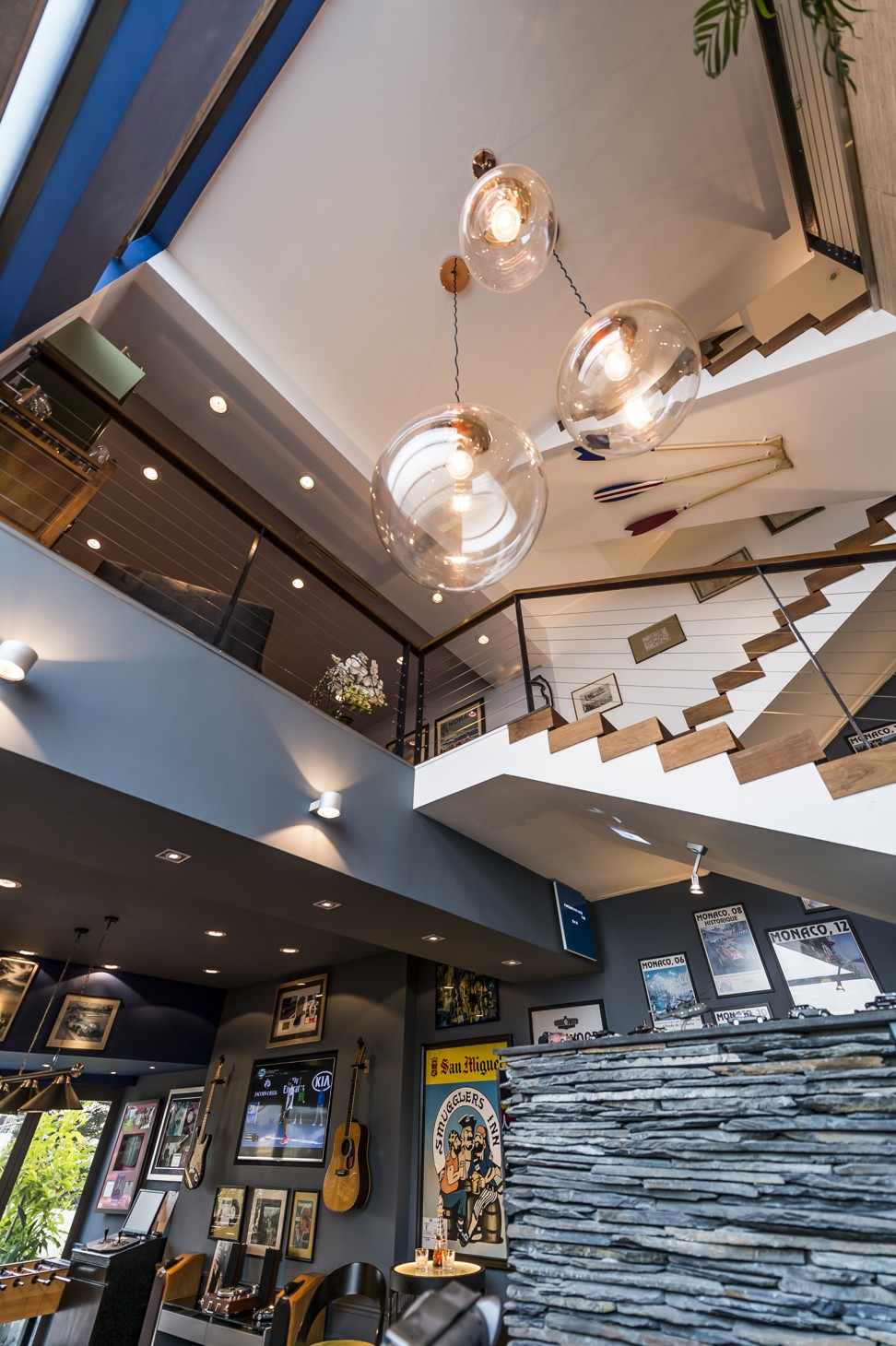 Atrium The lowest three floors are anchored by an open-plan atrium. From the entry lobby, the staircase leads down past a slate wall into the games room, and up to the living room and then the kitchen. The three mouth-blown glass pendant lamps (€700 [HK$6,090], €1,050 and €1,400) were from Bomma, in the Czech Republic. The hand-painted oars on the ceiling were a gift.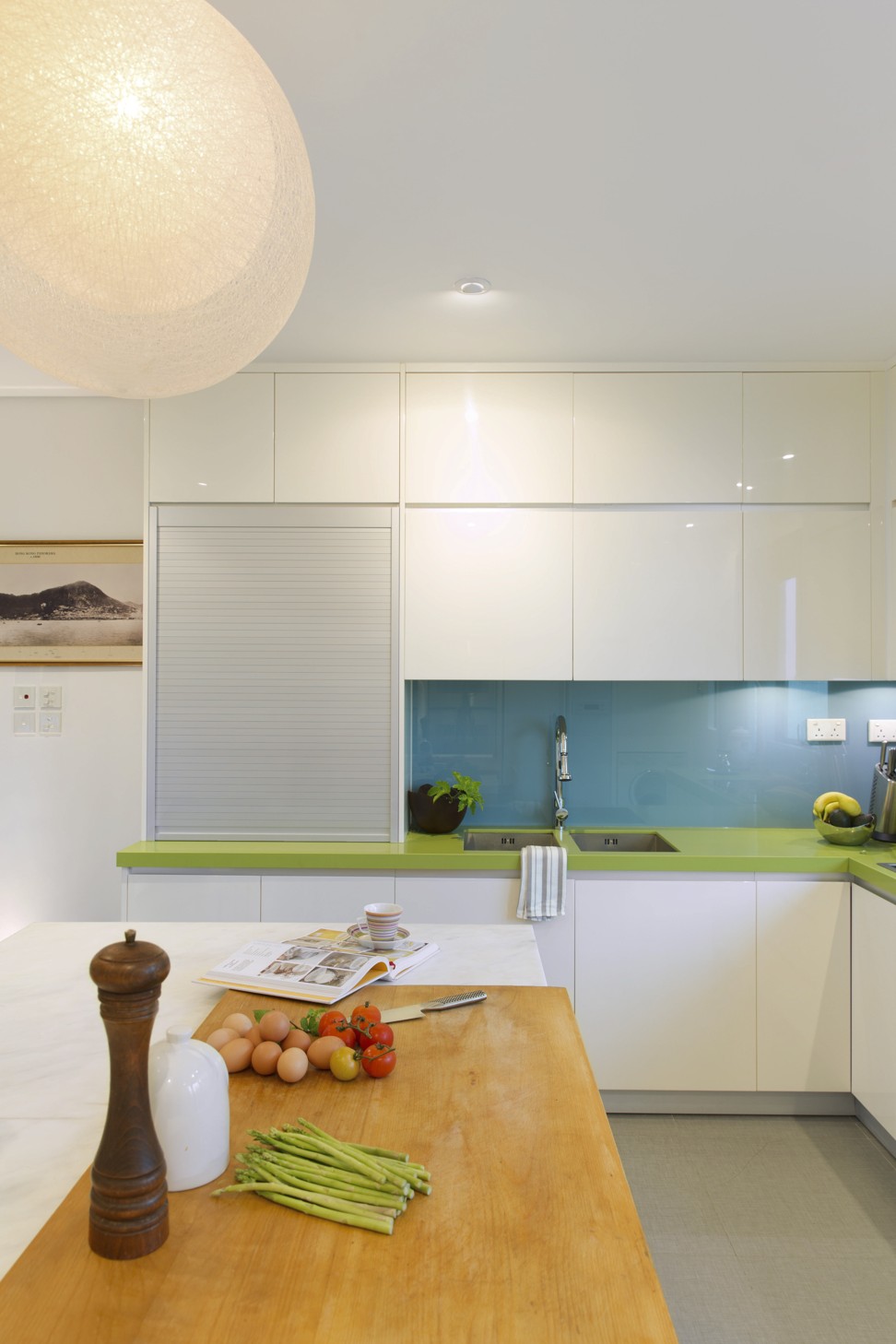 Kitchen The kitchen has evolved over the past 12 years, but still revolves around a large island. Shiny white cabinetry and neutral floors are brought to life with pops of colour from the countertop and splashback. The pendant lamp was bought on a trip to Japan several years ago.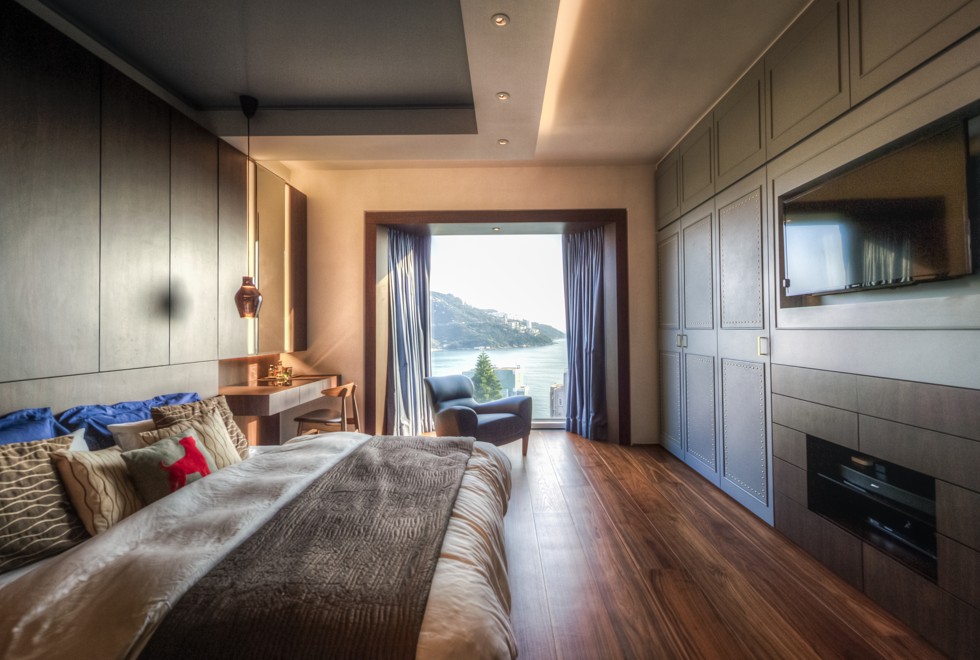 Master suite Behind the couple's original bed, Mary Wong, of Haven Design ([email protected]), installed a continuous plane of built-in storage and a matching dressing table (HK$52,000 in total, by Henley Consultants). Floor-to-ceiling grey wood-and-leather wardrobes on the opposite wall incorporate the TV and integral entertainment centre (HK$55,000 by Henley Consultants). The Nordlux Blow 17 pendant lamp (HK$2,400) was from Future Lighting. The Aston chair, by David Linley, was about HK$50,000 from Harrods, in London.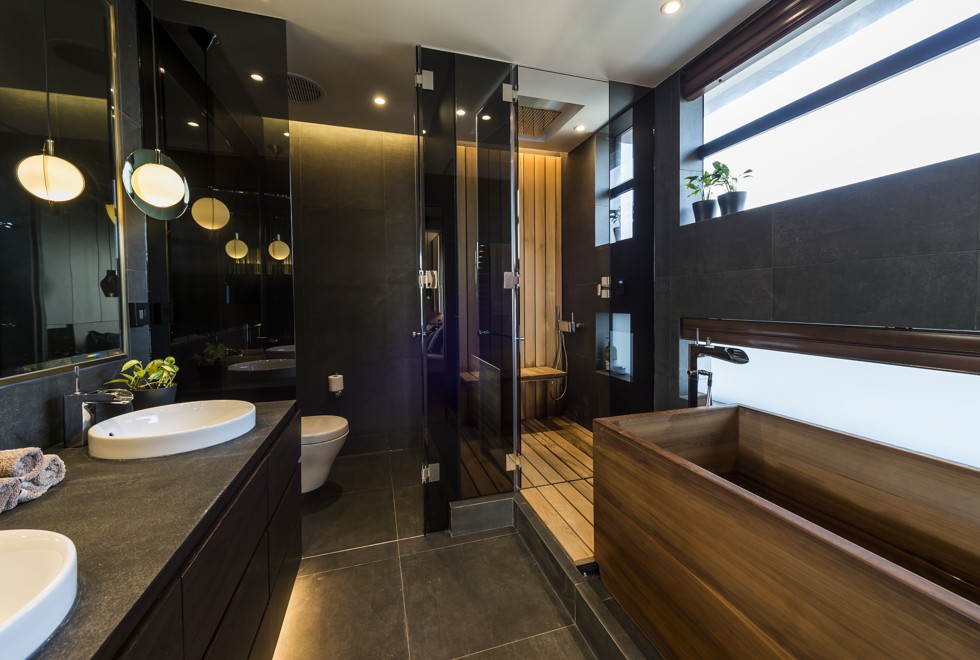 En-suite bathroom The wood theme continues into the bathroom, which went from an open-plan, all-white scheme to atmospheric black and cedar, behind closed doors. "We got fed up with going to sleep looking at the basin," the owners say. The custom-made red cedar Japanese soaking tub was US$7,150 from Zen Bathworks, in Alaska. The low cabinet (HK$12,000) was custom made in walnut veneer and black granite by Henley Consultants. The Plane pendant lamps (HK$3,400 each) came from Tom Dixon.
TRIED + TESTED
Island life To remind her clients of their home in Bali, Mary Wong used blinds to create a triptych from one of their photos showing the view. The electric roller blinds were HK$16,770 from K. Sing Decorative Products (tel: 2833 6022) and the printing was HK$11,000 by Sun Studio (tel: 2525 4141). The pendant lamps – in transparent, grey and blue glass to match the colour scheme – were HK$4,000 each from Ming House (tel: 2970 0851). The marble dining table and chairs were purchased several years ago from Indigo Living. The tiled sofa was purpose built in 2005.