It's no secret that, when it comes to human relationships, opposites attract. Less well accepted is that it's true for interior design, too, though it can take time – and confidence – to bring together apparently incompatible com­panions whose shapes, textures, colours and even styles initially set them apart.
That's what we discover on a visit to Shana Buchanan's new home in Mid-Levels, two years after Post Magazine showed off her last place. Despite having moved into her present rental apartment six months earlier, she admits it was only in the week before our photo shoot that the décor came together in the way that she had envisaged – bold and glamorous but also understated and casual.
WATCH: Inside Shana Buchanan's home.
That's because she wanted the contrasts just so, meaning classic shares space with contemporary, masculine with feminine, straight lines with sexy curves, and plush­­ness with its opposite (think velvet and linen).
"I wanted it to look and feel different," Buchanan says of the 1,800-sq-ft, four-bedroom apartment she shares with her husband, their young son and the family dog, Hershey.
Happy Valley flat with enough outdoor space to make you green with envy
Having upsized to a unit twice as large as their previous home, she aimed to design interiors that would show off her evolving tastes and perhaps underscore a change in circumstances, too. So where monochrome with pops of colour described the Australian couple's previous apartment, this time it's the other way around. Though shelves and walls continue to be adorned with vibrant art, now it vies with baby and wedding photos.
Buchanan has also made strides in her homeware business, iDecorate, which has grown from its online origins to include a bricks-and-mortar outlet in Causeway Bay. Being surrounded by covetable items helped, but also held up the process of creating a home almost from scratch.
Hanging out: an audience with British design maven Ilse Crawford
"I'm too spoilt for choice," she says, referring not only to the items she sources for her company but also the beautiful hotels and restaurants she visits here and abroad. Some, she says, have stamped impressions on her psyche, including JK Place, in Capri, the Kelly Wearstler-designed Avalon Hotel in Los Angeles,and Ilse Crawford's striking interiors for Duddell's in Hong Kong.
Knowing what she liked and finding expressions of it, however, proved challenging, and after plodding through Horizon Plaza and perusing furniture fairs and trade shows, the penny dropped. "I thought, 'I can't find anything I like so I'm going to make everything myself,'" she says.
Mid-century modern design a Hong Kong auction hit - is it the next must-have collectible?
That also meant being able to expand her company's hitherto small line of furniture with designs she had created for herself. For this Buchanan used, for example, durable velour upholstery in fashionable colours to bring up to date furniture in mid-century-modern shapes. Designs from the 1950s attracted her because in size and portability they are ideal for Hong Kong homes, she says, adding that furniture from that era had to fit into post-war houses typically smaller than their earlier counterparts.
"So furniture had to stack or be light enough to move about," she says. Or be multifunctional: for example, seating doubling as side tables, and drinks trolleys as sideboards.
The ever-changing rooms of a Hong Kong apartment
Not that her family is short of space. An outdoor area about the same size as the flat can be accessed from a dining room that comfortably accommodates 10 people. Buchanan's favourite part of the flat, this room perhaps best exemplifies her desire to make opposites work. Here, she contrasted curvaceous dining chairs in a soft mint velour with the hard lines of a bright, geometric rug, a chandelier of balancing rods, and a deep banquette.
The view from this sofa bench is vaguely reminiscent of Buchanan's previous home, which also enjoyed a generous wraparound terrace. As with her old outdoor area, she uses palms and ferns to make even more inviting zones created for eating, sitting and lounging.
Travel guru Simon Westcott sets up second home on Hong Kong seashore
Perhaps most surprising are the changes to the master bedroom. Here, Buchanan says, she stepped out of her colour comfort zone. Having painted the walls throughout the flat white (from their original cream), she chose bedding in playful hues, including burnt orange and pinks, as a foil against the cool greys of the side tables and headboard.
Where the bright hues may have been no-nos in the past, and possibly a bit girly where men are concerned, now they're her ray of sunshine in the morning. "'What pretty colours,' is the first thing that pops into my head every day," she says.
---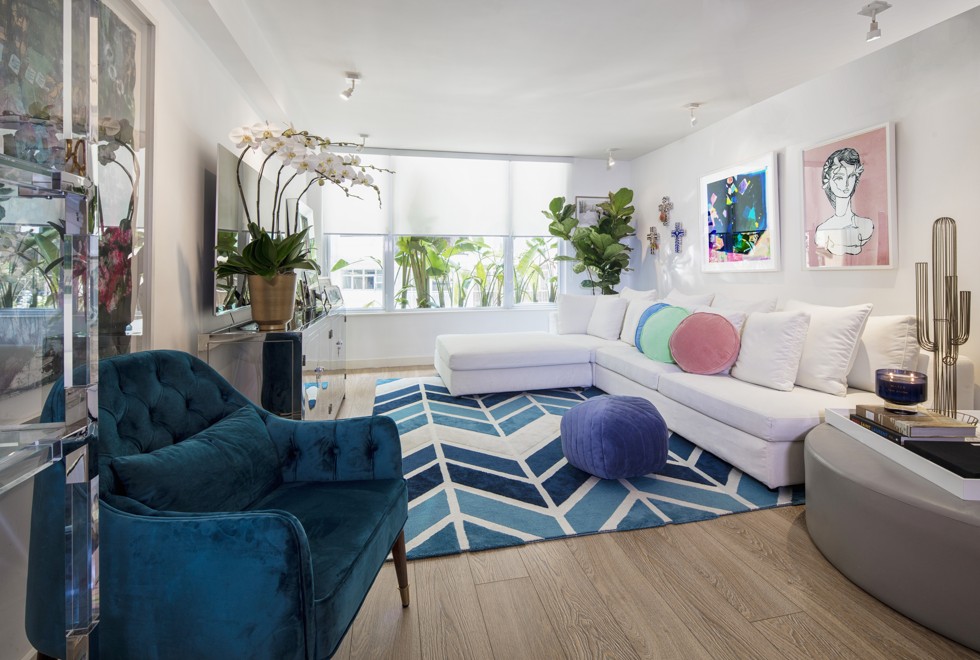 Living room Anchoring the living room is a Peaks rug (HK$7,500) from iDecorate, which also stocks the velvet-and-walnut armchair (HK$7,200), Kip&Co Pea cushions (HK$525 for two), Bloomingville foot stool (HK$2,475), brass pot (HK$595) and round grey leather ottoman (HK$5,900). Above the sofa, which came from a previous apartment, is artwork also sold by iDecorate: crosses painted by Jai Vasicek for Ahoy Trader (HK$1,500 each) and his Pink Lani limited-edition print (HK$5,500), flank a work by Ali McNabney-Stevens (HK$5,875). The large white lacquer tray (HK$1,390) came from Indigo Living and the stainless-steel cabinet (about HK$23,000) from Bowerbird Home.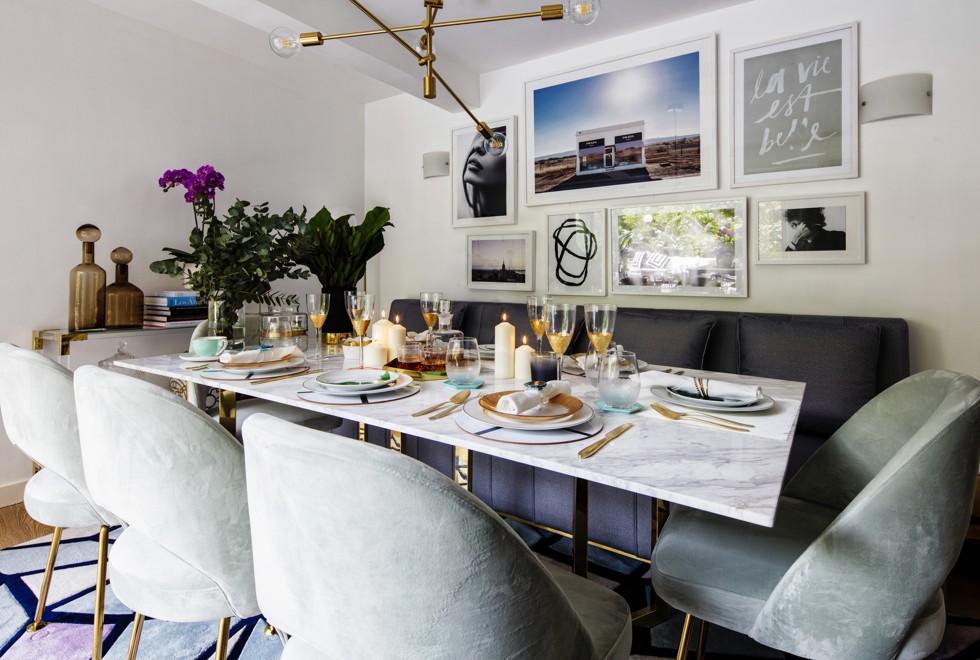 Dining room Designed or sourced by Shana Buchanan for iDecorate are the dining chairs (HK$3,800 each), banquette with solid brass base (HK$16,000), chandelier (HK$3,800) and acrylic console (HK$6,900). Her company also sells the photographic prints, by Nathan Johnson, of Blacklist Studio, the decorative bottles (HK$990 and HK$1,100) and tableware. The dining table (HK$23,000) came from Artura Ficus but was customised with a marble top by iDecorate.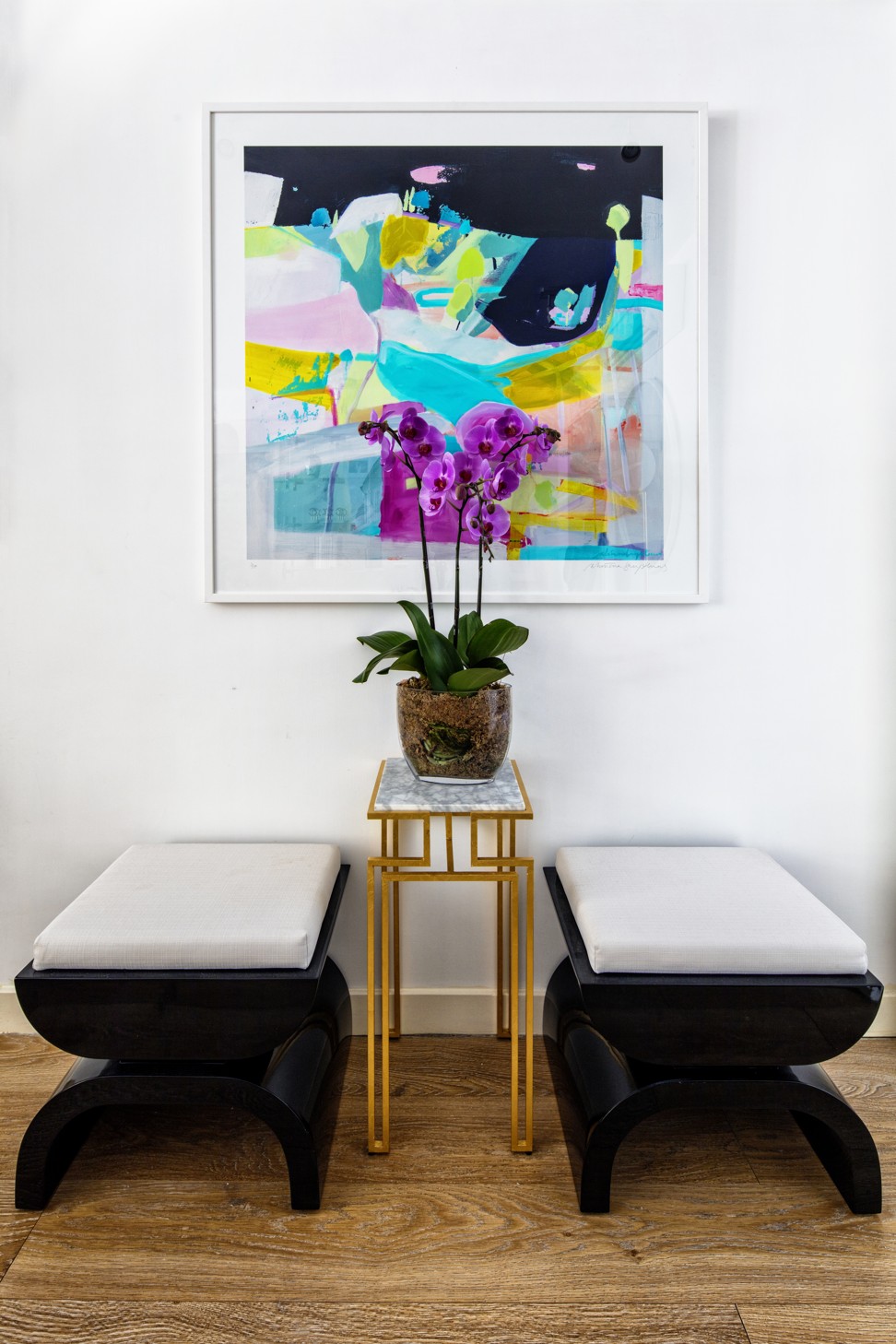 Art deco corner (in living room) The Worlds Away Memphis lacquer stools (HK$6,168 each), side table (HK$5,820) and Ali McNabney-Stevens print are all available from iDecorate.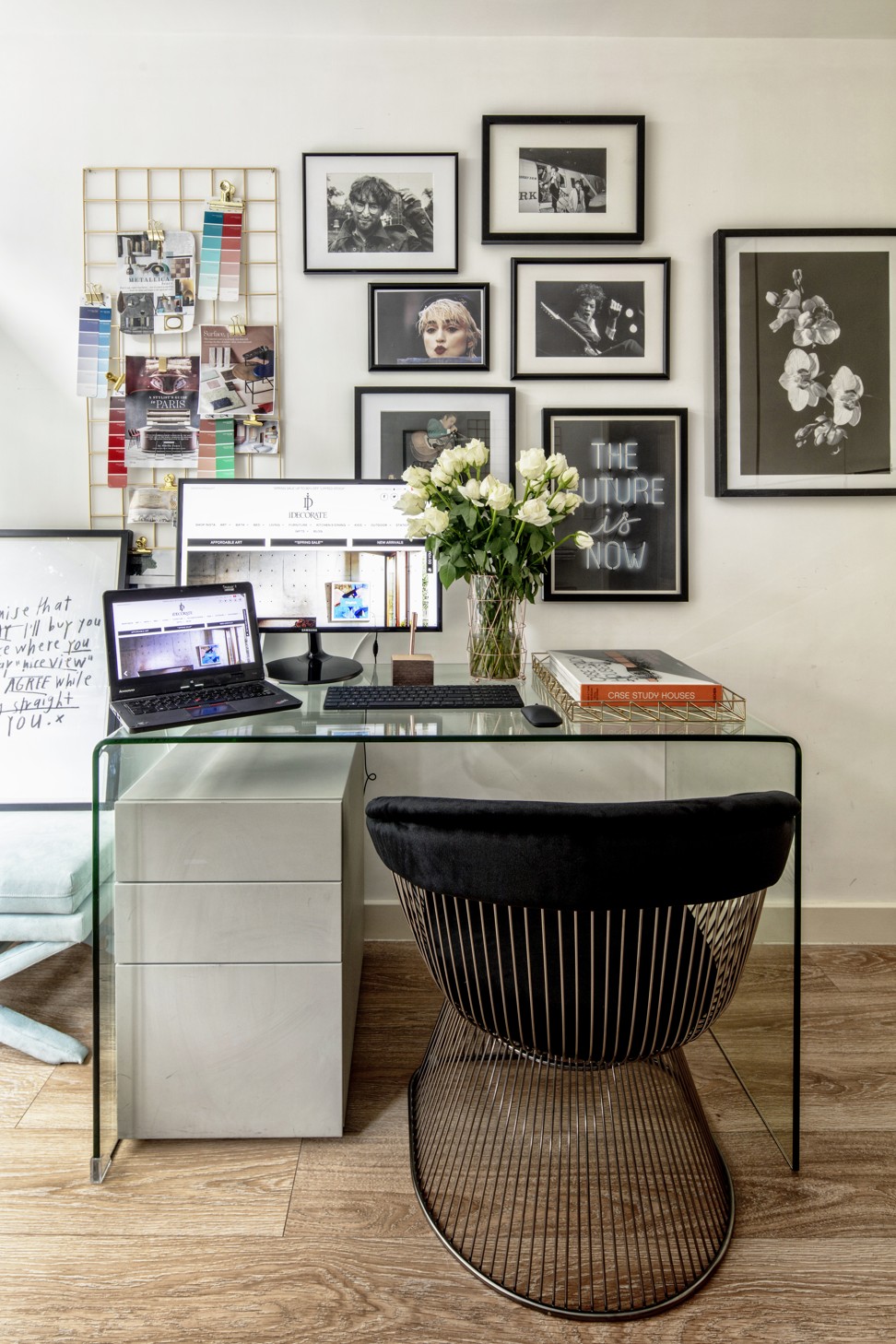 Work room One of two workrooms, Buchanan's space features a glass desk (HK$8,500) and black velour and stainless-steel chair (HK$4,900) available from iDecorate, which also stocks the gold mesh (HK$1,500) affixed to the wall. The mint velour cross-legged bench (HK$4,500) came from Artura Ficus. The drawer set was a gift.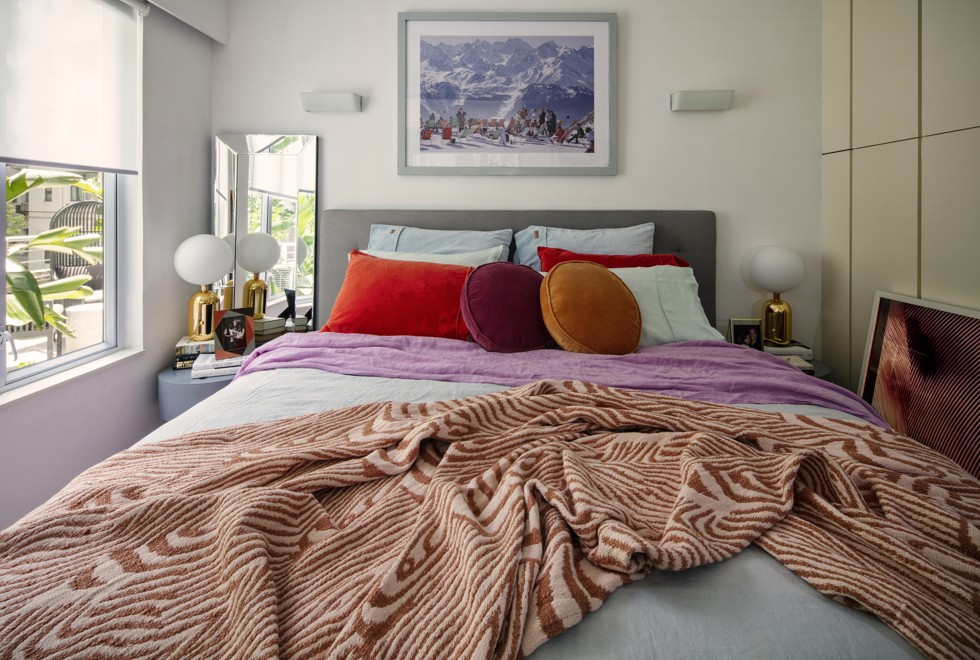 Master bedroom The bed, from the previous flat, is covered with bedding by KipandCo, velvet pea cushions (HK$525 for a set of two) and a Sandlines tassel throw (HK$2,390), all from iDecorate, as were the bedside lamps (HK$2,500 each) and Bloomingville side tables (HK$2,470 each). The photograph, by Slim Aerons, was purchased through photos.com.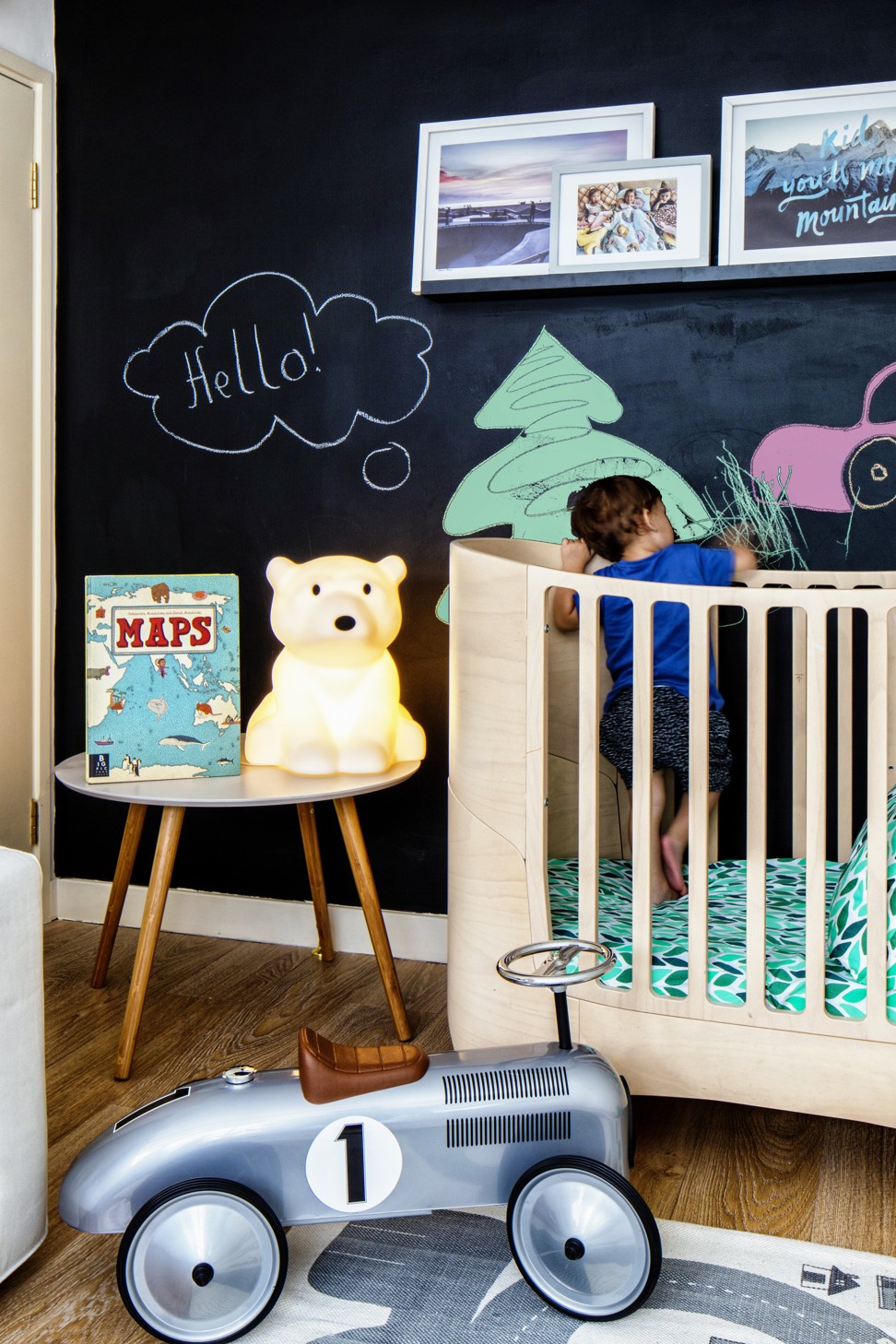 Child's room Blackboard paint was used for the wall by the Leander cot (HK$12,000) from Babe Panda. The car (HK$1,290) and polar-bear light (about HK$1,900) came from Homeless. From Bloomingville (via iDecorate) are the coffee table (HK$3,500) and map-print rug (HK$1,390).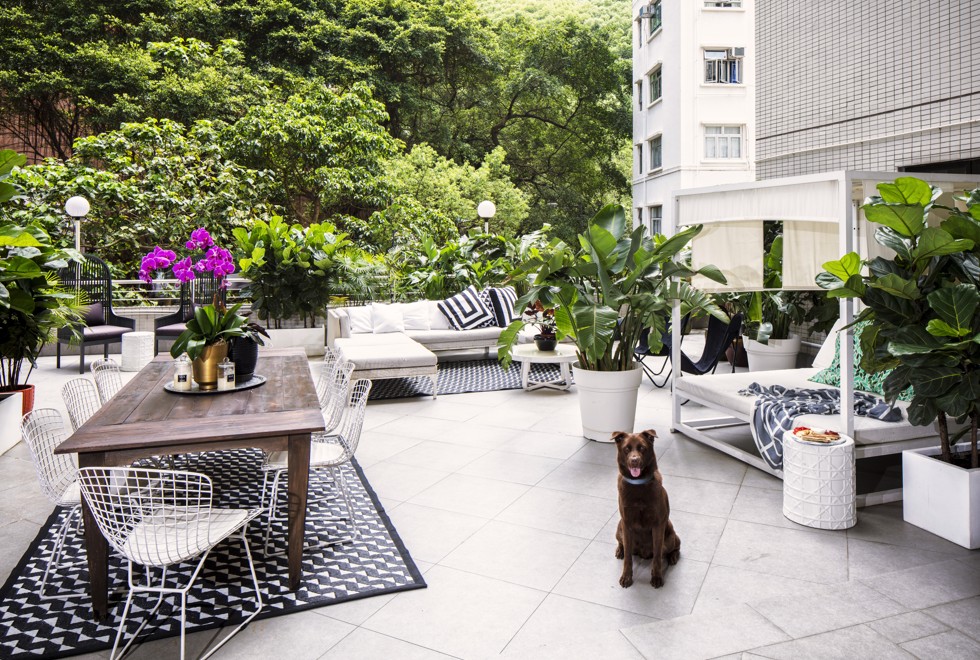 Terrace Much of the outdoor furniture came from Buchanan's previous flat, including the bespoke outdoor lounge suite with coffee table, dining table, replica Bertoia chairs and reversible black-and-white indoor-outdoor mats (HK$3,990 each). The outdoor daybed (HK$18,525) and peacock lounge chairs (HK$5,790 each) are available through iDecorate. All plants, pots and planter boxes came from Wah King Garden Arts, in Mong Kok.
TRIED + TESTED
Blingtastic Easy-to-access, see-through, acrylic drawers sets (HK$1,100) have transformed Shana Buchanan's dressing table, which used to be cluttered with individual jewellery boxes. She sourced different box sizes, along with the earring stand (HK$350) and other accessories, all of which are now sold through iDecorate.