Interior designers may dream of having a free rein on projects. But as Wesley Liu recently discovered when creating a bachelor pad in Sheung Wan, working without a brief can also be a burden.
"There weren't really any processes of approval," says Liu, founder of PplusP Designers. "The client just passed the whole project on to me. I didn't know what he'd think of it."
But the designer need not have worried. "When it was all done," Liu remembers, laughing, "he came in and was like, 'Wow!' It was just like a TV show."
Liu kept the original three bedrooms and two bathrooms but redesigned the 1,106 sq ft flat to be a home-from-home for his client, who is currently at university in Britain. When the client is not using it during term breaks, members of his exten­ded Malaysian-Chinese family stay over, sometimes moving in for weeks on end, according to Liu.
"It's a very special situation," he says. "Because the client doesn't live here all the time it's not like a typical Hong Kong apartment, where we have to maximise storage because everything has to be hidden away. It meant I could take a hotel, holiday-home approach to the space."
Designer bows to artist in Hong Kong flat revamp
One of the first things Liu did was to knock down a wall between the living room and the kitchen, creating a sleek, open-plan space for entertaining. One request from the client, who likes to cook, was that he wanted to be able to serve his friends food and drink easily. "So an open-bar concept was best," says Liu. Parties can also spill outdoors because the room opens to a balcony with sweeping city views of Poho (the area around Po Hing Fong) and Sai Ying Pun.
This area may have been planned around eating and drinking, but it's also where the design details that recur throughout the flat are most prominent.
Maxed-out minimalist Hong Kong flat fit for a bride
The first and most obvious of these is Liu's bold and repeated use of the colour blue. In this room alone, the floating bar, the L-shaped sofa and a built-in cupboard by the entrance are all the same vibrant shade of cobalt.
"The client showed me some reference images and they were mainly black and white, but I thought that was kind of boring, so I wanted to add in another element," says Liu. Although blue is stereotypically a "boy's colour" – and therefore a go-to for men's homes – Liu says he picked it also because he thought it could be used throughout the apartment without being overwhelming.
Bold colours make Hong Kong holiday home memorable
The built-in wardrobes, in the entrance, master bedroom and single guest bedroom, are another constant. Two of these have open sections – just like in many hotels – allowing guests to see their clothes.
To open them up even further, Liu designed some of the wardrobes to have extended frames, leaving extra rails hovering above or in front of the main cabinets. "This architectural form makes the space more masculine," Liu says, adding that the idea was inspired by the Bauhaus and De Stijl movements.
Bohemian splendour in a remote Hong Kong island home
Bauhaus touches were an obvious choice for Liu. The movement is rooted in indus­trial, functional design and, therefore, says Liu, "fitting for a young man". It was also a movement that had deeply inspired the designer when he was the client's age – so much so that he went on a pilgrimage to Dessau, the German town where Bauhaus was born, a few days after graduating from the University of New South Wales, in Sydney, Australia.
Many of the flat's details are more contemporary, and some are even futur­istic. Hanging in the main bathroom is a mirror designed by "cybertect" James Law that has an inbuilt screen allowing users to browse the internet or watch television. An accompanying set of scales connects to a smartphone and the mirror, so that it can also display stats on health and fitness.
Blue and white Lantau family home lets the living be easy
Like many details in the apartment, the Cybertecture Mirror feels like something you might find in a five-star hotel. But if the client decides to move in full-time, Liu thinks the flat can easily be adapted for everyday living. "I expect he'll buy Muji boxes to place on the open shelves of the wardrobes," the designer says. "And that's OK – the space will still look stylish."
---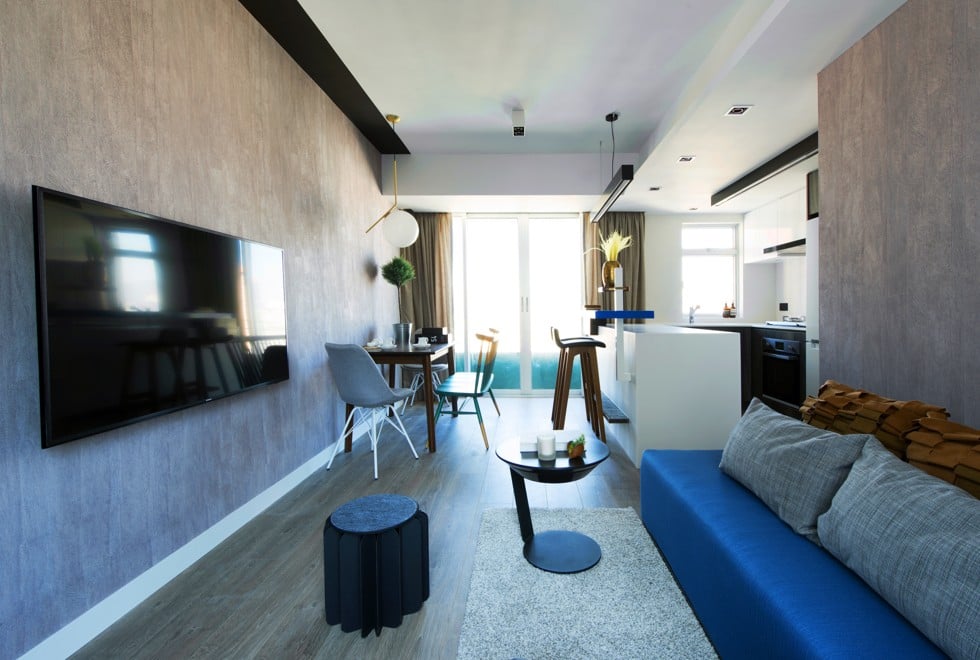 Living room The sofa (HK$11,000) and single-leg coffee table (HK$1,200) came from SofaSale. The rug and the stool-like coffee table were gifts from designer Wesley Liu. The dining table (HK$9,000), dining chairs (HK$1,200 each) and bench (HK$5,800) were all from Decor8. Hanging above the dining table is a pendant lamp (HK$2,800) from Nature Evolution.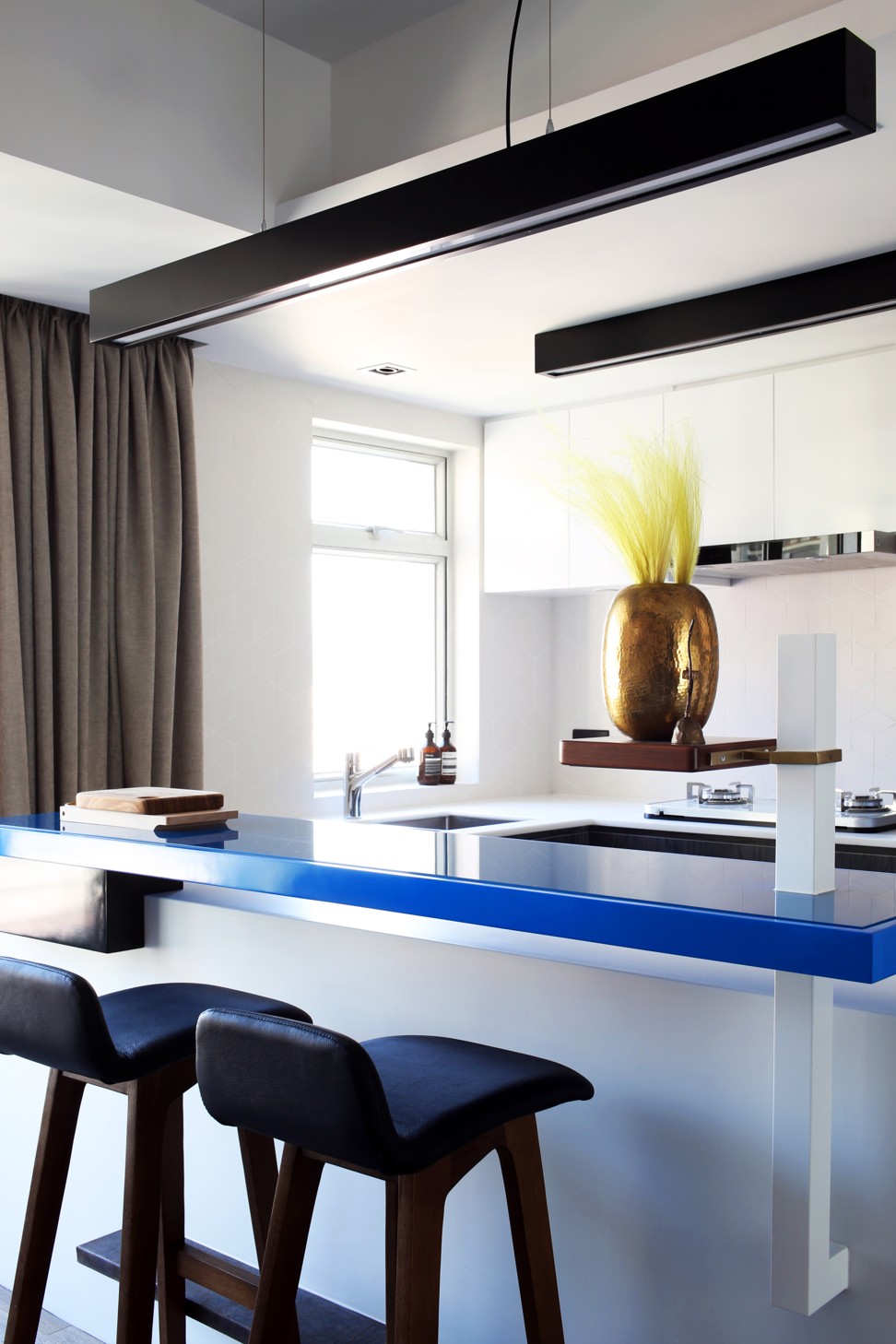 Kitchen Lucky Engineering built the kitchen for HK$80,000 (excluding appliances). The vase, from Franc Franc, was a gift from Liu to his client. The bar stools (HK$1,800 each) were from Unica Interior. Liu designed and built the bar lights, which are made from wood and spray-painted black. They feature throughout the apartment and cost HK$22,000 in total.
Wardrobes by entrance The storage unit (HK$32,000) was built by Lucky Engineering. The blue section opens towards the front door, so it can be used for shoes.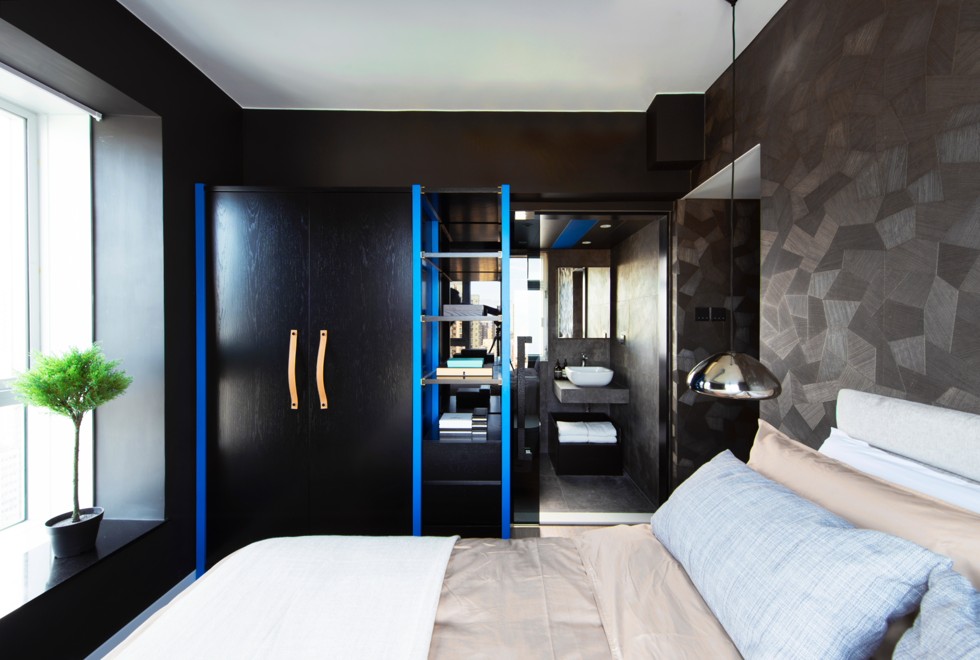 Master bedroom By the bed hangs the Veil pendant lamp (HK$2,800), by Tom Dixon. The bed (HK$16,000) and wardrobe (HK$22,000) were built by the contractor, Lucky Engineering Company. The geometric-patterned wallpaper (HK$850 per roll) is from Tat Ming Wallpaper.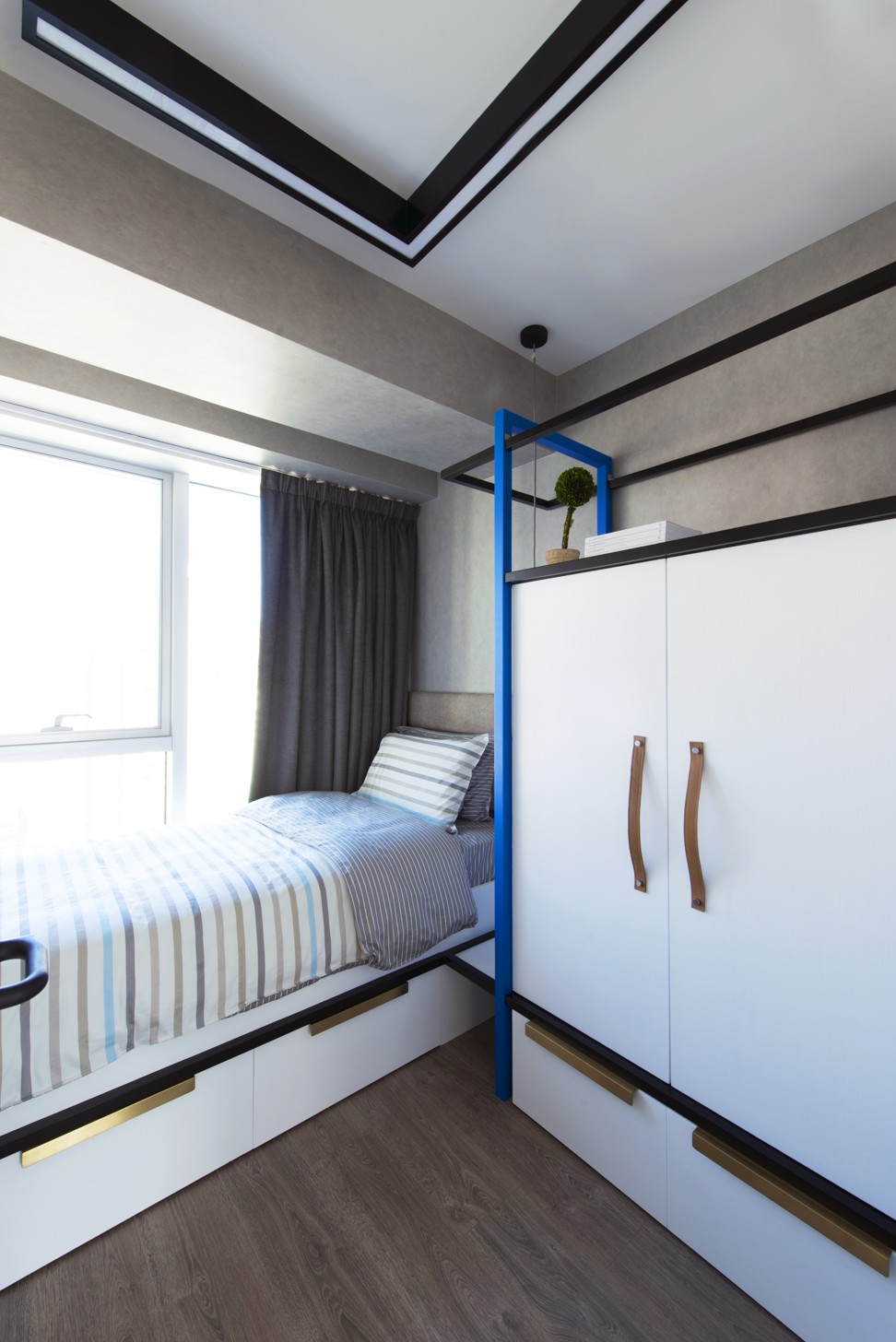 Spare bedroom Lucky Engineering built the bed (HK$11,000) and wardrobe (HK$22,000). The grey-ash laminate flooring throughout most of the apartment (HK$45 per square foot) was from Sanrich.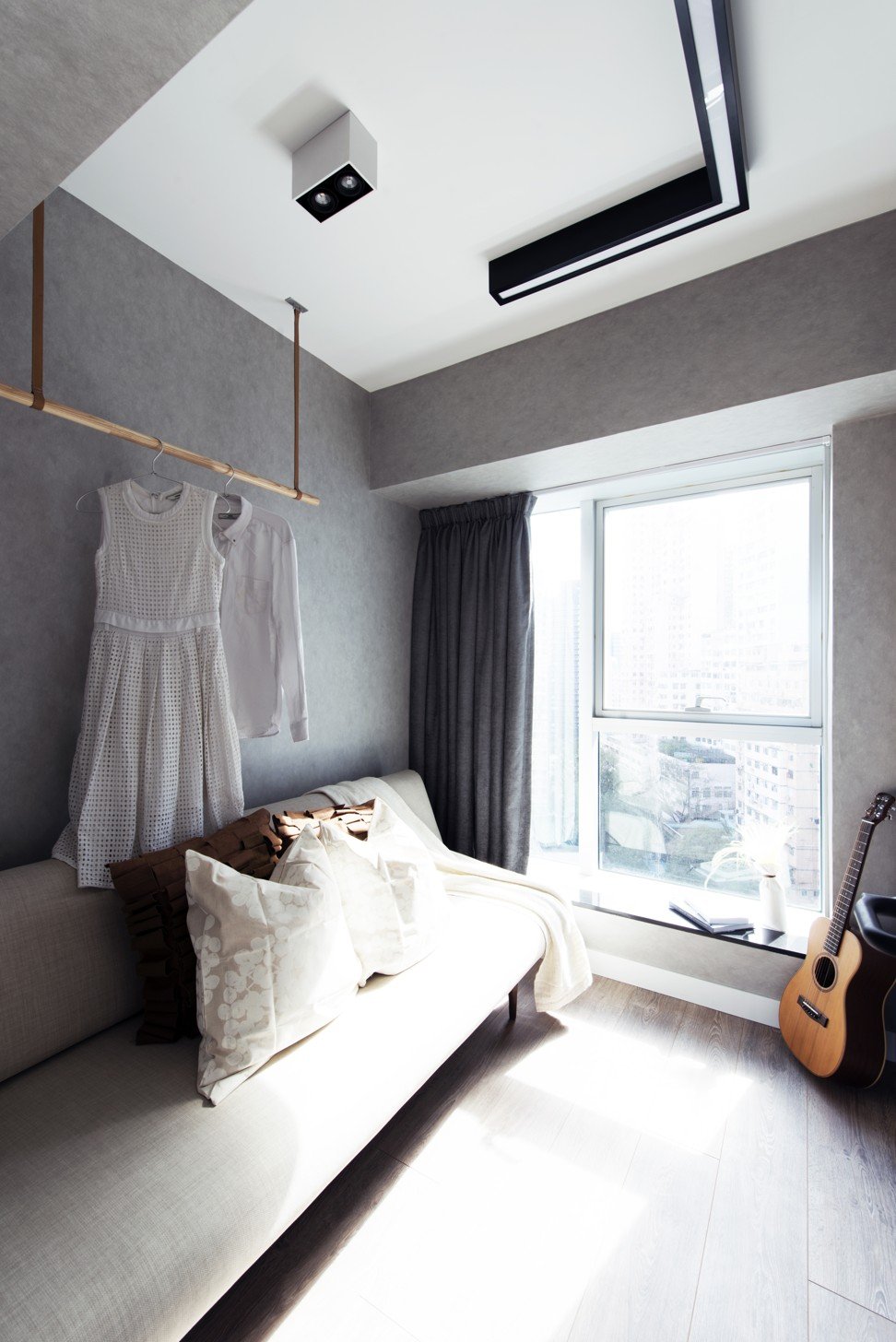 Spare bedroom The double sofa bed (HK$7,000) was from FurnitureLand. The wallpaper (HK$450 per roll) was from Tat Ming Wallpaper. Liu installed a bar of beech wood to create a clothes rail.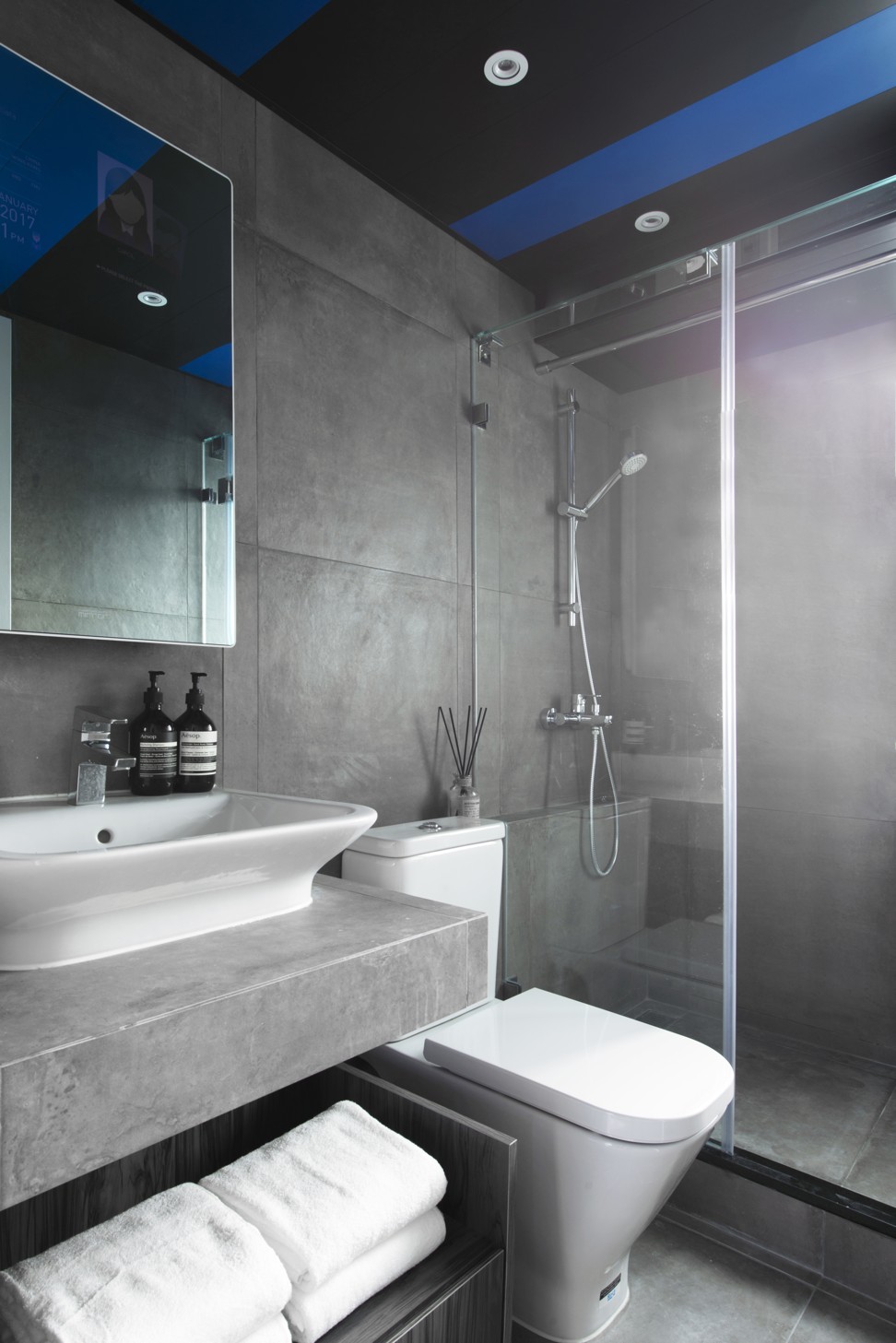 Bathroom The Cybertecture Mirror (about HK$50,000) was bought from colourliving years ago. Liu spray-painted the aluminium ceiling panels cobalt blue and black.The basin (HK$2,200) is from Galaxy Bathroom Collection.
TRIED + TESTED
In some of his other projects, Wesley Liu has designed desks and make-up tables with leather inlays. "Hong Kong designers normally make desks out of wood veneer only," he says. "I like making them a bit different." Reluctant to discard leather pieces leftover from such jobs, he has re-purposed some oddly shaped tan-coloured sections for a series of decorative details in this flat. He added a leather strap to a shelf in the mirrored entrance, built a leather footrest beneath the kitchen barstools, and used strips for handles on all the wardrobes.