"Excuse my hair," says Ross Urwin, punctual to the dot for our appointment. "I've just been for a swim."
Urwin may still be observing Hong Kong time on this winter's afternoon in the small Australian town of Mullumbimby, in Byron Shire, New South Wales, but otherwise the city is zones away in terms of pace and lifestyle. While his Australian partner, Darrel Best, is busy having a massage, the British-born, Hong Kong-based businessman has returned from the beach to show Post Magazine around the property they bought last year, on a whim.
We go through the open-plan main house, and traipse across the lawn to an "artist's studio", so that by the time we finish the Skype tour, an hour later, I've spent three times longer viewing the property than the pair had before committing to owning it: last July they squeezed in a cursory inspection of the 2,900 sq ft house on the day they returned to Hong Kong.
"We walked through the gate and it felt like we were coming home," says Urwin, adding that Best's Aboriginal ancestral roots are in the shire. When the gavel fell on the property a month later, theirs was the winning bid.
The Hong Kong home where every day feels like a holiday
Their emotional purchase may have gone against every rule in the book, but it's not hard to see the appeal of the renovated four-bedroom-plus-sunroom late-Federation bungalow, complete with timber-framed leadlight windows, decorative ceilings, a painted-weatherboard exterior and an established garden that, Urwin says, swung it for them.
"It looks like an English garden," he says, recalling a childhood home, in Britain, that gave him green fingers. "Most mornings, if we don't go to yoga, we spend two hours gardening. It's so therapeutic; it's a complete opposite to our lives in Hong Kong."
Creative agency marries designers' visions with the business world
The contrast is also marked in the upkeep of the 92-year-old house, which, in Hong Kong, might have been considered ripe for redevelopment decades before, because of its age. "[The previous owners] loved the house and it really shows," says Urwin, pointing out that the beautiful old, creaky floorboards give away the original section, which now segues into an extension incorporating an open kitchen and sitting room plus a deep terrace. Apart from installing outdoor lighting, ceiling fans, curtains and blinds, little work was required before it was move-in ready.
Most mornings, if we don't go to yoga, we spend two hours gardening. It's so therapeutic; it's a complete opposite to our lives in Hong Kong
That's where the pair came to the fore. Before they struck out on their own four years ago to found and direct creative agency Infrastructure, Urwin was Lane Crawford's creative director of lifestyle and Best – who now focuses on interior and archi­tectural-design projects – had worked for Kelly Hoppen Interiors and Timothy Oulton as brand director and in creative direction.
Is the West Kowloon Cultural District finally taking shape?
So when it came to furnishing their holiday house, which is let out when they're not there, Best made sure not only what would fit, but also what would be fitting for a house built in 1925. Some furniture would come from another of their rental properties nearby while the rest was shipped in a 40-foot container from Hong Kong. Because they happened to be downsizing at the same time (from a Sai Kung house to a flat in Ap Lei Chau), it was perfect timing.
The urge to fill the rooms with 1920s paraphernalia was tempered because, as Best had said before deciding what would go where, "I don't want to live in a house that feels like an antiques shop."
Celebrity interior designer Kelly Hoppen offers tips for the masses
The result is an interior bursting with character and history, with vintage and seriously old pieces alongside contemporary items such as Ron Arad's Voido Rocking Chair and Tom Dixon lamps. It's a look that fits right into the area's alternative-lifestyle vibe.
"It is known as the biggest little town in Australia; no one wears shoes; every second shop is an organic shop; and all the produce is local," says Urwin, comparing "Mullum" to the coastal town of Byron Bay, 20km away, which has for decades had a reputation as a base for cashed-up, patchouli-wafting creatives in tie-dyes.
"We love that sort of lifestyle," Urwin says. "Even though we love living in Hong Kong and we love the fast pace, we're hippies at heart. So we've kind of come home."
---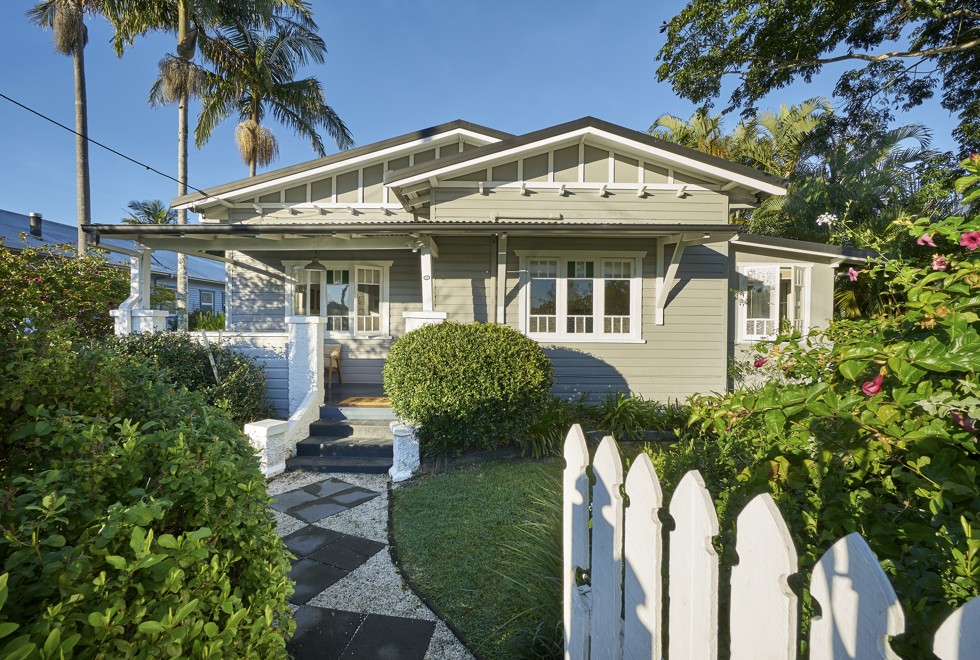 The exterior Ross Urwin and Darrel Best's late-Federation bungalow has timber-framed leadlight windows and a painted-weatherboard exterior.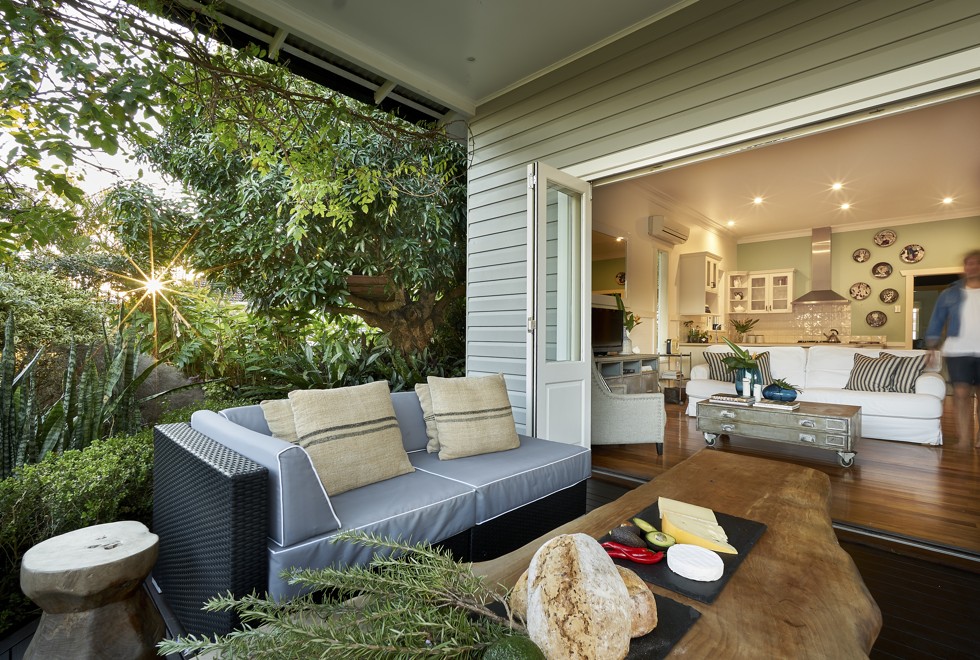 Deck and sitting area The coffee table on the deck was made from a piece of timber that Ross Urwin, of Infrastructure, found in Indonesia almost 20 years ago. The stool, originally a rice mortar, also came from Indonesia. The cushions were made in Hong Kong with sackcloth Urwin found in Paris, France. In the sitting room, the coffee table on castors is an original 1930s architectural and drafting filing cabinet sourced in Britain. The television unit is a British metal filing cabinet from the 20s that was found at a market in Lincoln, Britain. Teamed with a Kelly Hoppen armchair is an Ikea sofa bought years ago. The plates on the wall came from 798 Art Zone in Beijing.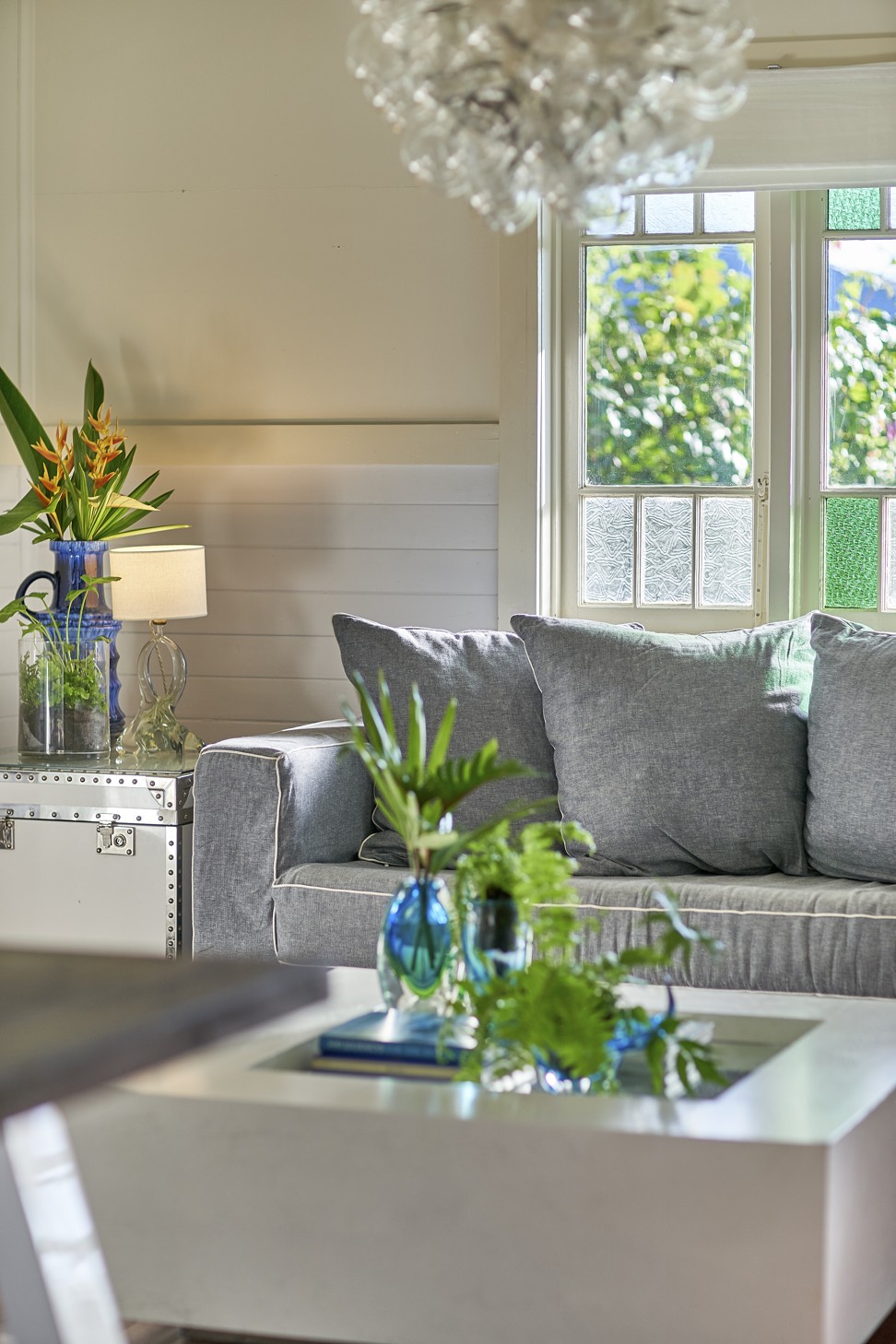 Living room In the living room at the front of the house are a Kelly Hoppen mirror-top coffee table, a trunk and a sofa re-upholstered in Hong Kong. The 1940s-50s French glass lamp on the trunk came from Alfies Antique Market, in London, 25 years ago. The Taraxacum 88 S suspension lamp (HK$25,690 plus HK$12,000 for 60 bulbs), designed in the 60s by Achille Castiglioni, is sold at Flos.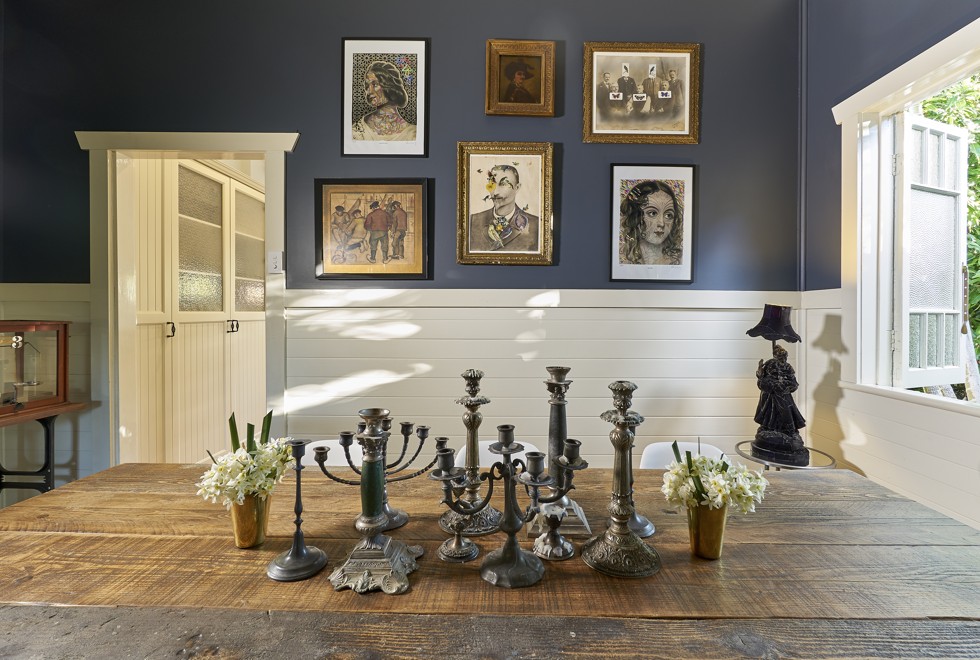 Dining room The collection of candelabras are hand-me-downs or were purchased from antiques stores in Europe. The black figurine lamp came from Squint, in London. The dining table, made with reclaimed antique wood, came from an antiques market in Britain. The gallery includes two pieces (top left and bottom right) by Paul Reilly; a French 19th-century oil portrait; two découpage works, by Soozy Lipsey, on antique photographs; and, bottom left, an early 20th-century painting of fishermen, bought in Copenhagen, Denmark.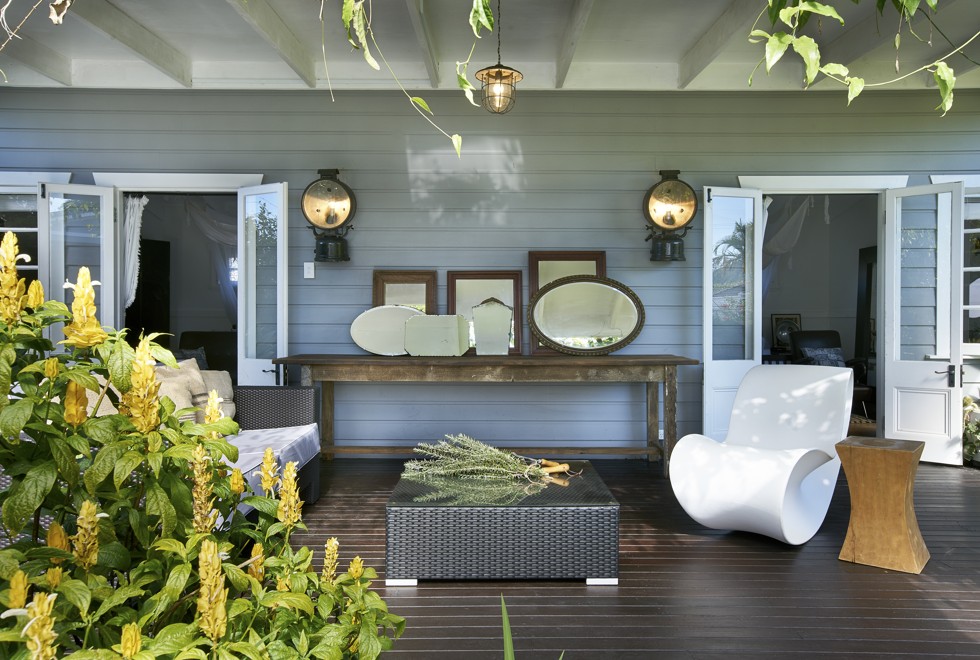 Studio Flanking two bedrooms in the studio is a wooden table made with recycled antique wood and purchased at a country fair in Britain. It had been used as an office table in Hong Kong. The mirrors, all from the 20s to 40s, to reflect the age of the house, came from antiques shops in and around Byron Bay, including Clem's Cargo (@clemscargo). The first-world-war aircraft-runway lights, once gas-lit, were turned into electrical lights by a vintage dealer in London. The 20s industrial pendant lamp came from Belgium; the wooden stool was from Indonesia and the outdoor lounge and coffee table were from Cebu, in the Philippines. The Ron Arad Voido Rocking Chair was a gift.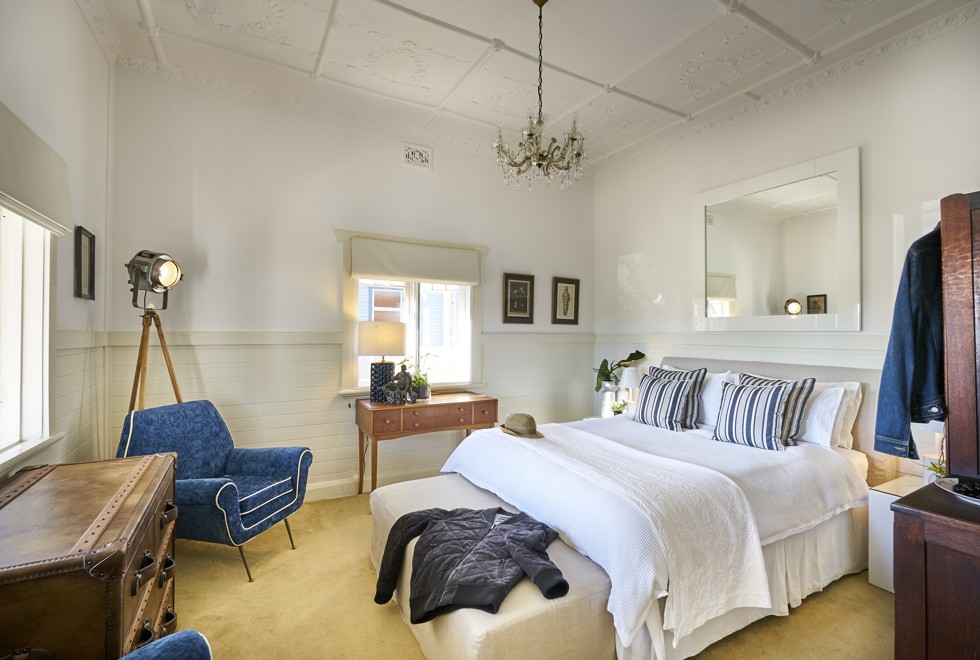 Bedroom in the main house The 50s Italian armchairs, which used to occupy space in Urwin and Best's Sai Kung house, were purchased in Milan, Italy, from a vintage-furniture dealer. The 1910 rewired British theatre light came from a market in Lincoln; the Stonyhurst chest (from HK$23,600) came from Timothy Oulton. The 20s cedar console came from Britain and the lamp was bought in Byron Bay. Above the old bed is a Kelly Hoppen lacquered mirror. The chandelier came with the house.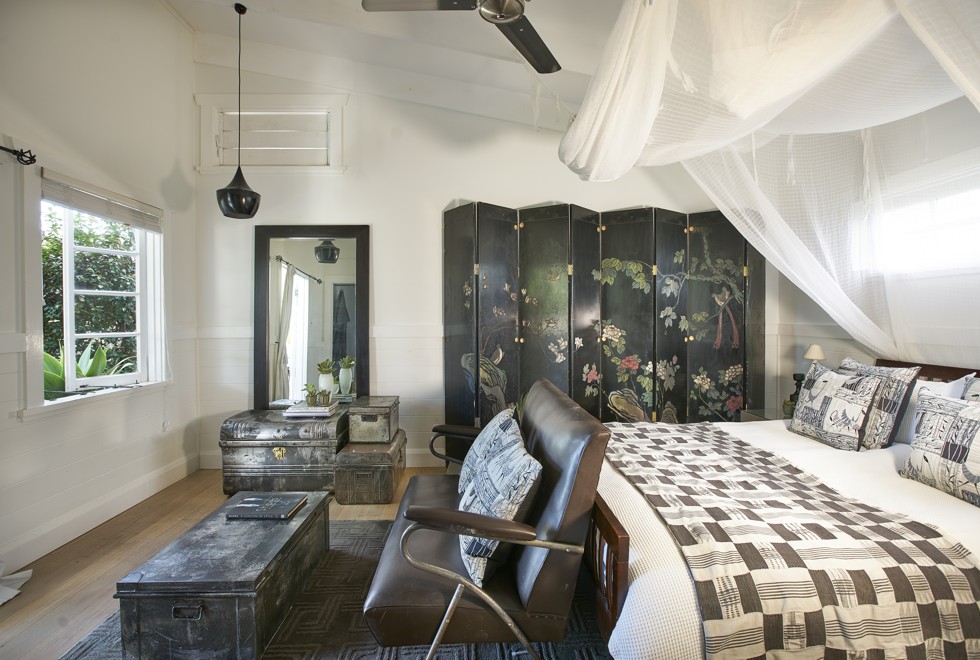 Bedroom in the studio Across the garden from the main house are two bedrooms and a bathroom. In this bedroom, the late 19th-century Chinese screen came from a dealer in London and was shipped to Australia after spending time in Hong Kong. The 40s Italian sofa was purchased in Milan years ago. The rug was designed by Best and Urwin, who, in 2007 created a collection influenced by traditional Chinese prints and motifs. The pendant lamp came from Tom Dixon and the mosquito net from Bisque Interiors, in Byron Shire.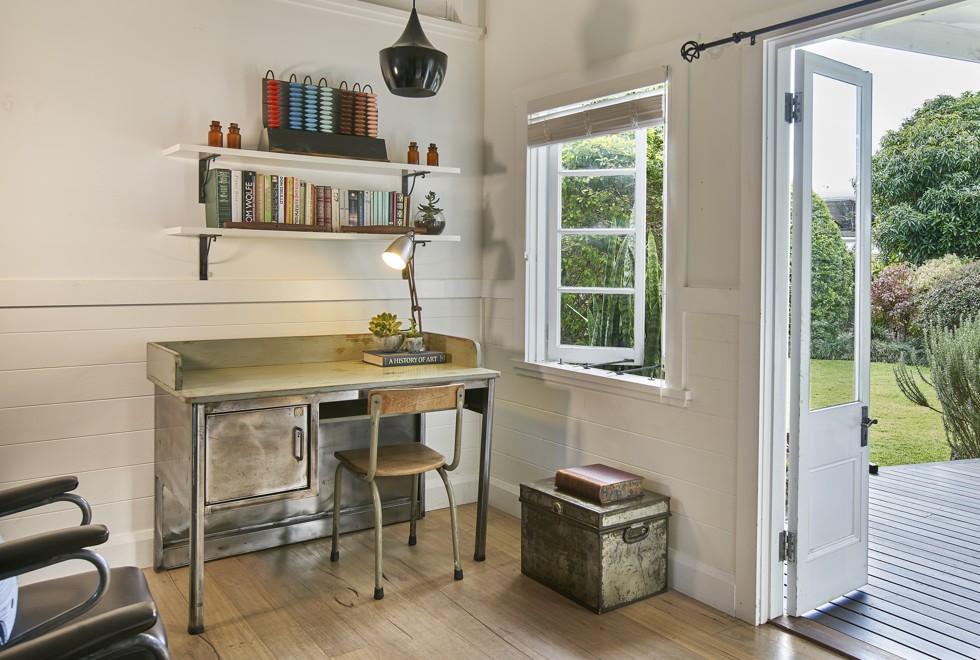 Second studio bedroom Above the 40s industrial French table, from an antiques fair in Kent, Britain, is a 50s abacus bought in Spain. The pendant lamp was from Tom Dixon. The armchair is one of a pair that matches the Italian sofa in another bedroom.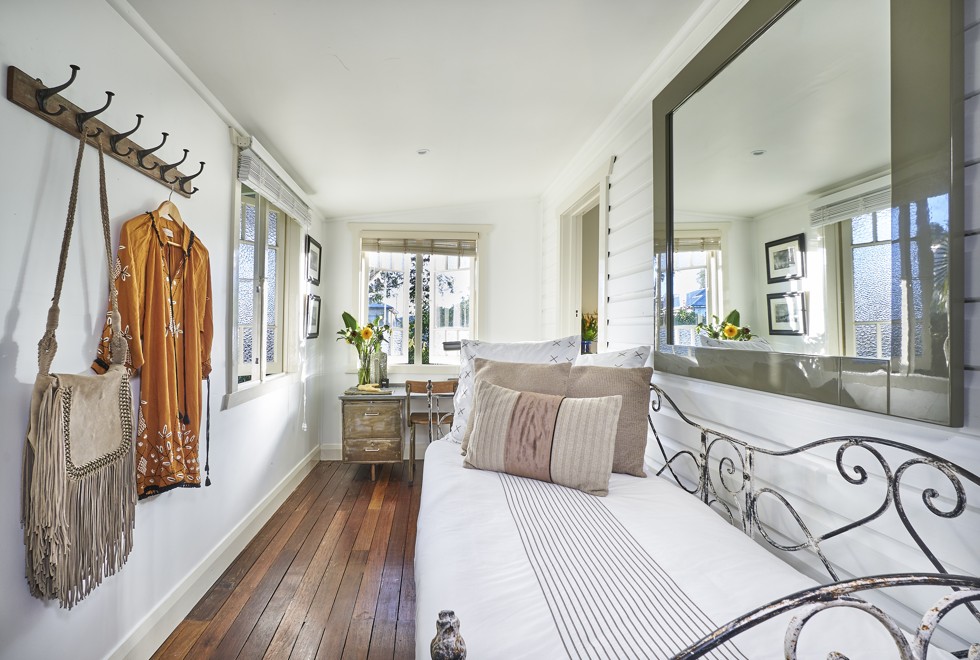 Sunroom This sunroom-cum-bedroom is furnished with a 40s French desk and chair found at an antiques fair in Italy. Above the Australian cast-iron bed is a lacquered mirror from Kelly Hoppen, also the source of the bedlinen. The cushions came from Kirsten Hecktermann, in London.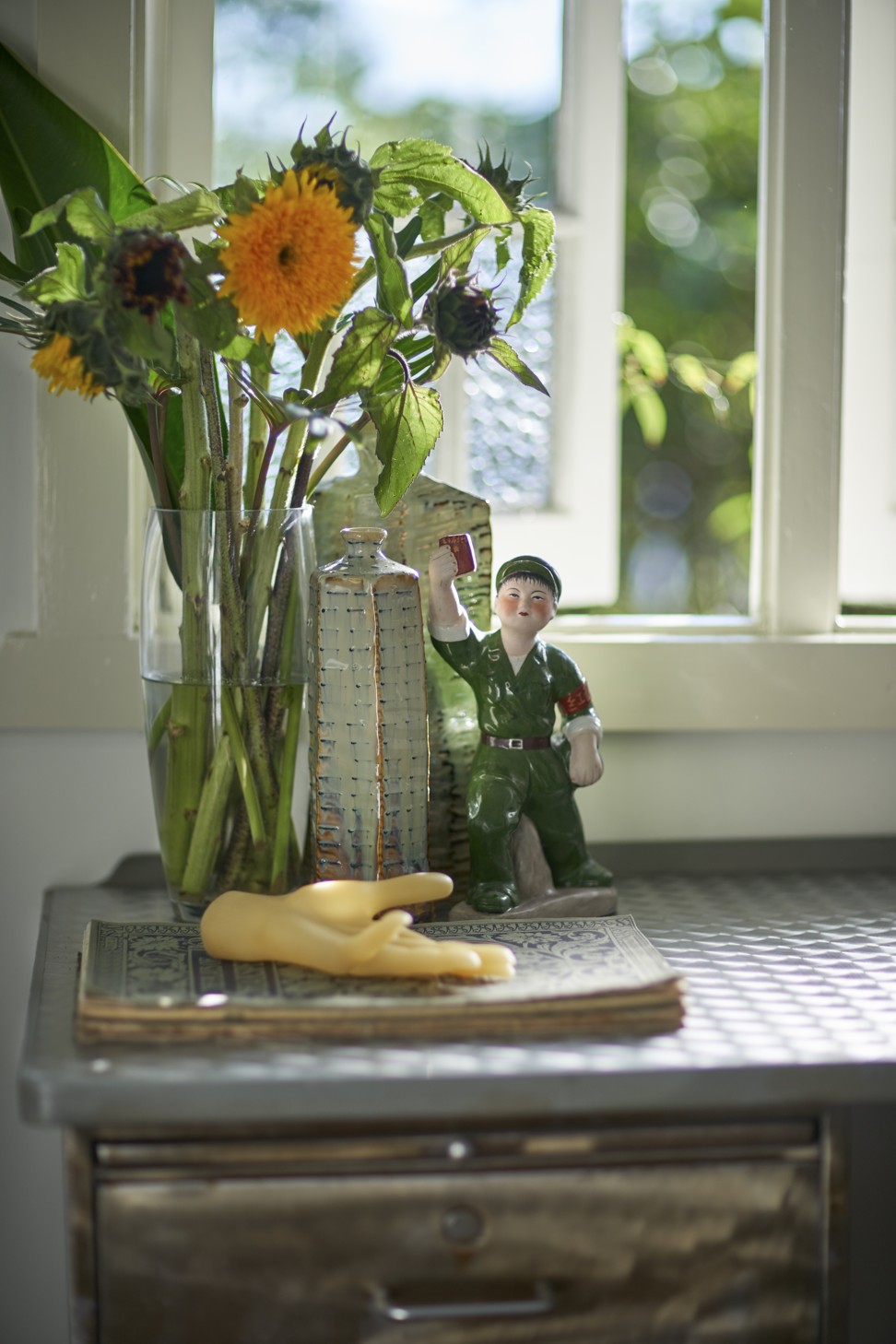 Sunroom detail The Red Guard figurine came from Beijing, the vases were from Chiang Mai, Thailand, and the 50s glove mould was from Spitalfields Market, in London.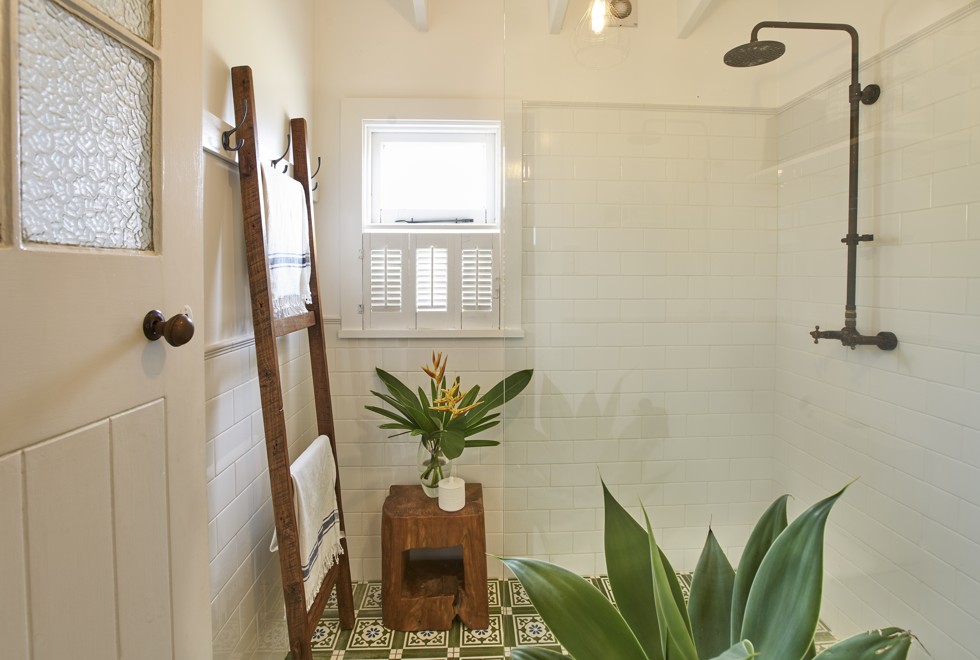 Bathroom in studio The reclaimed-wood ladder and stool were purchased in Indonesia and the floor tiles and shower fixtures came with the house.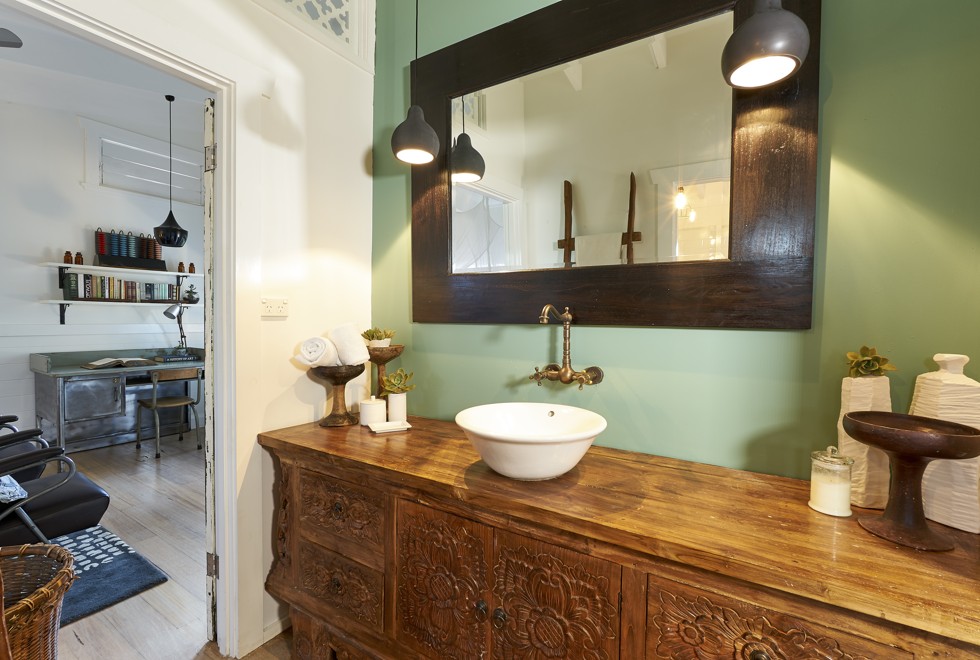 Other side of bathroom in studio Above the basin console, which came with the house, is a mirror made years ago in London. Ceremonial dulang tableware, accommodating hand towels, came from Bali. The pendant light was from Tom Dixon.
TRIED + TESTED
Trunk call Ross Urwin began acquiring trunks in 1990 while living in Britain and now has a sizeable collection sourced mainly from antiques markets in London. The nine in this house – used to store clothes, bedlinen and the like – date from the 40s and were once used in banks, he believes.