Ray Cheung King-chung had a problem. His family of six had outgrown the flat they owned in Tseung Kwan O but they were having trouble finding a home that was big enough.
"I have four kids and I had been searching for a home for three or four years," says Cheung, who owns an architectural model­ling company. "In Hong Kong, it's difficult to find a house with five bedrooms and a study, so I had to create one myself."
WATCH: Inside Ray Cheung's home
The opportunity came when he spotted a new housing estate just down the road. Cheung bought three flats on the top two floors and hired local design firm Comodo to combine them into a 3,719 sq ft duplex penthouse with more than enough room for the whole family.
Cheung says feng shui played a part in the purchase.
"I'm a bit old-fashioned," he says. "They look out to the ocean, to the south, which is very good."
He hired Comodo after discovering its online portfolio.
"I really loved it – it uses minimal, simple lines, simple colours," he says.
Comodo founder Alain Wong Chi-hang says the goal was to create a home that could suit the evolving needs of a large and busy family. Cheung often works through the night with overseas clients, so he wanted a space in which he wouldn't disturb his children when they were asleep, and vice versa when he has late starts. That led to the concept of two self-contained flats linked by an internal stairwell.
Architects rekindle passion for plywood, 70 years after Eames chair
Downstairs, Wong demolished the walls between two identical three-bedroom flats and transformed them into a four-bedroom living space for the Cheung children: a new­born, a one-year-old boy, a seven-year-old girl and an eight-year-old boy. The two older children each have a large bedroom with a sea-view study area and en-suite bathroom, while the younger kids have smaller rooms along a rear corridor, which also accommo­dates two kitchens and two bathrooms.
A large living room occupies the space between the older children's bedrooms. It is flanked on one side by a custom-built, floor-to-ceiling cabinet that includes a seating nook.
Two flats in Kowloon Tong turned into a modern duplex for a family of four
"They have a lot of toys, so we wanted to have more open space so they could play on the floor," says Wong. "We also kept it open so they could have flexible space in the future."
Wong paid special attention to the floors, choosing a birch-like, faux-wood laminate.
"Because it's near the ocean, it's very humid, and if we used real wood the kids would dent it when they played," he says. "This looks like wood and it's softer than tiles."
To connect the floors, a staircase was installed on the east side of the flat, where it would be least intrusive. It leads to the lofty top floor, which has 3.6-metre-high ceilings, floor-to-ceiling windows and a split-level terrace that allows for indoor-outdoor living.
How a couple made two average Hong Kong flats into a two-storey family duplex
With such beautiful views, it made sense for the upstairs living room to be oriented outwards, but Wong also needed somewhere to put the television. He ended up designing a column of vertical fins on which a screen can be mounted. It creates a subtle division between the living room and the staircase while also filtering the morning sun.
Wong kept most of the top-level original kitchen intact, but opened it up and added an island. He also kept as they were the two kitchens downstairs, where the children's meals are prepared, as well as the original bathrooms, even though their glitzy decor jars a little with the rest of the apart­ment's subdued tones.
A modern, family-oriented duplex in Hong Kong
"They're brand new from the developer, so it would have been a waste to get rid of them," says Wong.
The money saved from leaving the kitchens and bathrooms untouched was invested in the staircase – a laborious process that requires Buildings Department approval – and in transforming the three upstairs bedrooms. They now serve as a huge walk-in wardrobe, a study with a sea view and a master bedroom, all of them connected by sliding doors that can be opened to create a single large space – or closed when Cheung is pulling an all-nighter in his study.
Hong Kong duplex with Japanese elements makes owner feel at home
Cheung says the study is his favourite place in the flat.
"I like how I can look out to sea as I work," he says.
He also appreciates the calming palette, which is mostly neutral upstairs but punctu­ated by accent colours downstairs.
"My son chose blue, and my daughter's favourite colour is yellow," says Cheung. "What's most important is that everyone likes where they live."
---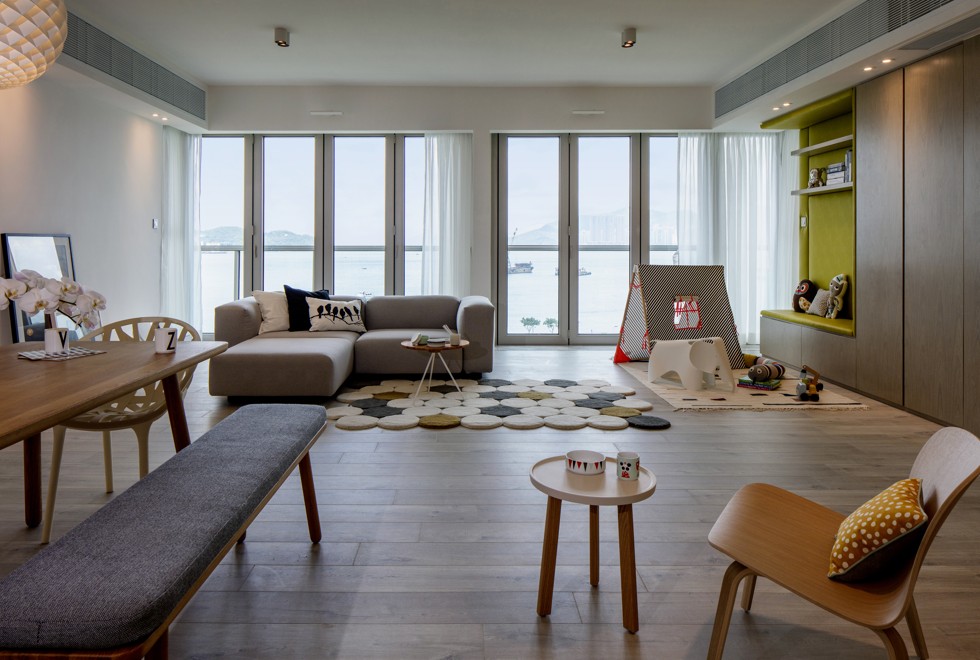 Downstairs living room The Another Country dining table (HK$23,000) and bench (HK$12,400), Vitra dining chairs (HK$3,600 each) and sofa (HK$54,000), Muuto lounge chair (HK$5,400), small Punt coffee table (HK$3,900) and, near the sofa, the Hem coffee table (HK$2,900) and GAN rug (HK$12,000) all came from Establo, as did the Vitra toy elephant (HK$1,900). The children's play area contains items from Ferm Living, including the tent (HK$1,400) and rug (HK$2,300). Comodo designed and built the storage unit with a seating nook for HK$54,000.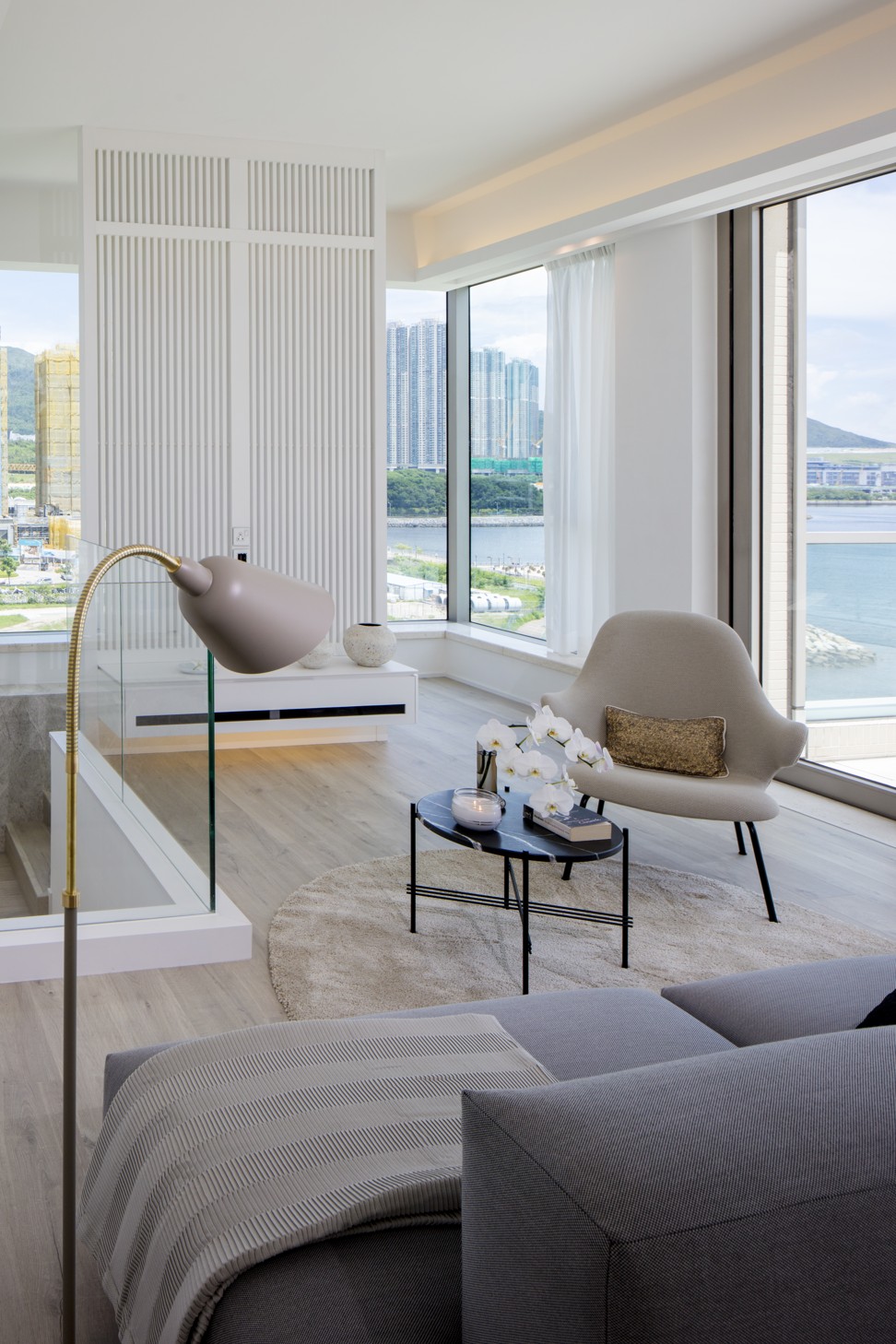 Upstairs living room The screen wall (HK$21,600), on which a television can be mounted, was designed and built by Comodo. The Ikea rug cost HK$1,190. The &Tradition chair (HK$20,000), floor lamp (HK$8,400) and coffee table (HK$8,200) were all from Establo.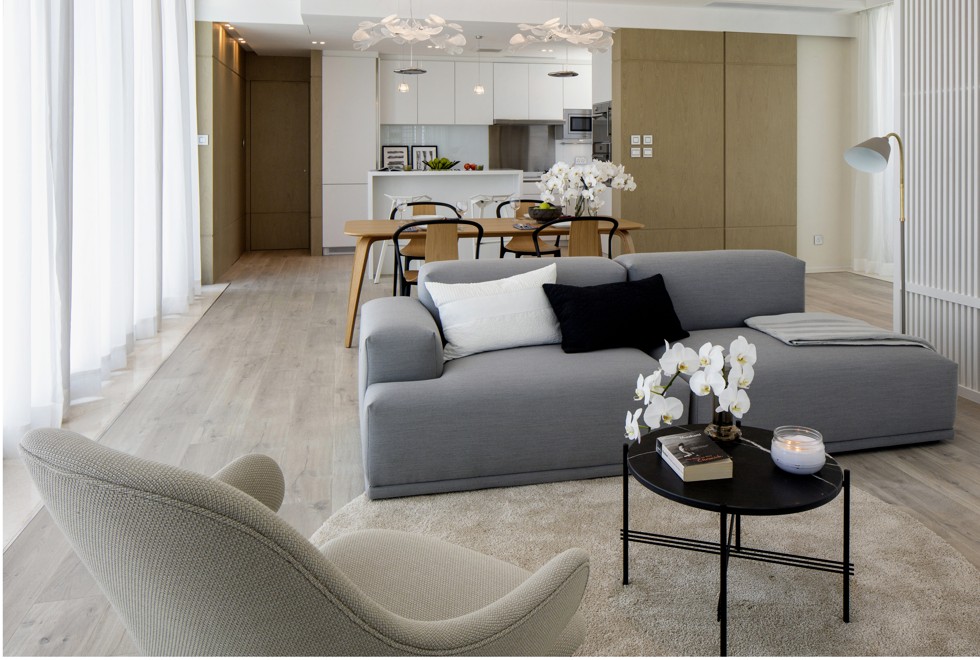 Upstairs living room and kitchen The Muuto sofa (HK$37,000), Muuto cushions (HK$1,400 total), Gubi dining table (HK$21,000) and Vitra chairs (HK$3,500 each) all came from Establo. Above the table, the lights (HK$9,500 each) were from Artemide.
Kitchen on top floor All original kitchen appliances were retained, but the space was expanded and opened up. The island, with a Corian countertop, was designed and built by Comodo for HK$29,700. The pendant lights (HK$2,700 each) came from Flos. The fruit basket (HK$313) was from New York's Museum of Modern Art.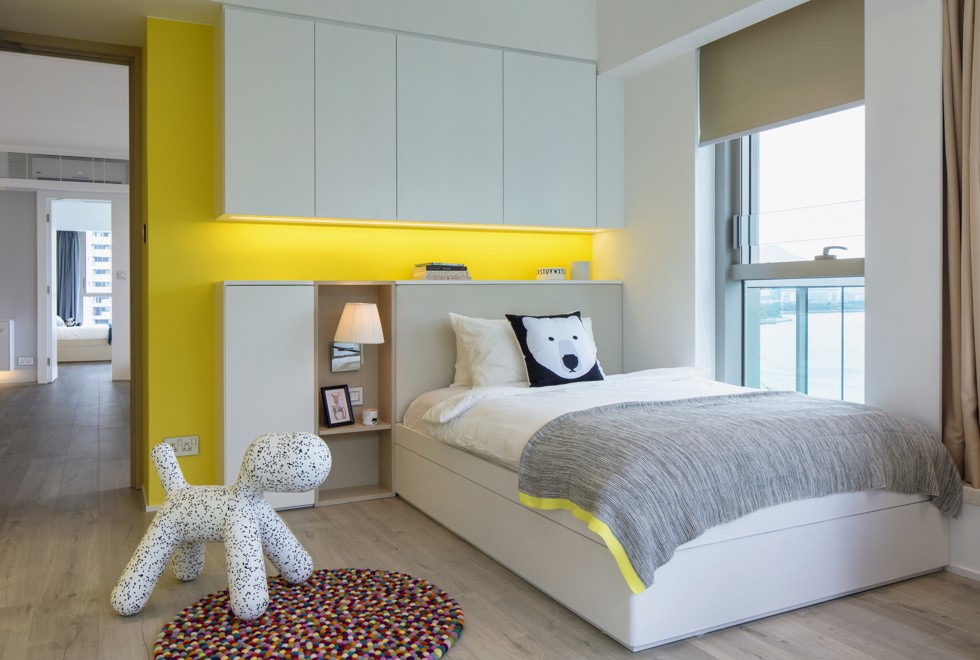 Daughter's bedroom Comodo designed and built the bed for HK$36,000, and the cabinets for HK$45,900. The bedside lamp cost HK$5,100 from Flos and the Hay rug was HK$3,100 from Establo.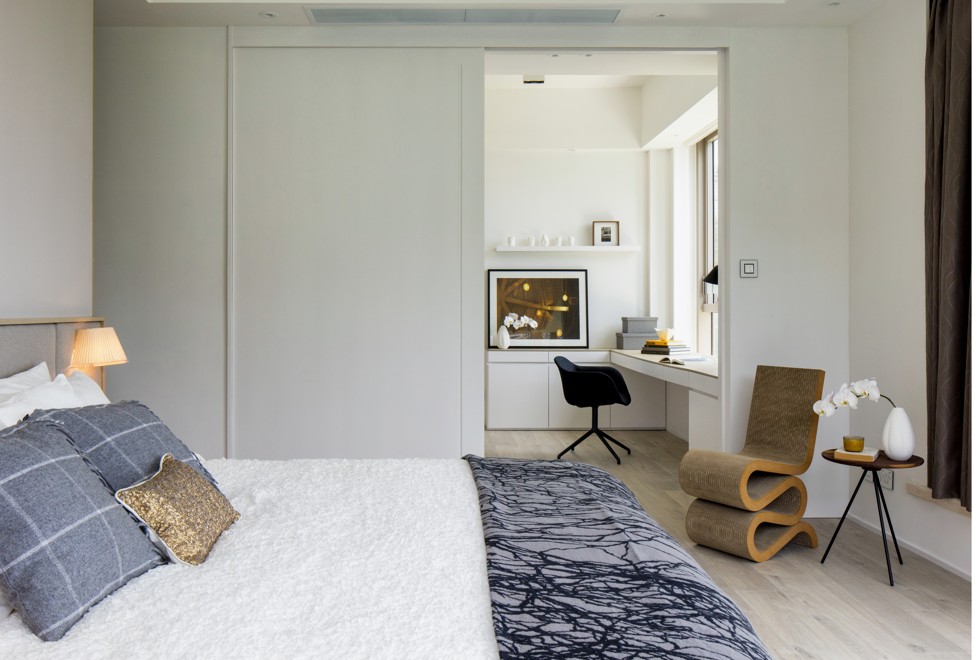 Master bedroom and study Comodo designed and built the desk (HK$34,020) and the sliding door (HK$25,200). The Muuto study chair was HK$7,400 from Establo, which also supplied the Vitra Wiggle cardboard side chair (HK$6,700), which was designed by Frank Gehry, and the Hem side table (HK$2,900). The bed, with bedhead, was built by Comodo for HK$52,800.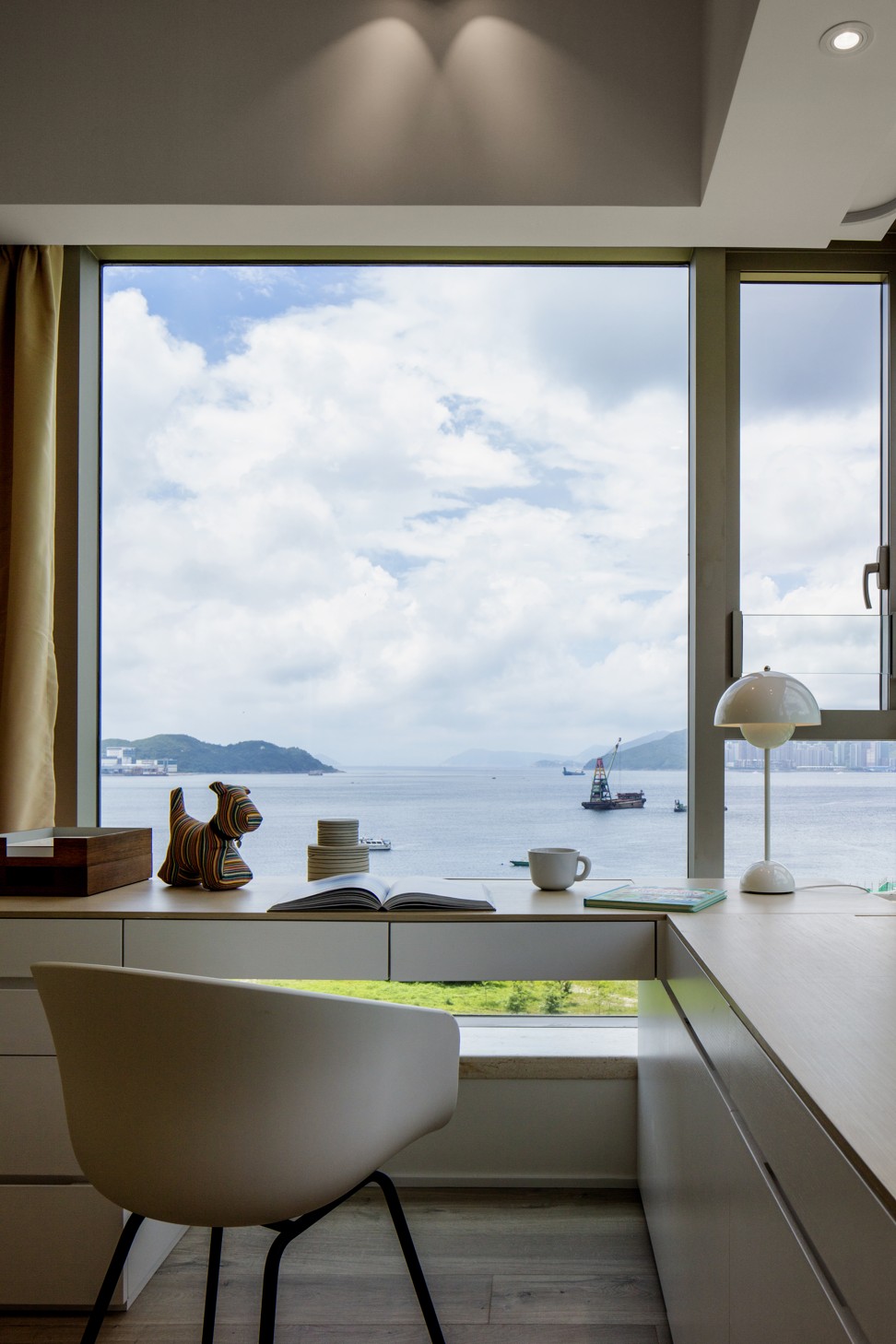 Study area in daughter's bedroom Comodo positioned the desk (HK$21,060) to make the most of the view. The chair (HK$2,700), by Hay, was from Establo, as was the &Tradition lamp (HK$2,400).
TRIED + TESTED
It's a cover-up The top floor boasts windows on all sides and two service balconies, in addition to the huge split-level terrace. Alain Wong thought the service balcony was ugly, so he designed a sliding door (HK$25,200) that masks the view while still allowing access to hang laundry.