Walking into the glamorous 18th-century Parisian home of Charles Garnett and Sylvain Lévy-Alban, it is difficult to believe it once was a chaotic warren of rooms.
"It was very old-fashioned, run-down – nothing had been done to it for 30 years," says Garnett. "There was a fridge in the dining room, the bathroom walls looked like slabs of meat and the kitchen was very small and impractical."
The couple, however, have a history of transforming other family-owned apartments, in London, Rome and Hong Kong, into idiosyncratic gems that show off their considerable collection of antiques dating from the 17th to 20th centuries.
Garnett, who moved from Britain to Hong Kong in 1988, now leads Arthur & Co, a consultancy that sources one-of-a-kind architectural and design products and services for the likes of The Peninsula Hotels and the Mandarin Oriental hotel chain. The British connoisseur also advises a number of private clients, and provides experts, such as a French specialist to hand-paint trompe-l'oeil kitchen cupboards, and items such as Louis XVI-style iron gates.
A nod to the past: inside a 1930s home in luxury enclave in Kowloon
Paris-born Lévy-Alban is an antiques dealer specialising in works from the post-Renaissance period to the 20th century, including costumes, objets d'art, paintings and porce­lain, which he sources for clients, including museums.
The couple bought the sun-filled, 1,500 sq ft first-floor apartment, just a short walk from Lévy-Alban's eponymous gallery in the 7th arrondissement, in 2009.
"It was almost half the size of our previous apartment, on the Left Bank, but we were attracted to the natural light and high ceilings," Garnett says.
Our home floats somewhere between the ancient era we love and modern amenities and comfort
The 15-month renovation, assisted by Parisian interior designer Jacques Garcia, involved significant changes to the layout, such as enlarging the apartment's two bedrooms and installing a wall to create a formal entrance hall.
In the library-television room is a fireplace from the Parisian home of late Louis Vuitton chairman and chief executive Yves Carcelle. Faux tiger-striped carpets and a fireplace add a touch of whimsy.
The dining room was slightly reduced in size to make space for an enlarged kitchen and one of the mezzanine-level bedrooms. In the bedrooms, the couple created wardrobe-lined corridors and matching internal balcony-like windows that overlook the dining room.
A Hong Kong creative couple's 1920s holiday home in Australia
Throughout the apartment are reconditioned 18th-century parquet wooden floors, with the exception of the entrance, where 18th-century Sicilian marble-floor panels have been laid.
Lévy-Alban and Garnett are particularly fond of textiles, and the graciously proportioned, double-height drawing room is hung with an extraordinary 17th-century tapestry of the History of Constantine from a series made for Louis XIV, layered over vintage 18th-century rose and silver-white silk damask from the state bedroom of Palazzo Labia, in Venice, Italy.
The nature of both men's professions means that the lavish interiors are a constantly changing panoply of French, Italian, Irish, Chinese, English and Japanese objets. These include everything from an 18th-century card table inherited from Garnett's great-grandparents to a footstool originally from the Duchess of Windsor's house in Paris.
Inside a toymaker's museum-like home in Hong Kong
"Our collections are always being added to, upgraded or let go, especially the armorial porcelain and smaller objets d'art," says Garnett.
At about 130 square feet, the dining room offers a master class in how to make a distinctive architectural statement in a relatively compact space. Here, a dramatic 18th-century Piedmontese rock-crystal-and-pearl chandelier takes centre stage, with walls clad in hand-painted silver wallpaper by David Qian and a striking custom-designed, four-metre-high, red-lacquer cabinet displaying 18th-century Chinese armorial porcelain.
"Sylvain loves using the old china and silver we have acquired or inherited, and rightly so, because otherwise they end up sitting in a cupboard getting dusty," says Garnett.
A French art curator's gallery-like home in Hong Kong
Not every room is elaborately decorated: the newly installed kitchen has a far more subdued, earthy palette.
"It's not all about recreating an 18th-century way of life," says Garnett. "Our home floats somewhere between the ancient era we love and modern amenities and comfort.
"We very quickly found that washing antique plates by hand after a dinner party for 12 is best avoided. The trick is to balance old and new without compromise."
---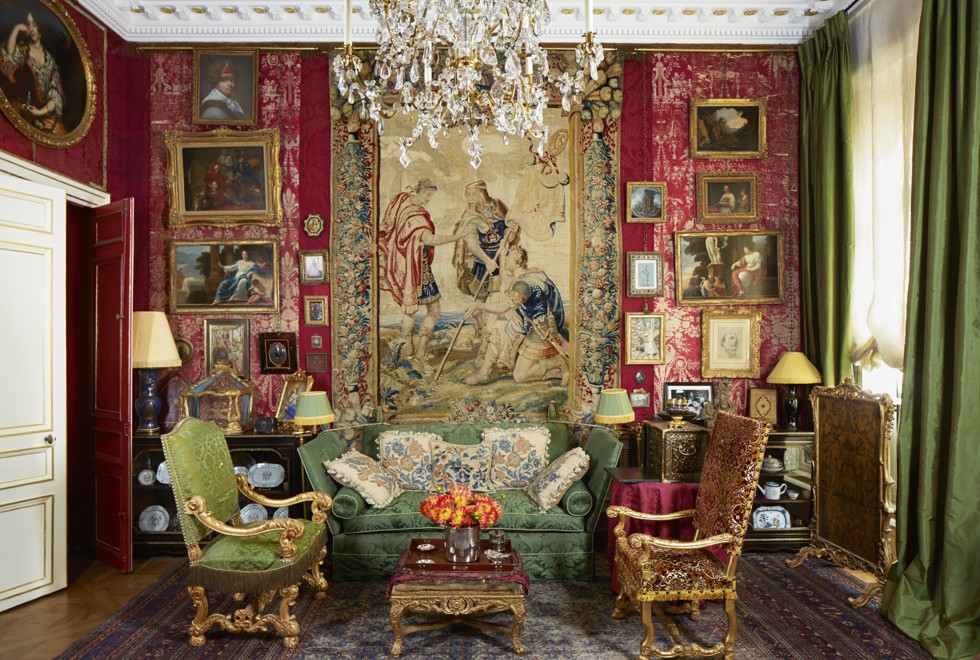 Sitting room A Louis XV (circa 1750) rock-crystal chandelier is suspended above a custom-made Knole sofa (HK$45,000, from Arthur & Co), a giltwood Louis XIII armchair (left), a Louis XIV armchair and a Regence giltwood stool purchased years ago. The 17th-century tapestry is laid over 18th-century silk damask. The collection of predominantly 17th- and 18th-century French paintings and drawings includes a portrait of Pope Pius VI in straw marquetry. The late-17th-century oval painting above the door is one of a pair found with the assistance of paintings expert Chantal Mauduit.
On either side of the sofa is a pair of 19th-century cabinets from Charlie Mackinnon (about HK$103,000 for the pair). On the cabinet on the left is an 18th-century Italian Rococo reliquary case while the table between the sofa and armchair on the right displays a 16th-century Japanese namban (influenced by contact with "southern barbarians" from Europe) lacquer box. The late 19th-century fire-screen frame (HK$47,000) was sourced from Christie's while the Jim Thompson fabric came from Altfield Interiors.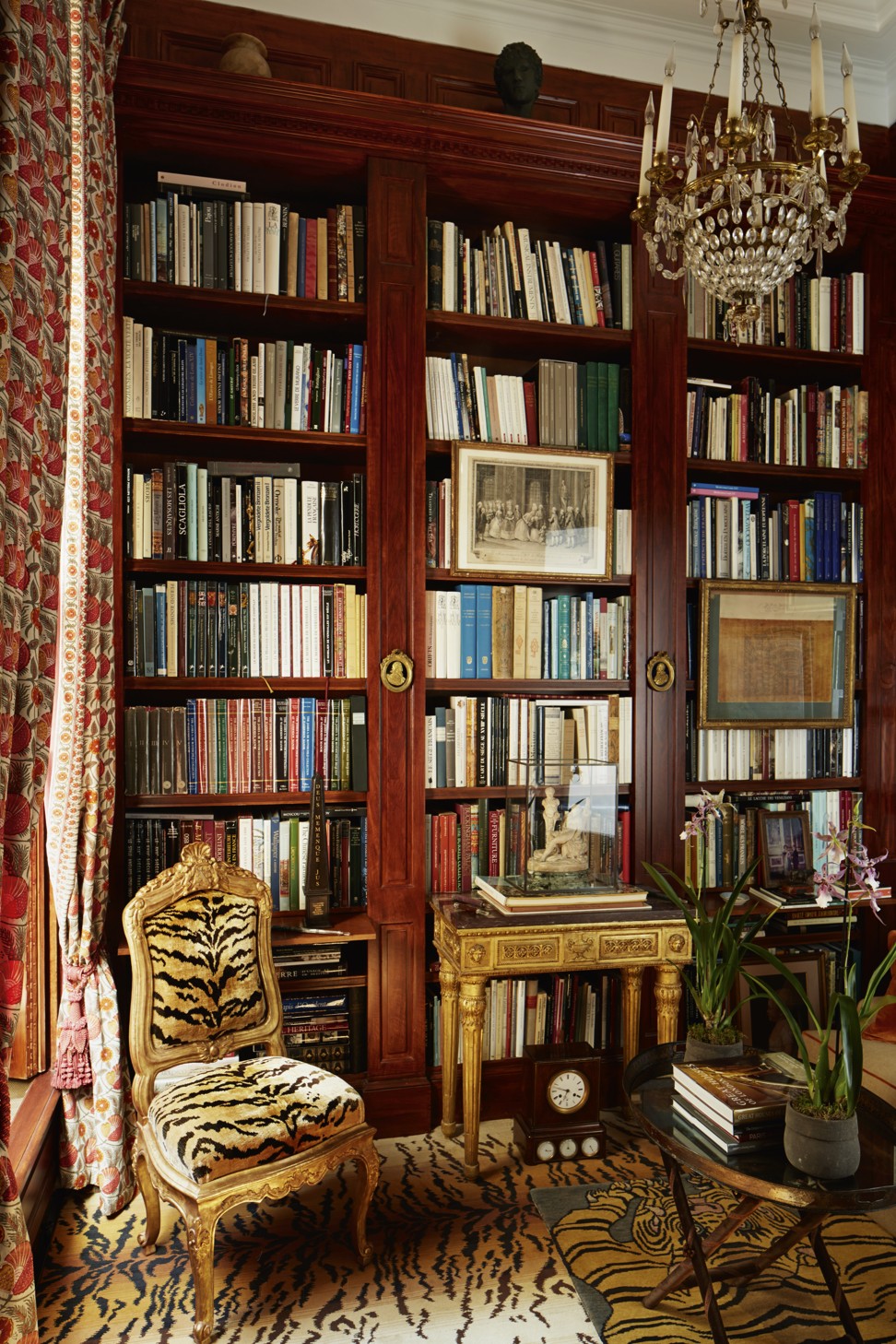 Library Faux mahogany bookshelves were made by a now-retired cabinet-maker, while the Empire chandelier (about HK$100,000) came from Galerie Sylvain Lévy-Alban. The faux-tiger-skin carpet was from a Parisian company that has since closed. The rug is a modern reproduction of a Tibetan tiger rug. The 18th-century Italian giltwood side chair was a gift. The Georges Le Manach curtains feature tassels inherited from Charles Garnett's grandparents. Lévy-Alban and Garnett found the Italian giltwood console in Italy. The early 20th-century British mahogany "butler tray" was found in a French flea market; Lévy-Alban inherited the early 19th-century mantel clock.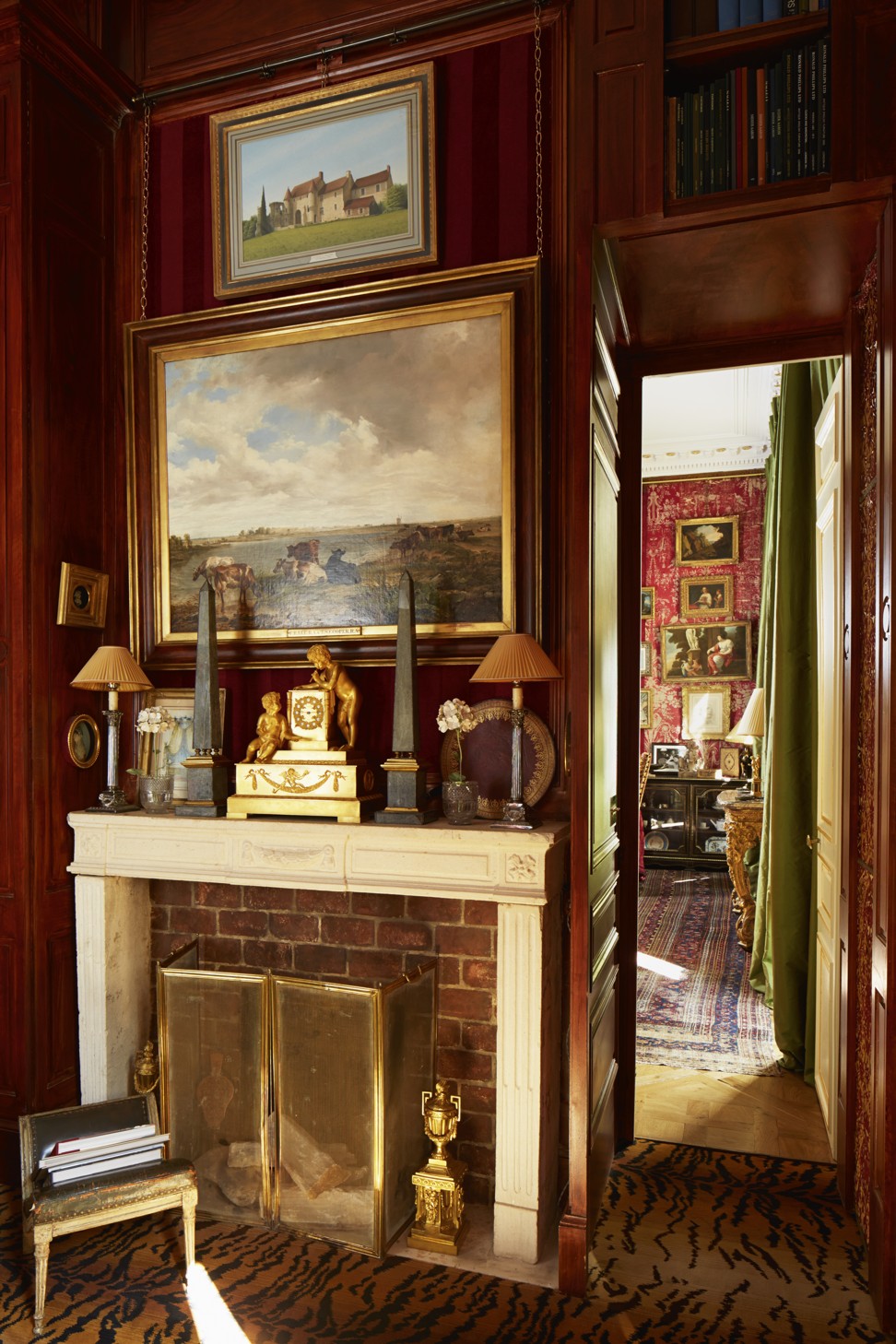 Library detail Garnett sourced the fireplace (about HK$30,000) from a private house in Paris while the Empire ormolu clock and candlesticks are family heirlooms. Porcelain hydrangeas (about HK$5,000 each) from the Cabinet de Porcelaine, in Paris, are displayed in a pair of inherited Georgian cut-glass celery vases (circa 1760). The Louis XVI chenet (firedogs; about HK$120,000 for a similar pair) were from Galerie Sylvain Lévy-Alban. Garnett inherited the painting of cows, by T.S. Cooper and F.R. Lee, and commissioned the painting above, of the couple's home outside Paris, from Zega & Dams. Lévy-Alban sourced the footstool, originally from the Duchess of Windsor's house in Paris.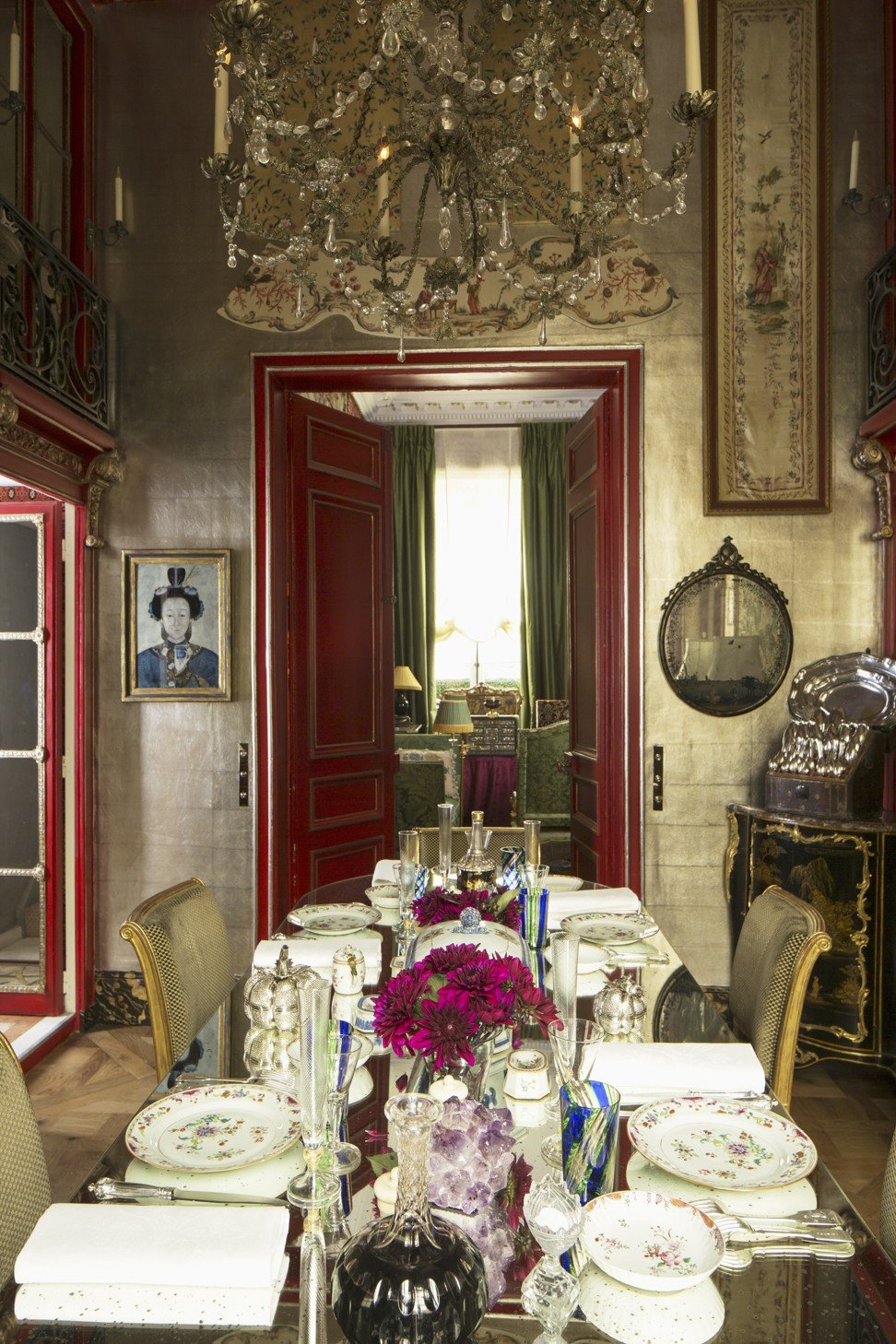 Dining room The Piedmontese rock-crystal and pearl chandelier, circa 1770-80, was from Galerie Sylvain Lévy-Alban. The Chinese under-glass paintings are from Lévy-Alban's personal collection, as is the circa 1770 painted silk panel, attributed to Jean-Baptiste Pillement. The couple combined an early 20th-century dining table giltwood base from Drouot with a modern "antiqued" mirror top. The giltwood Louis XVI Piedmontese chairs are circa 1770. A black lacquer Louis XV cabinet showcases a leather Portuguese silver knife box and two French 18th-century silver platters. The cutlery is predominantly 18th-century French.
On the table are a collection of Chinese porcelain and modern Venetian glasses commissioned from various glass houses in Murano, including Linea Vetro (simonecenedese.it); amethyst votives (from Arthur & Co); and 19th-century linen inherited from Garnett's great-great-grandparents. The Forbes and Lomax light switches on either side of the door were custom made by Arthur & Co and the silvered wallpaper was from David Qian.
Kitchen The traditional oak flooring and cabinet hardware were supplied by Arthur & Co while the modern butcher's block came from a store that has since closed. The Georgian brass lamp was inherited from Garnett's family. The provincial French circa-1780 chairs were bought years ago, as were the colourful 18th-century Portuguese Azulejos wall tiles. Reflected in the door is an 18th-century Azulejos panel of St Francis.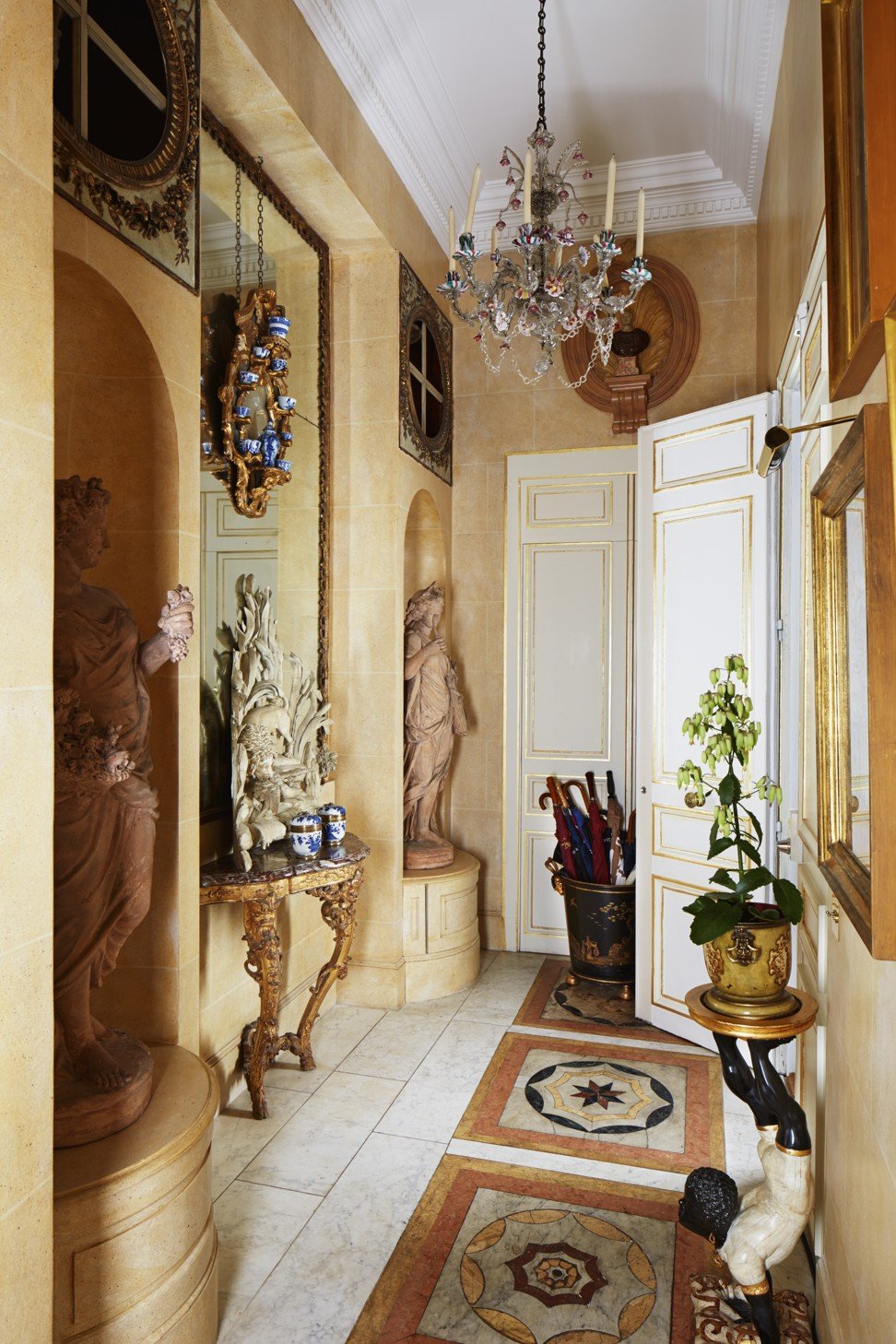 Entrance The 18th-century Sicilian marble floor panels (about HK$18,000 each) were acquired in Italy and the 18th-century Venetian chandelier was inherited by Lévy-Alban. The Regence (circa 1720) console from the collection of designer Serge Roche came from Christie's. The pair of 18th-century French terracotta statues were from a private collection. An 18th-century Italian giltwood étagère, with a collection of blue-and-white porcelain, is mounted on a large mirror (HK$50,000) from Drouot.
The circa-1750 Louis XV fountain directly in front of the open door, and Chinese blue-and-white pots, were bought years ago. The late-19th-century acrobat torchere is from the collection of the Duchess of Windsor and showcases an early Louis XV tole cachepot, circa 1730. A black and gilt umbrella stand (starting from HK$50,000) was custom made by Arthur & Co. Above the door is a niche (sourced by Arthur & Co) featuring a 2nd-century AD Roman bust.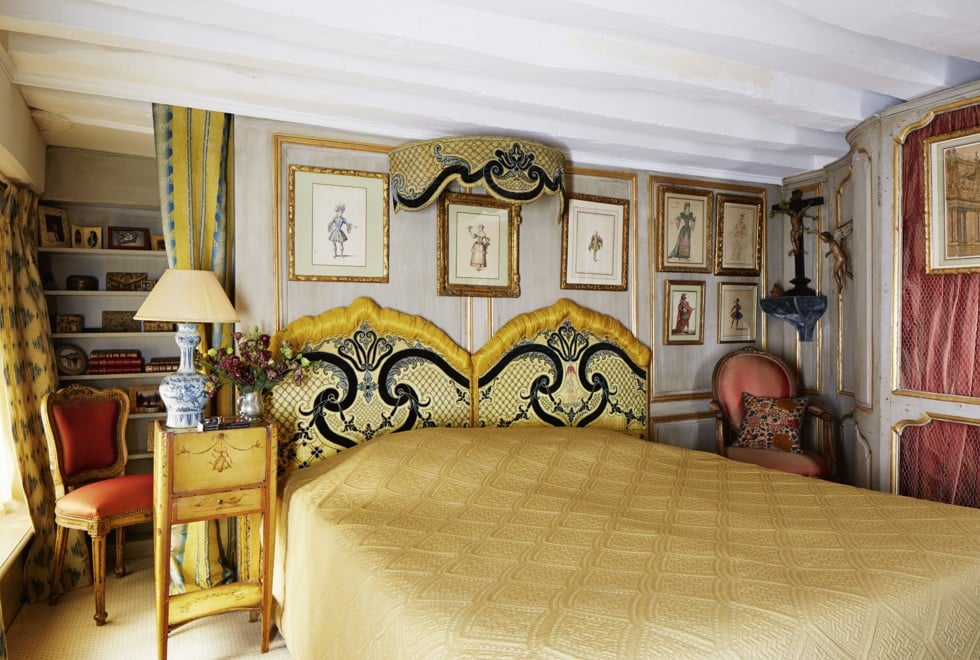 Main bedroom A pair of Regence bed panels were reupholstered to create a dramatic double headboard. The 18th-century lacquer Louis XVI Piedmont bedside table is from Lévy-Alban's personal collection and the lamp is a remounted 18th-century Delft baluster vase from Galerie Sylvain Lévy-Alban. Behind that is an Italian lacquer chaise (circa 1760), while on the other side of the bed is an Italian Louis XVI lacquer fauteuil (circa 1775). The framed artworks are part of a collection of 17th- and 18th-century watercolours of costumes for ballet and theatre. The crucifix was a gift.
TRIED + TESTED
Making an entrance A door that originally led to a (now disused) service staircase was retained to provide visual symmetry to a wall in the sitting room. It also provides a dramatic frame for a needlework portrait of William III of England. On either side is a pair of Louis XIV ormolu wall lights (appliques) from Sylvain Lévy-Alban's personal collection. The inlaid card table (circa 1770), cut-glass banana bowl (circa 1770) and pair of Regency candlesticks were inherited by Charles Garnett.