Suzy Annetta's Southside bolt hole on Hong Kong Island couldn't be more different from her previous home – a cockloft in Sai Ying Pun that had few windows, low ceilings and barely a third the space of her present, 1,500 sq ft place. But the Australian interior designer and publisher has fond memories of the home she made in the pocket-sized setting.
"I liked that little flat," she says. "It was really cosy."
Not surprising, then, that, despite having moved into a flat whose size is generous to a fault, Annetta – editor-in-chief and co-founder of Design Anthology magazine – still wanted that feeling of snugness. Putting up walls to section off some space was an obvious move. Also effective was the thoughtful use of colour and placement of furniture.
"What I tried to do, without making the space feel smaller, was to break down areas related to specific parts of living," she says, recalling that when she inspected the flat five years ago she could immediately envi­sage how everything would look.
To afford herself privacy, she partitioned a far corner, by a bathroom, and turned it into her bedroom. Blessed with windows on two sides, so gloominess was not an issue, the room was then painted midnight blue not only to add warmth but also to distinguish it from the rest of the open-plan vastness.
I'm a habitual furniture buyer. There's a limit to the number of vintage shops I can go to without buying something.
She then used various means practically – if not physically – to divide the rest of the flat into quarters. In front of the kitchen, demar­cated by a four-metre-long counter, is the formal dining area, featuring a long, vintage Milo Baughman table Annetta had acquired through 1st Dibs before she moved to Hong Kong 12 years ago.
Discrete in feeling is the living area beside it, where a large rug anchors two sofas and her latest finds: a pair of Pierre Paulin chairs from 1964 that she picked up in Bangkok during a work trip.
Hong Kong flat gets industrial theme with wood, concrete and pops of colour
"I'm a habitual furniture buyer," she says, adding with a laugh, "There's a limit to the number of vintage shops I can go to without buying something."
The fourth quarter is an area Annetta guiltily describes as "one of the ridiculous luxuries" of her flat – space that has not been ascribed a particular function, although in the past it has accommodated guests and been used as a play area for children, who are allowed to treat the floor as a giant canvas.
"They'll sit and draw on the floor with crayons, and it comes straight off," says Annetta. Before moving into the rental unit in 2012, she spent six weeks renovating the interiors. Part of the work included having the existing concrete floor polished and sealed with epoxy resin. "It's not even, but I don't really care," she says. "It feels a bit more natural."
What a Hong Kong interior designer's home looks like
That seemingly relaxed approach, however, belies the importance she attaches to living in comfort and with the things she loves: Annetta's bathroom – created from male-and-female cubicles – affords shower and toilet nooks in addition to an open area big enough for a stand-alone tub. Where fix­tures were concerned, not owning the flat did not dissuade her from installing handsome imported brass items in the bathroom and in the kitchen. Inexpensive white subway tiles in the wet room were a small savings pull-back.
In the main room, surfaces are taupe.
"I love colour but I don't tend to live with a lot of it because it's what I work with on a day-to-day basis," Annetta says. "I wanted the space to be pretty neutral and that's not an uncommon thing for designers to say."
Green with envy: unusual colour used to transform art-filled Hong Kong flat into spacious home
Perhaps also to be expected in someone constantly exposed to interior design is her diverse collection of furniture and home­ware, including lamps of her own creation and pieces that have followed her to Hong Kong from Australia and Japan, where she lived and worked for three years from 2000.
"I have very varying tastes […] that go from quite classic to mid-century," she says. "The styles and pieces are a little bit all over the place but it's my stuff and I like it.
"I've always been a great believer in 'If you love it then it will work'."
That obviously applies to setting up home in spaces small and large.
---
Living room A large Maryam Montague rug from The Souk in Morocco (mmontague.com/shop) anchors the sitting area, on which stand a pair of 1960s Pierre Paulin chairs Suzy Annetta found in Bangkok, Thailand. Between them is a Karl Springer side table, bought through Wright. The Ilse Crawford-designed benches, used as tables in the middle of the room, were from Ikea. The sofa, designed by Annetta, was custom made by Altfield.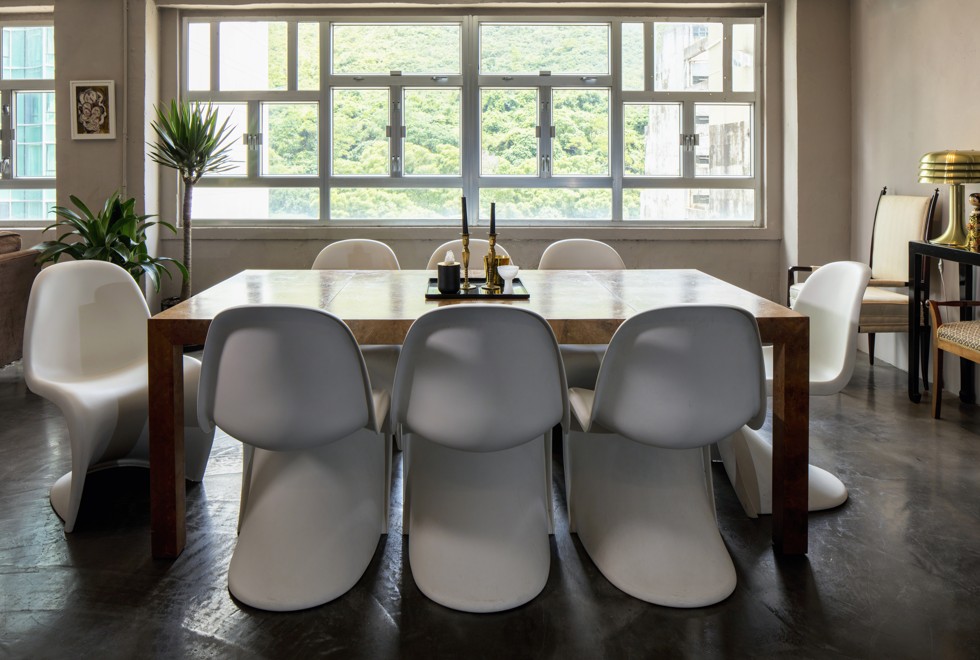 Dining area Panton chairs (HK$2,499 each for the matt version, from Aluminium) are teamed with a mid-20th-century Parsons extendable table, by Milo Baughman, and bought through 1st Dibs. Above the plant, the artwork, by Toshiyuki Konishi, was acquired a few years ago from Urano gallery at Art Basel Hong Kong.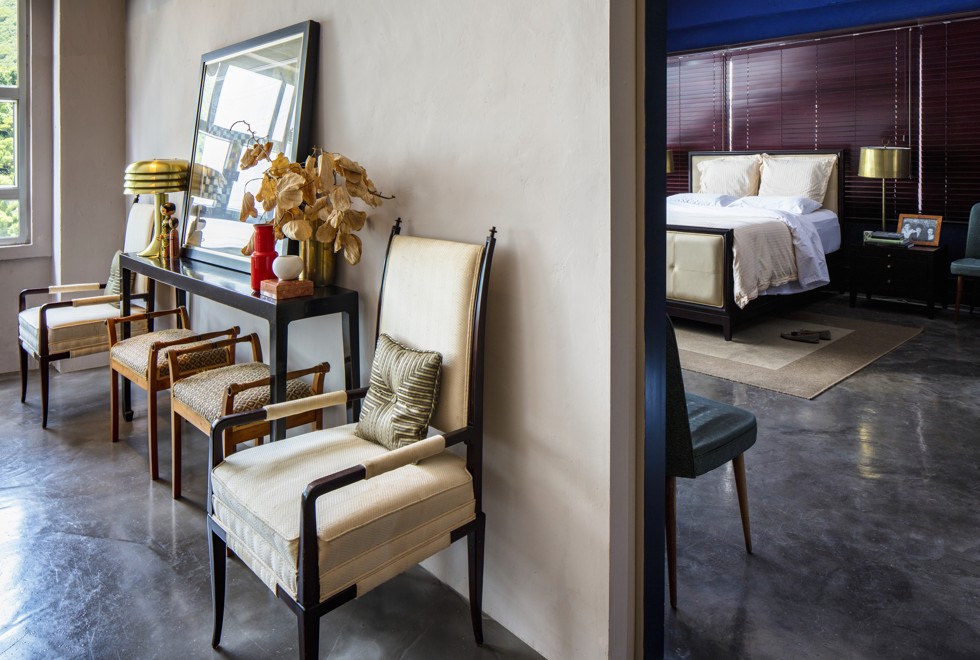 Dining area detail The console was bought in Macau about a decade ago. On it stands an artwork by Liu Hongwei, from Kwai Fung Hin Art Gallery. The two mid-20th-century armchairs, by Tommi Parzinger, were bought through 1st Dibs, and the two Swedish Biedermeier stools came from Manks and were Annetta's first purchases in Hong Kong. The mid-20th-century lamp, by Hans Agne Jakobsson, was purchased from online auction house Lauritz.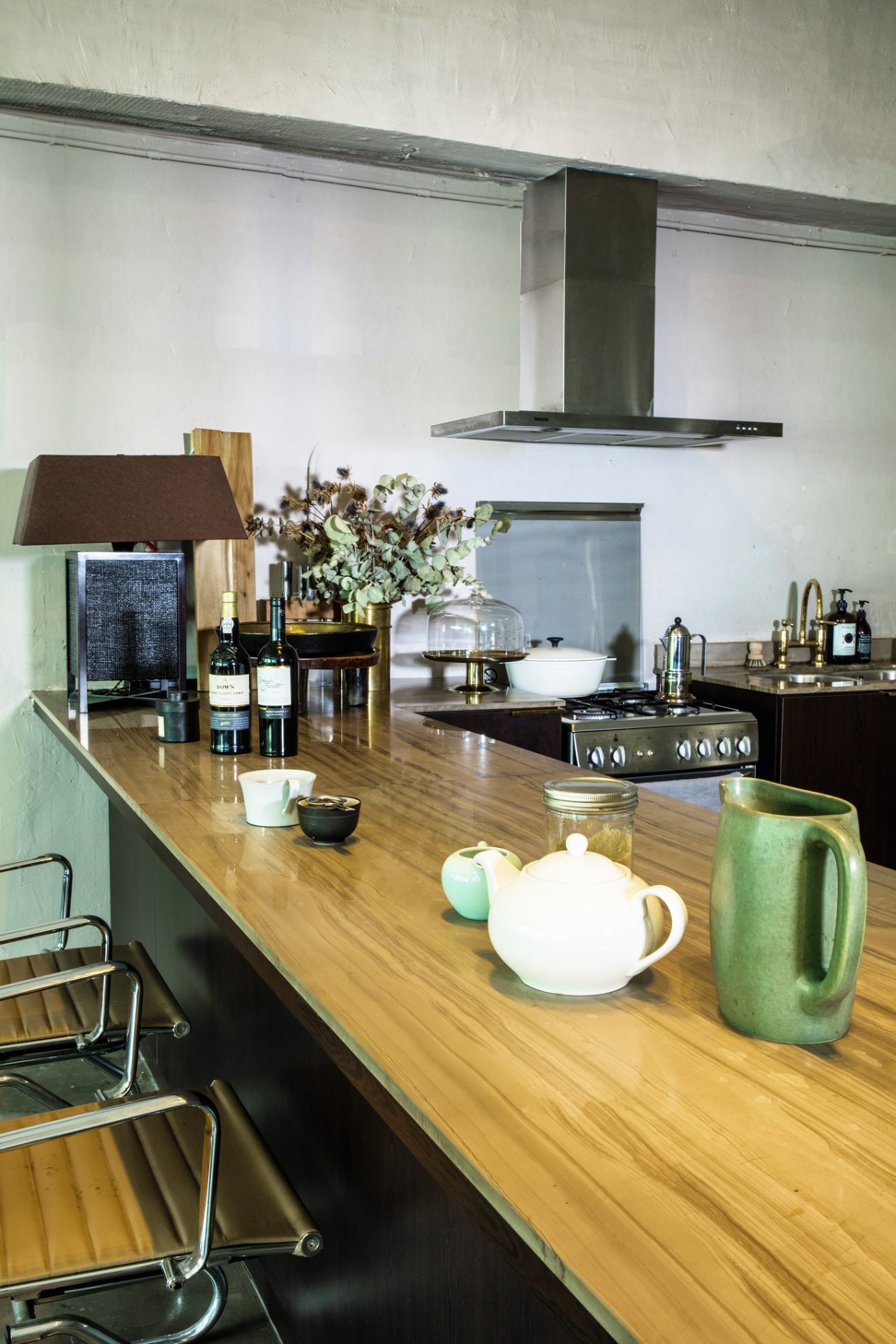 Kitchen Universe General Contractors (tel: 9123 3855) built the kitchen cabinetry years ago. The second-hand chairs came from a shop in Sai Ying Pun. The lamp, designed by Annetta, is sold through Thicas Interiors.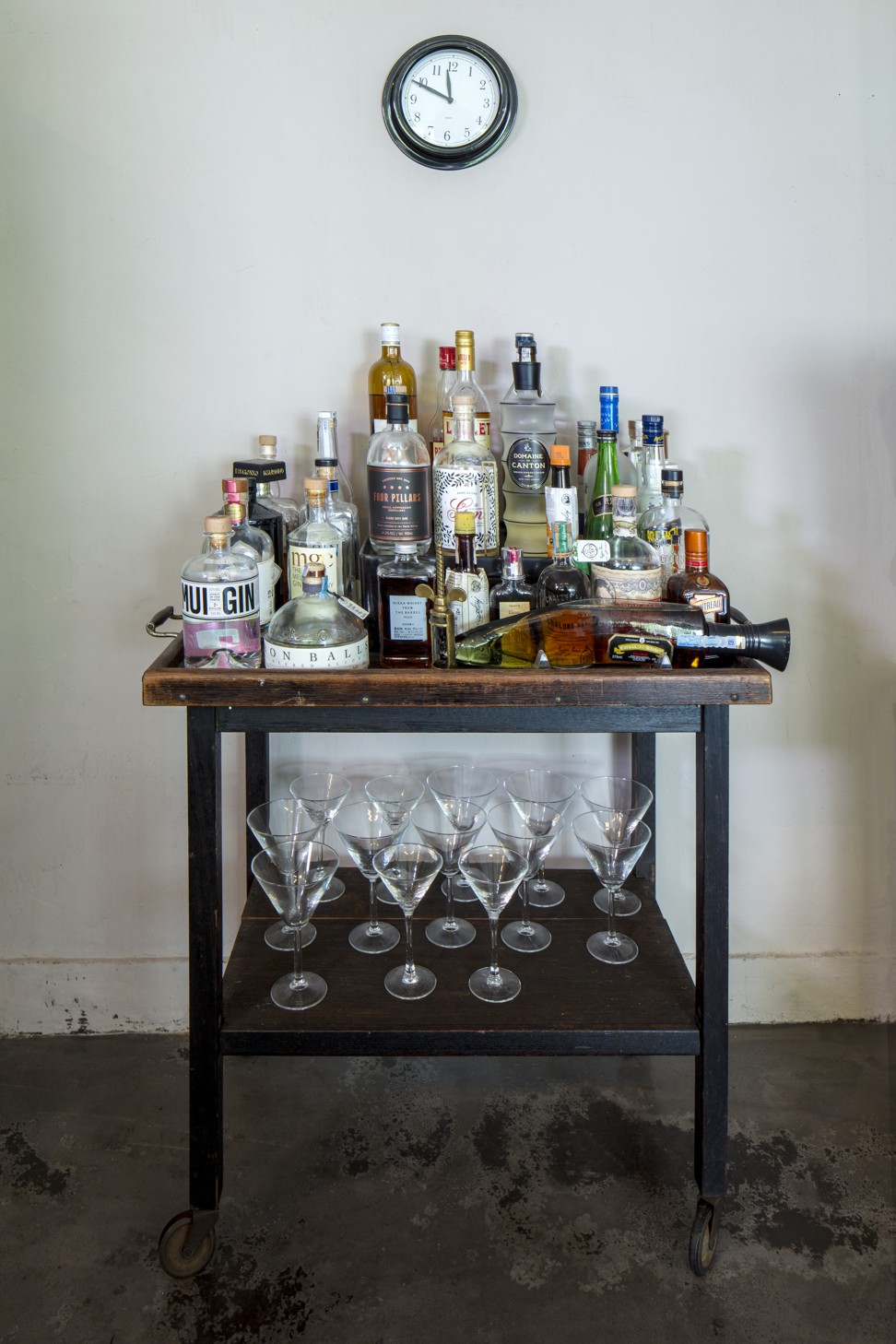 Kitchen detail Annetta bought the drinks trolley on eBay years ago. The clock was from Ikea.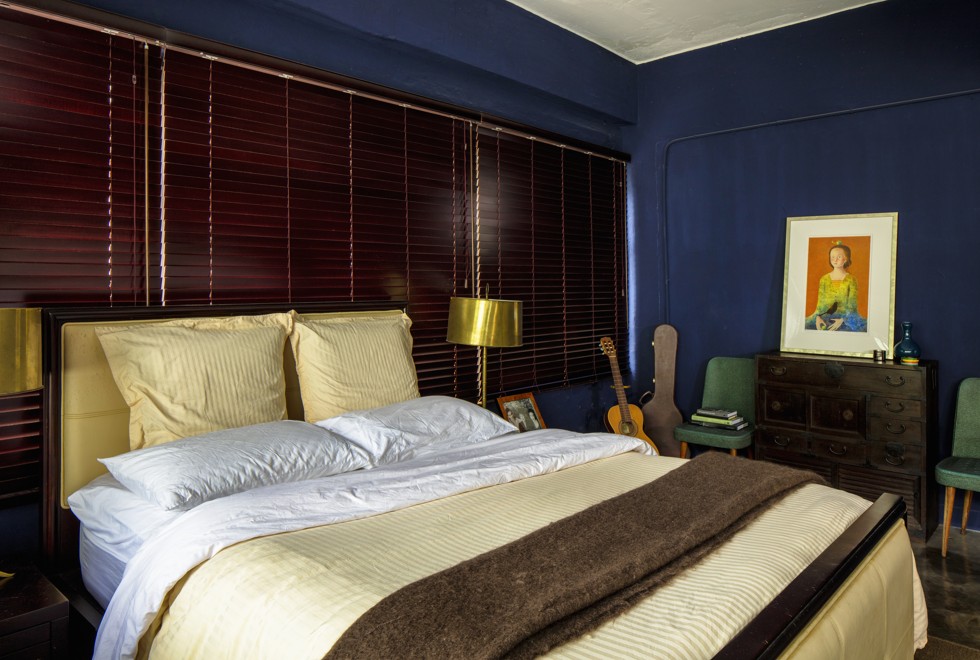 Bedroom A pair of Robert Abbey lamps, from Altfield, flank Annetta's bed, bought years ago in Australia. Sitting on a chest of drawers from Japan is a portrait by Dorina Mocan, purchased from Connoisseur Gallery. The two green chairs were bought on eBay years ago.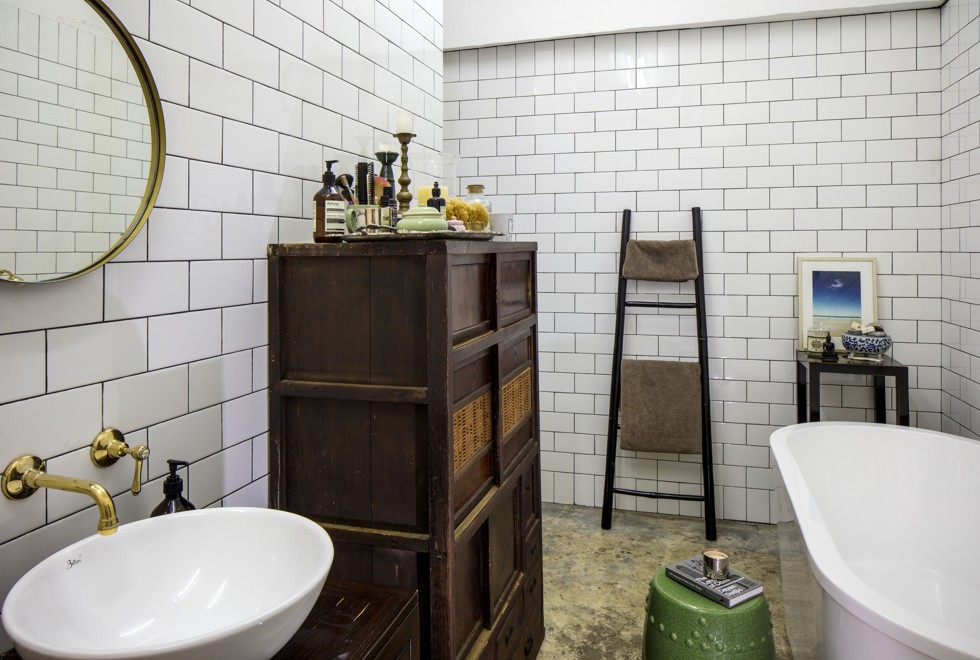 Bathroom Beside the bedroom, the bathroom features tapware from Australia, above which is a mirror from Schoolhouse, in the United States. The chest came from Japan and the other items from shops in Hong Kong that have long since closed.
TRIED + TESTED
This receptacle separating plastic, glass and metal rubbish is part of Suzy Annetta's kitchen and comes with the service to which she subscribes, HK Recycles. The company, which collects recyclable waste from homes and businesses and delivers it to local partners, allows customers to track their waste and calculates carbon emissions saved for the goods collected. Hong Kong's daily per capita solid waste dumped in landfills is 1.39kg. Corresponding rates, according to the environmental bureaus of selected jurisdictions, is 0.38kg for Taiwan and 0.75kg for Japan.