Interior designer Clifton Leung Hin-che has had a soft spot for Fairview Park, in Yuen Long, for almost as long as the estate has been in existence. A regular visitor since a friend of his parents moved in more than 30 years ago, he appreciated that all 5,024 of the properties in the large, low-density estate are family houses with front and rear gardens, which is unusual for Hong Kong. He also liked what he describes as a "very relaxed" vibe.
So, last year, when Leung and his wife heard that the house immediately behind that of his "auntie" was for sale, they snapped it up and set to work trans­forming it into a weekend retreat.
"We wanted outdoor living, so we could cook and eat outdoors – a very non-Hong Kong kind of thing," Leung says.
The 900 sq ft two-storey, one-bedroom house posed a challenge, however. Like many Hong Kong properties, it was a warren of small rooms, including a tiny kitchen closed off from the rest of the space.
"Everything was like it would have been 30 years ago," Leung says. "We gutted everything."
They started by ripping out the kitchen and turning it into a small study with bi-fold windows. A basic open kitchen was installed in the living area, but the real cooking takes place on the rear terrace, which is connected to the living room by glass bi-fold doors.
Happy Valley flat with enough outdoor space to make you green with envy
Glass walls and a retractable awning pro­tect the terrace kitchen from the elements. Along one side, a large stainless-steel gas barbecue sits next to an industrial sink and metal countertop. On the other is a large dining table. In between is a waist-height glass-and-galvanised-steel table that func­tions as a kitchen island. It sits on castors so it can be moved around depending on the needs of the space.
We wanted outdoor living, so we could cook and eat outdoors – a very non-Hong Kong kind of thing
Leung kept the materials simple, with white walls, black aluminium window frames, and off-white ceramic floor tiles inside and out. (The outdoor tiles have a rougher texture, to provide traction in wet weather.) The minimalist palette serves as a natural base for Leung's distinctive furniture, including a set of aeroplane galley carts used for storage in the study. In the living room, Michel Ducaroy's classic Togo sofa is perfect for its setting.
Sheung Wan apartment that blurs the interior-exterior divide
"You sink right into it," Leung says. "The ceilings are not very high, so I wanted to keep everything low."
Leung also changed the original concrete staircase, to allow for air movement through the treads. In its place are thin metal steps covered in leather to cushion the feet. To add a visual punch, the bottom step consists of stacked panes of opaque green glass.
How Hong Kong walk-up flat became a hi-tech rooftop retreat
Upstairs, Leung removed a false ceiling to expose the pitched roof, creating a loft-like ambience. The space is divided into four components – a walk-in wardrobe, a bath­room, a bedroom and a lounge — which are distinguished by various materials. The sleeping area has oak parquet floors while the bathroom is a feast of black and imitation marble. Interestingly, the counter in the bathroom extends into the area before the bedroom, and, equipped with a filtered-water tap and a coffee maker, serves as a morning "drink station".
"I call it a floating bench because it is cantilevered above the floor," Leung says.
The great outdoors: couple's very Australian home in Hong Kong
Instead of walling off the wardrobe, Leung surrounded it with curtains, to keep the contents out of sight but within easy reach.
The lounge sits atop an elevated storage platform, one of two on the top level. The other, accessible by stepladder, is situated above the bathroom and wardrobe. Also having a desk on the top level, by the bed, allows the couple to use this floor as a refuge when the ground floor is a hub of activity.
How a Hong Kong microflat made outside living a sight for sore eyes
And a social space it certainly is. Not only does it flow seamlessly from the living room into the back garden, it even extends to Leung's auntie's house. He replaced the wall that divided the two properties with French doors that, when swung open, turn two gardens into one.
"We cook big meals on the weekend," Leung says. "That's exactly what we wanted – to get away from city life. It's like a dream come true."
---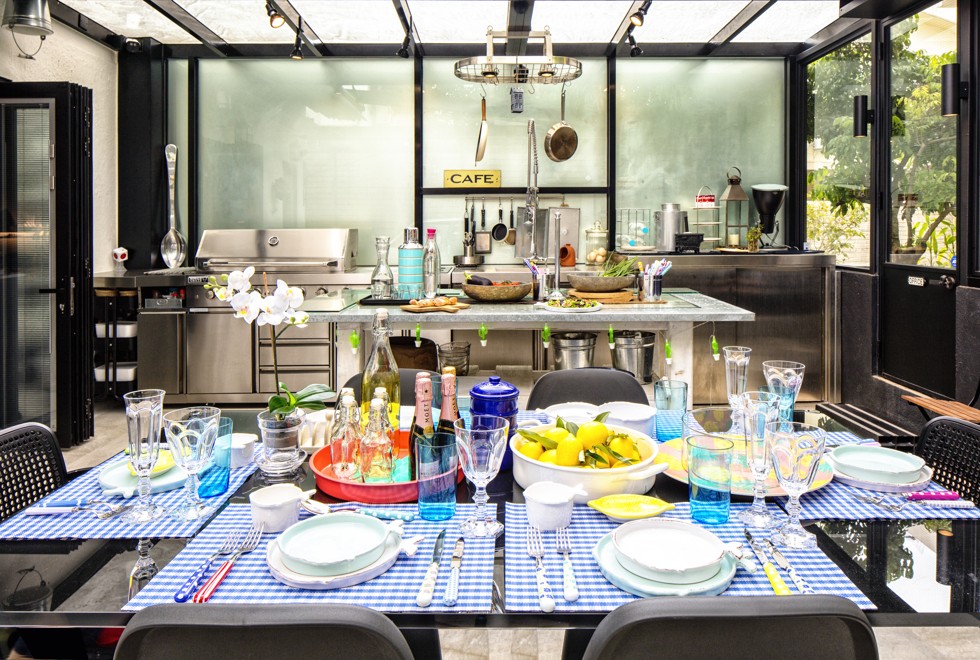 Terrace kitchen A Buffalo Grill barbecue (US$7,334 from Barbecue in All) has pride of place in the terrace kitchen. The stainless-steel cabinets (US$4,685) were built by All Rich Engineering (35/F, Shui Wing Industrial Building, 12 Tai Yuen Street, Kwai Chung, tel: 3628 2568). The worktable/island was made by taking a rustic wooden table from Lane Crawford (US$1,536) and adding a glass-and-galvanised-steel top and wheels. The dining table is a USM Haller Table (US$6,976) from Amelie & Tulips. The Philippe Starck-designed Emeco Broom chairs (US$256 each) were from Lane Crawford. The terrace's glass walls, windows and awning were designed and built by Clifton Leung Design Workshop (CLDW) for US$62,078. The oversized spoon was a gift.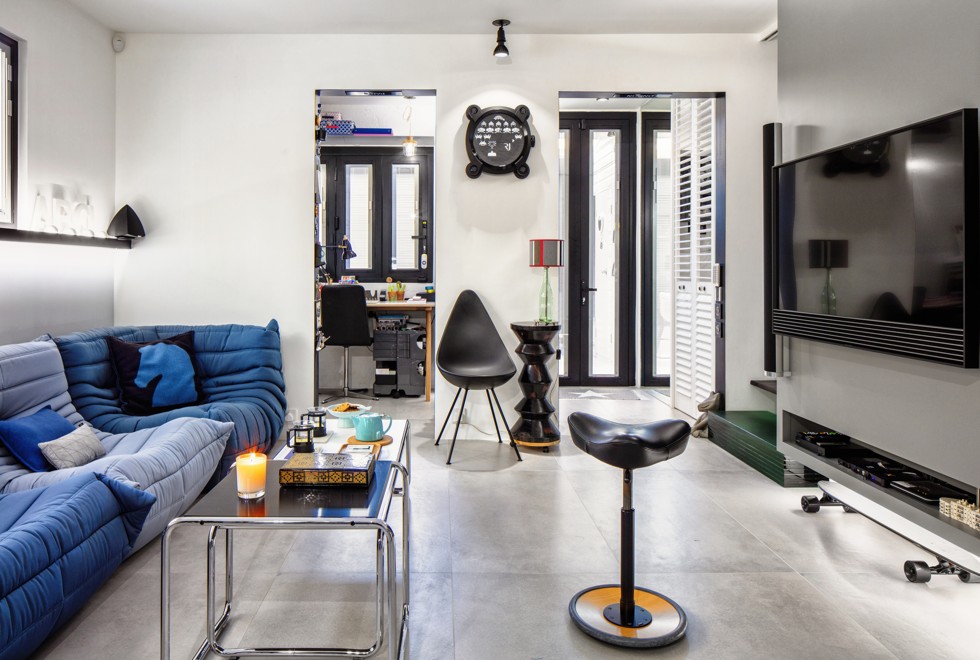 Living room The Togo sofa (US$5,549) was from Ligne Roset . The shelf (US$794) behind the sofa was built by CLDW. The Knoll Laccio Coffee Table (US$864) was from Lane Crawford; the Varier Small Move stool (US$454) from Manks; the black Fritz Hansen Drop chair (US$355) from Colour Living; and the Romain Jerome Space Invaders wall clock (US$3,840) from Gurus. The black table resembling a chess piece was found in an antiques shop in Macau and the lamp on it was made by Leung from an old glass bottle and a US$64 lamp shade from Les Toiles du Soleil. The skateboard (US$4,864) was a collaboration between Jacky Tsai and Shanghai Tang. The television wall, which sits in front of the staircase, was designed and built by CLDW for US$1,254.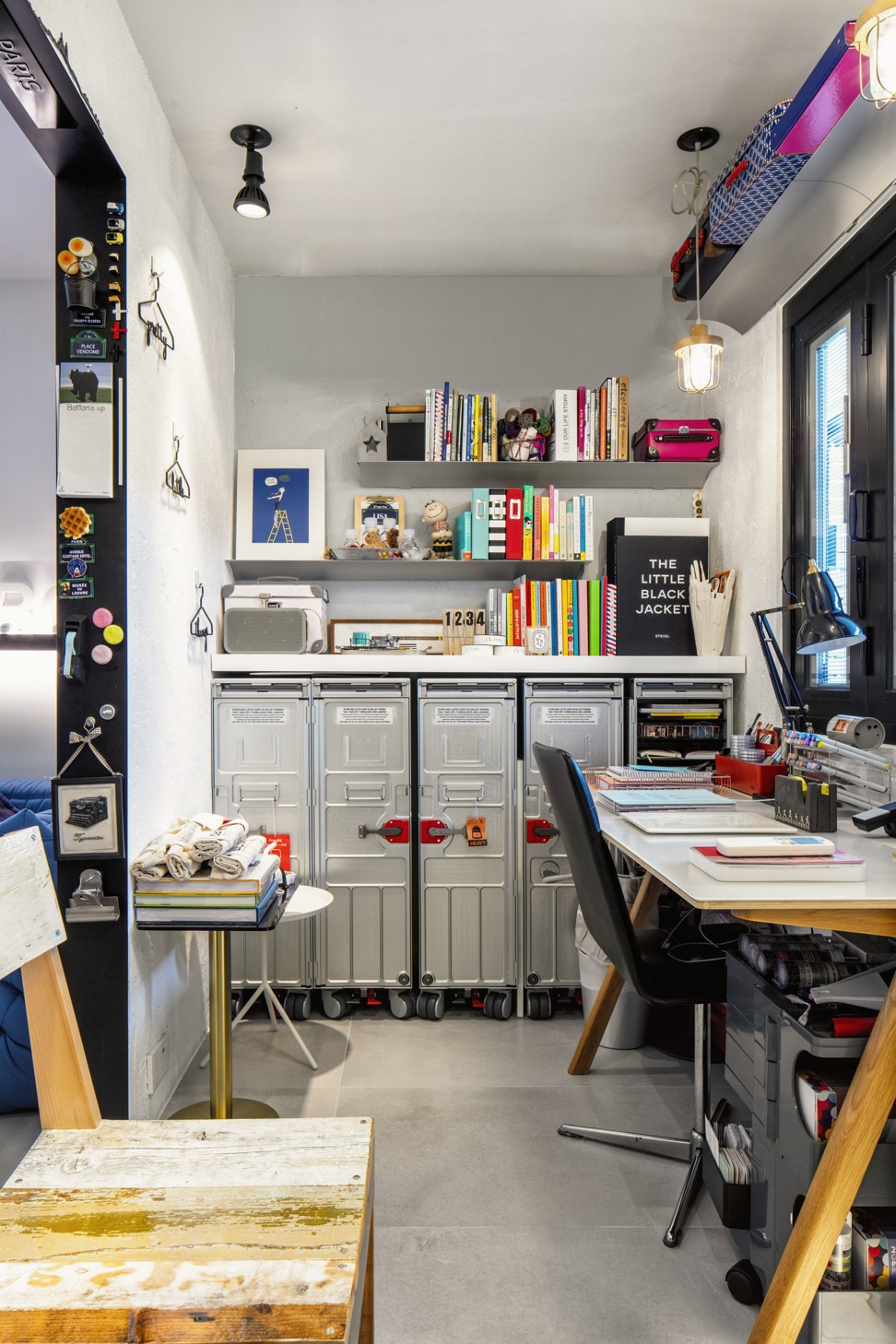 Study The aeroplane-style trolleys (US$2,534 each) were designed and built by Leung. The Hay CPH Desk 90 (US$747) was from Homeless. The vintage leather chair (US$384) was from Chen Mi Ji. The small table with a brass leg was US$538 from Tom Dixon. The wooden chair (US$691), designed by Piet Hein Eek and made with timber scraps; Anglepoise Original 1227 desk lamp (US$243); and ceiling pendant (US$205), made with recycled jam bottles, all came from Lane Crawford. The shelves (US$1,075 in total) were from Nonuform.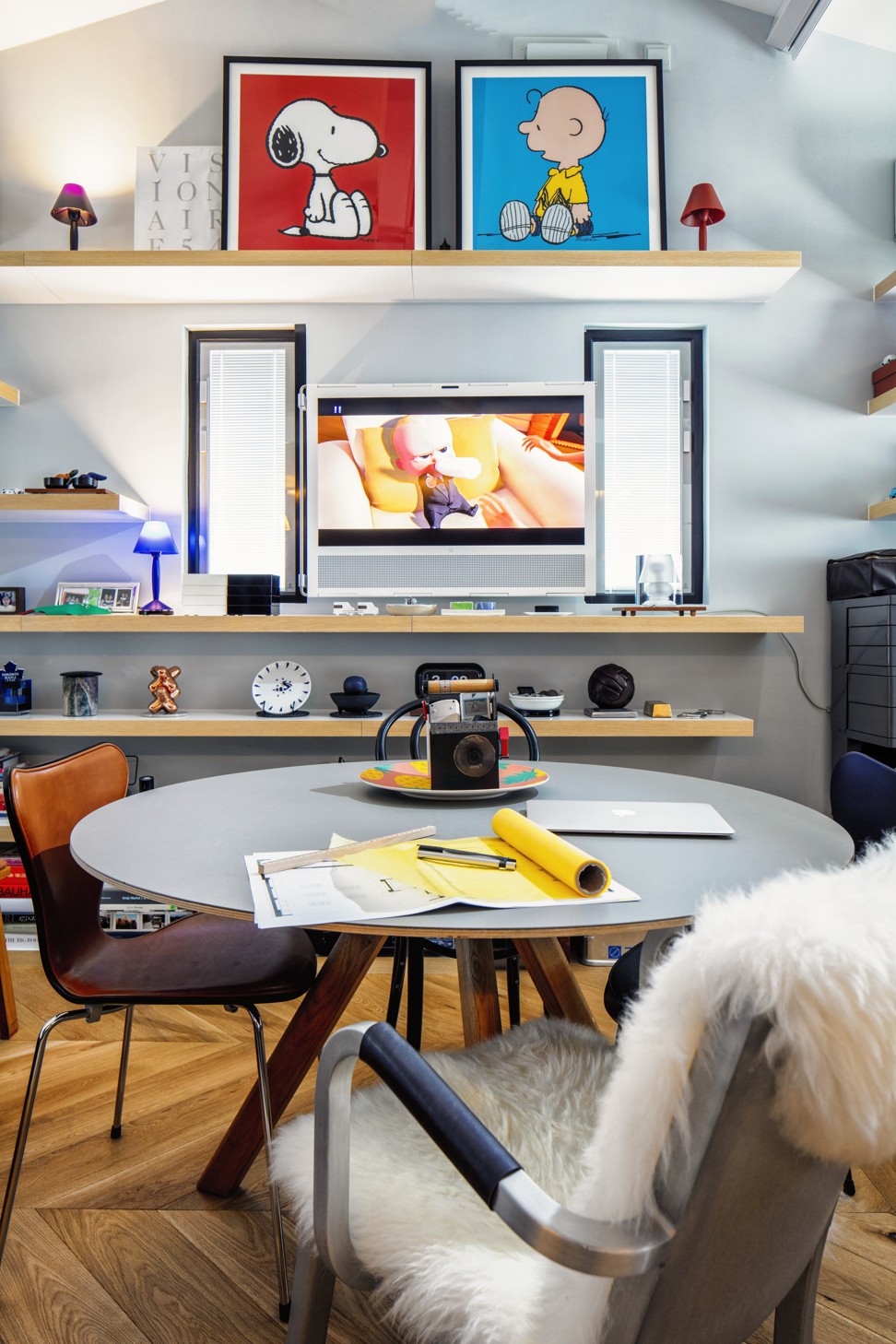 Upstairs workspace The Hay CPH Desk 20 table cost US$1,088 from Homeless. The chair on the left is a Fritz Hansen Series 7 3107 (US$1,739) from Amelie & Tulips and the one in the forefront is an Emeco Hudson Rocking Chair (US$1,178) from Dentro, which was also the source for the Flos Miss Sissi lamps (US$192 each). The shelves (US$2,381) were designed and built by CLDW. The Peanuts posters (US$768 in total) came from Selfridges, in London.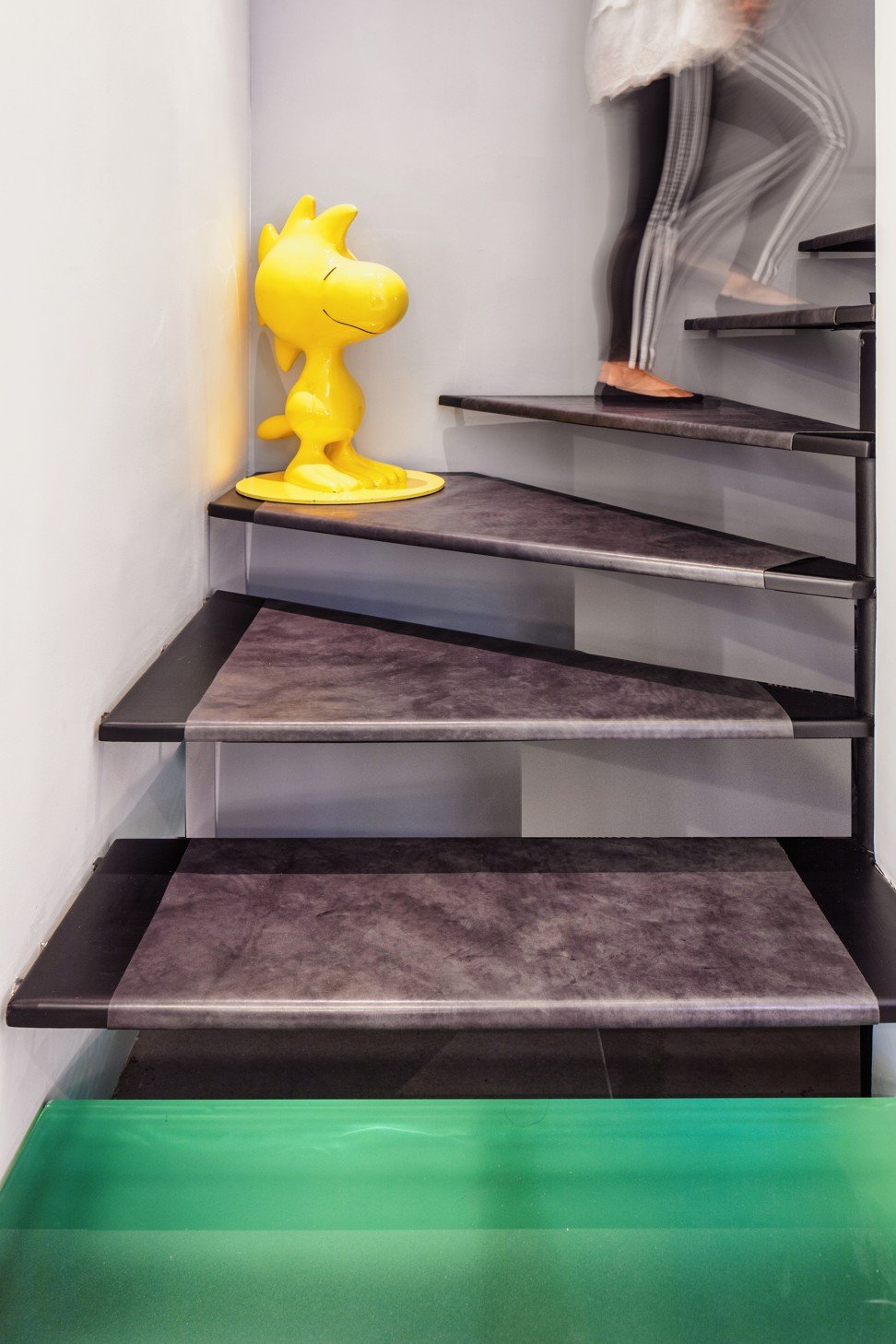 Staircase The metal steps were built and designed by CLDW for US$8,320 with the leather costing a total of US$1,587, from Sun Hing Lung Leather (172A Ki Lung Street, Sham Shui Po, tel: 2391 3448). The step at the base of the stairs was made by CLDW using glass (US$717) from Ngai Wah Glass and Mirror (68 King Lam Street, Lai Chi Kok, tel: 2785 5220). The Woodstock sculpture was a gift.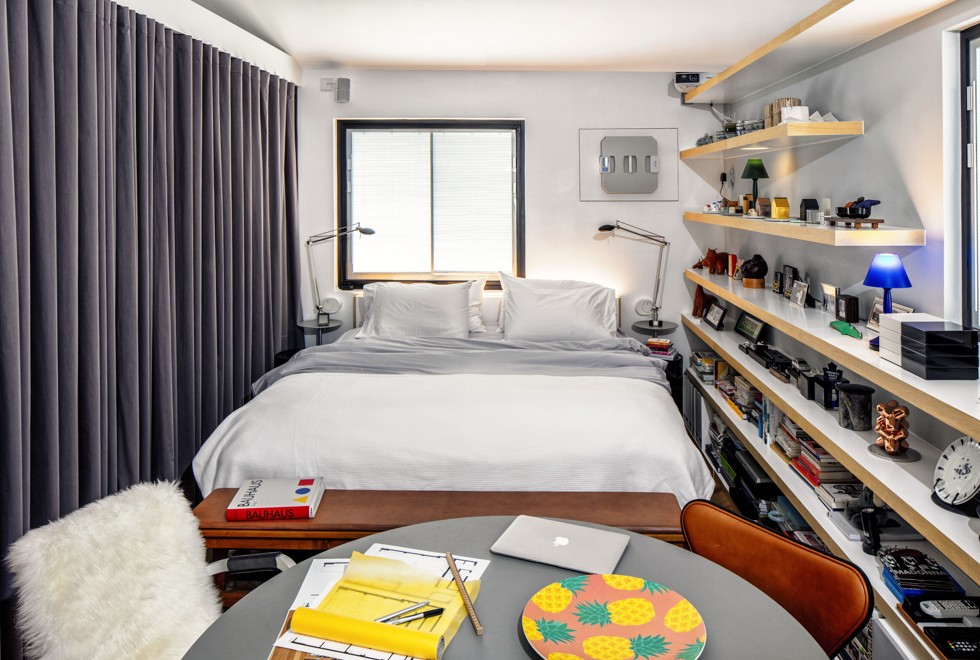 Bedroom The Savoir Beds bed cost (US$36,927 from Noblesse Lifestyle Group. The Flos Archimoon combination bedstand/lamps (US$819 each) were from Dentro.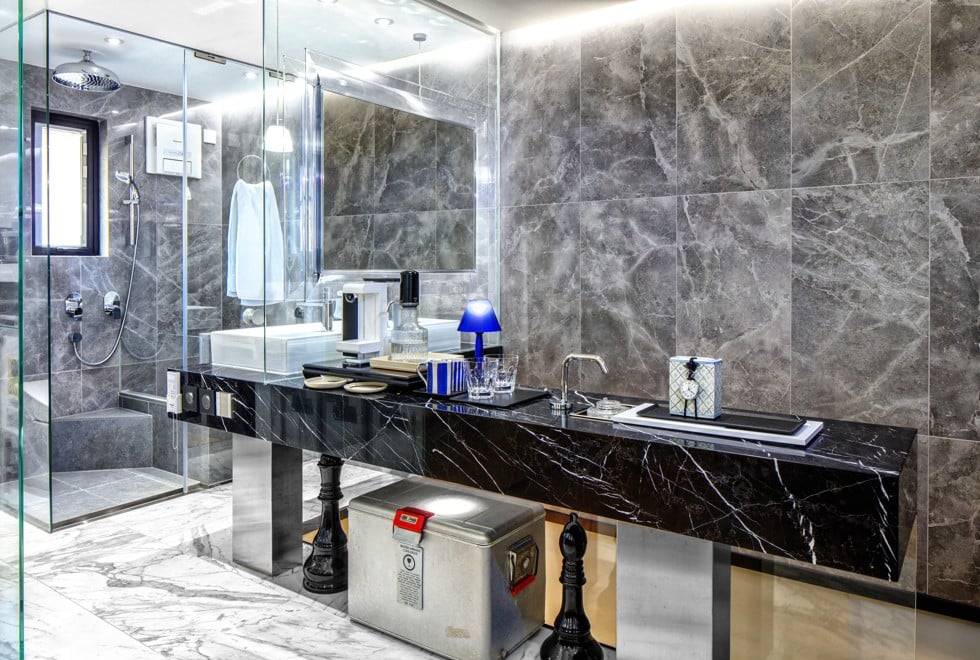 Bathroom and morning "drink station" Leung clad the bathroom walls in Atlas Concorde Marvel Pro Grey Fleury Honed faux marble wall tiles, which cost US$3,584 from Pacific Gallery. The black marble counter (US$4,672), holding the coffee machine, was designed and built by CLDW. The Fantini Venezia sink and mixer inside the bathroom cost US$257 from Pacific Lifestyle, which also supplied the Catalano sink (US$829) and Fantini Milano mixer (US$1,022) outside. The chess pieces beneath the console cost US$230 each from Authentiques. The chest is a vintage cooler (US$256) from Club Monaco Men's Shop (imaginex.com.hk).
TRIED + TESTED
Hole in the wall Clifton Leung, of Clifton Leung Design Workshop (CLDW), cut a round hole in the shower wall to create a convenient place to hang a towel, without the need for hooks or bars.
"It's something I saw in a hotel," he says.
The shower walls (US$717) were designed and built by CLDW.