Tadao Ando is a rock star among architects. Google his name and you'll see photos of him planting trees with U2 frontman Bono, walking the red carpet with designer Stella McCartney and chatting with fashion legend Giorgio Armani. You will also find thousands of images of the build­ings that made him so famous. Bold, minimalist structures made from enormous slabs of concrete, Ando's houses, churches and museums have earned him a large and devoted fan base.
Among them is Hongkonger Gimmy Fong, who turned to Ando for inspiration in the redesign of her 470 sq ft apartment in Anglers' Bay, Tsing Lung Tau.
"In our first meeting, her first sentence was, 'I like Tadao Ando,'" interior designer Max Lam Tsz-hong says, with a laugh.
Fong says: "I wanted to bring Ando's ideas into my home. That's all I wanted."
The challenge of adapting the Japanese architect's ideas wasn't lost on Lam, founder of Max Lam Designs.
"Ando's architecture is big and spacious," he says. "We really had to study to see what could be taken from big architecture into a small living area."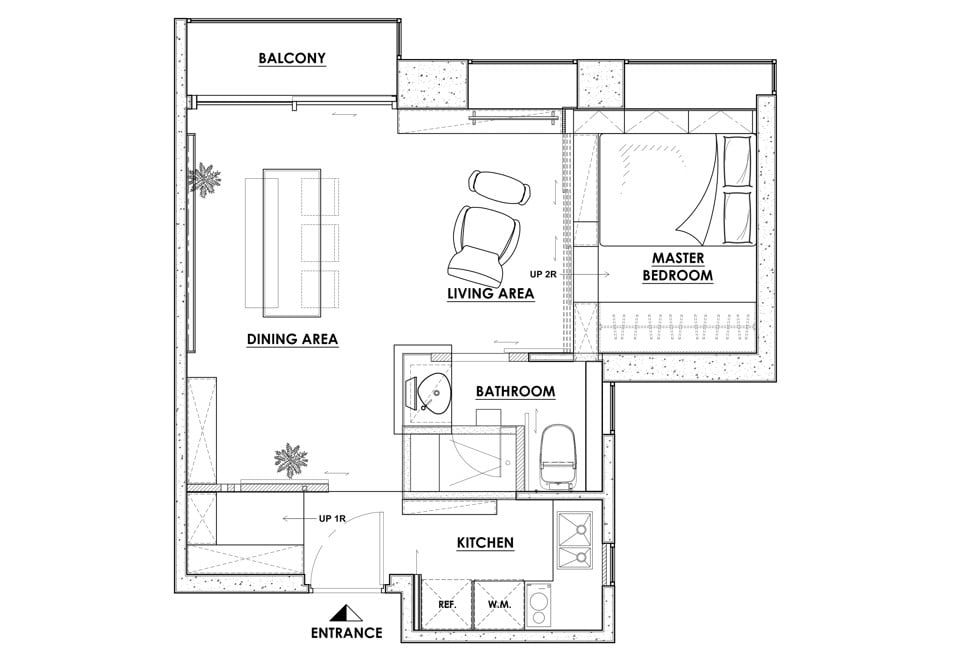 Lam began with the floor plan. Before his client moved in early this year, the apartment was divided into a living room, corridor, two bedrooms, a bathroom and kitchen. To create a more spacious, light-filled home, Lam tore down the walls. He replaced them with three sliding panels, which divide the open-plan apartment into a foyer, dining room and cosy bedroom. To separate the bathroom from the living areas, Lam installed clear glass panels. That daring decision turned the bathroom into the flat's focal point. When you walk in the front door, the shower is right there. If you are sitting at the oak dining table, you can see straight in.
Hong Kong flat gets industrial theme with wood, concrete and pops of colour
"Because Gimmy lives alone, she has the possibility to play [with space] like this," Lam says. "There are also no buildings around and she has open sea views, so it's very private. And, of course, we separated the toilet [which is in a cubicle]."
Less adventurous clients would probably have vetoed Lam's suggestion, but Fong trusted him.
"I'm open-minded, and Max pointed out that I'd never have a shower when friends are over anyway," Fong says. "But, of course, it was very strange in the first week after moving in."
Hong Kong home's glam touches add a luxe vibe to an industrial style
As well as allowing light from the floor-to-ceiling windows to filter through the apart­ment, the glass walls were a nod to Ando, who designed curving windows for the now-closed Suntory Museum, in Osaka, Japan, and built a glass box above the underground Langen Foundation, in Germany, among many other experiments with the material.
I wanted to bring Ando's ideas into my home. That's all I wanted.
Ando is also famous for his love of concrete. His obsession with the material runs so deep that he's reported to have punched a labourer who tossed a cigarette butt into a batch of fresh concrete on one of his construction sites. That would have hurt – before he became an architect, Ando was a professional boxer.
"Concrete is Ando's signature material – he builds up so many textures in it – but it's difficult to use in interiors, especially when we're not building a house," Lam says. "We're not architects – we're interior designers."
After researching options, however, Lam sourced concrete-like paint made in Italy, which he used to create a statement wall behind the dining table.
"You can see the texture is uneven, so it looks just like a raw concrete wall," he says.
Decluttering guru Marie Kondo is back with more life-changing tips
As well as being Ando's base, Japan is also the home of "organising consultant" Marie Kondo, who has sold millions of books on how to declutter living spaces. Given Fong's love of Japanese culture, it's not surprising that she wanted her belong­ings to be hidden away, Kondo-style. With that in mind, Lam designed a large wardrobe by the front door and another in the bed­room. All the storage is made from the white oak used for the floors.
A Hong Kong apartment shows how wood panels can add character – and hide storage
Having to combine his own design sensi­bility with Ando's was indeed "challenging", Lam concedes. But now the flat is finished, he couldn't be happier.
"The flat is functional and includes lots of Japanese culture and craftsmanship," he says.
Ando would be proud.
---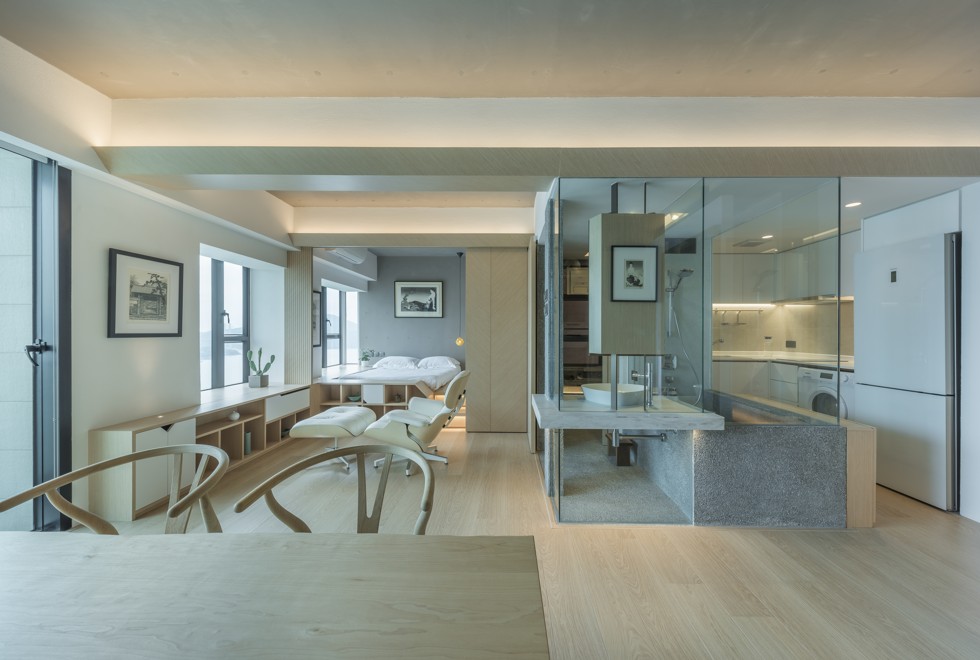 Single-room living The Eames lounge chair and ottoman (HK$52,000, US$6,652 in total) and the Carl Hansen & Søn wishbone chairs (HK$6,000 each) came from Aluminium. Matching the light oak wood flooring (HK$60 per square foot, from Quickstep) is the dining table (forefront), which cost HK$19,450 from Out Of Stock. The framed prints were picked up by Gimmy Fong in Ginza, Tokyo.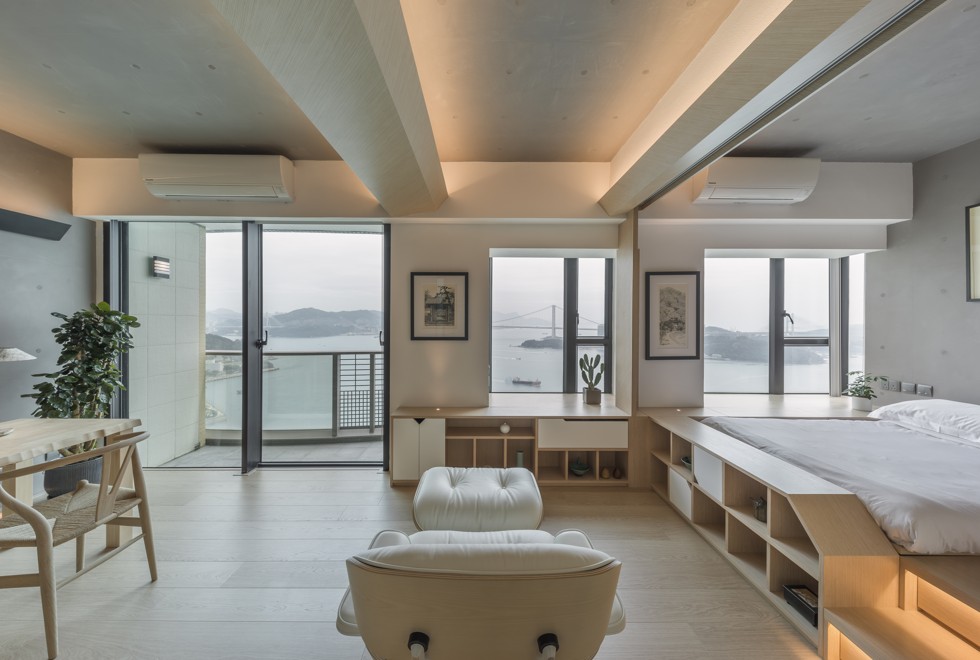 Living area and bedroom Fong didn't want spotlights in the flat, which meant Lam had to devise a lighting solution (see Tried + tested). After experimenting, he installed lighting troughs (HK$15,000 in total) around two existing beams.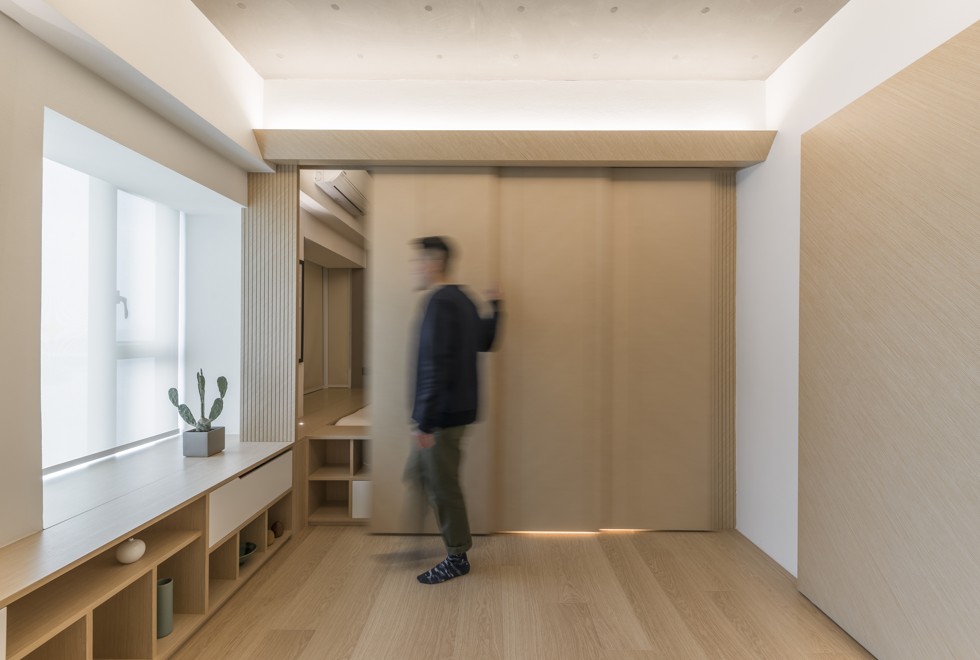 Closed doors Interior designer Max Lam designed the built-in cabinets (HK$12,000) and sliding doors (HK$24,000).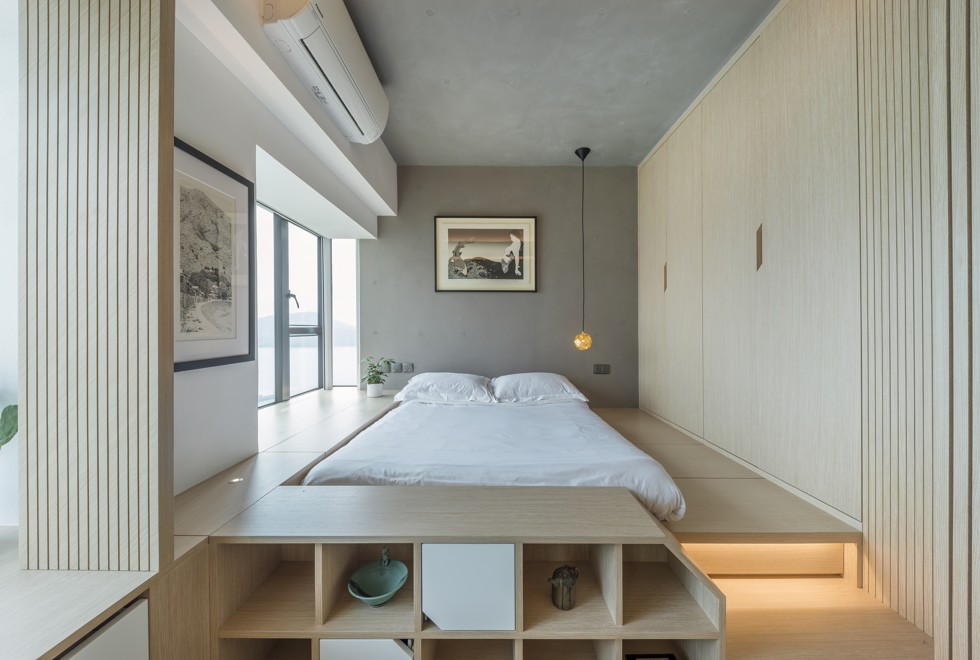 Bedroom Lam designed the shelving (HK$12,000), the built-in wardrobe (HK$26,800) and the bed (HK$10,000), which has storage space beneath it. Hanging next to the bed is a Tom Dixon Etch Mini Pendant Light (HK$1,300) from Archetypal. Inspired by Tadao Ando's love of concrete, Lam painted the ceiling and wall with concrete-like paint (HK$1,500 per pot) from Choi Pik Decorative Paints. Fong bought both prints in Ginza, Tokyo.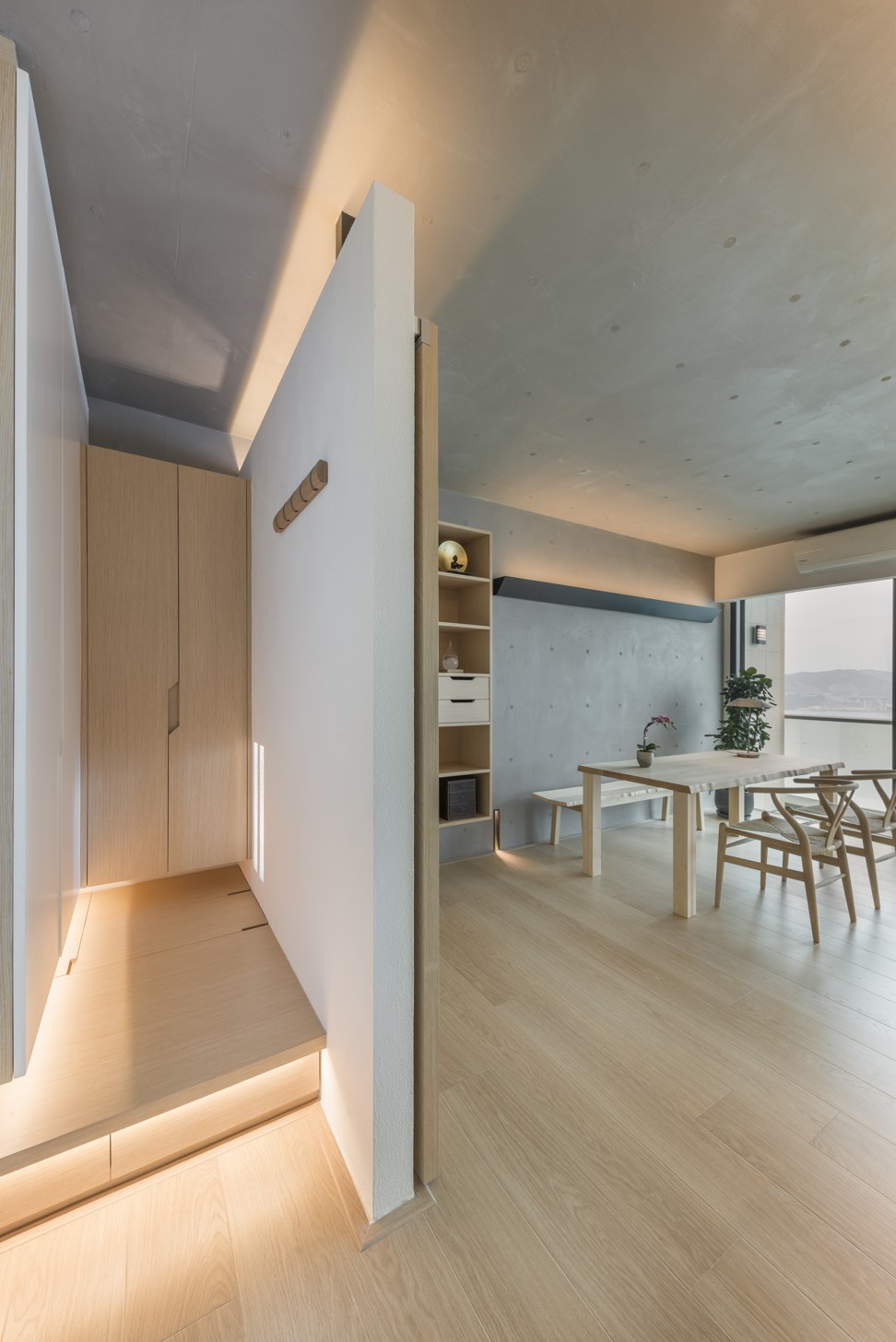 Wardrobe "She has a lot of shoes and bags," Lam says of his client. Fong wanted her accessories to be stored out of sight but didn't want cabinets to dominate the living area, so Lam built a large wardrobe (HK$23,800) by the entrance. As in the bedroom, the wall and ceiling of the living area are painted with a concrete-look paint from Choi Pik Decorative Paints.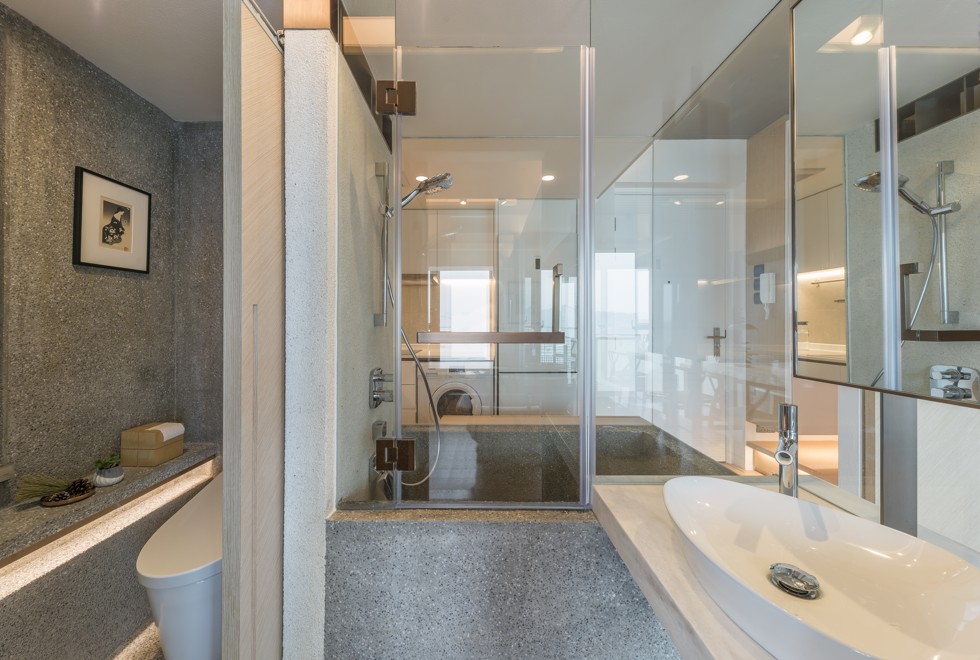 Bathroom The floating mirror cabinet (HK$4,000) was designed by Lam. The bathroom floor and walls are coated in pebbledash (HK$60 per square foot) to add texture to the minimalist space. The edges of the mirror, the shower door handle and even the door's hinges are made from brass. The Hansgrohe shower (HK$1,050) and Kohler tap (HK$1,790) were both bought at Modern Supplies (48 Tak Wah Street, Tsuen Wan, tel: 2439 6001). Fong loves all aspects of Japanese interior design but "especially the toilets", she says. With this in mind, Lam separated the toilet from the bathroom – as is common in many Japanese homes.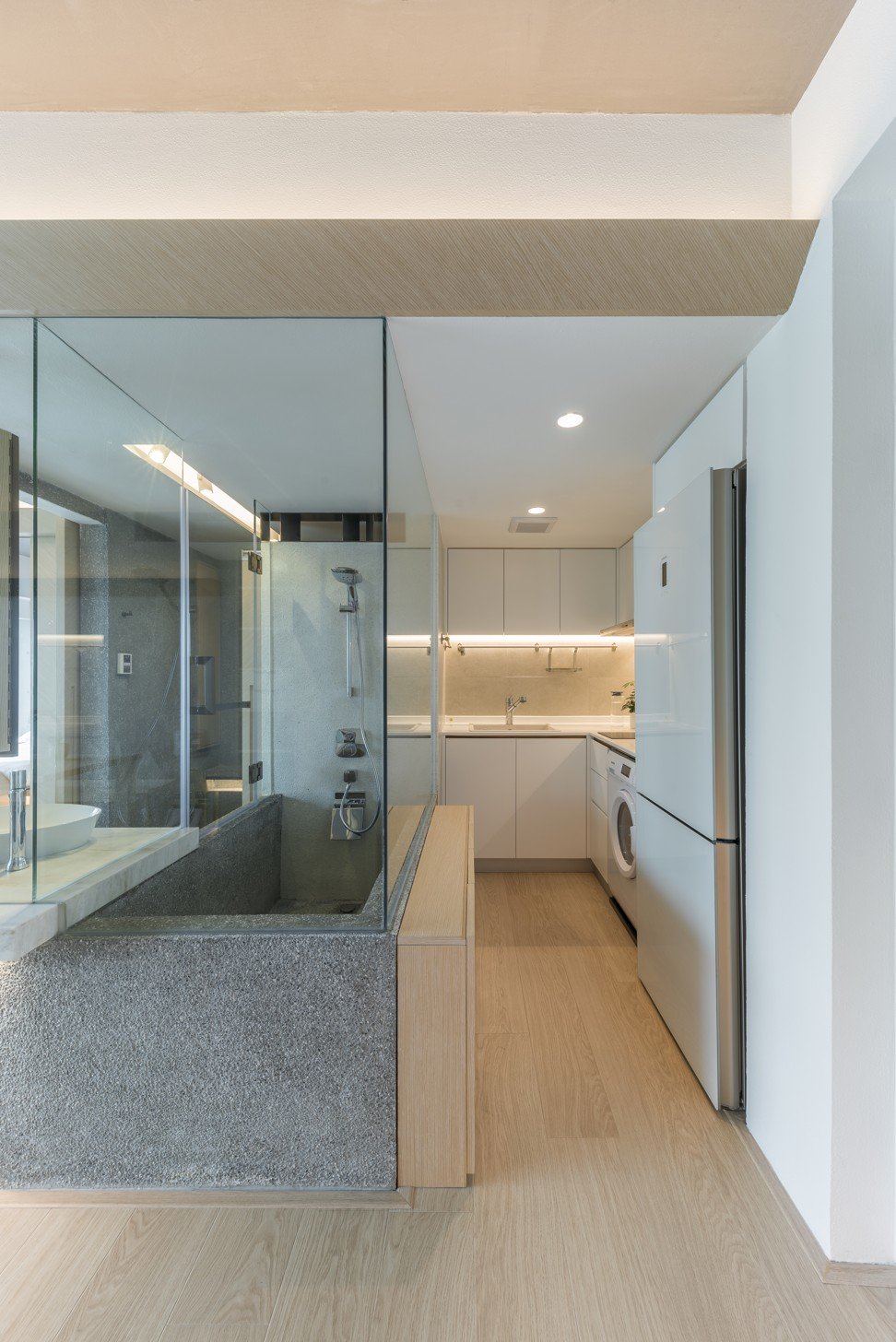 Kitchen Fong doesn't cook often, so Lam kept the kitchen "functional and simple" and allocated only HK$$4,000 of the budget for cabinetry and countertops (excluding appliances). The oak cabinet running alongside the shower houses Fong's collection of Japanese ceramics, including sake and tea cups.
TRIED + TESTED
Bright idea Gimmy Fong banned spotlights from her apartment, but interior designer Max Lam (below) worried that the space would be too dark if all the lights faced upwards. Lam drilled two niches into the wall at floor level, then installed a bulb at the top of each. Once each bulb was in place, Lam inserted a sheet of gold-coloured steel at an angle beneath it, to reflect the light into the room (HK$2,700 per sheet and HK$1,200 for the installation of both lights). Although he's happy with the result, the installation did add stress to the project.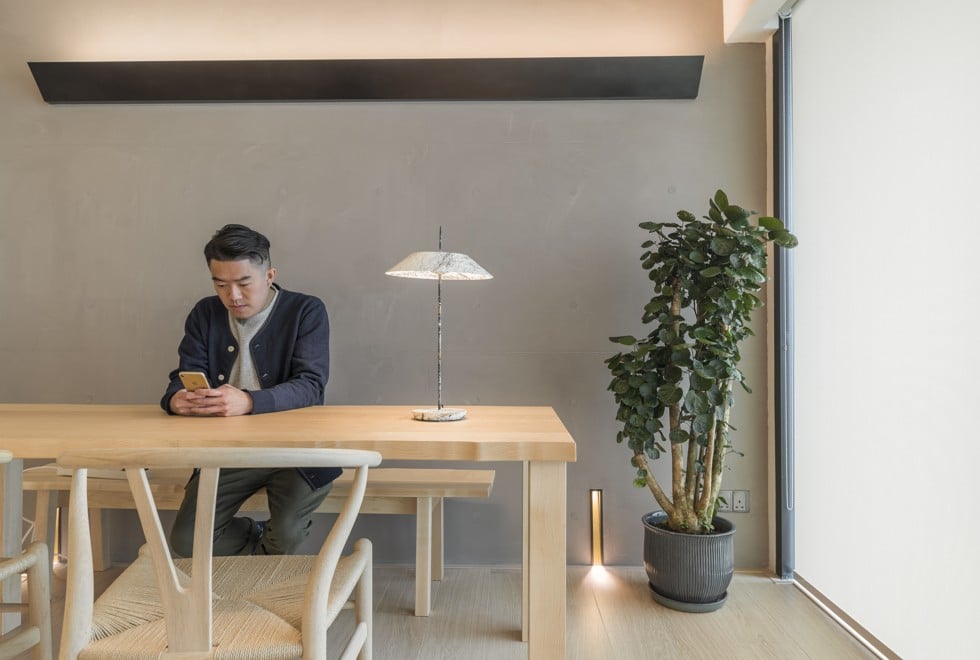 "This wall is shared [with the flat next door]," Lam says. "And these lights are several inches deep. The depth of the wall was unknown, and even with [blueprints] sometimes there's a slight variation in the construction. When we were installing this, I thought, 'Will I drill through the wall?' But we were lucky, we didn't and the outcome is good."