When Peggy Bels first visited this 450 sq ft apartment on Shelley Street, Central, she was underwhelmed. The flat, which she had been tasked with renovating, had been shoddily carved into two bedrooms, a living room and a poky kitchen, none of which capitalised on the striking city views and abundance of natural light. But one feature caught the French interior designer's eye: the 600 sq ft wraparound terrace.
"The terrace is very important," Bels says. "I wanted to make the terrace part of the flat, to treat it like an [extension of the] indoor area. I knew it could be special."
So Bels set to work. She contacted the Buildings Department and found the flat had no internal structural walls, meaning she could reconfigure the space however she wanted. The owner, an expat for whom Bels had designed another apartment six years earlier, gave her "carte blanche".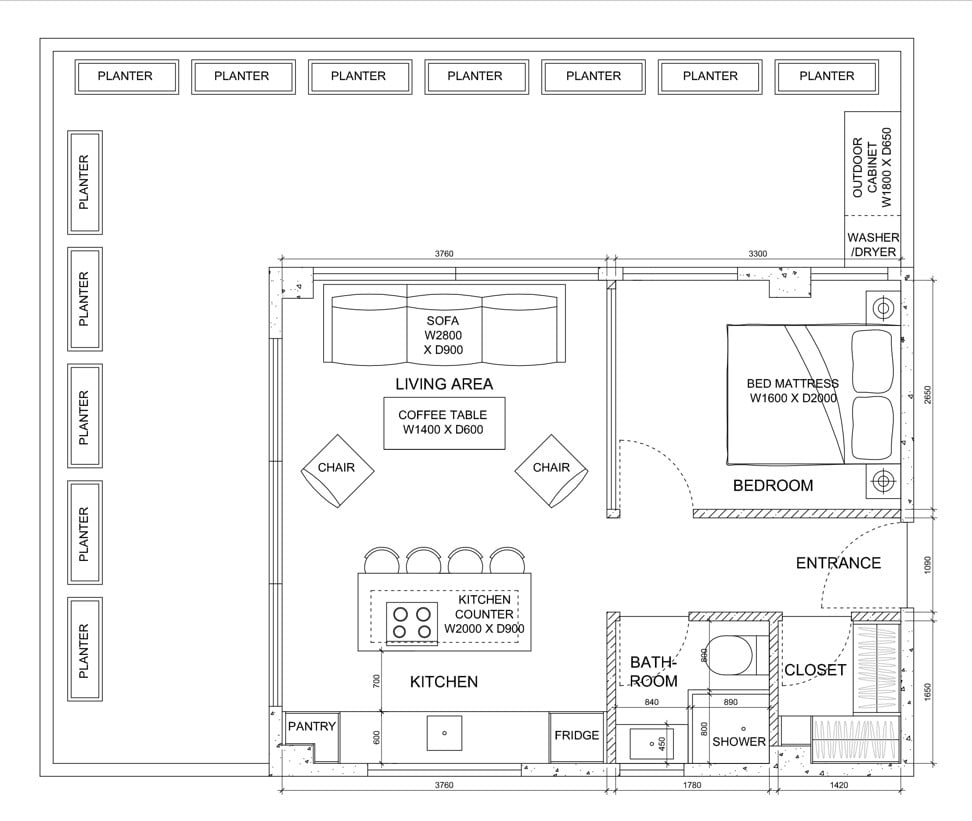 "I removed every wall," Bels says. "We then started from scratch. Plumbing, electricity, walls, floor, windows – everything's new. It was a full renovation."
Merging the indoor and outdoor spaces meant fitting floor-to-ceiling glass doors that slide away to open the living room to the elements.
"The inside and outside are now like one place, the sofas [on the terrace] become like an extension of the inside," Bels says. "It also makes the living room look much bigger."
A 395 sq ft Sheung Wan flat gets a modern monochrome facelift
But now that Bels could see out, she was well aware that her neighbours could see in.
"I installed an awning, so you can hide," Bels says. "When it's down, neighbours really can't see anything. And the curtains [in the living room] are sheer, so the light can still come through but you can have some privacy."
Aside from the structural changes, Bels also paid painstaking attention to the details in both the indoor and outdoor spaces – even matching the flooring.
I removed every wall. We then started from scratch. Plumbing, electricity, walls, floor, windows – everything's new. It was a full renovation.
"I used engineered wooden floors inside and tiles on the outside, but I tried really hard to match the colours," Bels says. "I even tried to find the widest tiles because I always use wide floorboards inside. They are different, but they look similar."
Bels created an airy, open-plan living space, which is dominated by a kitchen island that doubles as a bar.
"I always like open kitchens because kitchens are a welcoming part of the flat," she says. "Even if you don't cook much, people like to be in the kitchen and just have a drink."
Hong Kong family's one-bedroom home makes for open-plan living
To connect the bedroom with the living area, Bels installed an internal window that allows light from the terrace to flow through to the back wall of the apartment.
"If we'd had a full wall for the bedroom, the living room would have felt smaller as well," she says. "But there are blackout curtains in the bedroom and a blind for the internal window, so you can completely close off the bedroom if you want."
Tiny tree-house-inspired Hong Kong apartment takes its design cues from the forested hillside it faces
Bels used luxurious materials including marble and brass throughout the apart­ment, but generally stuck to a neutral colour palette of white, grey and navy blue, which she used to paint an accent wall in the bedroom and short corridor.
"Having the dark navy blue in the corridor adds some depth to the flat," she says. "It's dark blue [at the entrance], which contrasts with the bright, white living room.
"Always in Hong Kong you have to find solutions to make flats feel more spacious – and this contrast makes it feel bigger."
---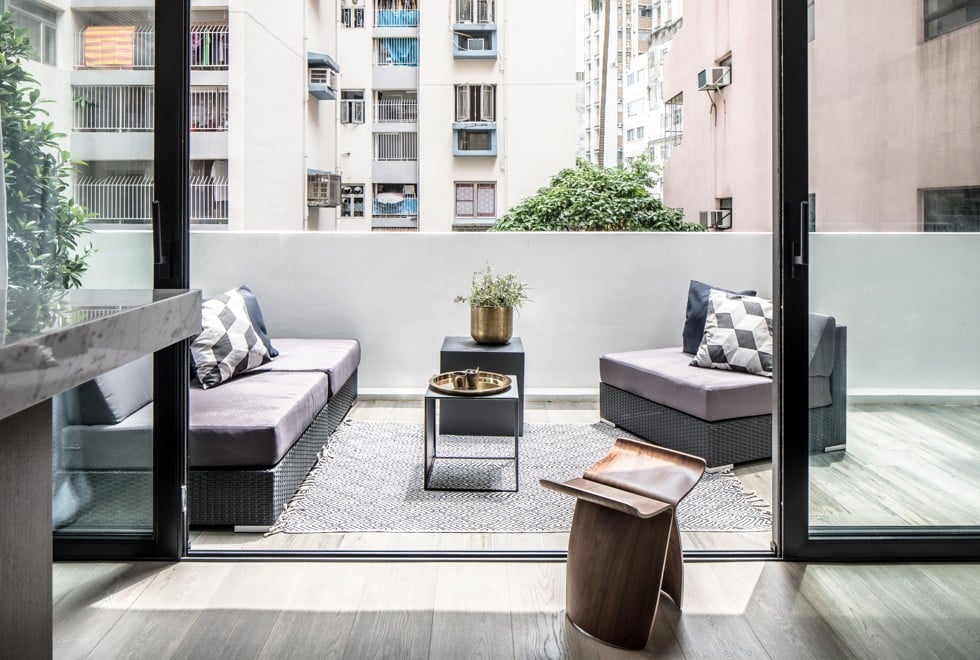 Terrace The wood-like tiles (HK$80/US$10 per square foot) on the terrace came from Premier Construction Materials (286 Lockhart Road, Wan Chai, tel: 2598 8600). The armchair and sofa were supplied by the owner. The two tables outside (HK$1,280 each) and the faux butterfly stool (HK$780) came from Decor8.
Living area Peggy Bels painted the living room white and gave the flat depth by using navy blue for the corridor. The rug (HK$1,500) came from Ikea. The sofa (HK$10,950) and ottoman (HK$2,450) were from Tree.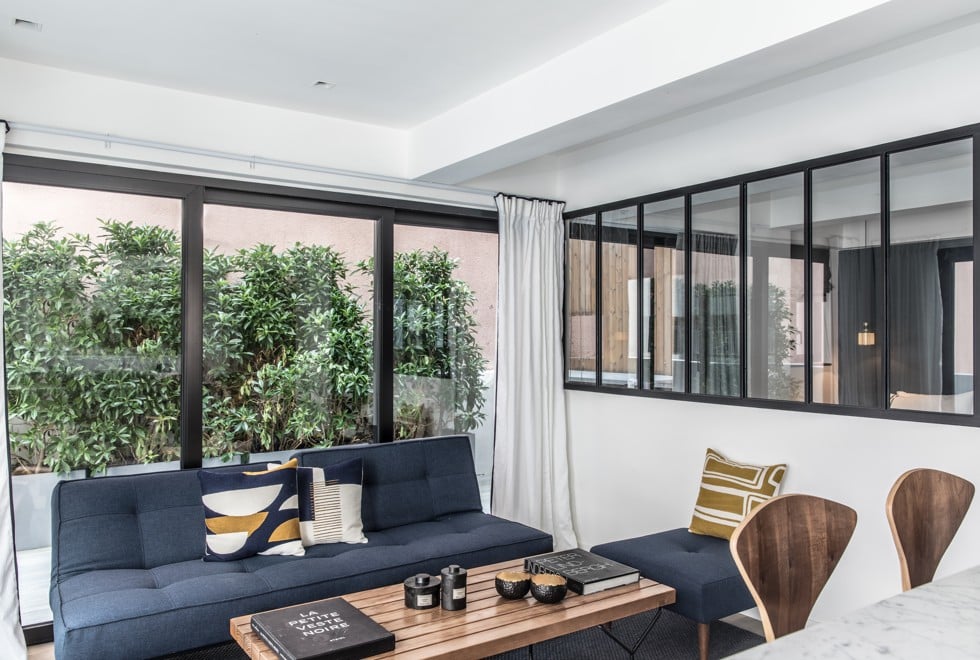 Living area Internal windows feature in several apartments Bels has designed in Hong Kong. "They help flats feel a bit more spacious and let more light in," she says. "They also add a bit of charm and character to the flat." The cushions came from Sonder Living, in Ap Lei Chau.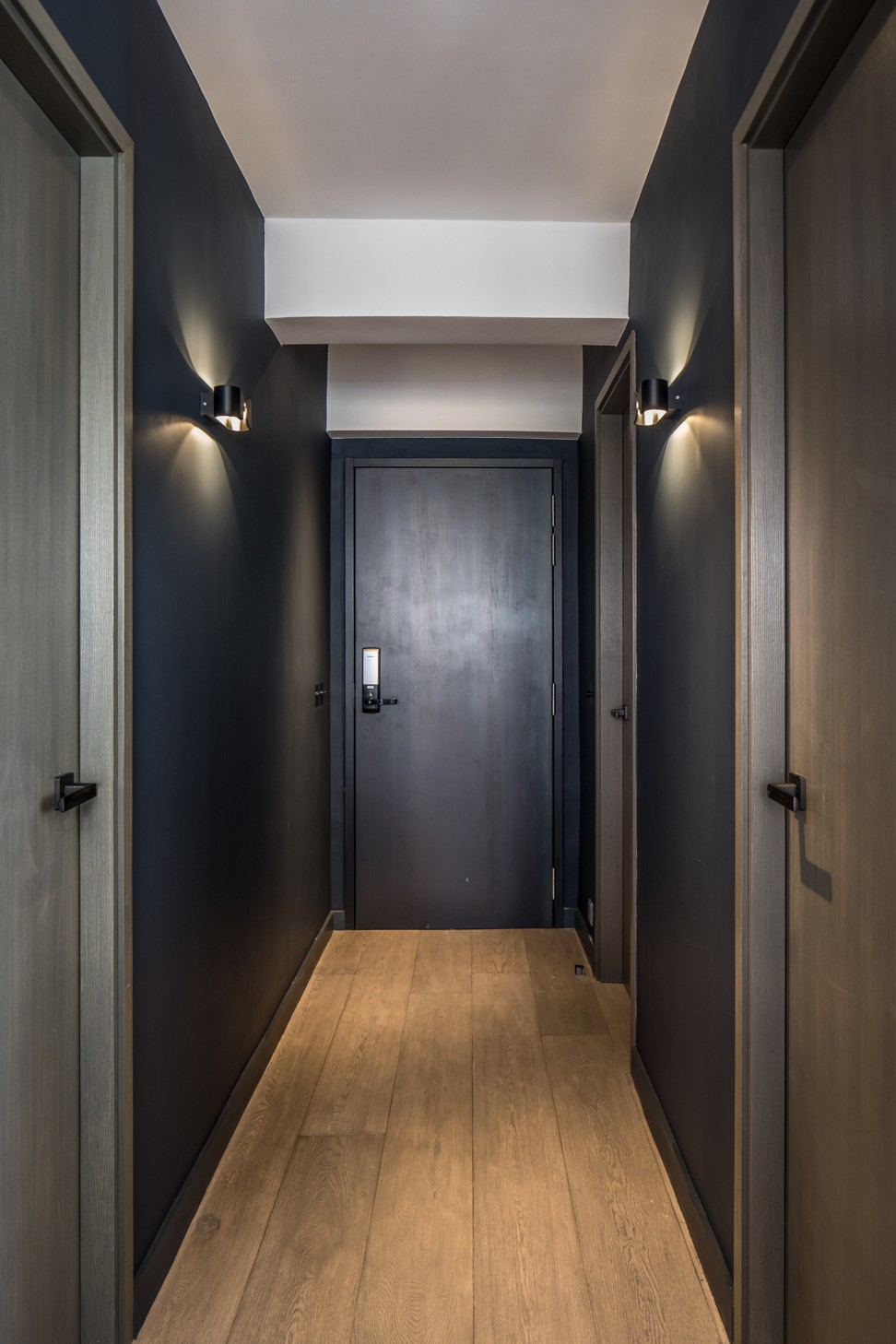 Corridor Engineered oak wood flooring (HK$78 per square foot) from Wonderfloor was used in the corridor, bedroom and living area. The wall lights (HK$600 each) were from Modern Home Commercial Lighting (206 Lockhart Road, tel: 2893 6768).
Kitchen The cabinetry (HK$70,000) was designed by Bels. The countertop is made of marble (HK$30,000) from Sing Fai Marble. The imitation Cherner bar stools (HK$1,390 each) came from Stockroom. Bels liked the cylindrical cooker hood so much in her own home that she installed it in this flat, too. "Sometimes square cooker hoods take up so much space in Hong Kong apartments," she says. This model (HK$8,900) was bought at Built-In Pro.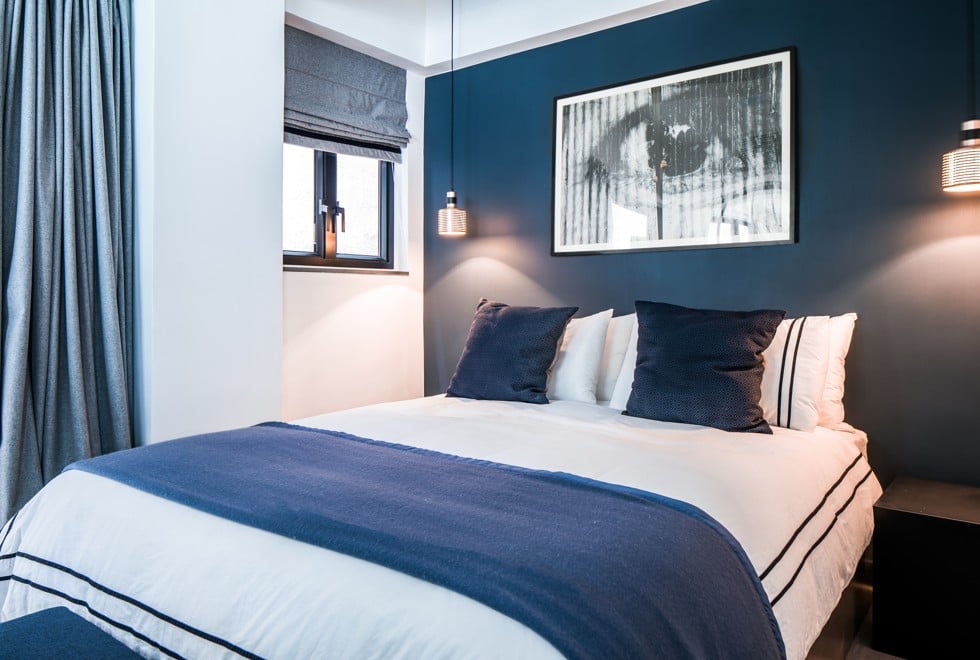 Bedroom Storage space is concealed beneath the bed (HK$12,000), which was custom made through Bels. The bedside table (HK$1,290) was from Decor8 and the pendant lights (HK$2,500 each) were from Bert Frank. The print, by French artist JR, was a gift.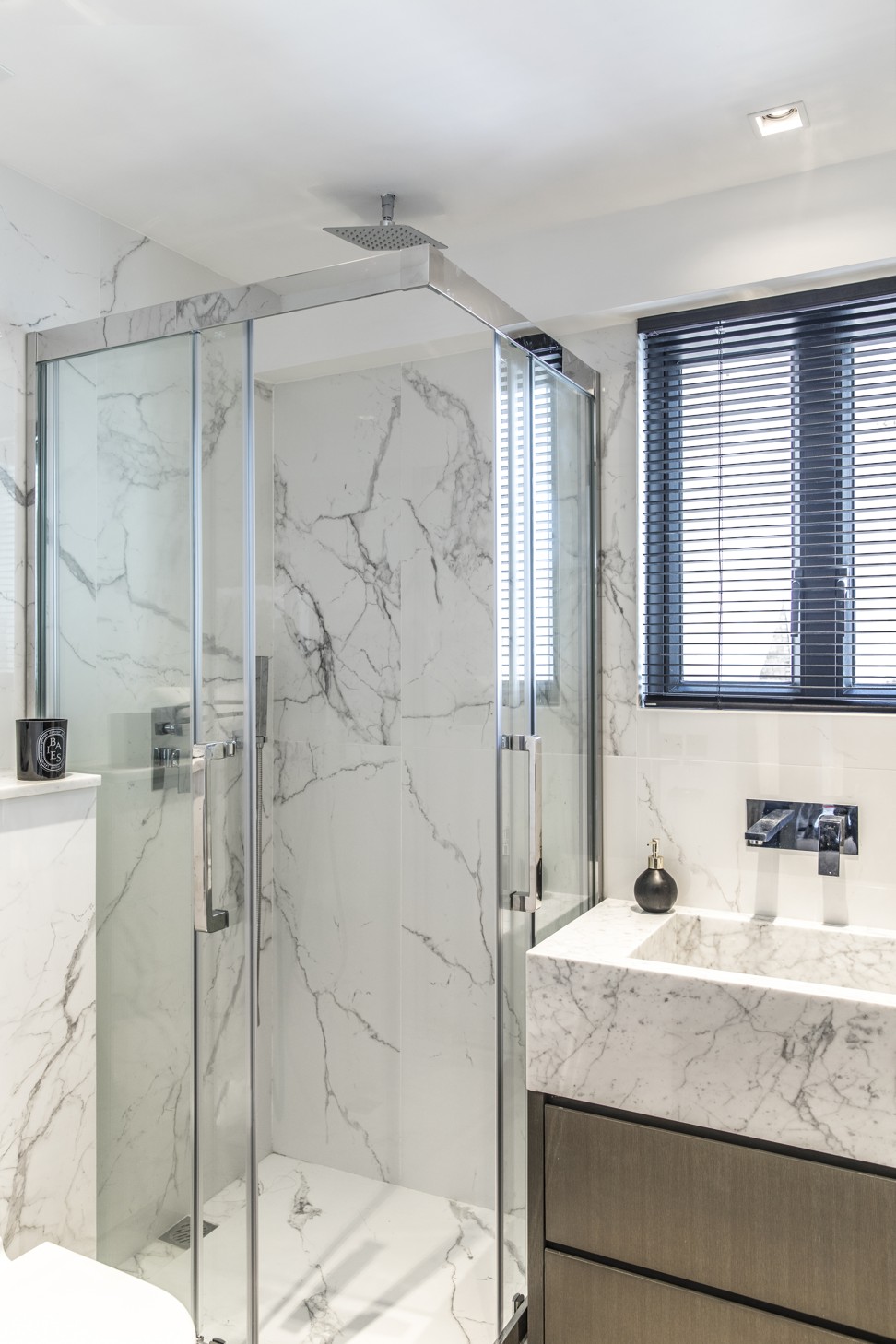 Bathroom The rain shower (HK$2,500) and mixer (HK$2,000) came from Classic Bathroom Accessories (249 Lockhart Road, tel: 2802 0382). The marble basin (HK$10,000) was bought at Sing Fai Marble (193 Lockhart Road, tel: 2511 8375). Bels bought the marble tiles (HK$80 per square foot) at Fei Concept (177 Lockhart Road, tel: 2153 3288).
TRIED + TESTED
Hang ups Using pendant lights rather than table lamps is becoming more popular in bedrooms, a trend interior designer Peggy Bels wholeheartedly endorses.
"I used pendant lights here to save some space but also for the aesthetic," she says. "These pendant lights add some interest to the wall and the brass contrasts nicely with the dark navy paint."
If you do opt for pendant lights in the bedroom, Bels has a couple of tips.
"It's better to have at least 50cm space between the tabletop and the bottom of the light," she says. "Make it even higher if you want more diffused ambient lighting. Also, pendant lights must be proportional to the size of the bedroom, so small and minimalist design are generally better for Hong Kong spaces."