In the right hands, a property's limita­tions can turn out to be its strengths. When architect Norman Ung Wai-lun, co-founder of Deft, was commissioned by an old school friend to turn a large 1980s Mid-Levels apartment into a two-bedroom, two-bathroom contemporary family home, its constraints soon became clear: the five structural walls carving up the flat.
In puzzling out how to open up the space around those immovable objects, Ung came up with an ingeniously flexible plan to suit the lifestyle of this family of three. His brief was straightforward: the owners wanted a grand master suite, a bedroom for their baby daughter and a guest room for frequent visits from Grandma. They also wanted to retain the apartment's huge living spaces, create a library wall (with ladder) and ensure the interior was both child-friendly and sophisticated.
Ung may have had 2,350 square feet to play with, but given the structural walls, it was a big ask.
His solution was to combine two of the original three bedrooms into a large master suite and streamline the formerly convoluted flow. A structural wall meant Ung was unable to fully open the kitchen to the dining room, so he blocked the old door between the two and opened up the kitchen to the entrance hall and living area instead. Changing the access allowed the dining area to double as a guest room, with a drop-down bed, hidden bi-fold door and pullout blackout curtain.
"Our key design approach is that, no matter how big or small the space, we try to squeeze the most out of it, to give it flex­ibility," Ung says.
The design of many dual-function spaces can seem a bit, well, clunky, but not here. As a dining area, it flows seamlessly into the living room, the sweep of floor tiles interrupted only by a discreet metal track for the sliding door to indicate that there might be more to the space than meets the eye.
Let there be light: 3,000 sq ft flat on The Peak gets a modern makeover
It is sleek and grown-up, with dark wallpaper creating a cosy night-time atmosphere and a dark-wood dining table, which converts to a poker table for boys' nights. A wall of dark veneer cabinetry is punctuated by a built-in marble-topped sideboard and section of con­crete feature wall. Similar materials – dark wood, concrete, marble – reappear in the kitchen.
"We rarely work in such large spaces, so we were happy to experiment with a darker palette than usual," Ung says. "We try to respect the integrity of the materials, so the concrete looks like concrete and the wood grain [in timber] is visible. It's typical of our style. We tend to go simple and minimalist."
A Hong Kong apartment that fits three generations under one roof
Ung has made a feature of the chunky structural wall separating the dining room and entrance hall, with corners as rounded, smooth and pristinely white as royal icing.
"There are rounded corners throughout the apartment, to make it safe for the baby," Ung says. "Another key element of the design was the wall unit in the living room – they really wanted it to have a ladder, like a library. So we designed it as a set of boxes, some with doors and some open. The whole space is monochrome – black, grey and white – which works well with their exotic pieces. Colour is provided by books, art and soft furnishings."
Architect gives his Hong Kong apartment eco-friendly makeover
This being the first time the couple has lived together, they were keen to add their personalities to the furnishings. So they went shopping, buying pieces that pop against the muted backdrop.
"They chose all the furniture themselves, we just gave them the dimensions," Ung says.
An exception to the monochrome colour scheme is in the huge master suite, its dimensions dictated by more structural walls. Created from two former bedrooms and a bathroom, the space was kept as open as possible, with a glass-walled en-suite bathroom and large dressing area, complete with glass-topped island offering a bird's-eye view of neatly rolled ties and belts in their own little compartments.
A kid-friendly Hong Kong home that doesn't scrimp on style
But what really catches the eye is a floor-to-ceiling cupboard in bright red.
"We matched the colour to the couple's headboard and red ceiling lamp," Ung says. "It was built specifically for her collection of designer handbags."
---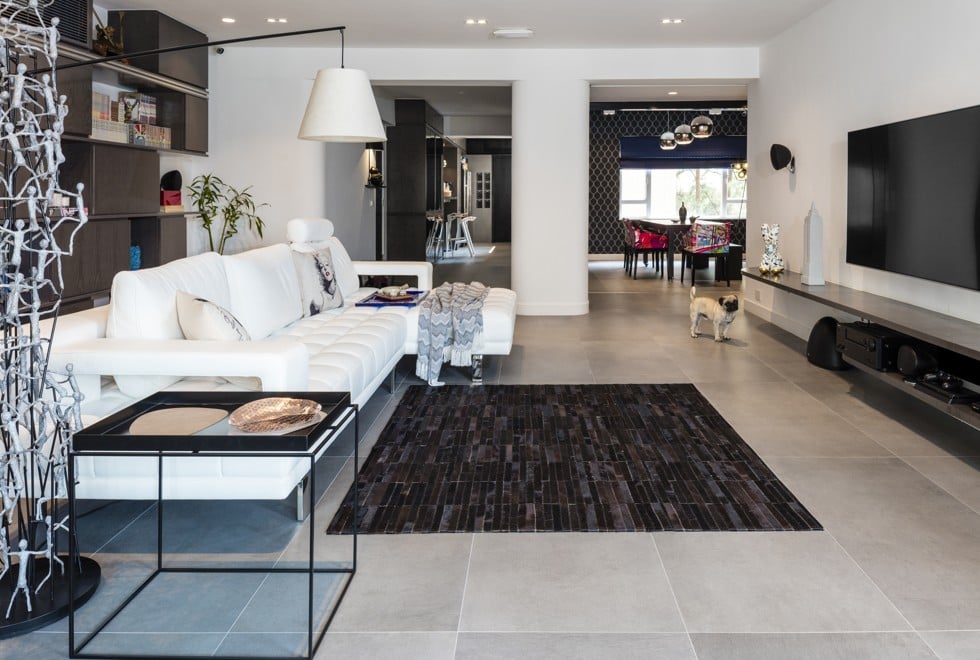 Living room The library wall unit and shelves (opposite wall) were designed by Deft and built by Ah Yee Decoration Engineering (tel: 9170 9481). The Mosto III sofa (HK$50,000/US$6,405) came from Kelvin Giormani. The Little People Boom Town floor lamp (HK$12,000) came from Ovo, the Hay tray table (HK$4,000) from Mr Blacksmith and the rug (HK$6,990) from Indigo Living.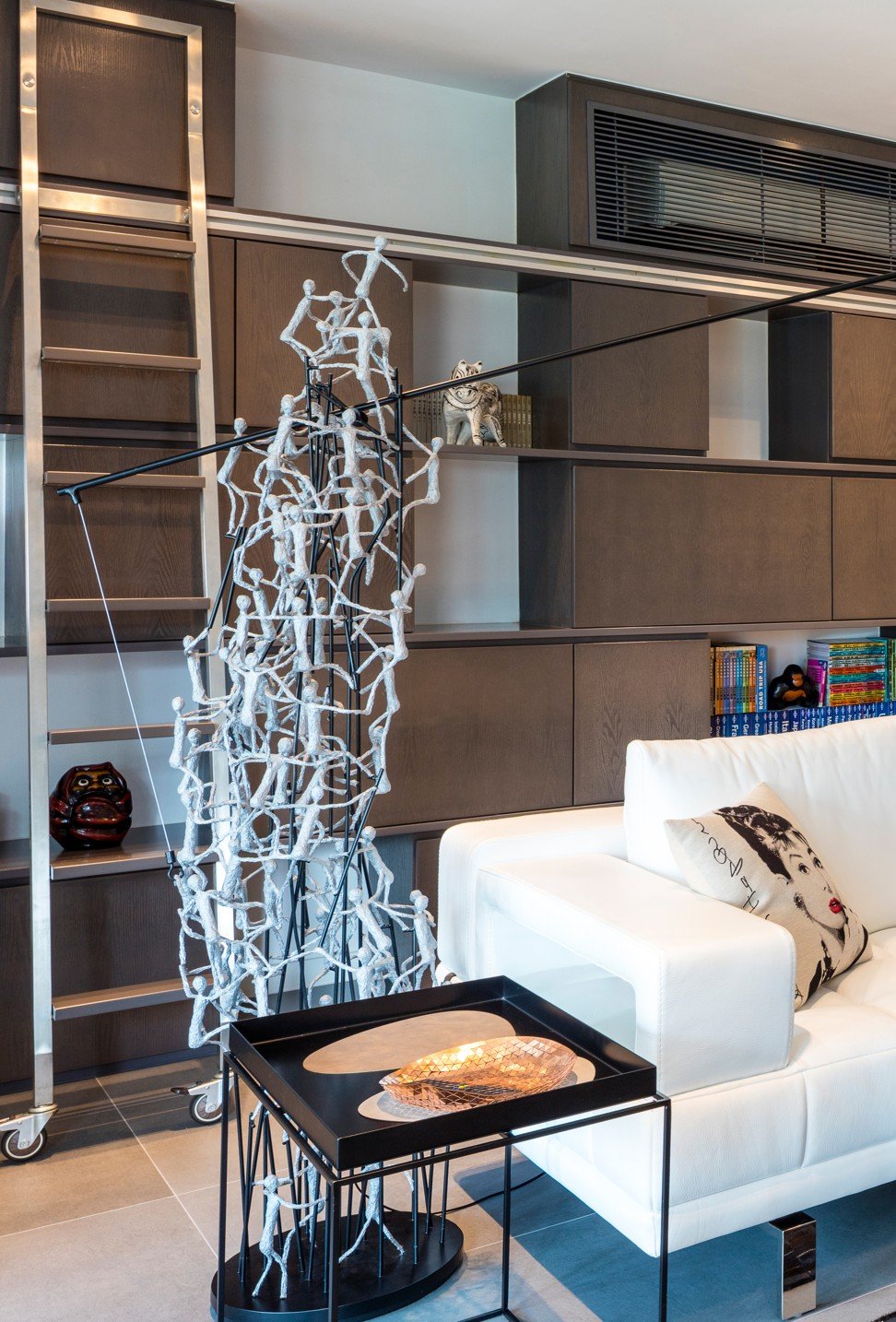 Living room detail High on the brief was a movable bookcase ladder, to give the back of the living room the feel of a library.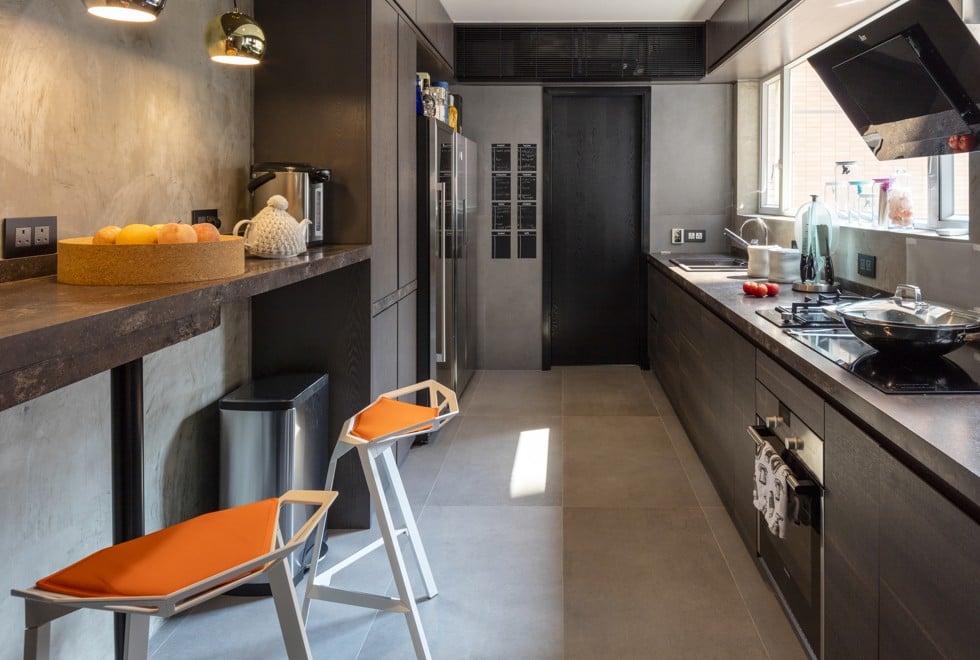 Kitchen The concrete wall by Ah Yee Decoration Engineering was left in its natural state, with the workmen's strokes visible. "The contractors like this because it doesn't have to be perfect, like a white plaster wall, so it's a bit easier," says architect Norman Ung. The Ball pendant lamps (HK$1,000 each) were from Megaman and the Magis stools (HK$2,980 each) from Homeless. The kitchen cabinets were by Erste.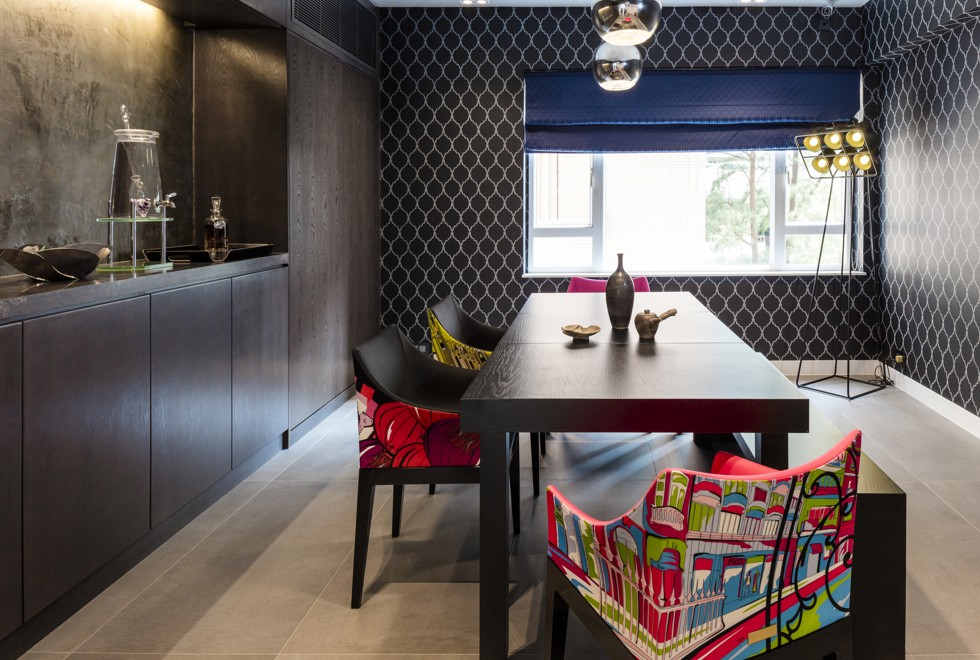 Dining room The dining room doubles as a guest room, thanks to a Häfele drop-down bed (HK$13,000) and pullout bi-fold doors all hidden behind dark-wood-veneer cabinetry designed by Deft and built by Ah Yee Decoration Engineering. The Madame chairs (HK$7,000 each), by Pucci x Starck, came from Kartell. The dining table (HK$10,000), which converts into a poker table, was designed by Deft and built by Spacious Design Consultant (tel: 2770 8878). The Emanuele Magini Multilamp floor lamp (HK$2,999) came from Aluminium and the Ball pendant lamps were from Megaman, as before.
Master suite A splash of colour in the monochrome scheme, the red accessories cabinet was designed by Deft and built by Ah Yee Decoration Engineering to match the bed (from Centro). The giant leather Snoopy is a limited edition from Coach x Peanuts (coach.com). The bathtub (HK$75,000) and sink (HK$9,000), by GSG Ceramic Design, came from Galaxy Bathroom Collection. The Francois Ghost Mirror (HK$5,730) was from Kartell. The built-in wardrobes, drawers and glass-topped island were designed by Deft and built by Ah Yee Decoration Engineering. The Kare Design bench (HK$4,999) was from Aluminium.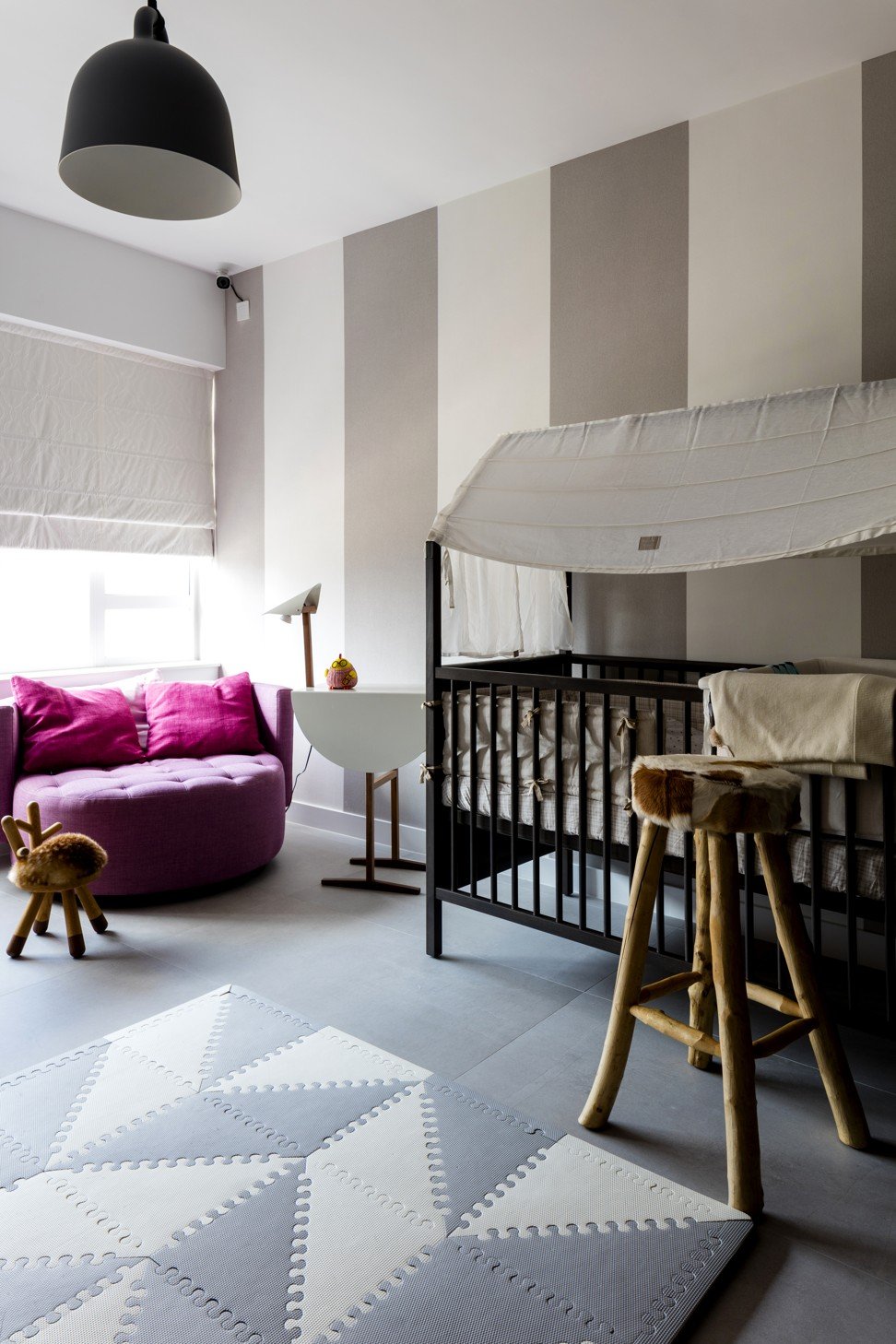 Baby's room The daughter's room continues the monochrome theme, right down to the soft floor tiles from MotherCourt. The striped wallpaper came from Tat Ming Wallpaper and the Bell ceiling lamp (HK$3,300), by Normann Copenhagen, from Homeless. The Ostrich sidetable (HK$6,999), by Mario for Valsecchi; Bambi chair (HK$2,500); and stool (HK$5,999) were all from Aluminium. The Home cot (HK$9,000) was from Stokke.
TRIED + TESTED
Set the bar When Grandma comes to stay, the dining room is converted to a guest room by pulling out the bi-fold doors and dropping down the bed. Which means the family no longer has a dining table. To solve this problem, Norman Ung, of Deft, devised a pullout section for the breakfast bar.
"Our designs always involve pieces that move," he says. "And it works really well as a bar at parties."