Photographer Belinda Bath's Choi Hung apartment is so engaging, it's hard to know where to lay your gaze. Her signature colour-themed photo­mon­tages of Hong Kong adorn the walls, and intriguing objects – a bowl of mooncake moulds, intricately painted ceramic pots, vintage letterboxes – cover almost every surface. And yet, she says, this isn't how she would ordinarily choose to decorate her home.
"My preferred style is mid-century and modernist with limited clutter. However, being a photographic stylist by trade, acquiring clutter comes with the territory," Bath says. "There's no way I would have all my work on show either – I'm just not that sort of person. But my home acts as my gallery space. It's the only place people can come and see everything displayed. While the website is great, it is only 2D and doesn't offer the same impact as the canvasses and prints actually hanging on the walls."
I think in colour. People are often scared of using bold colour in their homes but you have to be brave and work with shades that you love.
Colour is clearly what Bath does best. While some people might balk at the multi­tude of shades and tones in a relatively small space, Bath has a curator's eye for what works well. Her collections of curios, which she finds in little shops and markets in Hong Kong, the mainland and beyond are arranged accord­ing to shade so not only do they look good as a group but they also echo the mon­tages that hang above them. Thus a white shelving cabinet in the dining area boasts a collection of objects in all shades of green to highlight a delicate print of patterned ceramic spoons, while a canvas of pale gold and grey images in the entrance is comple­mented by bronze pots, copper jugs and warm wood tones.
A Hong Kong interior designer's home that's full of stories
"I think in colour," Bath says. "People are often scared of using bold colour in their homes but you have to be brave and work with shades that you love. We live in a society of disposable fashion so you can afford to play with home accessories and change them when trends or your tastes change."
Bath also enjoys finding treasures to bring back from holidays so, alongside the Hong Kong bric-a-brac are a side table from Turkey, a leather pouffe from Morocco, a vintage chair from Portugal ("Not a cheap option because of the shipping but we fell in love with it") and a woven reed bull's head from Spain. Her cupboards, she confesses, are filled with all sorts of weird and wonder­ful items, to the extent that she thinks she could probably host a mini flea market.
A family's fun Hong Kong home is fruit of their global adventures
Not surprisingly, Bath kept the walls neutral to showcase her art. She couldn't use picture hooks or nails to hang up her work, so she found removable Velcro strips that did the trick without damaging the walls.
"My collections are an extension of my work. If I'm working on a particular colour theme, I seek out pieces that will match so that I can photograph them at home under controlled lighting conditions," she says. "I also collect things because I love them, such as the rich green Buddha heads from Thorn and Burrow [in Sai Ying Pun]."
Originally from Melbourne, Australia, Bath has lived in Hong Kong for almost 11 years and been in her current 1,400 sq ft apart­ment for five. After the rent at her previous apartment, in Tai Kok Tsui, sky-rock­eted, she moved to the four-bedroom, three-bathroom property in Choi Hung with her husband, Glen (who heads pro­curement for Li & Fung), and two teenage children, mostly because their school was an easy commute.
Hong Kong couple create colourful space in which to entertain
Since she intends to move back to her native Australia eventually, Bath says she only invested in items of furniture that she will take with her. She and her husband occasionally treat themselves to a contem­porary piece but most of the other furniture, particularly the larger items, is cheerful and cheap.
"The one thing I am adamant about is investing in good lighting," she says. "I can't bear living with naked light globes in the ceiling. In this apartment, we have gone for pendants by Tom Dixon, which I really like and we will take home with us."
How Tom Dixon became a designer by accident, and why he's growing furniture underwater
The terrariums dotted around the flat are evidence of Bath's strong connection to nature, which stems from a childhood spent on an 800-hectare farm and a mother who is a passionate gardener. The Prince Edward Flower Market, in Mong Kok, she laughs, is almost a second home.
"It's important for me to have greenery around but it's a challenge when you live in a city apartment without grass or much outdoor space," she says. "Flowers don't last but I'm a big fan of terrariums and have made all of mine myself." (See Tried + tested.)
"As well as being calming, plants add instant colour and texture – and once I have all those elements in my home, I'm happy."
---
Living room The black leather chair (€1,400/US$1,658) was from Vintage Department in Portugal (Rua Ferreira Borges 68-70, 4050-252 Porto, tel: 351 918 888 854). The dusty rose velvet sofa has been in the family for years. The cushions and throw came from H&M Home. The marble coffee table was from West Elm, in Melbourne. The rug (HK$1,200) was from Ikea and the pouffe (HK$500) was bought in Marrakesh, Morocco. The pendant light (HK$4,500) was from Tom Dixon and the Cosy lamp in grey (€229) was from Muuto. The framed prints are by Belinda Bath and the bull's head was found in Madrid, Spain, at Javier S Medina. The yellow Marquee chairs on the balcony were HK$2,700 each from Mirth. The television console, from G.O.D, was bought years ago.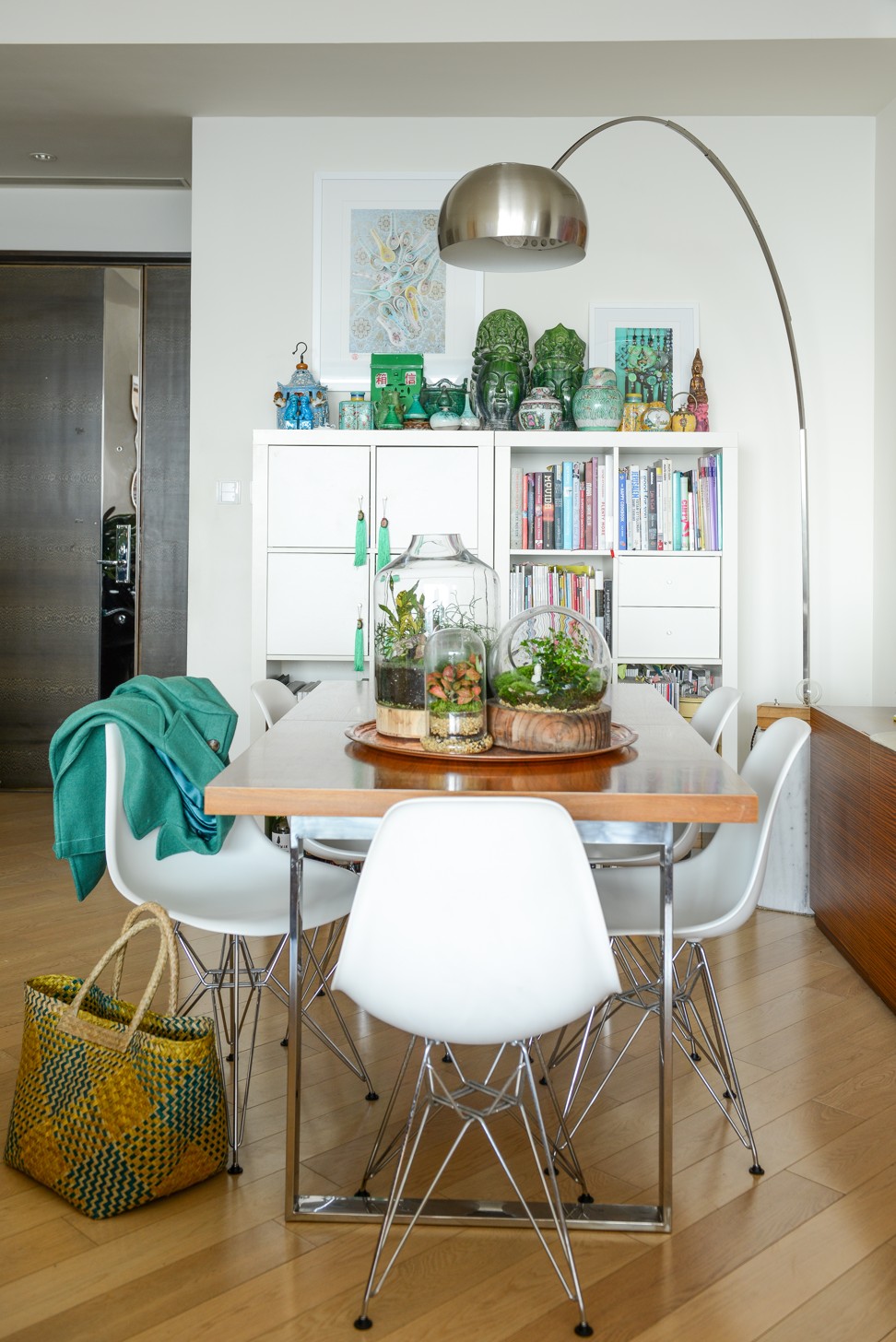 Dining room The dining table, from G.O.D, was bought on Bath's arrival in Hong Kong. The original DSR chairs by Charles and Ray Eames (HK$3,000 each) were from Aluminium. The terrariums were made by Bath; all the components were bought from the Prince Edward Flower Market, in Mong Kok. The Arco floor lamp was purchased years ago from AsiaXpat. The shelving unit was from Ikea. The Ceramic Spoons print above it is by Bath. The green Buddha heads were from Thorn and Burrow.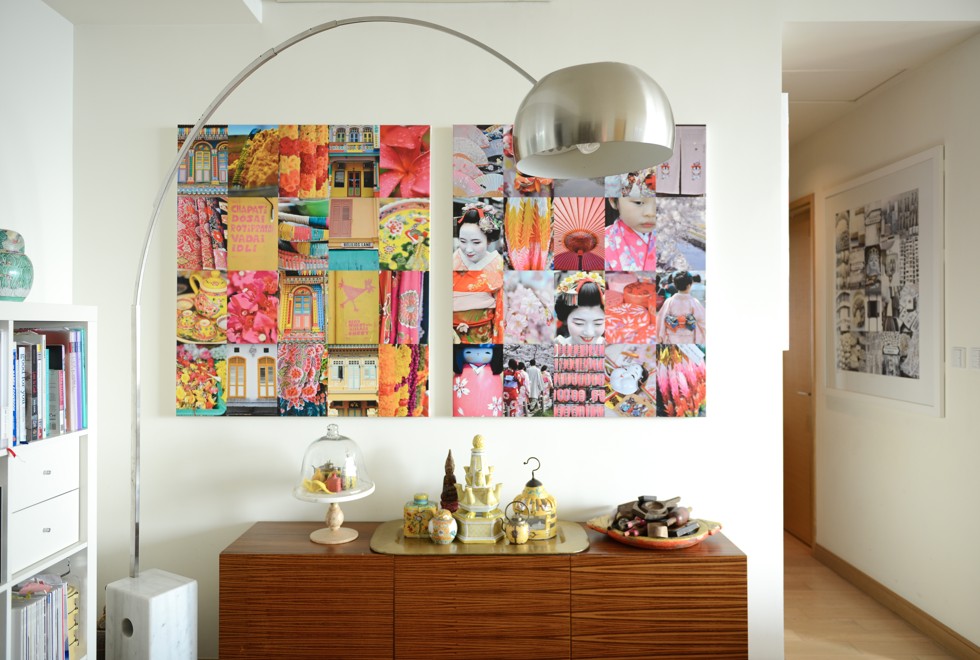 Dining room detail The sideboard was from G.O.D. The canvas montages (and the framed montage print in the corridor) are all by Bath. The collection of objects beneath them were found in shops and markets around Hong Kong.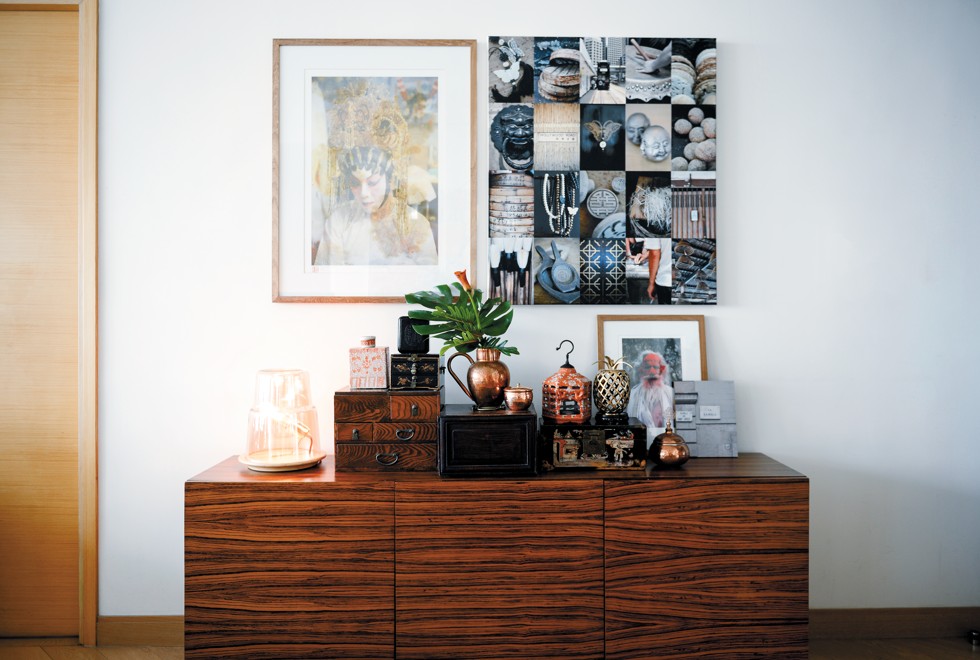 Entrance The photomontage and the framed print, from the Tattoo series, are both by Bath. The sideboard came from G.O.D and the collection of objects was picked up in markets in Hong Kong and abroad.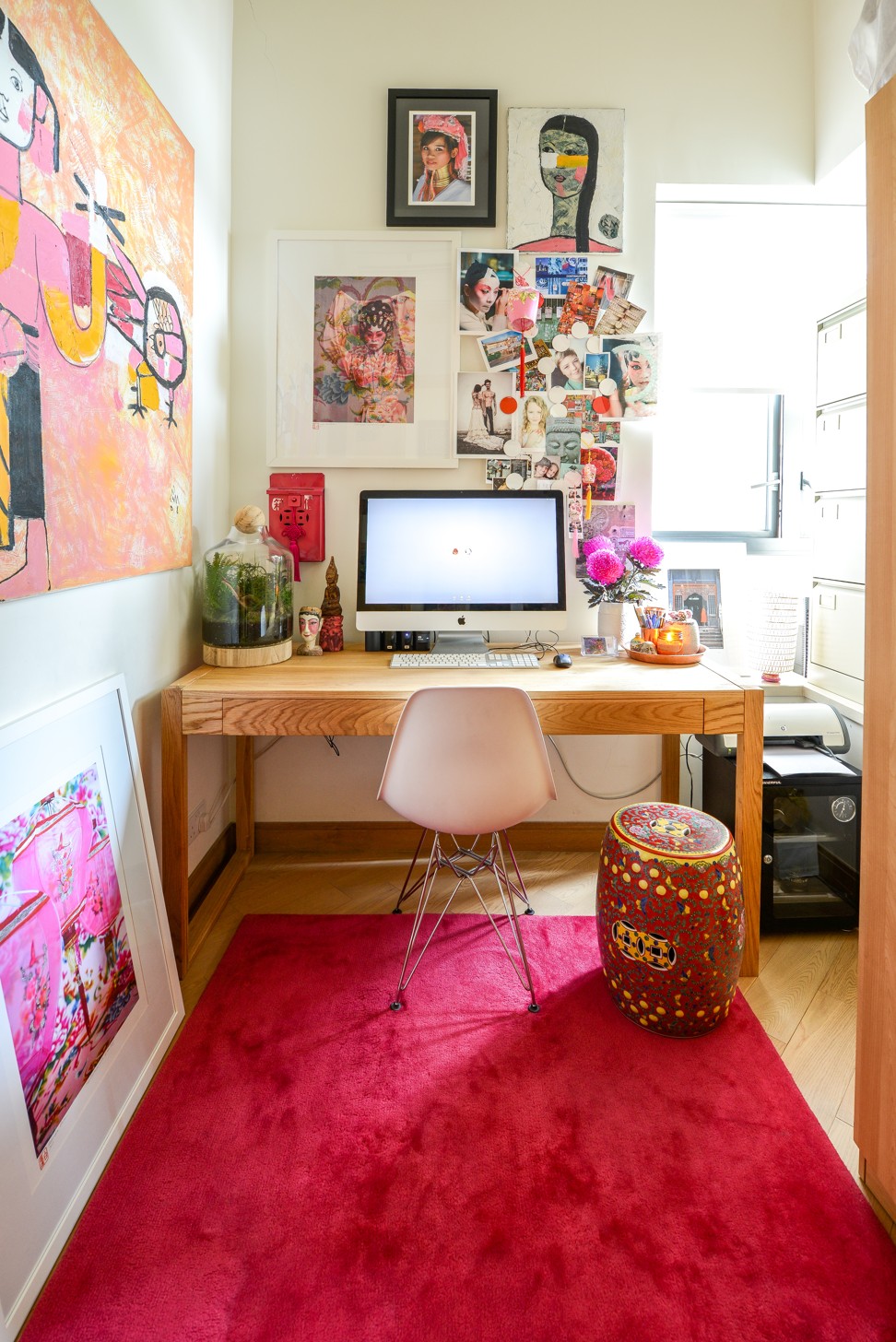 Office The desk was HK$6,000 from Stockroom and the DSR Eames chair came from Aluminium. The rug was custom made by a shop on Queen's Road Central when the family first arrived in Hong Kong. The ceramic stool (HK$500) was from Wah Tung China Arts. The pink and yellow artwork, Vietnamese Girl, and the portrait above the desk are both by Hoang Hong Cam and came from Tonkin Gallery (So 3 Hang Bac, Hanoi, Vietnam, tel: 84 91 334 38 68). The framed prints are by Bath.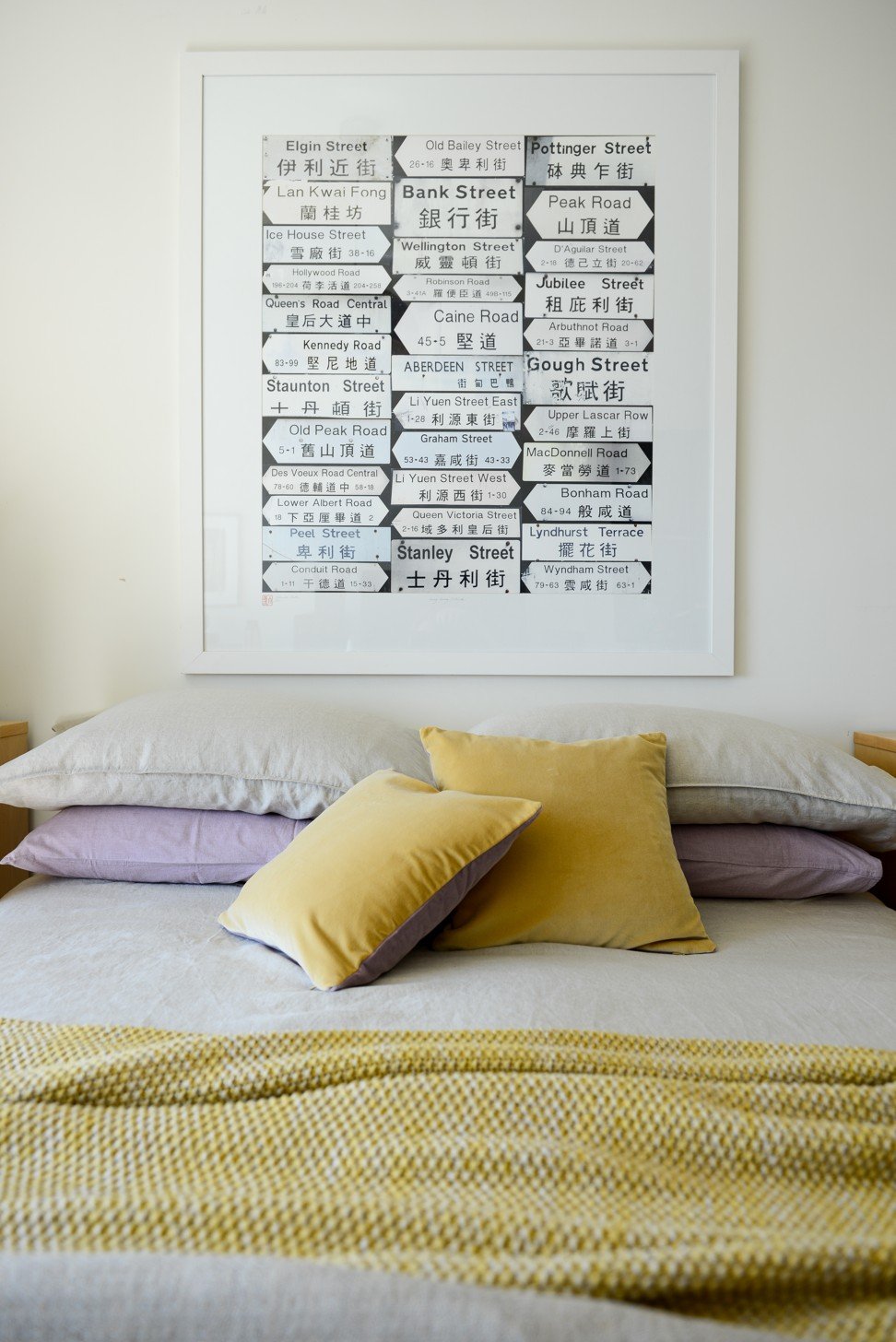 Bedroom Above the bed, which Bath has had for years, is her Street Signs Central print. The cushions and throw are all from Zara Home.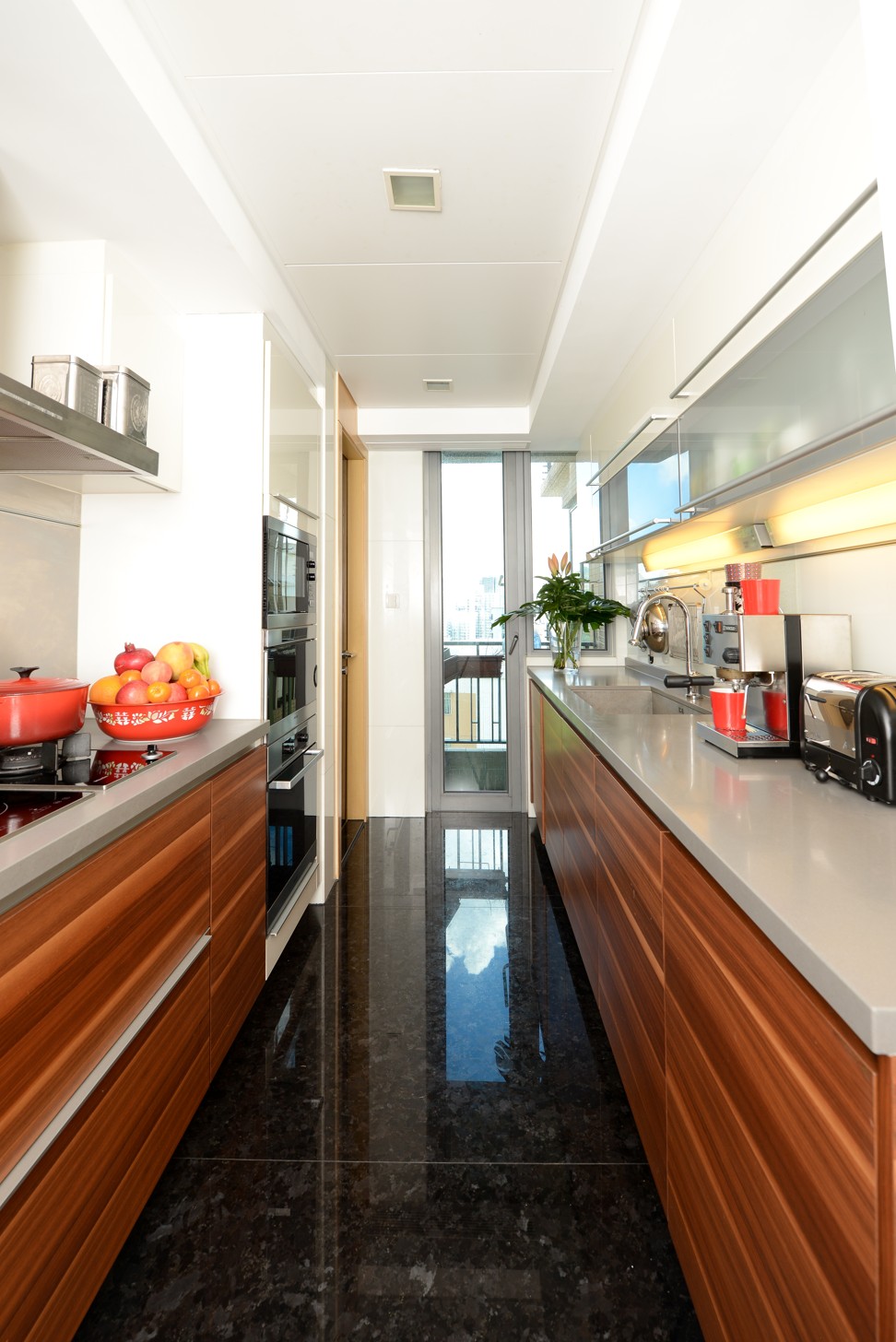 Kitchen and bathroom The kitchen and bathroom were installed by Bath's landlord and left as is.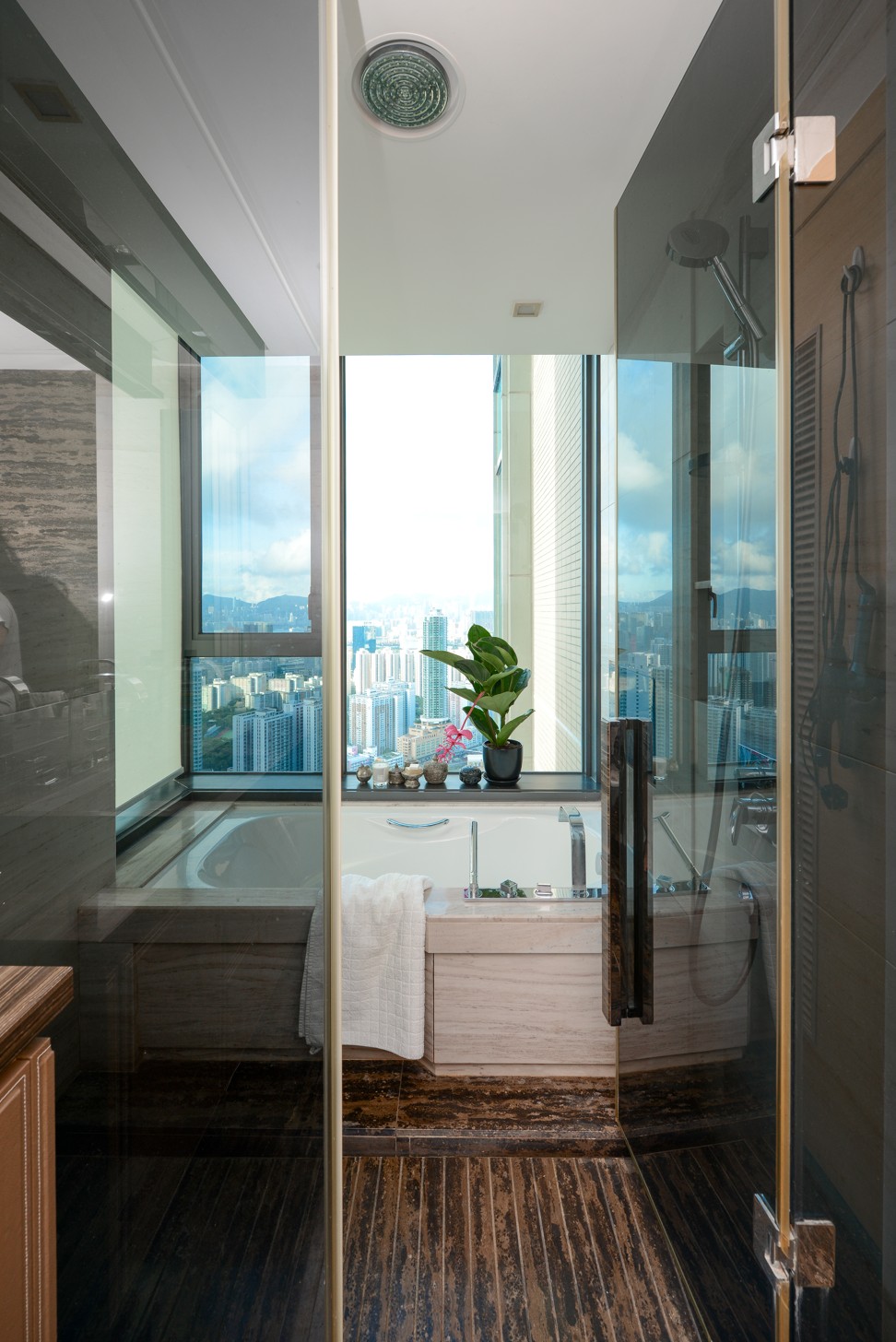 TRIED + TESTED
Green fingers Belinda Bath created her terrariums using glass containers, moss and plants from the Prince Edward Flower Market, in Mong Kok. She places small stones at the bottom of each jar to assist with drainage and then arranges layers of soil and moss or special moss balls into which small plants are placed. The key, says Bath, is to keep everything in the terrariums moist but not wet, which she does by spraying them with water regularly.