Talk about a baptism of fire. Early this year, weeks after Reddie co-founders Caroline and Andrew Olah had their second child, in Hong Kong, she was back at work – fielding calls made by him in Indonesia. Unable to accompany her husband so soon after giving birth, she had entrusted him to be her eyes at the workshop in central Java that makes furniture for their brand.
"It was my first trip alone to the factory, and the pressure was immense," Andrew says. Only recently had he given up a decade-long career at technology behemoth Google to join the company he and his wife founded in 2014. But she was the designer, he the salesman. So, naturally, when it came to selecting materials, anxiety set in.
Design couple's Hong Kong home their showcase
The factory had run out of the stone Caroline had in mind to show potential customers how unusual one of Reddie's standard tables could look. A jerky Skype conversation between the two was clear about one thing only: Andrew had to choose.
The boy done good. Proof is in the kitchen of the 1,300 sq ft, two-bedroom flat in Sydney, Australia, they bought before work took them away more than 10 years ago to New York, Malaysia and, most recently, Hong Kong. In May, after three years in the SAR, it was time, Caroline says, "to be able to own our own time". Reddie, named after their first child, Eddie, was their ticket home.
We both wanted to buy a place, and we had a very small budget. It was a bit risky, but we walked in here and just loved the space
The couple – both Australians of Indonesian descent – now divide chores: with a background in marketing, business and commerce, Andrew continues to work at what he knows best, leaving Caroline, an interior architect, to focus on designing the pieces that have distinguished the brand.
A glance around their loft-style unit shows how busy she has been since Post Magazine visited their Happy Valley home in 2016. Apart from inking a deal with Lane Crawford, where Reddie products will soon be sold, she has come up with new designs: a standout is a teak chair that mixes contemporary angles with traditional Southeast Asian woven-rattan handiwork. Another is a teak-and-metal television console with dovetail drawers.
How a loft-inspired Hong Kong flat went from cookie-cutter to 'homey'
These and other Reddie prototypes furnish every room of their flat, which has stood the test of time. Formerly part of a church hall, converted into apartments 11 years ago by Popov Bass Architects, the Olahs' loft-style unit is in the vibrant inner-city suburb of Surry Hills.
It turned out to be a prescient purchase, and not only because the area has boomed in the years they have owned it: just four months into their relationship, the couple pooled resources to acquire the apartment.
"We both wanted to buy a place, and we had a very small budget," Caroline says. "It was a bit risky, but we walked in here and just loved the space."
It's not hard to see why. Filled with soft light, the flat affords them a large bedroom loft that looks down onto the open-plan kitchen and living room. An old church next door and a heritage-listed building on the opposite side of their road ensure privacy.
Architect gives his Hong Kong apartment eco-friendly makeover
Small improvements they made to the flat upon purchasing it included cupboards installed in the bedrooms and a long desk in the entrance corridor. Walls were repainted, in preparation for their return, and the concrete floor treated and polished.
The freshness of the apartment, however, has much to do with its gallery-style atmos­phere (roominess, white walls) and simple but effective lighting. In the living area, small pendant lights draw your gaze up to the double-height ceiling.
"What I like about the ceiling lights is you can switch on the ones you need," says Caroline, pointing to a globe illuminating their yellow-legged dining table topped with that greenish marble Andrew had chosen.
The ability to mix and match styles, materials and colours has seen Reddie's popularity grow not only in Hong Kong but, now, Australia as well. The reasons are different, though. Whereas it was relatively easy to develop a following in the SAR because furniture options are limited, in Australia, the pull was personalisation.
Hong Kong interior designer's Provençal holiday home is a 21st-century take on tradition
"In Hong Kong, everyone knows someone who knows someone in China, where they can have things custom made at a pretty reasonable price," Andrew says. "If you want custom furniture [in Australia], it's very expensive."
The couple's move back home agrees with them in other ways, too.
"This area is so trendy now," says Caroline, citing cool cafes, hairdressers and the award-winning Prince Alfred Park pool nearby. "Moving here is like moving to a new country again."
---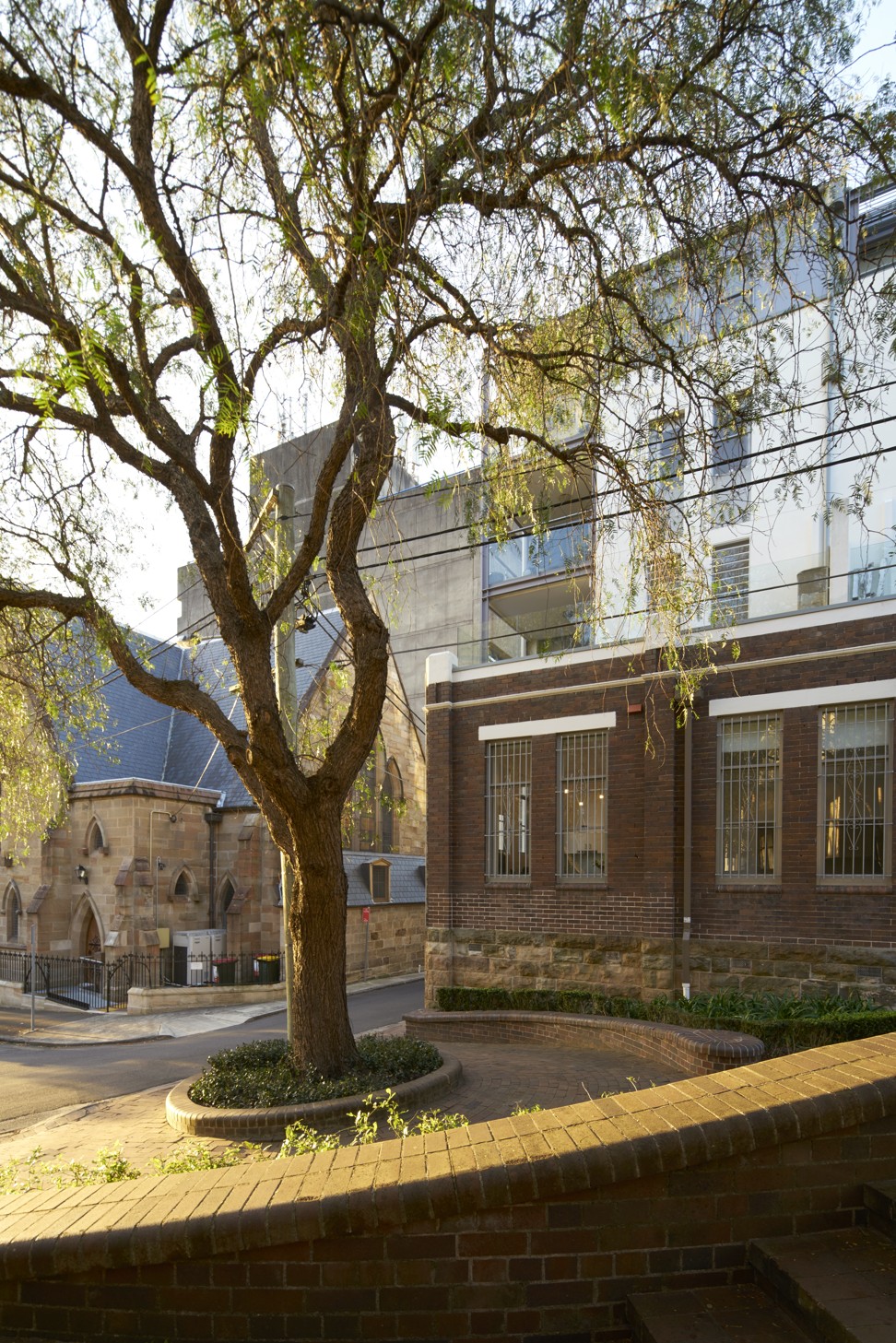 Exterior The Olahs' apartment (with brick facade) is part of a converted church hall in inner-city Sydney.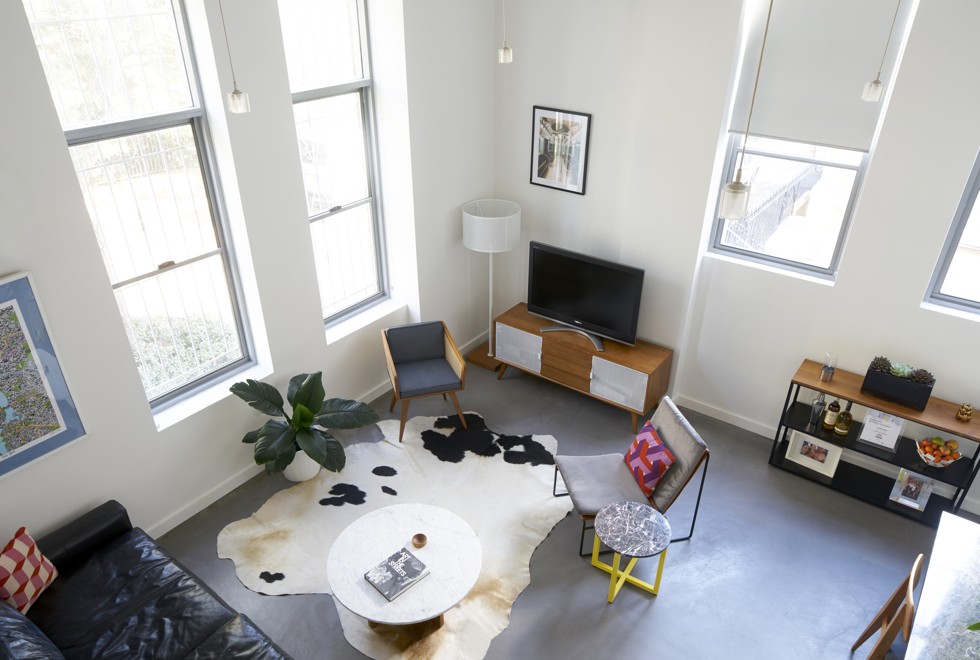 Living room Around the Reddie hide rug (HK$4,950/US$634) are other pieces from the company, including, clockwise from plant, the Jay rattan chair (HK$5,500), available at Lane Crawford; and the Willy sling lounge chair (HK$8,450) with leather and suede cushions; Suzy side table with yellow legs (HK$3,950); and Bob round coffee table (HK$11,450), available directly from Reddie. The Vinny media unit (HK$20,000), which, like the other wooden pieces, is made of solid teak, features perforated metal doors and is also available at Lane Crawford. The Bob floor lamp, another Reddie product, is HK$5,950. The cushions came from Jonathan Adler years ago.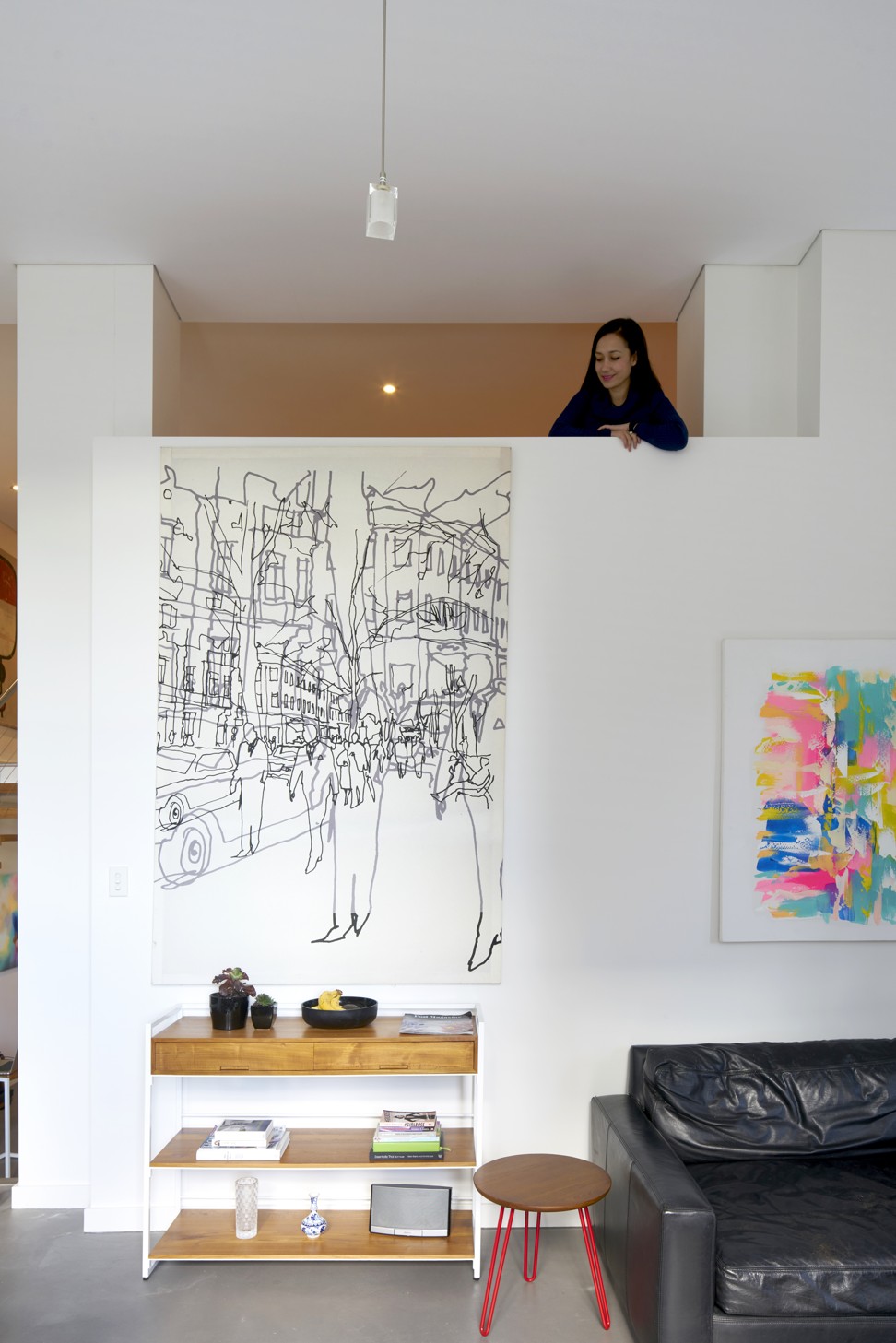 Living room detail From her loft bedroom, Caroline Olah looks down at the living room, decorated with a black- and-white fabric print called Hetkia/Moments (about A$100/US$78) from Marimekko. The colourful artwork came from Bali, Indonesia. The Maxwell sofa (from US$2,095) came from Restoration Hardware years ago. The Suzy console (HK$15,450) is from Reddie, as is the Willy round side table (HK$2,950).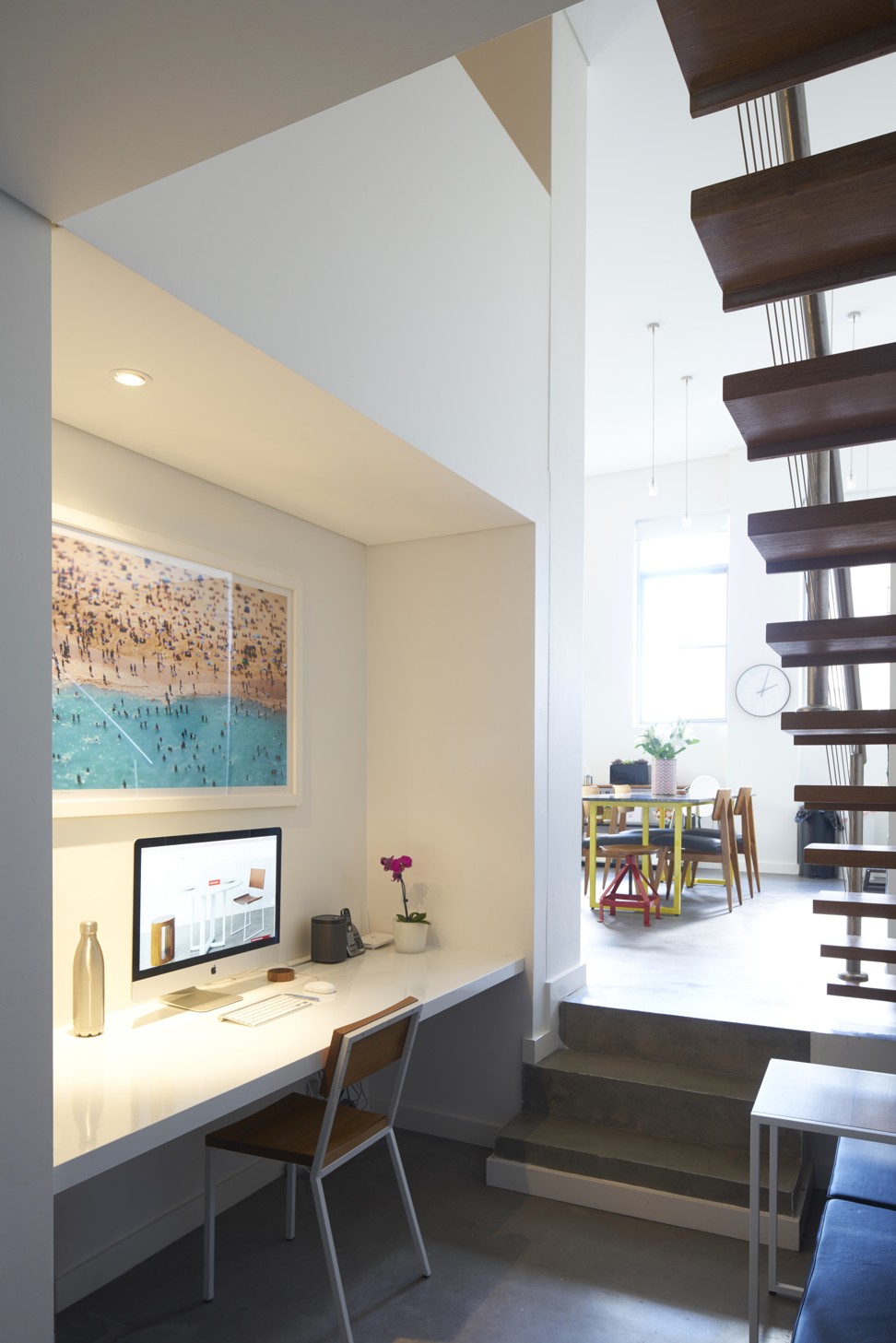 Entrance corridor The corridor alcove accommodates a desk the Olahs put in years ago. Above it is a print of Bondi Beach they received as a wedding gift. The Suzy stackable dining chair (HK$2,850) is from Reddie.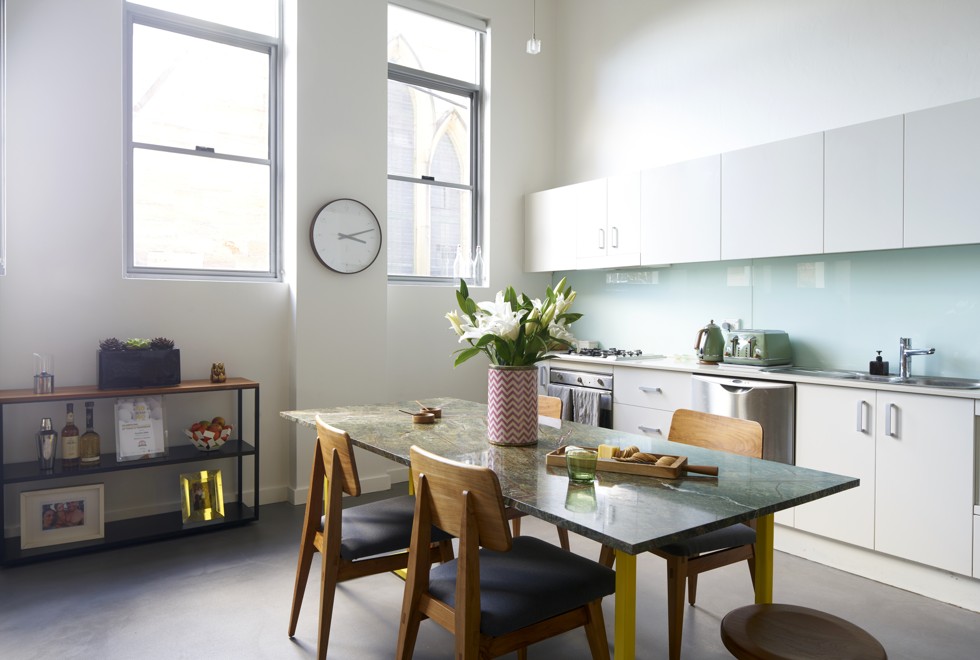 Kitchen/dining room The church next door can be seen through the tall windows of the kitchen, which came with the unit. Around the Suzy dining table (HK$37,450; a round, 160cm-diameter version, with black marble on white legs is available at Lane Crawford for HK$43,000) are Vinny dining chairs (HK$3,450 each), a Suzy adjustable stool (HK$2,950) and Suzy shelf (HK$8,950), all of which are Reddie designs. The vase was a gift and the clock was bought years ago.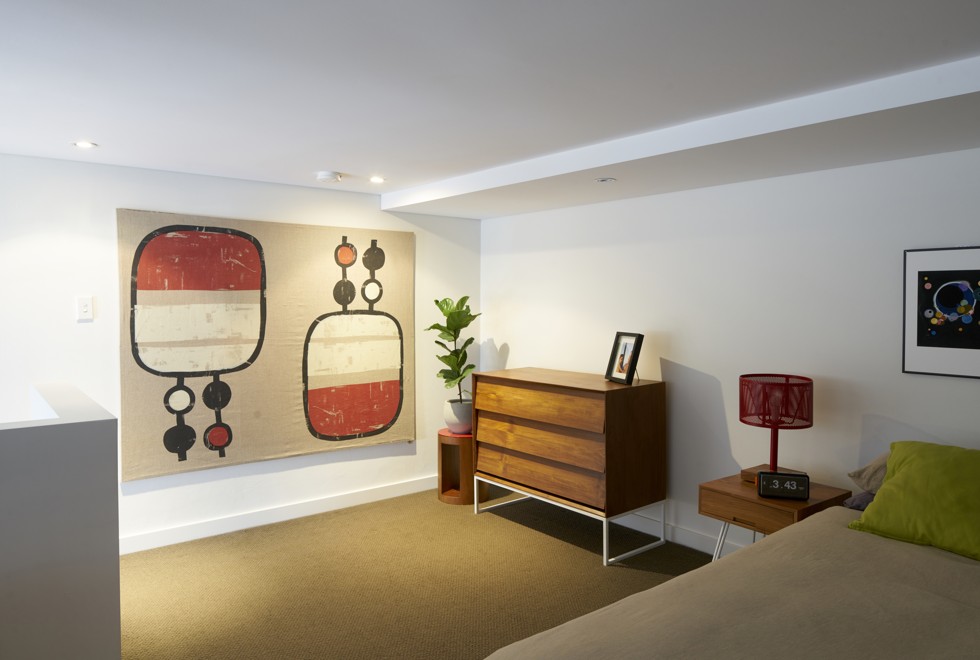 Bedroom Beside the artwork – Roundabout, by Julie Paterson, acquired through her studio, clothfabric.com – is the Bob block stool (HK$2,950), and next to it is the Suzy chest of drawers (HK$21,500). On the Willy bedside table (HK$4,950) is the Bob lamp (HK$2,950). All the furniture is available from Reddie.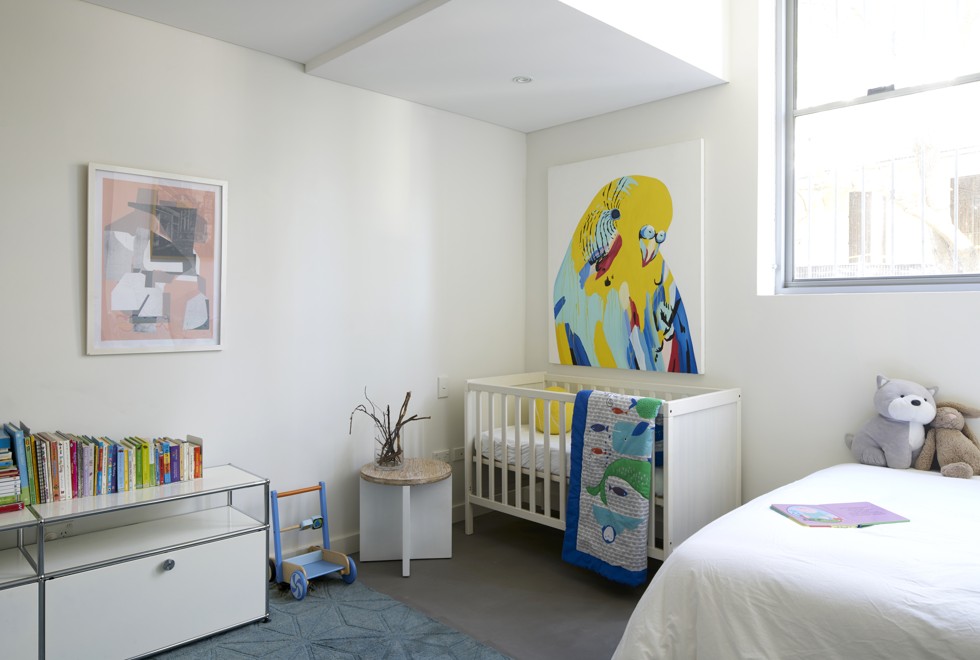 Kids' room Everything in Eddie and Jay's room came from the Olahs' flat in Hong Kong, apart from the Bob round side table (HK$3,450) from Reddie. The cot (HK$1,290) came from Ikea and the parrot picture was a gift. The USM sideboard (HK$16,630) is sold at Elite Goal International (80 Morrison Hill Road, Wan Chai, tel: 2838 2612). The Momeni wool rug (US$1,000) came from Rug Studio, in the United States. The abstract artwork is by Damien Tran. The vase contains sticks Eddie brings home from the park. "They were all over the house so I decided to make an arrangement with them," Caroline says. "So he now puts them there."
TRIED + TESTED
Watch this space Many of the pieces of furniture in Reddie's catalogue were designed by Caroline Olah initially to meet her own needs, and those of friends and family. Her latest creation is this daybed (HK$16,950), with a solid teak frame and leather cushion, which makes the most of otherwise wasted space beneath the stairs. "Eddie always used to sit on a chair there and watch stuff on the computer," Olah says, of her three-year-old son. Now he can sprawl on the bed/bench, beneath which the Olahs hide their shoes. The laptop table (HK$2,500) is available at Lane Crawford.