If ever there were a good advertisement for minimalism, this Caine Road flat is it. Pared back to sleek, sophisticated simplicity, the 610 sq ft space has been trans­formed from a dreary 1970s two-bedder into a masculine pied-à-terre for financial consultant Robert Chan and his golden retriever, Sydney.
Jewel in the apartment's crown is the 450 sq ft terrace. Decked out in wood-composite boards, with a dining table and sofa, an outdoor kitchen and a utility area complete with urinal ("for parties"), the terrace is a fabulous space for entertaining. A living-bamboo screen and fabric blinds fitted horizontally under the partial glass roof provide privacy.
"The terrace was the deciding factor [in buying the apartment]," Chan says. "I work close by and wanted somewhere I can hold dinner parties and small gatherings. I live near Happy Valley and have a place in Sai Kung. This is my urban getaway."
Mastermind behind the renovation was Gary Lai, founder and director of Hong Kong interior design company Spatial Concept, whose focus is on commercial projects.
"Robert and I have been friends for 20 years, and have worked together before on an ad hoc basis," Lai says. "I only take on residential projects for friends and former clients. It's like a hobby for me."
Lai's first task was to gut the apartment.
"The space is basically a square, apart from the skinny entrance corridor, and we wanted to open it up completely," he says. "We were able to take out all the walls because it was column-free."
A Hong Kong bachelor pad gets a bold, bright and blue update
The bulk of the space is divided between a living and kitchen area, and a large bedroom, separated by sliding glass doors. The open-plan layout and flawless white walls help to maximise the light from the rather small windows, and the glass doors allow light to percolate throughout the apartment. Blackout blinds, recessed into the ceiling behind the glass doors, can be dropped for sleeping and privacy, or raised for watching television in bed.
The ultimate Hong Kong man pad - a light-filled 440 sq ft
Lai's commercial background is evident in the slim-profile sliding door frames.
"We worked with the contractor to keep the frames as slim as possible, but still retain the industrial element of the black metal," he says.
It's a vibe echoed in the kitchen, with its industrial-chic, black-stainless-steel splash­backs and dangling Edison light bulbs. Appropriately for an apartment designed for entertaining, the kitchen dominates
the living area and is fully kitted out with appliances, an island and plenty of storage.
"One requirement was to install a proper kitchen because Robert enjoys cooking and uses it often," Lai says.
I work close by and wanted somewhere I can hold dinner parties and small gatherings. I live near Happy Valley and have a place in Sai Kung. This is my urban getaway
Helping to define the space is a change in floor height, and material, between the living and sleeping areas. The living room and kitchen floors are tiled for practicality, while the bedroom floor, which is slightly higher, is covered in wood.
"It's warmer for bare feet," Lai says.
A backlit blue-grey fabric panel on the wall behind the bed helps create a cosy atmosphere, and the oak headboard contains hidden storage for heavy blankets, accessed from the top through a flip-up door.
The semi open-plan bathroom is tucked discreetly around a corner from the bedroom, with the toilet behind the only internal door in the entire apartment.
"It was designed for a single person, so we wanted to make the bathroom as open as possible," Lai says.
Hong Kong flat gets modern makeover with subtle sea tones
Glass was his material of choice, with the toilet door and shower screen tinted smoky grey and the vanity unit cloaked in colour-backed grey glass. Above the sink, the mirrored cabinet door is mounted on lift-up hinges, more usually found in overhead kitchen cabinets, to allow an uninterrupted sweep of mirror. Another mirror, inset into the shower cubicle, gives the impression of a window in an otherwise windowless space.
But the most notable element in the bathroom is the shower wall of tiles in bright, energetic orange.
"We wanted a secret splash of colour," Lai says. "It's a surprise and it helps Robert wake up in the morning."
There are echoes of that wall in a few carefully chosen accessories – the copper-coloured bathroom sink, a red Carl Hansen chair, an orange Le Creuset pan, a Kamado barbecue in pumpkin – that provide welcome pops of colour in an otherwise restricted palette of grey, white and wood. Even the large artworks are strictly mono­chrome in this most elegant of bachelor pads.
---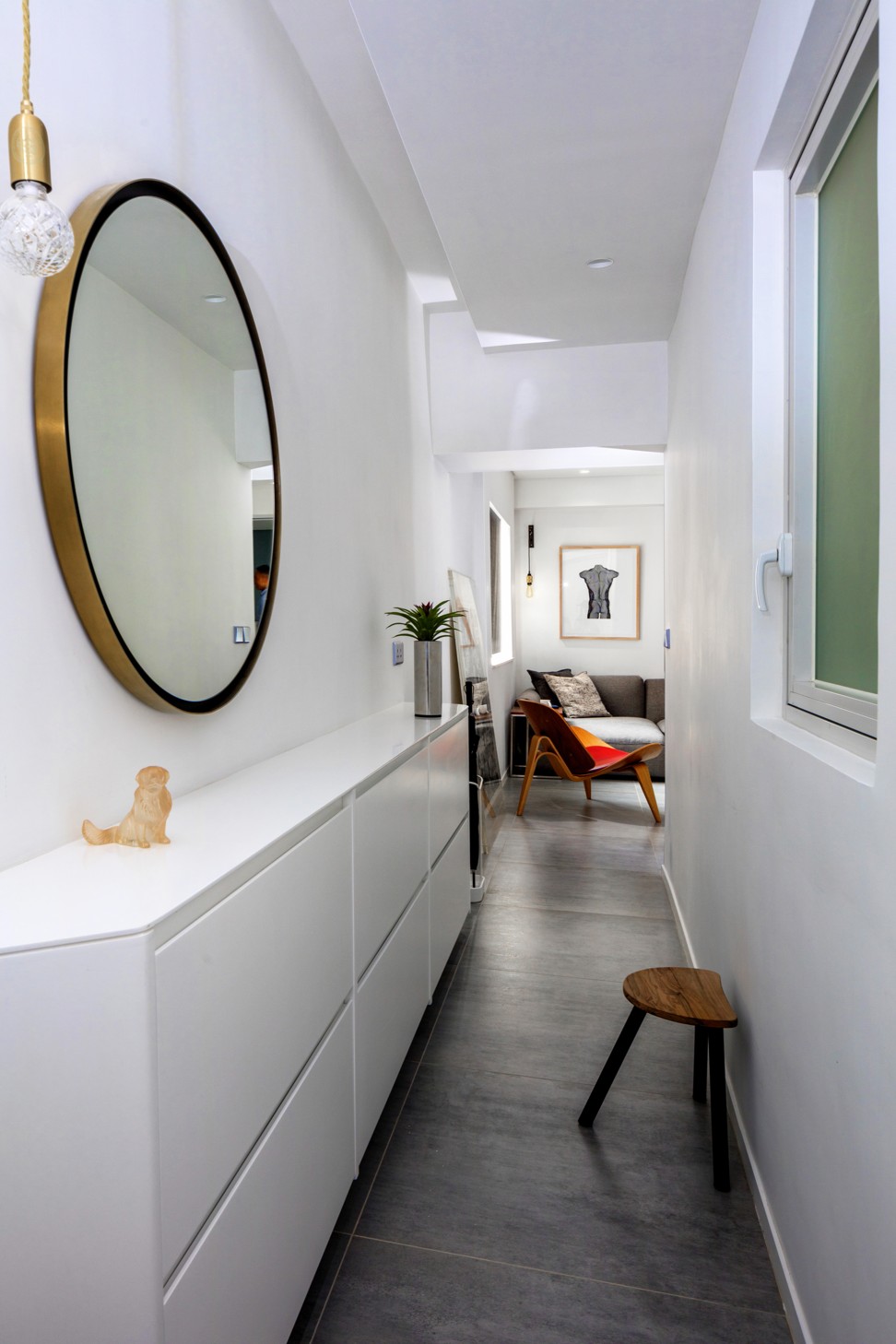 Entrance The skinny entrance corridor is painted bright white to maximise the light. The white lacquer shoe cupboard (HK$17,500) and brushed brass mirror (HK$7,500) were designed and built by Spatial Concept. The crystal bulb pendant lamp (HK$2,820), by Lee Broom, came from Archetypal. The teak stool was HK$4,000 from Aluminium.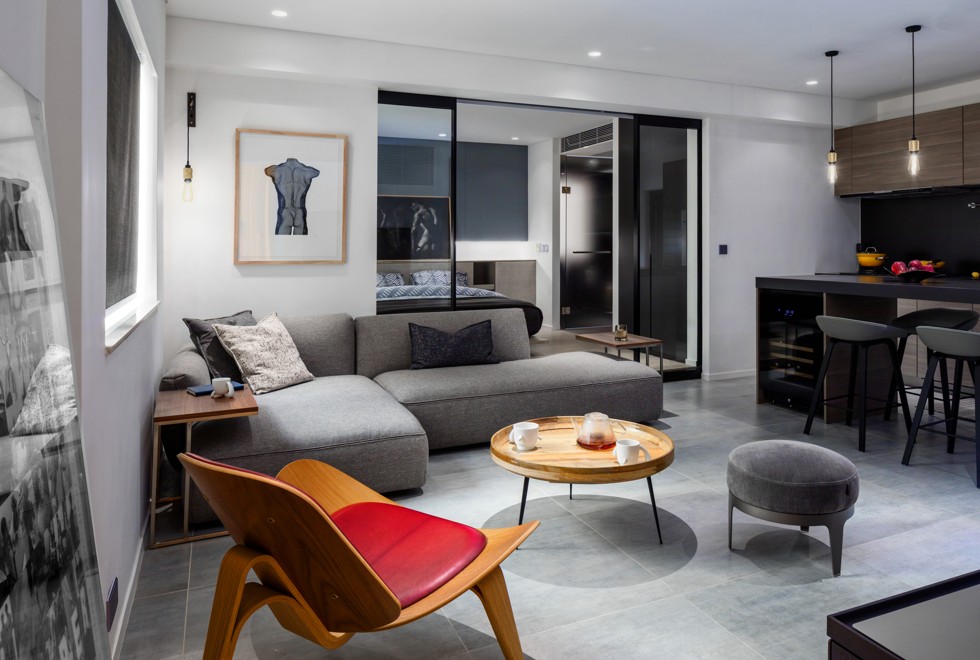 Living room The red, goat-leather Carl Hansen Shell chair (€3,313/US$3,850) came from carlhansen.com. The lacquered mango wood coffee table (HK$3,774) was from Manks. The Herman 2981 sofa (HK$48,000), stool (HK$6,500) and cushions (HK$1,500 each) were from Natuzzi and the wooden side tables were HK$1,500 each from Indigo Living. The glass sliding doors were designed and custom made by Spatial Concept for HK$36,800. The Hooked wall lamp (HK$2,370), by Buster + Punch, came from Archetypal. The etching is by British artist David Begbie.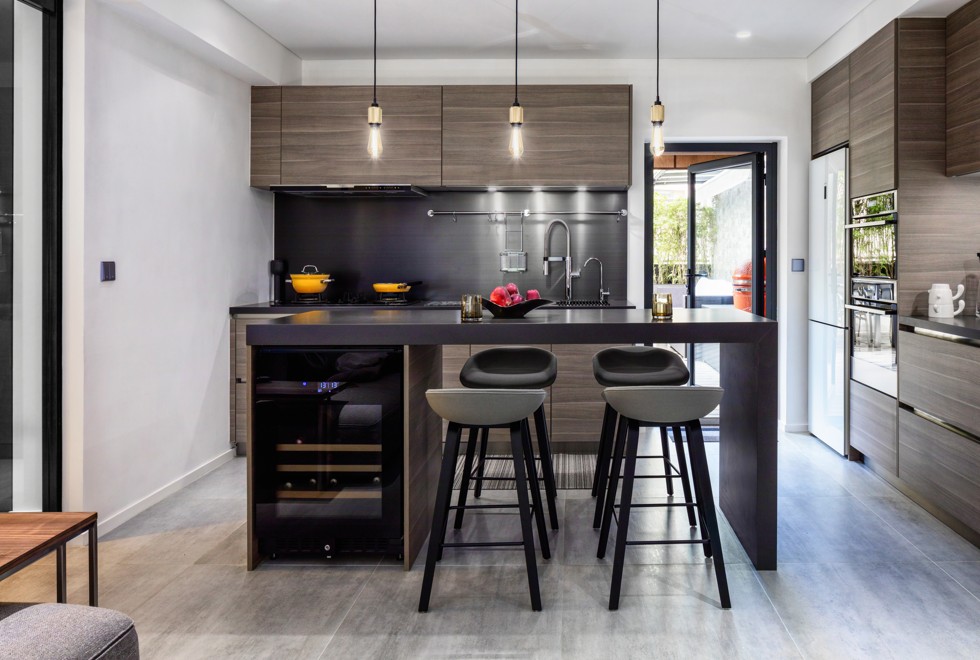 Kitchen The kitchen cabinets (HK$128,200), quartz countertop (HK$19,500) and island (HK$30,900) are from Patata Kitchen. The chrome tap (HK$6,600) was by Blanco and the black stainless-steel splashback (HK$5,000) was designed and custom made by Spatial Concept. The Hay stools were HK$3,370 each from Jeb. The Heavy Metal brass pendant lamps are by Buster + Punch and came from Archetypal.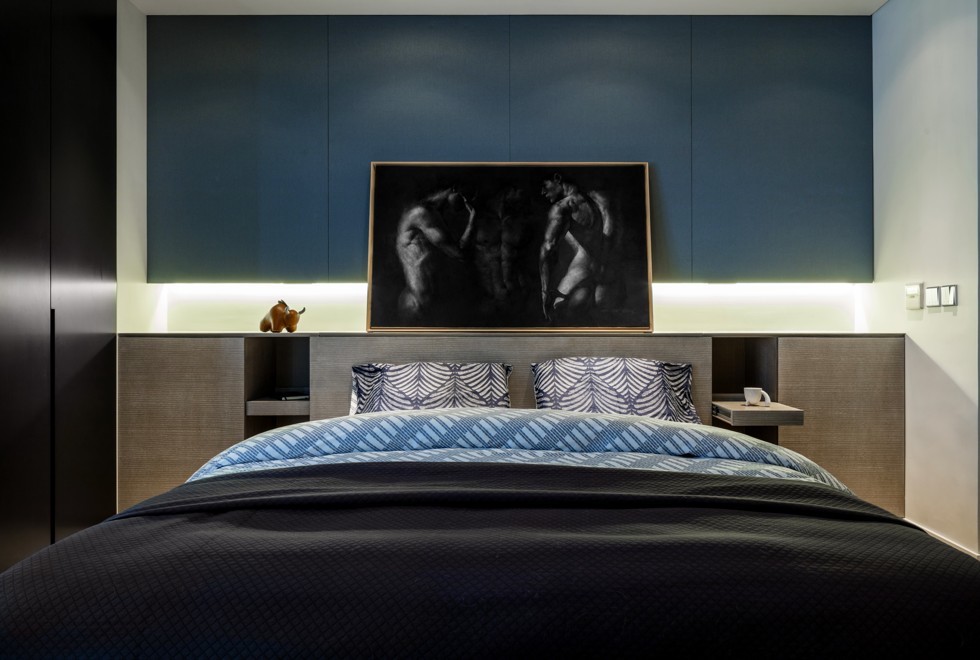 Bedroom The oak platform bed (HK$10,000), headboard and storage (HK$20,500) and black lacquered wardrobe (HK$39,900) were designed and custom made by Spatial Concept. The blue-grey wall panel is in Maharam fabric. The charcoal drawing, by Eunyoung Cho, is from Able Fine Art NY.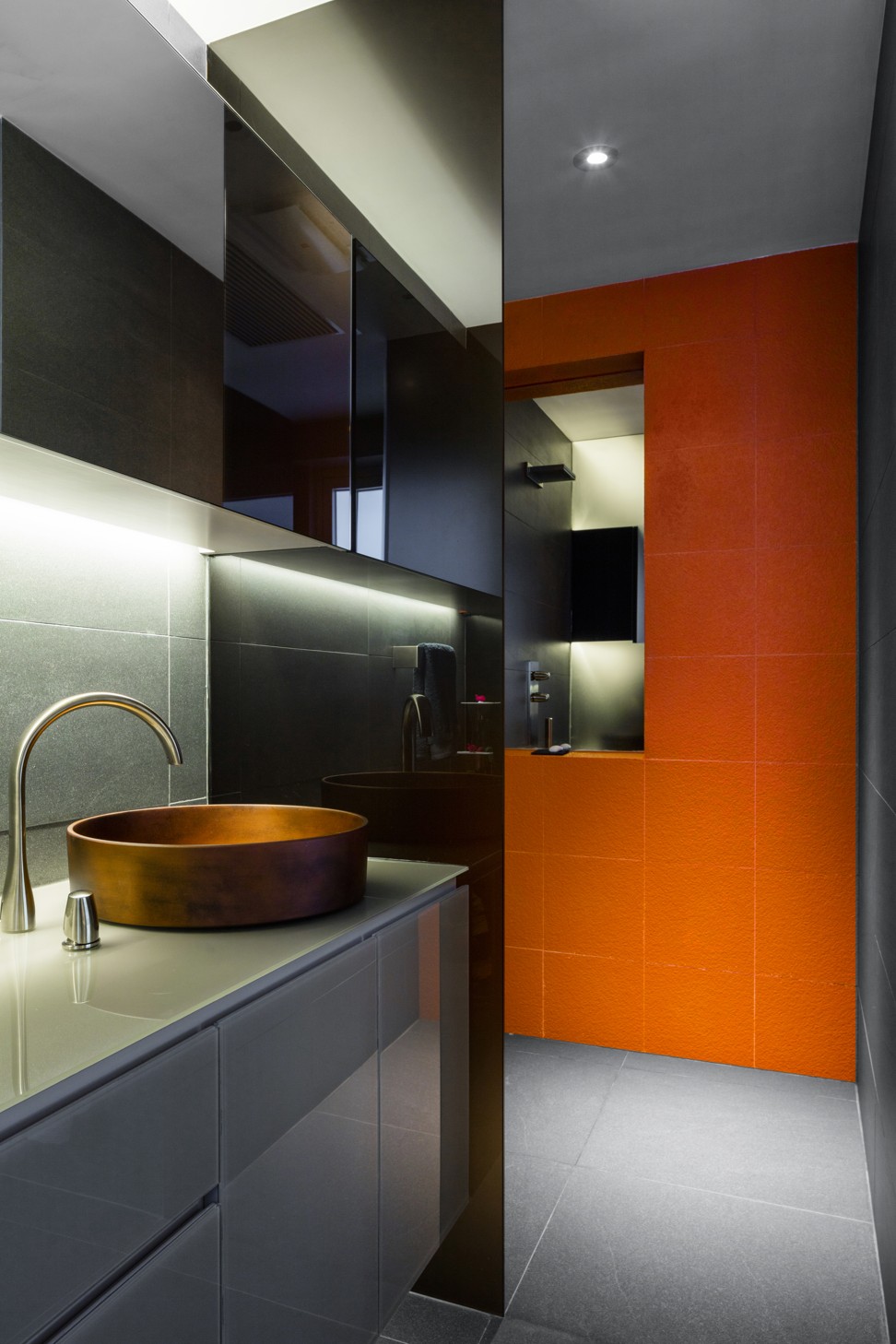 BathroomThe sink (HK$3,500) and Amani brushed gold tap (HK$12,000) were from Colourliving. The vanity unit in colour-back glass (HK$16,500), mirror unit on lift-up hinges (HK$12,500) and tinted glass shower screen (HK$8,000) were all designed and built by Spatial Concept.
Terrace The table and chairs (HK$7,500 in total) and sofa (HK$10,500) were from Sun Garden. The bamboo screen and planting (HK$35,000) was by Stalk Room (141 Caine Road, Mid-Levels, tel: 2517 2525). The Kamado barbecue can be ordered through the Kamado Grill Hong Kong Facebook page.
TRIED + TESTED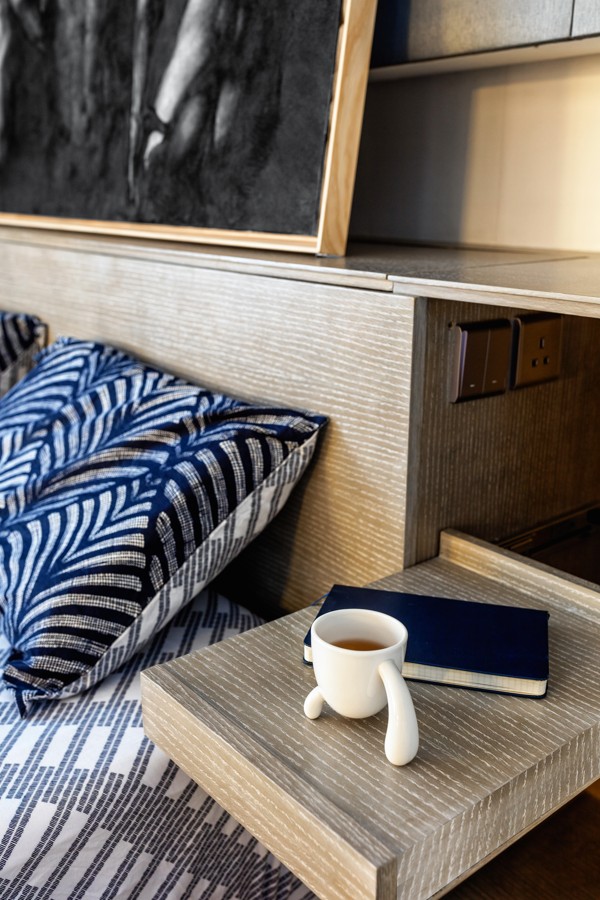 Slide show Instead of bedside tables, Gary Lai, of Spatial Concept, maintained the clean, minimalist lines in the bedroom with pull-out shelves either side of the bed. During the day, these can be recessed – along with anything that sits on top of them. The recesses also contain discreet brass light switches and electrical sockets, handy for charging devices. The pull-out shelves cost HK$20,500, as part of the headboard, and were designed and built by Spatial Concept. The brass sockets and switches are by Clipsal and came from Schneider Electric.