The first time she visited Bali, Sin Sin Man says she felt a strong spiritual and creative connection with the Indonesian island.
"Bali opened my eyes," says the Hong Kong-based artist and contemporary gallery owner. "The people are so open and warm, and the culture and nature are so rich that from the start I was addicted to being there."
That was 30 years ago and the love affair has continued unabated. It led in 1998 to Sin buying several village rice paddies, which she has trans­formed into an unusual home-from-home for herself and her friends.
"It's very quiet. The neighbourhood hasn't changed in 20 years but that is exactly what I like about it," Sin says when friends ask about the location, some 15km inland from the airport in the capital, Denpasar, rather than overlooking the beaches for which Bali is so renowned.
Hong Kong interior designer's Provençal holiday home is a 21st-century take on tradition
Sin built three split-level villas, each of about 3,700 square feet, with two bedrooms and semi-al-fresco living and dining spaces leading out onto a terrace, a lush private garden and a swimming pool.
The three-in-one arrangement is uncon­ven­tional but practical for Sin's purposes.
"I wanted to make each one intimate, quiet and very personal so that when friends come to stay, we all have privacy," she says.
I love Hong Kong and its energy but, when I come to Bali, I don't want to go out and see things, I just want to stay still and quietly absorb it all
To help with the project, Sin turned to landscape designer Gianni Francione.
"He is Italian but has lived in Bali for many years and understands the climate, the land and the materials," Sin says. "I'd seen one of his designs and knew we could collaborate to come up with a new, natural-looking landscape."
Sin's main objective was to create space and views, and feng shui principles called for an open-plan layout maximising air circulation, so the villas have as few walls as possible.
"Feng shui is about the senses, so, for example, the living spaces and outdoors are extensions of each other," Sin says. "The juxta­position of these landscapes was so important that I personally worked on the layouts and details."
Feng shui a force to be reckoned with in Hong Kong, shaping homes and even cityscapes
The interiors are also an expression of Sin's creative philosophy.
"Each villa is slightly different, so I tend to stay in the one that suits my mood, but more often than not it is Villa 3 because its layout is well suited for my work," she says.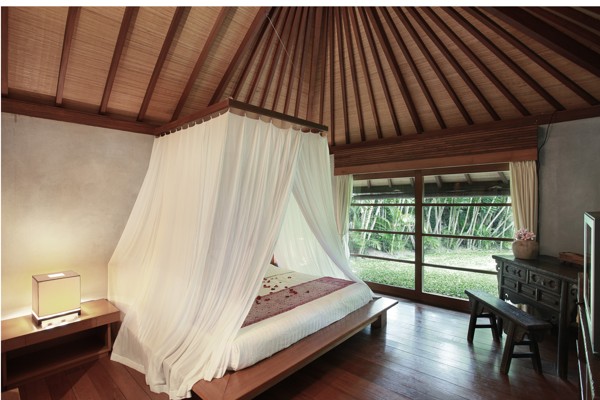 Each is designed to be flexible, suitable for both intimate dinner parties and large celebrations.
Taking advantage of Bali's talent and materials, Sin commissioned local artisans to help create the structures, combining traditional elements and tropical plant life with sleek modern architecture.
Entry to the complex is through a modest wooden gate and luxuriant garden that offer glimpses of the villas' sculptural pitched shingle-clad roofs.
"Much of the teak used throughout the villas is recycled and I used a lot of natural textures within a palette of cream and brown to reflect nature," Sin says.
The sprawling lounge of the central villa (No 2) opens onto a large timber deck and private garden, reinfor­­c­ing the natural flow between indoors and outdoors. The double-height space can be closed off with bam­boo screens, although Sin has created areas within the villas where the garden "seeps" into corners or under elevated teak walkways.
In Villa 1 there is a meditation room on the upper floor and, as with the other structures, two en suite bedrooms on the ground level. Each villa has its own shrine.
"My friends and I spend our days relaxing, reading and meditating," Sin says.
Meet the shadow puppet master teaching Bali's traditional art to younger generations
The artist, designer, collector and founder of Hong Kong's Sin Sin Fine Art gallery has an eye for the unusual, so it is no surprise that her Balinese interiors are decorated with an eclectic collection of antique sculptures, intricate carvings and abstract contemporary paint­ings by artists such as Teddy Darmawan.
Sin spends three to four months of the year in Bali, and regularly rents the villas to other creatives.
"I love Hong Kong and its energy but, when I come to Bali, I don't want to go out and see things, I just want to stay still and quietly absorb it all," she says.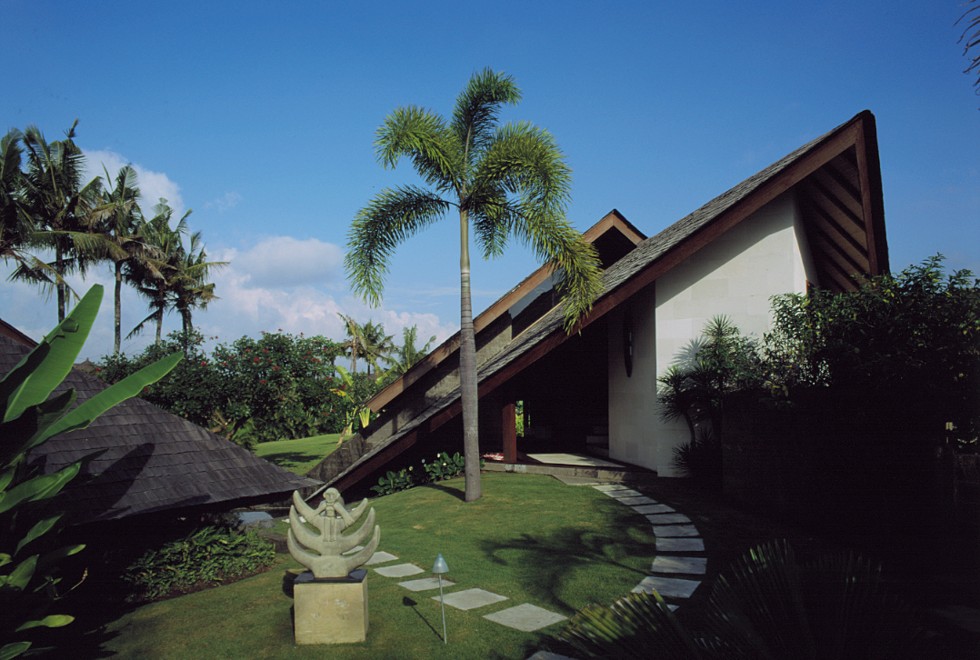 Villa 3 entrance The stone sculpture is a Sumbanese angel statue, a symbol of protection that Sin Sin Man bought from a private collector. Sin created a path using white Palimanan stone paving slabs from Palimanan village, in the Cirebon Regency of West Java.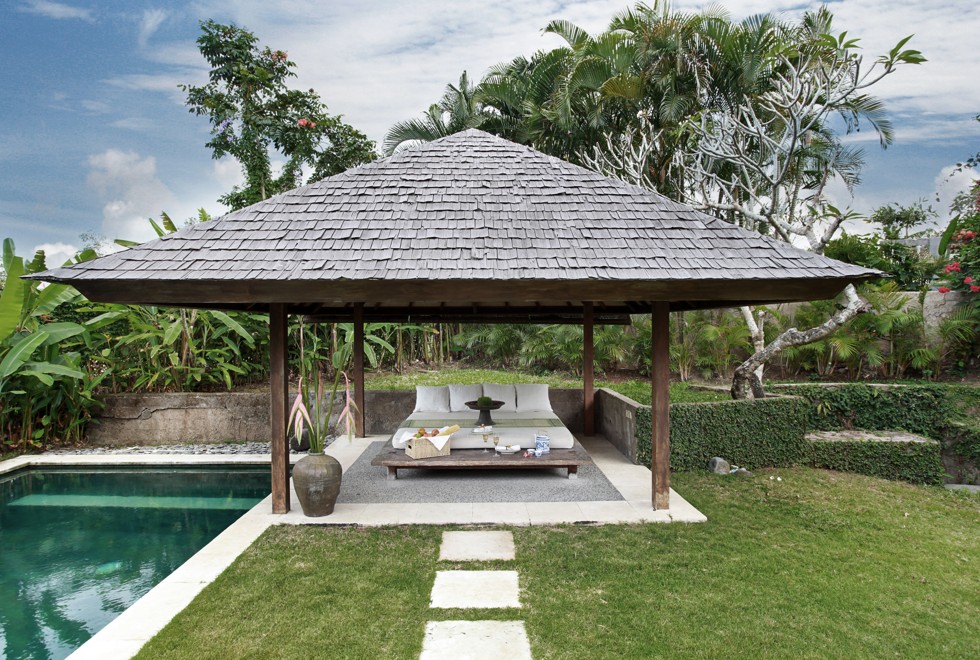 Pavilion The bale is a traditional pavilion widely used in Java and Bali as a space in which to relax outdoors. Sin has furnished hers with an antique Javanese teak bed.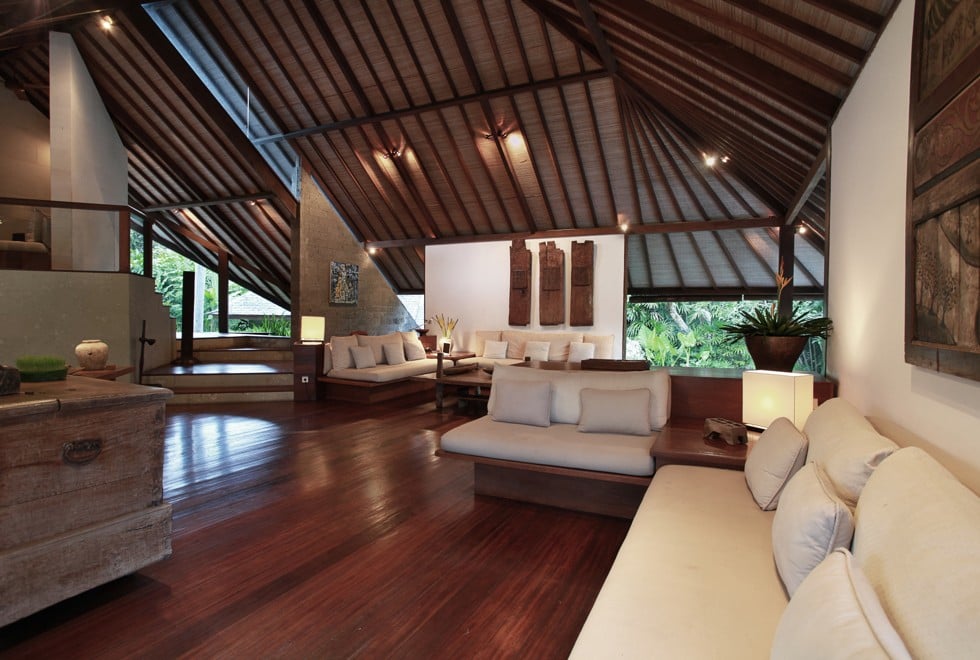 Villa 3 living area Bengkirai timber, renowned for its strength, is used as flooring throughout the three villas. Sin designed the built-in teak sofa and cushions. The three panels on the central wall are antique Javanese batik printing blocks that Sin bought years ago from Warisan, in Bali. On the left wall is an acrylic on canvas artwork titled Mountain Peoples, by Indonesian artist Bob "Sick" Yudhita, who is represented in Hong Kong by Sin Sin Fine Art.
Sin designed the linen lamp on the table between the two sofas (in the foreground). On the same table is a small antique timber container called a kinangan, originally designed for serving betel leaves and nuts with clay and tobacco at traditional Indonesian events.
"It represents the good intention of opening a conversation or an important discussion, and is widely used all over the archipelago of Indonesia," Sin says.
The large teak trunk is traditionally used to store fragile chinaware. Sin's collection of antique ceramics dates back to the Majapahit Hindu kingdom (1293 to circa 1500), in East Java, and was mainly bought from Umbu Art (Jalan Tangkuban Perahu, Kerobokan, Kuta Utara, Bali, tel: 62 818 358057).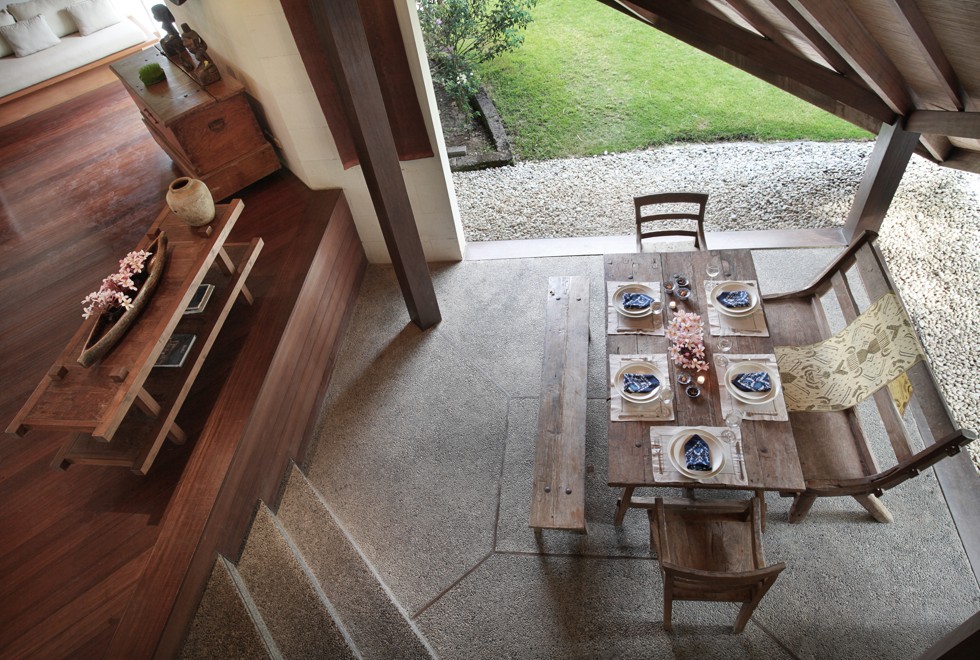 Villa 3 dining area The wooden table, chairs and bench are made of antique Javanese teak. Sin added a hand-painted batik tulis – "written batik", traditionally worn over the shoulder by Indonesian women – found at Umbu Art.
On the upper level are antique Javanese teak shelves and a boat-shaped teak wood bowl traditionally used to display fruit. A chinaware storage trunk, from Warisan, is decorated with Loro Blonyo Javanese statues, symbols of fertility.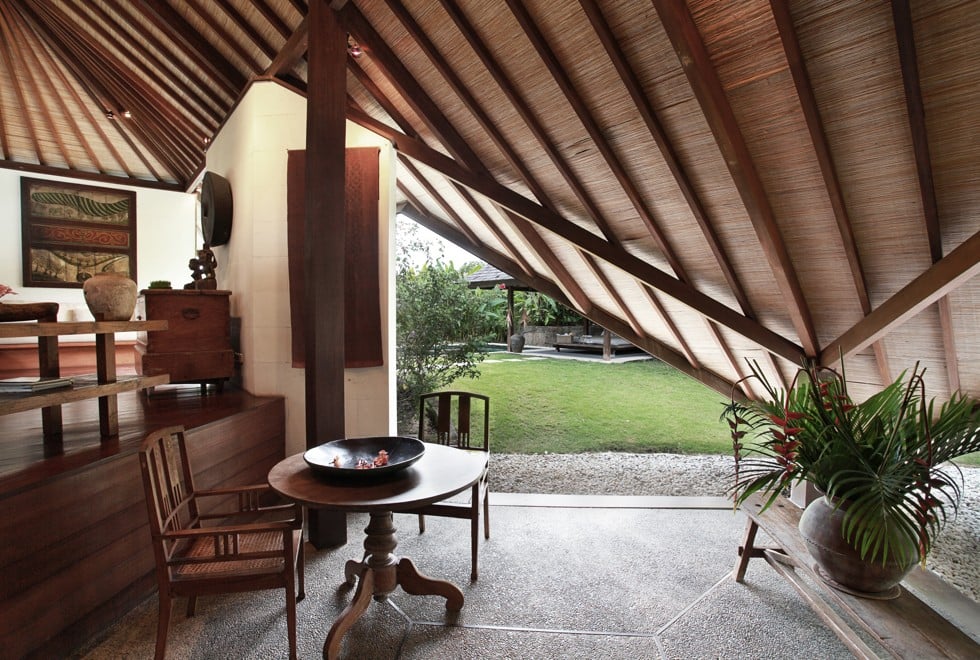 Villa 3 detail The distinctive black pebble stone flooring was designed by Sin. The antique Javanese teak bench and table and the rattan chairs were found in various galleries, including Warisan. The painted wood carving in Dutch colonial style on the far left wall was from Java and the bronze gong musical instrument from Bali.
The hanging textile is an antique Balinese wedding dress made of woven gold thread and naturally dyed pineapple fibre thread. Sin bought the antique East Javanese ceramic bowl 20 years ago from an antique dealer in Bali.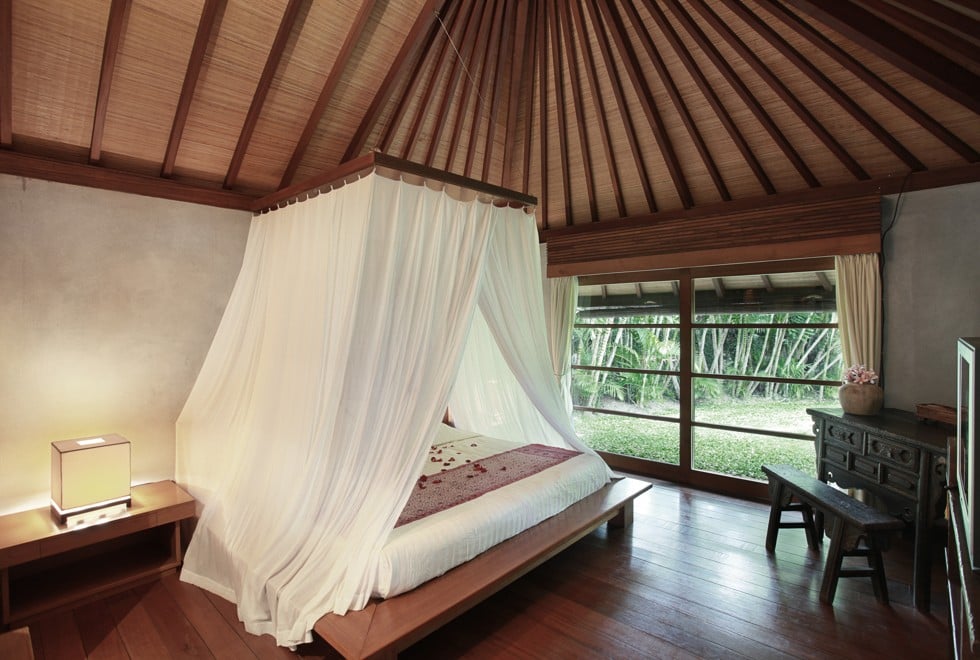 Villa 3 bedroom The teakwood bed was designed by Sin and made in Bali. Sin added natural linens and a batik tulis. "The antique Chinese lacquer dressing table reflects Indonesia's strong Chinese influence, recorded since 1293," says Sin, who custom made the teak bedside table.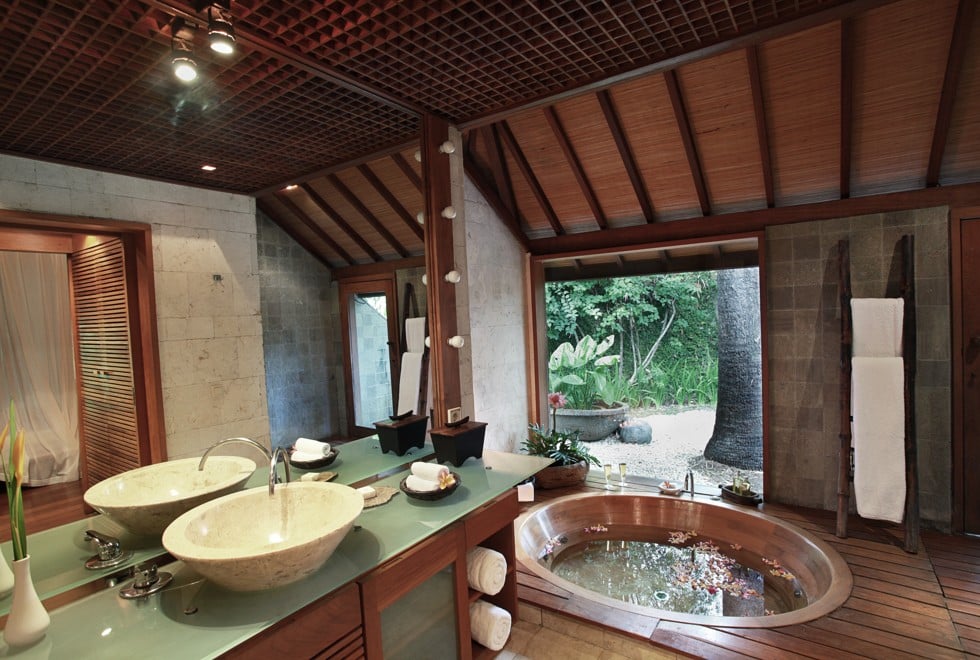 Bathroom The custom-made teak Jacuzzi was designed by Sin in collaboration with Italian architect Gianni Francione and made in Bali. The taps and marble hand basins were sourced in Bali. The teak counter is topped with a piece of Japanese artist Seiki Torige's sandblasted glass.
---
Tried + tested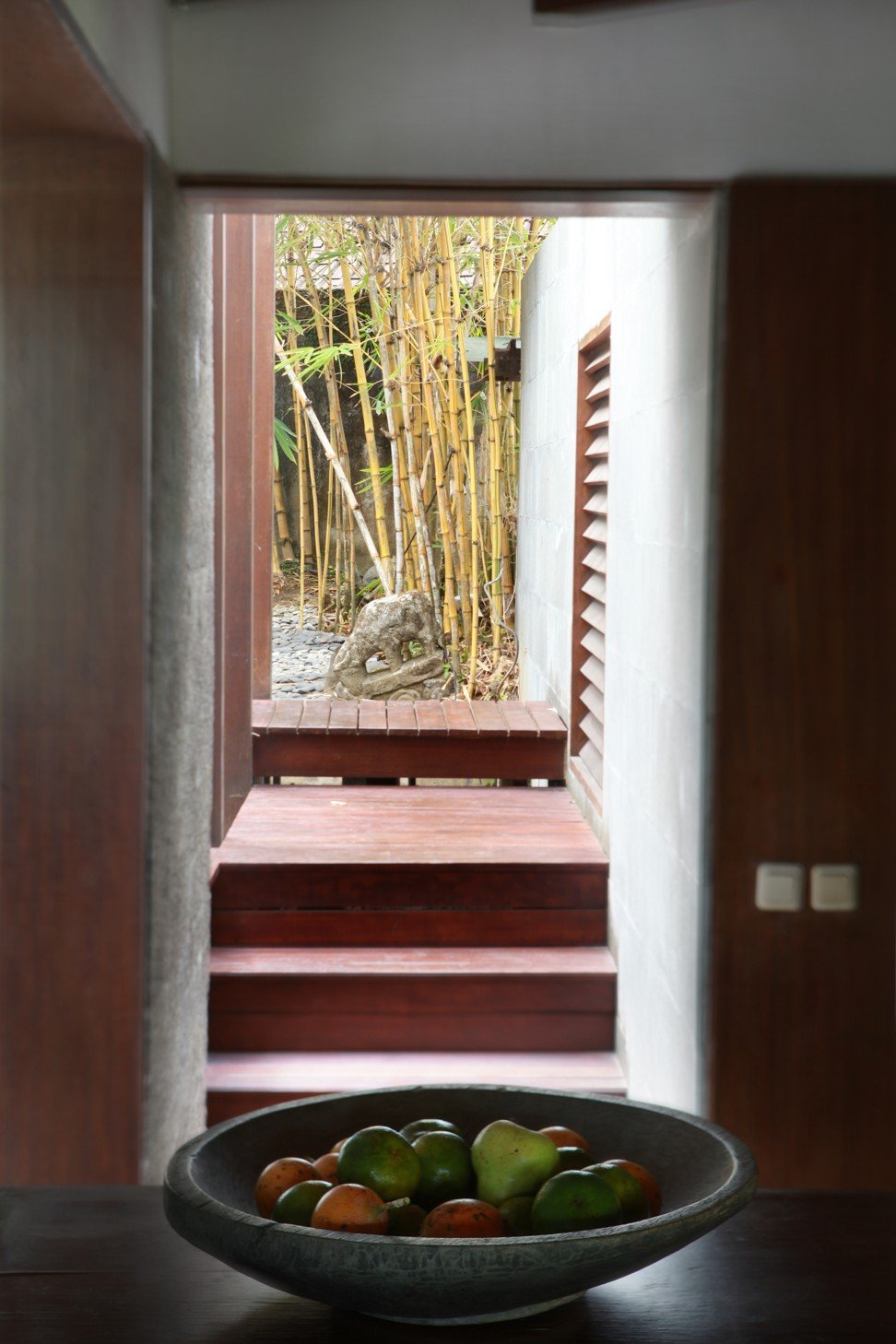 Step farming The raised teak walkways built into Villa 1 were inspired by the site's previous use as a rice paddy. "I wanted to create spaces with different levels that reflect the rice paddy's levels," Sin says. "The walkways add a playful touch and extend a feeling of the outdoor landscape within the villa."