Seven years after Tania Reinert and her husband, Alexandre, moved to Hong Kong from London, they decided it was time for a change.
"We lived on Caine Road but I really hated Central," she says, explaining that their move to Lantau came after a suggestion by Alexandre, who used to visit the island to cycle. "I had never really considered moving here."
Intrigued by the idea, the couple decided to gauge market interest in their Hong Kong Island apartment, which they owned. "Within a week it was rented," Reinert recalls.
Reinert looked at several houses on Lantau and quickly signed the lease on a 1,650 sq ft, two-storey, three-bedroom house with a roof terrace, in Cheung Sha.
"It was all very fast," she says of their decamp­ment in June. "We did the whole move in two weeks."
One of the key features of the house was the living room's enormous window, which looks on to dense forest.
"We walked in the front door, saw the view and were like, 'Wow'," Reinert says. "This much greenery was incredible to us after living in Central."
Five places to shop for ethical fashion in Hong Kong, and why you should
As well as looking after her two young children, three dachshunds and a parrot, Reinert is co-founder of online boutique A Boy Named Sue, which sells sustainable fashion, and is the founder of Nika Kai Travels, a parenting blog that she plans to expand into an online store selling eco-friendly homeware and childcare products. So it's no surprise that environmental considerations were top of her agenda when decorating her family's new home.
"Sustainability was something I was thinking about a lot, but Hong Kong is very limiting," Reinertsays, citing a shortlist of furniture shops with eco-credentials, including Tree (from which she bought sofas), Okooko (children's beds and mattresses) and Ferm Living.
We walked in the front door, saw the view and were like, 'Wow'. This much greenery was incredible to us after living in Central
Finding suitable furniture and home­ware in Hong Kong was such a struggle that Reinert shopped online for many items.
"Etsy is my favourite," she says. "I first used Etsy for buying things for the kids; then I realised that you can actually find all sorts of things on there very easily. When I'm looking for art, I look on Instagram."
As tenants, the couple have done little apart from furnish their home, which on the ground floor accommodates a living room, kitchen, dining room, spare bedroom and small bathroom, tucked beneath the stairs. Upstairs, there's a master bedroom with an en-suite bathroom, children's bedroom and another bathroom.
I Know a Place: Tania Reinert, A Boy Named Sue e-tailer
The couple painted the interior walls a light grey, to add warmth to the rooms.
"I made sure my paint was the Dulux Ambiance range, which is odourless and eco-friendly," she says. "The kids can sleep in the room the same day you paint it."
The generally neutral colour palette of greys and creams is broken up by art and an assortment of plants dotted throughout the house.
"We have cactuses, ivy and big trees inside," Reinert says. "I feel like plants clean the air – they freshen things up."
Living on Lantau has inspired Reinert to decorate with green­ery in a way she never could in Central.
"If branches fall off the tress outside, I bring them in and put them in vases," she says. "Once you get into plant decoration, you can't get enough. You want more and more and more. Here, I can experiment with plants as much as I like."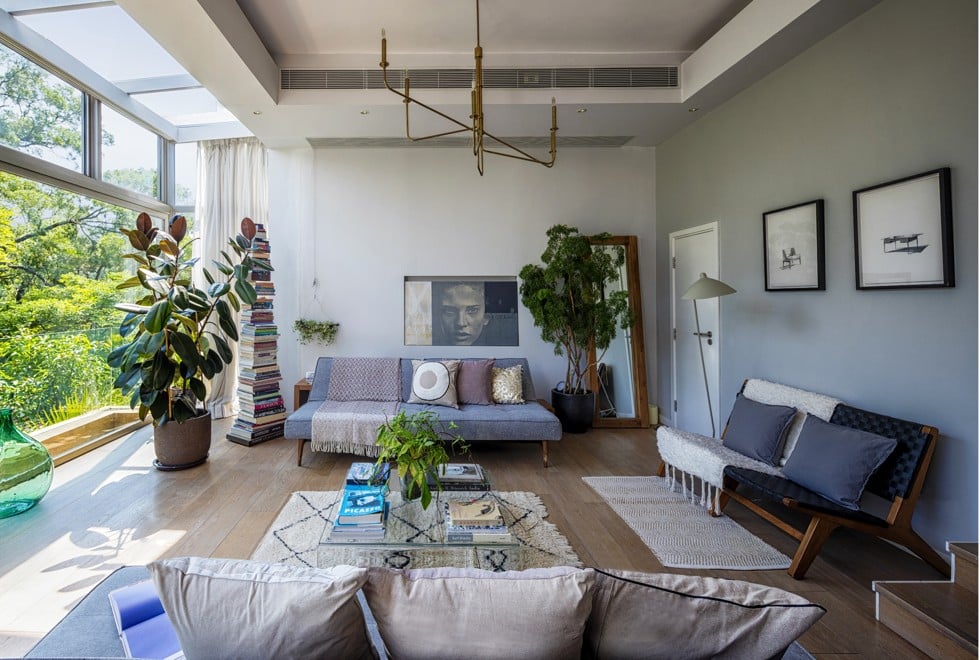 Living area Tania Reinert covered the television with a painting by an unknown artist.
"I grew up in a house with a lot of TVs, so I'm really anti-TV," she says. "Once in a blue moon we take the painting down for a movie night."
The ceiling light (HK$2,300) and floor lamp (HK$2,990) were from Indigo, as were all of the cushions (HK$500 each). The two grey sofas (HK$19,950 each) were from Tree. The black sofa and bookshelf were bought years ago. Beneath the coffee table, which was a gift, is a Moroccan rug from Etsy store TheClassofRug. The large vase was from Casa Capriz.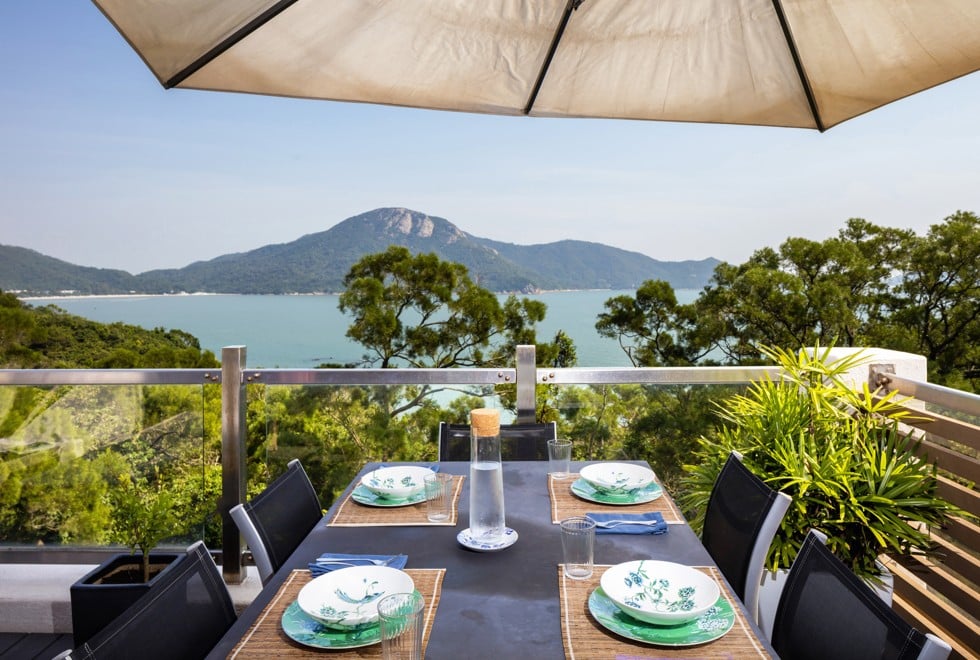 Roof Reinert's home overlooks Pui O bay towards the Chi Ma Wan peninsula. The Jasper Conran plates and bowls were a wedding present; the carafe by Menu was from get.give; and the glasses were from Ikea. All of the outdoor furniture came with the house.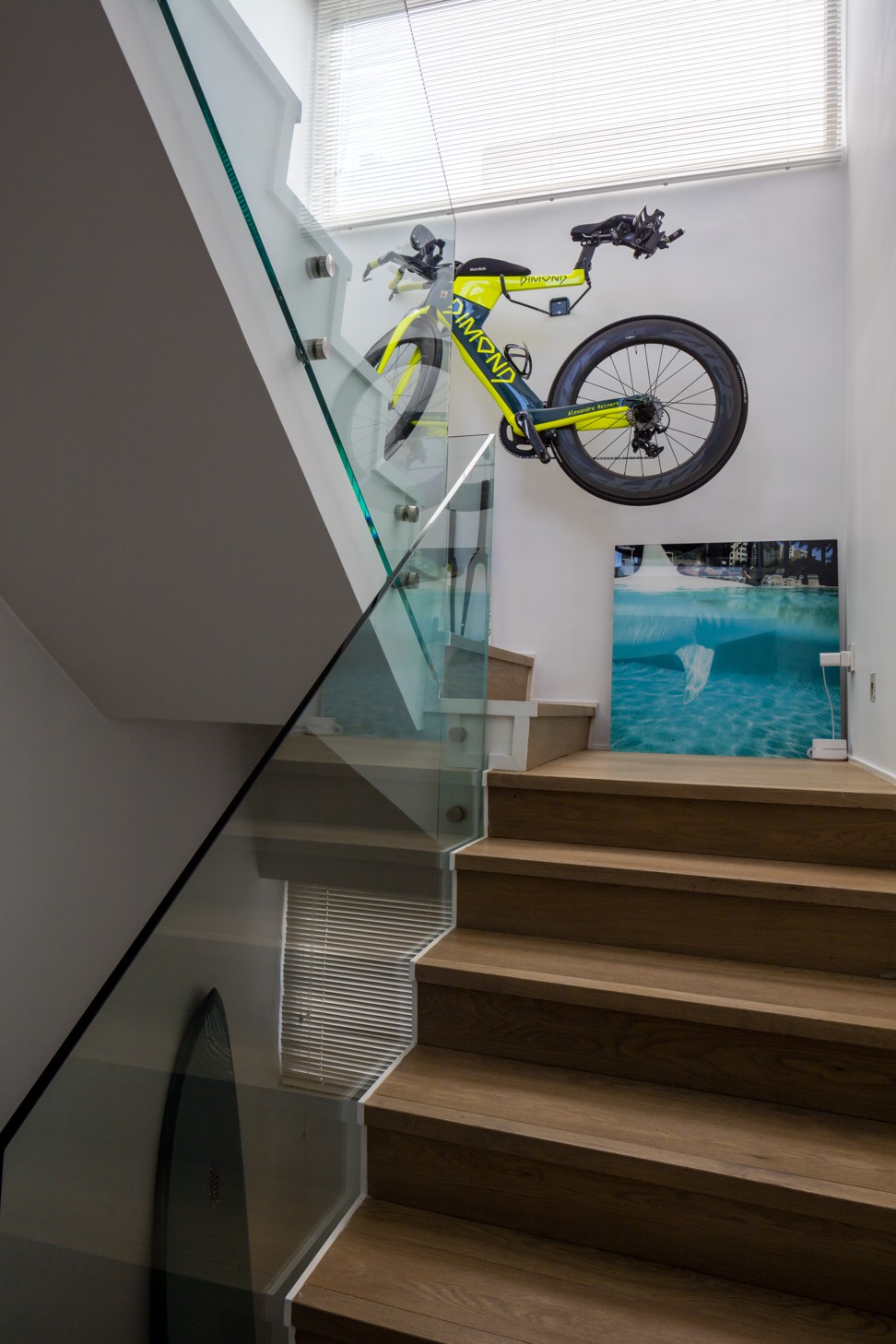 Stairs A keen triathlete, Alexandre has two bikes. To save space, both are kept on bike racks on the stairs leading to the roof terrace. Like the bike racks, the photograph was a gift.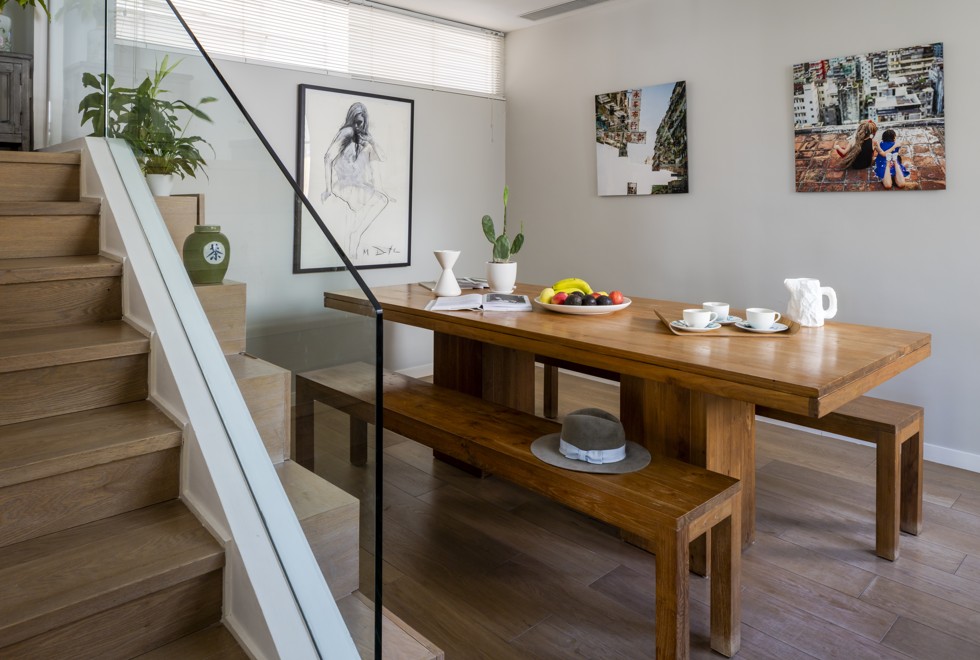 Dining area The dining table (HK$17,500) and benches (HK$4,450 each) were from Tree. The two photographs are by Hong Kong-based photographer Xue Tan and the black-and-white artwork is by British artist Mark Demsteader.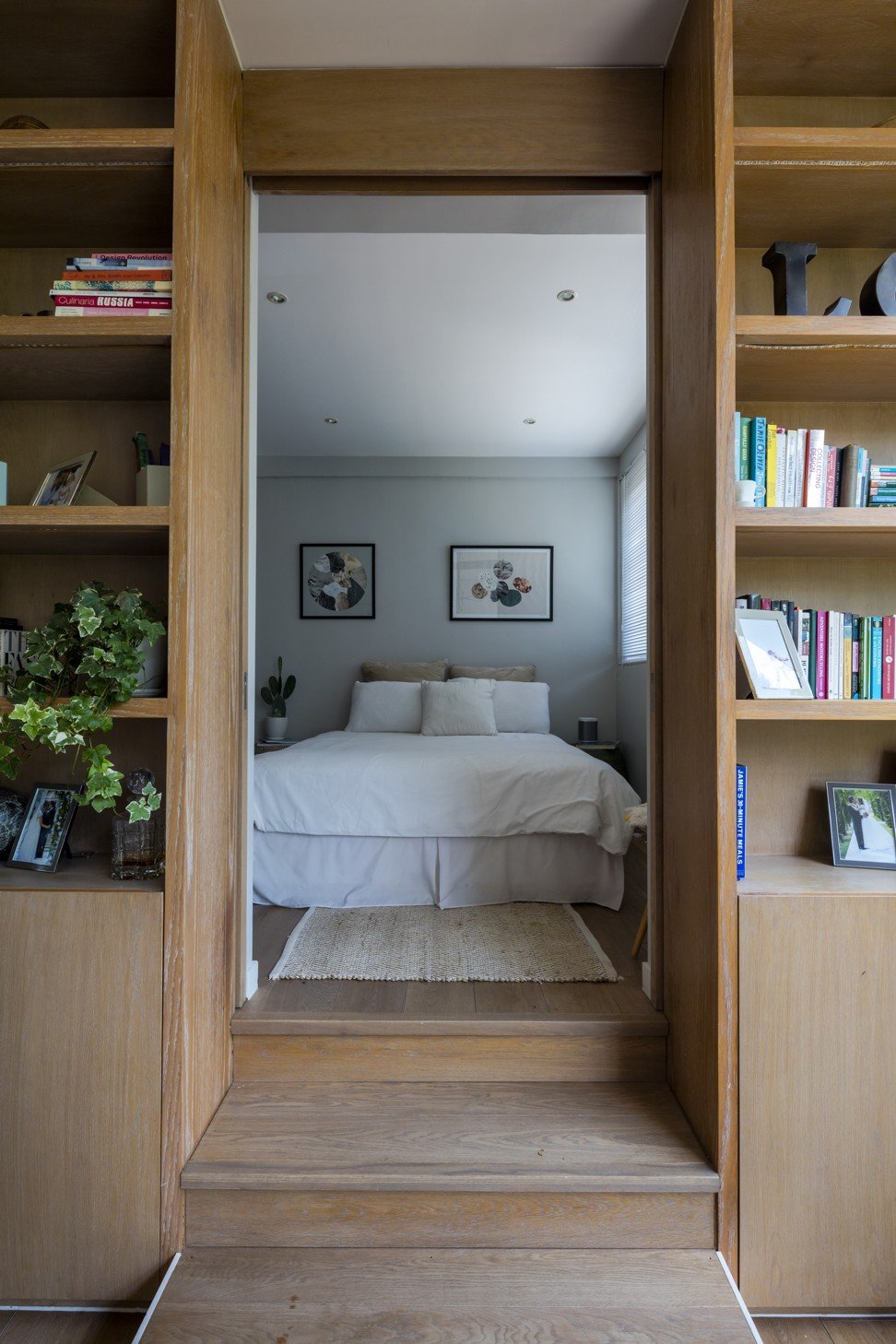 Guest bedroom The spare bedroom, which is off the living room, is painted in Designer Grey paint (HK$178 per litre) by Dulux, which Reinert used extensively throughout the house. Above the bed are two prints by Danish artist Kristina Krogh.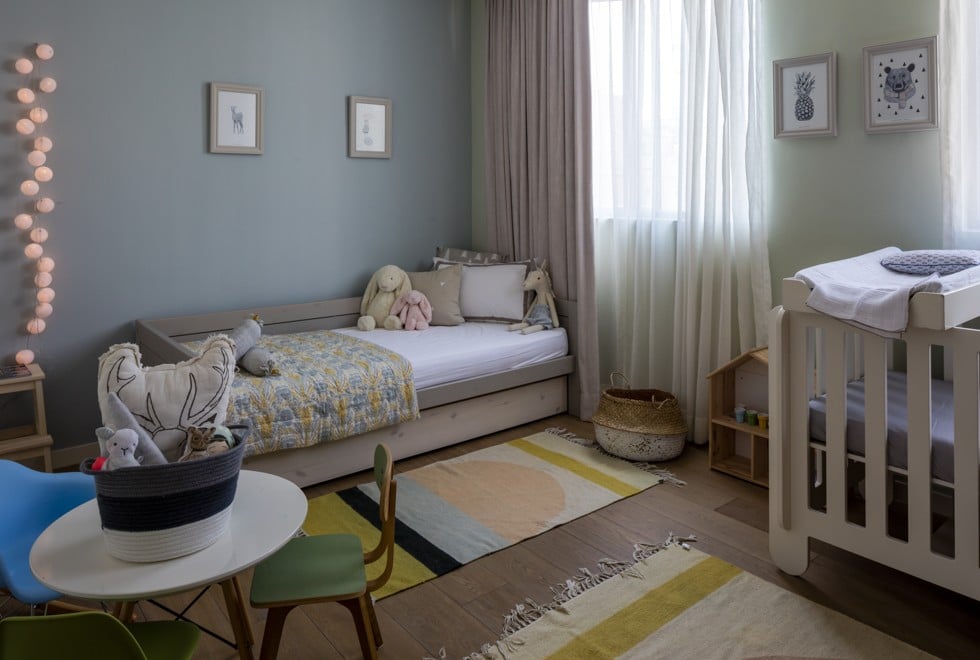 Kids' room In the children's room, Reinertused muted, pastel shades. The bed (HK$15,600) was from Tavolo Lifetime Kidsrooms and the cot (HK$8,200), by Oeuf, came from Okooko. On the bed is a block-printed quilt by Malabar Baby, and sold through Nika Kai Travels. The rugs were from Ferm Living and the green wooden chair (HK$1,500) was from Sand. The table (HK$500), blue chair (HK$250) and other green chair (HK$250) were from Decor8.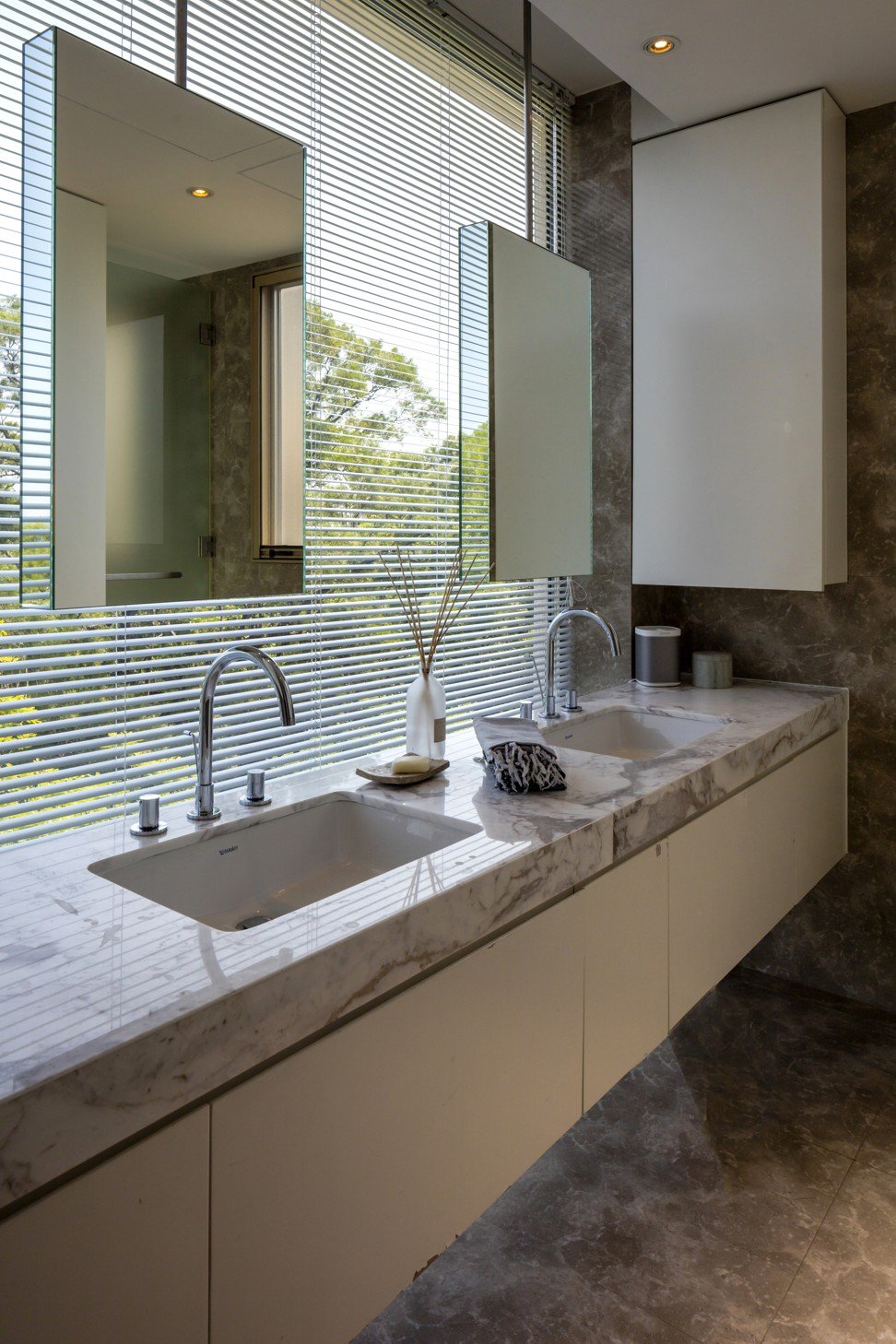 Bathroom The master bathroom, left as was, looks over dense forest to the sea.
---
Tried + tested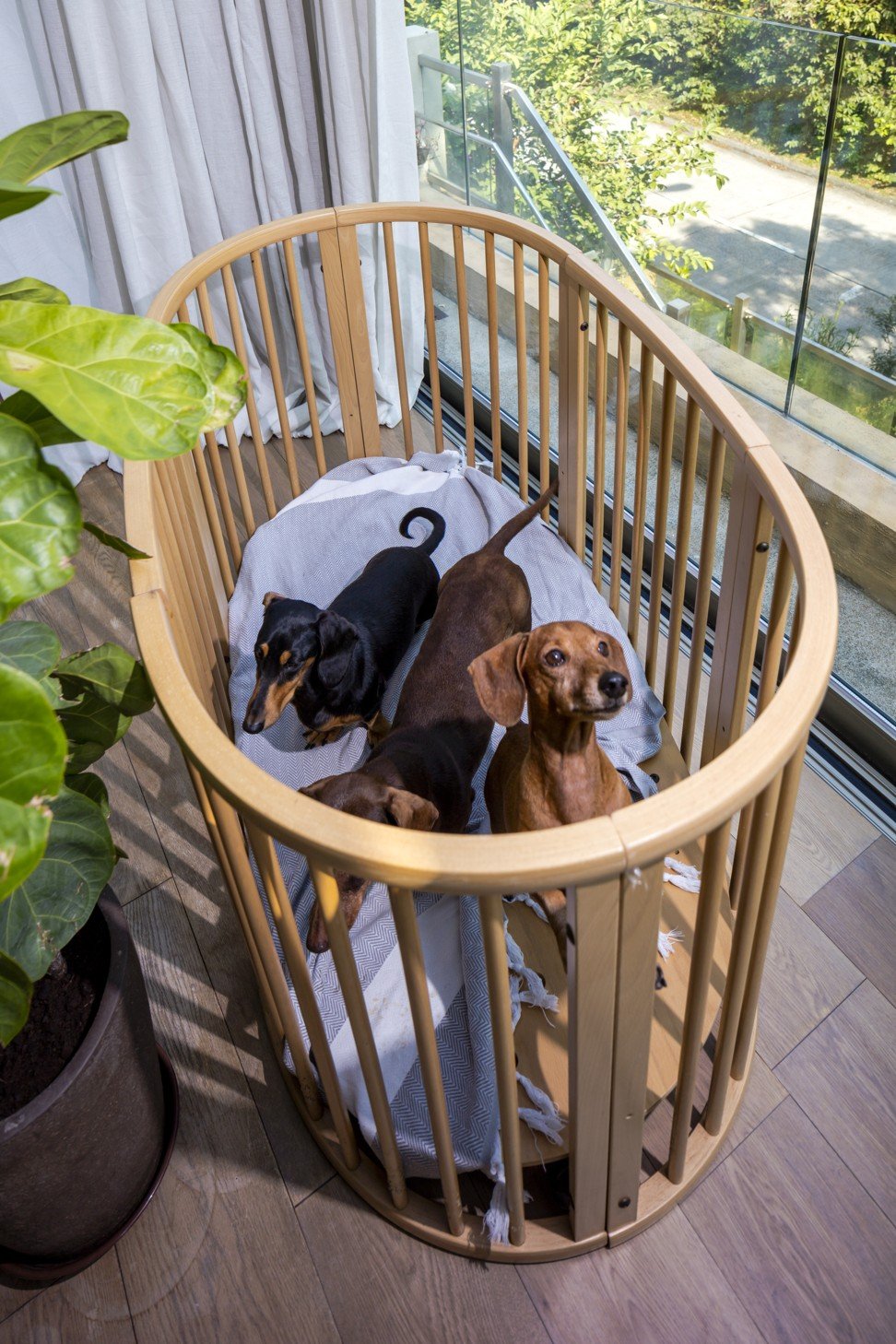 Dog house Tania Reinert has a three-year-old daughter and a two-month-old son, so invested in several pieces of furniture for them. But after buying this cot (HK$7,100) from Stokke, she discovered it was more suitable for the family's three dachshunds than for her kids.
"It's perfect for the dogs," she says. "We started with one dachshund, then we got a second one, then a third. When we're out of the house, if we leave the dogs out then they go into the rubbish bin and cause all kinds of trouble. Putting them in here solves that problem."■