Roosting on a high floor in Wan Chai's Convention Plaza, with a bird's-eye view of the harbour, this 1,500 sq ft apartment was a couldn't-ask-for-better commission for its designer, Sean Dix. Five years ago, he took the generic three-bedder and crafted it into a bespoke gem, where every last centimetre meets Arts and Crafts pioneer William Morris' famous criteria of being both useful and beautiful.
"She was a dream client," Dix says of its entrepreneur owner. "She said, 'Design it as if it's yours.' She wanted us to think of every little thing, to really study it. So that's what we did. It was like putting together a puzzle with all these little pieces."
Why Hong Kong's a challenge for designer Sean Dix
The design's genius lies in its apparent simplicity. Dix used a restricted palette of materials – wood, mirrors, sandblasted glass and matt white marble ("I don't like shiny") with pops of orange – and kept the lines strong and clean. Most of the furniture is custom made and built in, and even the free-standing pieces are from Dix's own range. Every corner is rounded, every light recessed, every utility placed neatly out of sight.
"I call it friendly minimalism," the designer says. "The radius corners trick the eye: if you can't register the corners it makes the space feel bigger."
Dix plays a similar trick with the sofas, kitchen peninsula and even the toilets, which are all cantilevered so they appear weightless, maximising the visible floor space to make the apartment seem larger.
I spent a tonne of time thinking of ways to maximise the space. In a Hong Kong apartment, you really have to use every last square centimetre
"Sofas never get moved, so we had them built in, with lighting underneath to look like they are floating, and storage behind the cushions," he says. "I spent a tonne of time thinking of ways to maximise the space. In a Hong Kong apartment, you really have to use every last square centimetre. We came up with some pretty cool storage ideas."
Dix took inspiration from high-end yacht design to utilise every possible storage opportunity.
"More designers in Hong Kong should think like this," he says.
Hong Kong family's one-bedroom home makes for open-plan living
Throughout the apartment, apparently solid walls slide, push or swing open. A television hides behind a sliding American-maple wall panel in the living space. In the office, another wall panel swings open to create privacy for a pull-out trundle bed. In the master suite, there's storage tucked into the radius corner behind the headboard and inside the flip-up bed. And in the corridor to the second bedroom, a pair of mirrored doors opens to create a temporary laundry room, with washing machine and dryer tucked into dead space in the kitchen behind them.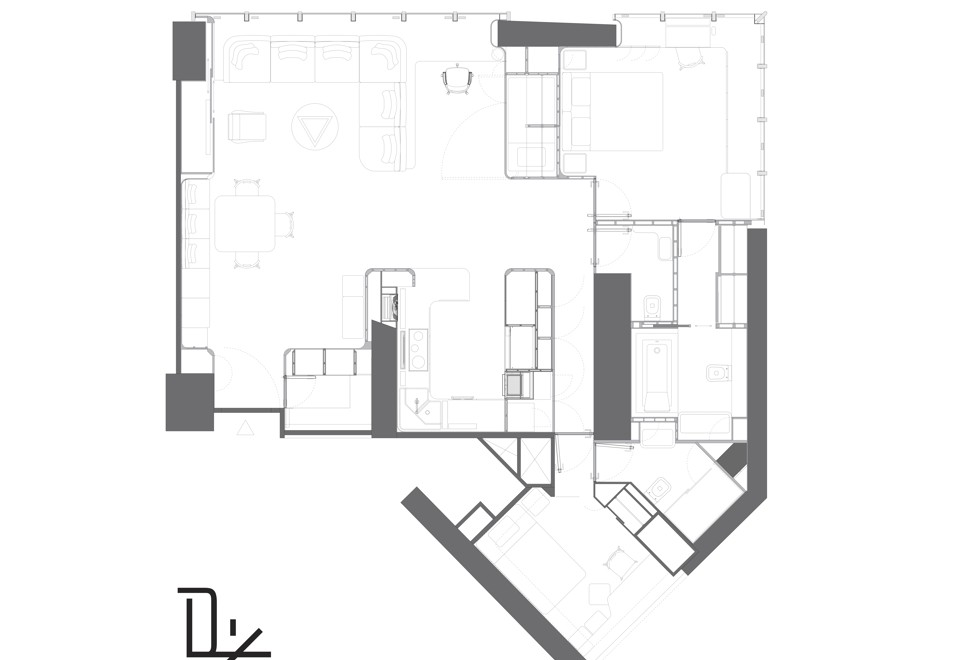 The detailing is extraordinary. Every strut of the aluminium window frames has its own maple jacket. "Super-sexy" doors swivel on offset pivots and close into invisible frames embedded in the walls. In the master suite, the dressing table is built into a wrap-around set of cupboards below the windows, with a mirror that folds down so as not to interrupt the incredible view. And in the second bed­room, the desk drawers have red linings – the favourite colour of the owner's then 10-year-old daughter.
"She would have grown tired of red walls as she grew up," Dix says.
What 60s design taught Danish furniture brand Hay's Rolf Hay
In each of the three bathrooms, a single piece of moulded white Corian wraps around the sink and the lower part of the wall, incorporating the toilet cistern, toilet-roll holder and bin. The upper walls are panelled with sandblasted, paint-backed extra-clear glass, and the floors with matt-white statu­ario marble from Tuscany, Italy. Shower heads are recessed flush with the ceiling.
But it is in the kitchen where Dix's eye for detail is most apparent.
"I like to cook, so this is the area where I really did design as if it was for me," he says.
A Hong Kong flat where the kitchen takes centre stage
Recessed task lighting is positioned so it beams down onto the cook's hands rather than the back of the head ("Often kitchen lighting is in the wrong place, so you end up working in your own shadow," Dix says). Library-style pull-out storage ensures items are easily reached. There's a carousel tucked behind a tiny door in one awkward corner, and a double layer of pull-out cupboards in another. There's even a built-in stepladder for accessing high cupboards.
And, at the back of the kitchen, there's an extra-clear mirror in front of a work surface.
"It reflects the view, so you can enjoy it while you're cooking," Dix says.
He really has thought of everything.
---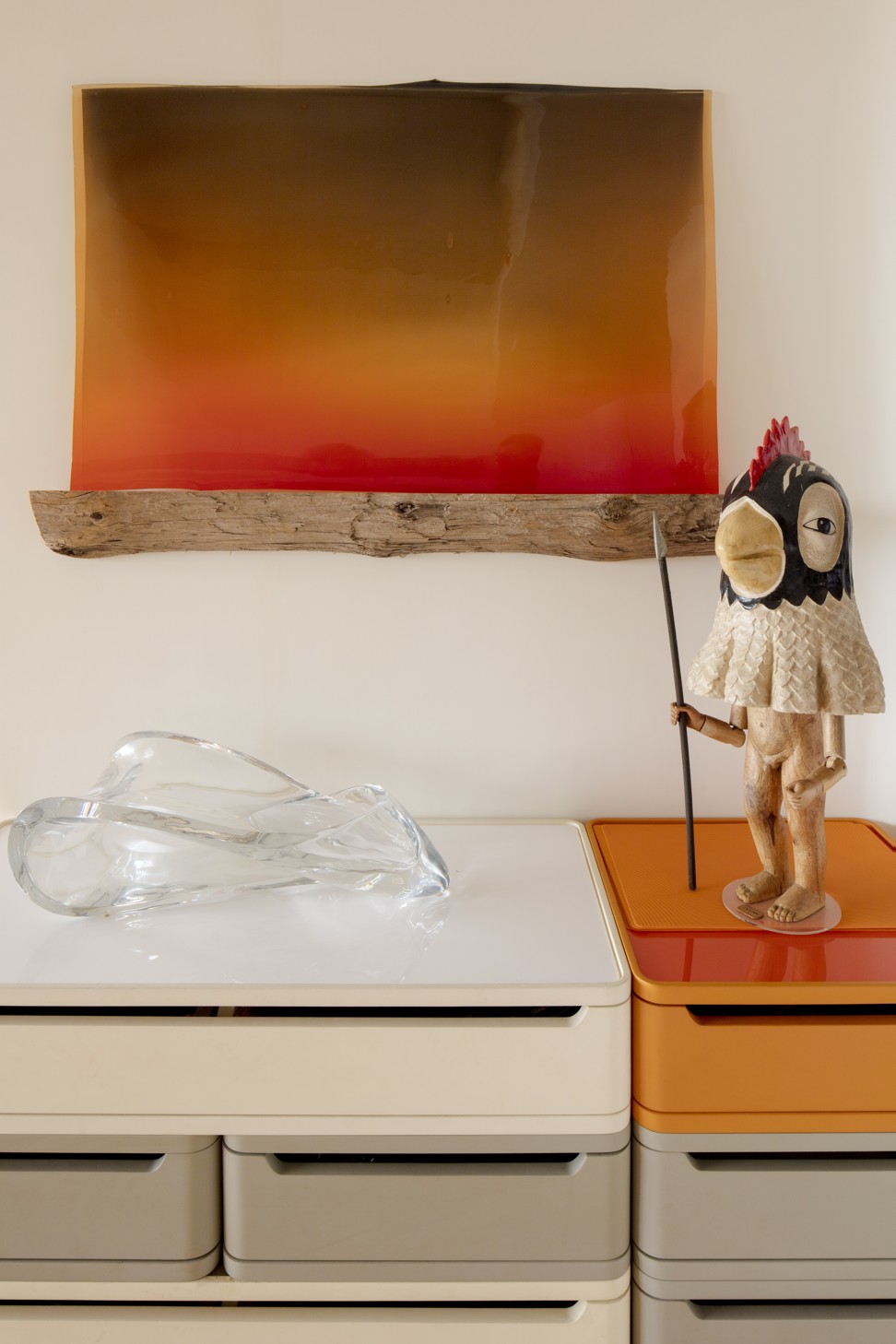 Entrance Part of Sean Dix's Limited Collection (available from Zenith Interiors), the Blocks stacking drawers are coated in rubber and can be reconfigured at will. Here, they are mounted on wheels (not shown) for easy use as extra serving space during dinner parties. The glass art, by Olafur Eliasson, came from Vitamin Creative Space.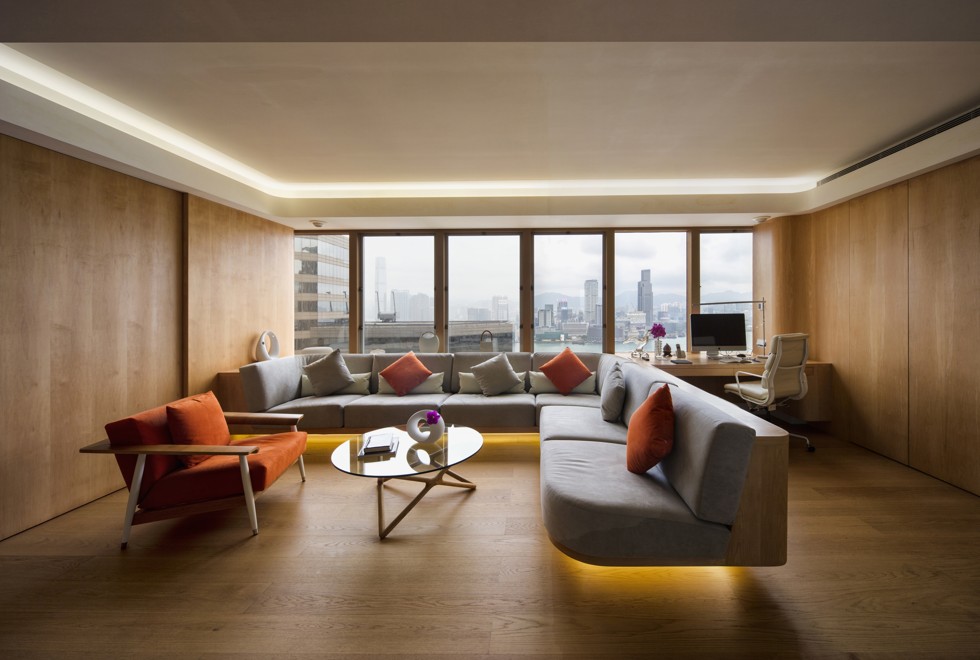 Living room and office "The client has several properties around the world. When she's in Hong Kong, she works from home so she spends most of her time in the office," says Dix.
Rather than put the desk in a separate room, he combined the living area with a former small bedroom to create an open-plan space where the owner can enjoy the apartment while she works. The cantilevered sectional sofa, desk and American-maple wall panels were all designed by Dix Design + Architecture and custom made by the contractor Shun Fai Decoration Handicraft (email: [email protected]).
The coffee table and Dowel armchair were designed by Dix as part of his Limited Collection. The Scheucher wide plank Austrian oak flooring was from Joyful Sky.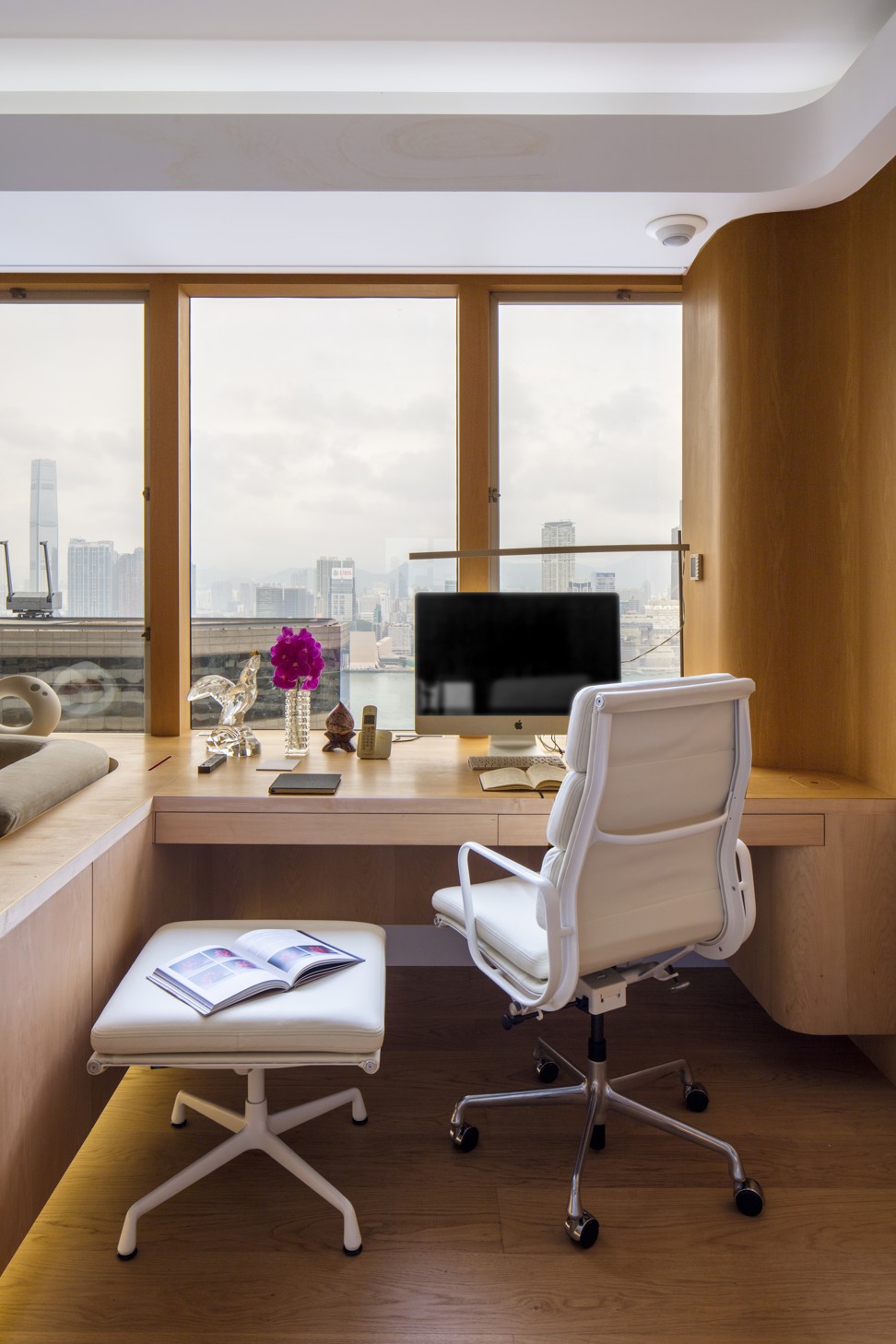 Home office Behind the clean lines of the minimalist home office hide unsightly machinery and a lot of storage, with cupboards in the back of the sofa and behind the wall panels. The desk was designed by Dix and custom made by Shun Fai. The chair and stool are special white editions from the Eames Aluminum Group, produced by Herman Miller and available at Posh.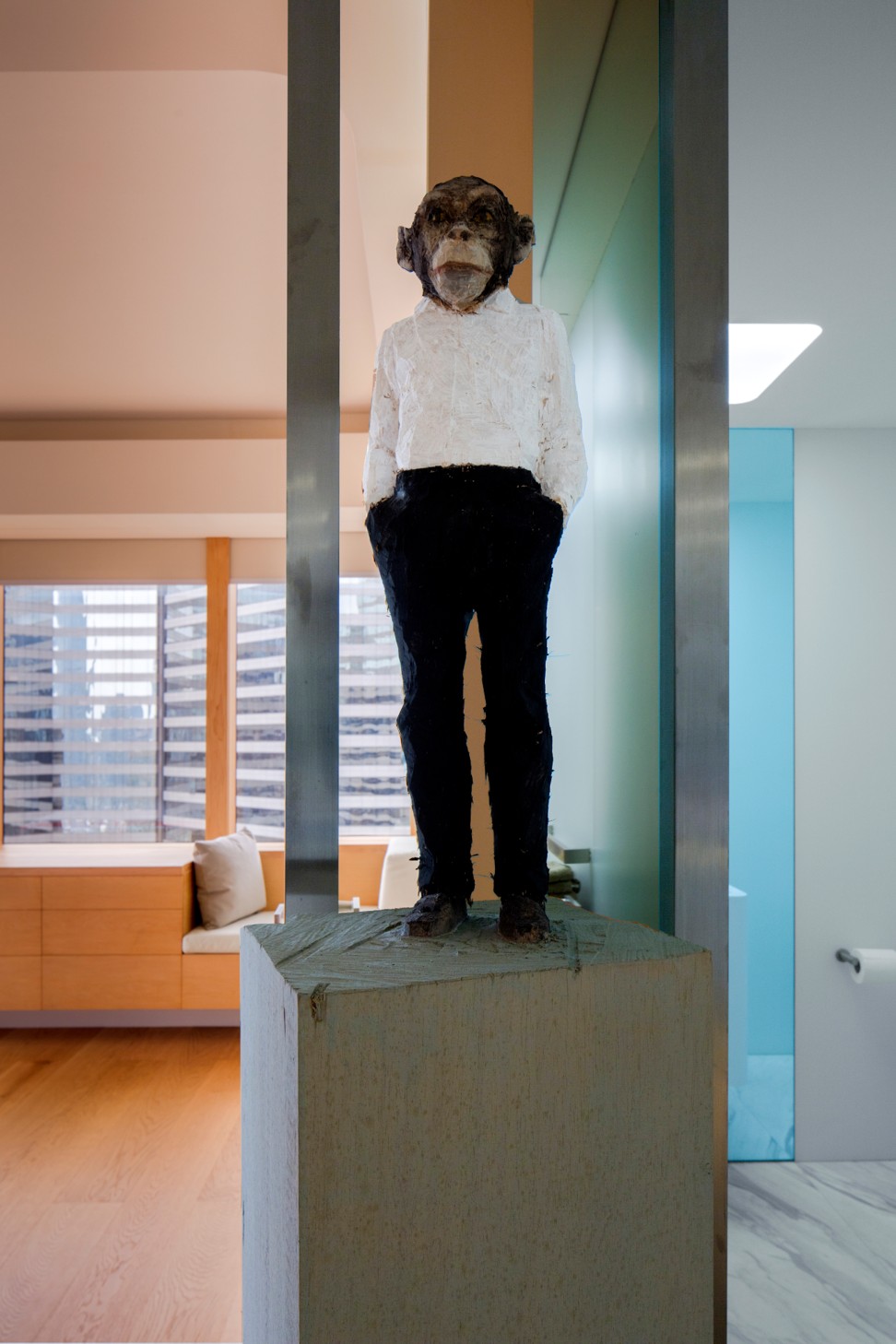 Living area detail Man with Monkey Head (2016), by German sculptor Stephan Balkenhol, came from Galerie Mai 36.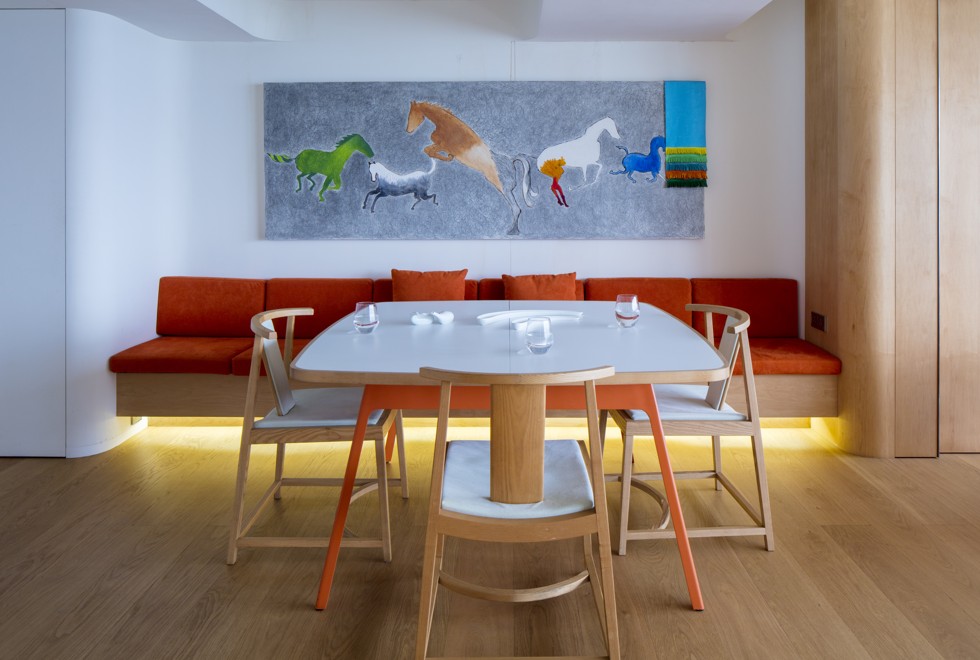 Dining room The Yardbird dining table and JX chairs were designed by Dix for the Limited Collection and are available from Zenith Interiors.
"The chairs are a take on the classic Chinese hat chairs. They were originally designed for Mao's granddaughter," Dix says.
He also designed the banquette, which was custom made by Shun Fai.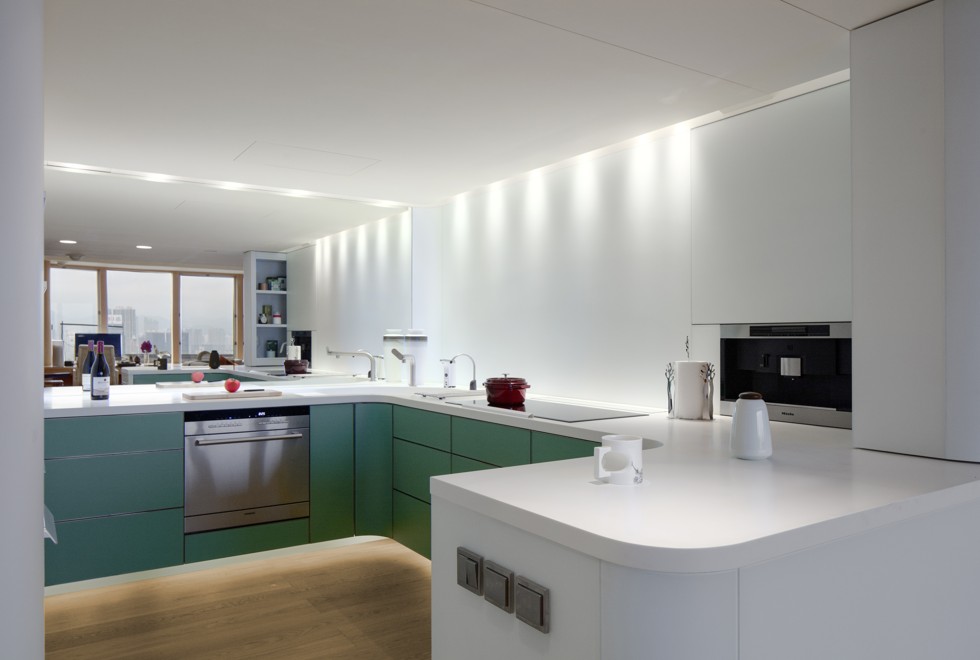 Kitchen The countertop is matt-white Corian from Dupont, and the splashback and cabinet doors are both sandblasted back-painted glass, designed by Dix and custom made by Shun Fai. "The cabinet panels were made with regular glass, instead of extra-clear glass, which gives them a green tint," Dix says.
Tracking down the Bulthaup B3 mixer tap, usually sold only with a Bulthaup kitchen, involved a worldwide search but Dix eventually sourced one in Ireland. "It's the coolest kitchen tap ever – such a great design in terms of function," he says.
The appliances are by Miele.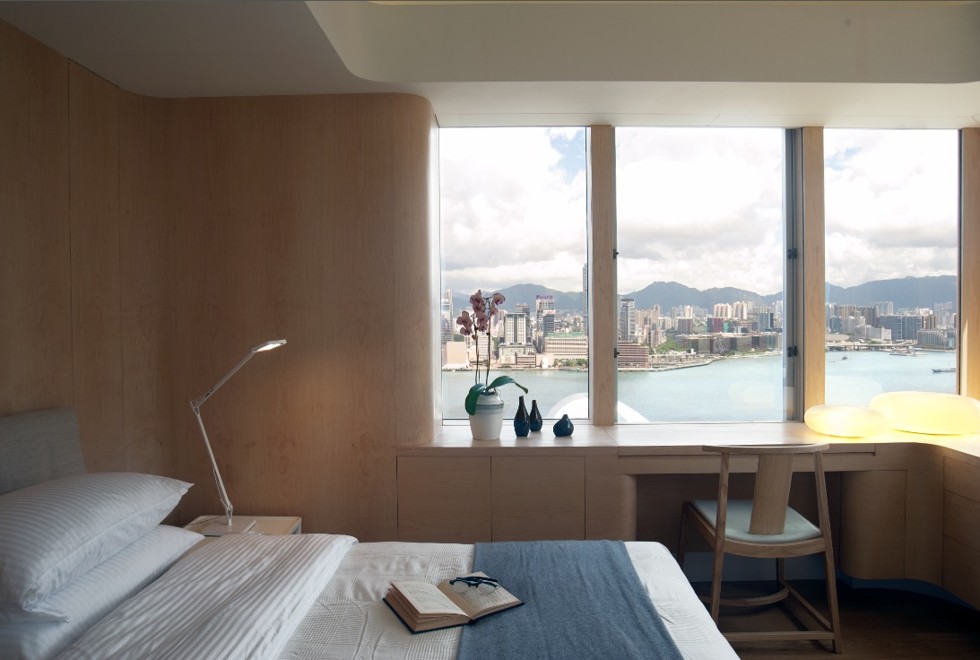 Master suite The bed was from Italian brand Flou. The Blocks stacking drawers (used as bedside table) and JX chair are part of Dix's Limited Collection and available from Zenith Interiors. The wall panels, cabinetry and dressing table, with a fold-down mirror, were all designed by Dix and custom made by Shun Fai.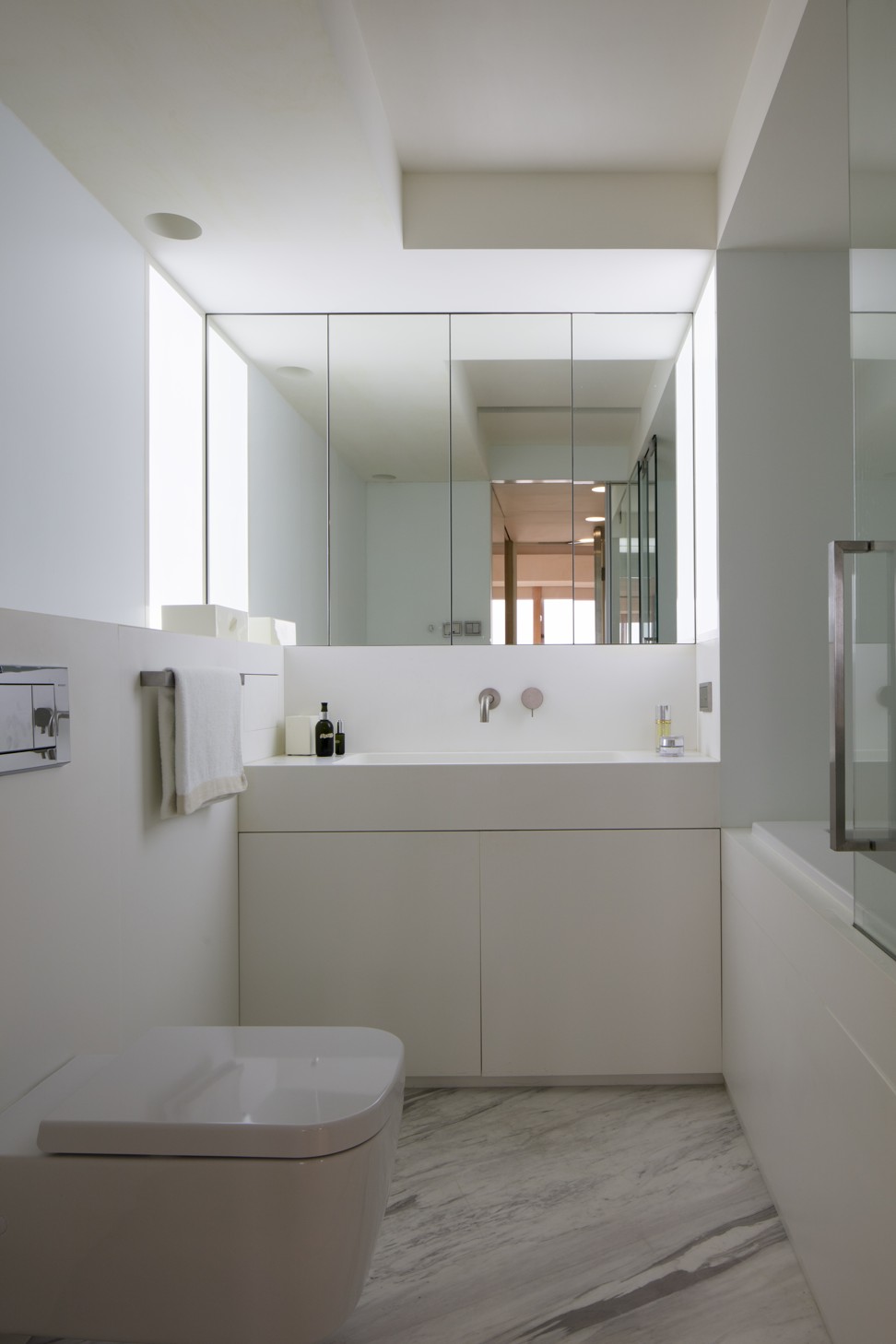 Bathroom The Corian sink and wall panels, sandblasted back-painted glass panels and statuario marble flooring were designed by Dix and custom made by Shun Fai. The tap and toilet are by Boffi and the bath is by Kohler.
---
Tried + tested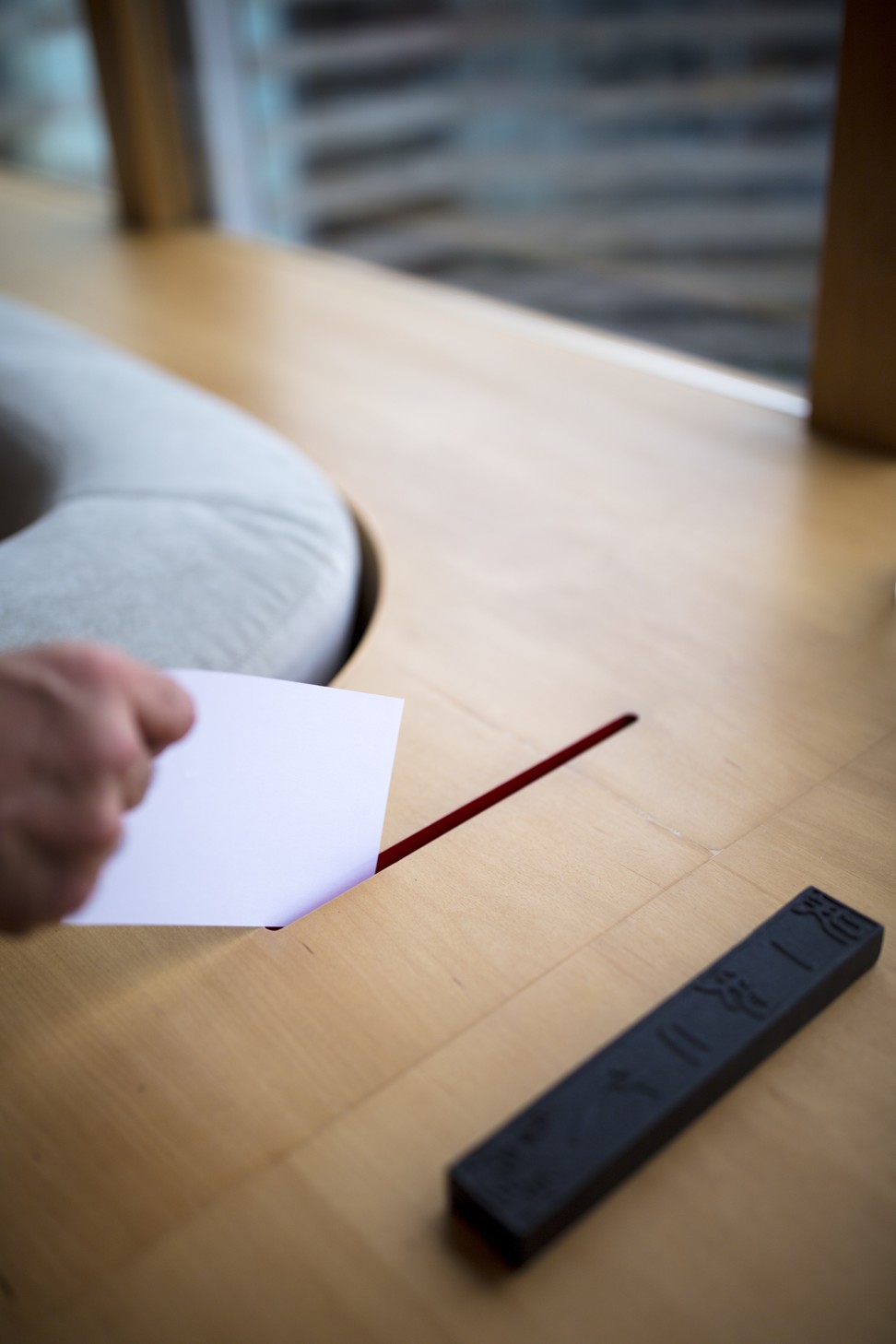 Hidden agenda Unsightly office equipment, like all the other utilities in the apartment, is hidden away to keep surfaces clear. This slot in the built-in desk is perfectly aligned with a paper shredder, which has its own custom-made cupboard. At the other end of the desk, a small lift-out lid (unseen) hides the wastepaper bin.