In the three years since artist Louise Hill left Hong Kong for Singapore with her family, she has lived in three of the city state's most sought-after forms of housing: a gleaming, contemporary town house on the resort island of Sentosa; a Peranakan shophouse, in the Joo Chiat conservation area; and, since the middle of last year, a black-and-white house in Medway Park, an estate named after a river that flows through Kent, in southeast England.
Among about 500 black-and-whites still standing in Singapore, most of them owned by the government, the Hills' latest home is a mid-sized version of the bungalows the British administration adapted from Indian houses and built from the late 19th century until the second world war for expatriate families, civil servants and others. Their name, which refers to their dark timber beams and whitewashed walls, is proudly reinforced by the black-and-white striped bamboo blinds that shade their deep verandas and encourage outdoor living.
"With these black-and-whites you have big outdoor spaces that you might not get anywhere else," says Hill, who so liked the idea of alfresco living that she turned a dining area in the house into a music room and furnished the veranda as charmingly as she has done her rooms indoors. "Our dining table is outdoors; we don't eat inside at all."
Their three-bedroom, two-storey house also comes with extensive gardens and a pool, well used by her twin, teenaged sons and their friends. There is also a studio in which Hill creates her fantastic (in the true sense of the word) artwork born of a peripatetic life, a keen eye for colour and detail, and a love of vintage imagery. One, named Sai Kung, where she lived for four years before decamping to Singapore, is a riot of colour and local references: a pink poodle sits beside a green taxi, above florid linoleum typically found on sampan floors. A picture of "Harrods", the Sai Kung home­ware store selling "everything", brings the composition down to earth.
"Asia has a grittiness behind it that I observe every day," says Hill, referring to not just that composition but also the handful of works she has created in Singapore. Inspect each carefully and you'll see that many of the motifs come from objets and fabrics dotted around the house. They include Buddha heads, tiffin containers, flasks and a giant double-happiness sign, made of metal, that greets visitors at the main door.
Her collection, like the house itself, is a vibrant melange of East and West. One room that is purposefully "quiet", however, is the lounge, which opens onto the veran­dah. "I wanted these coffee tables to keep the space nice and white," says Hill, pointing to a pair made with reclaimed balusters, on a white rug, in front of a white sofa. "Because I deal with colour so much in my work, I wanted to have a space that was neutral."
In describing her possessions, it's clear that many pieces have sentimental value. They include the finely detailed toiletry packages she designed while working for Crabtree & Evelyn, among other brands, before leaving Britain 11 years ago for Asia (the family lived in Shanghai before Hong Kong).
And, of course, the heirlooms and pieces destined for similar status. A small chair ­– on the landing of the staircase leading to the three bedrooms on the top floor – was made by her great grandfather for her mother during the second world war. And gracing the outdoor sitting area is a second-hand Indonesian teak day bed that she won't be letting go of any time soon, judging by her enthusiasm for its crafts­manship and what it adds to the setting. "We sit out here and light all the lanterns," she says.
"That's what's lovely about the black-and-whites, too – they have this romantic feel about them."
Such "romance", however, can come at a price, for those used to mod cons. Apart from rickety windows (albeit decorated with attractive, original chevron-patterned grilles) and basic kitchens (which, if designed today, would probably have open layouts), they also come without bathtubs, says Hill, adding: "It's hot here all the time, so they tend just to have shower rooms … I miss the seasons in Hong Kong."
But living with history has an undeni­able appeal and, besides, it feels good to be in a house with old bones, she says. Hill also loves all the greenery, even if it means sharing space with mosquitoes and snakes. ("It's like Sai Kung but instead of pythons we get black cobras.")
Her garden, lush with mango trees and palms, also brings back memories of England. "When I was growing up in London," she says, "I used to sit in Kew Gardens, in the Palm House, and read. When I first saw this house it was as though I'd arrived in my own little bit of Kew Gardens."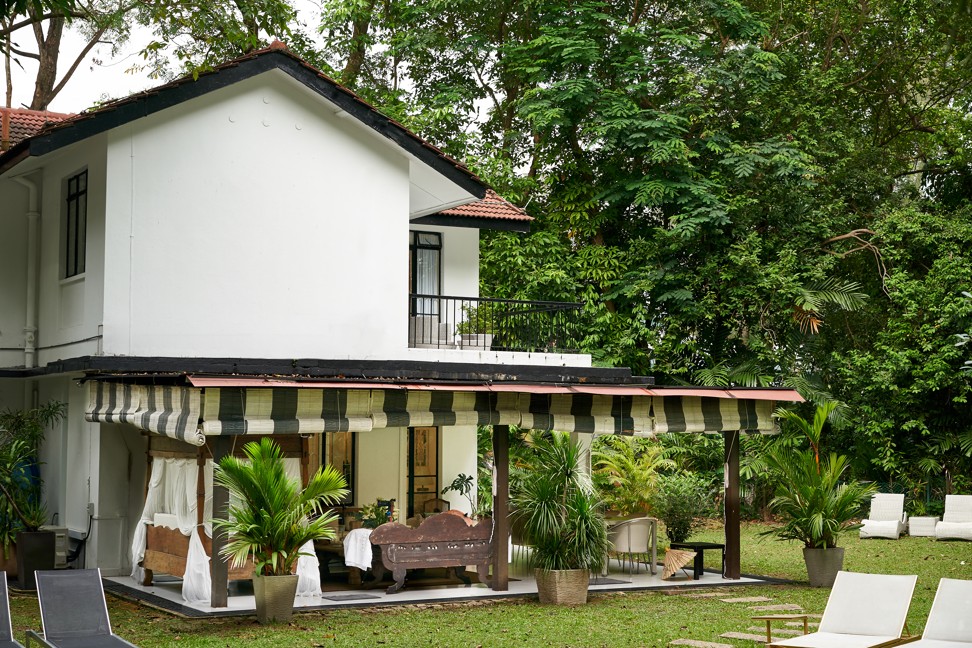 Exterior Artist Louise Hill's home, one of Singapore's 500 remaining black-and-white houses.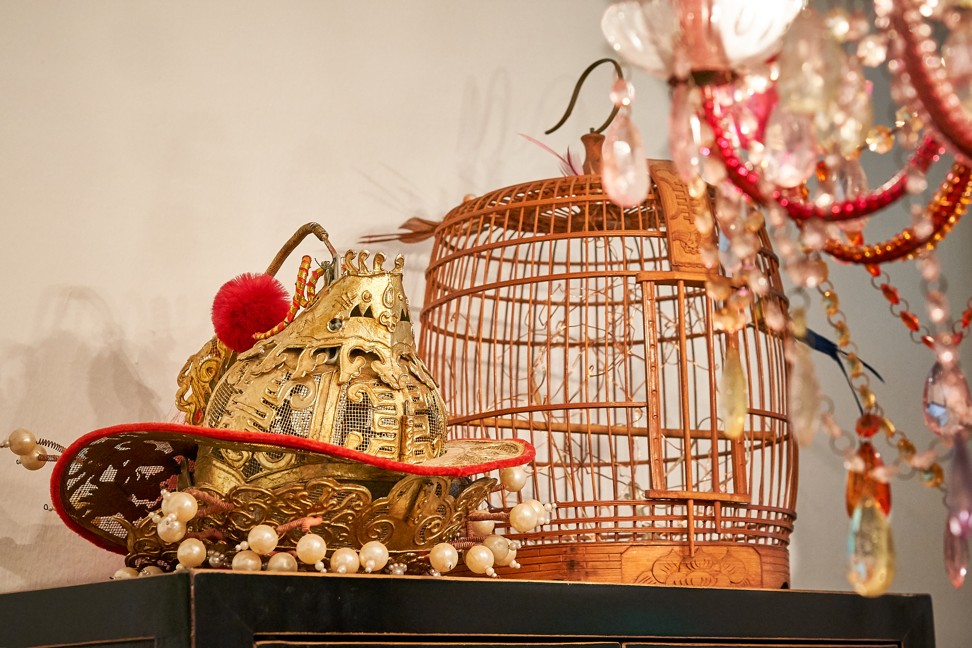 Entrance detail By the entrance is a birdcage, which came from Yuen Po Street Bird Garden, 222 Prince Edward Road West, Prince Edward. The gold hat came from a Chinese Opera supply shop called The Nantai Costume Company, in Shanghai (181 Henan Middle Road, Huangpu Qu, tel: +86 21 6323 8344).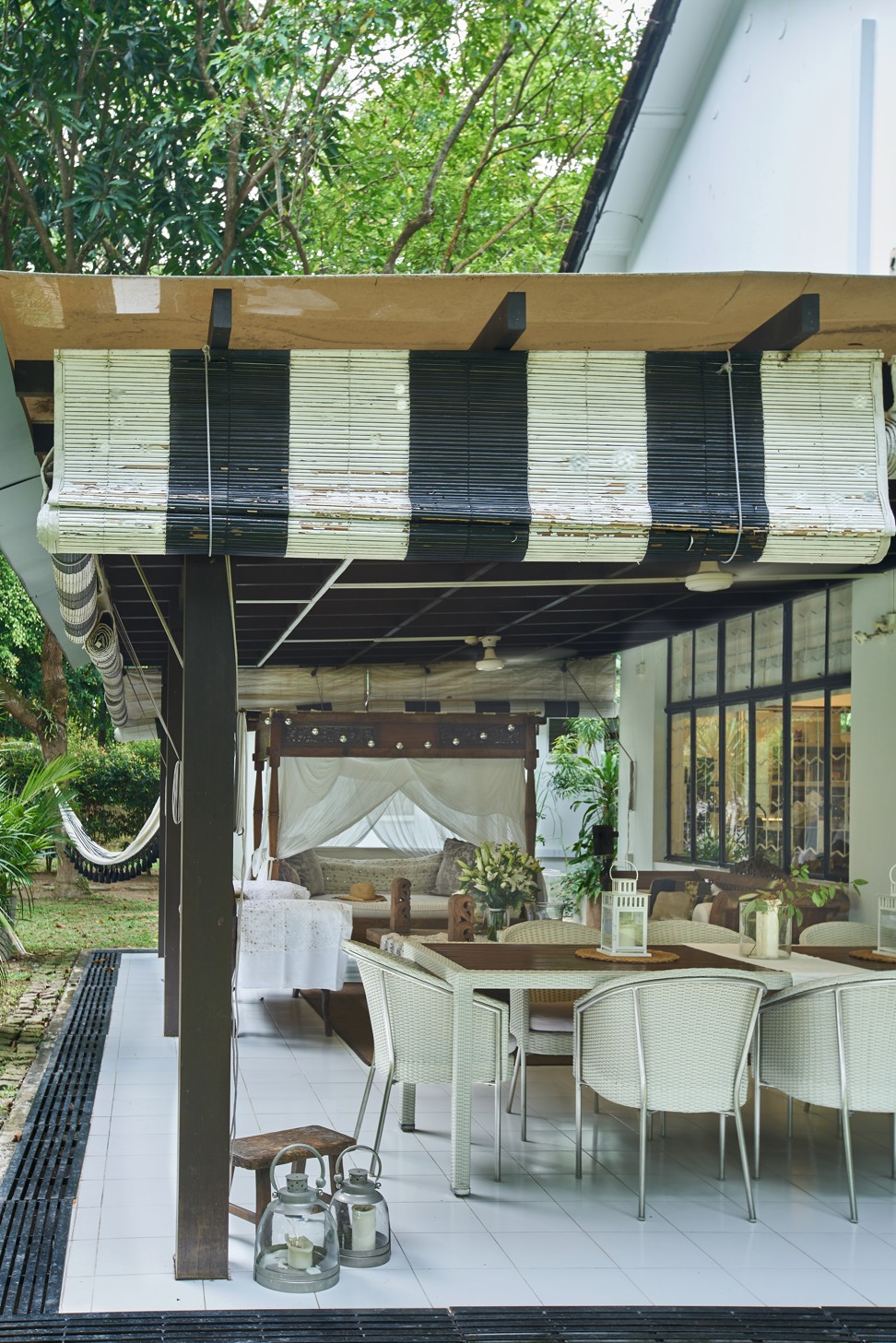 Verandah The outdoor table and chairs, bought through Facebook, are available from Royal Teak Collection. The lanterns on the floor are from Indigo Living and those on the table are from Ikea. The hammock was bought through Etsy shop Bohemian Therapy. The Indonesian teak day beds and coffee table came from a friend's private sale. The long, lumbar cushion was from Thorn & Burrow and the others were from John Lewis.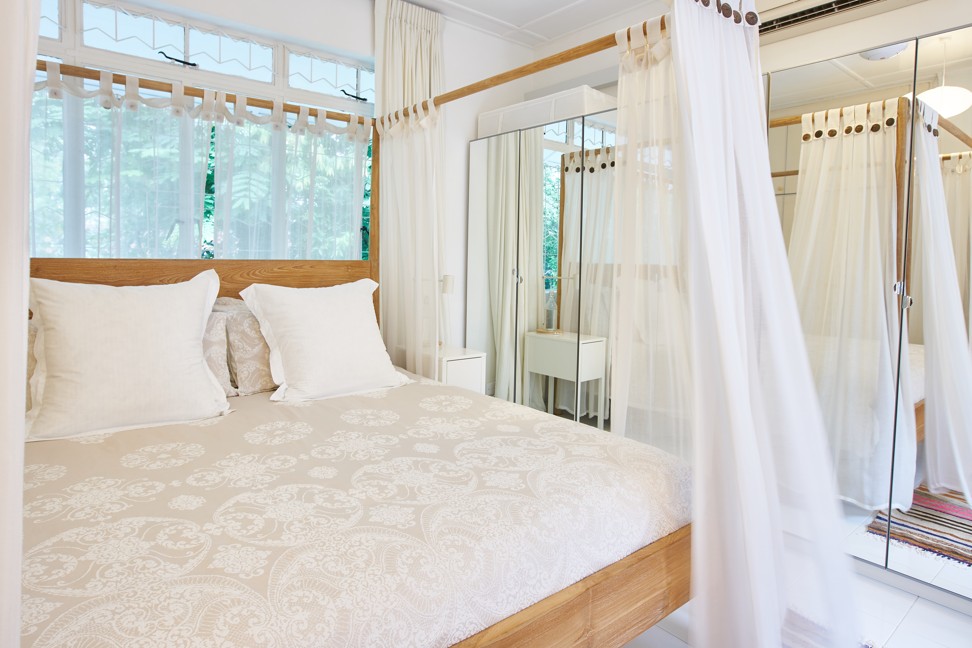 Master bedroom The four-poster bed was bought when the Hills arrived in Singapore, from Originals. The bedside table was from Ikea.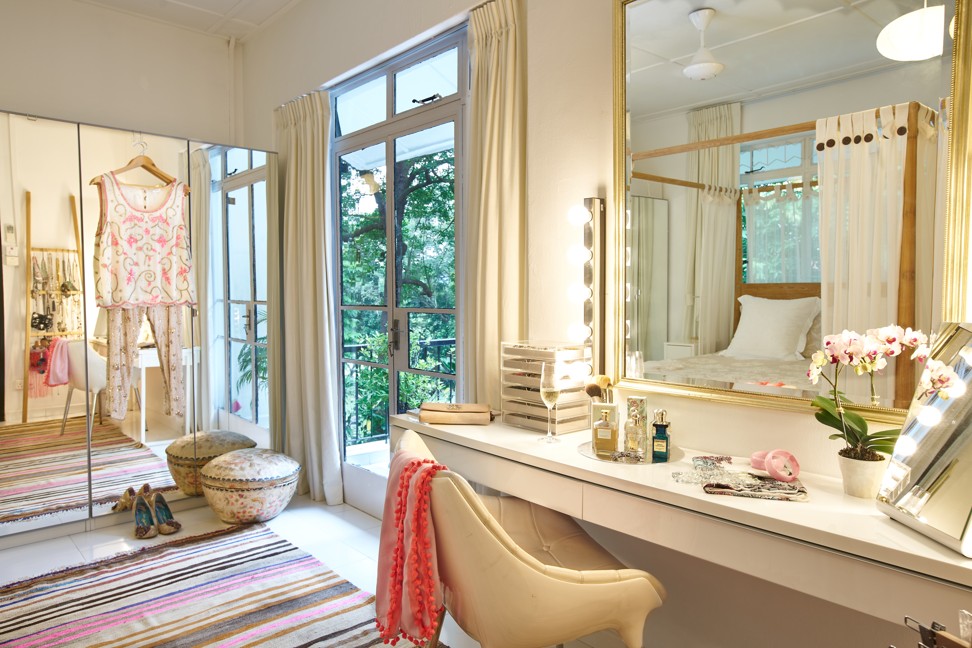 Master bedroom The dressing table and make-up lights were from Ikea. The chair is available through Matt Black Australia. The colourful box on the floor came from Hu & Hu (201 Anfu Lu, Shanghai, tel: +86 021 3431 1212) and the striped rug was bought through Etsy seller Ethnicartshop.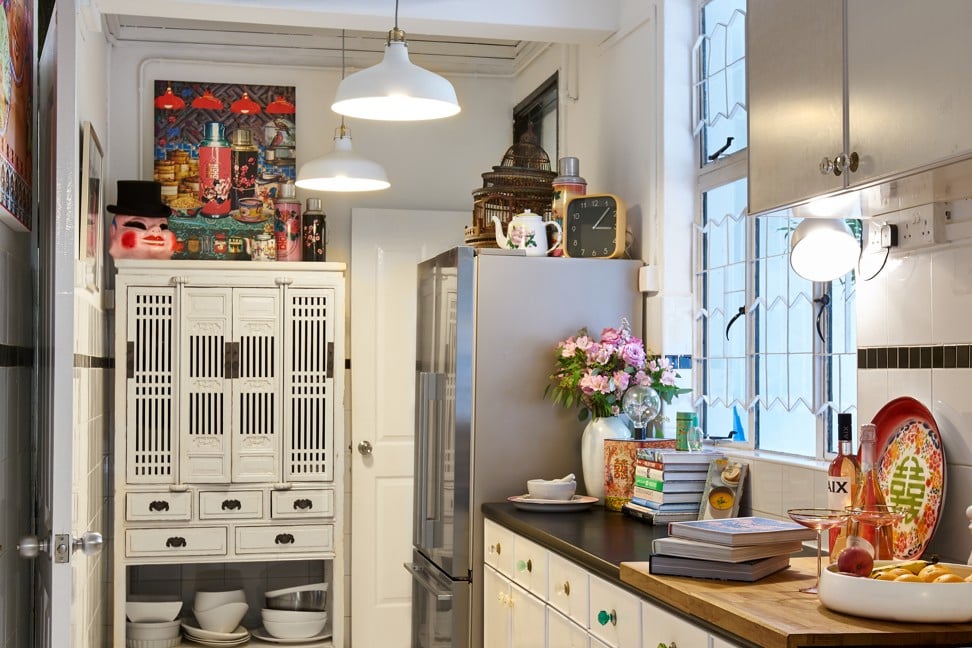 Kitchen The galley kitchen is furnished with a white Chinese cabinet (S$1,500/HK$8,700-S$2,500) from Fair Price Antique. Above it is a papier mache rosy-cheeked Lion Dance mask, from Shun Kee City Houseware (aka "Harrods") in Sai Kung (8 Yi Chun Street, tel: 2792 9850) and Louise Hill's Old Town, available through her website, Louise Hill Design. The vintage biscuit-tin lamp came from Jonas Design in Shanghai. The white pendant lamps (HK$329 each) and square clock were from Ikea. The colourful drawer knobs (US$8-US$10 each) were from Anthropologie and the birdcage was a gift.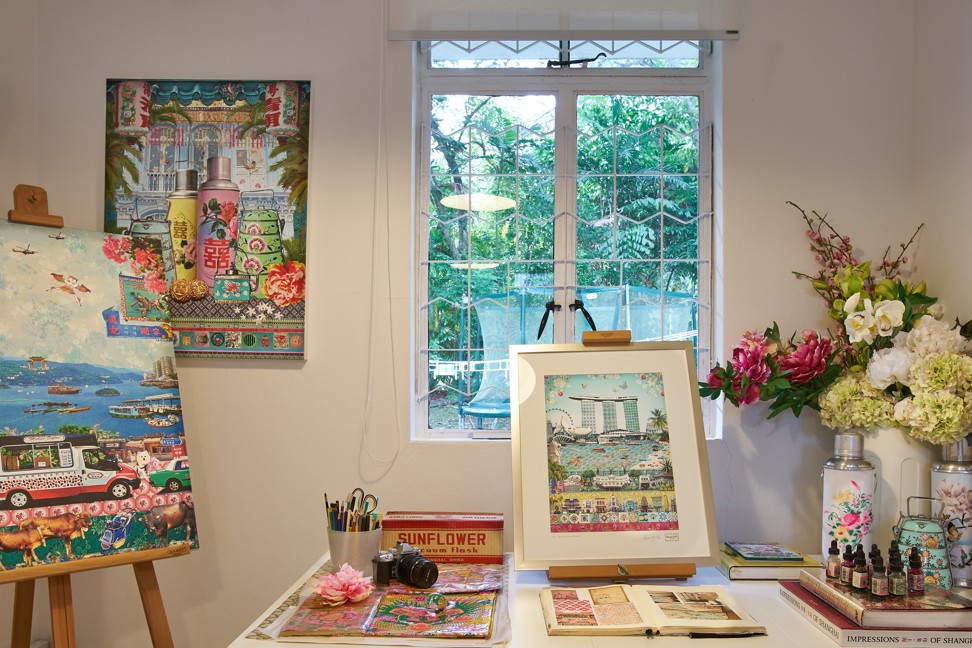 Painting room Louise Hill's painting room is full of vintage fabrics and collectibles, as well as her artwork, including, from left, Sai Kung, Singapore Shophouse and We Love Singapore. The flasks were eBay finds and the Singaporean tiffin container came from Rumah Bebe.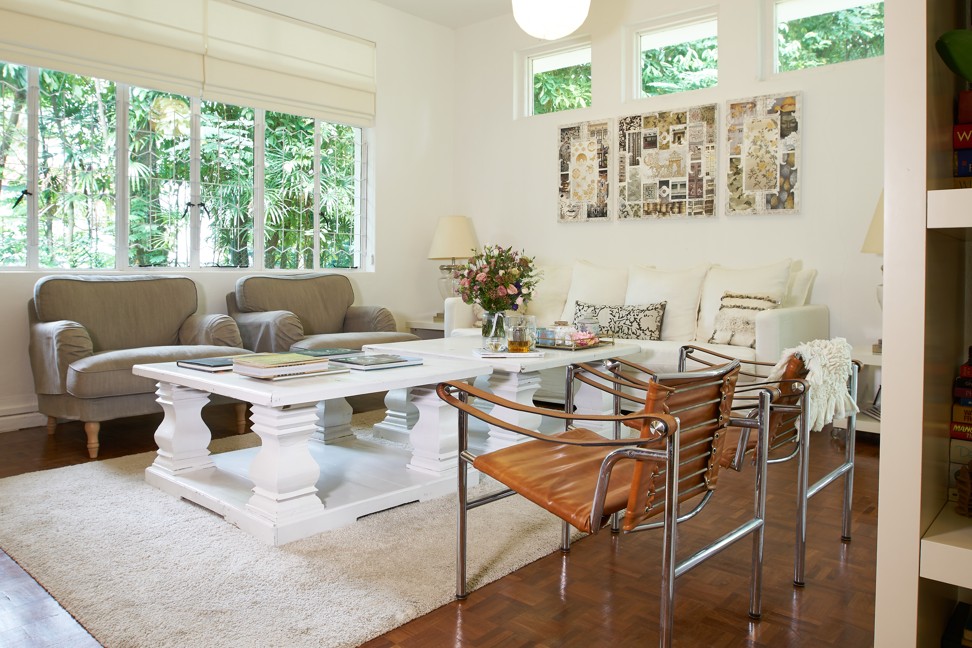 Living roomThe living room, a study in calm hues, was furnished with armchairs (HK$3,190 each) from Ikea, a cream sofa (S$2,800) from Originals and second-hand chairs that Hill had reupholstered years ago in cognac leather by Pong Kee Sofa (2/F, Century Industrial Centre, 33 Au Pui Wan Street, Fo Tan, tel: 9722 1639). The coffee tables (S$500 each), made with balusters, came from Taylor B. The table lamps (HK$2,000-HK$4,000 each) came from Indigo Living. The triptych, Chinoiserie in Neutrals, is by Louise Hill.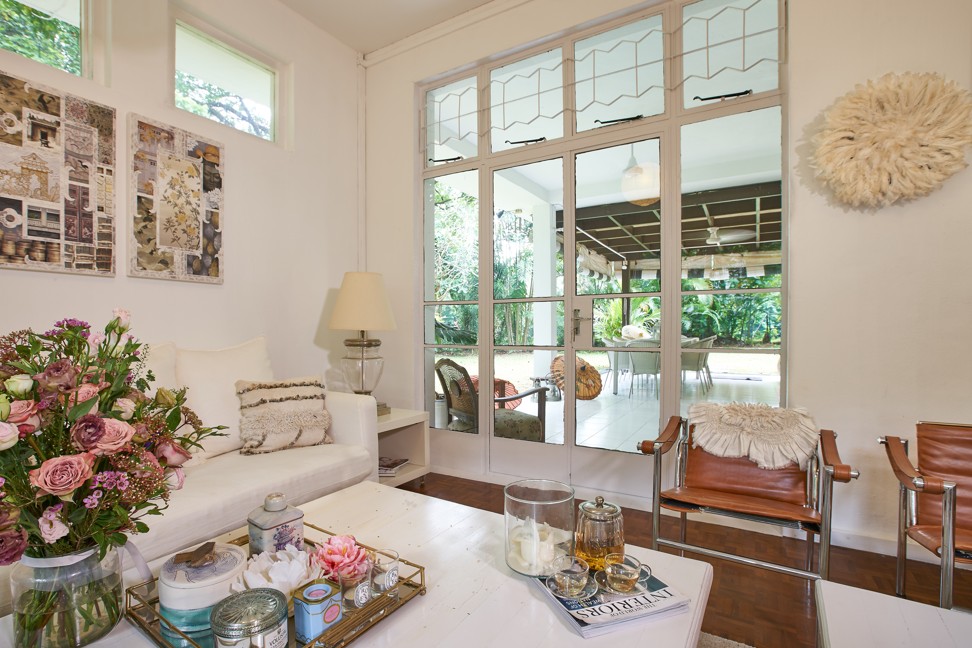 Living room detail The Juju hat (from HK$2,100 to HK$3,500) came from Thorn & Burrow and the tray from Anthropologie. The armchair outside was a gift.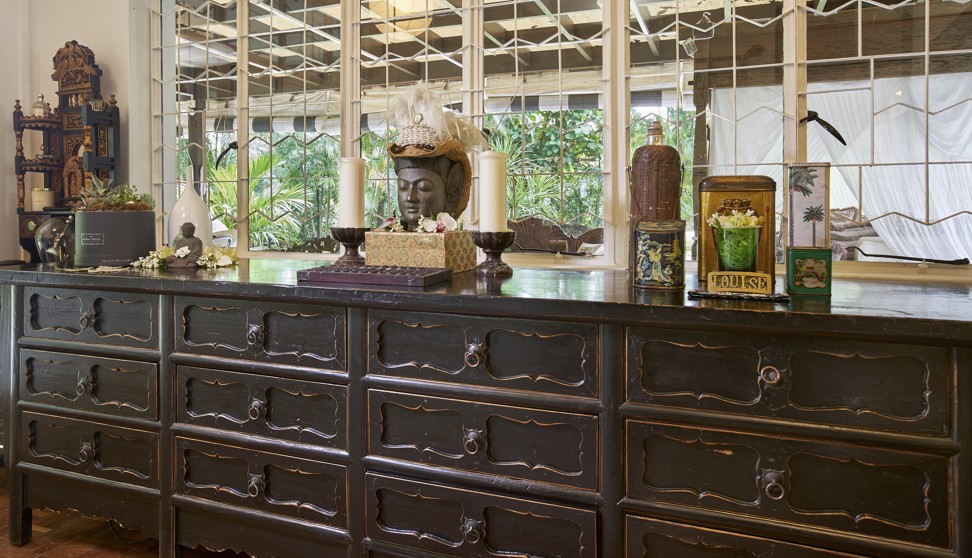 Music room A dining area was turned into a music room after the table was moved outside. The black vintage Chinese sideboard came from Hu & Hu. On it, the Louise belt buckle was bought in London's Covent Garden Market ("when I worked there as a teenager on Saturdays"). The Buddha head was from a shop in Britain that no longer exists and the tin boxes were found on eBay.