The less-is-more design philosophy isn't for Brooke Babington. Instead of clean lines, uncluttered surfaces and a neutral palette, Babington's home is all about colour, fun and sheer exuberance. It's a home that makes you smile, whether it's the framed quotes on the walls ("All unattended children will be given espresso and a free puppy"), the giant, plush tiger in her bedroom or the neon toucan in the living room.
Her 1,800-square-foot, two-bedroom rental duplex on Old Peak Road oozes joie de vivre. Every wall upstairs (two bedrooms and a study) and downstairs (living/dining, kitchen and playroom) is crammed with art ("I can't move; it would take forever to take everything down," she says), every surface bears colourful accessories, and even the floor is covered with overlapping graphic rugs. Yet the effect is not overwhelming; it's warm, inviting and comfortable.
"I'm a homebody. I don't like clothes or jewellery, I like objects," says Babington, an American former trader who now "dabbles" in property. "I like my house. I like my stuff. When you have a nice environment, you just want to be at home. I hardly go out any more."
Keeping her company are her daughter, seven-year-old Bayley, and her rescue dogs.
"I'm just the groundkeeper round here," Babington says. "This place is for my daughter and my dogs. I want it to be fun, because she's only little. We like animals and kids' stuff – the ikat lamps in the living room are from a children's collection. Some of the rugs are designed for outdoors, so they're dog-tested."
Despite the profusion of possessions, Babington says this is the edited version. "I really like that book [by Marie Kondo] about the art of tidying," she adds. "Every now and then, I have a clear out. The things I have now all have happy memories."
Almost everything in the apartment came from her previous homes in Hong Kong – a tong lau (walk-up tenement building) in Sai Ying Pun and a Cheung Chau beach house. Bayley's rattan four-poster, for example, was once an outdoor sunbed on Cheung Chau. The tong lau's front door, rescued from demolition, is propped against a wall in Babington's bed­room ("It has a carved peephole, which we needed because that place was like a crack den when we first moved in").
"The Cheung Chau beach house was all red, white and blue – I used to be married to a Brit, so that worked," she says. "The Sai Ying Pun house was that dark Hong Kong green you see everywhere, and yellow and blue, lavender and purple. I'm from the 80s. I still like all those bright colours."
The palettes of her previous homes pop up throughout the apartment like a map of her past. She's dealt with downsizing from two homes to one by coming up with clever storage solutions, repurposing Ikea book­shelves as shoe cabinets, coatracks as a toybox (see Tried + tested), and hooks as photo frames.
"I have a lot of tongue-in-cheek stuff that other people might not like," Babington says. "The inspirational quotes ['The Family Routine: Wake up, be amazing, go back to bed'; 'When nothing goes right, go left'] are so 80s, but I love that. Our home totally reflects our personalities. It's all about fun, girl power, being yourself, not fitting the mould.
"I mix and match cheap things with more high-end [pieces]. I like to buy local: I buy from G.O.D, I've been collecting Belinda Bath [photographic collages] for years, and I love the Affordable Art Fair."
She's also a firm believer that an interior should reflect its environment and that Hong Kong homes are a natural habitat for a "jungly", tropical vibe. She takes a lot of inspiration from Hawaii.
"We love Hawaii, we go often," Babington says. "I frame old Hawaiian postcards. I frame everything – if I see something, I buy it and work out where to put it later. There's always a place. And you know, there's only one of anything in Hong Kong, so you have to buy it when you see it. I have made mistakes, though, like the palm-tree lamp in the office. I thought it was going to be California cool, but the wires kept poking everybody. I'm still not sure what I'm going to do with that."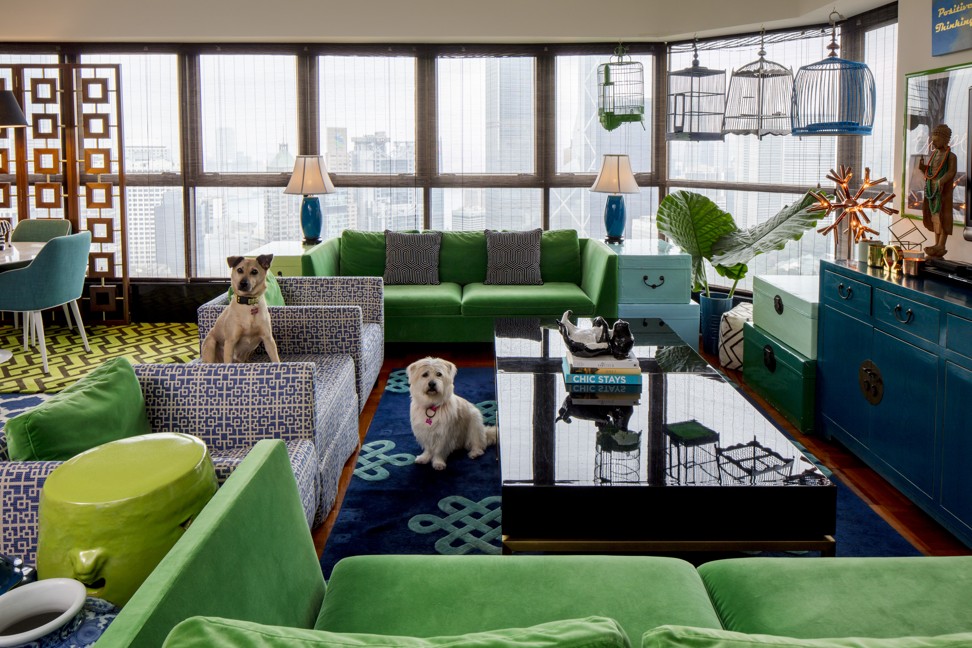 Living room The green sofas cost about HK$10,000 each from Ikea several years ago. The blue-and-white armchairs and ottoman were bought years ago. The Jonathan Adler coffee table was about HK$15,000 from Lane Crawford. The blue cabinet and table lamps, and the colourful lacquer trunks came from shops that have since gone out of business in Horizon Plaza, 2 Lee Wing Street, Ap Lei Chau, and Hollywood Road, respectively. The blue rug was custom made several years ago by Freda Carpet (17/F, CNT Tower, 338 Hennessy Road, Wan Chai, tel: 2521 6606). The birdcages are souvenirs from Thailand, China and Cambodia. Wilfred (left) was from the Agriculture, Fisheries and Conservation Department, and "Wan Chai terrier" Millie was from Hong Kong Dog Rescue.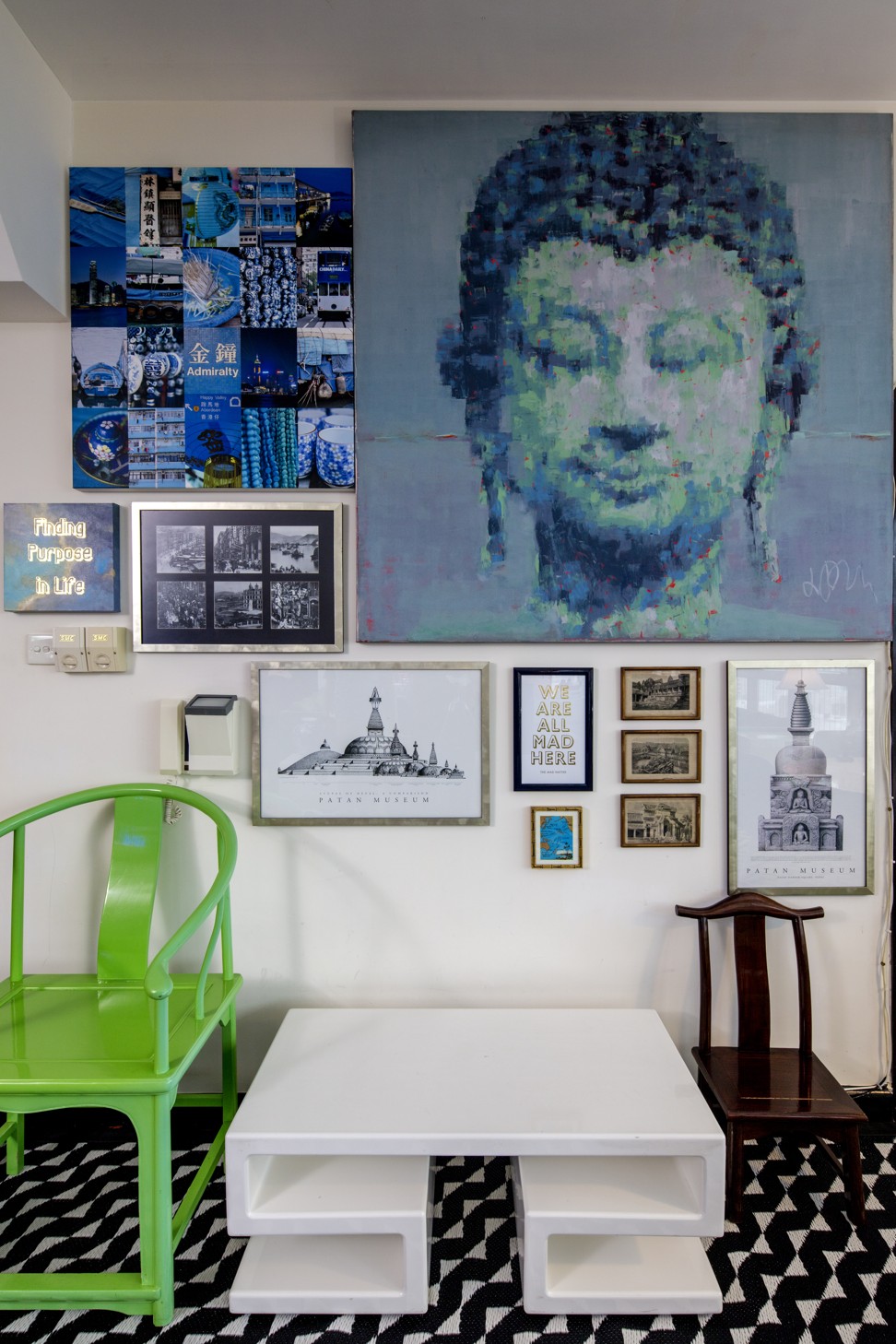 Living room art The white table and green chair were bought years ago. The small chair was purchased on Peng Chau. The rug (HK$2,000) and "We are all mad here" picture (HK$500) are from iDecorate. The blue collage is by Belinda Bath and the two black-and-white pictures are from the Patan Museum, in Nepal. "Finding purpose in life" was from the Affordable Art Fair. The Buddha painting was picked up in Phuket, Thailand. The photographs of Hong Kong came from Stanley Market and the small blue map is a card of Hawaii that Babington had framed.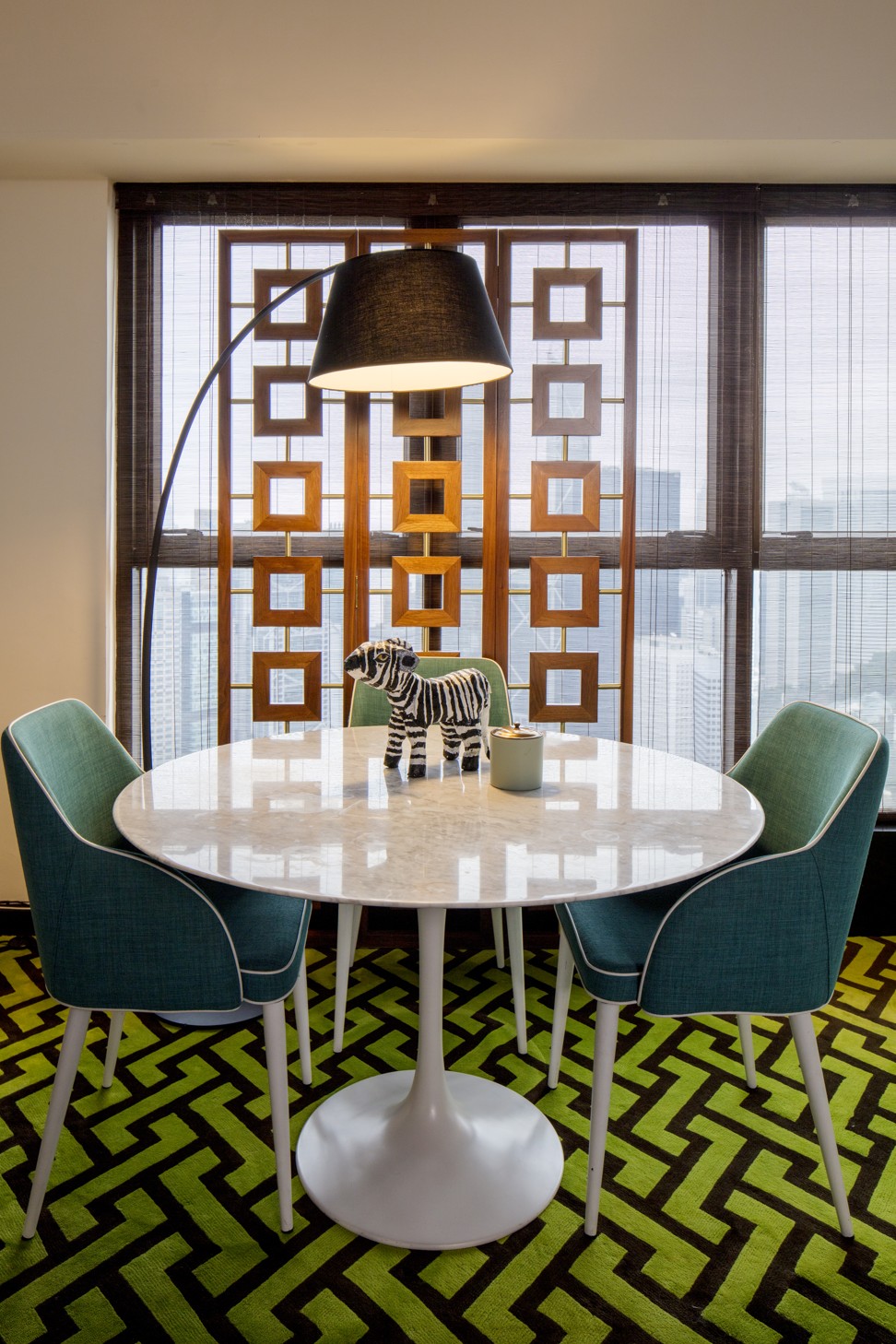 Dining room The marble-topped tulip table (about HK$4,000, on sale) and dining chairs (about HK$1,500 each) were bought years ago from Indigo Living. The Jonathan Adler screen (HK$15,000) came from Lane Crawford. The lamp was HK$3,000 from Boss Lighting Design (52 Morrison Hill Road, Wan Chai, tel: 2572 9668). The custom-made rug came from Freda Carpets years ago. Babington's daughter, Bayley, made the zebra in an art class.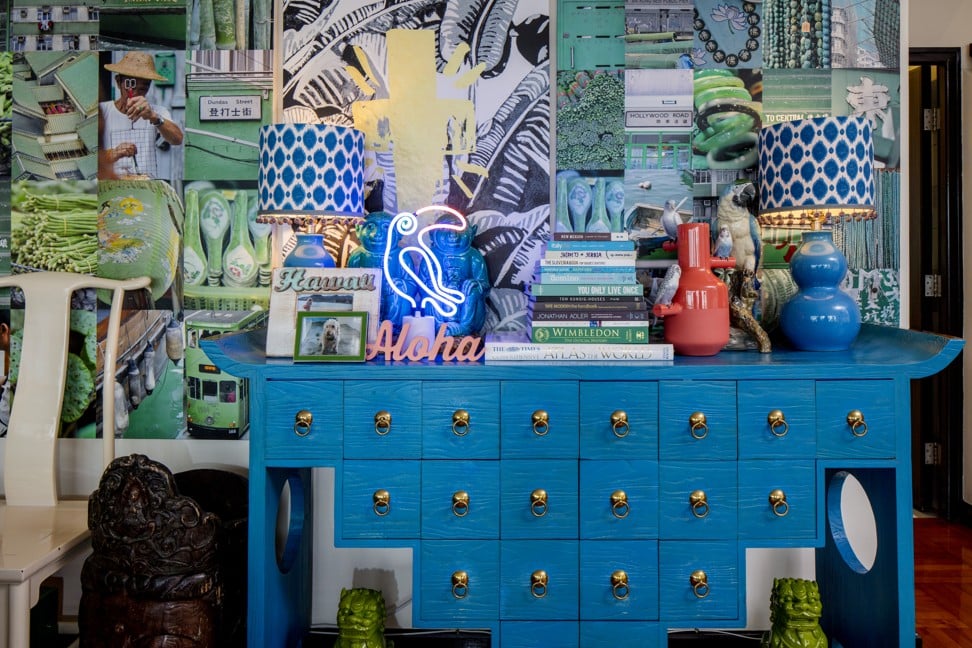 Console table In the living room, the blue console table (from Hollywood Road) and chair (from Ap Lei Chau) were bought years ago from stores that have since closed. The two photo collages are by Belinda Bath and the palm-leaf painting between them is from iDecorate. The table lamps were US$30 each from PBteen. The Chinese lions were bought years ago from Indigo Living. The neon Sunnylife toucan light was HK$400 from Lane Crawford. The red Parrot Parade vase and large porcelain macaw are by Lladroand the blue Chinese monkeys (behind the toucan lamp) came from a shop in Hollywood Road that has since closed.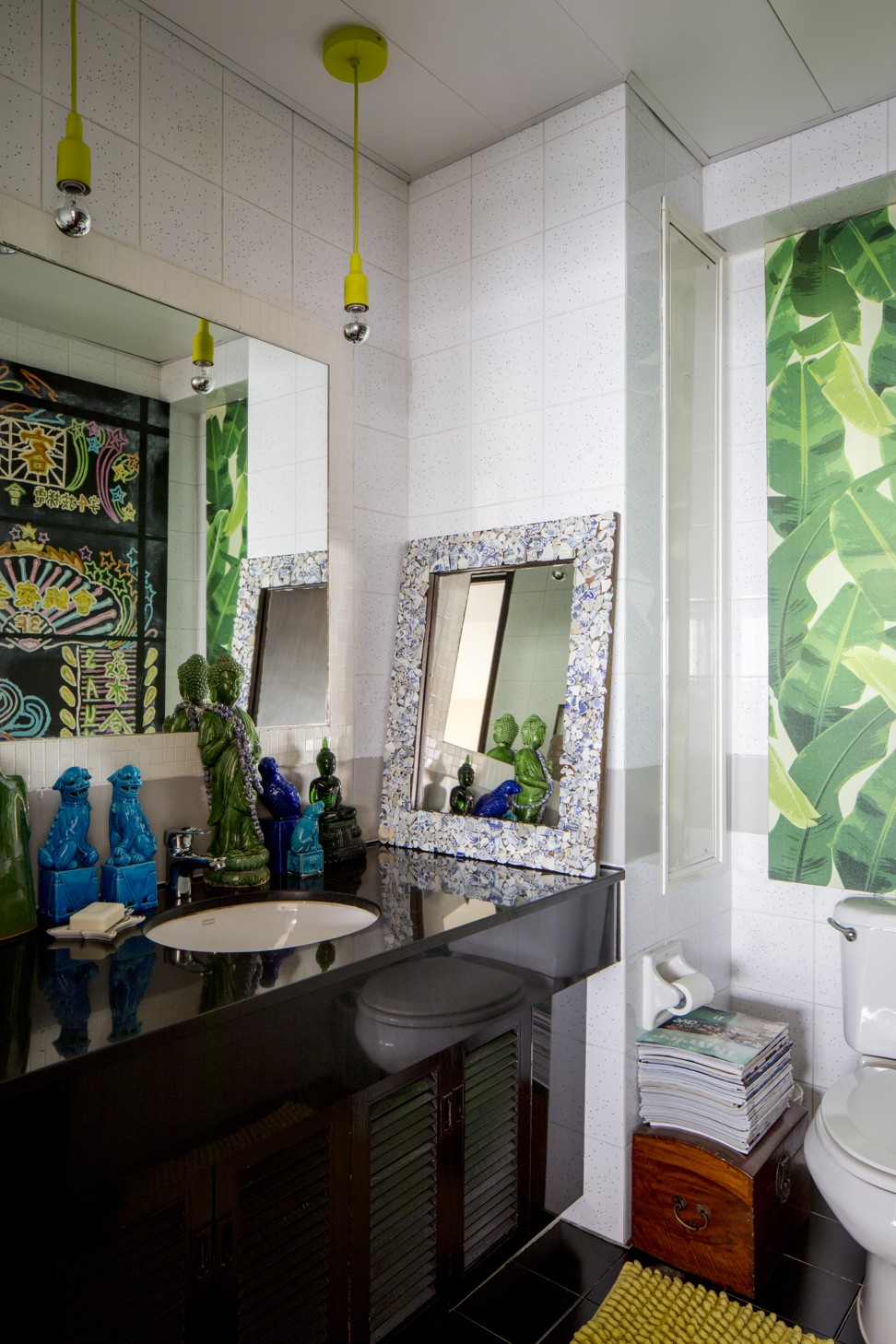 Guest bathroom (off the living room) Babington made the mirror frame from broken blue and white porcelain found on local beaches. The pendant lamps were about US$30 each from CB2. The statuettes and the wooden chest were picked up in the lanes in Central for about HK$200 each. The folding palm screen (about HK$300 from Indigo) hides an ugly window and bathroom fan.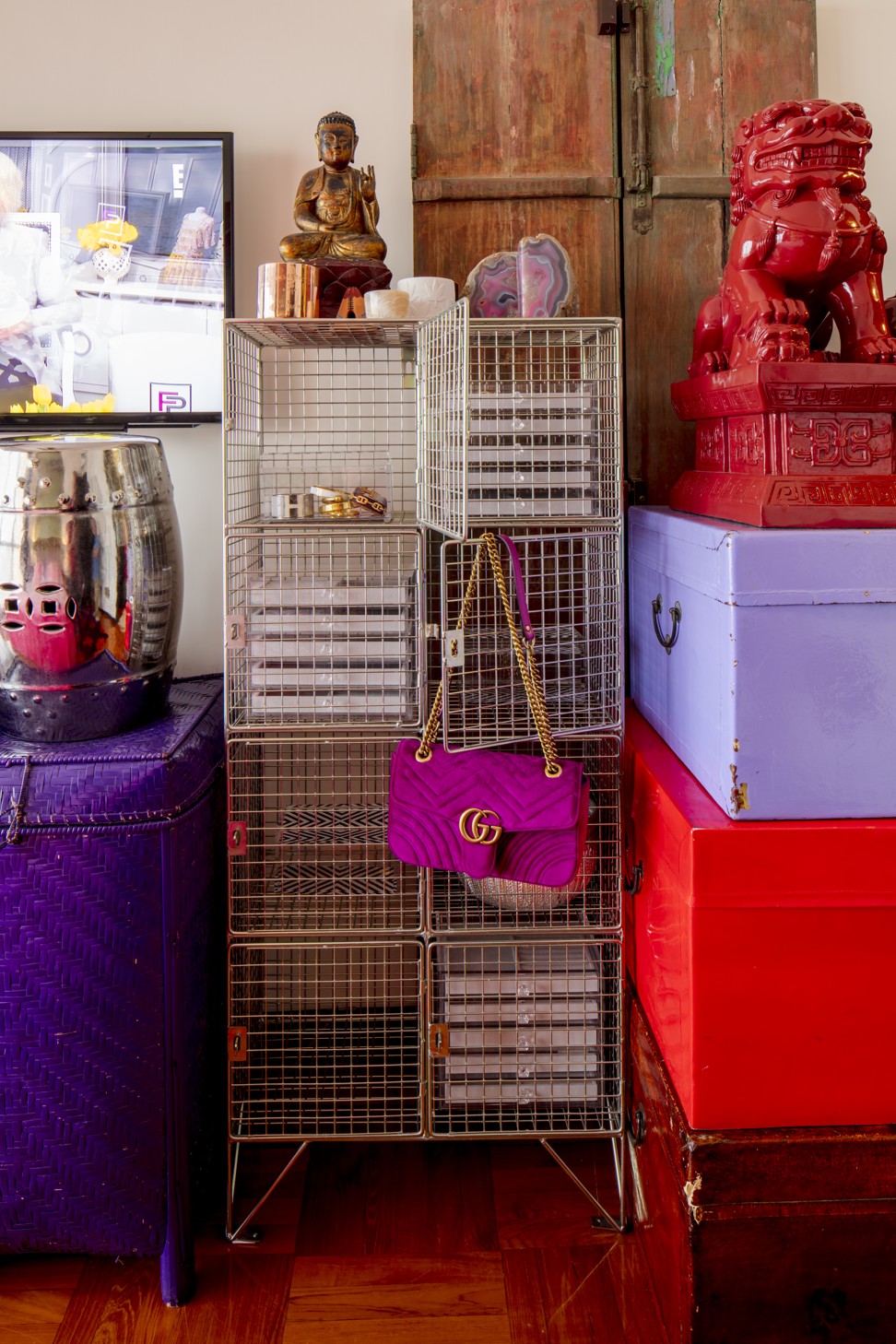 Jewellery case The coloured lacquer trunks came from a Hollywood Road store that has since closed, and the purple basket was bought years ago from Tree. The wire locker (about HK$2,000) was from Homelessand the jewellery boxes in them were from iDecorate. The silver ceramic stool and Chinese lions were bought from Indigo Living years ago. The old wooden door was rescued from Babington's former home in Sai Ying Pun.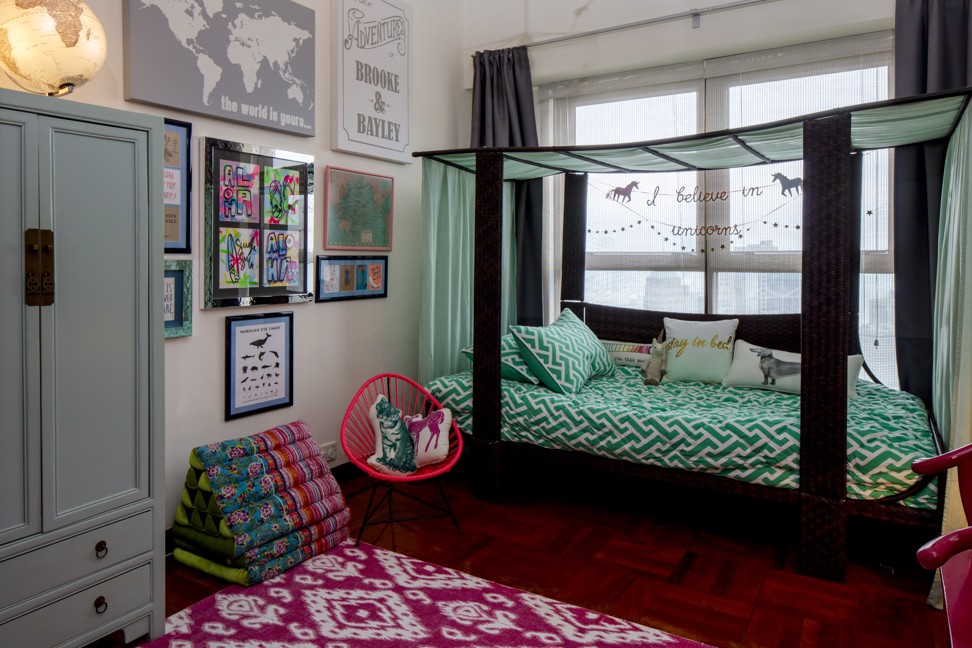 Bayley's bedroom The bed is an outdoor daybed (about HK$22,000 from Everything Under The Sun). "I didn't want to leave it at my last house, in Cheung Chau, because I love it so much. So I had it made into a bed. It was in the blazing sun for years and never cracked," Babington says. "Sleeping in it is like camping." The wardrobe was purchased years ago from a store in Ap Lei Chau. The pink rug was about US$100 on sale from Zara Home. The triangular Thai cushion (about US$200) is by Chiang Mai brand Ginger from Surin Plaza, Phuket. Similar pink marquee chairs are available for HK$980 at Mirth.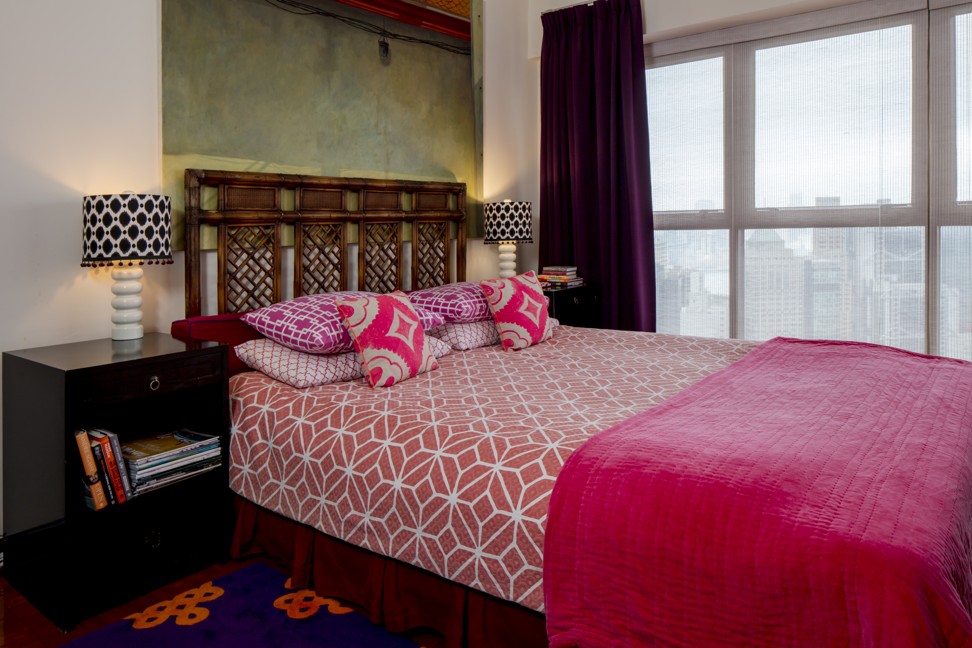 Brooke's bedroom The bedroom furniture was bought years ago. The Okooko bed has a second-hand headboard from AsiaXpat.com. The bedside tables were custom made by a contractor during a previous renovation, and the painting came from a gallery in Bangkok, Thailand. The rug was custom made by Freda Carpet for about HK$3,000. The bedside lamps (US$30 each) were from Pottery Barn.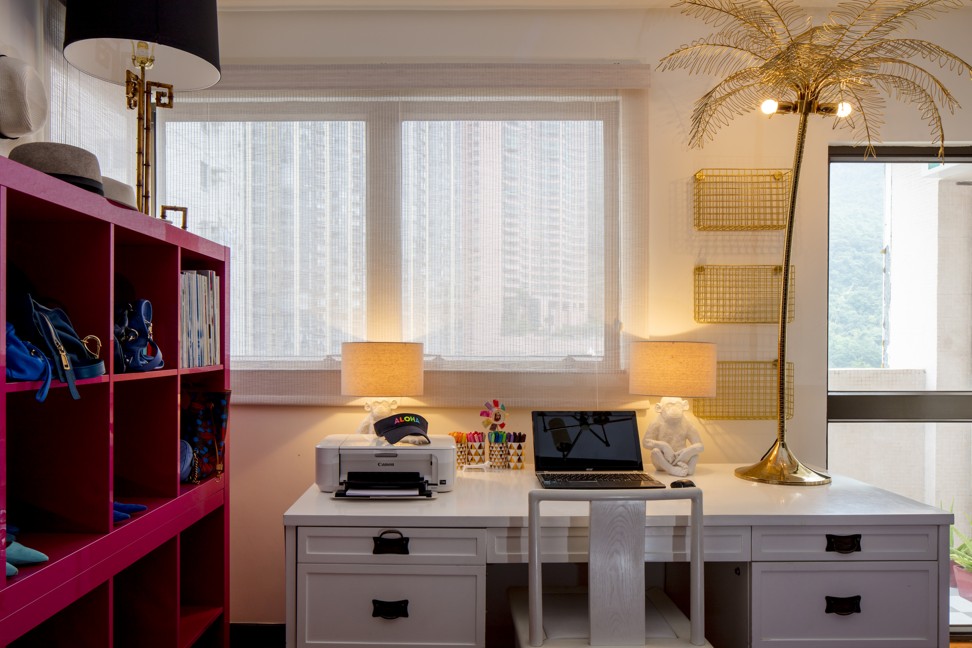 Office The desk was custom made by a contractor years ago. The chair, also purchased years ago, came from Ovo Home and the Kallax shelves were HK$699 each from Ikea. The Ocean Palm floor lamp (HK$3,355), monkey lamps (no longer available) and wire baskets (HK$168 each) were from CB2. The bamboo lamp was a one-off from Furbish Studio in the United States.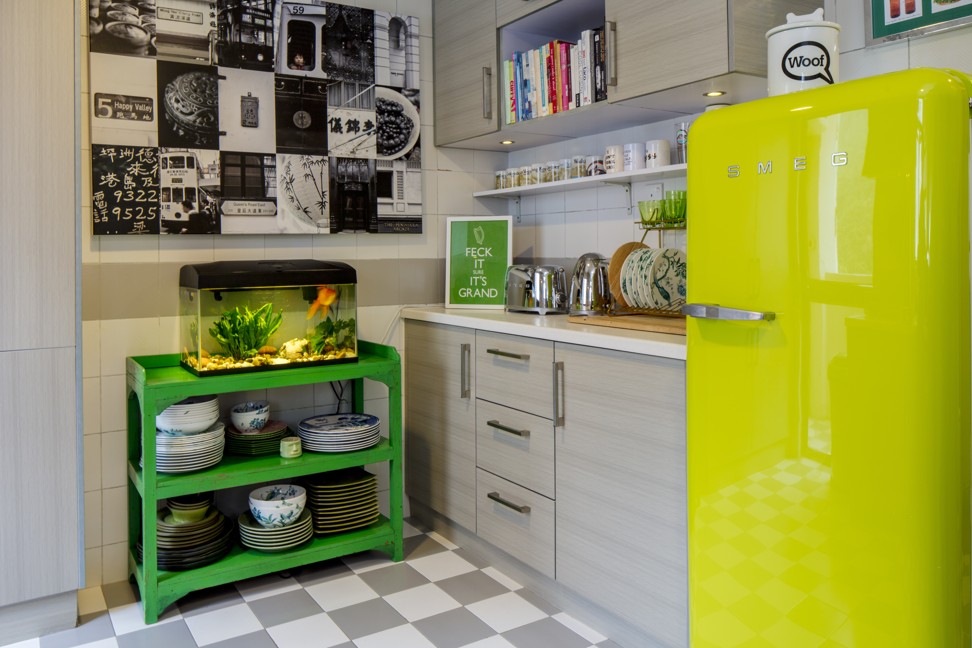 Kitchen Babington added green accessories to inject zing into the kitchen. The kitchen appliances – including the brightly coloured fridge, kettle and toaster – were purchased years ago from Smeg. The green shelves were about HK$2,000 from Inside and the black-and-white photo collage is by Belinda Bath.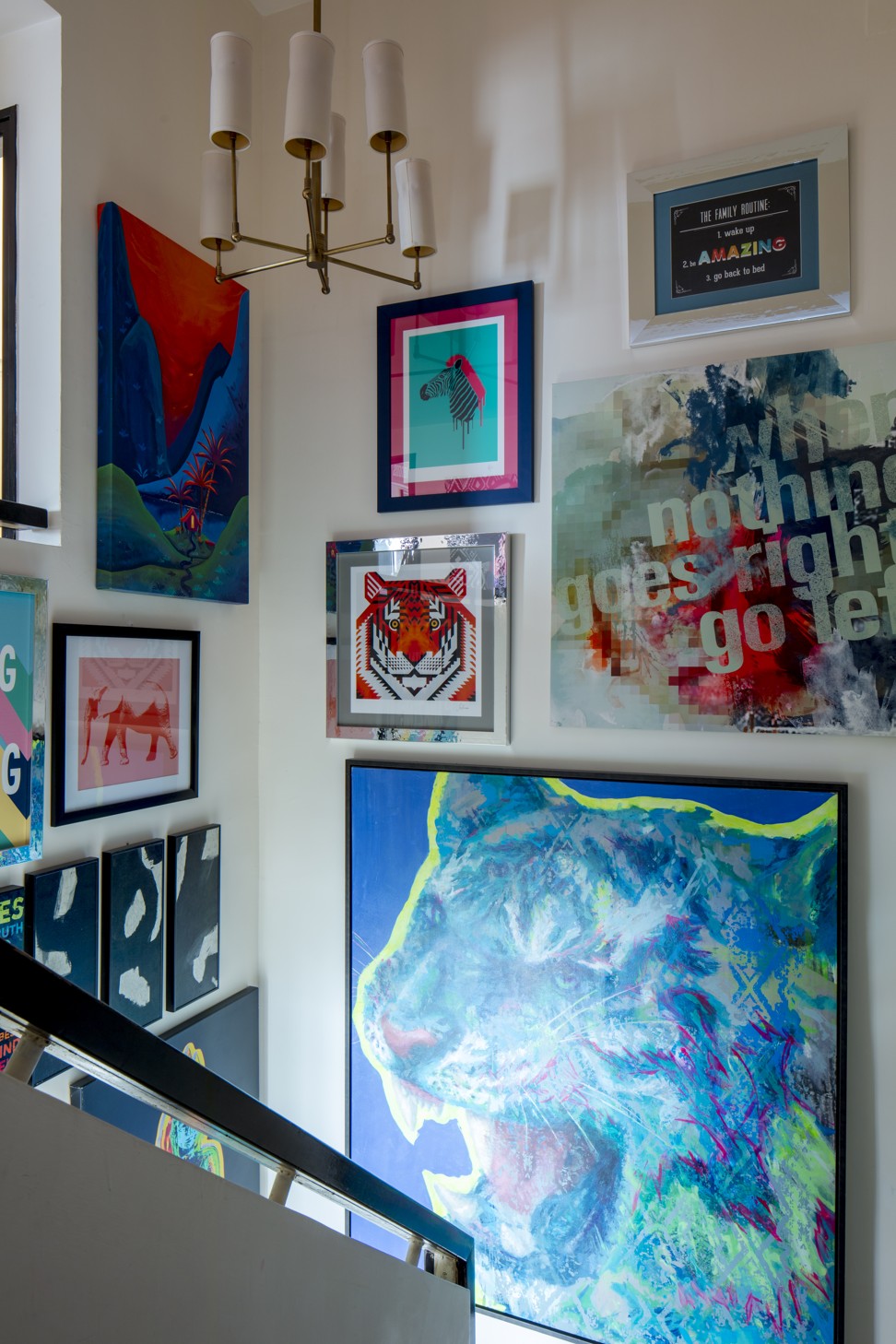 Staircase The big cat painting, by Chilean artist Cristobal Anwandter, came from the Affordable Art Fair 2015. "When nothing goes right, go left" artwork came from BoConcept. The small tiger print and zebra print were from Curioos. The light fixture was bought on sale from Indigo Living.
---
Tried + tested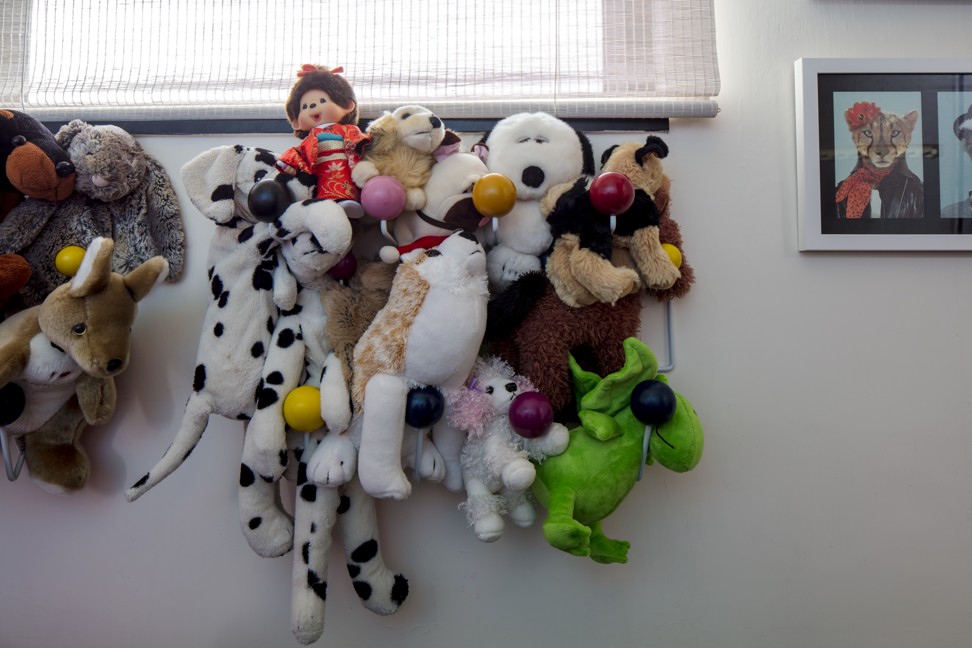 Toy story In the downstairs playroom, soft toys belonging to Bayley, Brooke Babington's daughter, hang from six Eames-style atomic coat racks on the walls. They give her more play space, keep the toys visible and create visual focus, like 3D art fixtures. "We have a hard time leaving animals behind in the stores," Babington confesses. The coat racks were bought years ago from Decor8.
To see a video of Brooke Babington's home, go to scmp.com/babingtonhome