It helps to have someone creative in the family, particularly when you have a home to renovate. As soon as James Hui Ting-hang and his brother, Laurence, bought their apartment in Happy Valley, they called on a cousin Yu-Chang Chen, founder of interiors company hoo, to come and help them out.
"James and Laurence had absolutely no idea what design concept to go for so they were more than happy to leave everything up to me," Chen says. "All they cared about was their moving-in date."
The 750 sq ft flat had three tiny bedrooms, one of which was little more than a storeroom. Chen gutted the property and started again. He condensed the three bed­rooms into two, creating a slightly larger space for James, who works for a fitness brand in Hong Kong. The smaller bedroom was earmarked for Laurence, who is studying in London and isn't often in Hong Kong, and it doubles as a guest room for their mother, who visits regularly from Shanghai.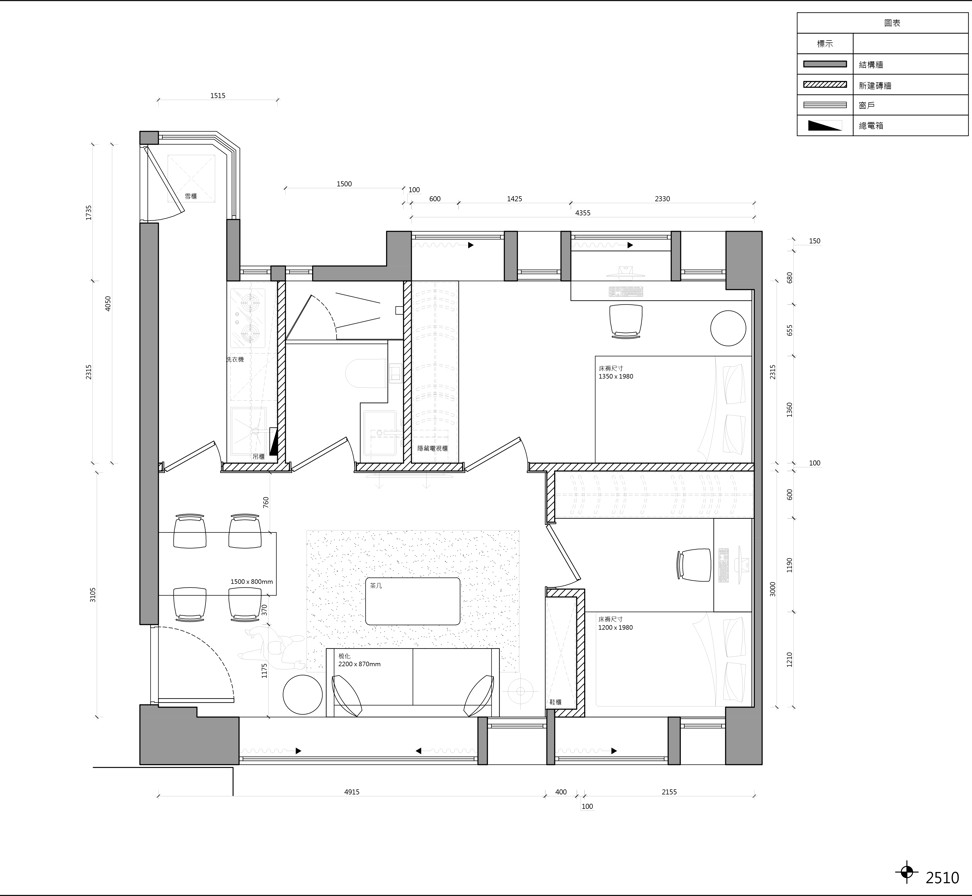 Chen is a fan of mid-century modern, and felt that the style's characteristic minimal look and clean lines would be ideal for his cousins' new home. Everything was kept uniformly similar throughout the apartment, with a black-and-white theme, dark wall panelling and flooring, and a cement-look paint finish.
"You typically go for light colours to maximise the impression of space in a small flat but I opted for a darker palette to give more character and a masculine feel. We even have black light switches," Chen says. "I was tempted to paint the ceiling cement grey, too, but I thought that would make the apartment feel claustrophobic so instead I went for white."
Stark contrast: a striking black-and-white Hong Kong home
He also installed white wardrobes in the bedrooms to lift the look, and says he insists the brothers use only white bedlinen for the same reason.
However, his bravest move – the stained dark-oak wall panelling – was also his tricki­est. Chen wanted it to match the flooring exactly, to give a seamless flow, but says he wasn't simply able to use wall panelling on the floor or fix floor tiles to the walls. The wood for each came from different factories so they were hard to match up. After going back and forth, he ended up with walls and flooring that are not only the exact same shade but have similar grain and textures.
"I wanted a strictly consistent theme throughout this apartment, and I am glad I stuck with my wall panelling and flooring idea because the effect is striking," he says. "Usually in a home, you have a theme running through the main living areas and maybe in the master bedroom but there tend to be a couple of rooms – such as children's bedrooms – that don't match the rest. Here, we were able to go all out."
I'm now married with two children but the design of this apartment is what I would have chosen for myself 15 years ago if I'd had the chance
Brass detailing breaks up the mono­chro­matic palette. It is used for door hinges and cupboard handles, as a subtle trim on kitchen cabinets and shelving, and in accessories such as candleholders and picture frames. While brass has earned an unfair reputation for being gaudy, Chen says, here it has the opposite effect and adds a touch of luxe.
Although the apartment is home to two bachelors, Chen was determined the look wouldn't veer too far into industrial territory. The Huis had also given him free rein to pick out their furniture, so he chose pieces that were elegant without being ornate or overly raw. He designed some items and had a few others made but for the rest he opted for Danish names renowned for their timeless appeal and simplicity.
"I didn't want the apartment to look cluttered in any way, particularly as it is quite small," Chen says. "There isn't a lot of furniture but it is good quality and each piece really gives something to the space."
Scandinavian-style Hong Kong flat showcases owner's collection of chairs and bears
Chen stresses the necessity of adding texture and depth to a minimal apartment to prevent it from looking bland. As well as geometric patterned cushions in each room ("Never underestimate the importance of a cushion," Chen says), he made sure the concrete-effect painted walls appeared softer next to the dark wood. He also chose one black-and-white artwork for each room, the most striking of which is a photograph of model Kate Moss, who surveys the living space from her vantage point next to the dining table.
"This photograph was very important for the living room as it gives it a strong focal point," Chen says. "Besides, every bachelor pad needs a hot chick. I'm now married with two children but the design of this apartment is what I would have chosen for myself 15 years ago if I'd had the chance."
Living room The sofa (HK$18,000) and rug (HK$18,000) were both custom designed by hoo and the geometric cushion was HK$250, from H&M. The Nelson Bench coffee table (HK$8,000) came from Vitra and the PH Floor lamp (HK$10,000) is from Louis Poulsen.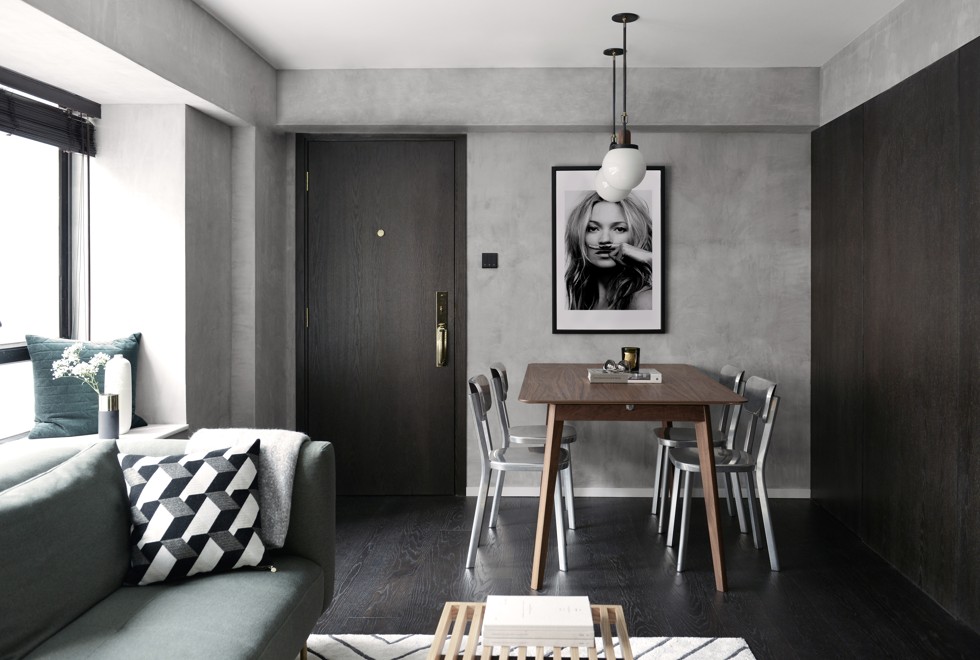 Dining area The Arc Globe pendant lights (HK$8,000 each) were from Allied Maker and the Transalpina dining table was HK$18,000 from Punt. The Deja-vu dining chairs by Magis and the photographic print of Kate Moss were all given to the Hui brothers as housewarming gifts from hoo.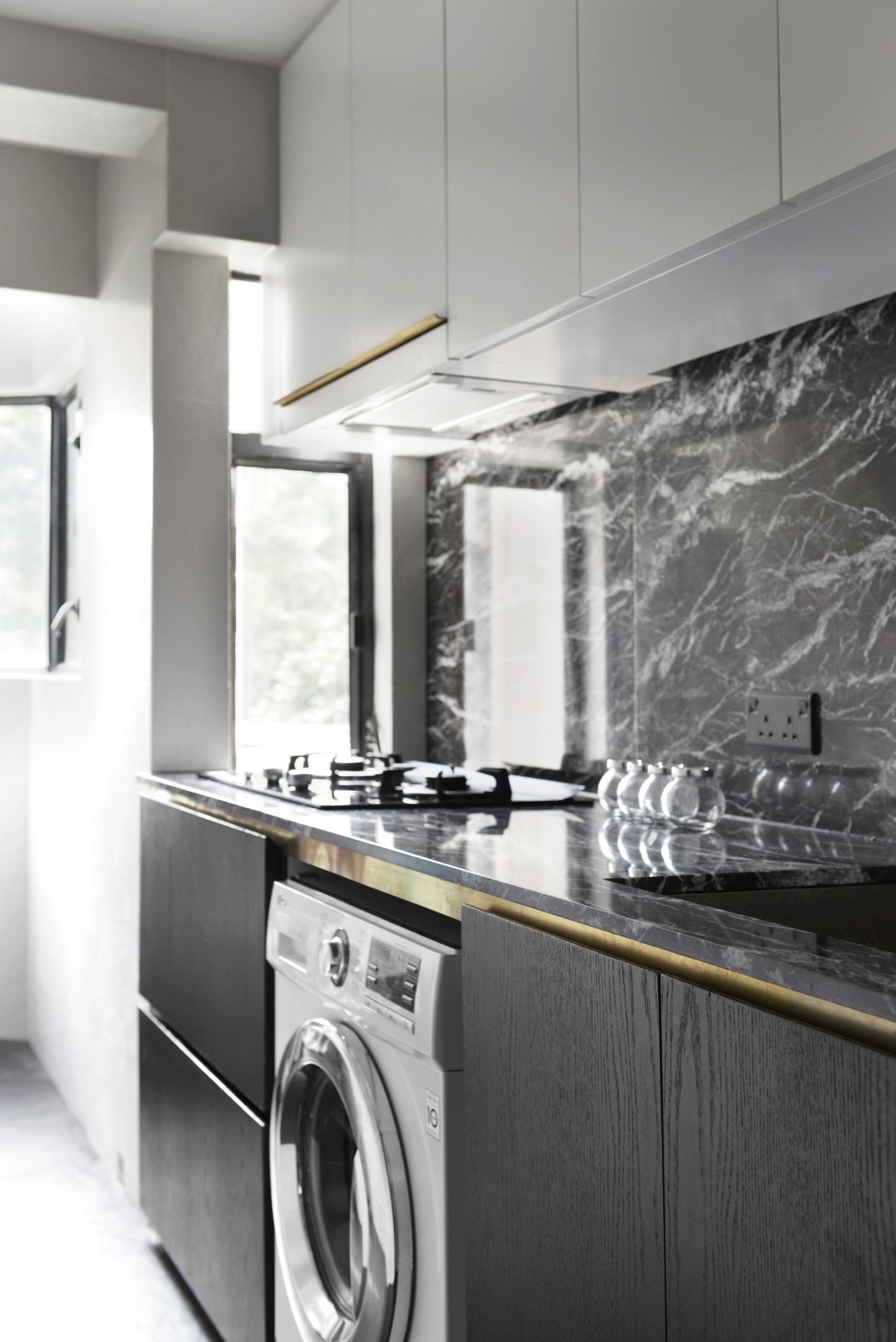 Kitchen Marble (HK$15,000) was used for the splashback in this kitchen (HK$60,000) custom designed by hoo.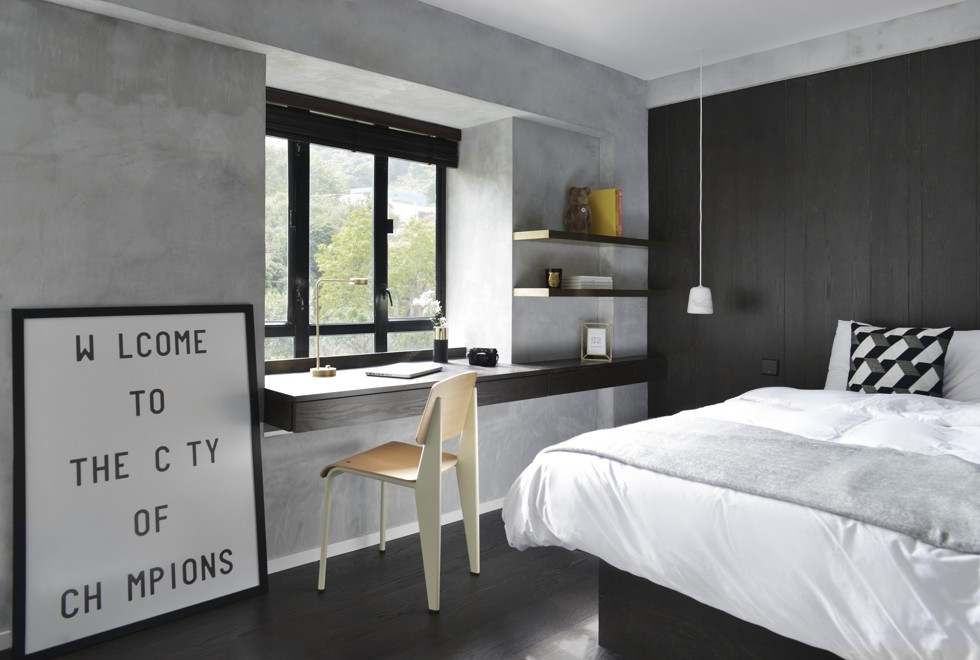 James' bedroom The bed (HK$18,000), shelving (HK$6,000) and desk unit (HK$15,000) were all designed by hoo. The Material Pendant was HK$3,000 from New Works, in Copenhagen, and the Standard Chair was HK$8,000 from Vitra. The picture was a gift from hoo.
Laurence's bedroom The Eames Wire Chair with Bikini Pad upholstery was HK$8,000 from Vitra. The bedside table and bed (HK$13,000 in total) were custom designed by hoo. The BL6 bedside lamp by Gubi was HK$6,000.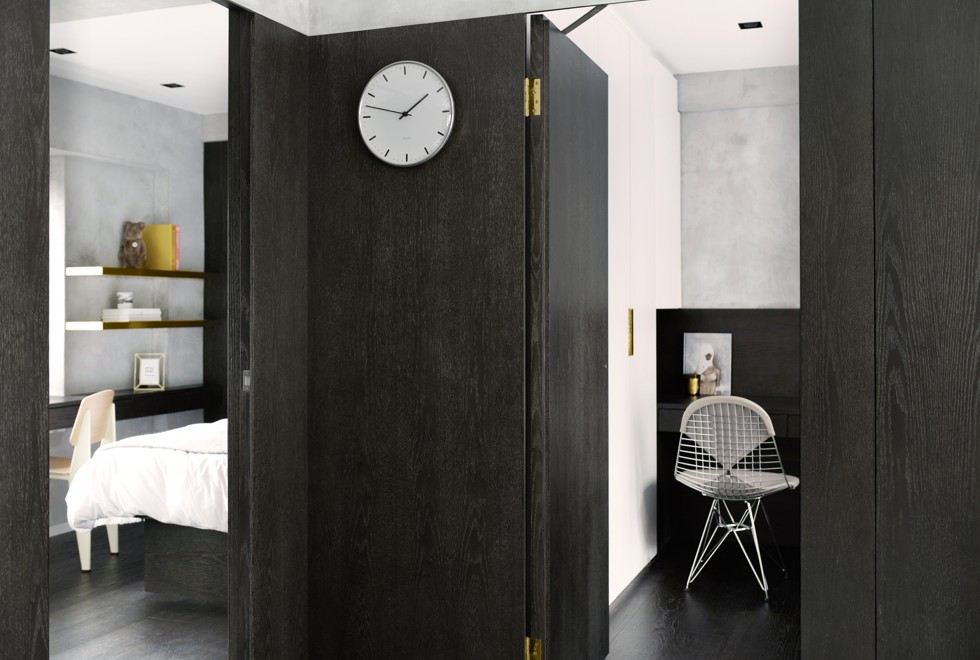 View from outside bedrooms The stained oak wood panelling (HK$20,000) was custom designed by hoo, and the City Hall Wall Clock, by Arne Jacobsen (HK$2,800), is available online from Arne Jacobsen Watches.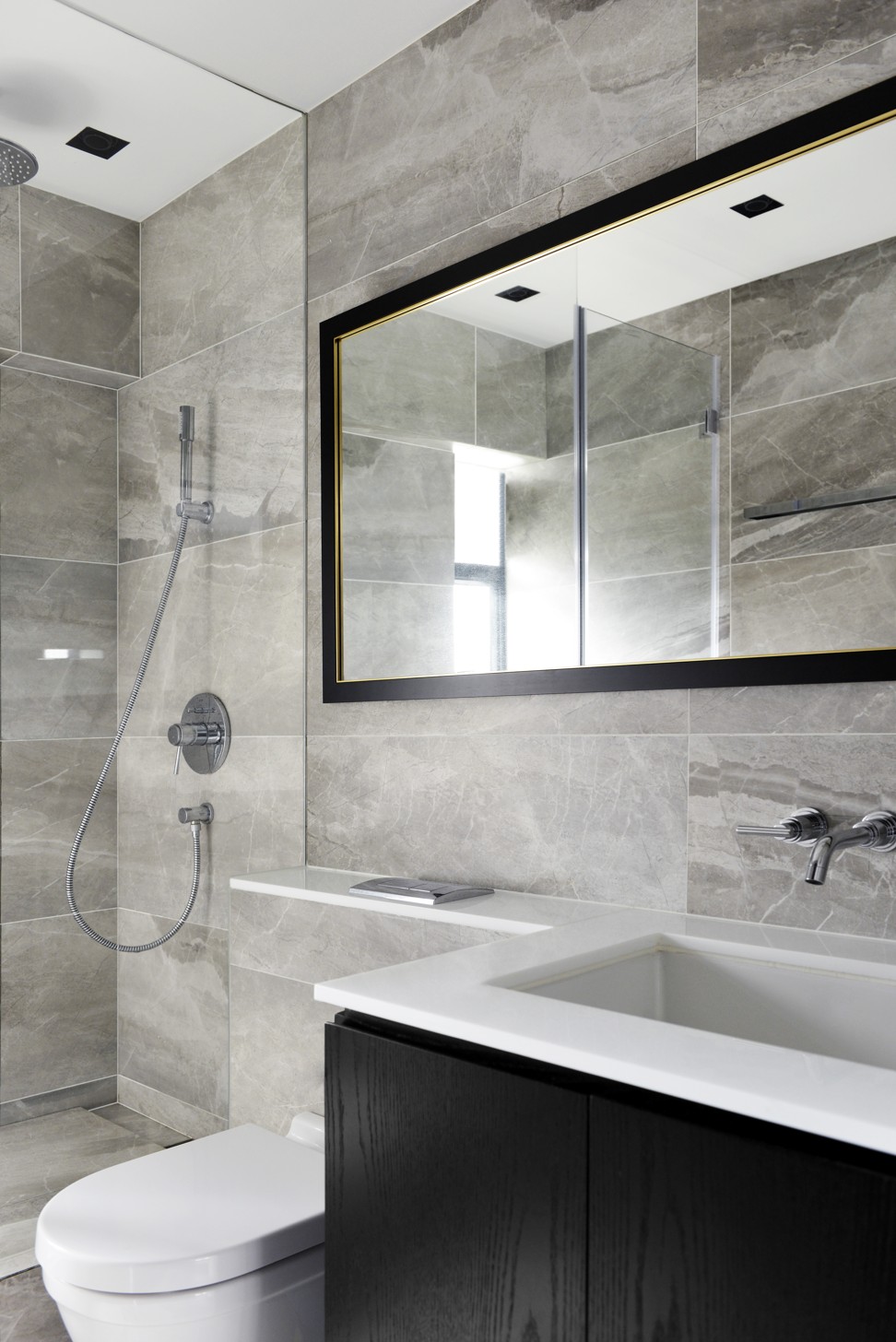 Bathroom The marble tiles were HK$300 apiece, from LS3 (183 Lockhart Road, Wan Chai, tel: 2827 0388) and the Kohler sink unit was HK$2,000 from Hop Lung Building Materials (298 Lockhart Road, tel: 2802 2296). The mirror (HK$3,000) was custom designed by hoo.
---
Tried + tested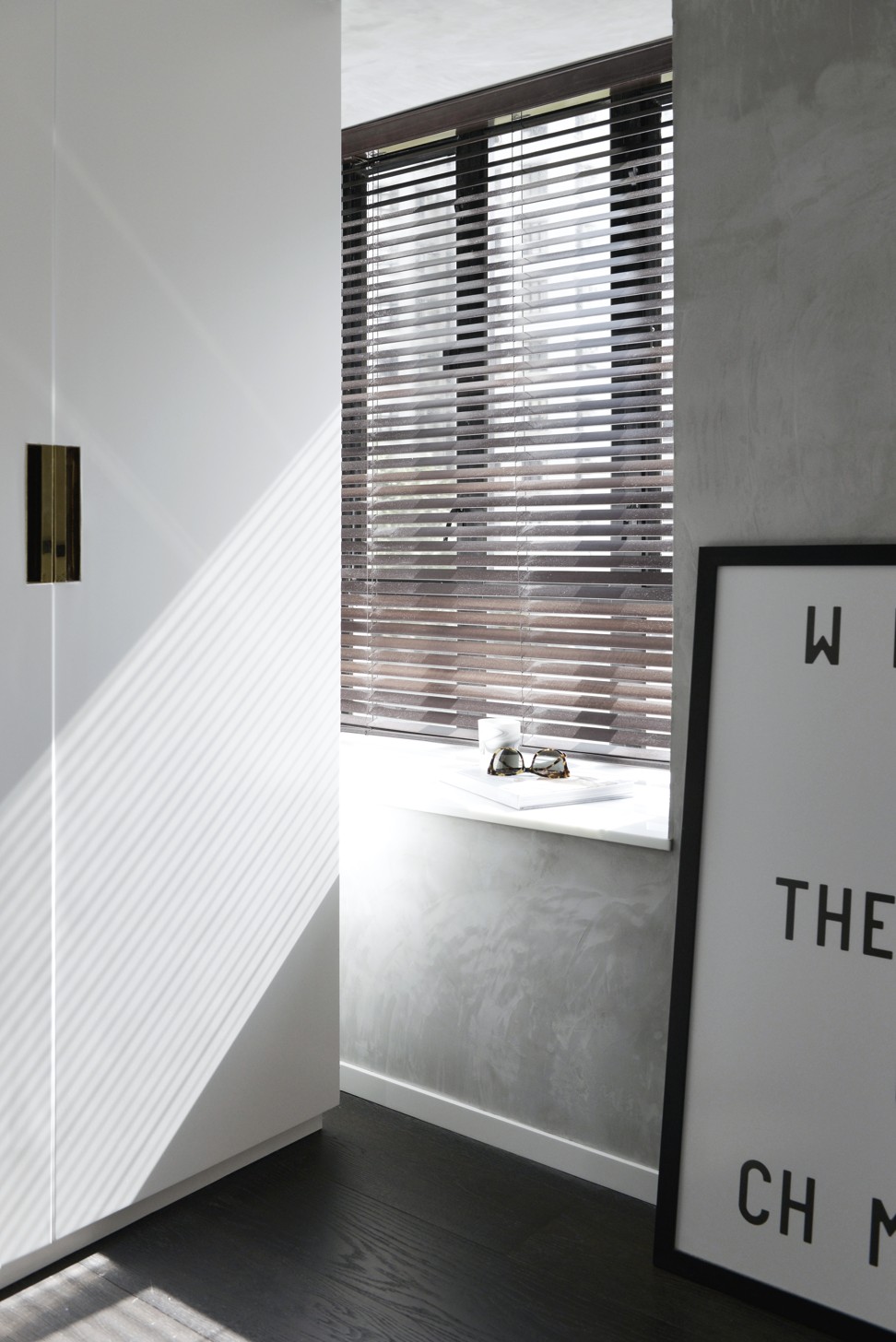 The wardrobes in James Hui's bedroom were made to end short of the wall to prevent an ugly wardrobe, beam and window clash. The set-up also provides a handy niche for Hui to store fitness equipment such as a yoga mat and weights.