Experiencing another continent for the first time can affect a person. Businesswoman Mary Kate Jackson discovered just how profoundly when she moved from New York to Hong Kong in 1993. Having never lived outside her native America, she was required by the company she was working for to understand Chinese culture and customs with a view to conducting business. She immersed herself in the culture, studying Mandarin, Chinese history, religion and literature; learning brush-stroke painting; and taking cooking lessons.
"Antiques brought my studies of Chinese history to life and learning about art unlocked the culture," Jackson says.
She also travelled extensively in the region, visiting Japan, India and Indonesia, among other countries, picking up items to remind her of where she had been. From Hong Kong, she moved to Paris, followed by stints in Amsterdam and Florence.
A Hong Kong interior designer's home that's full of stories
Fast forward a decade and Jackson found herself coming full circle, living back in New York in a chic 1,600 sq ft apartment on Park Avenue that she had bought in 2010. In 2013, she embarked on a renovation, with Hong Kong-based interior architect Anji Connell setting the design direction and fusing Jackson's disparate collection of "lifetime souvenirs" into a cohesive whole.
I wanted to highlight the apartment's art-deco roots without going over the top
The apartment's previous owner had combined two one-bedroom units into a single spacious property, and installed warm Brazilian cherry wood flooring through­out. Jackson liked the layout, with the communal living areas at the heart of the apartment and the two bedrooms and two bathrooms on opposite sides, but decided that the living, dining/kitchen and bathrooms all needed a makeover.
"I wanted to highlight the apartment's art-deco roots without going over the top and Anji did that but also brought everything into the 21st century," Jackson says. "She added that little spark of life that makes all the difference."
A nod to the past: inside a 1930s home in luxury enclave in Kowloon
The pair worked together largely by sending each other photographs of ideas and occasionally having Skype calls, through which Connell could check on progress.
"I do a lot of work remotely and don't find it at all difficult," Connell says. "With all the technical advances, you really don't need to be on site all the time. However, Mary Kate and I go back a long way. I've worked on a previous house for her and we've shopped together for art pieces and furniture. She thinks she doesn't know what she wants but when presented with choices, she knows instantly what she likes and doesn't."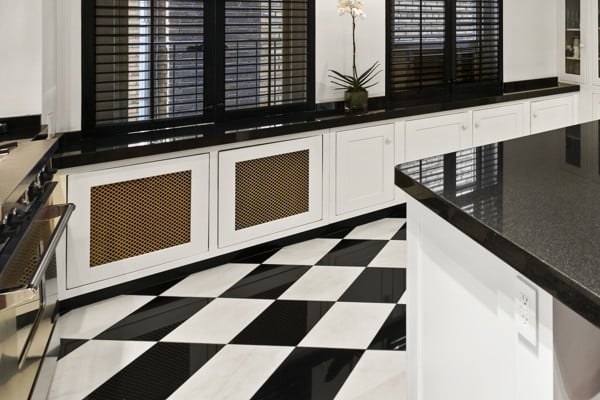 Inspired by the home of a friend who was living in a colonial "black and white" house in Singapore, Jackson installed black shutters throughout her flat and chose white decor with black accents as her overall theme. She installed diagonally laid checkerboard flooring in the kitchen, which replicates the art-deco style in the foyer of her apartment block.
For one bathroom, she decided on white tiles in combination with small diamond-shaped black ones for a distinctly Gallic feel; in the other are show-stopping paisley tiles that are almost identical to the black-and-white wallpaper in the hallway.
"Anji was fantastic about steering me to spend wisely but even she agreed that the [paisley] tiles would be a good design invest­ment," Jackson says. "They make a feature out of an otherwise boring little room."
Connell also suggested borrowing the black-and-white graphic design on the fabric of a Parisian stool as inspiration for several rugs. These provide continuity, tying various spaces together.
Mary Kate's collection of art and objets is stunning and, when mixed with her European furniture, they give a wonderful lived-in feel. It's not contrived in any way but is a real, comfortable home, filled with memories
While hanging a mirror was the obvious solution to increasing the feeling of space in the relatively small living room, Jackson wanted something more unusual. Connell came up with the idea for antiqued mirror panelling, cut into pieces of various shapes. Installed behind a working fireplace and a piece of art, the mirror wall provides a focal point, adds depth and interest as well as seeming to double the space.
What a Singapore black-and-white house lacks in mod cons it more than makes up for in atmosphere
Jackson's collection of art and accessories balance the monochrome palette by adding coordinating pops of colour. The coral of a woman's headscarf in a painting on the dining-room wall, for example, matches a lampshade and statuette below it.
"Mary Kate's collection of art and objets is stunning and, when mixed with her European furniture, they give a wonderful lived-in feel," Connell says. "It's not contrived in any way but is a real, comfortable home, filled with memories."
Jackson agrees. "Most of my furnishings are souvenirs of my travels. Every piece, every room tells a story of where I've lived."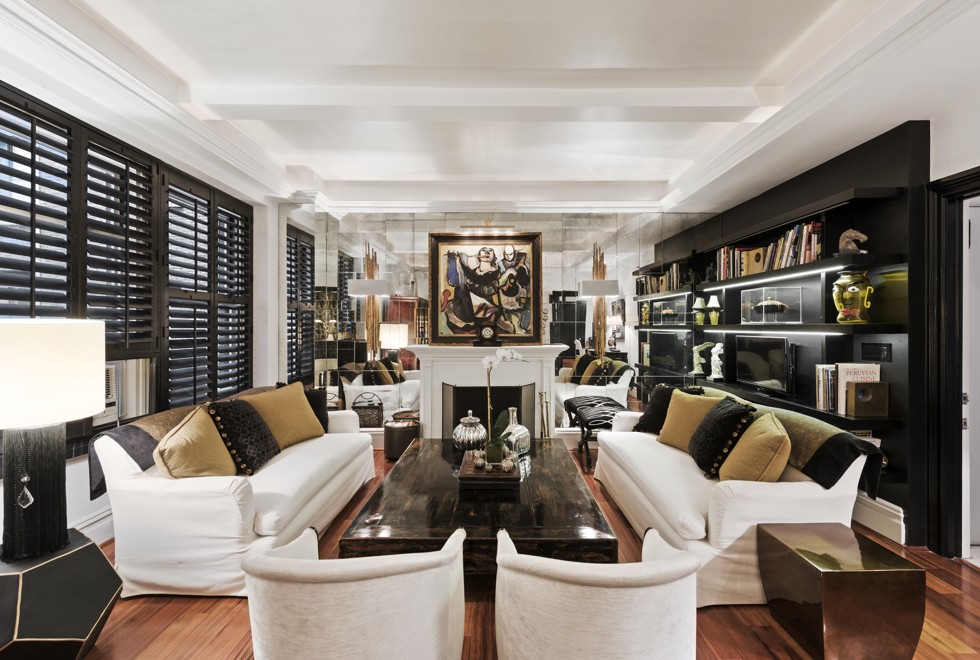 Living area The gold wall fixtures on either side of the artwork above the fireplace were bought from Flair, in Florence, Italy. The black plantation shutters from International Blind Contractors, bookshelves by Think Fabricate and fireplace mantel by architect and designer Thomas Sansone from TAS Design (937 West 28th Street, New York, tel: 1 917 861 1748), were all custom made in New York. Anji Connell set the design direction to ensure cohesiveness.
The two sofas originally came from Altfield but Mary Kate Jackson gave them a new lease of life with slipcovers in fabric from Holland & Sherry. The coffee table was custom made by Dynasty Antiques (Rua de Santo Antonio, Edificio Long Cheong, Macau, tel: 853 357 629). The two slipper chairs were bought from Dany Art Deco (154 rue des Rosiers, 93400 Saint-Ouen, Paris, France, tel: 33 1 49 45 09 97). The black-and-white stool was bought from Michele Aragon (21 Rue Jacob, Paris, tel: 33 1 43 25 87 69) and later re-upholstered in Pierre Frey's Gotham Cardinal fabric.
The pentagonal table was from Mountain Dandy, in Jackson Hole, Wyoming, in the United States, and the Julya lamp on it came from Simone Figueiredo Luz, in Brazil. The high-gloss gold table came from a store in Portland, Oregon.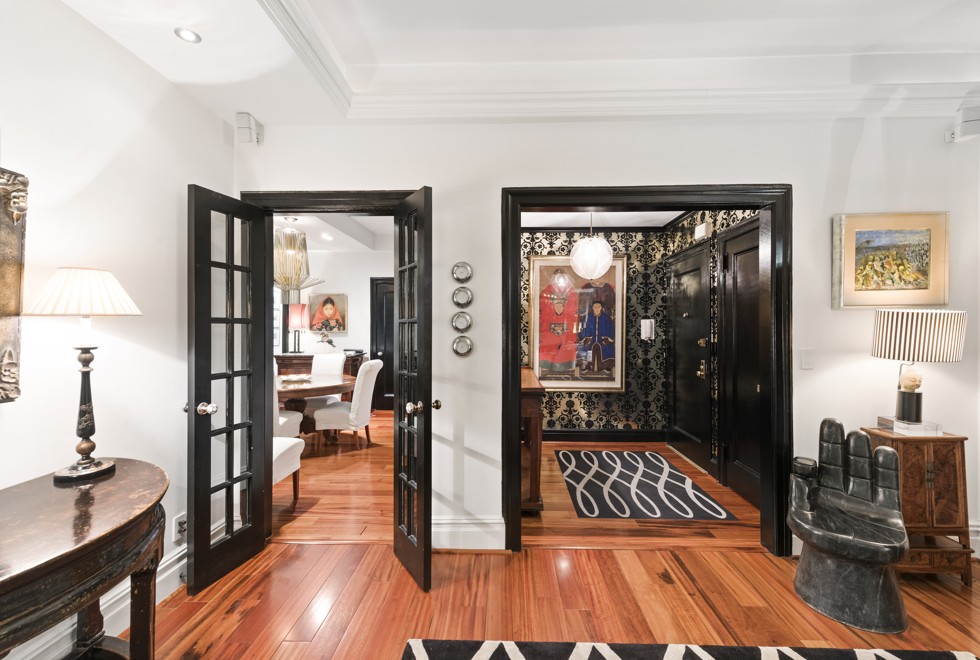 Entrance The ancestor painting was bought from Hoi Lung Arts (50 Rua de Sao Paulo, Macau, tel: 853 2834 0063). The pendant light was from Dany Art Deco, and the black-and-gold Mylar damask medallion wall covering was from DesignYourWall. The rug was custom made through Liora Manné, in New York. In the living area, the black marble Hand-of-Buddha chair (US$4,700) was bought from Kalakriti, in Agra, India.
The half-moon table came from Dynasty Antiques, in Macau, and the black lacquered candlestick lamp was bought from Altfield. The huanghuali and burlwood chest-on-chest came from a shop that has since closed; on it sits a lamp with a Buddha head base, bought from Simone Figueiredo Luz, in Brazil. The painting above the lamp, Peasants At Dusk, by Megan Karlen, came from Beauregard Fine Art, in New Jersey.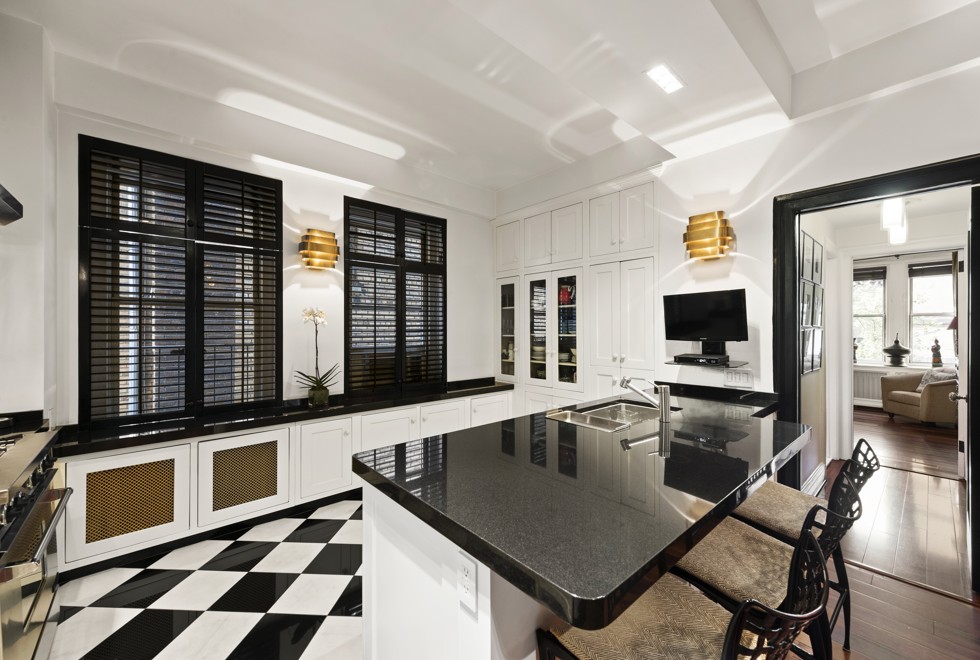 Kitchen Jackson installed the checkerboard flooring and countertops when she renovated the apartment in 2013.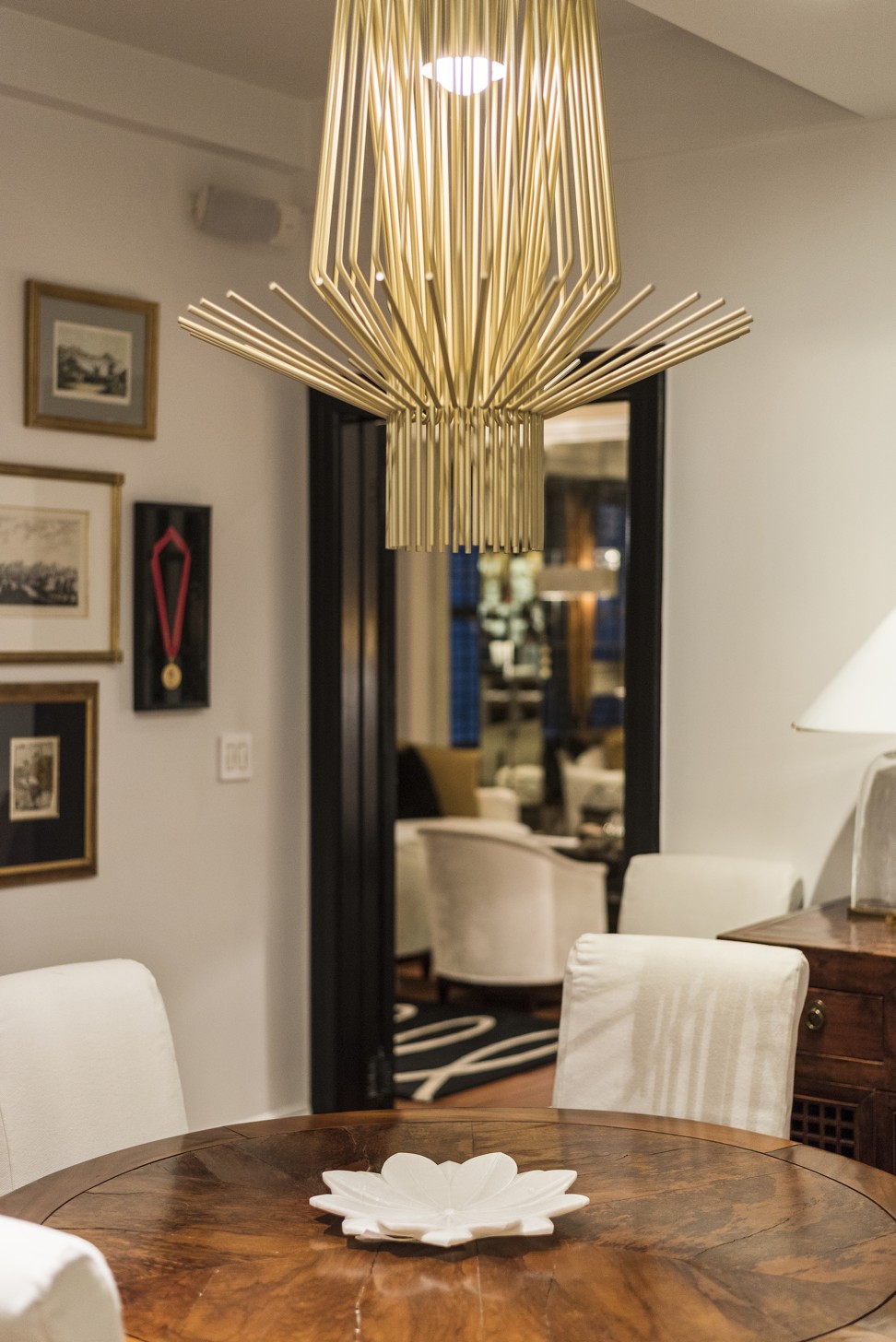 Dining area The circular teak and tiger wood dining table was custom made by Denas Art Curio & Antique Furniture (42 Jalan Kemang Timur, Kemang Bangka 1, Jakarta, Indonesia, tel: 62 21 7197269), and transported to Hong Kong in two pieces as check-in luggage; the upholstered dining chairs were made by Choi Designs (4/F, Dominion Centre, 43 Queen's Road East, Wan Chai, tel: 2866 6816). The Allegretto Assai pendant light (HK$55,000) came from Foscarini.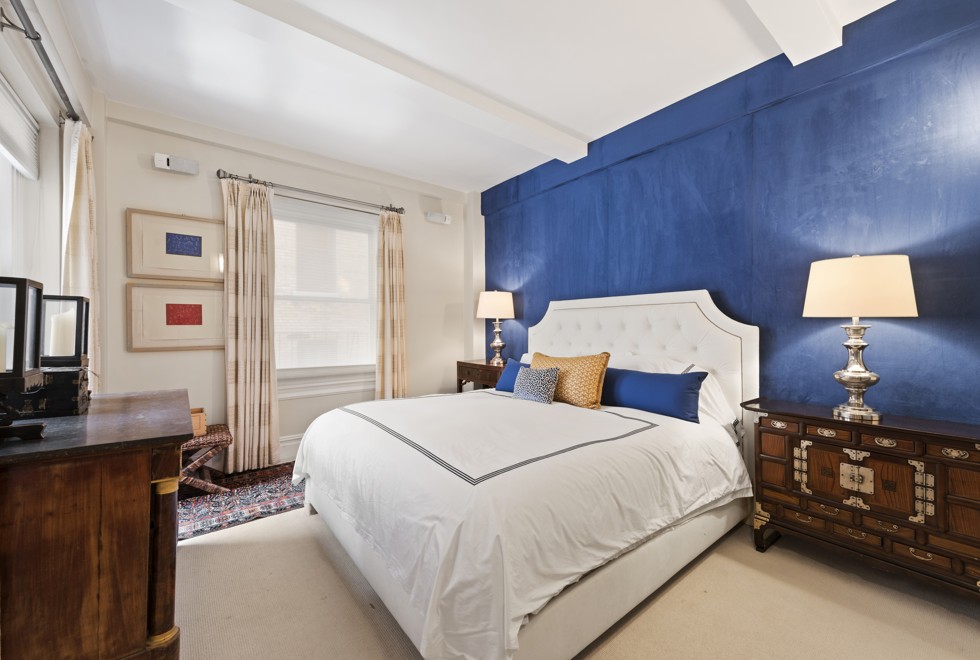 Master bedroom The Baltic Blue Japanese Kabuki Suede wallpaper was sourced from Phillip Jeffries and the polar white suede Alison king headboard with contrast piping came from Ethan Allen, in New York. The large elmwood chest next to the bed was bought from A Hyun Furniture (#736-8 Hannam-dong Yongsan-ku, Seoul, South Korea, tel: 82 795 6098).
A pair of 19th-century Chinese candle stands from Mingei Antiques (50 Wyndham Street, Central, tel: 2524 5518) sit on a chest of drawers bought years ago in Paris. The bedside lamps were from Rooms to Go, Fort Myers, Florida and the paintings, by a relative, were a gift. The stool was bought in Miami, Florida, and the rug was picked up on a trip to Istanbul, Turkey.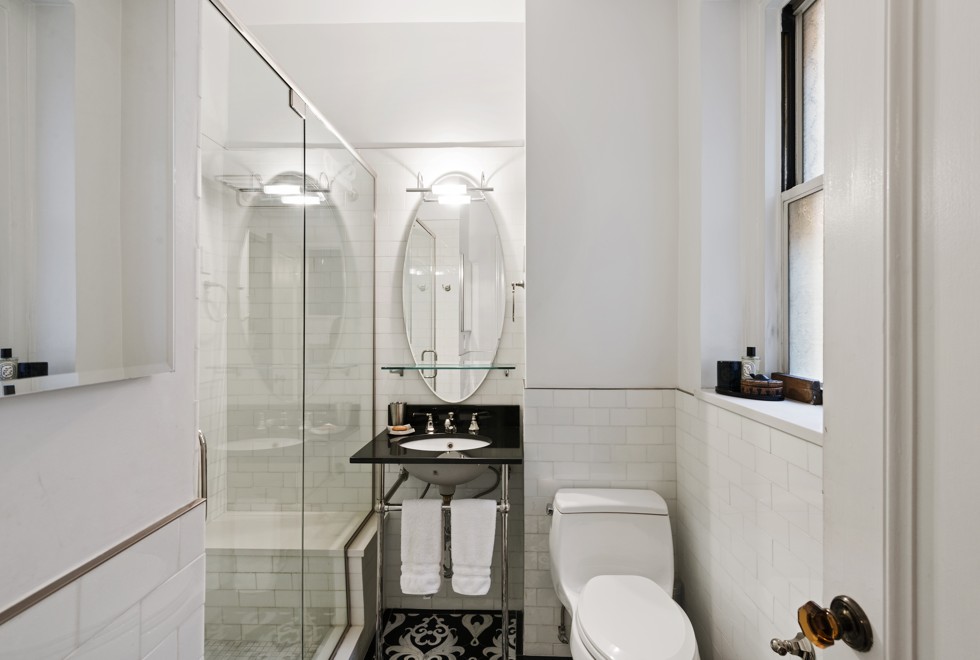 Bathroom The Antipasti Mosaic Majestic Grande floor tiles in Nero were bought through Ann Sacks. The Casey Art Deco Undermount Console Sink was bought from Signature Hardware and the mirror-shelf-light unit came from Boffi.
---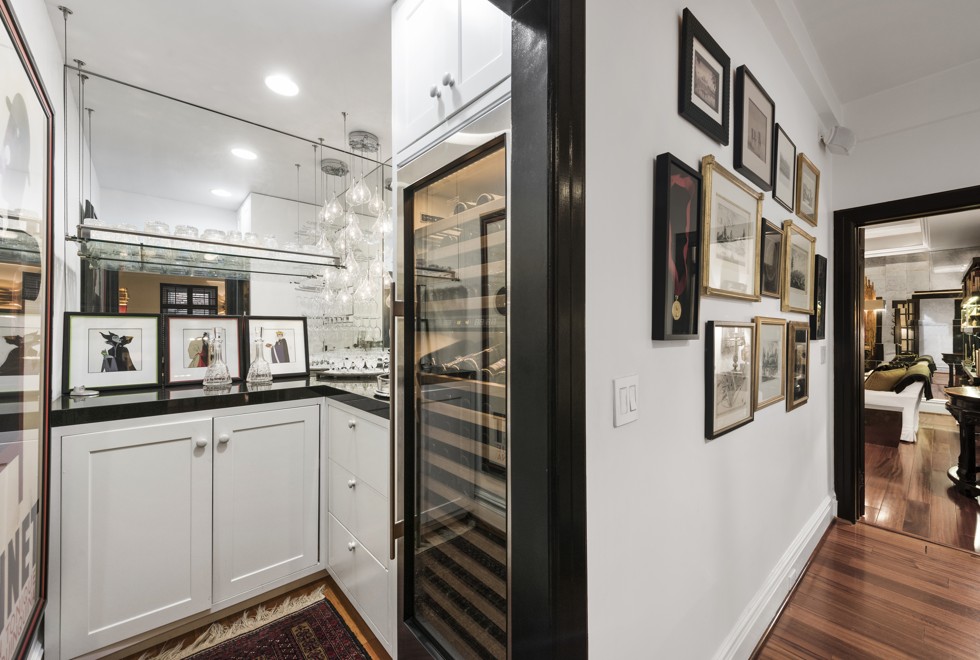 Tried + tested
At your service Mary Kate Jackson converted a walk-in cupboard into a butler's pantry, traditionally used in Victorian times as a bridging space between the kitchen and dining room, to store the family's silverware and formal china. Positioned off the dining area, this New York version was constructed specifically to fit a framed Dubonnet poster bought in Paris and a hanging shelf was constructed to fit the space.
The wine fridge came from Sub-Zero and the pendant lights were from Lighting by Gregory. The Wicked Women of Disney print series – Maleficent, Evil Queen and Cruella De Vil – was a gift from Disney.