Angie Ng Chin Li is no stranger to style. The Malaysian model has travelled the world in the name of fashion, visiting the most vibrant of neighbour­hoods and coming into contact with top-end design. So you'd be forgiven for thinking that her home would be a magazine-perfect, state-of-the-art pad in a highly desirable location.
But no; "I can't stand those apartments that are so neat you feel scared to sit down or touch anything," Ng says. "It's important to me that my home is comfortable and that people feel welcome the minute they step inside."
Nor does she feel that a prestigious address is particularly important. Her home is a three-bedroom, two-bathroom rental in Tai Hang, a neighbourhood that won her heart with its friendly, community vibe. She has lived in various apartments in the area since she chose Hong Kong as her base nine years ago.
"Coming from Penang, which is a smallish city, everyone pretty much knew everyone else," she says. "It's that inclusive, almost family feeling that makes me feel so at home here."
Ng's 1,000 sq ft apartment had been newly renovated when she moved in last April but it was empty. She invested in Ikea railings and had them fitted into the flat's tiny third bedroom, turning it into a walk-in wardrobe. She also enlisted the help of Christie Simpson, a fashion and interiors stylist, and creative director of homeware store iDecorate, to help her visualise where and how to place everything.
Although pieces such as the sofa and coffee table were custom made for the flat, Ng and her partner, James, already owned most of the furniture. She confesses that she would now rather buy furniture than clothes and prefers to invest in classic pieces.
Hong Kong interior designer recreates cosy vibe in move to flat three times as big
"Homes are like humans – we grow and change. I believe a home should never stay the same," she says. "It is good to look at examples of interiors but, ultimately, it is important to have a home that is an extension of your personality."
While her interior tastes differ slightly from her partner's, she has managed to pull everything together, mixing textures and styles, and combining designer furniture with high-street names to create an eclectic collection that is instinctive rather than studied.
"I really enjoy staying in, playing with pieces and moving things around," she says. "Even the smallest changes can make a house feel so different."
I can't stand those apartments that are so neat you feel scared to sit down or touch anything. It's important to me that my home is comfortable and that people feel welcome the minute they step inside
Her interior also offers examples of a variety of design eras: antique Chinese furni­­ture sits side by side with contemporary purchases and retro-inspired pieces. Parti­cularly eye-catching are the vintage floor lamp, whose shape reminds Ng of banana trees, the Cloud bookshelves and, most obviously, the Up chair, designed by Gaetano Pesce in 1968. Production of this chair, inspired by silhouettes of ancient fertility goddesses, was stopped in the 1970s because its original polyurethane material contained ozone-unfriendly Freon. B&B Italia released a more environmentally friendly version in 2000.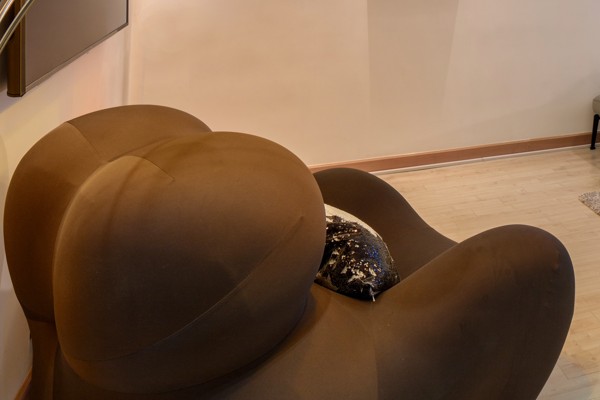 "Everyone loves this chair. It represents the female form and my male friends especially all fight over it," Ng says, laughing.
Family photographs and artwork cover walls and surfaces, making the apartment both interesting and welcoming. James has a penchant for Banksy and a triptych of illu­minated photographic art by Yang Yongliang also adds life to the living area, while Ng's preference for something calmer in the master bedroom sees an aerial shot of paddy fields on one wall and the Chinese artist's emerald-hued Viridescence above the bed.
Continuing the theme of green are Ng's myriad plants. While she didn't want blinds or curtains in the dining area, she also was averse to undressed windows. The solution was to hang plants from the curtain rail.
"I love the irregularity of plants – the way they grow and how they look. They make the air feel cleaner and they make a house a home," she says. "Even on the worst day, plants can lift the mood.
"Being cosy is of the greatest importance to me – beyond looks, beyond anything. As long as my apartment feels cosy and 'me', nothing else matters."
---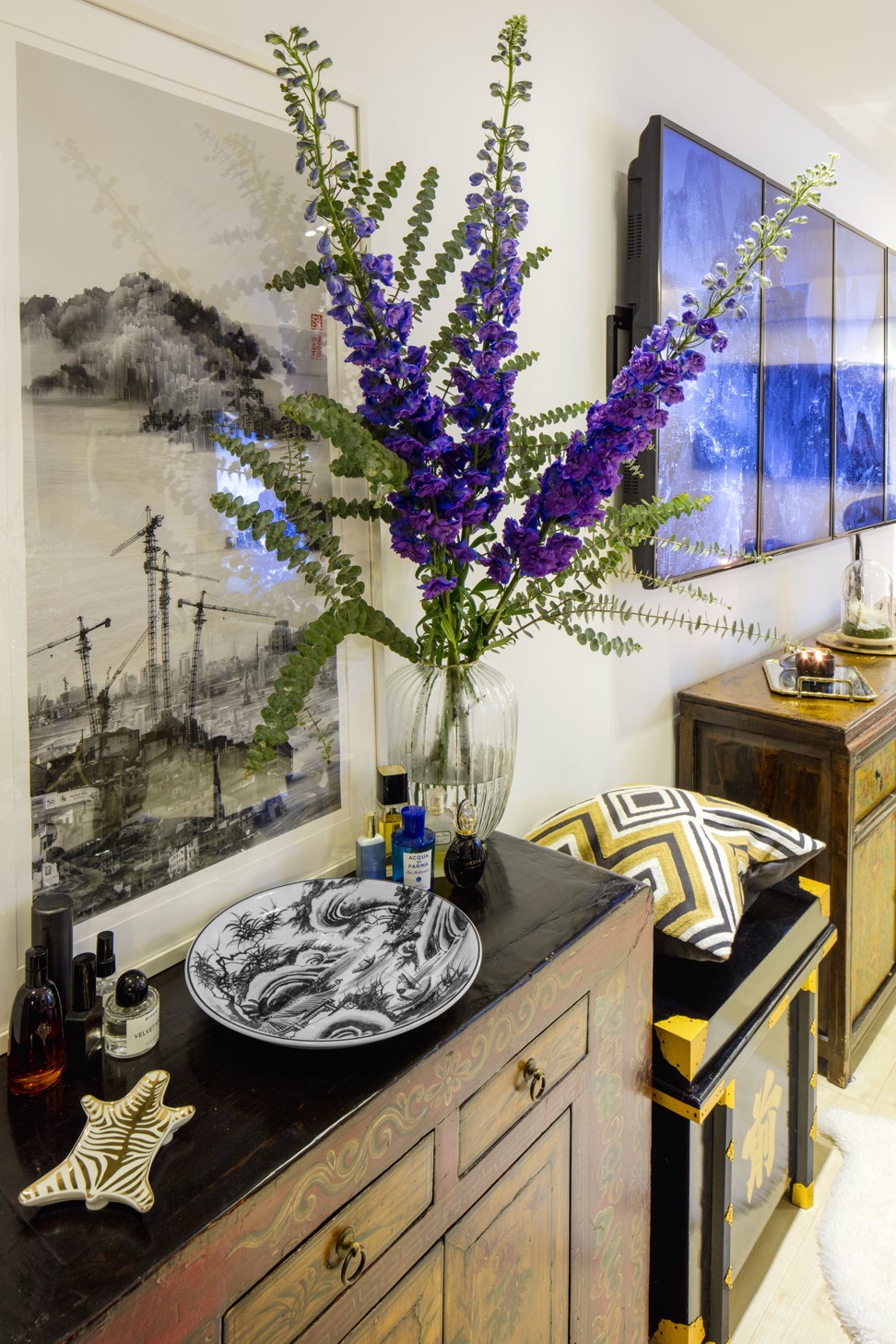 Entrance The black-and-white Ruins in the Water and the triptych art installation, The Day of Perpetual Night, are both by Yang Yongliang. The red/gold antique chests of drawers came from a shop in Ap Lei Chau and the yellow box (which contains a samurai suit) was picked up on a trip to Japan. The cushion (like most of those in Angie Ng's apartment) came from H&M Home.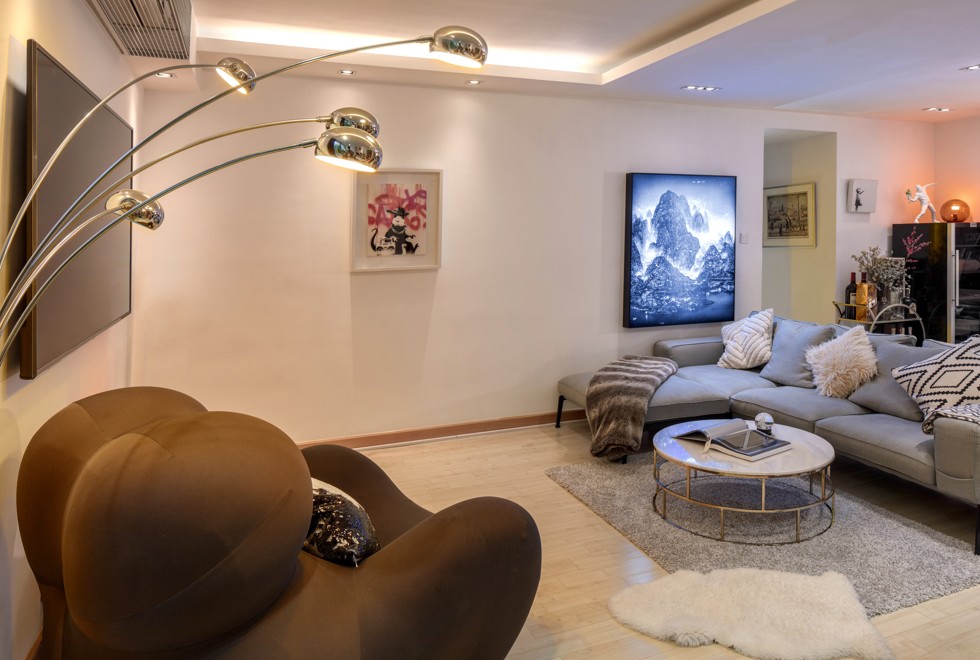 Living area The floor lamp was bought second-hand from AsiaXpat for about HK$1,000. The Up chair, by Gaetano Pesce, came from B&B Italia years ago. On the wall hangs Gangsta Rat, by Banksy, and the Light Box Series art installation by Yang. The sofa (HK$18,000), ottoman (HK$4,000), coffee table (HK$6,500) and drinks trolley (HK$3,500) are available through iDecorate. The rectangular rug was HK$1,190 from Ikea, and the print in the corridor was by the late British artist L.S. Lowry.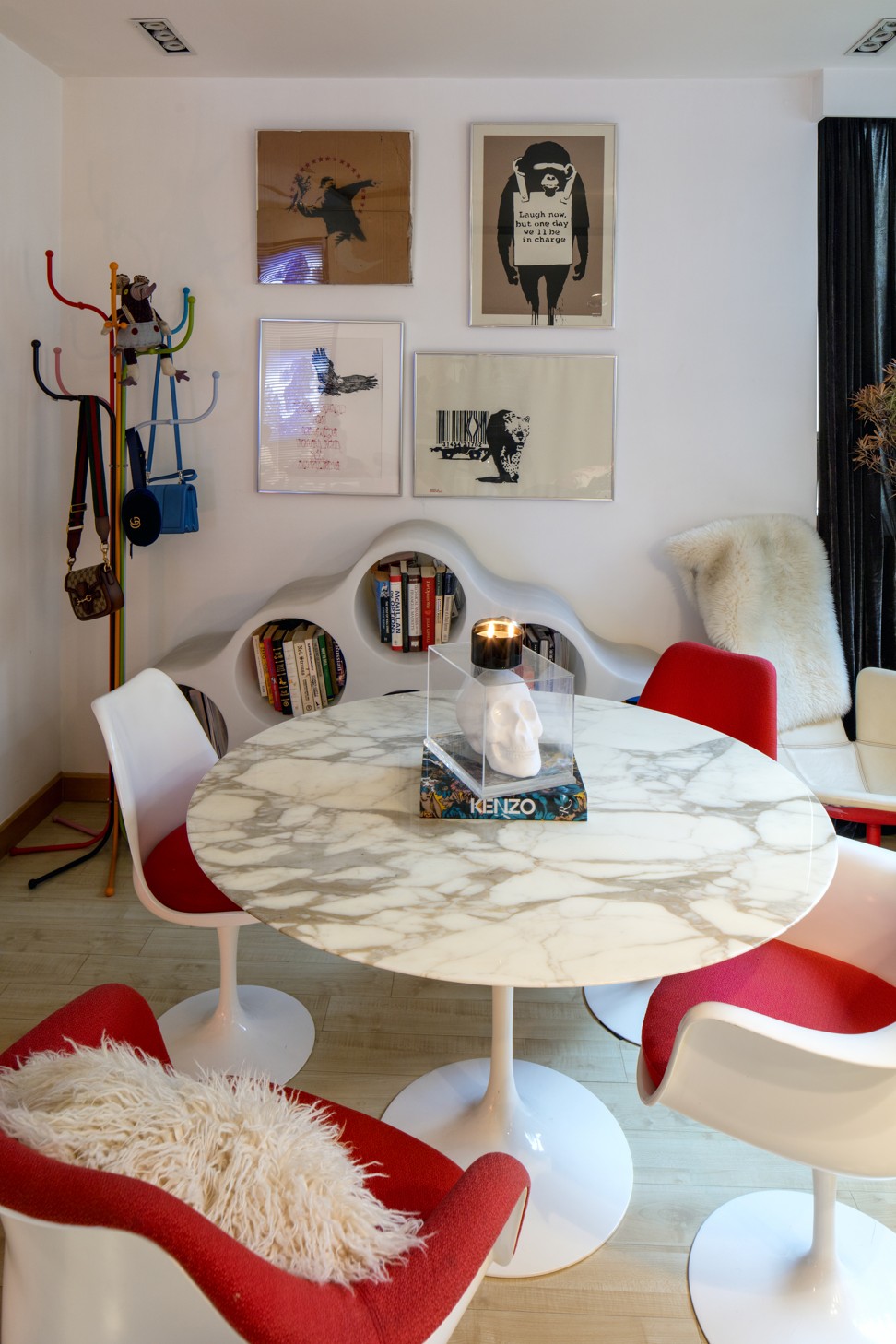 Dining area The Tulip dining table (HK$80,000) and chairs (HK$17,000 each, with arms; HK$13,000 each without), by Eero Saarinen for Knoll, are available at Aluminium. The skull was by Li Hongbo. The Cloud bookshelf, by Ronan and Erwan Bouroullec, was bought years ago from Cappellini. The coat stand (HK$9,000) came from Fritz Hansen. The eagle artwork is by a Canadian artist, and (clockwise from top left) Love is in the Air, Laugh Now and Barcode are all by Banksy.
Kitchen The kitchen was installed by the landlord. The "A" cup (HK$290) and saucer (HK$390) were from iDecorate. The Girl With Balloon (the other part to it hangs separately in the living area) and The Walled Off Hotel (far right on the counter shelving) are both by Banksy.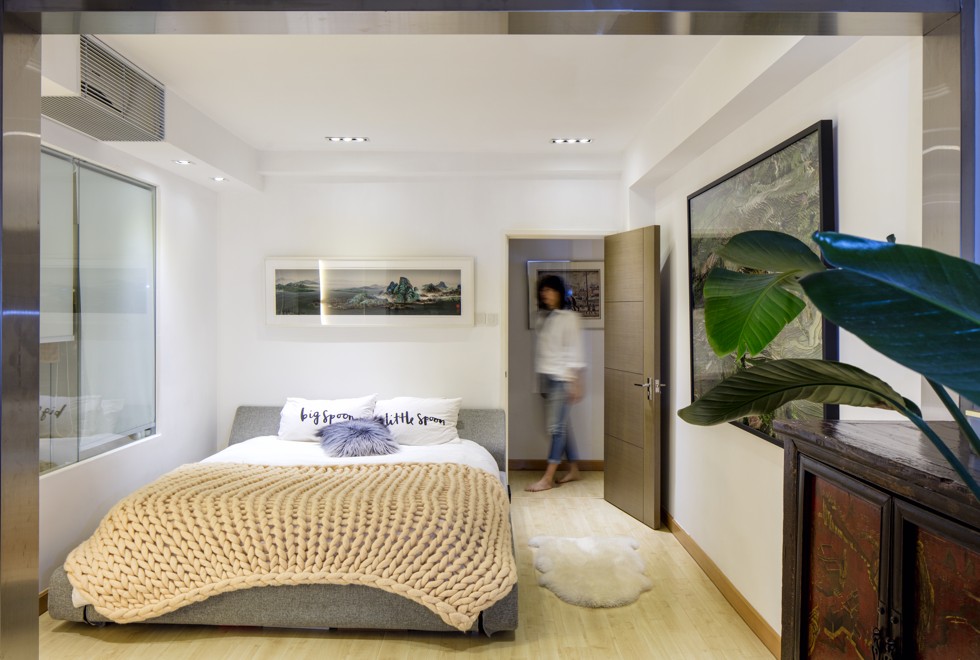 Bedroom With a view into the bathroom, the Clip bed, bought years ago, was by Patricia Urquiola for Molteni. The Small Spoon/Big Spoon pillowcases were HK$385 for the set from iDecorate. Viridescence, by Yang, hangs above the bed and Edward Burtynsky's Rice Terraces adorns a side wall. The rug was HK$459 from Ikea.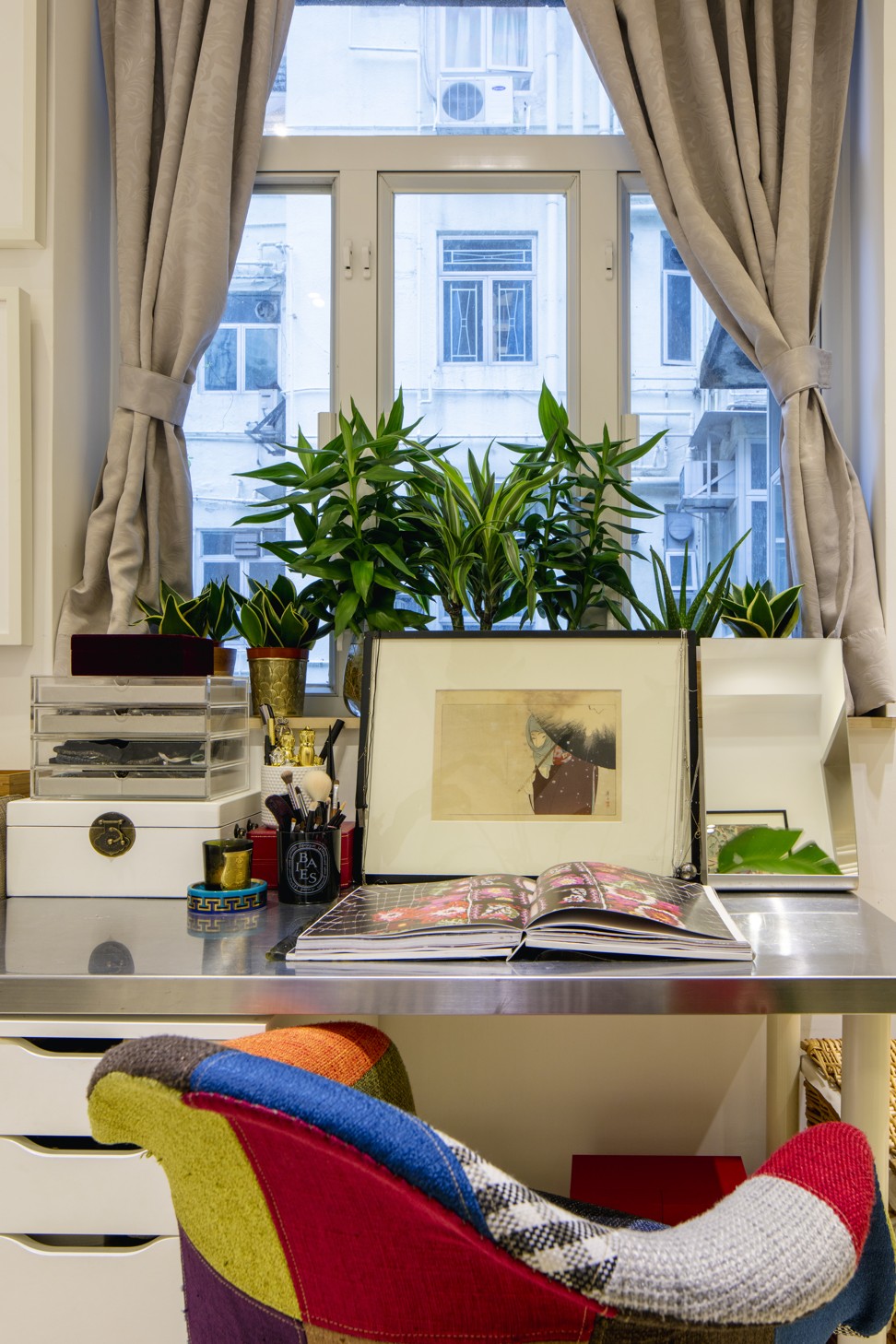 Study area The stainless-steel desk was about HK$1,000 from Ikea. The small picture on it, by an unknown artist, was found in an antique shop in Kyoto, Japan. The Eleven patchwork chair (HK$2,800) is available at Aluminium.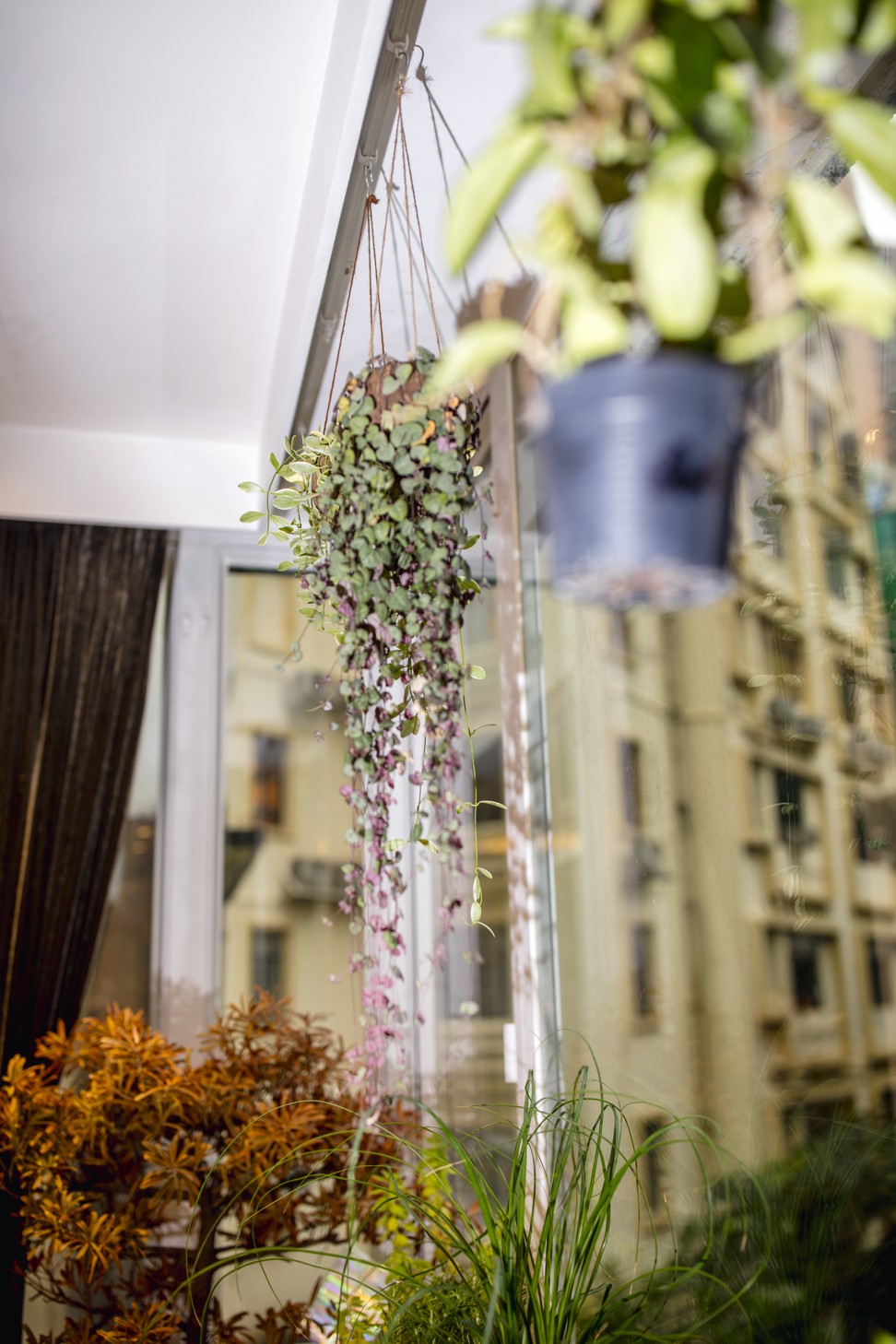 Dining room detail The plants all came from a small shop on a side street off Tung Lo Wan Road, Tai Hang.
---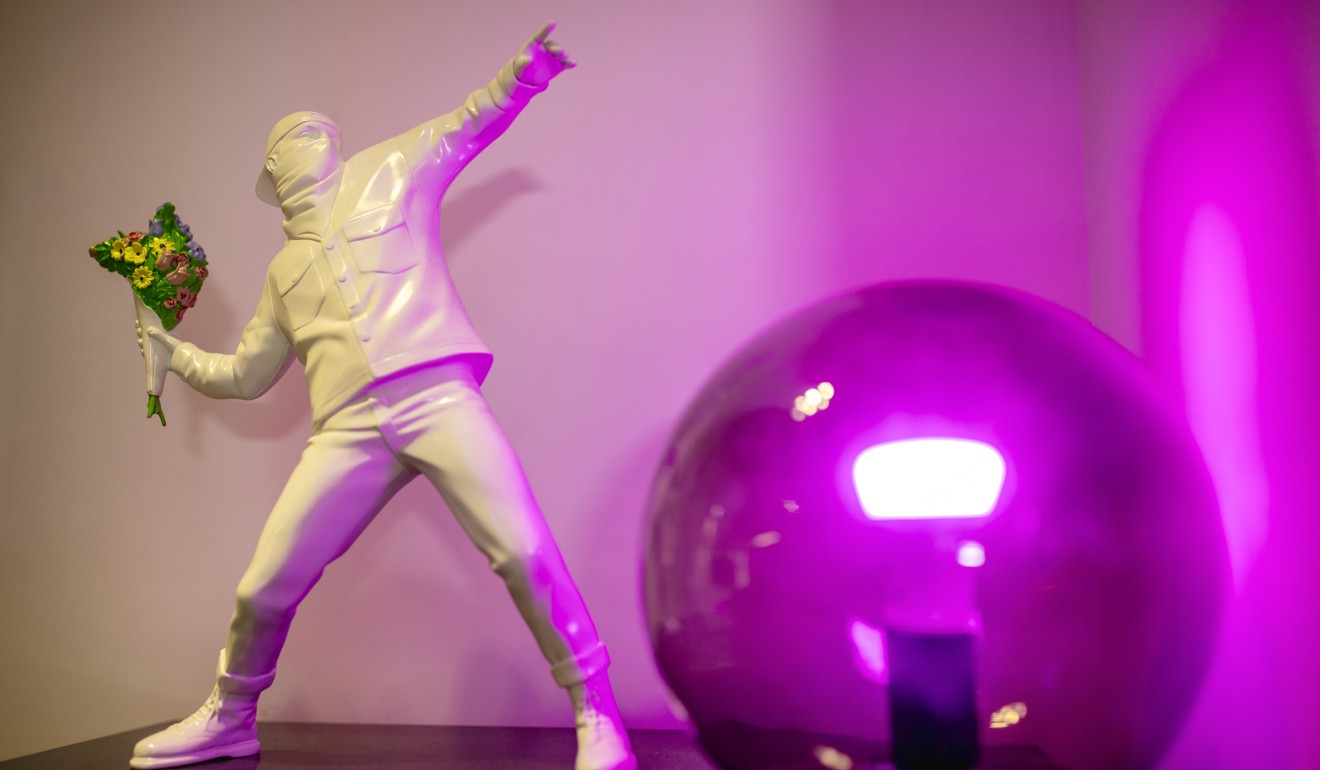 Tried + tested
Smart lighting Angie Ng invested in Hue personal wireless lighting by Philips (about HK$1,900 for a starter kit and three light bulbs), which can be controlled via an app on her smartphone.
The settings create appropriately ambient lighting for various times of day and occasions (including parties, waking and relaxing) and enable her to change light colour and intensity in seconds. A smart sensor means the lights will also switch themselves on just before she arrives home.
The Flower Bomber figure was by Medicom Toy.