A Parisian artist's 1960s gallery-like home in Hong Kong
Daphné Mandel's colonial Peak residence is the perfect backdrop for her collection of art and antiques
Artist Daphné Mandel's apartment on The Peak is a legacy of a different era. Built in 1965 for civil servants, the colonial govern­ment block appears unassuming and utilitarian. The aesthetic is strictly no-frills: there is no glossy marble lobby, clubhouse or swanky water feature here. Its luxuries are space and location.
Built before air conditioning became ubiquitous, the 2,550 sq ft, three-bedroom apartment is large, airy and functional, with killer views and the period's high ceilings and parquet floors. Painted crisp white, with light pouring in through wall-to-wall windows in every room, the space has a gallery-like quality. It is the perfect backdrop to Mandel's artwork and her collection of mid-century furniture and accessories.
"It's the right era," she says of the apartment. "It's good common-sense design. I like the rundown facades and the non-polished and unsophisticated finish of the interiors. It's all about function and quality of space. It's basic and sober, which is what you need if you want to bring your own personality to your home.
"I really like things from the 1950s; they are all very functional. I like objects with a backstory, that look like they have lived."
Her bedroom, for example, features a 19th-century metal bookcase made by students of French architect Gustave Eiffel (of tower fame), who experimented with furniture made from industrial materials. The dining chairs have a similar lineage, and a worn metal console table in the living room started life in a military canteen ("Whenever we move, the removal men ask if it's for the tip").
"My furniture, objects and art pieces are all random finds from flea markets, antique dealers and shops that I have come across over the years," Mandel says. "Many pieces are from my grandmother and my family – we all have similar taste."
Half-French, half-Dutch, Mandel grew up in Paris, France, where she trained in architecture, landscape architecture and urban planning, later forming her own company specialising in urban landscape design. Moving to Hong Kong in 2008, with her American husband and son (now 10 years old), she switched direction and started to develop her art, taking inspiration from local architecture.
Her recent exhi­bition, "Hong Kong Vanitas", held in December, featured collages of iconic Hong Kong objects, scenes and places in the same muted shade of jade green ("Such a Hong Kong colour").
Several pieces from the series are displayed around the apartment, alongside works from Mandel's earlier exhibitions. One of her paintings hangs in her son's bedroom.
"That's his favourite," she says of the collage, inspired by a family outing to a natural-history museum, with animals peeking from the windows of a typical Sheung Wan building facade. "He bought it from me for $1."
Art is in Mandel's blood. Her Dutch grand­mother, Wil Fruytier, was a ground­breaking textile artist. "She used textiles in a pioneering, modern way," Mandel says. "She had a large workshop and made huge installations. Unfortunately for us, she sold almost everything, but I do have a few of her pieces."
One of Fruytier's tapestries, which featured in the 1961 Venice Biennale, is displayed in the guest bedroom. "I got a phone call from a woman in Vermont, who said her husband had bought it from my grandmother, in 1960," Mandel says. "She was downsizing and had looked up my grandmother online and found a story about me. She asked if I wanted to buy it. Of course, yes!"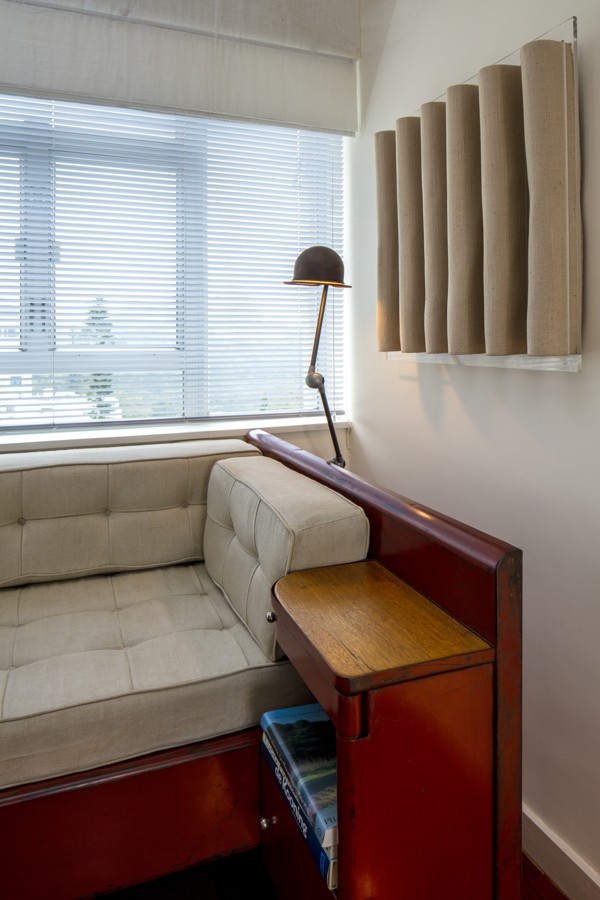 Mandel's collection of 20th-century furniture began with a 1934 hospital bed by French designer Jean Prouvé, which she bought with her first pay cheque and now has pride of place in her lounge.
"Prouvé called himself a constructor, not a designer," Mandel says. "He believed there was no difference between making a building and a piece of furniture. I love his work; it's functional, efficient and clever but still with an aesthetic eye.
"I also have a thing about lamps. Most people go shopping in Paris for handbags and fashion, I come back with electrical wire," she says, fishing out of a cupboard lengths of wire in woven coverings in all sort of colours and patterns, some smooth, some twisted. "When you live in rented accommodation, you can't just dig out the walls to install a lamp, but with nice wire, you can keep it on show."
Not for much longer, however. The building's tenants have all been given notice to quit by August and the block is due for demolition. Mandel sighs. "I am hoping to find a place in another old block. It goes so well with the furniture."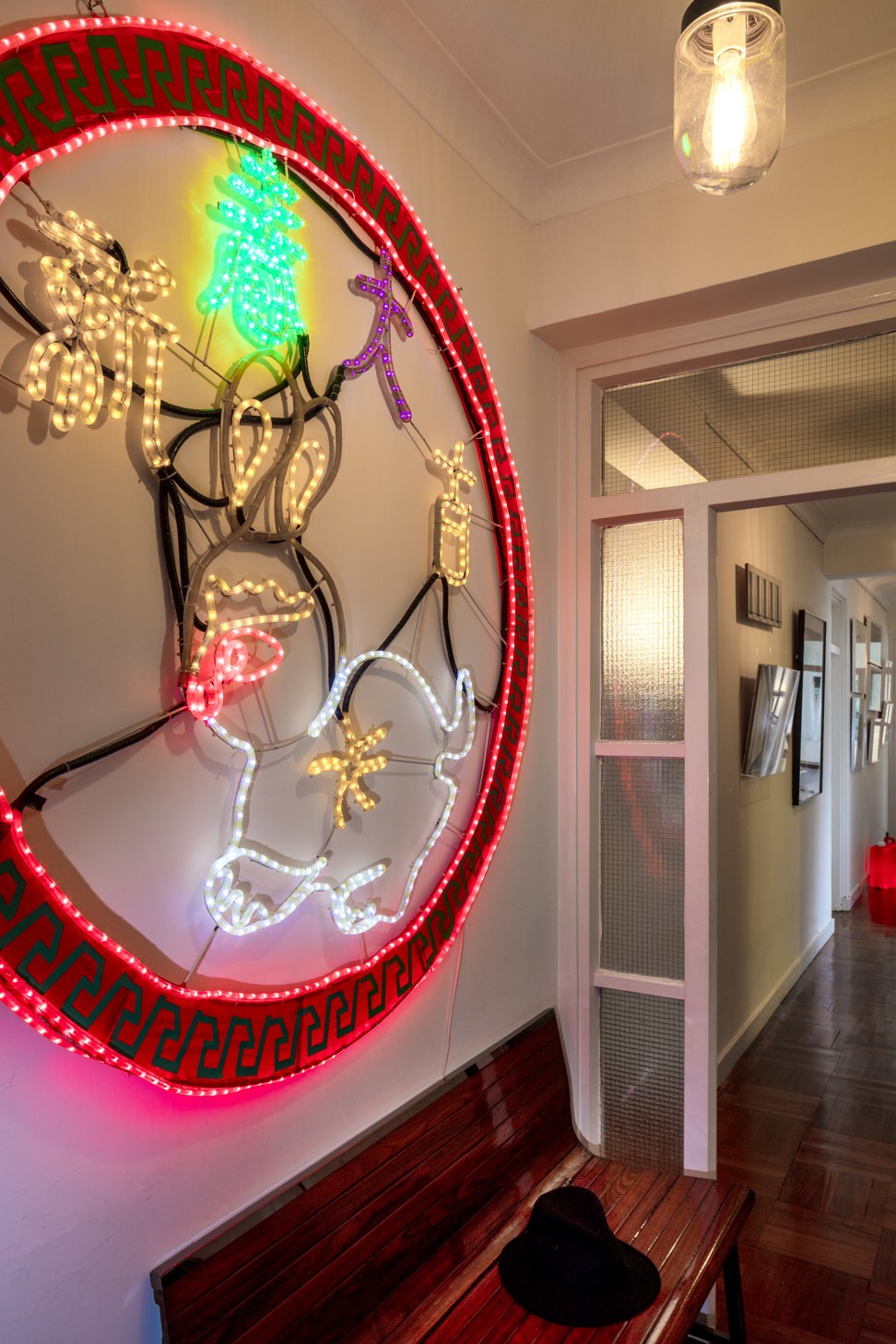 Entrance
Daphné Mandel came across the LED Year of the Rabbit sign in a dilapidated repair shop in Wan Chai, which charged HK$200 for the light fixture and an extra HK$100 to tie it to the roof of her car. The bench is a 1920 tram seat from an antiques shop in Milan. The pendant lamp was bought years ago from the
Marché aux Puces de Saint-Ouen
flea market in Paris, France.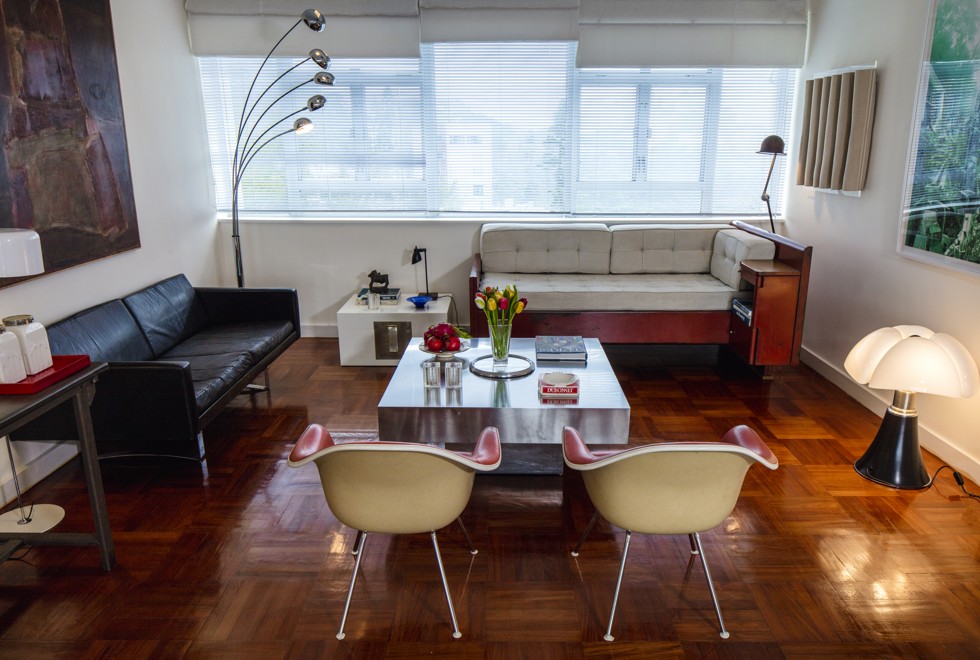 Living room
Mandel found the black 1960 sofa, by Bodil Kjaer for E Pedersen & Son, at a London flea market. The metal hospital bed, with pull-out medicine drawer in the bedside table, was designed by Jean Prouvé and Jules Leleu in 1934 for the Martel de Janville Sanatorium, in Passy, France, and was purchased years ago from
Galerie 54
in Paris.
The Signal floor lamp (behind the hospital bed) is a 1947 design by Jean-Louis Domecq from the Marché aux Puces de Saint-Ouen, where Mandel also found the 1970s coffee table. The matching Eames leather armchairs are 1950 originals from
Les Puces du Design
, in Montorgueil, Paris. The white Chinese chest, by David Ng, came from Matchit, which closed years ago. The five-arm floor lamp is by Kare and came from
Aluminium
.
The textile artwork in white rope was made by Mandel's grandmother, Wil Fruytier, in 1970. The large oil painting (left) is by Japanese artist Minoru Agata, who used to lodge with Fruytier and paid his rent in artwork. On the right is a mixed-media piece titled
Waterworks Mountains
(2017), which is part of Mandel's "
Hong Kong Vanitas
" series. Flowers by Tomasina Florals & Botanicals (tomasinadesigns.com).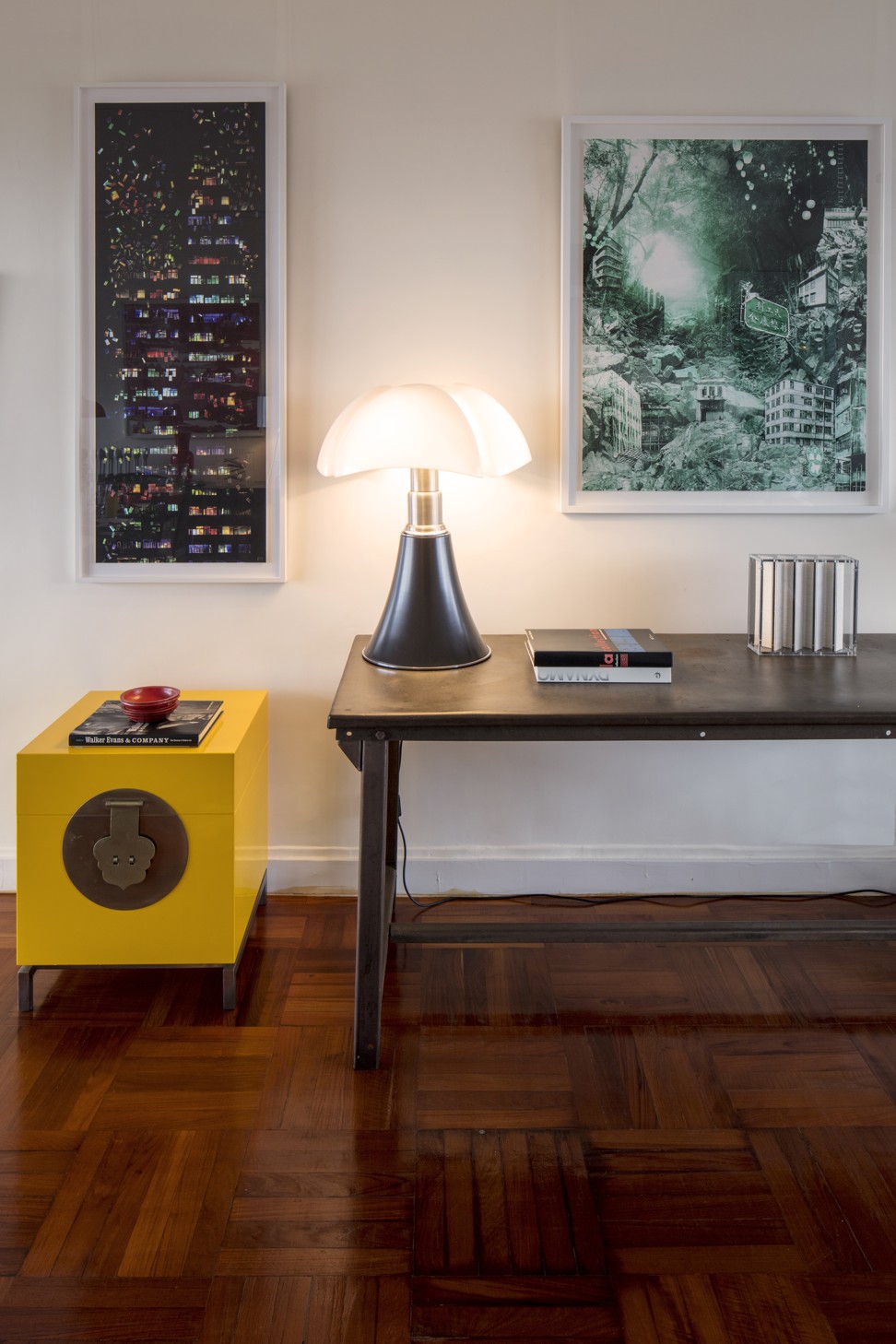 Living room detail
The 1960 military canteen table was picked up years ago at the Marché aux Puces de Saint-Ouen. The Chinese chest, by Ng, came from Matchit. The Pipistrello table lamp, by Gae Aulenti, is a re-edition of a 1965 model from
Le Bon Marché
, Paris.
The mixed-media artworks – Urban Puzzle #3 (left; 2017) and Cliff Dwellings #3 (2018) – are both part of Mandel's "Hong Kong Vanitas" series. The miniature textile and Perspex artwork on the table is a 1970 piece by Fruytier.
Dining area
The metal dining table, 19th-century dining chairs – which Mandel believes were designed by students of Gustave Eiffel – Jean-Louis Domecq wall lamps and Sing Sing Sing metal armchairs by Shiro Kuramata were picked up years ago at the Marché aux Puces de Saint-Ouen.
The lacquer sideboard is by Ng. The red print is by Sea Hyun Lee and came from
Gallery Pace
. On the sideboard (from left) are: a Ray T table lamp (HK$11,300), by Rodolfo Dordoni, from
Flos
; a mini textile artwork by Fruytier; a 1932 red Murano Opalino vase, purchased years ago at
Venini
, in Milan, Italy; and ceramic balloon forms from a factory sale.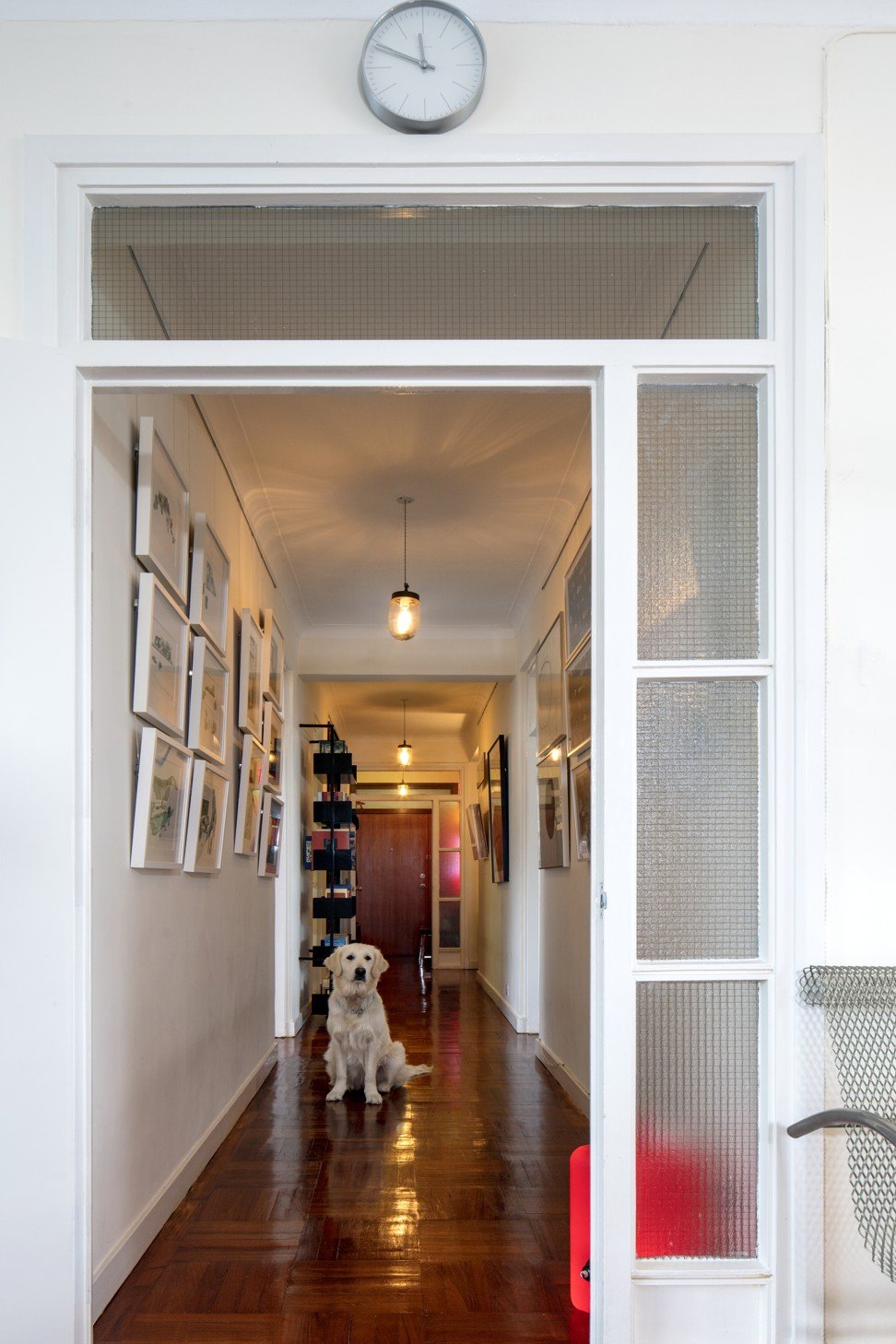 Hallway
Artworks line the long hallway, many by Mandel and her grandmother. The metal shelves were purchased years ago from Aluminium and the pendant lamps were from the Marché aux Puces de Saint-Ouen.
Study
Mandel's
Ikea
art table looks over spectacular views of Aberdeen and Southside. The 70s red chair came from the Marché Paul Bert market, in Paris. The George Nelson shelves are a Herman Miller original, purchased in the 70s by Mandel's parents. The champignon table lamp is also a 70s original. The collage (1995) is by Sahraoui Schems-Eddine.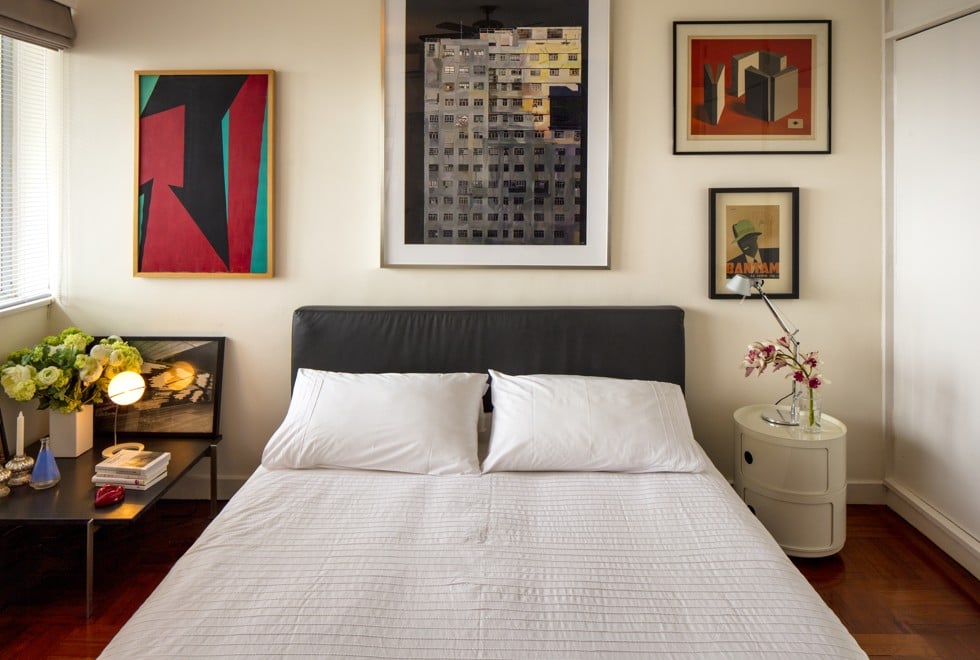 Guest bedroom
The leather and chrome bed was custom made in Hong Kong by Mr Siu (tel: 9013 6162;
[email protected]
). The low-slung black-slate-top and stainless-steel table, by Poul Kjaerholm, is a 1956 design that Mandel inherited from her grandmother.
The Componibili bedside table, by Anna Castelli, is by Kartell and was bought years ago in Paris. The artworks include (clockwise from left): a 1965 painting from the antiques fair at Saint-Sulpice, in Paris;
Deep Acupuncture
(2013) by Mandel; a 60s piece from the Bastille Brocante fair in Paris; and a 1938 Bantam Hat poster. The Tolomeo table lamp (right) was from
Artemide
, in Paris.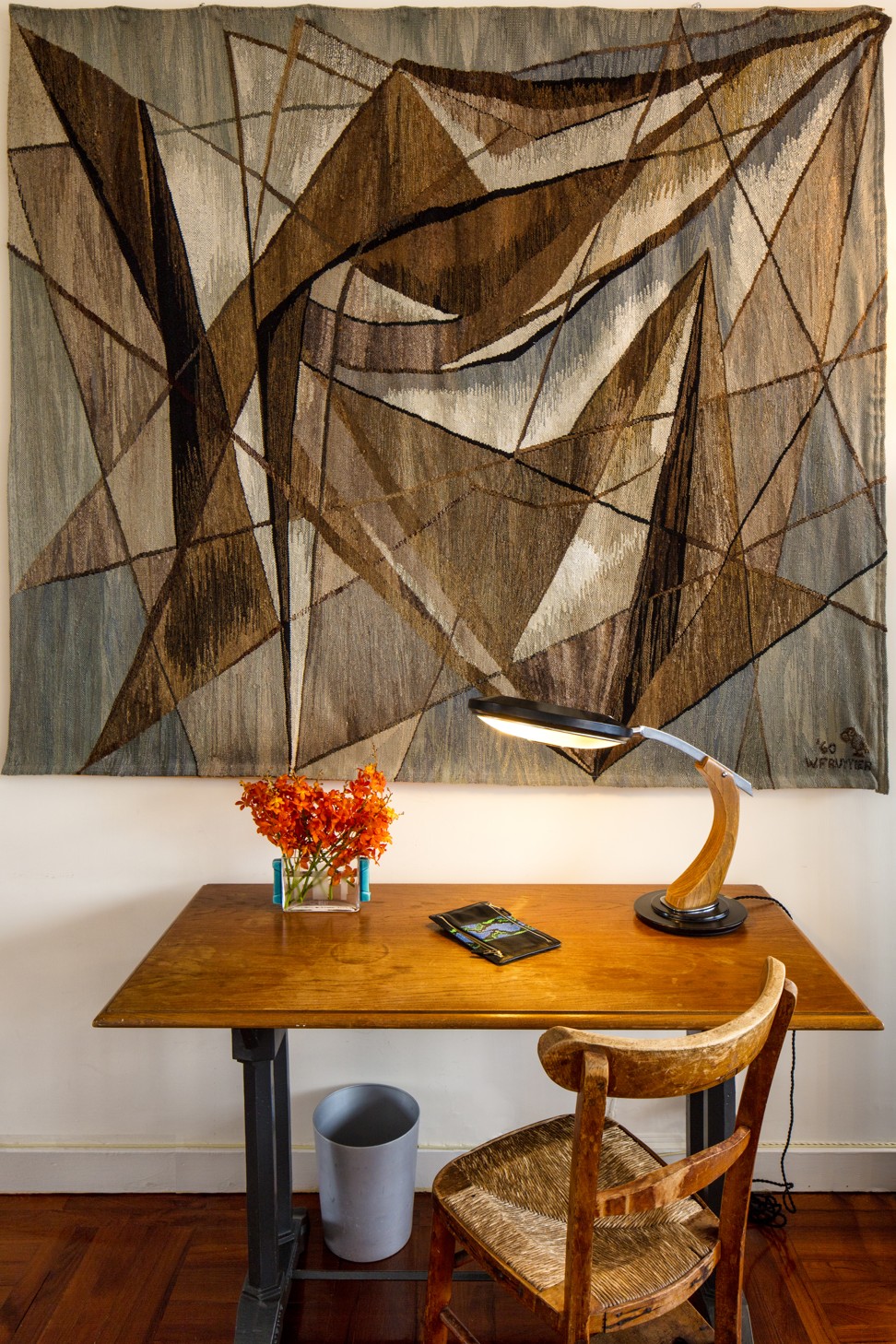 Guest bedroom detail The 1960 tapestry is by Fruytier and was displayed at the 1961 Venice Biennale. The Sicre Jeune sewing table is one of a pair that came from an antiques shop in Milan years ago. The pew chair was from a second-hand shop in London. The 1950 table lamp was found in Brocante de Saint-Sulpice, Paris.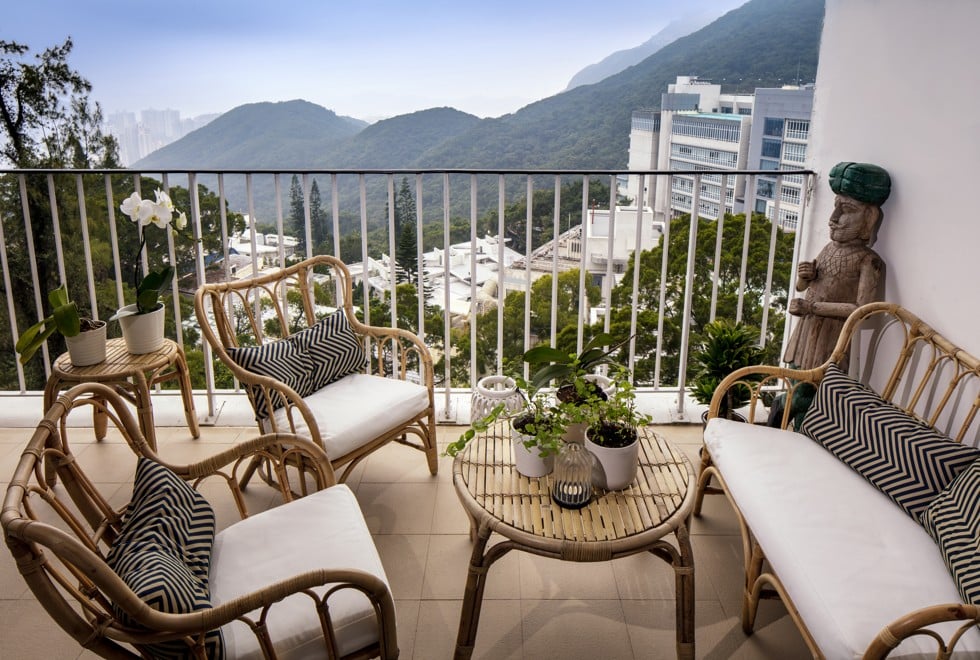 Balcony
The Mastholmen rattan sofa and chair set (HK$4,386) and Greno cushions (HK$89.90 each) were from Ikea. The Indian statue came from an antiques shop in Normandy, France.
Tried + tested
So Hong Kong Daphné Mandel picked up three iconic Hong Kong wet market lamp­shades in Wan Chai, for HK$25 each, to illuminate her dining table. "I added ceramic holders, which were found in Paris, as well as fabric-covered electric wire," she says. Ikea's Sekond cord sets (HK$69.90 each) come in different colours.
This article appeared in the South China Morning Post print edition as: Bl ank canvas