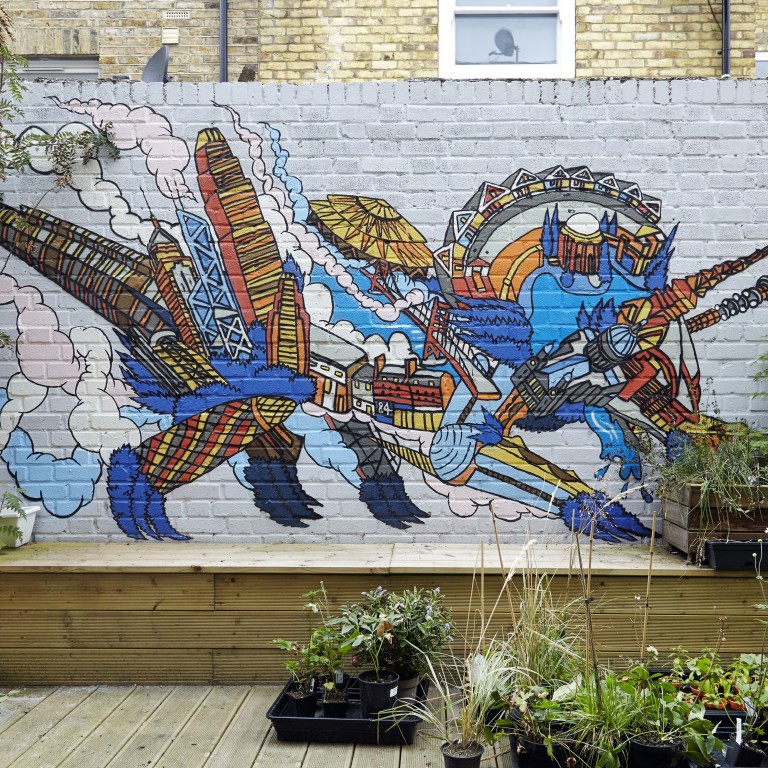 Inside Hong Kong-raised interior designer's hip east London home
Sharon Toong unites mid-century and vintage items with modern aesthetics and graffiti art in her Dalston house
It's no surprise that Hong Kong-bred, London-based architect and interior designer Sharon Toong wanted to live in the buzzing Dalston district. Filled with trendy restaurants and bars, the area is so famous as a haunt of young creatives that even hipster magazine Vice dubbed it "London's coolest hangout".
But the very things about Dalston that appealed to Toong – the creative community and the nightlife – also make it a difficult place in which to live. "It's busy all the time, day and night," says Toong, who grew up in Mid-Levels. "So I really wanted my house to be a sanctuary, away from all the hustle and bustle."
Toong thought finding a quiet bolt-hole in Dalston would be a challenge, but one of the first properties she saw when she began house hunting in 2014, 13 years after moving to Britain, was a two-bedroom, two-storey house on a quiet private road. Far enough from the neighbourhood's noisy bars yet close to the nearest train station, the house was a hidden gem.
Another plus point was that the 840 sq ft property needed only limited structural changes. Toong removed two awkward walls of glass bricks that divided the living room and kitchen to make the ground-floor space open plan. Upstairs, she enlarged the two bed­rooms by moving the bathroom from a prime corner position to sit between the rooms.
Toong wanted her small garden to pay tribute to Dalston, so decided to commission an artist to paint a large, graffiti-style mural. After plenty of research, Toong fell in love with the work of Bristol-based illustrator Andy Council. "He's famous for doing cityscapes in the shape of dinosaurs," Toong says. "My husband [Maciej Woroniecki] and I both trained as architects, so we thought that was really cool."

But the mural also has a more personal meaning for Toong. "I grew up in Hong Kong and my husband grew up in Sacramento, California, so in the mural there are buildings from both those places," she says.
Hong Kong landmarks such as Two IFC, the Bank of China Tower and the HSBC Building are featured in the design. The mural also includes the London building in which Toong first met her husband (at architecture firm Stufish's office, near Kings Cross) and the Dai Show Theatre, in Xishuangbanna, Yunnan province, which they both helped design.
"This is the first house we lived in together and is where we lived when we got married, so the mural is a history of us," Toong says. Inside the house, the most important thing for Toong, who founded interior design studio House of Sylphina in 2015, was stamping the home with her signature style. "My style is generally urban and when I style a property I like to mix contemporary and vintage pieces," she says.
One of her trademarks is the use of pendant lights, which feature in every room. "They create a good focal point and help bounce light around," she says. Toong's favourites are the three Frandsen copper ball pendant lamps in the stairwell.
As a counterpoint to the shiny, modern lighting, the interior designer filled the house with vintage pieces of furniture. While some of these, such as the side table in the kitchen, were affordable pieces Toong found on eBay, others were sourced through antiques dealers. The 1950s corner cabinet in the living room is particularly close to her heart.
"I've moved it around to a few properties and it works really well in the corner here," she says. "But I love it so much I would make a house work around it." Conscious that the mid-century furniture and smoked-timber floors throughout the house were extravagant choices, Toong pinched pennies in other rooms. The bath­room walls are clad in affordable Metro tiles, which Toong had laid in a chevron pattern so that they appear "more designer".
In the bedrooms, Toong installed basic wardrobe frames from Ikea and then designed MDF doors for them. "I had the doors made myself but there's also a company called Superfront that makes MDF doors for Ikea units," she says.
It's this mixture of high-end and afford­able, mid-century and contemporary that makes Toong's house unique. "The house is very efficient and has everything we need," Toong says. "But it also has character."
Dining area and kitchen
This was originally the darkest room in the house, so Sharon Toong brightened it up with pendant lights and white furniture. The Eames Dowel-Leg Side Chairs for Vitra (£345/US$483 each) came from
Coexistence
; the fibreglass tulip-style table (£399/US$558) came from
Ønske
; and the vintage side table (£30/US$42) was sourced through eBay.
The black, wall-mounted, swing-arm Potence lamp (£799/US$1118) is by Jean Prouvé for Vitra and came from
twentytwentyone
. The two small Tom Dixon Mirror Ball gold pendant lights (£300 each/US$412) were from
Heal's
. The round mirror (£60/US$84) came from
Ikea
.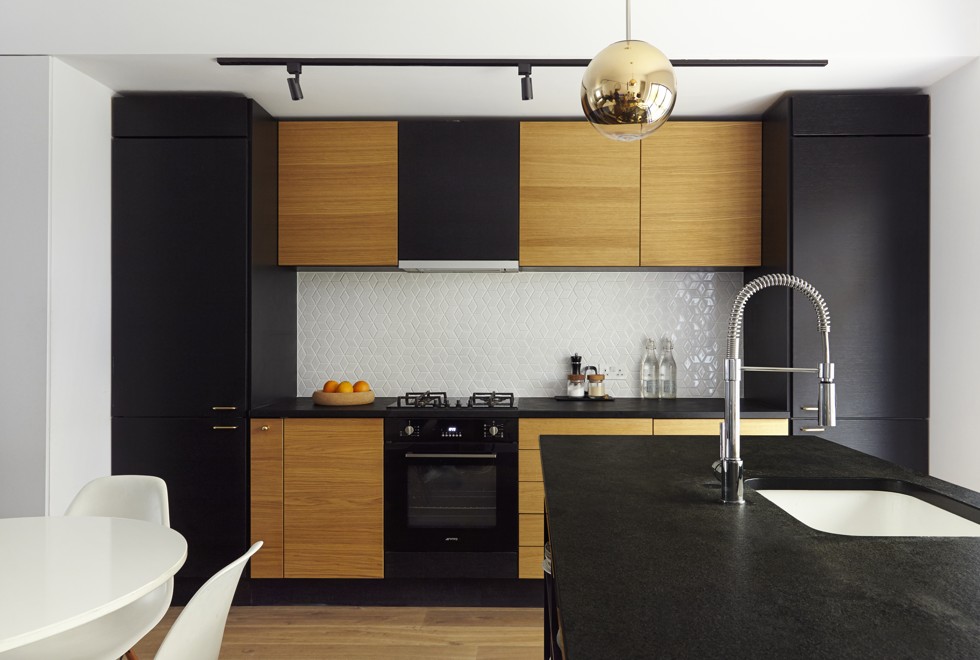 Kitchen
The cabinets (£3,675/US$5143) were from
CK Kitchens
. The black doors were painted on site. One of Toong's biggest extravagances was the flamed-granite worktop (£2,233/US$3125), which was supplied and fitted by
Surrey Granite & Marble
.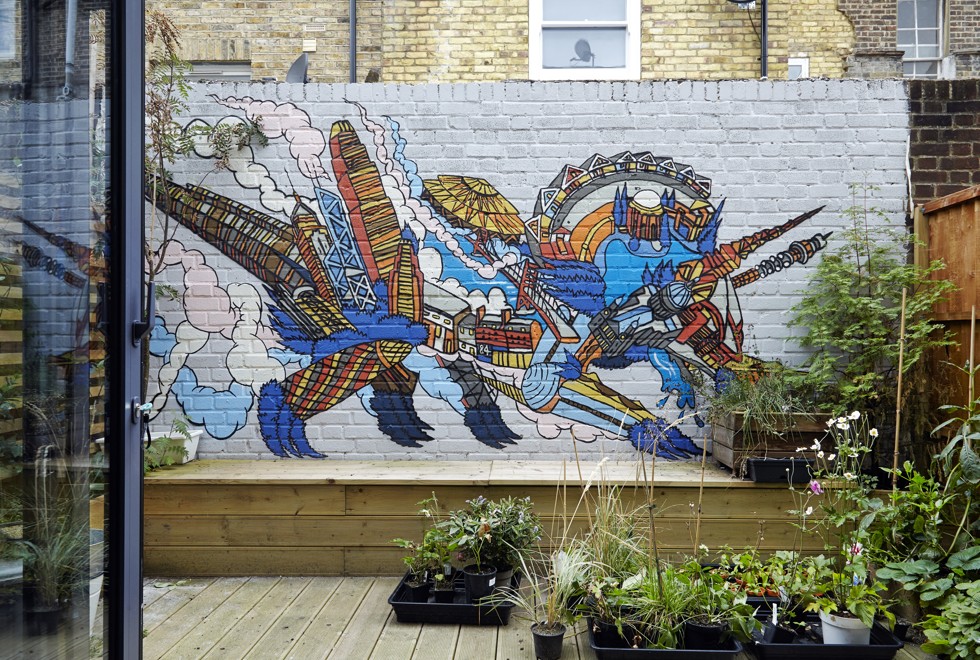 Mural
Toong commissioned British illustrator
Andy Council
to paint this mural, complete with Two IFC and the HSBC Building, on her garden wall. Council also gave Toong a print of the painting, so the artwork can be part of her future homes.
Living room
The vintage corner cabinet (£480/US$672) is Toong's favourite piece of furniture and was bought from
Fandango Interiors
. The Mags Straight Sofa (£1,751/US$2,450), by Hay, is from
Made in Design
, and the lamp (about £35/US$49) from Ikea. Toong found the coffee table (£45/US$63) on eBay.
Study
Toong turned the master bedroom into her study and furnished it with a Stella three-seat sofa­bed (£2,040/US$2855), from
sofa.com
; Lennon Chandelier (£149/US$209), from
made.com
; and Scandi Rug (£80/US$112), from
Rockett St George
.
The desk (£450/US$630) was from 20th-century furniture specialist
The Peanut Vendor
and the Herman Miller Aeron Task Chair (£920/US$1,287) came from Coexistence. Toong installed an internal window above the stairs to let light filter downstairs.
The three Frandsen ball pendant lights (£146/US$204 each) were from Heal's. The table lamp (on the floor) is an IC T1 High (£328/US$459), by Michael Anastassiades for Flos, and came from twentytwentyone.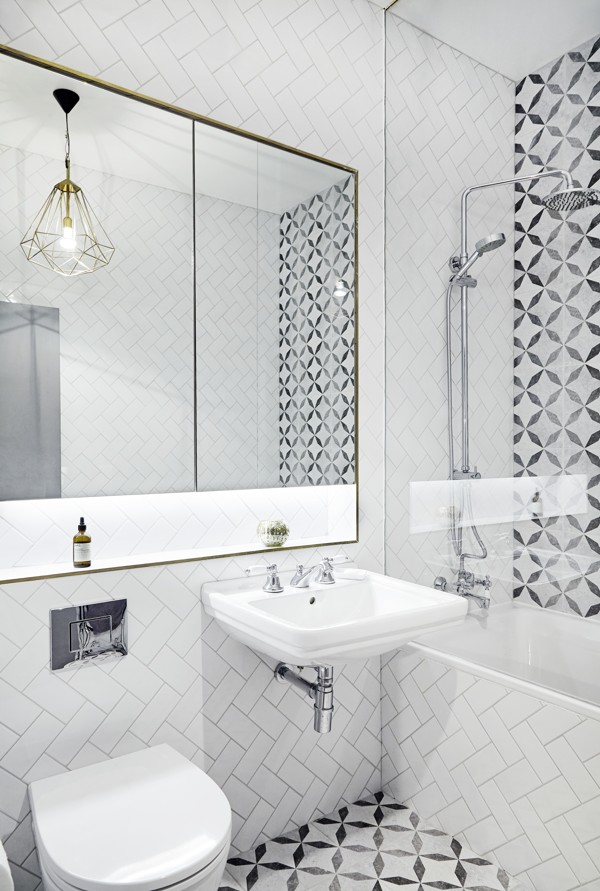 Bathroom
The White Gloss Metro Tiles (£19.95/US$28 per square metre) were bought from
Walls and Floors
and the black-and-white Devon concrete feature tiles (£28.98/US$41 per square metre) from
Tons of Tiles
. The Large Diamond Brass Pendant Light (£220/US$308) was from
Graham & Green
.
Tried + tested
Shelf
improvement
When Sharon Toong, of
House of Sylphina
, squeezed the bathroom between the two bedrooms, it meant installing a network of new pipes, including a soil pipe that runs through the master bedroom. "To hide it, we installed this shelf that runs all the way along one wall of the bedroom," Toong says. "You can put all sorts of things on the shelf. You can have collections of books or small prints there; you can even have one large artwork there, propped up against the wall."
The shelf cost about £300 to install. The Bentwood Ash bed (£225/US$315) was from
Muji
and the pendant light is a Junction Grand Chandelier (£189/US$264) from Heal's.
This article appeared in the South China Morning Post print edition as: Of f -th e-wa l l