Renovating her 490 sq ft home in Whampoa had been at the top of Winnie Chu's wish list since she bought the apartment in 2001. However, life and the demands of a full-time job – Chu is a town planner – got in the way and the thought of a complete makeover, along with the temporary move that would entail, was overwhelming. That is, until late last year, when Chu decided upon a career break and took the decorating plunge.
"I got to the point where I wanted to declutter my life, both physically and mentally, so this was my landmark project to change my life," she says. "I'd collected so many things over the years and wanted to clear everything out and start afresh."
She had admired a friend's apartment, which had been designed by Dylan Tan Dar-luen, of WOM Concept, so he was her obvious choice. She and her partner, German businessman Peter Klein, found temporary accommodation in Tin Shui Wai – everything closer was too expensive – and they moved out for 3½ months.
But that wasn't before Chu channelled her inner Marie Kondo, the Japanese organising guru, and gave away or threw out every­thing she owned, apart from clothing, an illustration bought in Poland almost 20 years ago, the television set (she's not a TV person so couldn't see the point of getting a new one) and a wine fridge.
Inside a Hong Kong newlywed couple's minimal first home together
"I wanted a minimalist approach in order to be more spiritual and knew I would have to be very disciplined and say goodbye to most of my things. But, when it came to it, I struggled with getting rid of my stuff," Chu admits. "I love music but there was no room for my keyboard so even that had to go. I had to constantly tell myself there was no point keeping things I didn't wear or use."
I got to the point where I wanted to declutter my life, both physically and mentally, so this was my landmark project to change my life
Tan gutted the apartment and changed its layout. He combined two tiny bedrooms into one and downsized a large bathroom, relocating its door near the kitchen to a more convenient entry point outside the bedroom.
"The original layout had quite a few design flaws," Tan says. "For example, the bathroom was as large as the bedrooms and the toilet was the first thing you saw when you entered the apartment. What possessed someone to design that?"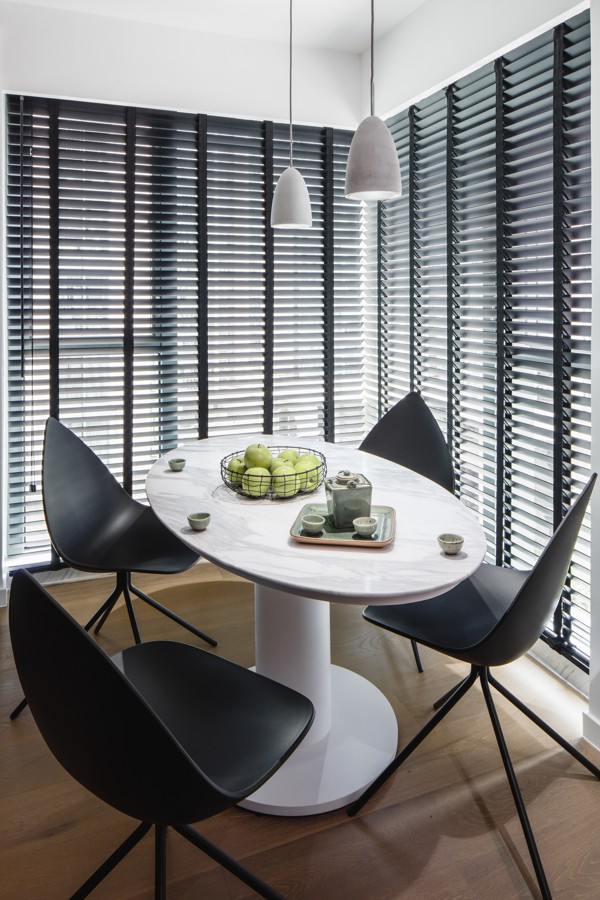 He made the kitchen slightly larger and, by replacing a cumbersome shoe cabinet by the front door with a streamlined floor-to-ceiling alternative, was still able to create a proper entrance. He also built a wall of cabinets behind the sofa to give the couple ample storage and to delineate the living area from the dining nook. The furniture was either bought specifically or custom made, an example of the latter being the oval dining table.
"Round, square or rectangular models would have been too big for the space, especially with chairs around them," Tan says.
Decluttering guru Marie Kondo is back with more life-changing tips
Because the apartment is relatively small, Tan opted for a single colour theme – a neutral palette of white, charcoal and black – throughout. Oak flooring lends warmth and texture as well as the sense of tranquil simplicity so desired by Chu. Extending this uniformity to the bathroom, Tan installed printed ceramic tiles that resemble wood.
"The only thing that gives the game away are the thin lines of grouting between the tiles, which you wouldn't have if it were a real wooden floor," Tan says. "In the shop, they just lay the tiles flush against one another and you're so amazed that they look so much like wood that you forget you're going to need grouting. Then again, I'm probably the only one who notices."
A small Hong Kong apartment that is big on style
The main challenge was the lighting. It wasn't possible to install a dropped ceiling and Tan didn't want too many down lights. He got around the problem by incorpor­ating lighting on top of cupboards and into various shelves and recesses. Chu's challenge is the ongoing exercise in organisation.
"This ultra-modern style isn't anything like I had before and I was initially worried about finding space to fit in the things I had kept," she says. "I still have to remind myself not to just buy blindly and to be disciplined about keeping everything tidy but now I love the absence of clutter."
Marie Kondo would be proud.
---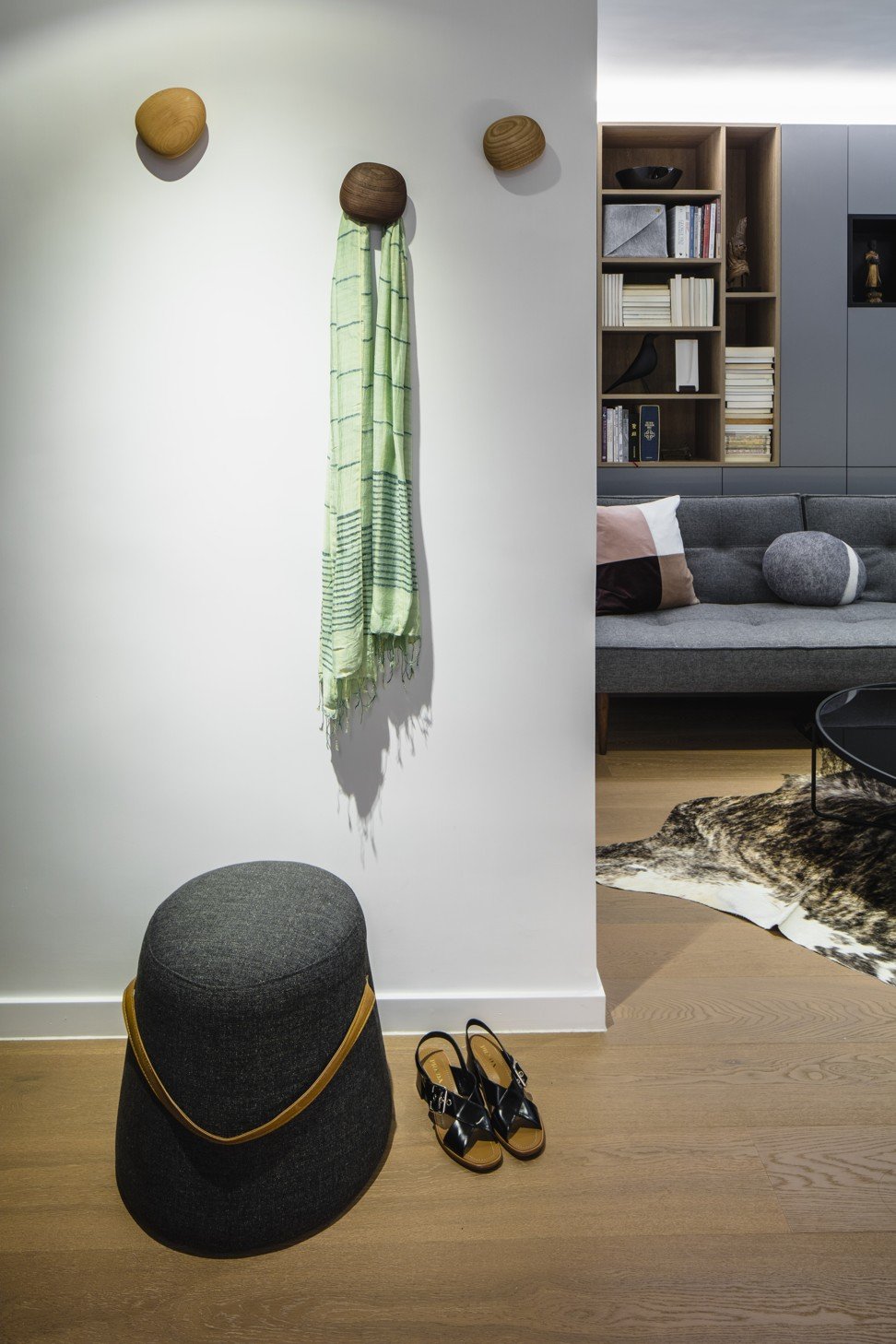 Entrance The charcoal pouffe (698 yuan/US$111) and wooden coat hooks (320 yuan for all three) were from Taobao.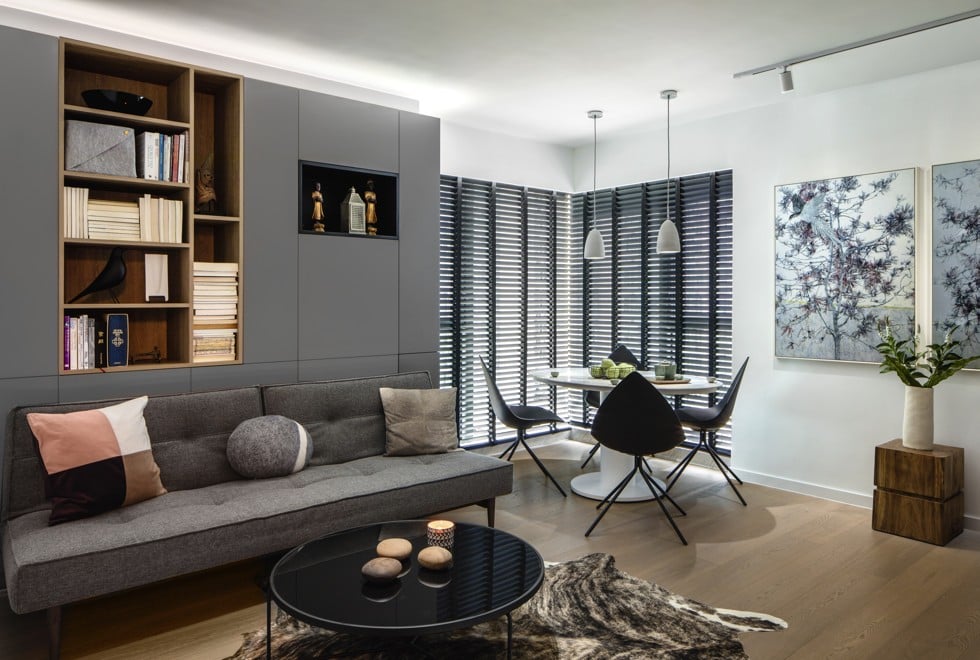 Living area The custom-made wall cabinet (HK$26,560) and cube stool (HK$1,800) were from Hoi Tsun Decoration Design Engineering (20/F, Superluck Industrial Centre, 57 Sha Tsui Road, Tsuen Wan, tel: 9655 7465). The sofa (HK$10,950) and coffee table (HK$3,950) both came from Tree.
The cowhide rug was HK$2,290 from Ikea. The engineered oak timber flooring was HK$65 per square foot from Top Floor Engineering (376 Lockhart Road, Wan Chai, tel: 3568 6263). The canvas paintings came from Taobao.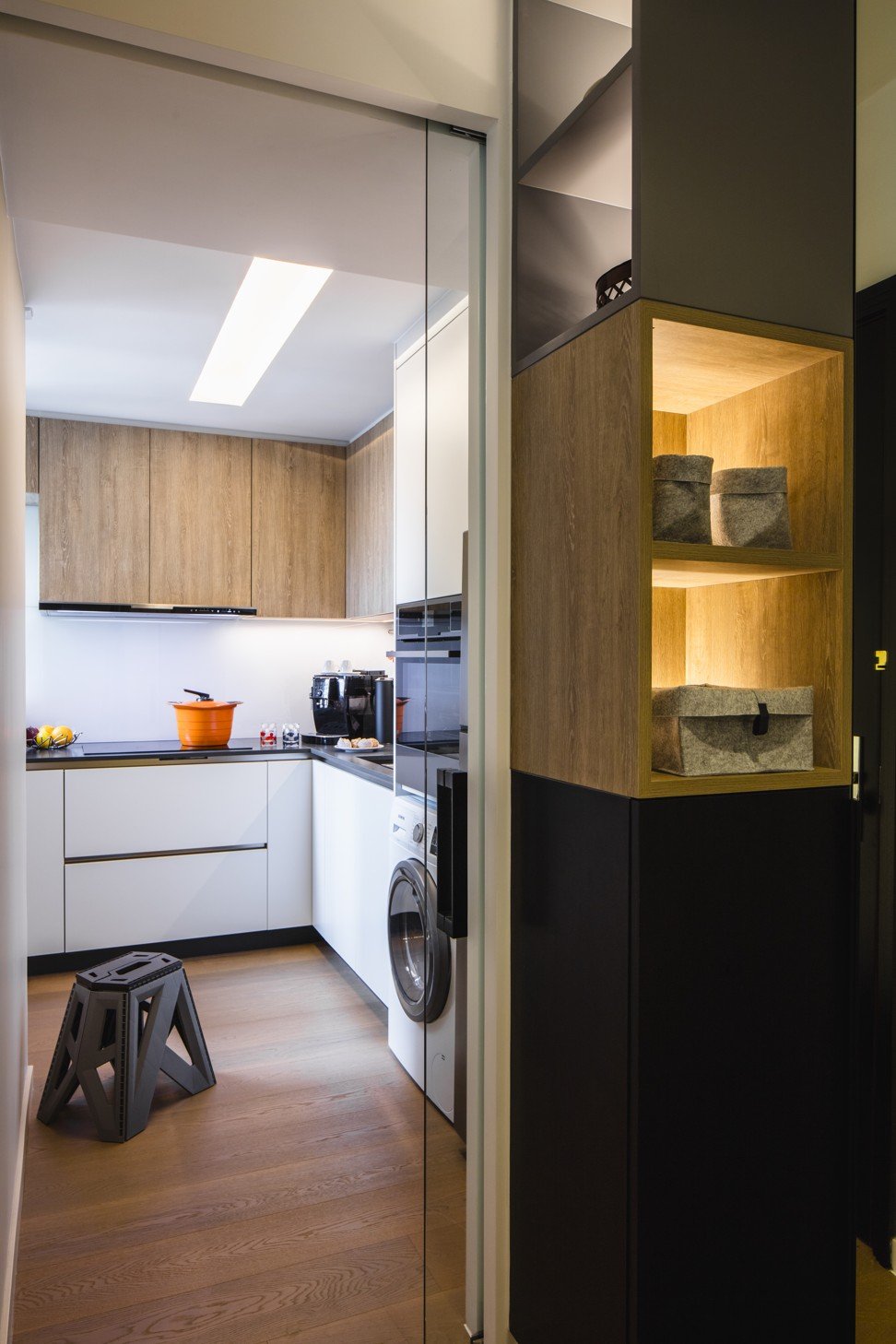 Kitchen The cabinets (HK$107,600) came from Royal Kitchen Design Company (3 Leighton Road, Causeway Bay, tel: 2573 3993). The shoe and display cabinet in the entrance (HK$9,280) was custom made by Hoi Tsun Decoration Design Engineering. The stepping stool was bought years ago.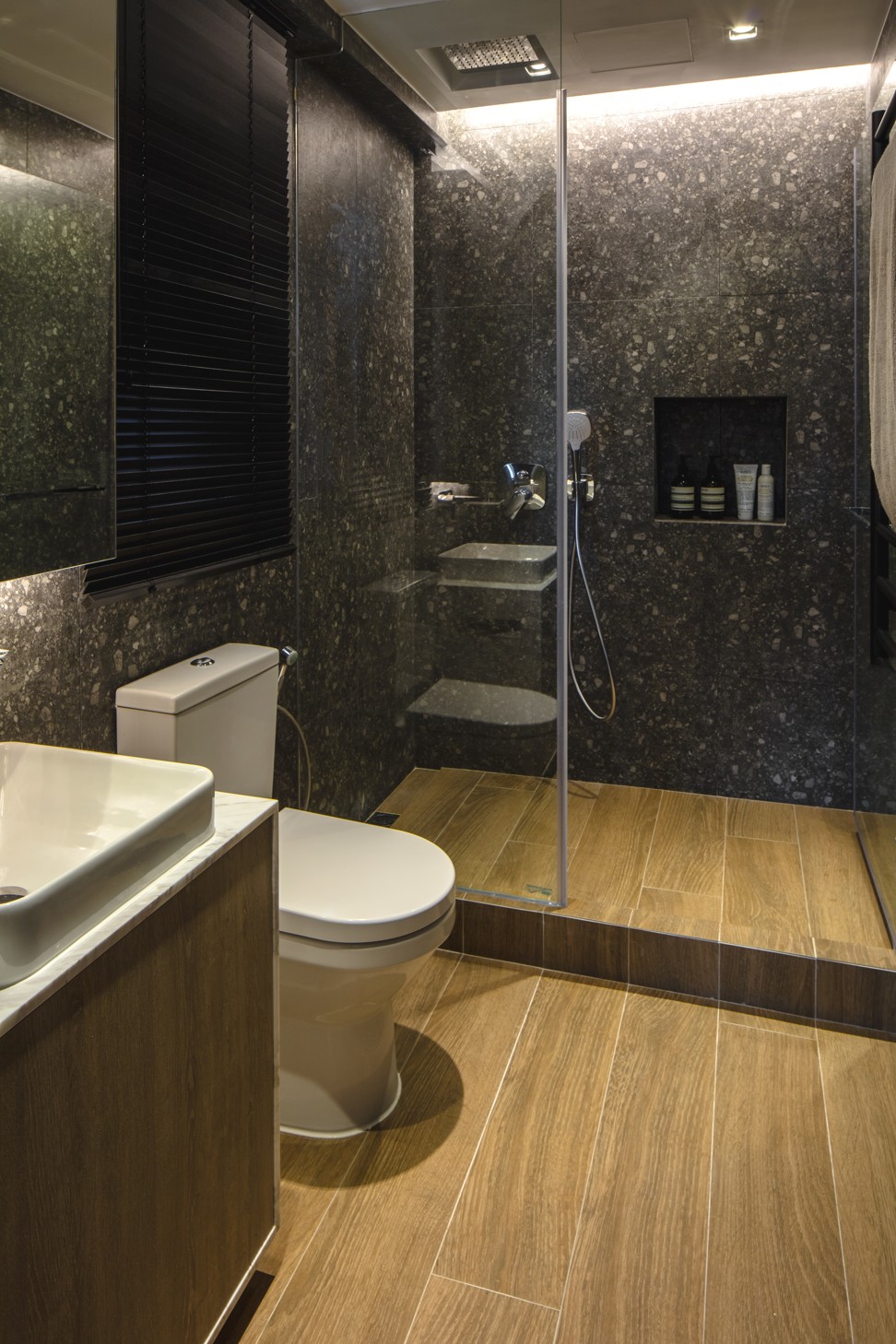 Bathroom The wall tiles (HK$168 each) and wood-effect floor tiles (HK$134 apiece) were all from Imperiale Ceramiche (163 Lockhart Road, tel: 2877 3008). The custom-made mirror cabinet (HK$9,950) was by Hoi Tsun Decoration Design Engineering.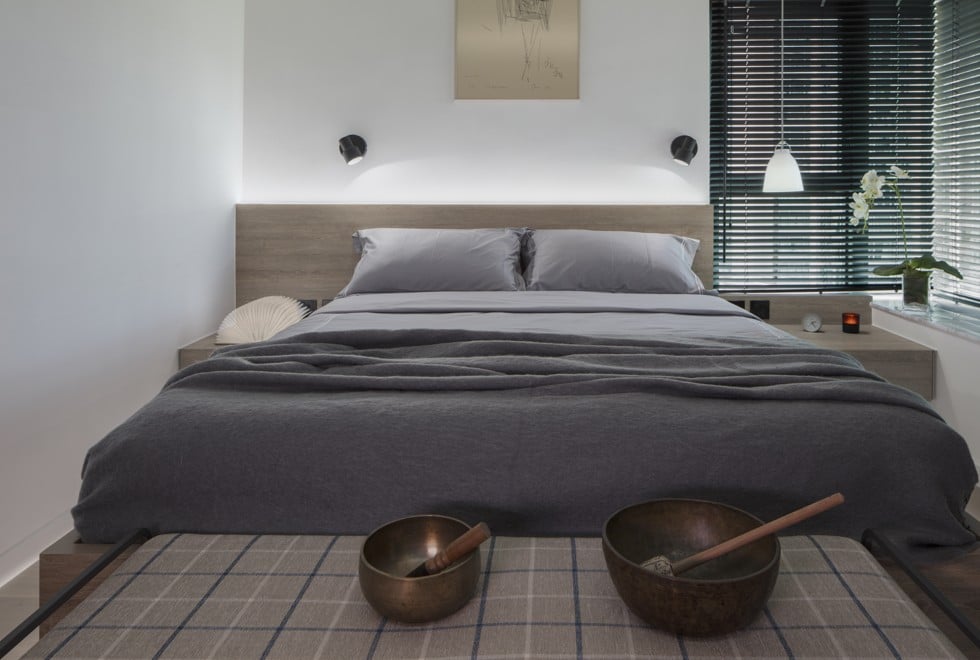 Bedroom The bed with bedside tables (HK$20,500) was custom made by Hoi Tsun Decoration Design Engineering. The illustration was bought in Poland in 1999. The wall lamps (HK$550 each) came from I. Lighting & Switches (388 Lockhart Road, tel: 2803 5012), and the Caravaggio pendant lamp by Lightyears (HK$2,355) was from Manks.
The bench (4,480 yuan) was sourced through Taobao and the Tibetan singing bowls came from the couple's previous home. The Lumio lamp (HK$1,900), which resembles an open book, was from Lane Crawford.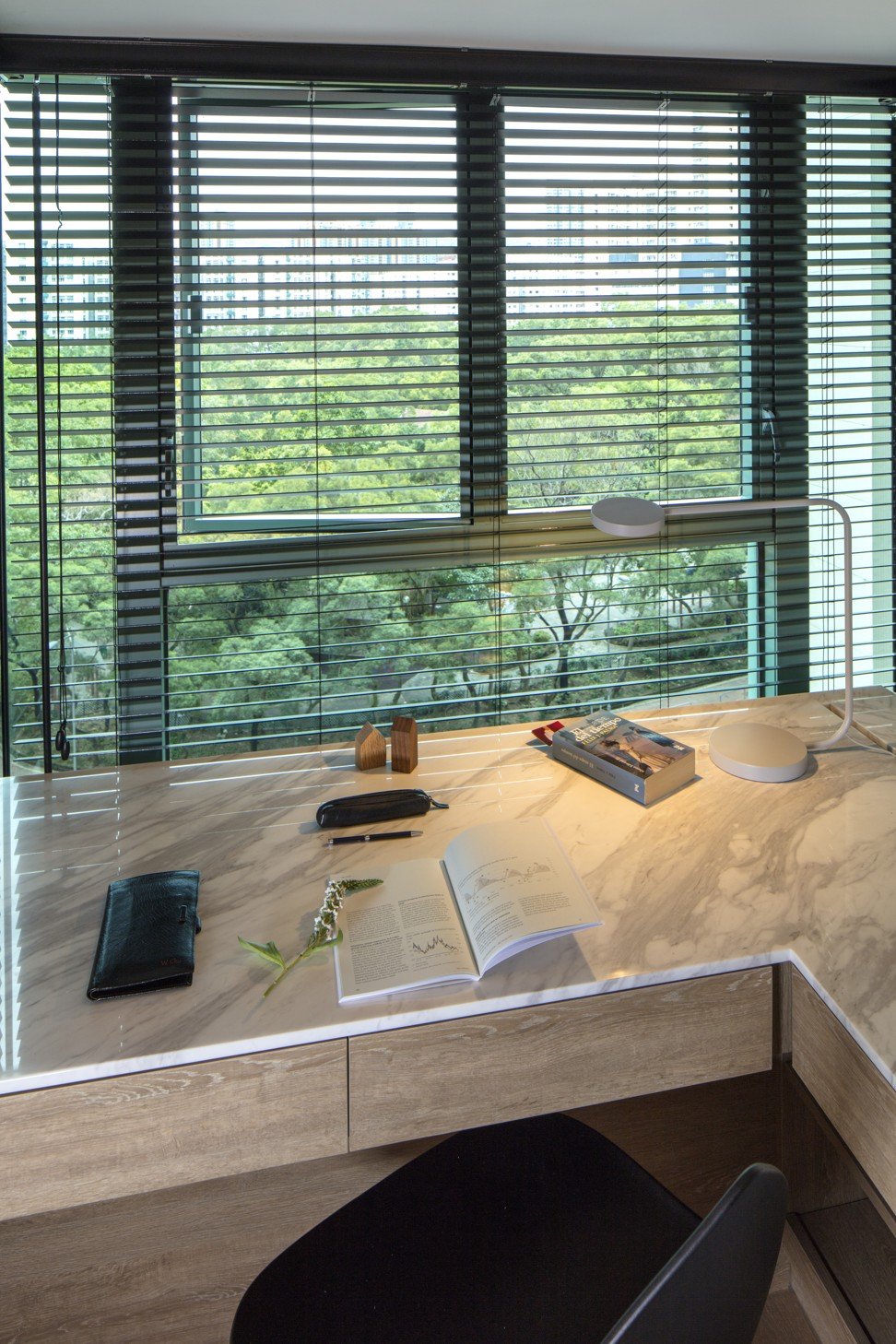 Bedroom/study detail The blinds were HK$4,600 from May On Decorative Products (37 Fleming Road, Wan Chai, tel: 2598 0031) and the table lamp was HK$399 from Ikea. The desk with marble top (HK$10,720) was custom made by Hoi Tsun Decoration Design Engineering and the chair was HK$1,739 from BoConcept.
---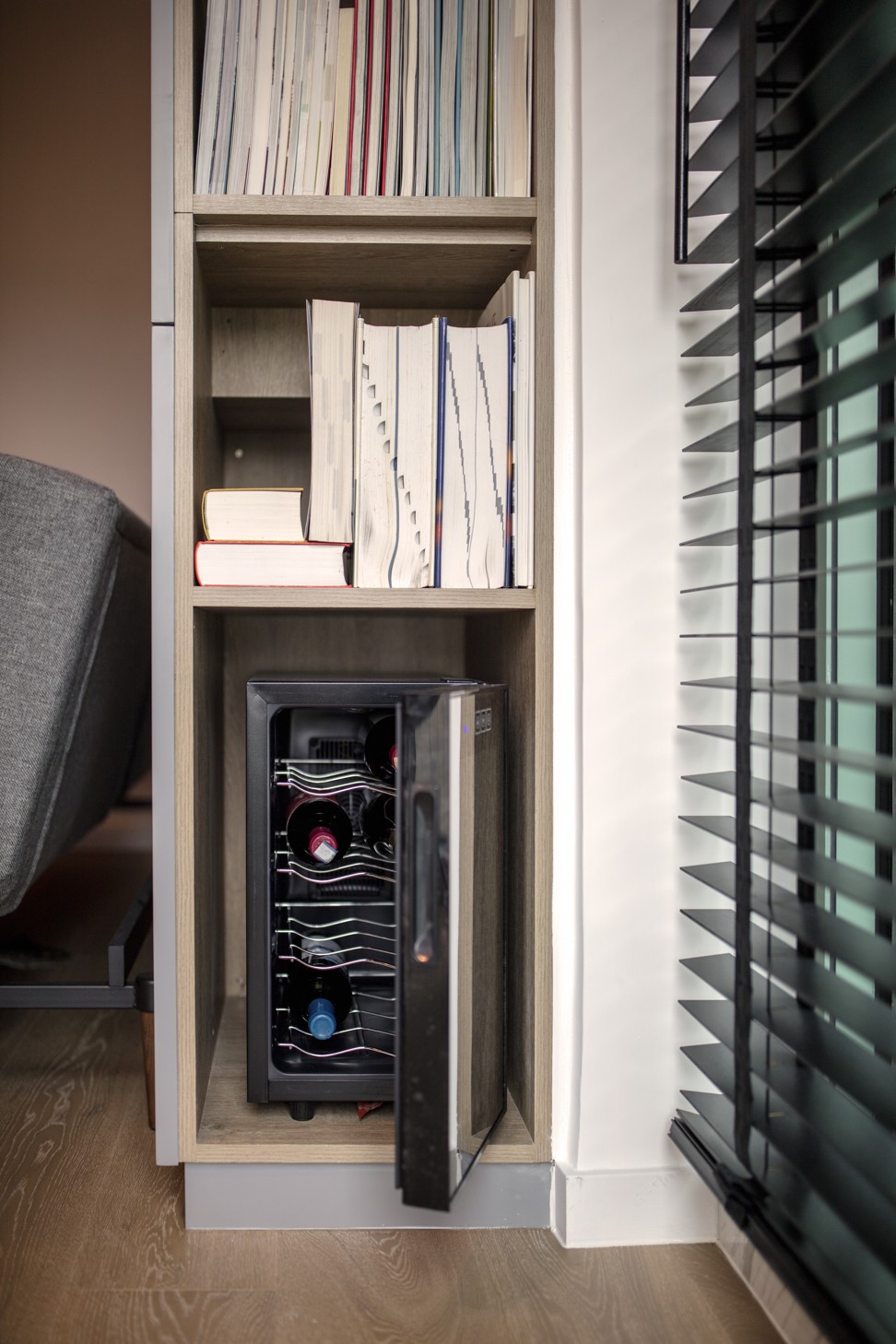 Tried + tested
Wine not The compact Vivant wine fridge (HK$998 from Fortress) is ideal for small apartments. Dylan Tan, of WOM Concept housed it in a specially designed niche built into the side of the main wall of cabinets, making it easily accessible from the dining table but unobtrusive.