"We thought downsizing was going to be straightforward – simply shedding a few large items, like our grand piano, and relocating to a chic, smaller apartment in the city, but nothing went quite as planned," says globetrotting Australian entrepreneur Gail Chapman, who recently moved from a seven-bedroom house in the Kent countryside, to south­west London.
She and husband Richard, a banker, have led a peripatetic life since 2002, when they left Australia for Tokyo. After six years in Japan, the family relocated to Hong Kong before upping sticks again, in 2014, to move to Britain. The couple's children left the nest last year.
Spring decor ideas from an heiress' London home
Plans to scale back, however, evaporated the instant they walked into a six-bedroom 5,000 sq ft house in London, perfectly located for Richard's office in the City and Chapman's frequent Heathrow Airport runs. She blames their uncharacteristic change of heart on the natural light that floods each room, as well as the bonus – a garden for their labradoodle, Milo.
The rental had been renovated to a high standard, with pure white walls and heated oak flooring in a simple, minimalist palette, so all the family had to do was unpack, an exercise they completed in 48 hours.
The greatest challenge was to resist the temptation to fill the large, empty spaces. Chapman, who trained as a lawyer, says she and her husband try to buy furniture and art as lifetime investments and not to suit just one house.
It is important to buy something to remember, otherwise money gets spent and later you can't remember what it went on
"We never buy on impulse," she says. "It makes more sense to select classics that you can live with forever, that will never look dated."
Chapman's eye for design is evident in the art and decorative pieces the couple have collected over the years. A striking series of paintings by Japanese artist Yayoi Kusama – collected after a trip to Naoshima island, in the Seto Inland Sea, which has become a destination for art lovers – flanks the four pairs of glass doors leading from the ground floor onto a deck and the garden.
Elsewhere are paintings by Australian artists Craig Ruddy and John Olsen, and large photographic prints of the family taken by Mark Morffew when they were living in Tokyo and Hong Kong (first in an ocean-side penthouse in Tai Tam, then a sprawling contemporary loft in Wong Chuk Hang).
Inside Hong Kong-raised interior designer's hip east London home
An ancient ceramic sculpture from Arch Angels Antiques, on Hollywood Road, and contemporary Japanese and Chinese ceramics serve as reminders of their life in Asia.
One of Chapman's favourite pieces is a Fritz Hansen PK61 table and PK22 chairs she bought in Hong Kong with part of an inheritance left by her grandfather.
"It is important to buy something to remember, otherwise money gets spent and later you can't remember what it went on," she says.
We never buy on impulse. It makes more sense to select classics that you can live with forever, that will never look dated
Purchases for their new home were limited to a modernist-style glossy white marble coffee table and a Clio armchair, both from B&B Italia.
The generously sized entrance hall leads onto a library on one side, a formal dining room on the other and a large kitchen-living-dining area directly ahead. Sliding doors close to create intimate spaces when need be.
"It's important – especially when you have teenagers – to have a break-out area," Chapman says. "It doesn't need to be a huge space, but there must be somewhere, like my library, to go when I want some peace and quiet."
From New York to Hong Kong and back: art-deco apartment a tribute to businesswoman's travels
The family relax together in the kitchen-living area and garden. Upstairs, the six bedrooms all have en-suite bathrooms, while a spacious gym and study take up the top floor. The only room that Chapman balked at was the master bathroom.
"We initially didn't like the bathroom because it was over-marbleised but we added some art, fresh flowers and black towels that help to tone it down," she says.
Despite having deviated from their original plan, the couple still consider the move a downsize, a fact Chapman reminds herself of frequently.
"In my mind, even though we've moved to a similar-sized house, we're still on track to downsize our possessions," she says.
---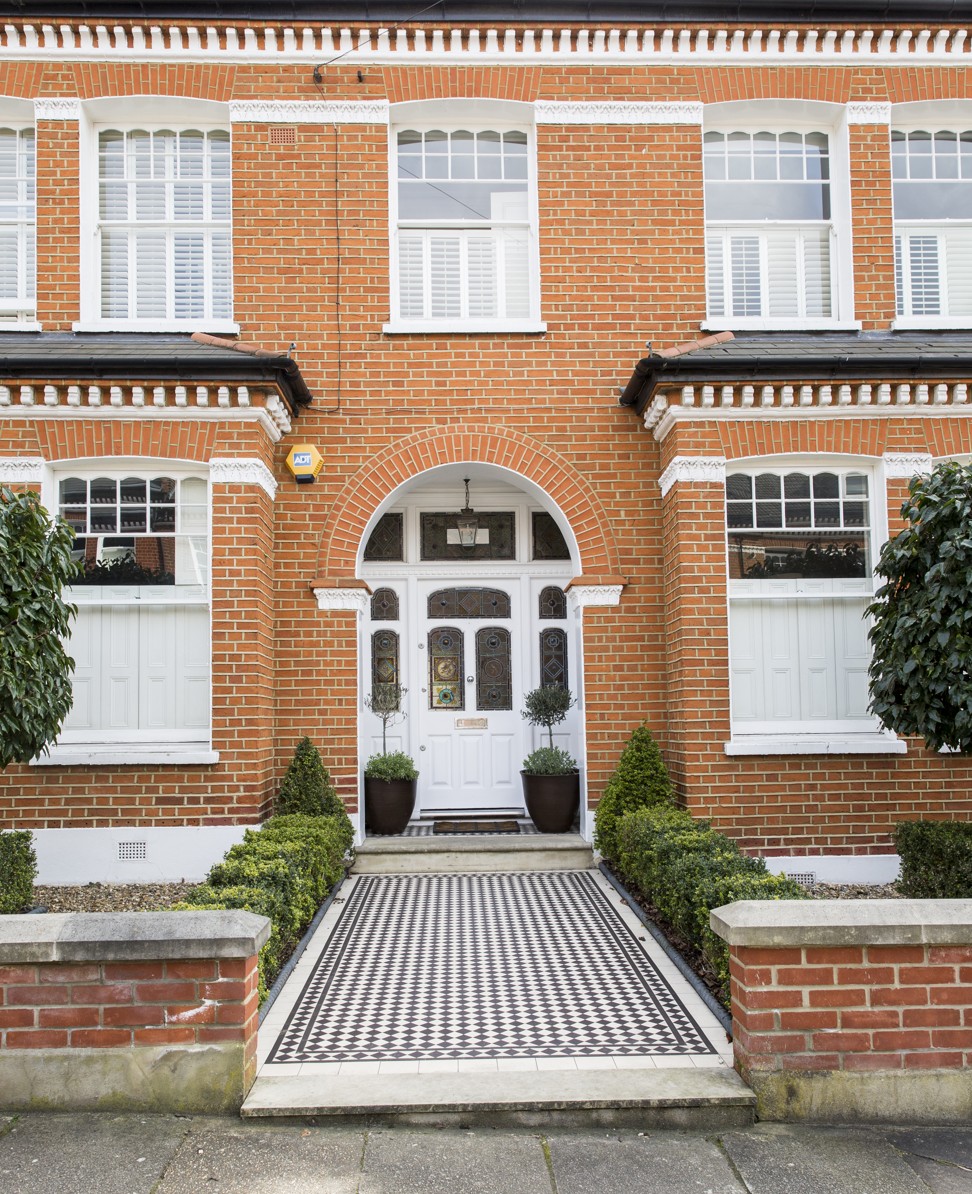 Exterior The pair of charcoal ceramic pots on either side of the entrance alcove were from Petersham Nurseries. Classic wooden shutters allow plenty of light inside while retaining privacy.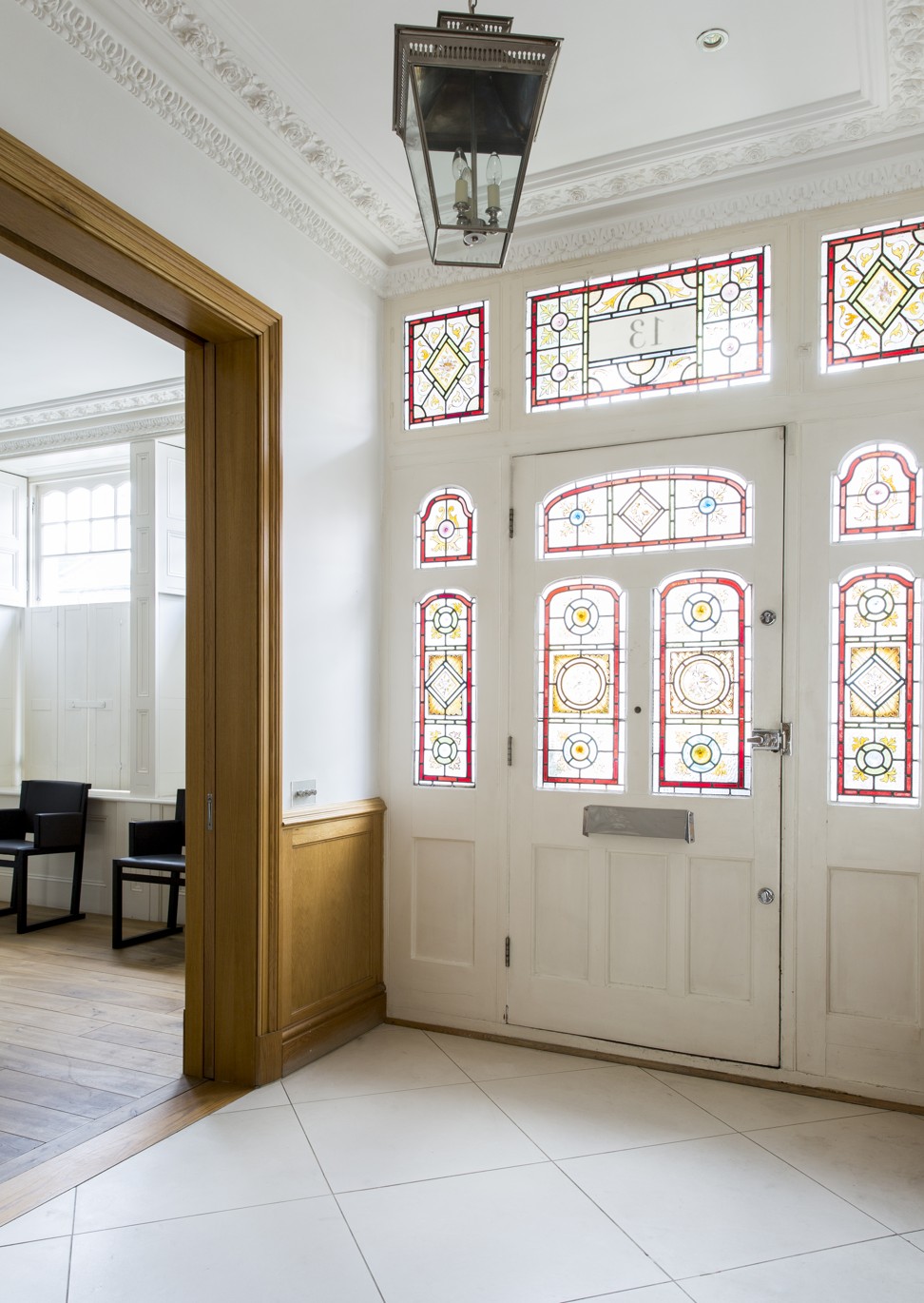 Entrance The stained-glass door opens onto a minimalist entrance hall that leads into a formal dining room on one side and a library on the other. The pendant lamp came with the house.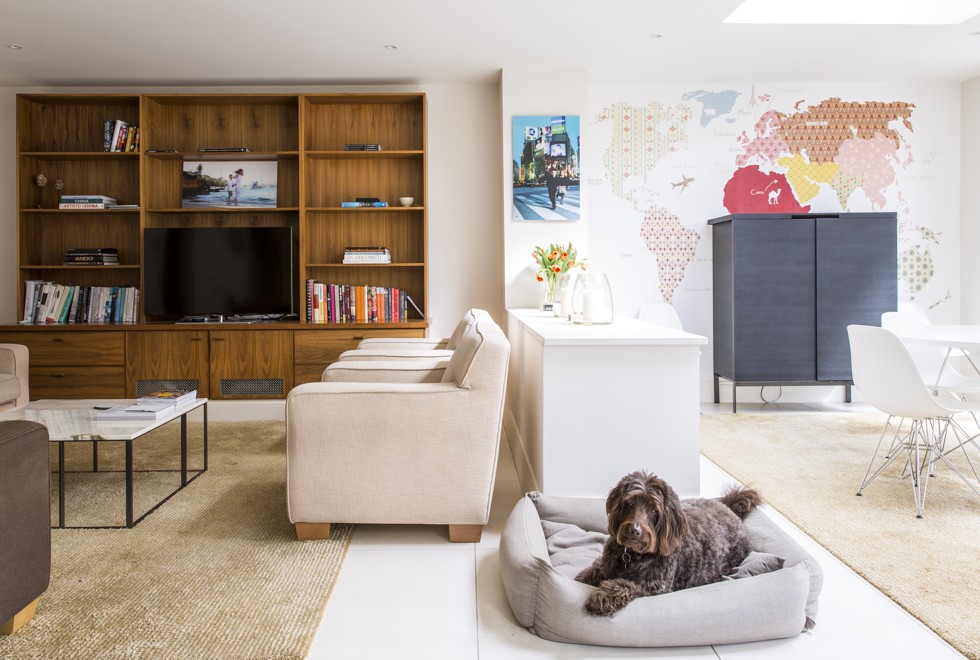 Living area Milo, the family's labradoodle, has a Mungo and Maud dog bed on each floor. The family photographs are by Australian artist Mark Morffew. The Magis Tavolo XZ3 dining table and chairs came from Skandium, in London.
The sofa, armchairs and rugs were bought years ago in Hong Kong. The Lithos Calacatta white marble-top coffee table (£2,500/ US$3,574) was designed by Antonio Citterio and came from B&B Italia. Also designed by Citterio for B&B Italia was the Mida storage unit (HK$126,000) in front of the world-map wallpaper (£30 per square metre), which came from Mr Perswall.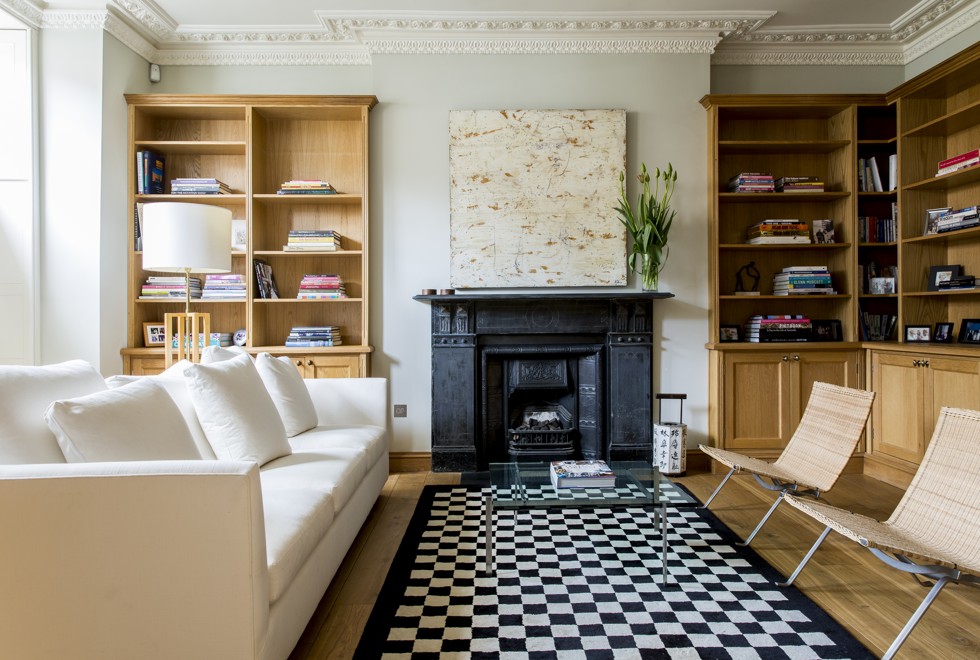 Library The painting is by Archibald Prize-winning Australian artist Craig Ruddy and was bought from Richard Martin Art, in Woollahra, Sydney. The Victor sofa from Flexform and the standing lamp from Sedia, in Sydney, were both bought years ago.
Gail Chapman designed the black and white check rug for a previous home in Hong Kong. She bought the PK61 coffee table and PK22 lounge chairs, by Poul Kjaerholm for Fritz Hansen, years ago with an inheritance. The Japanese lantern next to the fireplace was bought from an antiques shop in Tokyo.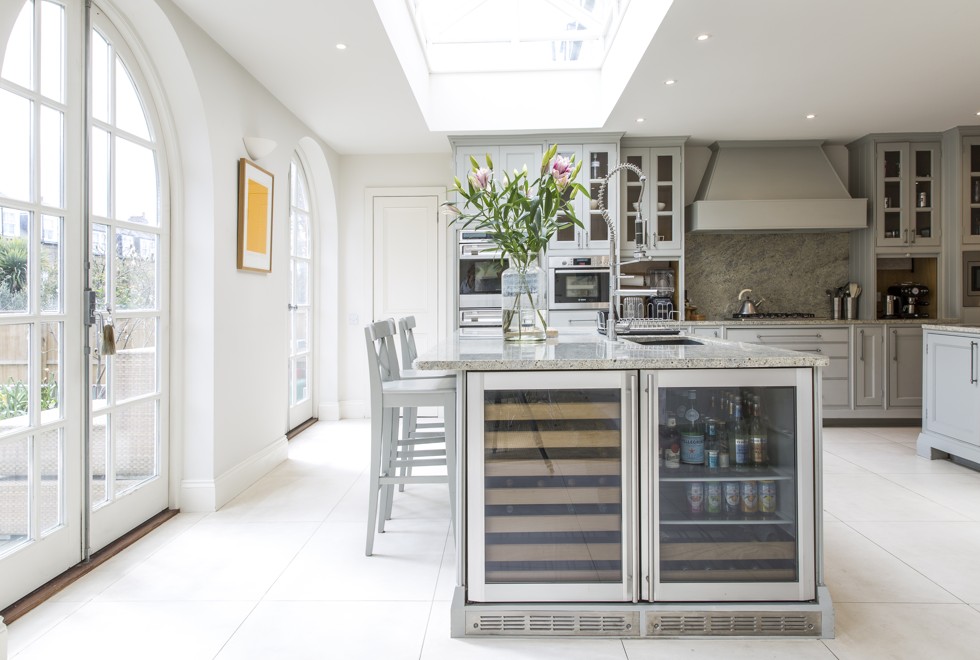 Kitchen Four double doors lead from the kitchen onto the deck and garden. Infinity Nets (2004), one of a series of three paintings, is by Japanese artist Yayoi Kusama.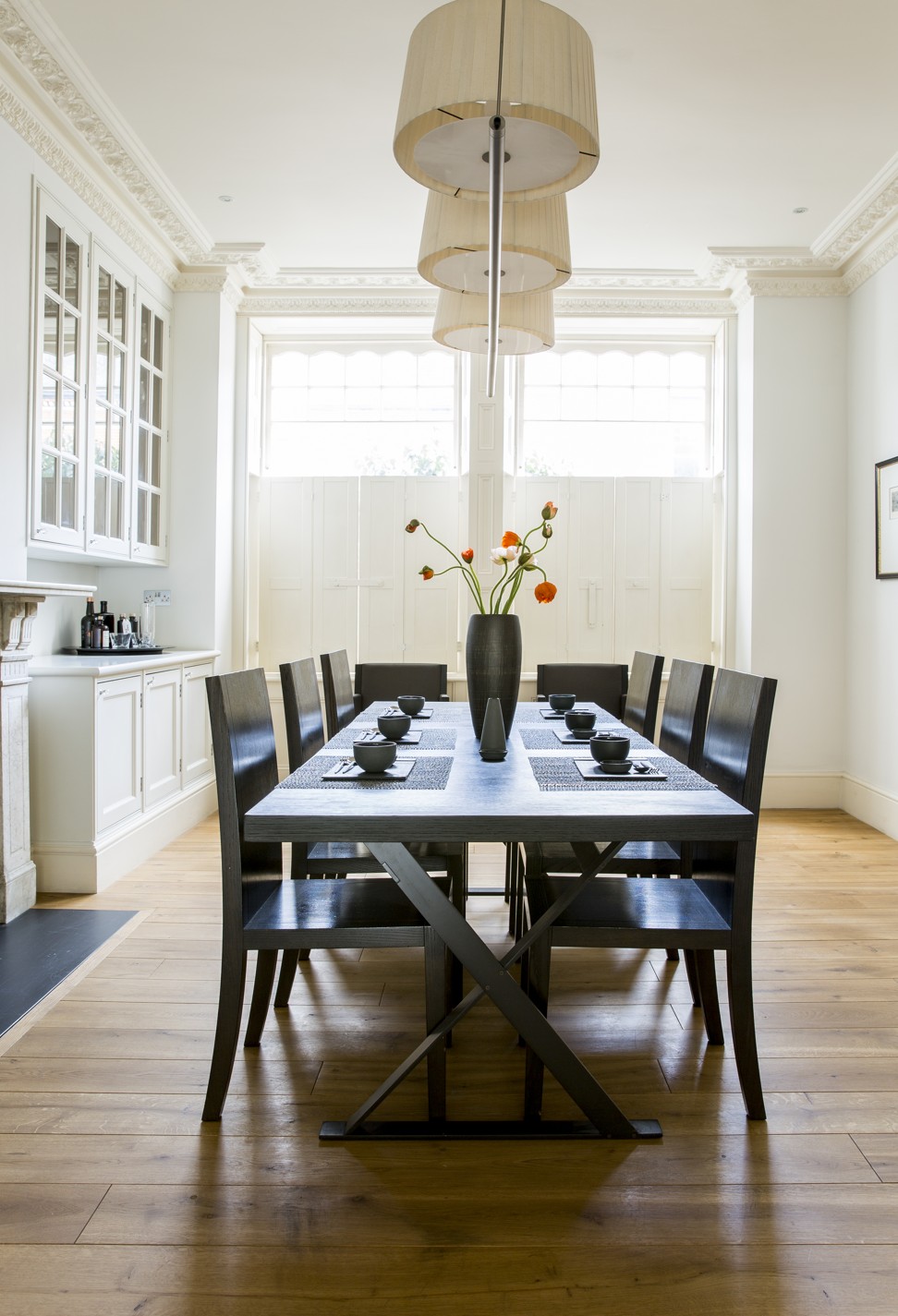 Dining room The Citterio-designed Max dining table and chairs, from B&B Italia, were bought years ago, as was the trio of ceiling lamps, from Santa & Cole. The Japanese tableware was from Living Motif, in Tokyo.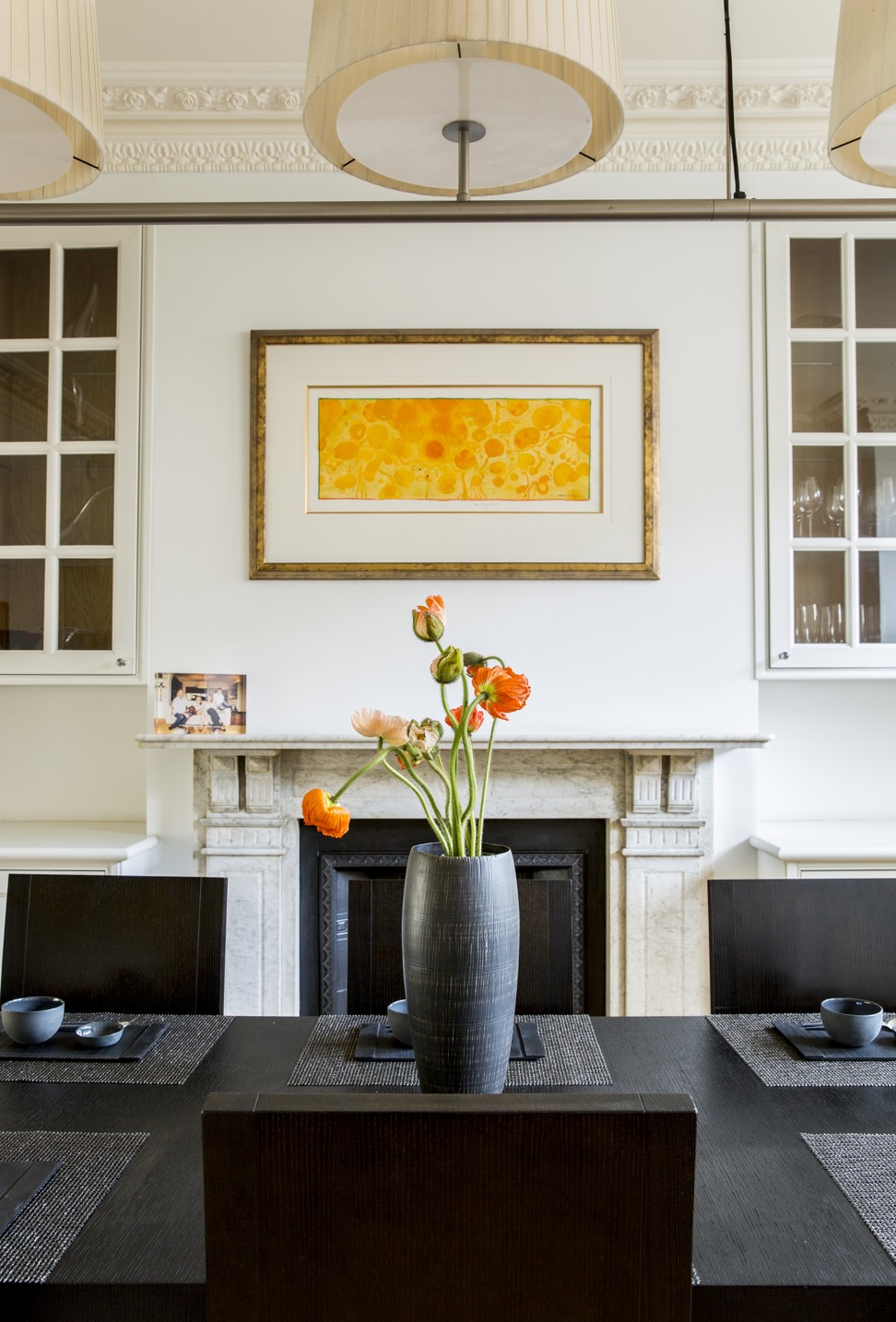 Dining room detail Lily Pond, by Australian artist John Olsen, came from Art Gallery Schubert, in Queensland.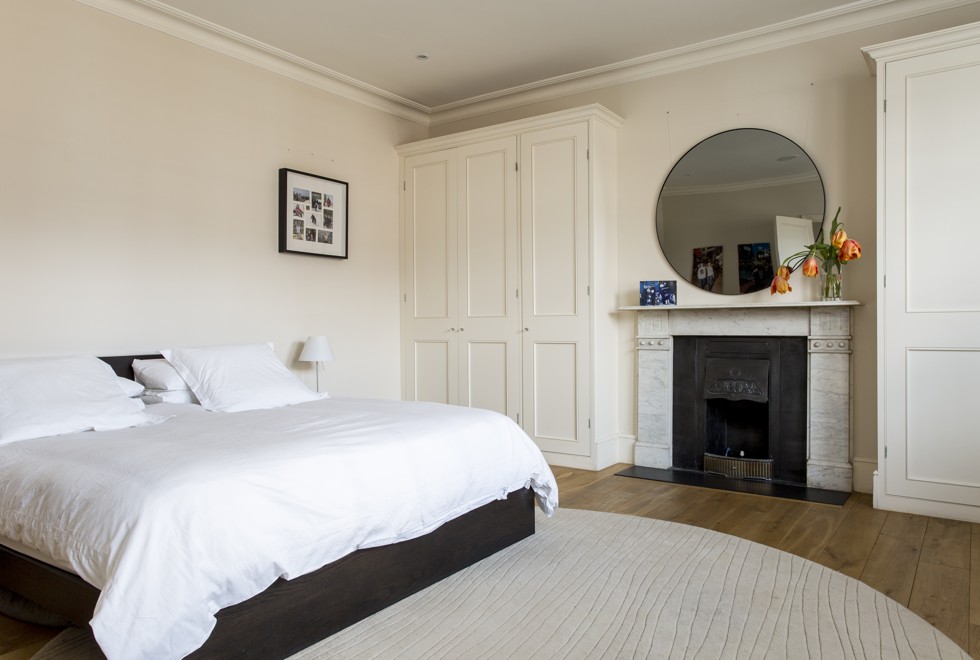 Master bedroom The bed was from Catherine Memmi. Chapman found the Circum mirror (about £300), by Danish brand AYTM, in Places & Spaces. The rug came from her home in Hong Kong. The Costanza table lamp was bought years ago.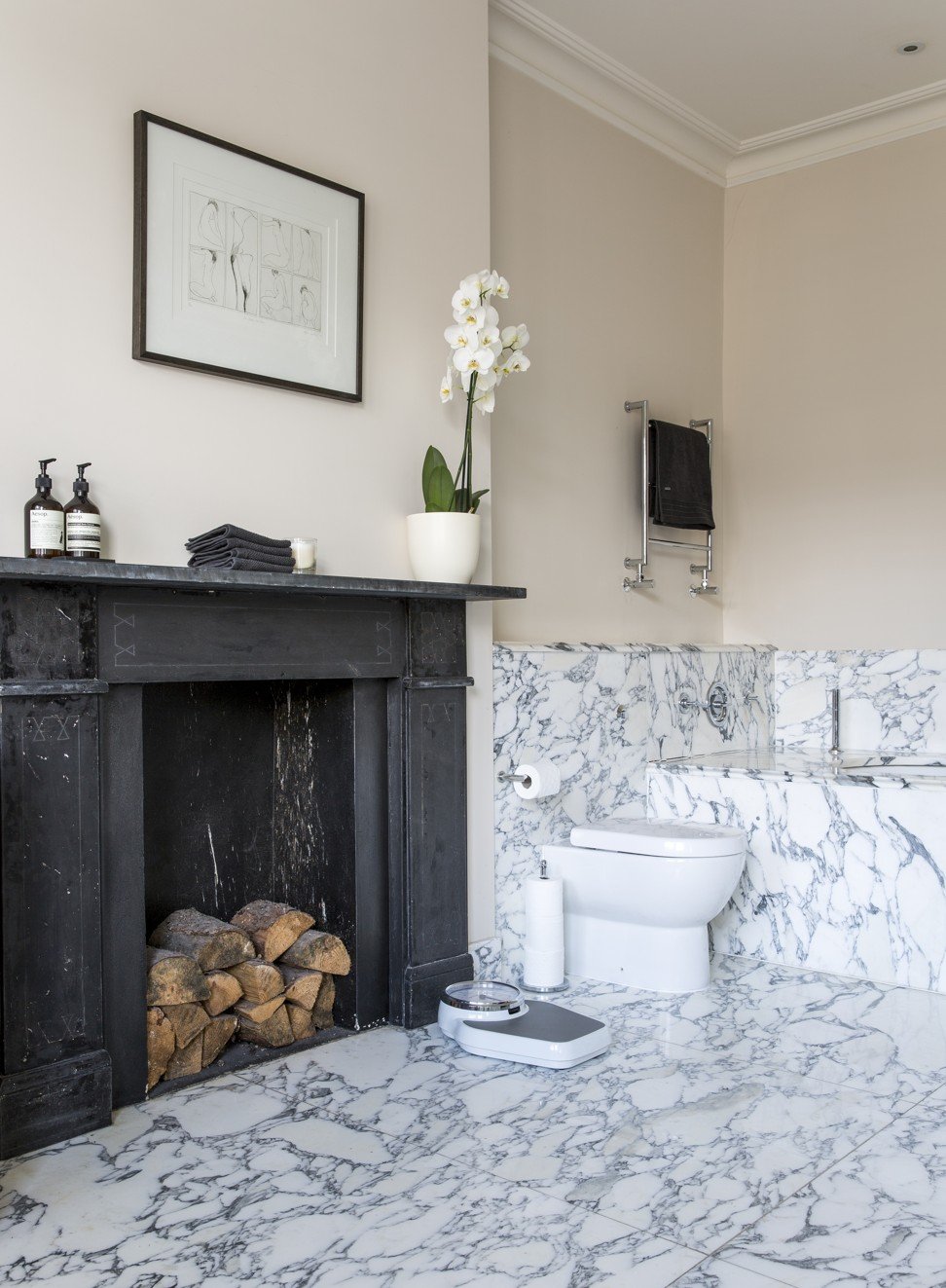 Master bathroom The bathroom is clad in silver-grey marble. Chapman added a limited-edition print by Adrian Lockhart, a wedding gift to the couple.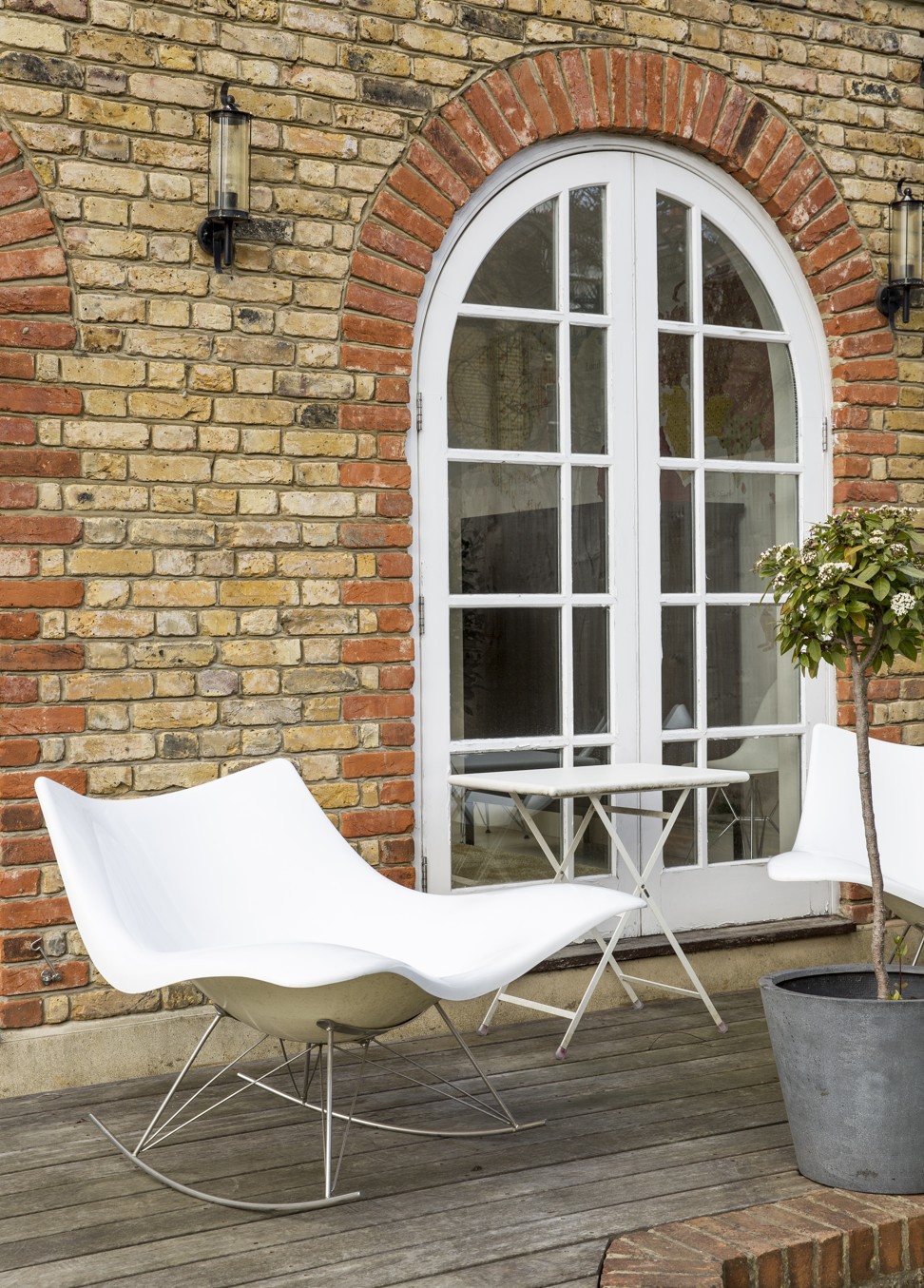 Terrace/garden Chapman bought the pair of Stingray rocking chairs (HK$21,920 each) from Manks in Hong Kong. The outdoor sconces came with the house.