One of the trickiest decisions to make in a scenic home is how to position the furniture, especially in the living room. Is it madness not to plant a row of seats directly in front of your stunning view so you can drink in every crimson sunset? Or is there a more sociable way to take advantage of that vista?
In this four-bedroom, 3,700 sq ft, five-split-level rental house on The Peak, Graeme Fowler, global head of visual merchandising at an international retailer, didn't think twice about what should go where. Two decades of design experience had taught him how best to use space.
"Lining things up against a wall doesn't make sense to me because then it looks like an old dance hall: boys on one side, girls on the other," he says. "It's nice to have a hub where people can sit and chat and be comfortable."
No dance hall has ever looked like this 1989 house, which features voluminous rooms filled with keepsakes that trace his and partner Paul Calder's history. To the side of the sitting room is a mid-century floor lamp that Fowler and Calder, director of client services at market­ing communi­cations agency CatchOn, purchased at an antiques fair in Italy.
By the dining table (made from an old door), sourced in Singapore, are porcelain ginger jars from Jingdezhen, Jiangxi province. And at the entrance of the main bedroom is a custom-designed, bus-destination-style artwork with meaningful place names: several tell of their homeland, Australia; others are of addresses in Singapore and Hong Kong, where they have lived for 11 and 12 years, respectively.
A Parisian artist's 1960s gallery-like home in Hong Kong
In fact, the couple have been out of Australia for so many years that Calder is concerned about how their future home, a 19th-century terrace house in Melbourne, should be furnished when eventually they move back, with several decades worth of purchases.
"I worry that it will look like we've lived in Asia for too long," he says. "So we try to mix the pieces."
While many items reveal a love of Chinoiserie – including a collection of blue-and-white pots – balance is achieved with modern lighting and a few timeless Western classics, such as the LC2 Corbusier armchair; Barcelona chair by Ludwig Mies van der Rohe; and Eames lounge chair and ottoman. All are in black leather.
"We always think about what's going to gel in our Melbourne house, too, so the colour palette here is greys, blacks and deep tones," Fowler says.
Hong Kong country park retreat that's hard to say goodbye to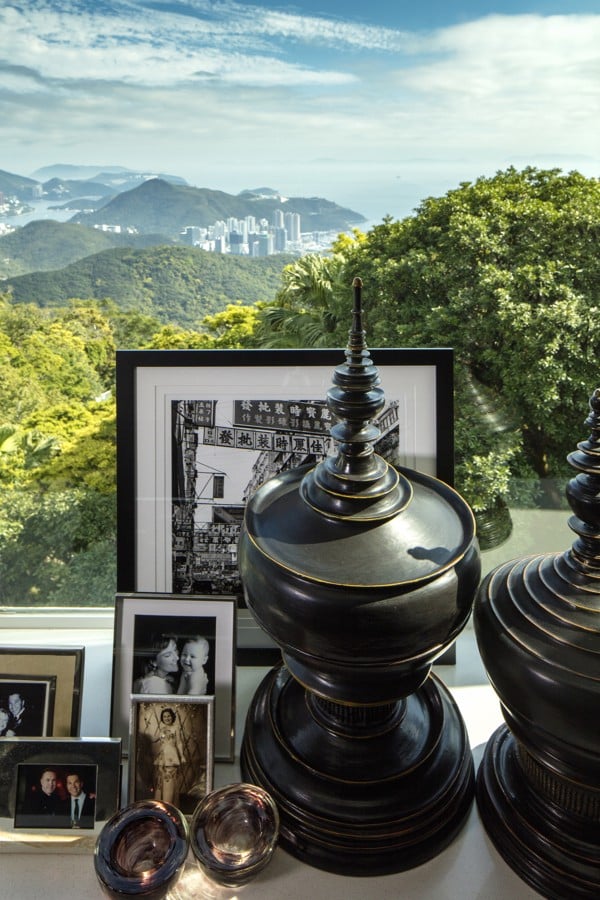 That palette, uplifted with blue (cera­mics, preserved morpho butterflies), can also be seen in the main bedroom, a light-filled expanse with a large en-suite bath­room and sauna. Similar to the sitting area, the bed faces away from the windows. But in this room, the reason was down to the wall space, which was not ideal for a king-size bed. Placing the back of the bed to the windows "was the best position to make the room look aesthetically pleasing", Fowler says.
Classic Tizio lamps, by German industrial designer Richard Sapper, flank the bed, behind which are more jars from Jingdezhen.
American's Hong Kong duplex a riot of exuberant colour, runaway fun and girl power
Their open-plan shower, however, makes the most of the aspect. In the middle of the en-suite bathroom, it enjoys full-frontal views of Victoria Harbour and the islands beyond.
With a surfeit of space – their helper has an en-suite bedroom, beside two guest rooms, on the level above – it is no wonder most of their furniture is generously sized.
"It's been called the Land of the Giants," Fowler jokes, recalling comments made by visitors about their house.
But space has also caused a problem. In modernising the house before Fowler and Calder moved in, its owner defaulted to an open-plan kitchen, allowing it to flow into the dining area, which itself is open to the sitting room a split level below. Sound now bounces around the rooms.
"Everything echoes, especially when we're having a dinner party," Fowler says.
The clamour continues when the table is being cleared and they have retreated to the sitting room.
The Hong Kong beach house that becomes Party Central at weekends
On the warm, sunny day of our visit, however, any acoustic drawbacks to the house are overcome by its setting. Drawn by the vista, we make a beeline for the deep balcony off the sitting room, unconsciously following Fowler's comments about how people typically move through their house.
"When people come over they look at the view and go, 'Wow', and we'll have a glass of wine out there," he says. "But at the end of the day we'll come in here to sit and social­ise. I always like to have a hub where you can gather."
---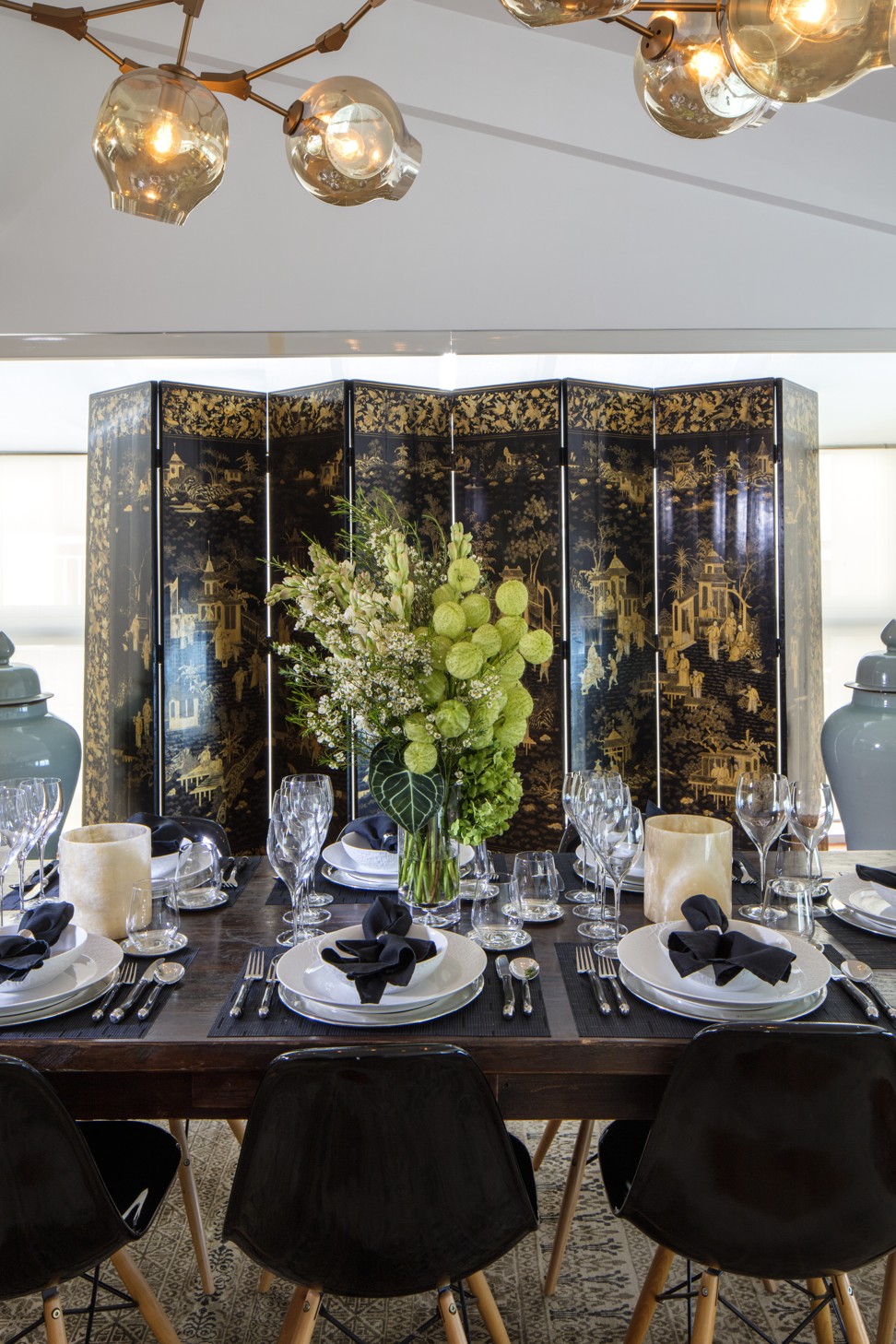 Dining area A 17th-century Chinese screen, bought at the Mercanteinfiera antiques fair in Parma, Italy, is flanked by ginger jars found a few years ago in Jingdezhen, China's "porcelain capital". The dining table was acquired 20 years ago in Singapore and crafted from an old door. The Eames chairs (HK$4,800 each) are available from Aluminium. The silk rug came from a village near Varanasi, India. The floral arrangement came from Tomasina Florals & Botanicals.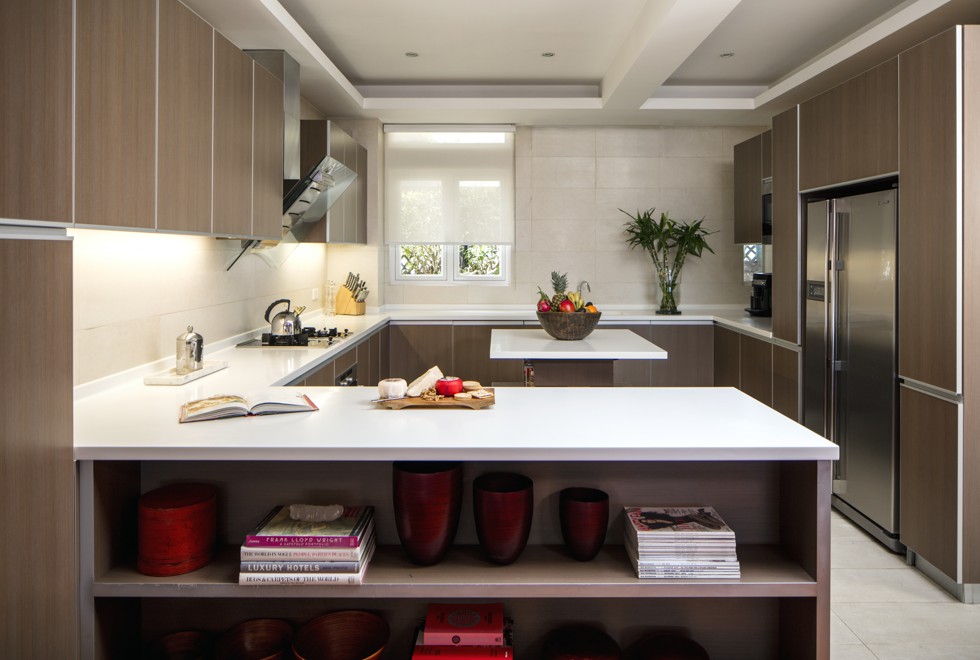 Kitchen The kitchen was renovated by the landlord to open it to the dining room. The Bird Whistle Kettle, (HK$2,795), by Michael Graves, was from Alessi (alessi.com).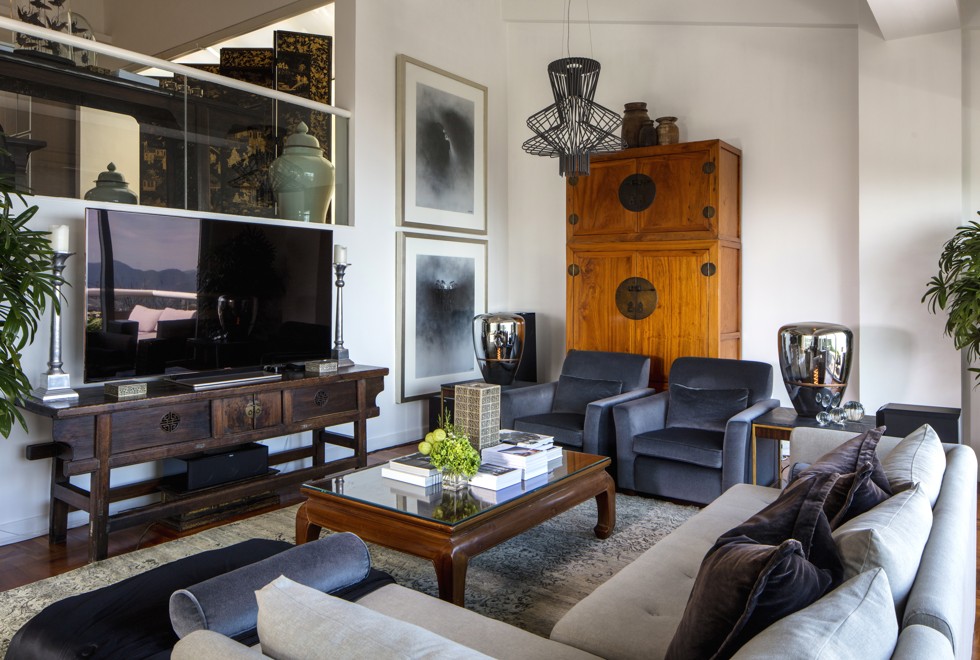 Living area The living room and study beside it offer stunning views of Victoria Harbour. The sofa and armchairs moved with the couple from Australia to Singapore and then Hong Kong. Other decades-old purchases include the Chinese cabinet, coffee table and antique unit accommodating the television.
The pendant lamp and reflective lamps flanking the armchairs came from Summer Lighting, in Shenzhen. They sit on side tables from Sonder Living. The silk carpet was picked up in India and the black-and-white artwork is by Sanzi. The candelabras are 20 years old. Photographs sit alongside candle holders, Burmese lacquerware and a photo of Hong Kong by Laurence Lai.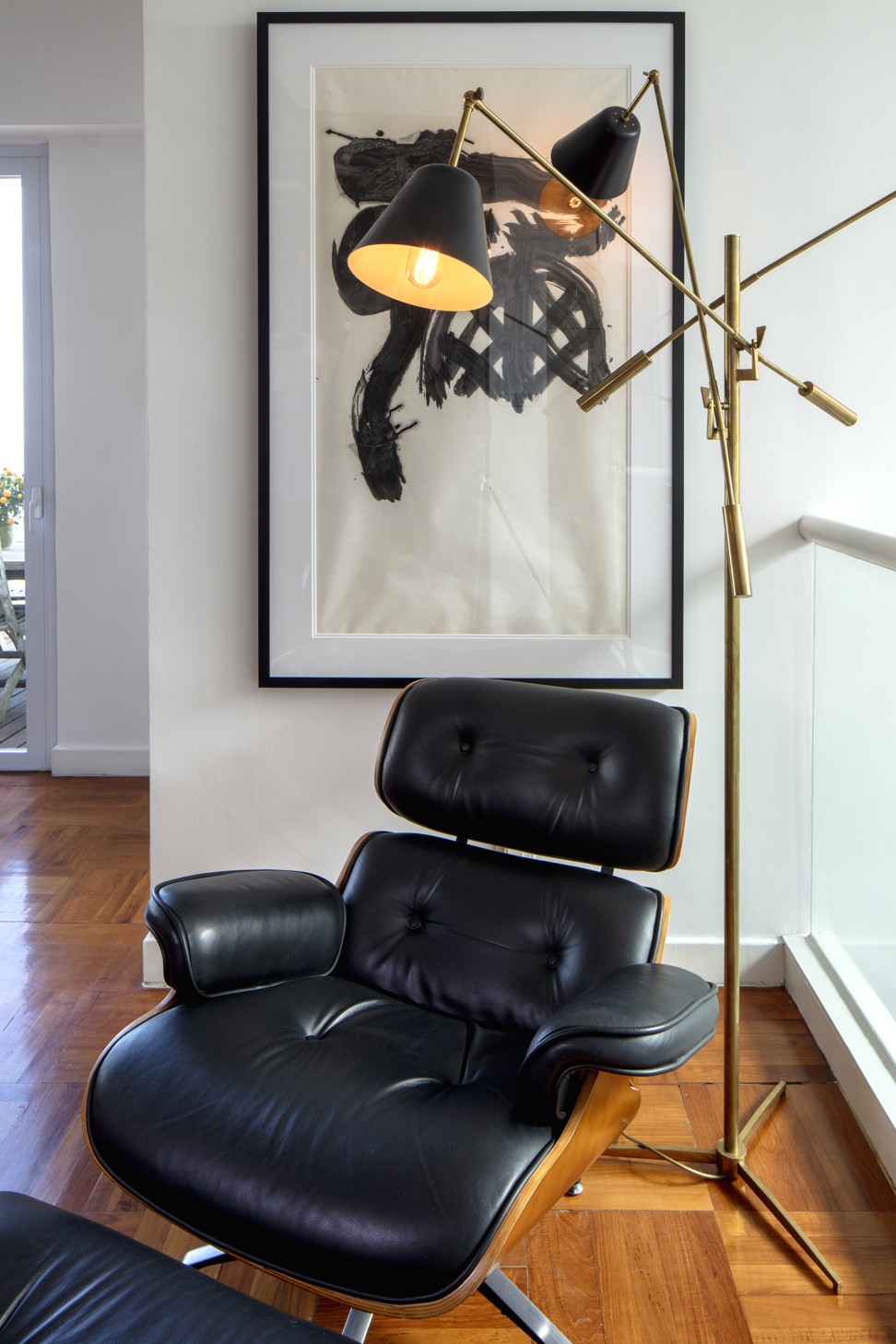 Living room detail The Eames lounger and ottoman (HK$56,000 for the set) are available from Aluminium. The mid-century lamp came from the Mercanteinfiera antiques fair. The artwork, by Xu Jing, was bought at a Hong Kong Ambassadors of Design charity event.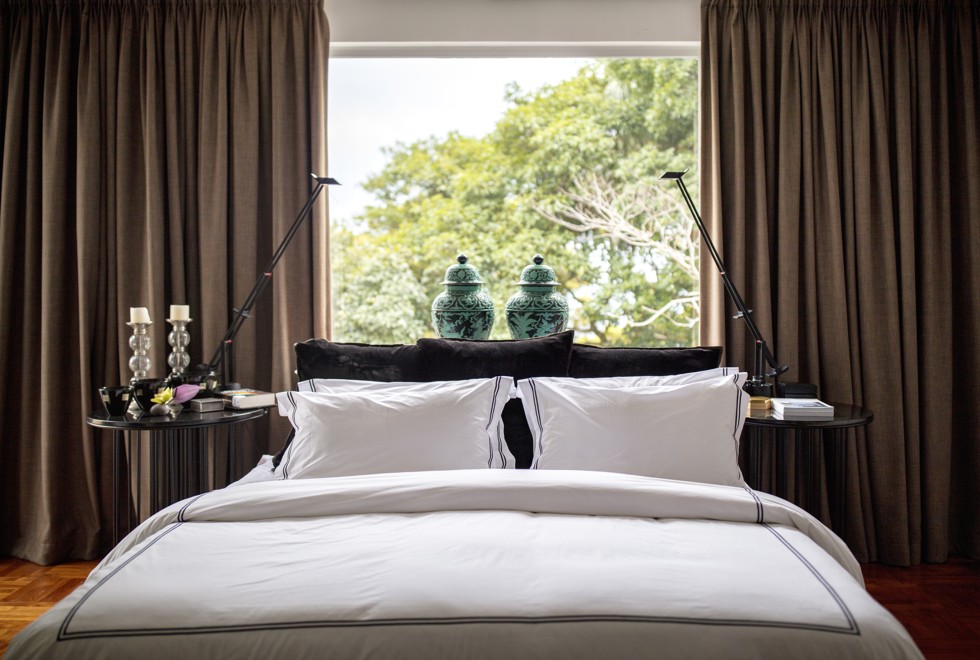 Master bedroom Two-decade-old Tizio lamps, by Richard Sapper for Artemide, sit on bedside tables that Graeme Fowler and Paul Calder designed and had made in India. The candlesticks came from a market in New York, and the jars behind the bed were from an antiques dealer in Jingdezhen.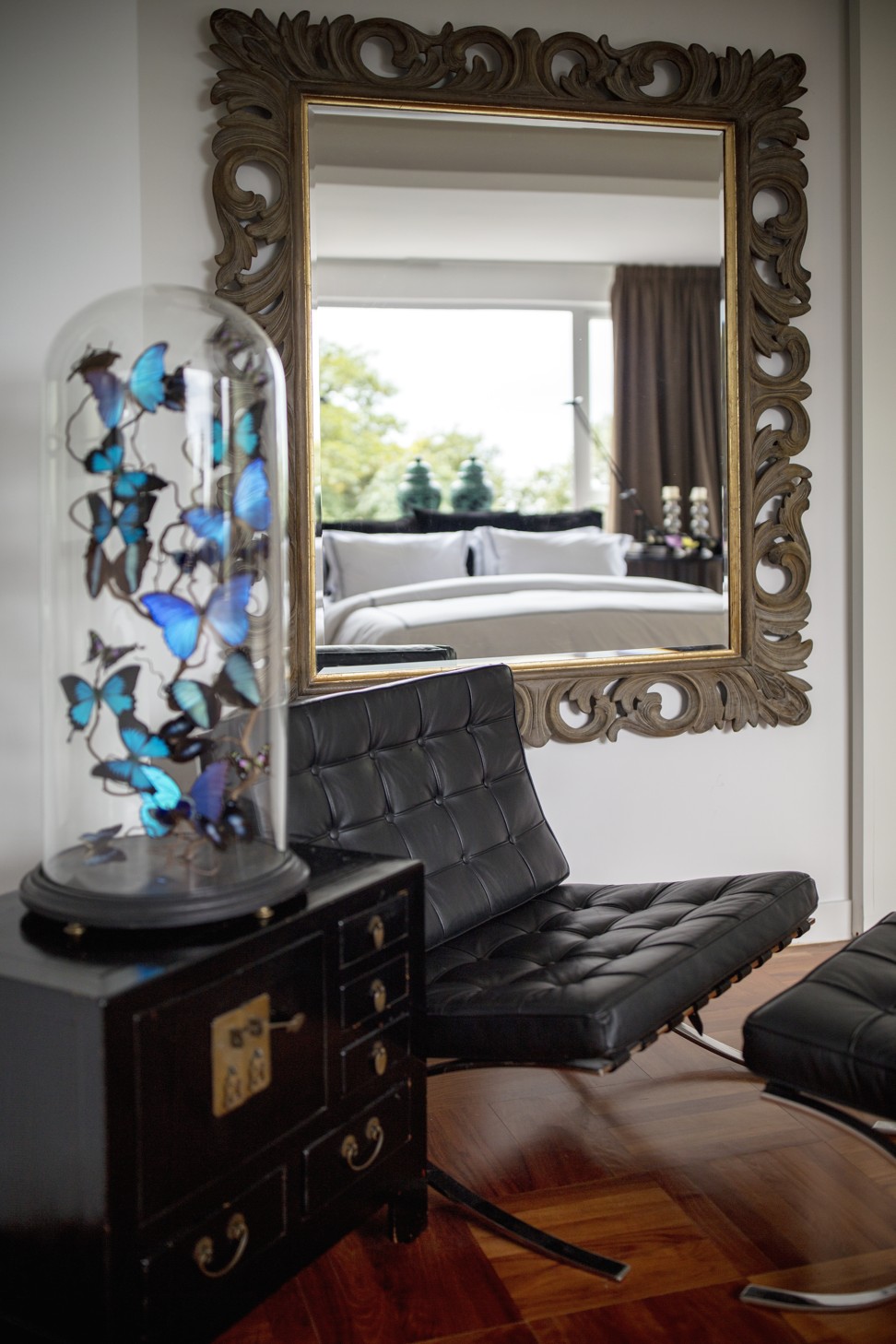 Master bedroom detail In a corner of the bedroom is a Barcelona chair and footstool that moved with the couple from Australia 20 years ago. The side chest, from Singapore, is almost as old. The butterfly display came from a flea market in Paris and the mirror was from a gallery in New York's Meatpacking District.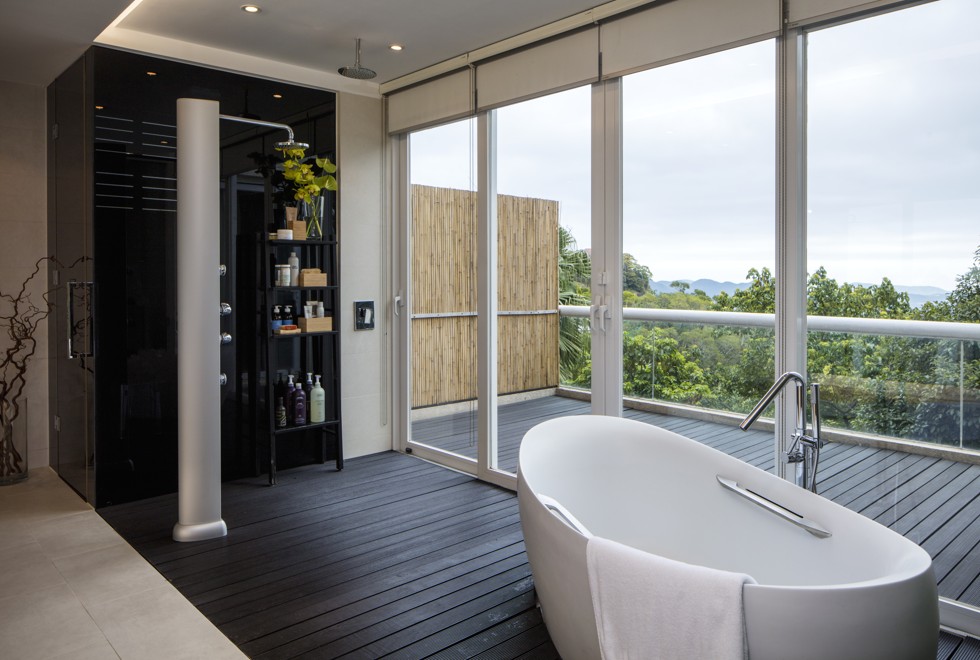 En-suite master bathroom The bathroom makes the most of its scenic spot, with an exposed tub and shower. The sauna is on the left.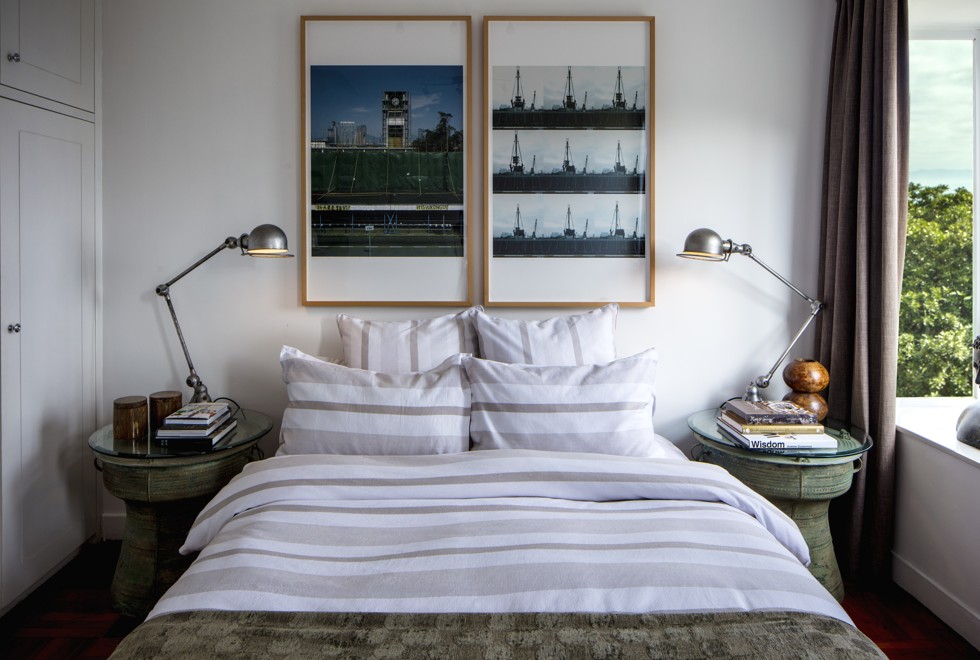 Guest bedroom The photographs by Stanley Wong Ping-pui, aka anothermountainman, of the dismantling of the Star Ferry pier, in Central, in 2006, were bought at a Hong Kong Ambassadors of Design charity event. The lamps on the bedside tables came from a flea market in Paris, France. The Buddha was from Magelang, in Central Java, Indonesia.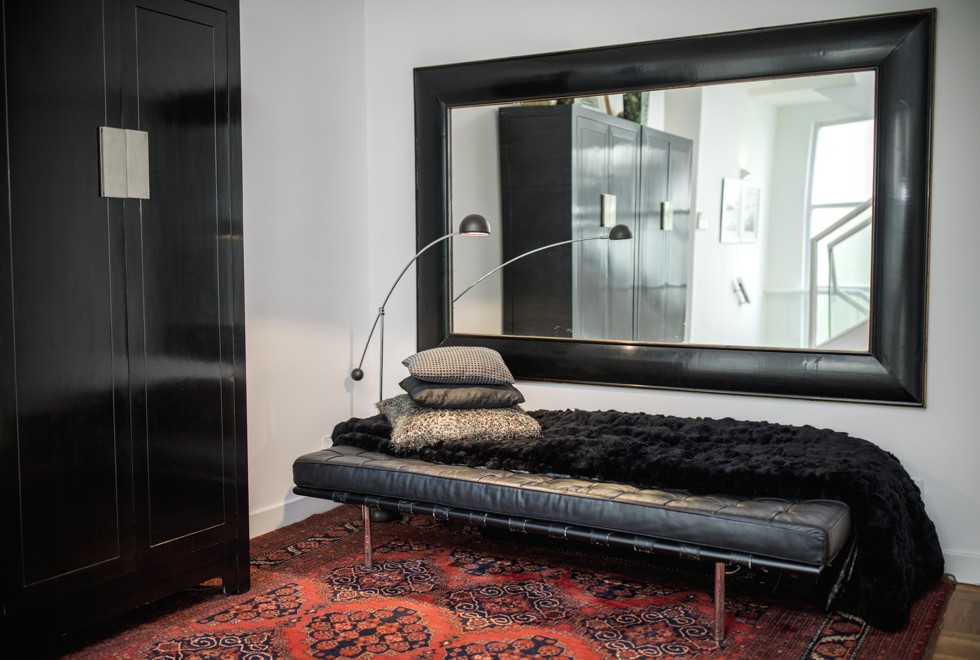 Guest-room level landing The contemporary Chinese cabinet was made to order years ago specifically to accommodate CDs and DVDs. The day bed moved with the couple from Australia. Also old are the mirror, rug and floor lamp, which came from a shop in Horizon Plaza.
---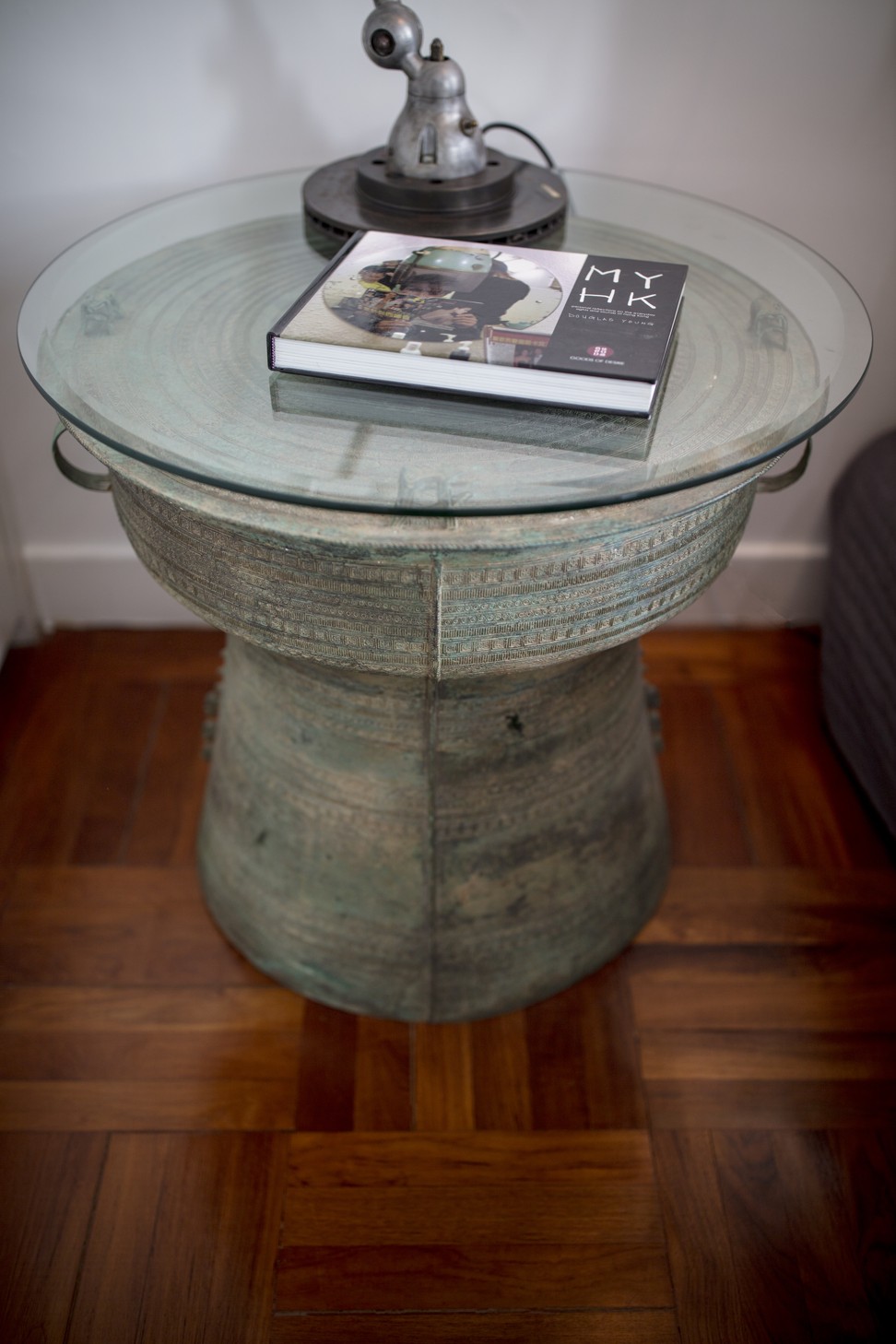 Tried + tested
Drum roll Glass was cut to fit over a pair of 20th-century bronze rain drums, bought in Thailand years ago, to turn them into bedside tables. The drums, used originally in religious ceremonies, are so called because of the sound they make on being struck by rain.
To see a video of the house, go to scmp.com/calderandfowlerhome