Anything worth having is worth waiting for. Just ask Australian Donna Shepherd, who, with husband Digby, took almost two years to buy their Sai Kung house, plus a further 18 months to furnish it. No small amount of effort was required for both.
Having found the unusual property while on a dog walk-cum-house scout, Shepherd remembers thinking, "This is it!" But her husband, a commercial pilot, needed convincing – at that point the house was beyond their price range – which was why, she says, laughing: "I'd deliberately bring him for walks here. Finally, he saw the light."
Then they started chipping away at the asking price – a process Shepherd understands well: to sell their previous home, which enabled the purchase in 2015 of their current pile, she studied for and obtained a property agent's licence. Discovering an affinity for the profession, in January this year she set up her own company, Prime Real Estate – a name that only partially describes her own breath­taking find.
On a raised plot hidden from the main road but with idyllic sea views, the three-storey, 1,950 sq ft village house stands out because of its curved facade. Glass panels wrap around the semicircular windows of a double-height lounge and, above it, one end of a large master suite. Outside, a paved area for alfresco living segues into a lawn fringed by palms. It wasn't always like that, though. "Before, it was jungle all the way to the front door," Shepherd says. "And the whole house had to be gutted."
Inside a Hong Kong village house like no other – a stylish, functional family home
Its transformation owes much to Shepherd's homewares experience in Australia and Hong Kong, where she and her husband have lived for almost two decades. In the spacious outdoor enter­tainment areas, the sofa sets, tables and umbrellas all came from her now-closed furniture shop, Wicka Designs. And before that, with her company Antiques Zhuhai, she took visitors on shopping trips across the border.
In turning the four-bedroom house into a home for themselves and their two teen­age sons (who attend boarding schools in Australia and spend holidays in Hong Kong), thought went into ensuring every­one had their own space. Above the children's rooms on the first floor, the main bedroom occupies an entire level, allowing for a garden-facing desk and sitting area, walk-in wardrobe and en-suite bathroom. A large Chinese-style bedhead made in Zhuhai anchors the king-size bed, beside which are tasselled lamps from her old shop.
We loved that [the house] had these curved windows. It feels like the outdoors are coming in
The rooftop above is their domain, if the children are on the terrace with friends. The boys can also retreat to play video games in a small television-cum-guest room, although the living area is the main media hub. Here, rather than walls coming down, one was erected to make better use of the space.
"We didn't have anywhere for the TV, so we put that up," Shepherd says, pointing to a dedicated wall opposite the picture-perfect green views.
The lofty living area was one reason the couple fell for the house. "We loved that it had these curved windows," Shepherd says. "It feels like the outdoors are coming in."
Hong Kong country park retreat that's hard to say goodbye to
But although the double-height glazing lends grandeur to the curved space, it made finding the perfect sofa difficult. Cost was a factor ("everything we liked was ridicu­lously expensive") but so was size and shape. Eventually, defeated by the lack of choice in Hong Kong, they looked farther afield and finally, after a 1½-year search, plumped for an L-shaped set bought in Australia and shipped to Hong Kong. Also imported were carpets, bedding and appliances for their custom-made kitchen, designed to her husband's specifications.
Although the kitchen remained in its original location, it now has a window at the back rather than the side, where it once looked into a neighbour's house. A break­fast bench separates it from the dining area.
It took us a long time to buy the place. The chap was very obstinate in his pricing and very slow in his replies. But in the end we got so close that I said to Dig, 'What does it matter?'
As important as the kitchen, Shepherd says, were the bathrooms. While others may have opted for uniform wet rooms, they created a different look for each of the three en suites plus ground-floor toilet. That includes their own bathroom, which is a successful his-and-hers combination of wood-look tiles on the floor (his) and turquoise tiles on a feature wall (hers). Elsewhere, Shepherd says: "Digby and I are pretty much on the same wavelength."
Which explains why both endured the protracted negotiation for the house.
"It took us a long time to buy the place," Shepherd says. "The chap was very obstinate in his pricing and very slow in his replies. But in the end we got so close that I said to Dig, 'What does it matter?'"
Spoken, perhaps, like a true real-estate agent.
---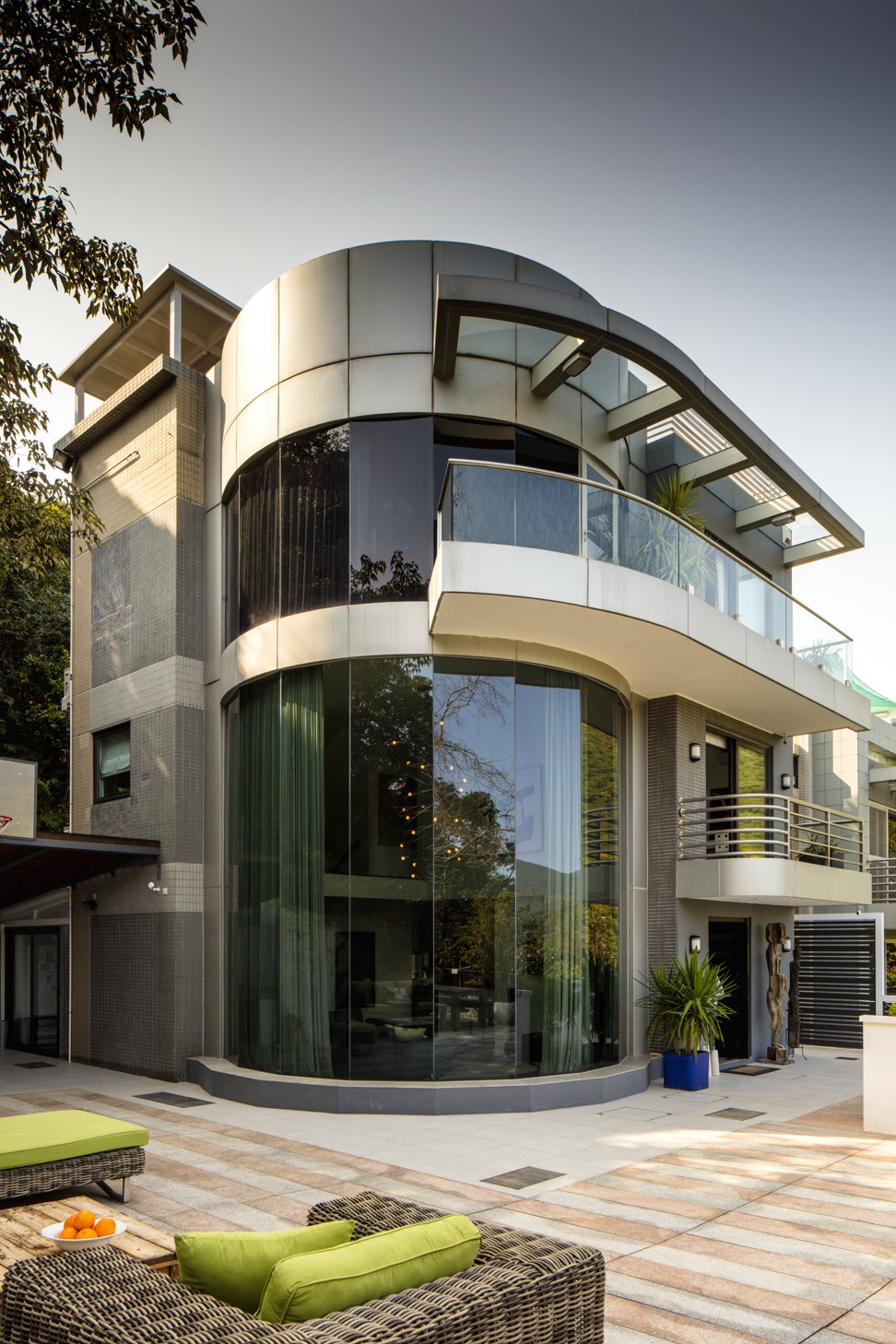 Exterior The house, which was built in 2003, stands out because of its curved facade.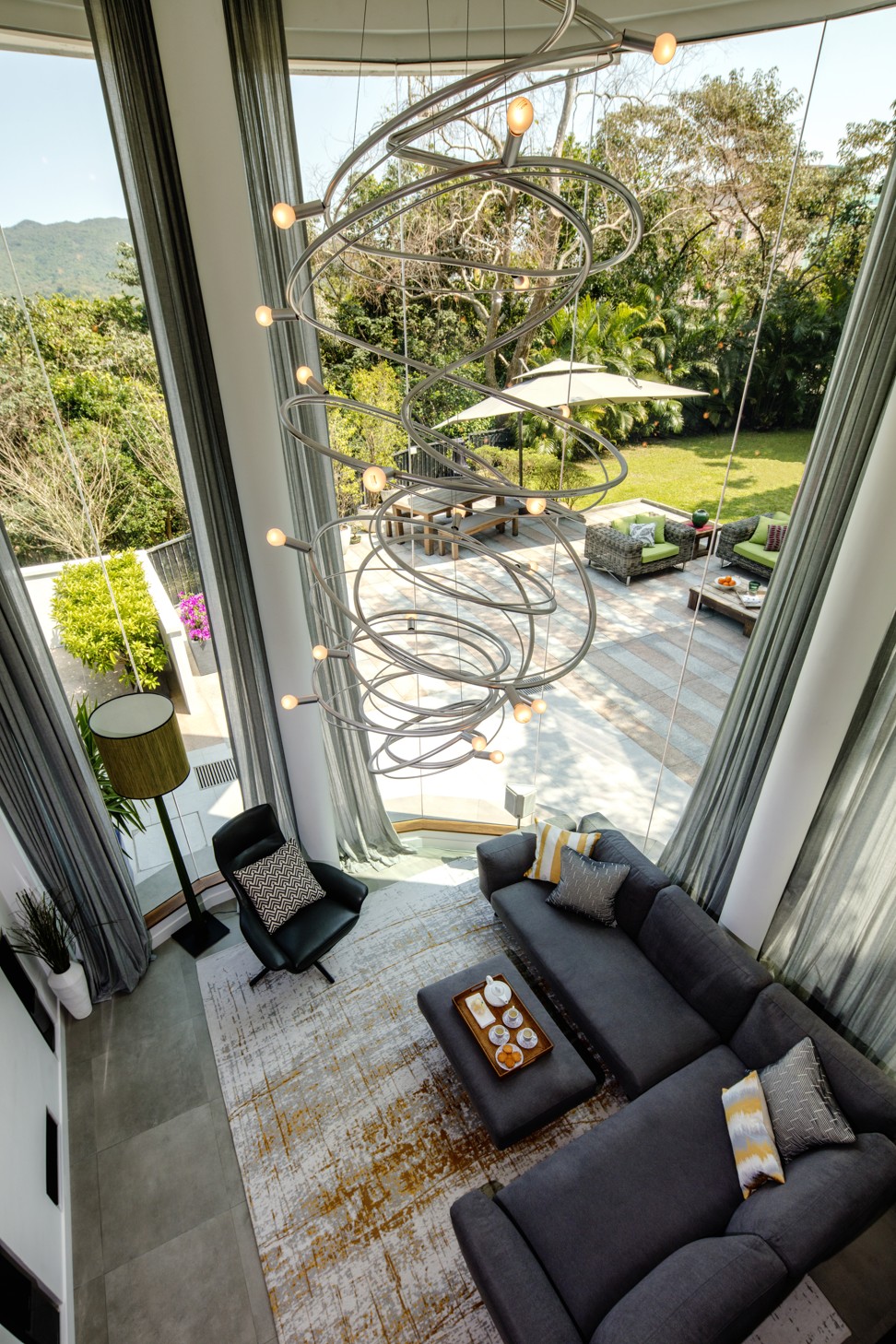 Living room The L-shaped sofa and ottoman (HK$35,475 for the set) and armchair (HK$14,880) came from King Furniture. The floor lamp was from Donna Shepherd's now-closed furniture shop, Wicka Designs, and the rug (HK$18,400) from The Rug Establishment, in Australia. Shepherd had the chandelier (HK$15,350) made by Replica Lights.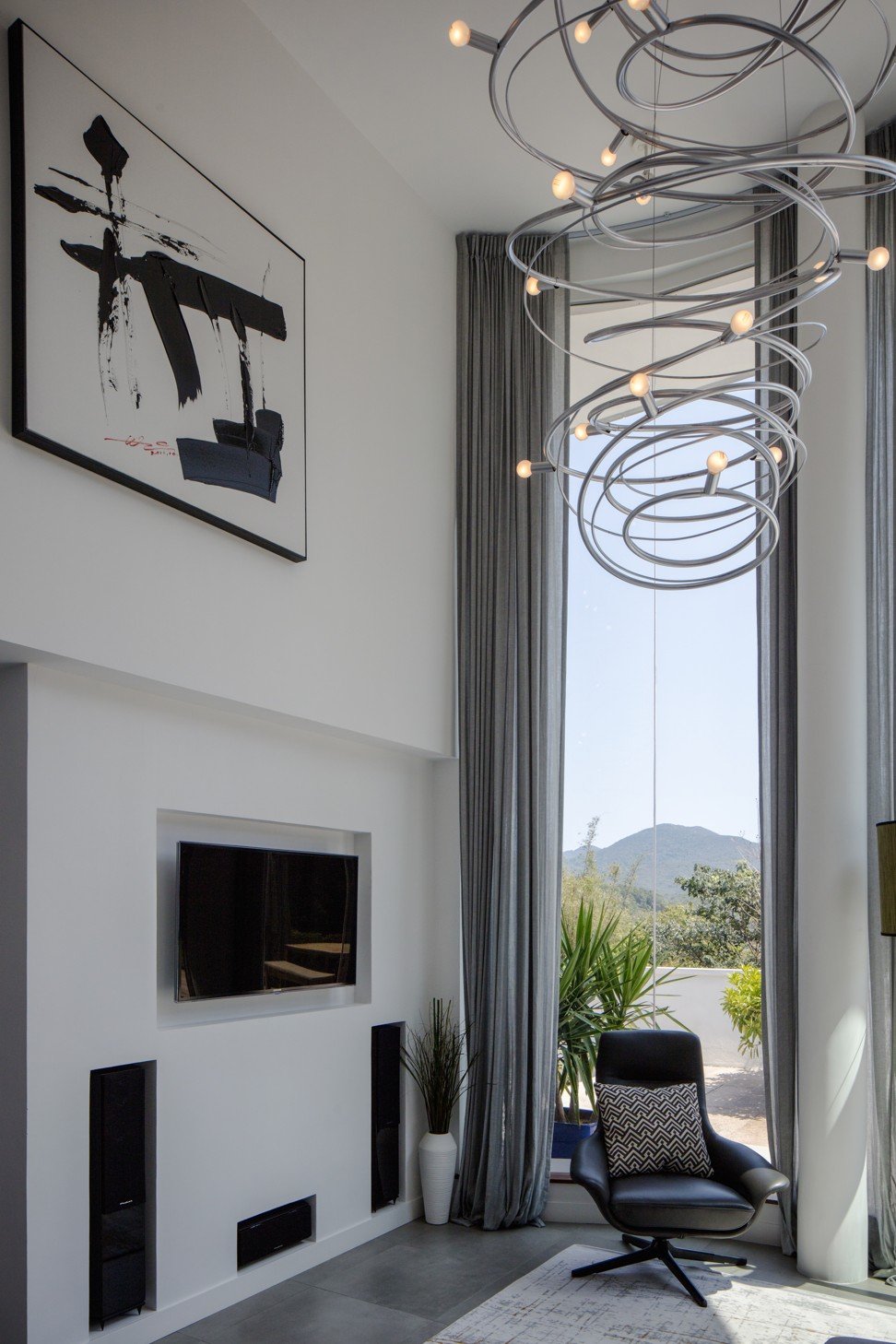 Living room detail Mike Turner (tel: 9677 9754), the Shepherds' contractor, built the television wall for HK$12,000. The artwork came from the Dafen artists' village in Shenzhen.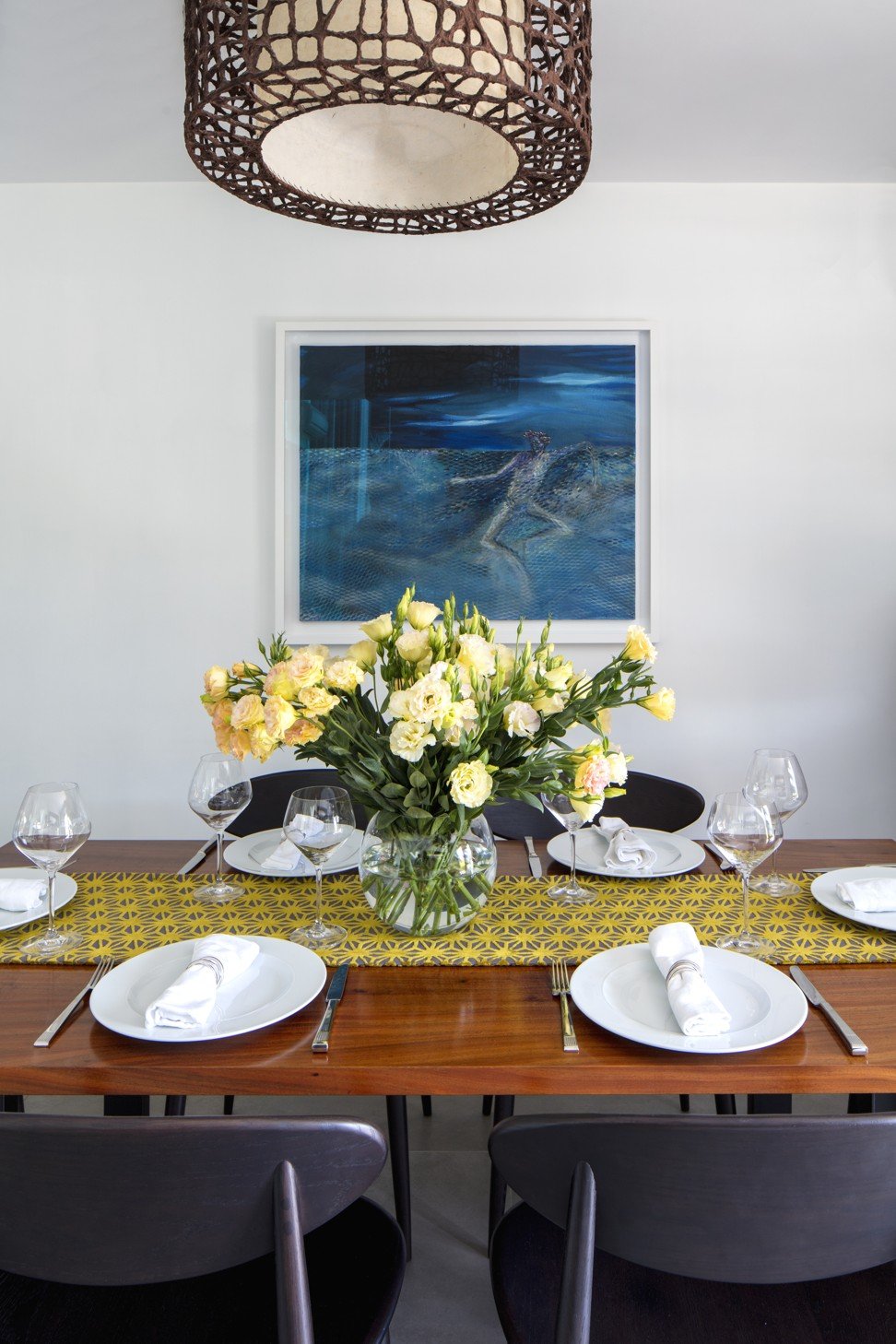 Dining area Located between the main entrance and kitchen, the dining area is lit with a C-U C-ME Hanging Light (HK$4,700), by Kenneth Cobonpue from OVO. The blackwood table (HK$22,140) and Takahashi Asako dining chairs (HK$2,400 each) were all from The Natural Room. The artwork is by Australian artist Shaun Atkinson.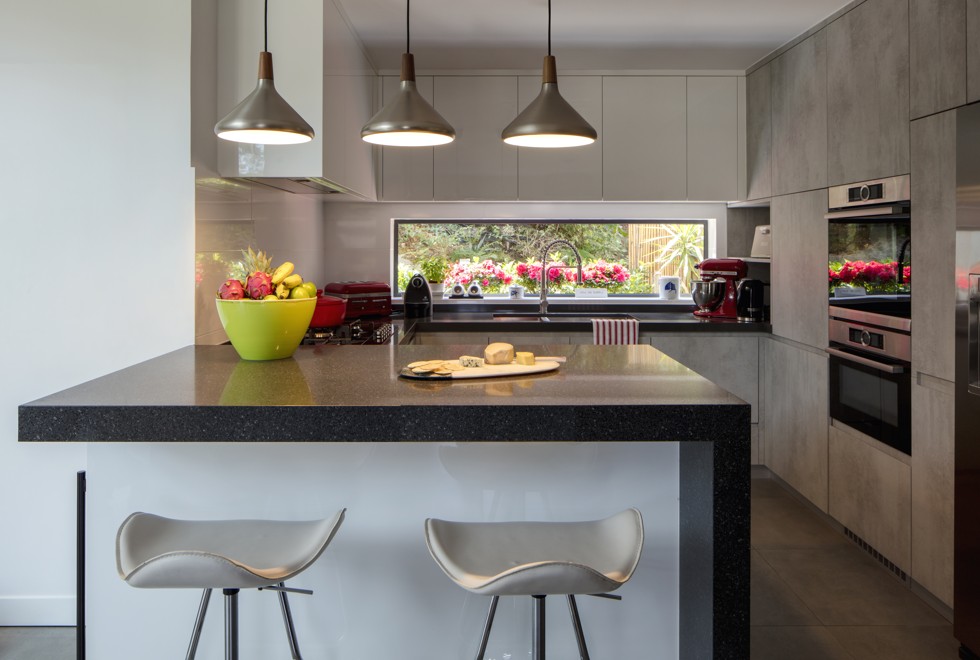 Kitchen A new picture window in the kitchen frames the back garden. The cabinetry and Technistone counter (HK$186,000, not including appliances) were by Erste. The pendant lamps came from a shop in Shanghai Street, Mong Kok. The bar stools were picked up in Home Square years ago.
Main bedroom On the top floor, the main bedroom accommodates a king-size bed, behind which is a bedhead Shepherd had custom made in Zhuhai eight years ago, as were the bedside tables. The lamps came from Wicka Designs. The Kent stools (about HK$1,400 each) came from Laura Ashley, in Australia.
Also from Down Under is the rug (HK$2,400), from Temple & Webster. The ginger jar (HK$2,500) came from Bowerbird. Shepherd designed the artwork, which was framed by Artmen Gallery. The Artemis ceiling fan (HK$4,265) came from Tree.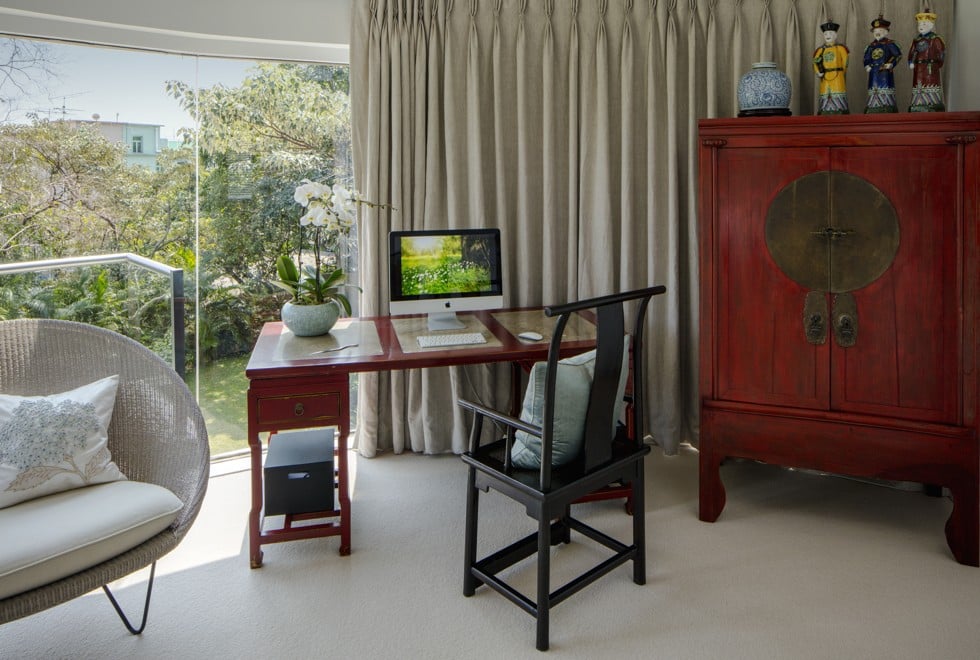 Main bedroom detail Opposite the bed, the work area is furnished with a chair (HK$3,250) from Tree; an antique desk acquired from a friend; and a chair (HK$3,135) from Oriental Home. The Shepherds bought the Chinese cabinet 20 years ago as an "arrival gift" for themselves.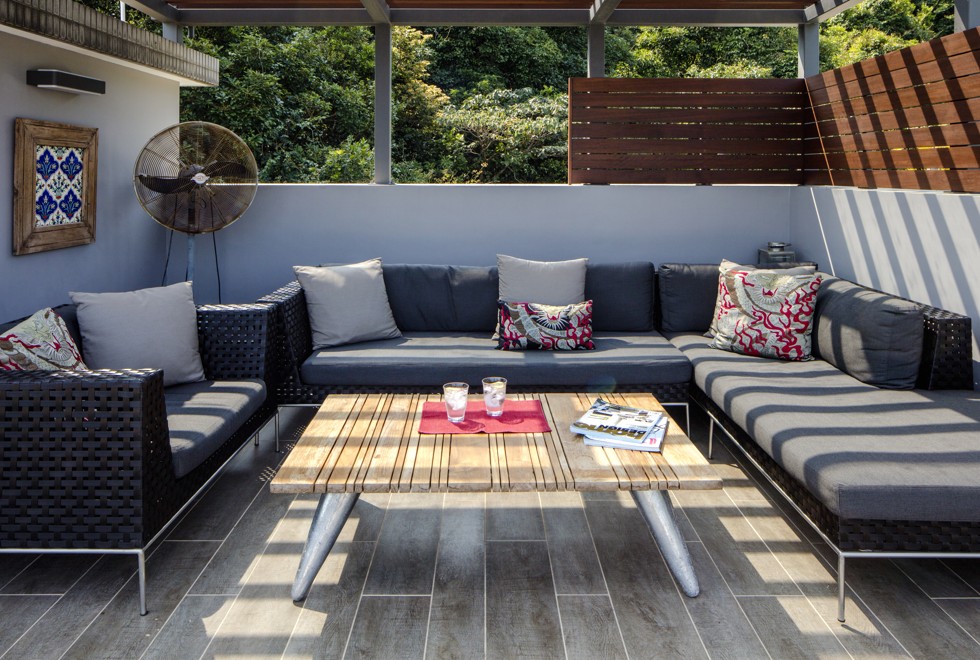 Rooftop The sofa set and coffee table came from Wicka Designs. The industrial fan was from a hardware store in Sai Kung and the custom-made tile art was bought in Istanbul, Turkey. The pergola was built by Sai Kung contractor Rise Star Creation (tel: 2838 9856).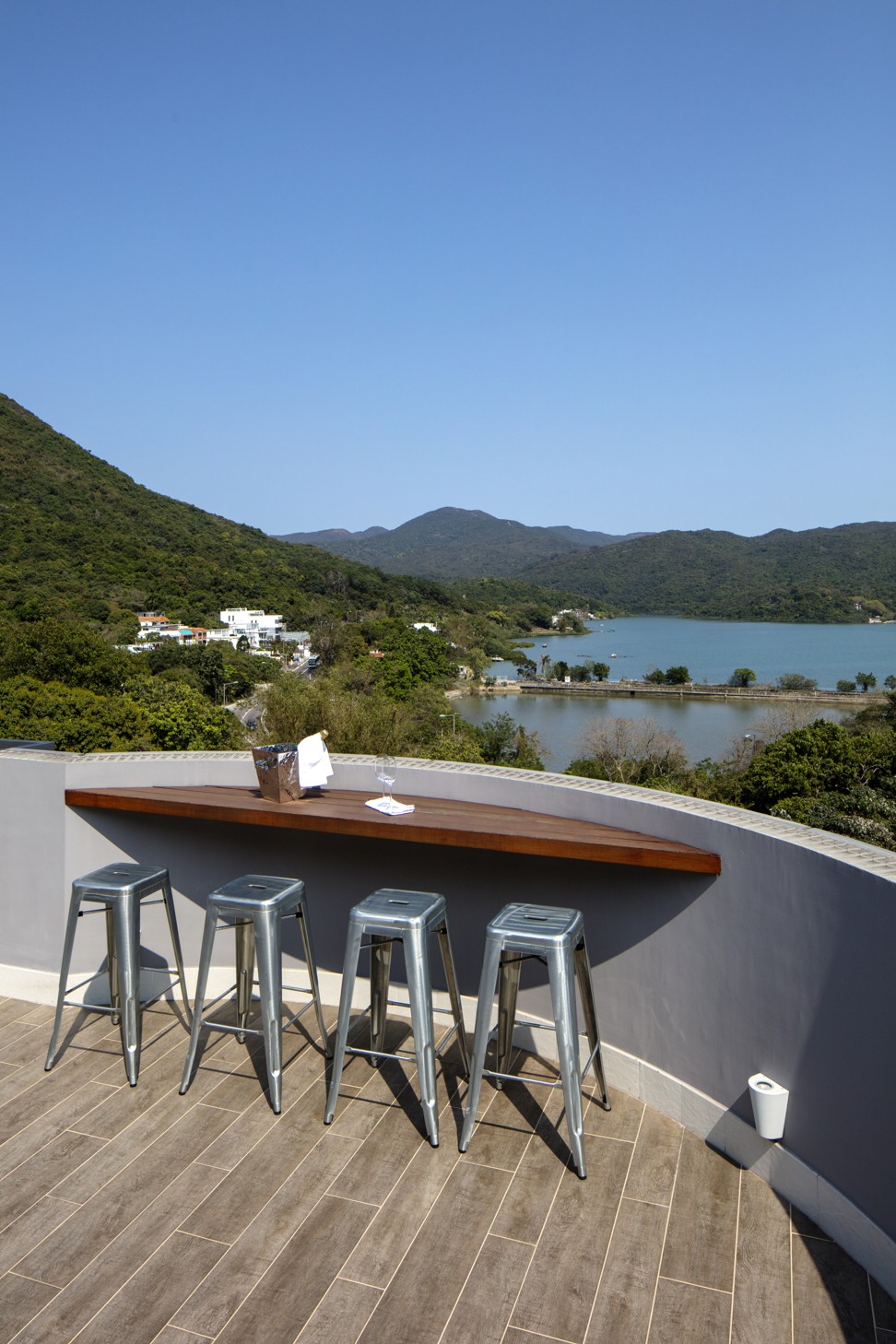 Rooftop detail The Marias galvanised stools came from Wicka Designs. The small bar was built by Rise Star Creation.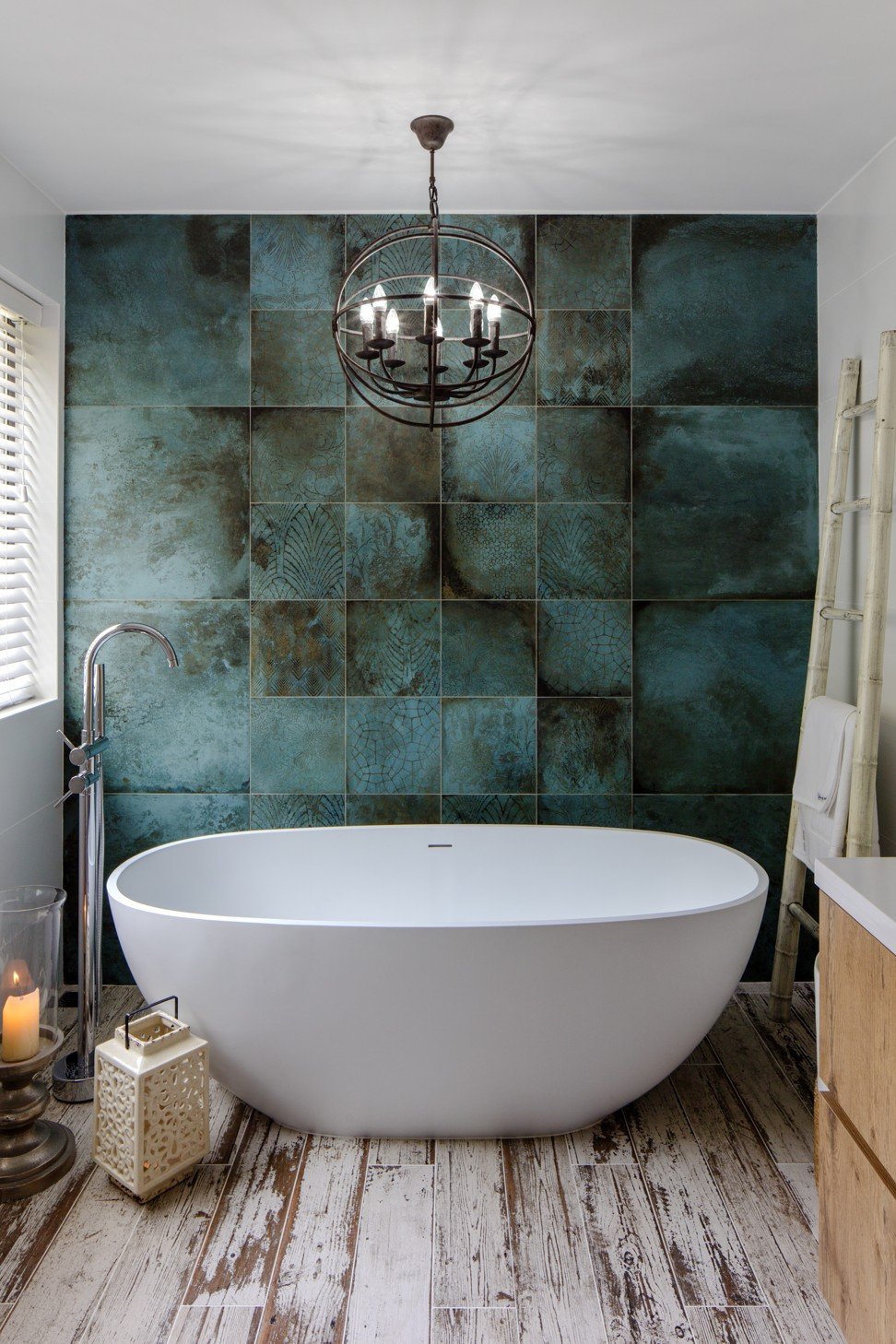 Main bathroom The tub (HK$9,500) was from Kingkonree. The tiles for the floor and wall were found in Mong Kok. Similar bamboo ladders are available at Tung Hing Metal & Construction Material (50 Po Tung Road, Sai Kung, tel: 2792 2033).The candelabra was from Wicka Designs and the lantern (HK$490) from Wheel & Barrow. The chandelier was picked up in Shenzhen.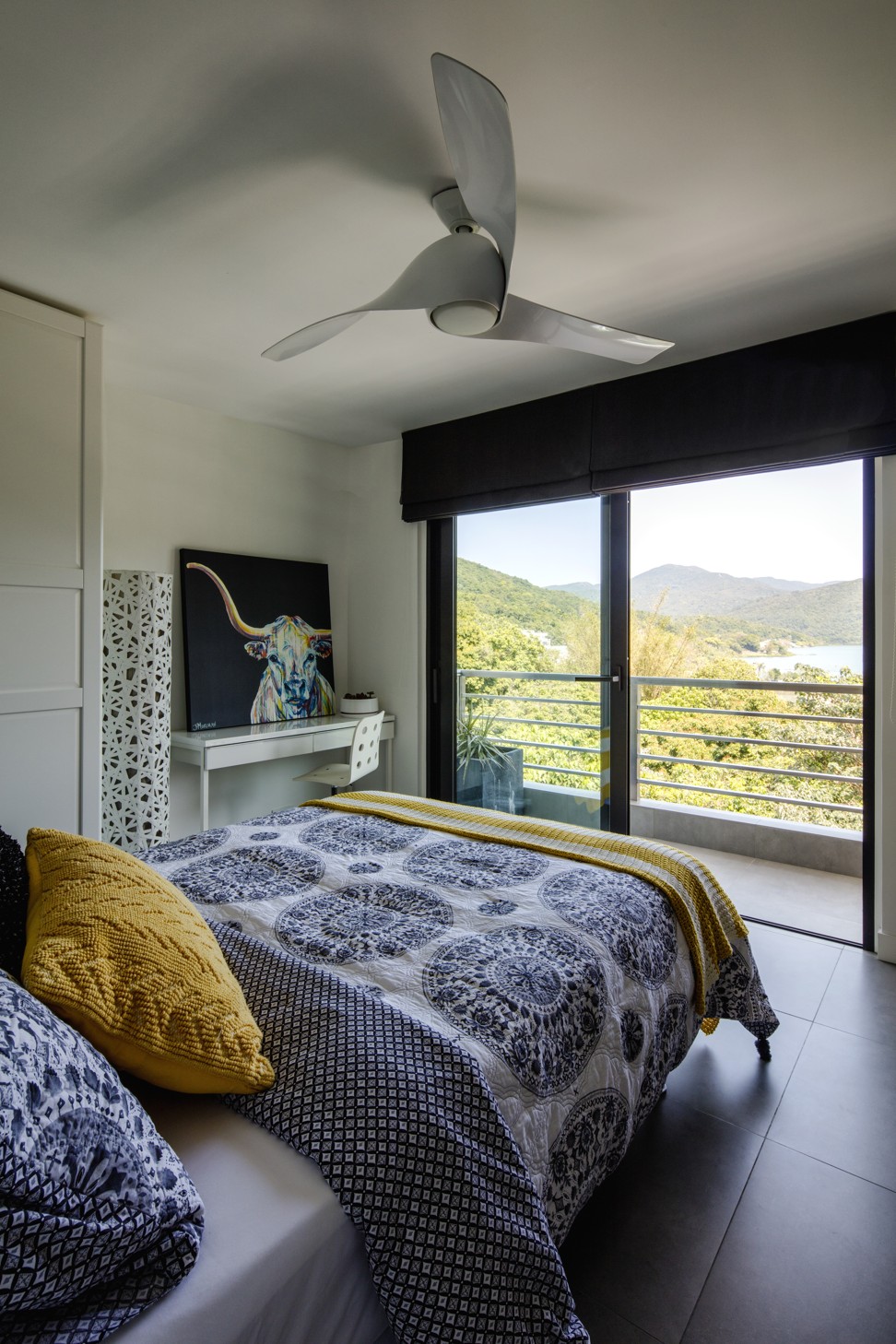 Son's bedroom The couple's son Austin has a sea-facing bedroom, furnished with a floor lamp from Wicka Designs, and a desk (HK$1,590) and chair (HK$479) from Ikea. The bull painting was by American artist Jennifer Moreman.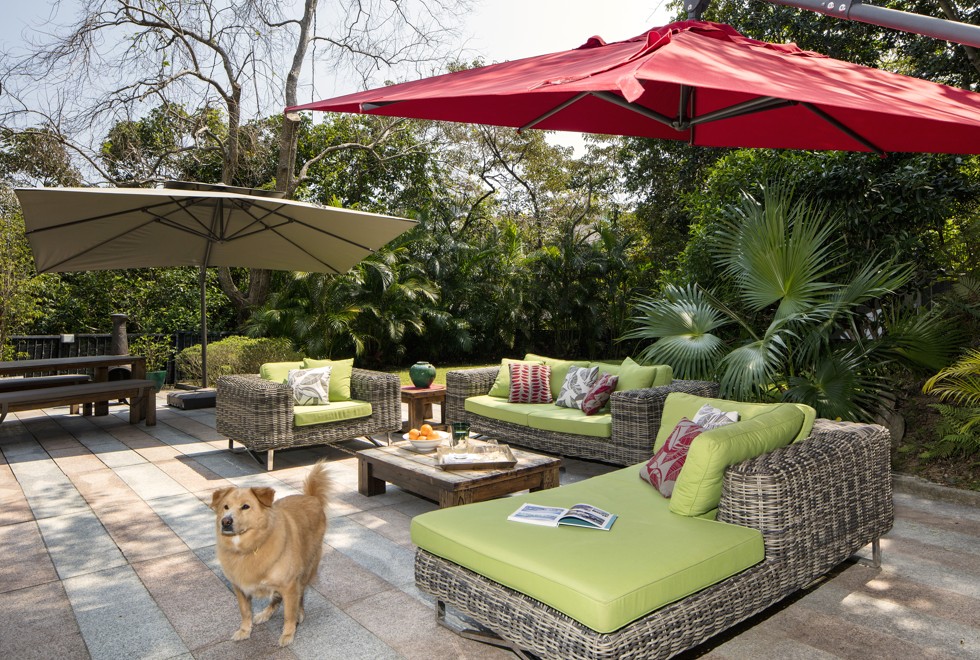 Outdoors An outdoor sofa set from Wicka Designs is once again in her possession after a former customer sold it back to her when she left Hong Kong. Other Wicka Designs products include the umbrellas, dining table and benches.The coffee table, behind Leo the dog, and side table were acquired second-hand through asiaxpat.com.