Blame it on an occupational hazard, but Australian interior designer Aviva Duncan has repainted her 2,700 sq ft Mid-Levels flat six times in as many years.
"I can't help it," she says. "In my line of work I see so many wonderful things, and my own home is the perfect canvas to road test them."
Duncan, who was born in Melbourne, lived in Hong Kong from 2001 to 2004 before moving to Tokyo, where she designed the interior of a house that was rebuilt for her young family. She returned to Hong Kong in 2011 with her daughters, Mia and Lucy, now 13 and eight, respectively.
Duncan had redecorated several proper­ties for her family, yet it was only on her return to Hong Kong that she decided to study for a fine arts degree at the city's Savannah College of Art and Design.
"I didn't just want to decorate, and the course makes you look at design in a completely different way," she says. "It teaches you about historical context instead of just aesthetics, so design becomes a richer experience."
It also reinforced her understanding of the value of a human-centric approach to design: "Design is a problem-solving tool. Things can still be beautiful but they must make sense."
It is an approach that has stood her in good stead. When she first saw the Po Shan Road flat, it had been empty for several months and had an air of neglect.
"It felt damp and nasty and we had come directly from living in our own beautiful house in Tokyo so my greatest challenge was to look past its superficial flaws and be confident that I could make it into a lovely home for my daughters and myself," Duncan says.
She focused on the generous proportions, open-plan living and dining area, high ceilings and large kitchen. Four bedrooms meant the girls could each have their own space while the fourth room, near the entrance, is now the office from which Duncan runs her eponymous interior-design consultancy.
Growing up around art is a privilege and I wanted my children to develop a natural love for it
For her own home, Duncan balances grown-up glamour with a young family's needs, offsetting a neutral background with splashes of colour. The living and dining area is divided into "needs" – two large sofas, which stand on a rug she had custom made, create a distinct family zone.
Next to this, one of her favourite photo­graphs, by Denice Hough, dominates the far wall, where Duncan has created a reading space for herself with a classic Eames lounger and ottoman.
The flat features a varied collection of art that reflects her life, travels and interest in design.
"Growing up around art is a privilege and I wanted my children to develop a natural love for it," she says.
Duncan has maximised every inch of the apartment without overwhelming it with details: the balcony offers a pretty, alfresco dining area, with potted plants and artificial grass flooring adding to the green setting.
The dining area features a 2.5-metre-long solid wood table, bench and chairs, ideal for either an intimate dinner party or a bigger affair.
For a designer keen to experiment, Duncan admits it is frustrating living in a rental property.
"It is hard to innovate when you are tied to an existing structure," she says. "Every time we renew the lease I get a quote for new flooring and then decide it is an outrageous amount to spend on a rental."
Instead she turns to practical measures such as custom-designed rugs. In her office, for example, she has a purple rug that matches the wall paint in two shades, plum and warm winter white.
One of the best things about living in this apartment block is the fantastic community [of people], many of whom have been here for over a decade
"I'm experimenting with painting the lower sections of walls darker, to anchor them, and the upper sections paler, to give the effect of higher ceilings," she says.
Her bedroom, however, is a minimalist haven of cool grey and crisp white with furnishings arranged to make the most of a view of the forested hillside.
"One of the best things about living in this apartment block is the fantastic community [of people], many of whom have been here for over a decade," Duncan says. "I have always wanted to do a book about the different ways people have treated the identical spaces here."
---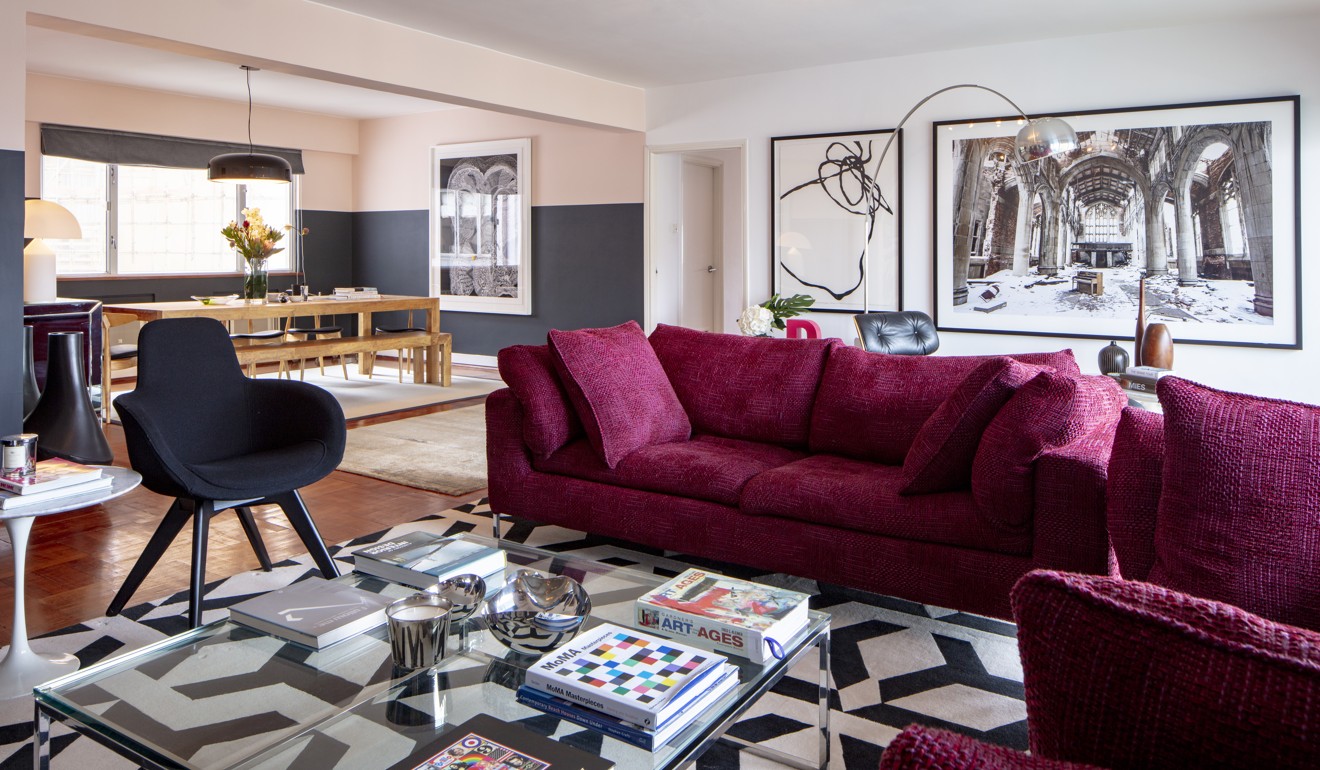 Living room The sofas (HK$118,000 each) were from Cassina, in Tokyo, Japan, and were reupholstered by Wing Sun Upholstery (13/F, Harbour Industrial Centre, 116 Lee Nam Road, Ap Lei Chau, tel: 2871 9293) with Pollack fabric that cost HK$1,000 per metre from Altfield.
Aviva Duncan custom designed the black-and-white rug, which was made for HK$18,000 by Freda Carpet (17/F, CNT Tower, 338 Hennessy Road, Wan Chai, tel: 2521 6606). The Tom Dixon black armchair cost HK$13,000 from Lane Crawford. The white Pedestal Eero Saarinen side table was a gift. Duncan also designed the glass coffee table, which was made by ArturaFicus for HK$8,000.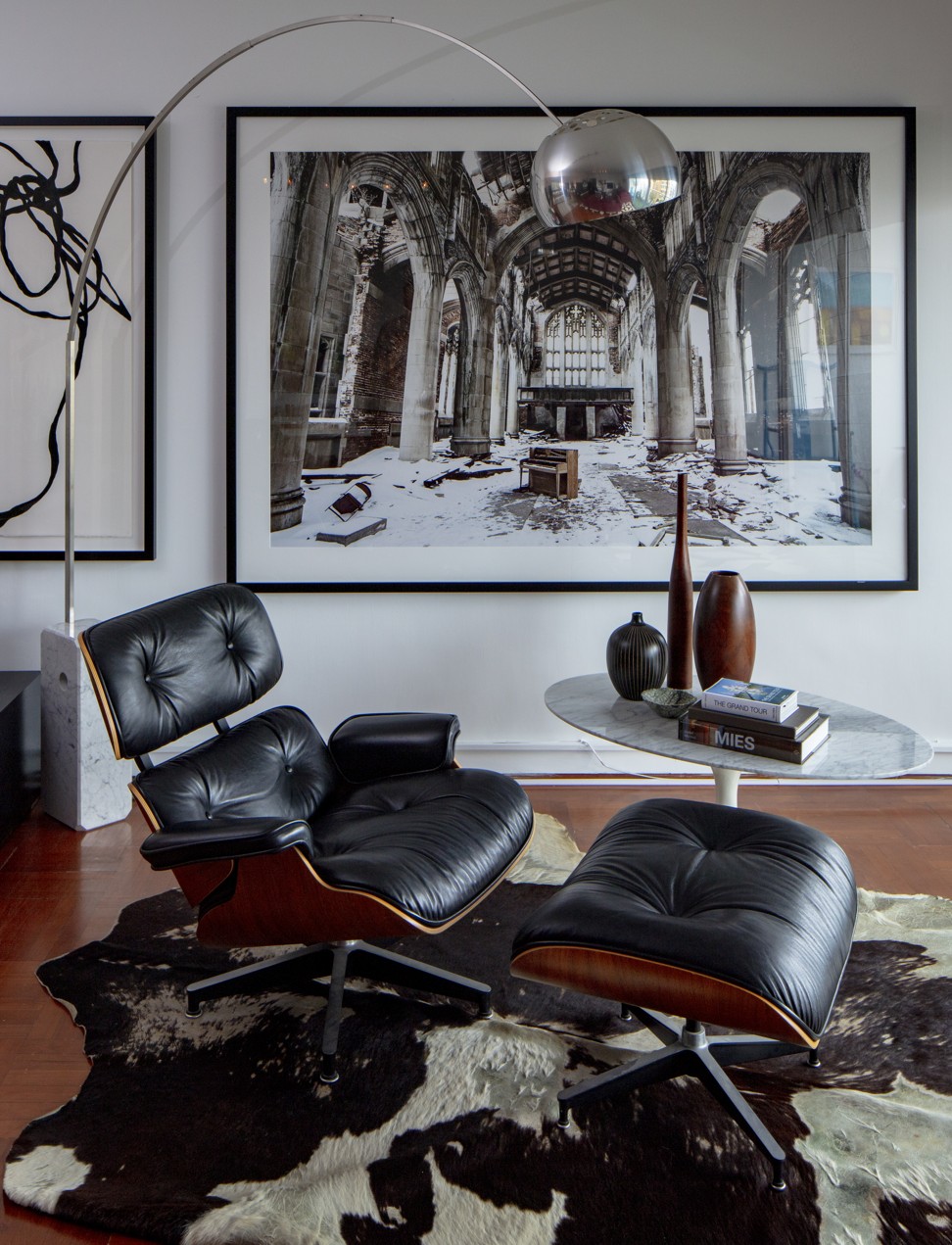 Living area detail The Eames lounger and ottoman (HK$49,700 for the set) and the three vases were bought at The Conran Shop, in Tokyo. The Saarinen coffee table and cowhide rug were gifts. The framed photograph, by Hong Kong-based American Denice Hough, and the abstract artwork, by Australian artist Camie Lyons, were from The Cat Street Gallery, which has since closed. The Achille Castiglioni Arco floor lamp (HK$28,300) came from Flos.
Kitchen The pinewood kitchen trolley (HK$950) came from Ikea. The colourful window blind (HK$3,500) was made to measure by Sun Sun Interiors. The Eames chair (HK$4,400) was bought at The Conran Shop in Tokyo.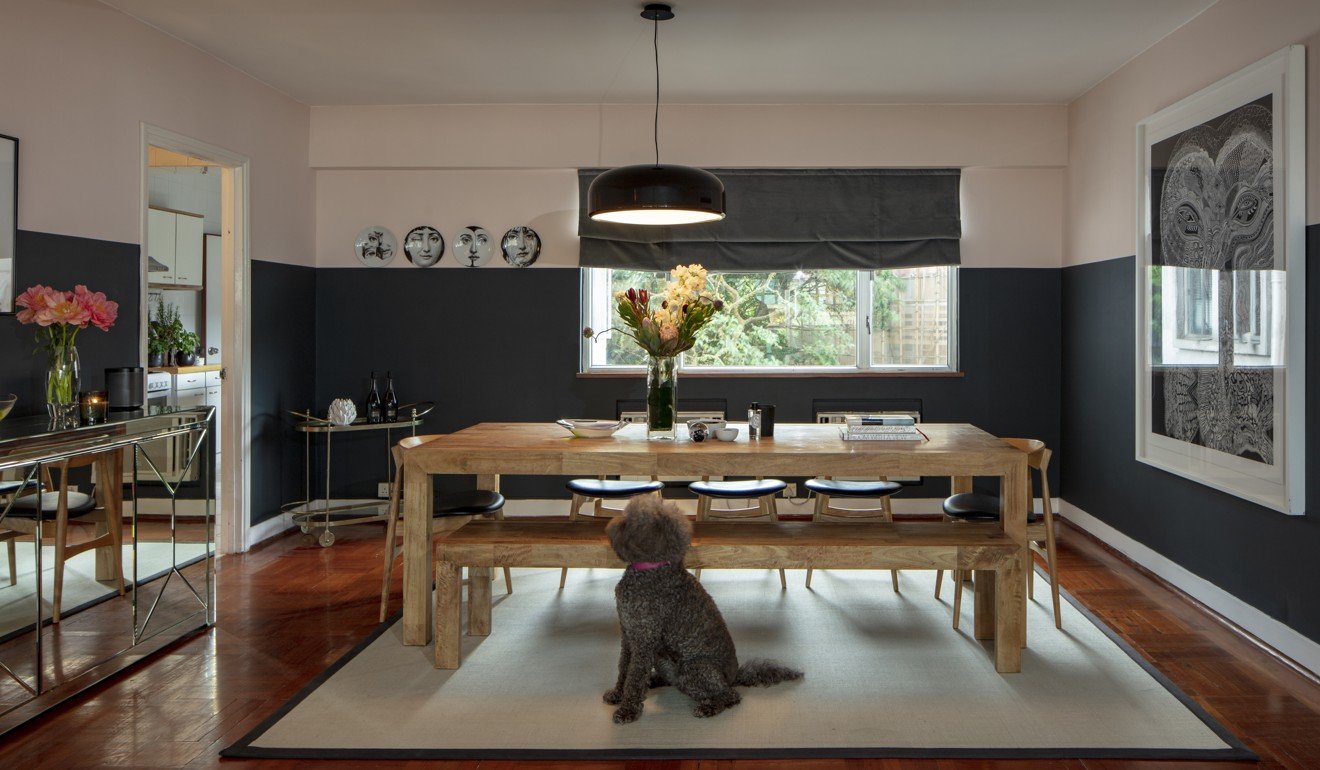 Dining room The floor mat (HK$15,000) came from Freda Carpet. The dining table (HK$11,950) and bench (HK$5,950) were from Tree. The chairs (HK$6,300 each) came from The Conran Shop in Tokyo. The vintage mirror console was bought years ago. The Jasper Morrison Smithfield S pendant lamp (HK$11,300) came from Flos. The owl picture, by Australian artist Joshua Yeldham, was from The Cat Street Gallery.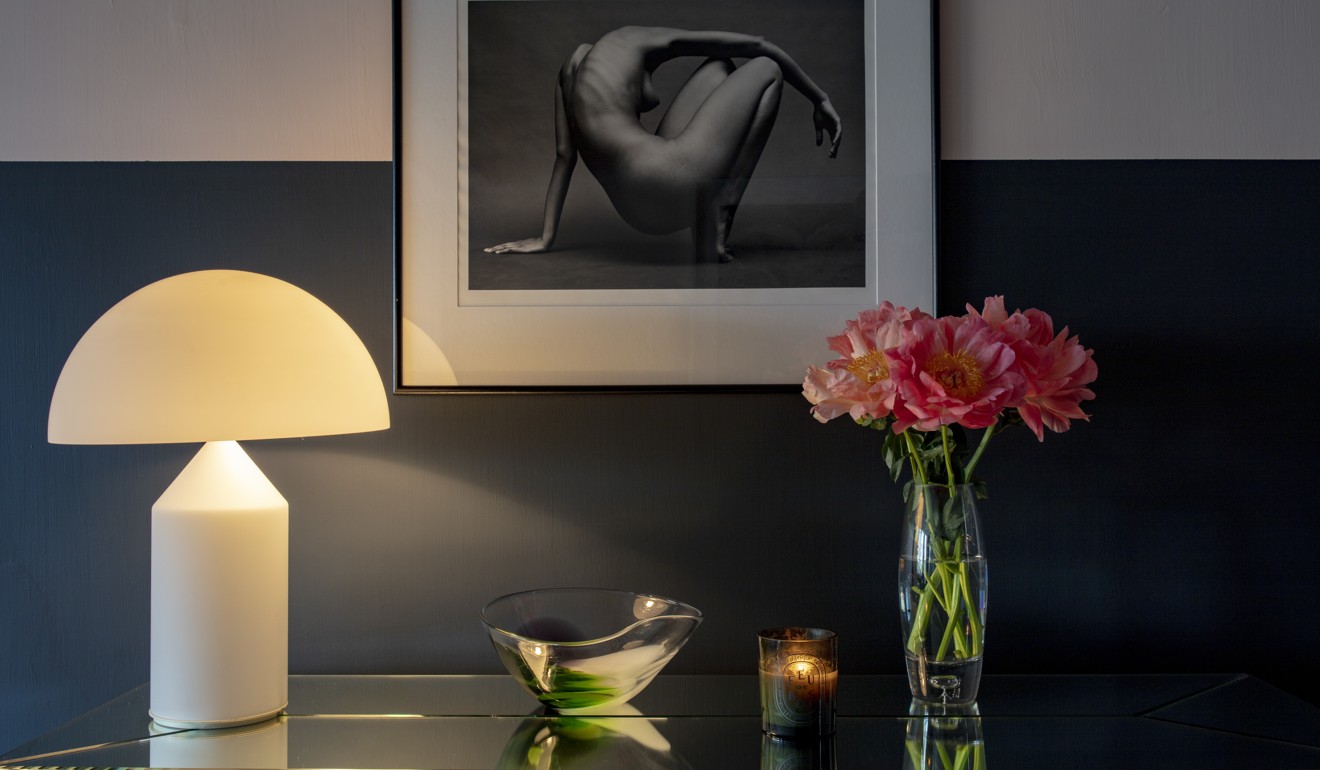 Dining room detail Duncan bought the picture from New York-based Australian photographer James Houston's 2001 solo exhibition in Melbourne. The frosted glass lamp was from Cassina in Tokyo. The glass bowl, from Kosta Boda, was a gift.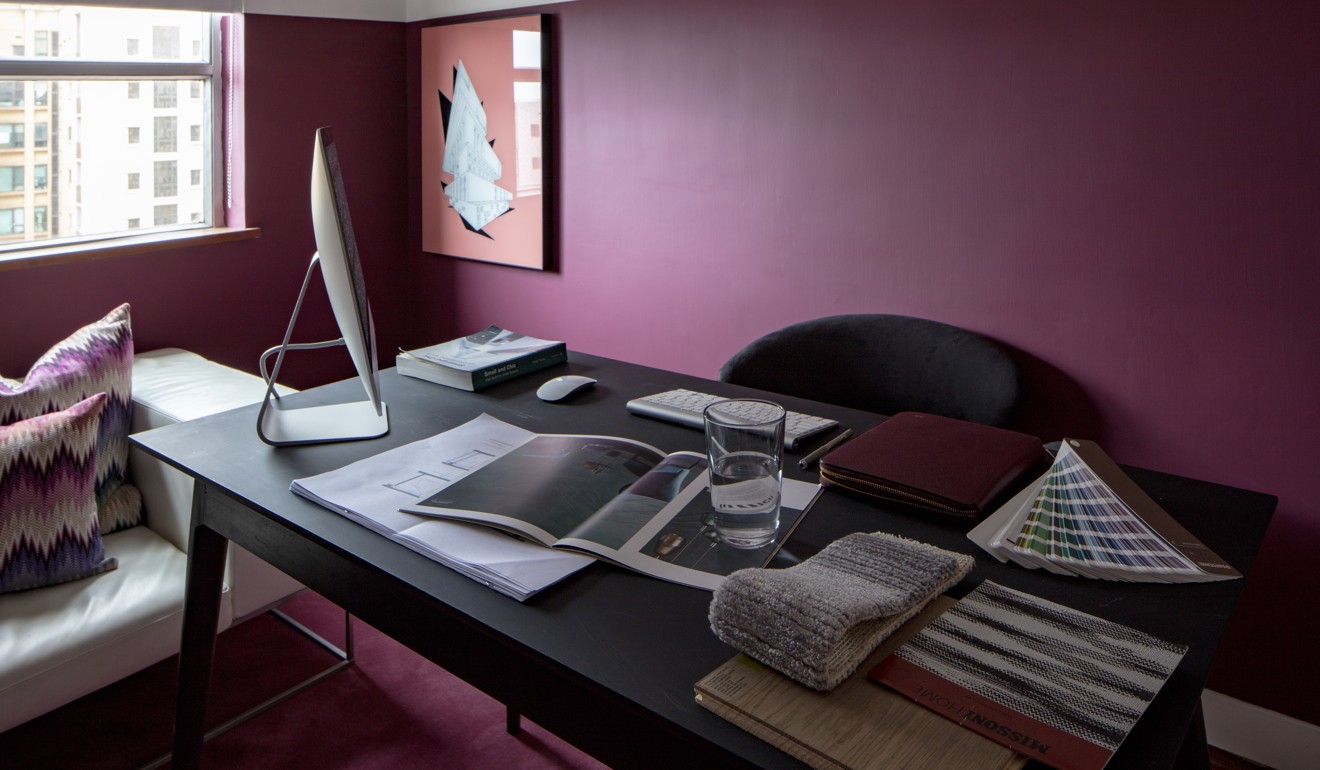 Office The desk (HK$7,950) was bought at Tree. The Arne Jacobsen-design Swan Chair came from The Conran Shop, in Tokyo. The framed architectural print on the wall was from BoConcept. The white leather sofa (HK$63,000) is part of a lounge set from Cassina in Tokyo. The Missoni cushions were a gift and the rug was custom made by Freda Carpet for HK$8,000.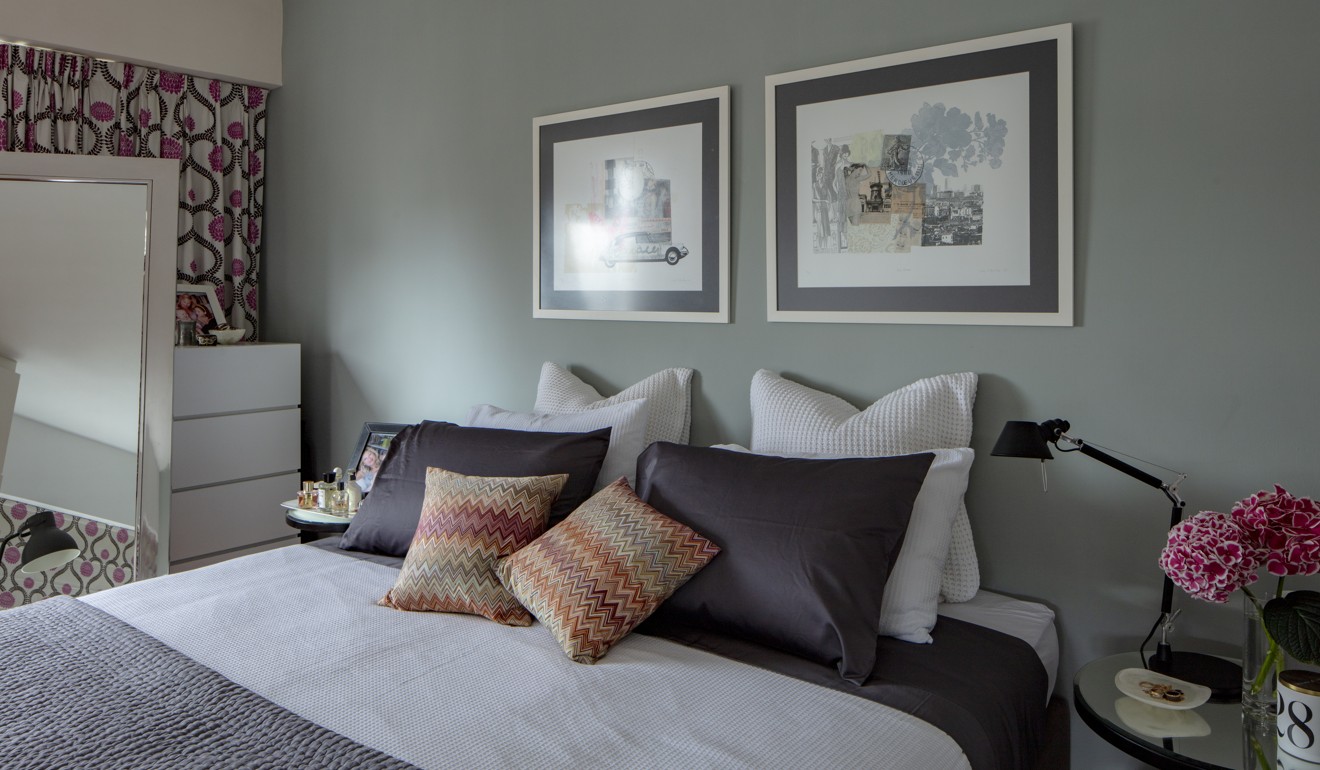 Main bedroom The bed (HK$35,000) came from Okooko. The pictures on the wall were gifts. The mirror (HK$11,000) was from Tequila Kola and the chest of drawers behind it from Ikea. The side tables were bought years ago from a vintage store in Tokyo. The lamp (HK$5,000) on the bedside table came from Artemide.
Balcony The table was bought years ago from a second-hand store in Japan while the Eames chairs (HK$4,400 each) came from The Conran Shop in Tokyo. The black pots are part of Duncan's collection of Japanese ceramics.
---
Tried + tested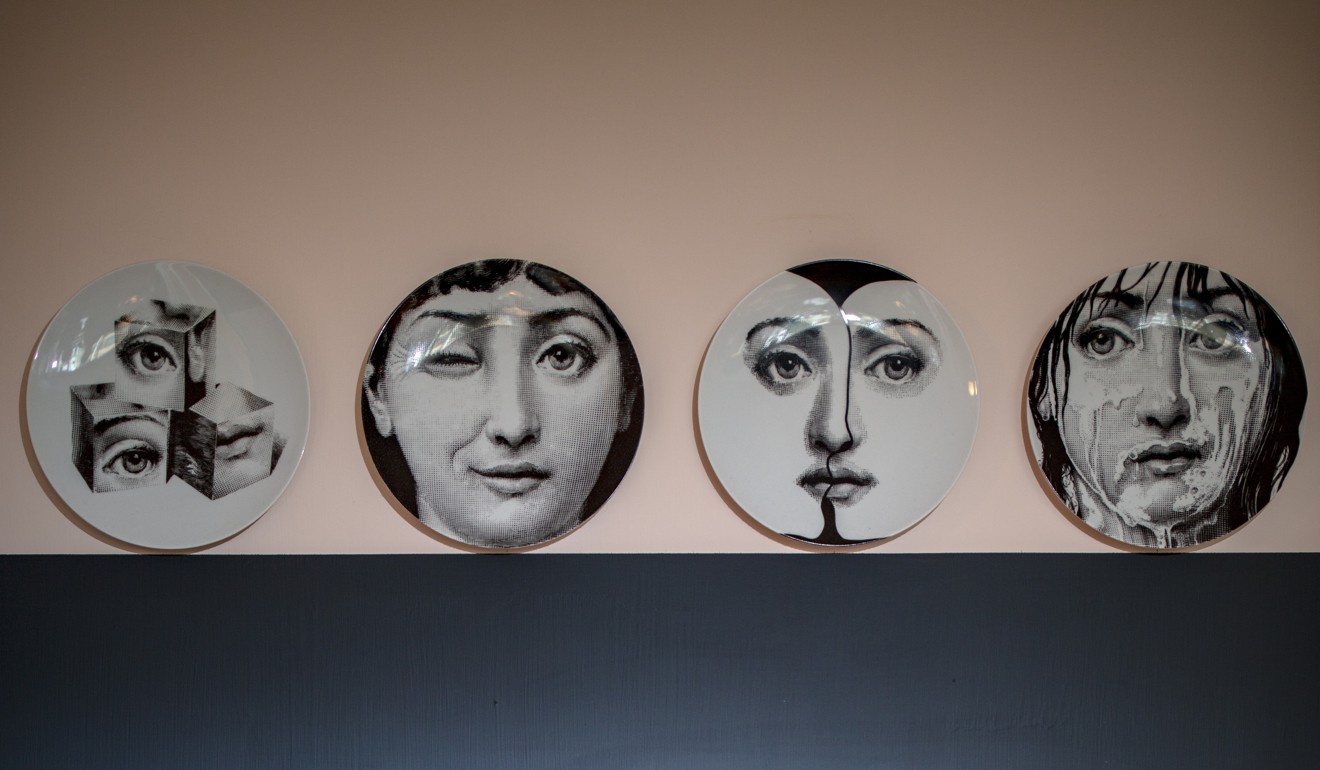 Colour therapy Aviva Duncan uses two-tone walls to add visual interest and amplify the height of the flat's ceiling. She had the lower part of the wall painted in Dulux Graphite and the upper section in Dulux Blush. The vintage cocktail trolley, from Apartment 49, was a gift, as was the porcelain artichoke candleholder. The Fornasetti plates (HK$2,000 to HK$3,000) were from Lane Crawford.