American architect and interior designer Britta Butler is a great believer in things happening for a reason. Having set her heart on living in Stanley, a seaside settlement on the south side of Hong Kong Island, she walked into her current home and immediately knew it could be something special. When she discovered the adjacent flat was also for sale, she felt it was meant to be: each apartment was 300 square feet and both needed a makeover.
"The block is an older walk-up and I must have passed it more than 100 times without realising it was even there," she recalls. "I love finding diamonds in the rough and would rather take something and make it my own."
Butler wanted her home, which is situated above Stanley's famous market, to be open and have a spacious kitchen at its heart. Fortunately, she needed to remove only two walls to create the layout she had in mind. The long kitchen divides the main bedroom, en-suite bathroom and helper's room at one end of the flat from the living/dining area and a small toilet, which is tucked out of sight at the other. She repainted the doors of existing kitchen cabinets and, where possible, kept existing appliances and other items, including the bathtub.
"I don't like adding waste to landfills," she says. "This is very important to me whatever project I work on, so nothing is thrown away if I can help it."
Butler, who has a master's degree in architecture from the Massachusetts Institute of Technology and a bachelor's in anthropology from Harvard University, has lived in Hong Kong for 12 years. She started her own firm, B Squared Design, almost four years ago when her son, now nine, was old enough to go to school. She says it wasn't hard settling on one design for her own home; the difficult part was downsizing from her previous flat, which had been three times larger. Channelling Japanese tidying guru Marie Kondo, Butler spent a long time deciding what to keep, and why.
The flat had to be functional and furnished down to the last millimetre, which meant getting a few pieces custom made. Butler designed a white patterned unit for the side wall in the living area that does triple duty as book­shelves, a wardrobe and a Murphy bed for her son. Once pulled down, the bed slots exactly into the space in front of the L-shaped sofa.
Lots of people go for light colours in a small space but I think dark ones also work and give a dramatic and cosy feel
"It had to work but it also had to look beautiful as it is permanently on show," she says. "I've offered to give my bedroom to my son but he adores his 'spy' bed."
Butler likes clean lines and a contem­porary look but in recent years has swapped neutrals for bolder colours. She opted for black walls in her bedroom and a rich blue focal wall in the living/dining area. Dark-wood flooring has been installed throughout and matt brass cupboard handles and circular picture frames add on-trend finishing touches.
"I love deep jewel colours juxtaposed with lighter shades," she says. "Lots of people go for light colours in a small space but I think dark ones also work and give a dramatic and cosy feel."
Adding an extra dimension to Butler's home is the rooftop, which overlooks pic­turesque Stanley Bay. She has spruced it up with some greenery and upcycled furniture.
Butler gave herself just one month to com­plete the work on her flat, and now that the dust has settled, she is enjoying her new home.
"I always design for my clients with the motto that, large or small, your space should be an oasis from the outside world, and this is true for my own home as well."
---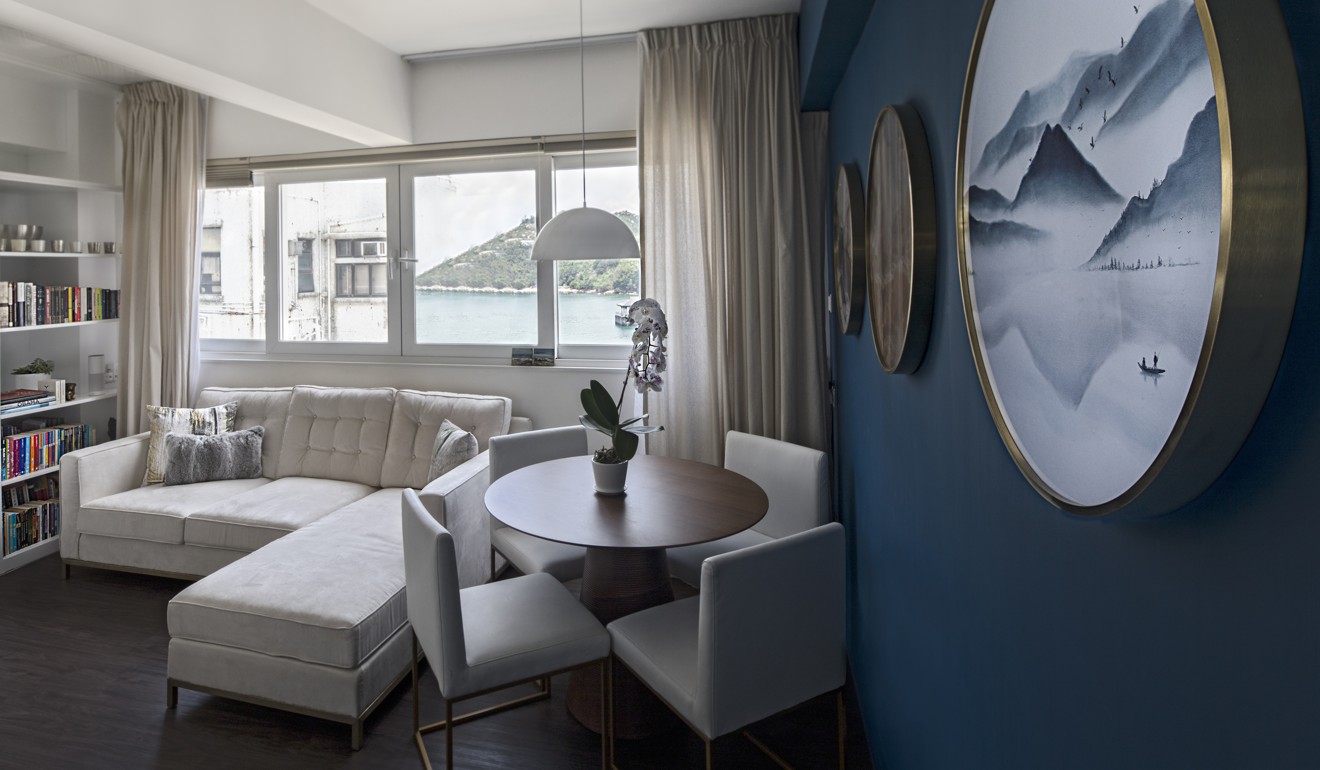 Living/dining room The circular artworks were found in Shenzhen's Dafen Art Village. The walnut dining table (HK$9,990/US$1,273) came from SofaSale.com.hk. The dining chairs were bought years ago from a shop in Horizon Plaza, Ap Lei Chau, that has since closed. Britta Butler, of B Squared Design, reupholstered them in white leather and painted the legs copper-gold. The sofa was designed by Butler and custom made by Artura Ficus for HK$25,500. The Myra marble pendant lamp (HK$1,850) was bought from Stockroom.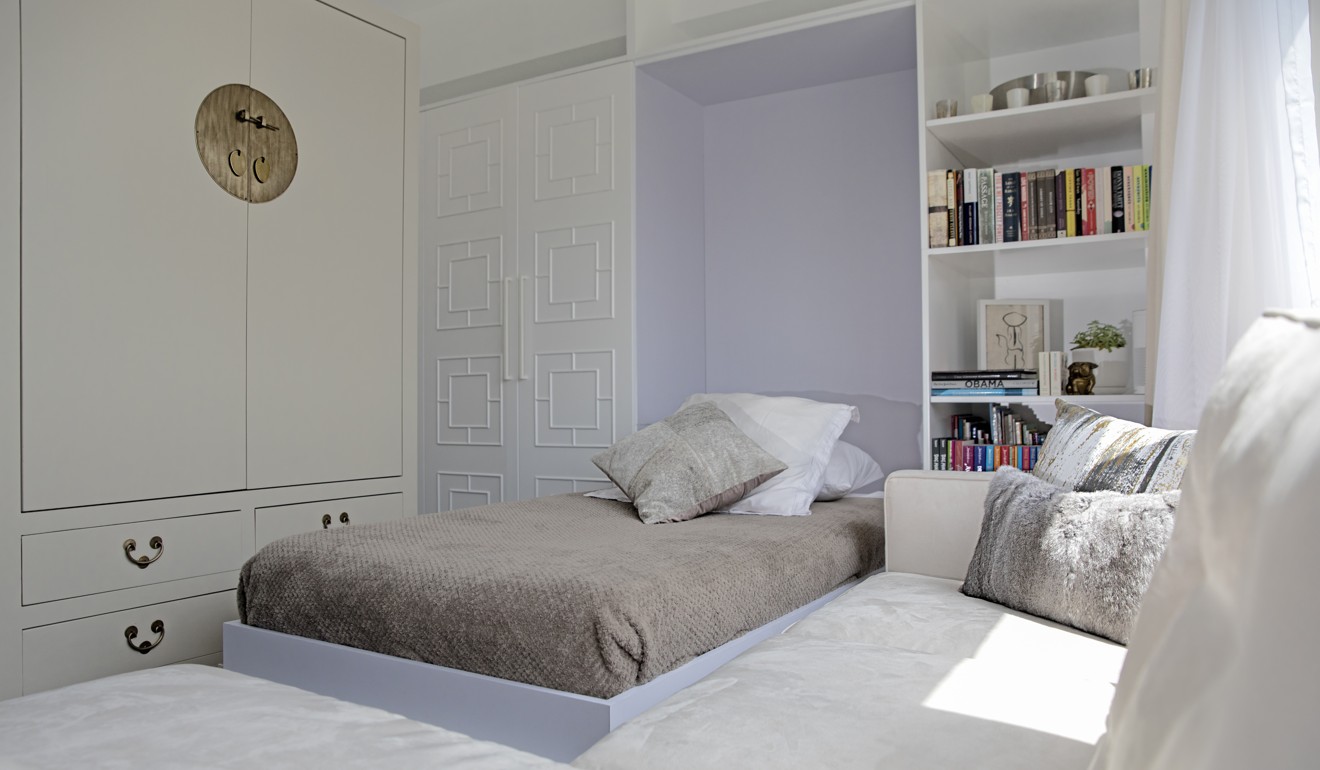 Living room detail Butler designed the white storage unit to incorporate a Murphy bed (HK$38,500 in total), which was made by Beehive & Co. The Chinese wedding cabinet was HK$5,500 from Yong Chang Furniture.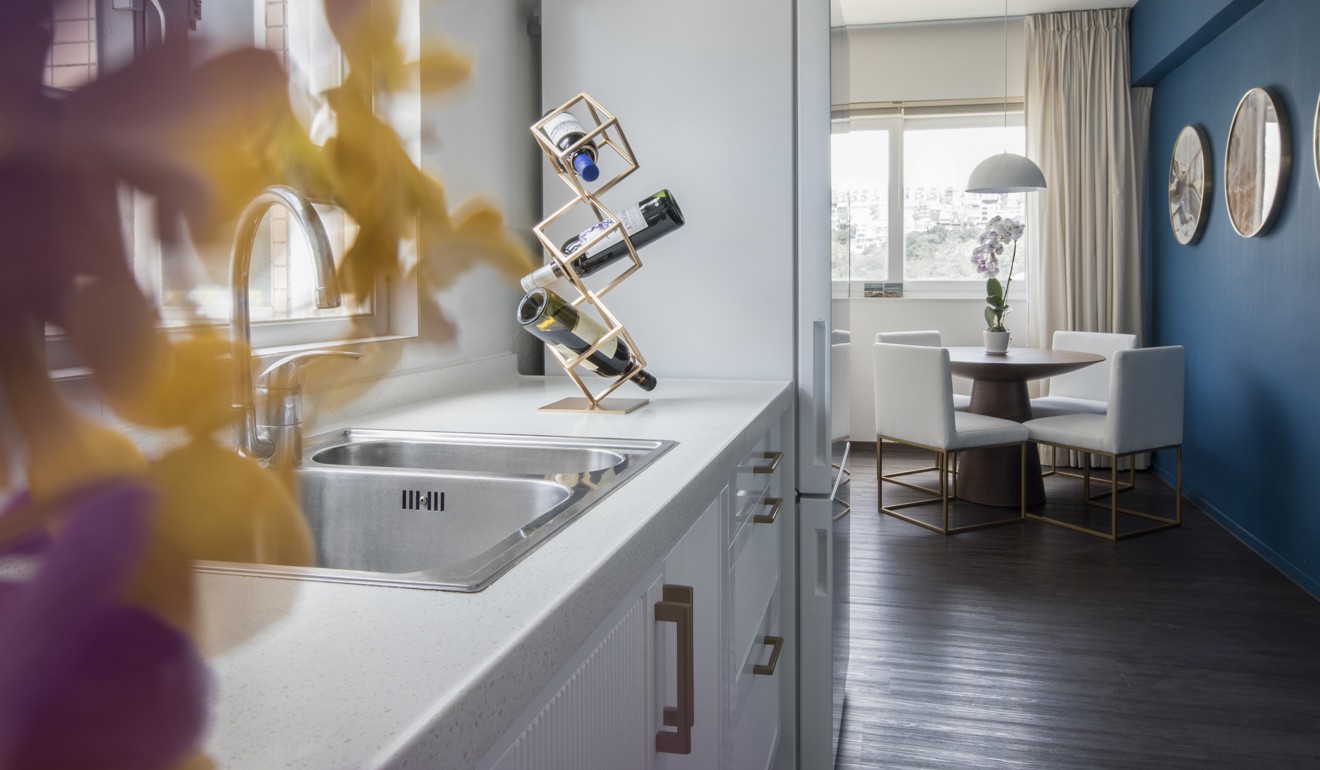 Kitchen The cabinets came with the flat. Butler painted them glossy white and put in new hardware. The Venus contemporary gold wine rack was HK$860 from Decor8.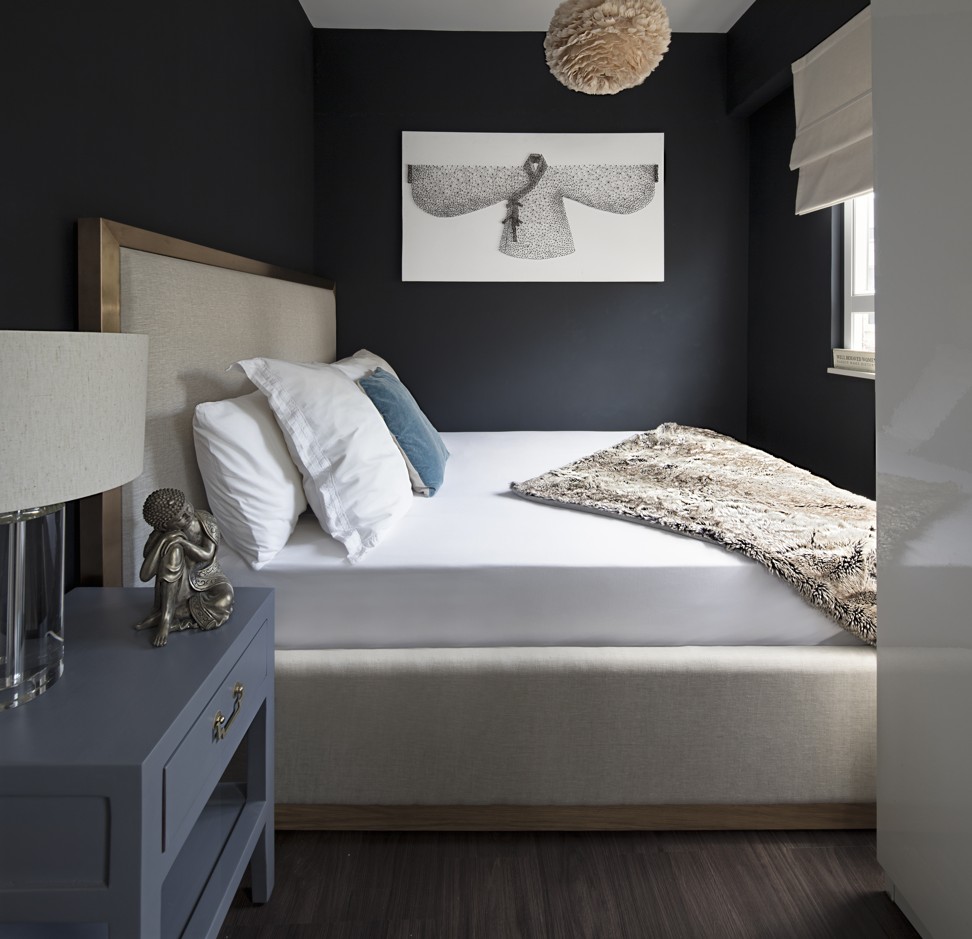 Bedroom The bedside table was HK$1,400 from Yong Chang Furniture and the silver statuette came from T Wong Art Gallery (80 Stanley Village Road, Stanley, tel: 9202 9256). The bedside lamp cost HK$2,600 from Inside. The bed was designed by Butler and custom made by Artura Ficus for HK$17,800. The special-edition Vita EOS Pendant Lamp was HK$2,180 from Decor8. The artwork was found in Dafen Art Village.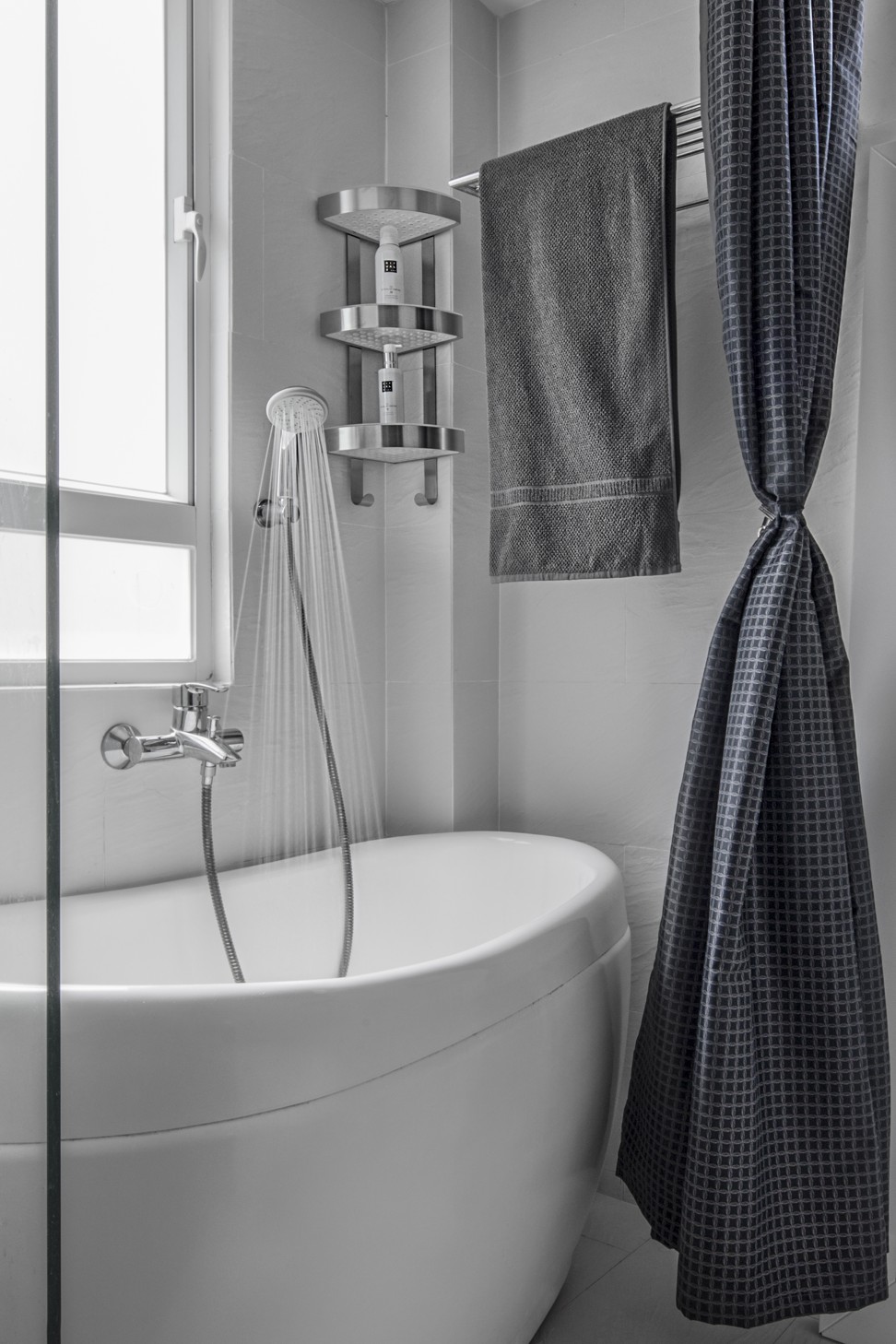 Bathroom The bathtub (HK$4,700) was from Kaliuser and the shower curtain (HK$159.90) from Ikea.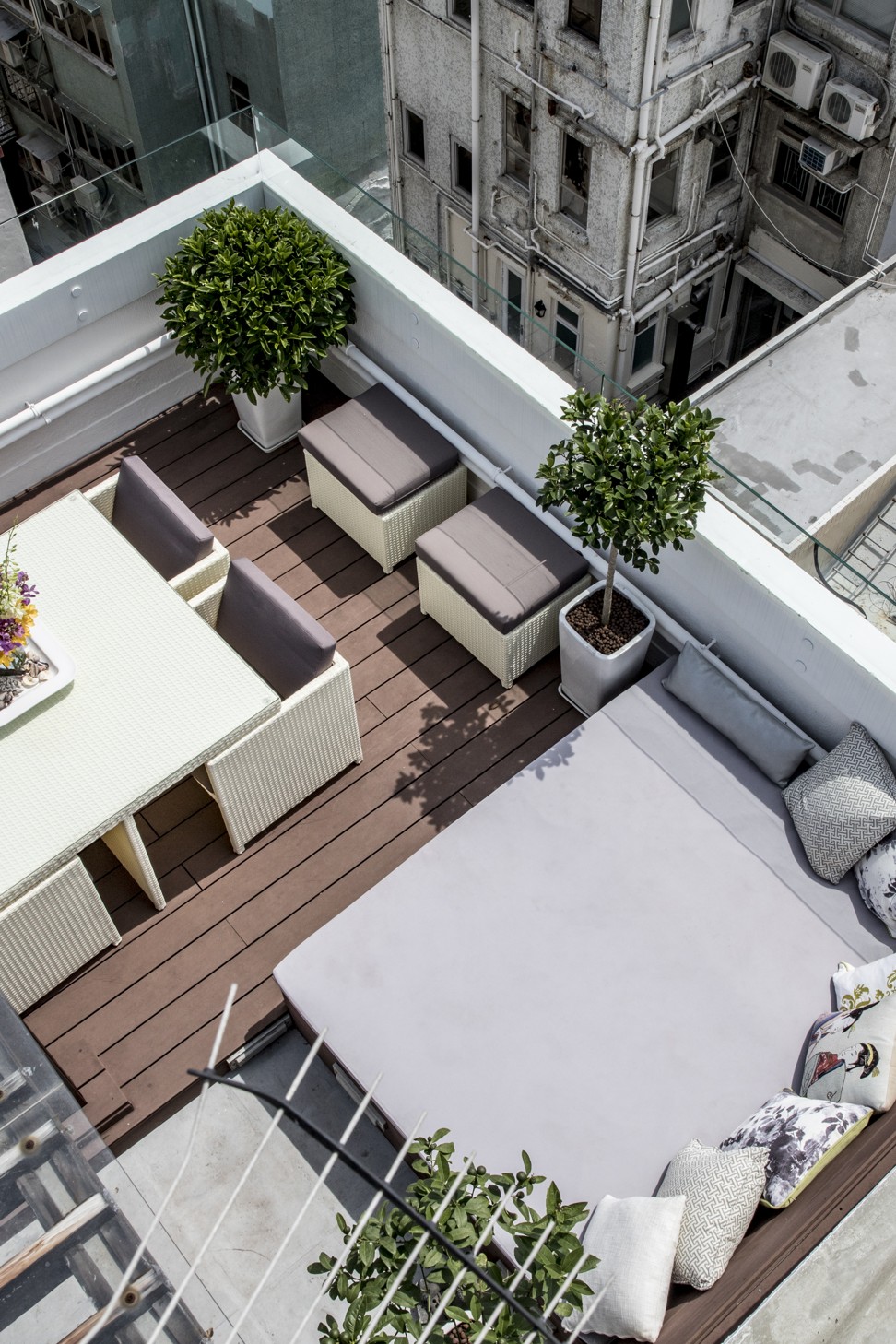 Rooftop The trellis and large square wooden seat were already in place on the rooftop when Butler moved in, so she just had to get the large cushion made. The Prima outdoor table set (including the two stools) was HK$14,470 from SofaSale.com.hk. The plants came from Keren's Garden.
---
Tried + tested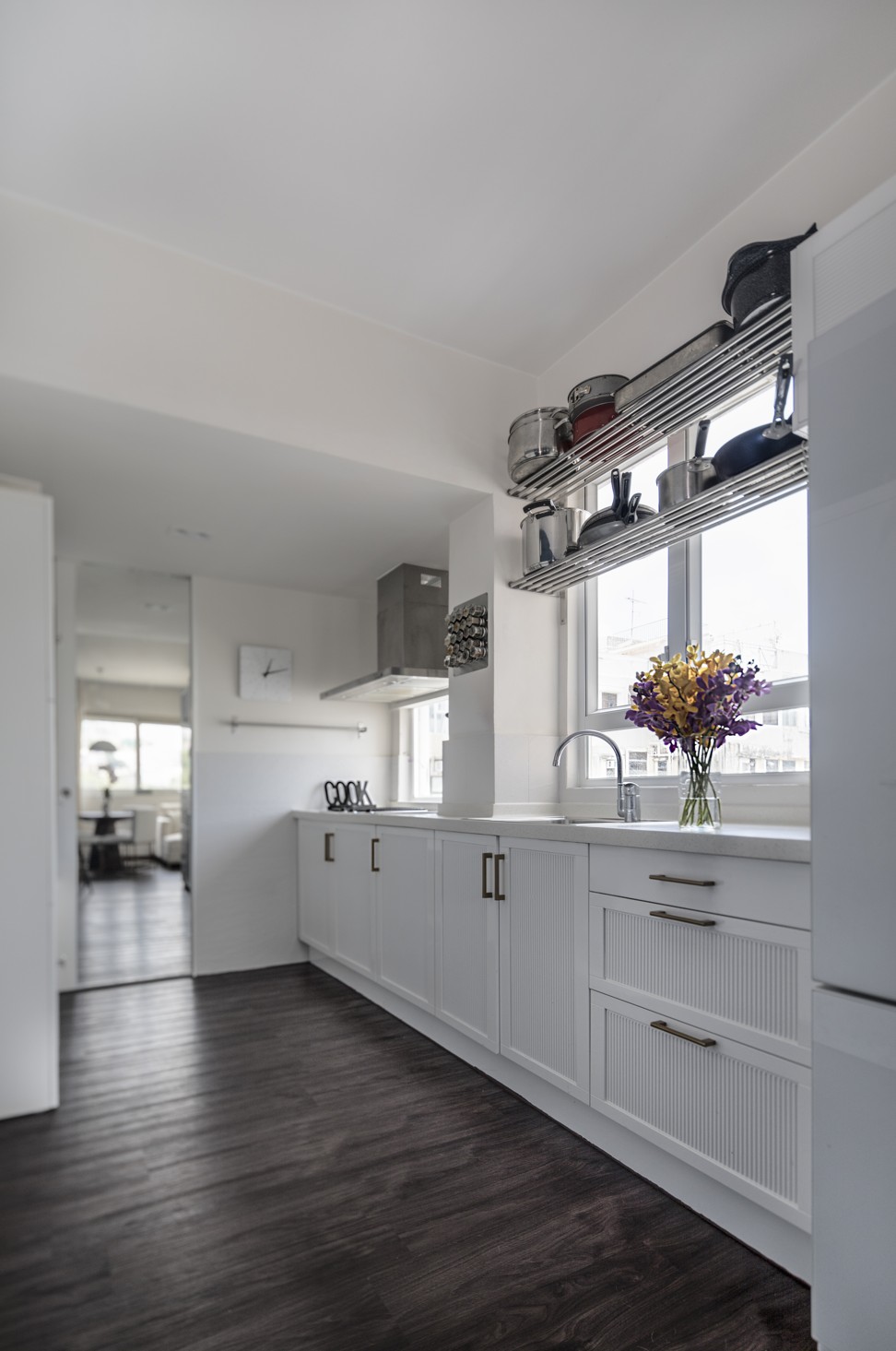 Heart of the home Britta Butler kept all appliances that could be saved. Spice jars with magnetic lids are arranged on a wall-mounted, stainless-steel plate to save on cupboard space and create something practical, good looking and almost sculptural. The Gneiss Spice rack was HK$1,012 from Etsy, which was also the source for the polished acrylic wall clock (US$48.99) by Jonsson.