The key to achieving the clean, un­cluttered aesthetics of Scandinavian design in a 750 sq ft flat is storage. Lots of it. So when it came to giving their Happy Valley home a Nordic makeover, Oscar Kwoh and his wife appointed an expert in the art of hiding the messy ephemera of daily life, Pamela Lee, of PJL Interior Design.
"We knew Pam through my sister, whose apartment she renovated in Wan Chai [in 2015]," Kwoh says. "We really liked the clean design and all the storage, and my wife was particularly impressed with the large kitchen she managed to create.
"We didn't want a white box. We wanted something interesting, with colour."
And that's what they got.
Instead of artwork, Lee created visual impact through statement wallpaper and unusual tiles in a subtle palette of blue, beige and white. Soft furnishings – notably the couple's favourite Verner Panton Heart Cone Chair, in scarlet – add pops of colour.
"The clients don't like wall paint or paintings – they only have one piece of art, by Paris artist Jean-Pierre Weill – so we used wallpaper for colour and interest," Lee says. "The stripes [in the living room] make the walls look even taller. The ceilings are already nine feet high."
She also played with optical illusions in the kitchen and two bathrooms, with 3D, diamond-shaped and hexagonal tiles that draw the eye and make the rooms appear larger.
Before sending in the sledgehammers to gut the 40-year-old, two-bedroom, one-bath­room flat, in October, Lee sat down and planned every last square centimetre, cramming in extra storage in surprising places.
As well as floor-to-ceiling cupboards in the living area and two walls of the master bedroom, she hid storage behind custom-made textured wall panels in the dining room, with special compartments tailored to fit Kwoh's two guitars and a large printer. A 15cm-wide door next to the fridge opens to reveal an ironing board and stepladder. Golf clubs and suitcases fit neatly under the raised daybed in the guest room. The sliding en-suite bathroom door doubles as a magnetic noticeboard for the desk space.
Lee's careful planning paid off in the galley kitchen, which is fully equipped with oven, steamer, stovetop and a small wine fridge. There's even a slide-out counter for extra workspace. A washing machine and dryer fit neatly into the guest bathroom.
The kitchen and guest bathroom face each other across a narrow hallway. Given the restricted space, Lee opted for an unusual solution: folding doors that take only half the space of conventional doors when opened.
"I imported the folding mechanism from Italy," Lee says. "I chose these instead of sliding doors because they take up less space and seal properly, to keep in cooking and washing smells."
Practicality informs much of the design.
"The clients wanted everything to be easy to maintain," Lee explains. So she specified hard-wearing, easily cleaned materials including laminate flooring and vinyl fabric for the headboard and daybed cover. She even made a matching vinyl cover for the couple's iMac. To add a touch of luxury, the bedside tables, television console and bathroom vanity units are topped with marble.
But there are playful details, too. Hidden inside one of the floor-to-ceiling cabinets in the living room is a set of drawers fitted with large round wooden handles each painted with a different face. ("They make you smile every time you open the door," Lee says.) Small, discreet stickers – a television, a shower – on the round light switches, set in polished-concrete plates, help to indicate their purpose.
"There are so many switches, so I used stickers to make it easier to work out which is which. They're fun," Lee says.
---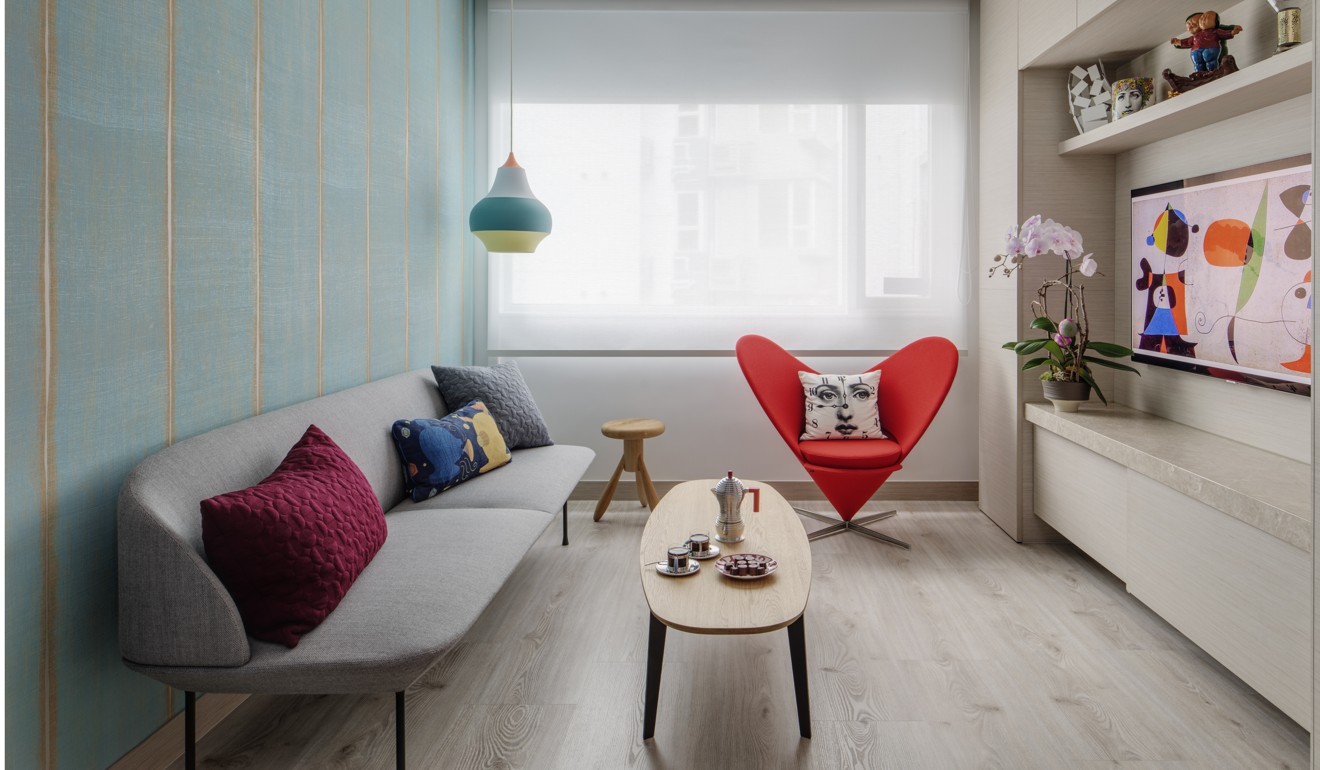 Living area The Heart Cone Chair by Verner Panton cost €2,790 (US$3,268) from Vitra (vitra.com). The Fornasetti cushion on it was bought for about HK$2,000 (US$255) from 10 Corso Como, in Seoul, South Korea. The Rocket stool (HK$2,233), by Eero Aarnio for Artek, was from Lane Crawford. The Muuto Oslo sofa (HK$34,400), by Anderssen & Voll, and the Louis Poulsen Cirque pendant lamp (HK$5,510) were from Manks.
The Fritz Hansen Join FH61 coffee table (HK$6,010) and sofa cushions (HK$1,090 to HK$1,190) were all from Colour Living. PJL Interior Design (tel: 2155 0628) designed and built the custom-made wall cabinets for HK$33,750. The Nomades Sari wallpaper was €150 a roll from Élitis and the laminate flooring was HK$89 per square foot from Karlian.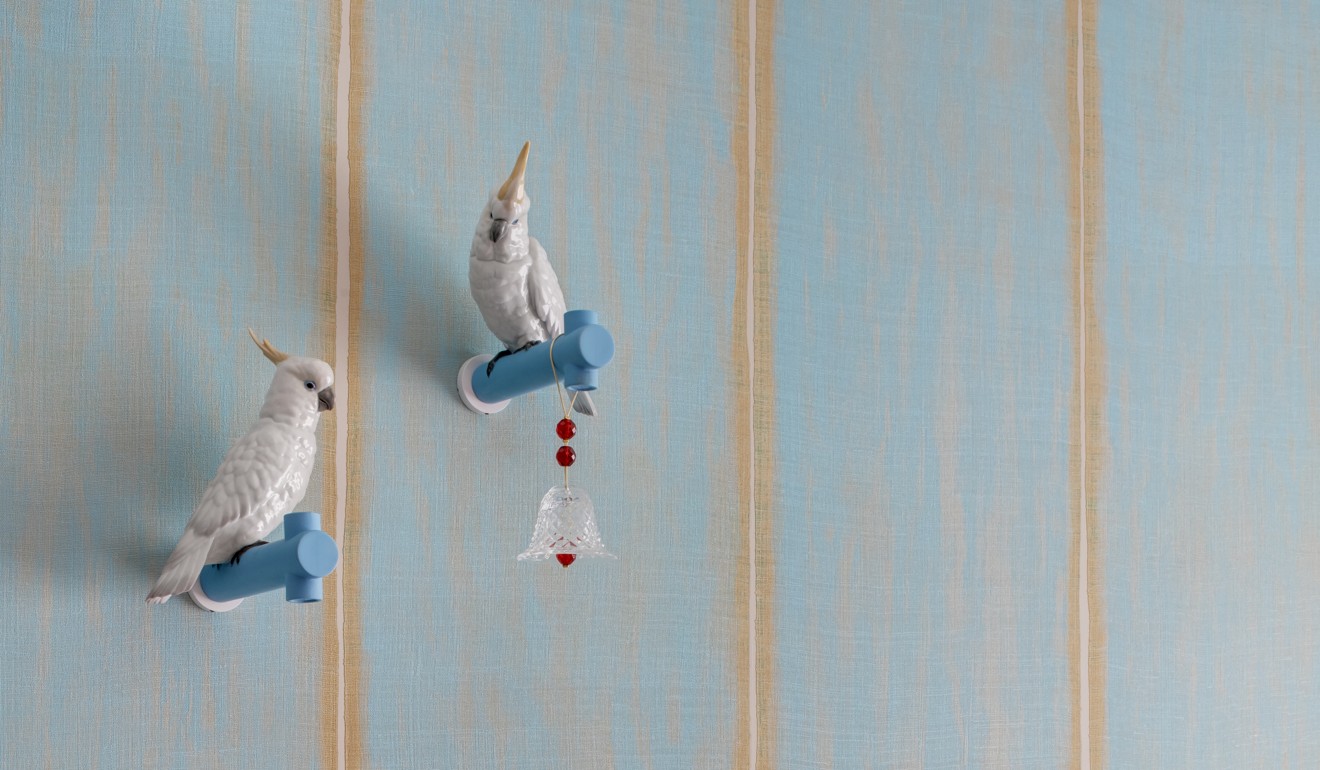 Living area detail The owners had decided to give away this pair of ceramic cockatoo hangers (€300 each) from Lladro, because they didn't think there would be a place for them within their new Scandinavian scheme. Pamela Lee, of PJL Interior Designer, however, had other ideas and made them a key feature of the living room. The crystal bell is from Baccarat.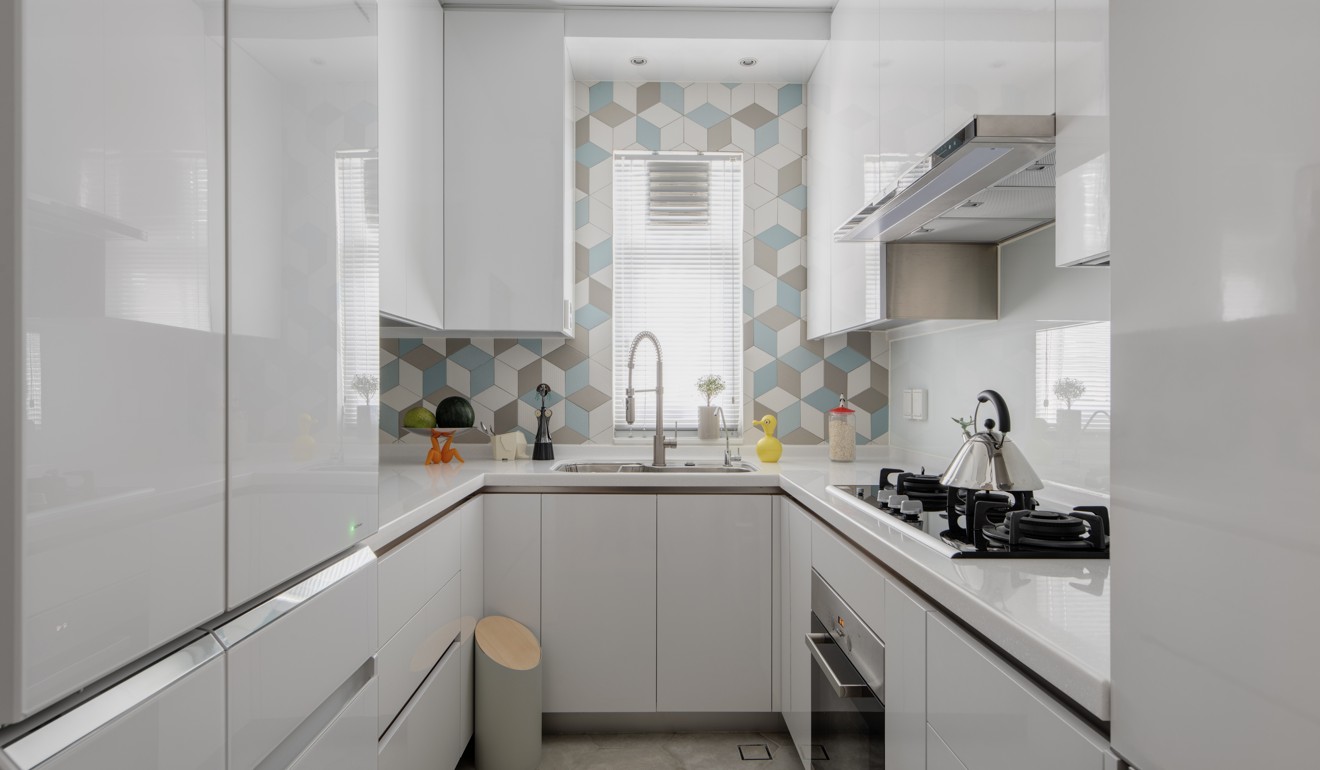 Kitchen PJL Interior Design installed the custom-made cabinetry (HK$158,000), Staron countertop (HK$19,500) and glass splashback (HK$9,800). The Mutina wall tiles (HK$25 each) were from Anta. The hexagonal floor tiles (HK$65 each) were from Hop Hing Lung Material (235 Lockhart Road, Wan Chai, tel: 2511 3013). The Swing bin (HK$950), by Shigeichiro Takeuchi for Moheim, was from Colour Living.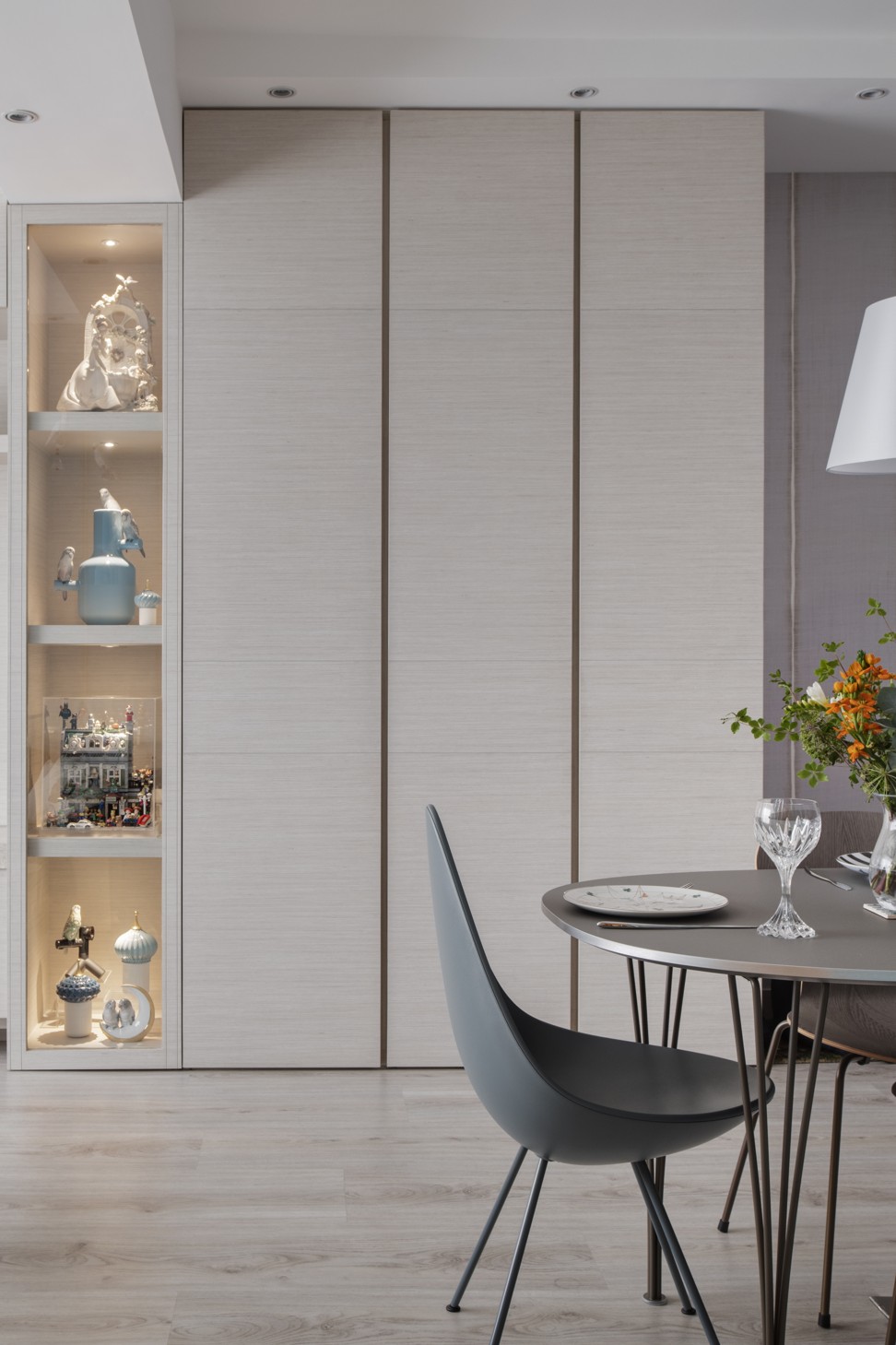 Dining area detail The large wall cabinet (HK$25,000) and glass-fronted display case (HK$12,000) were custom made by PJL Interior Design. The couple's collection of Lladro figurines and Lego are among the few items on display in the flat.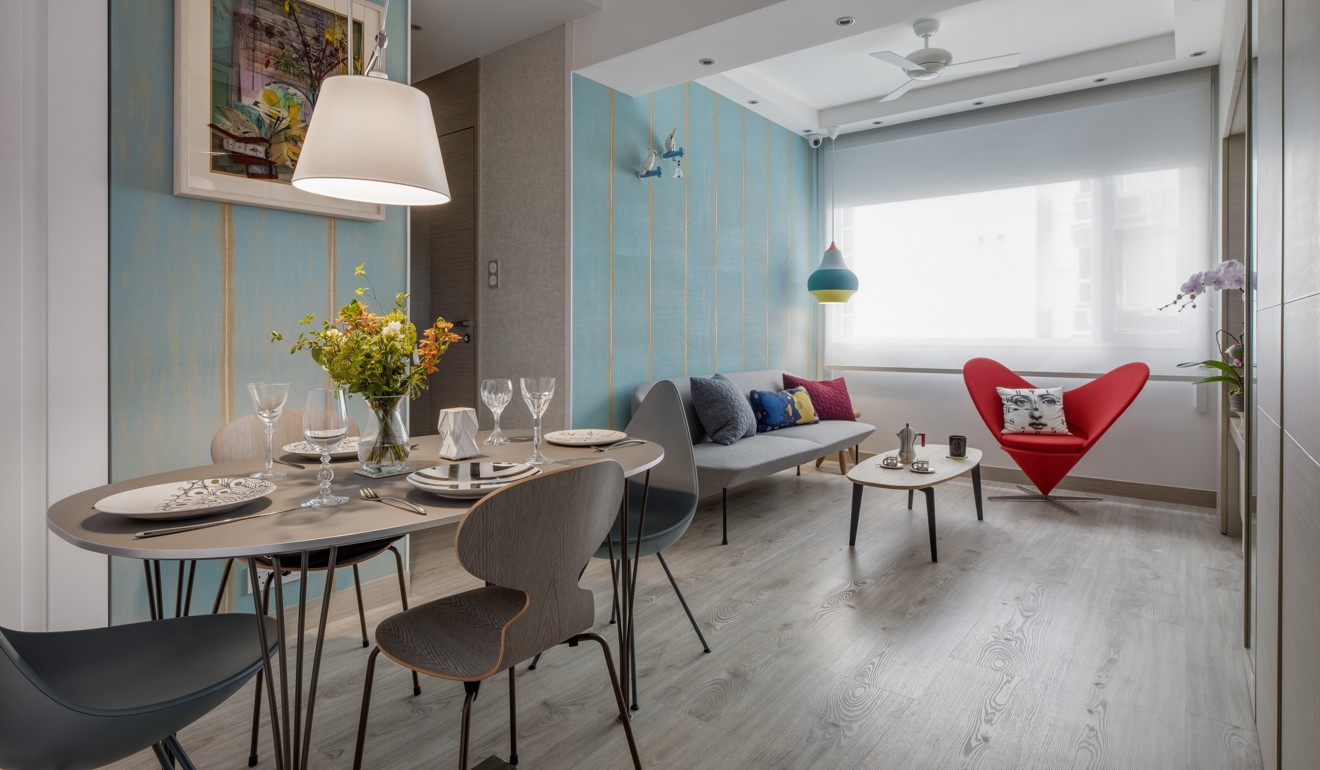 Dining area The Fritz Hansen Super-Elliptical B611 dining table (HK$13,940) – designed by Piet Hein, Bruno Mathsson and Arne Jacobsen, in 1968 – Ant chairs (HK$4,060 each) and Drop chairs (HK$2,770 each), all by Jacobsen, were from Colour Living. Lemons and Pears, mixed media on glass, is by Jean Pierre Weill (jeanpierreweill.com). The Tolomeo suspension lamp (HK$7,200) was from Artemide.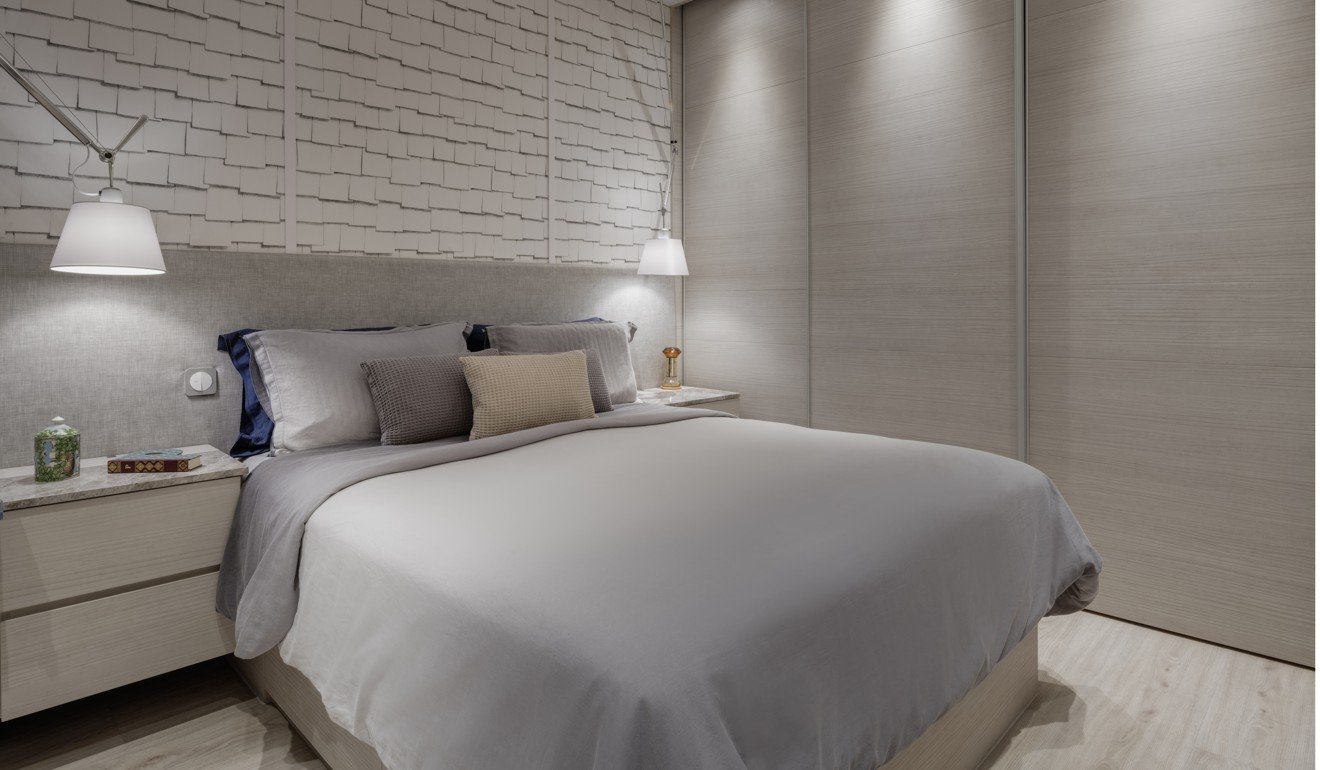 Main suite Floor-to-ceiling wardrobes (HK$43,000) take up two walls of the main suite. Like the bed (HK$28,000), headboard (HK$8,500) and marble-topped bedside tables (HK$5,000 each), they were designed and built by PJL Interior Design. The wallpaper was HK$570 per roll from Engblad & Co. The Tolomeo lamps were HK$6,600 each from Artemide.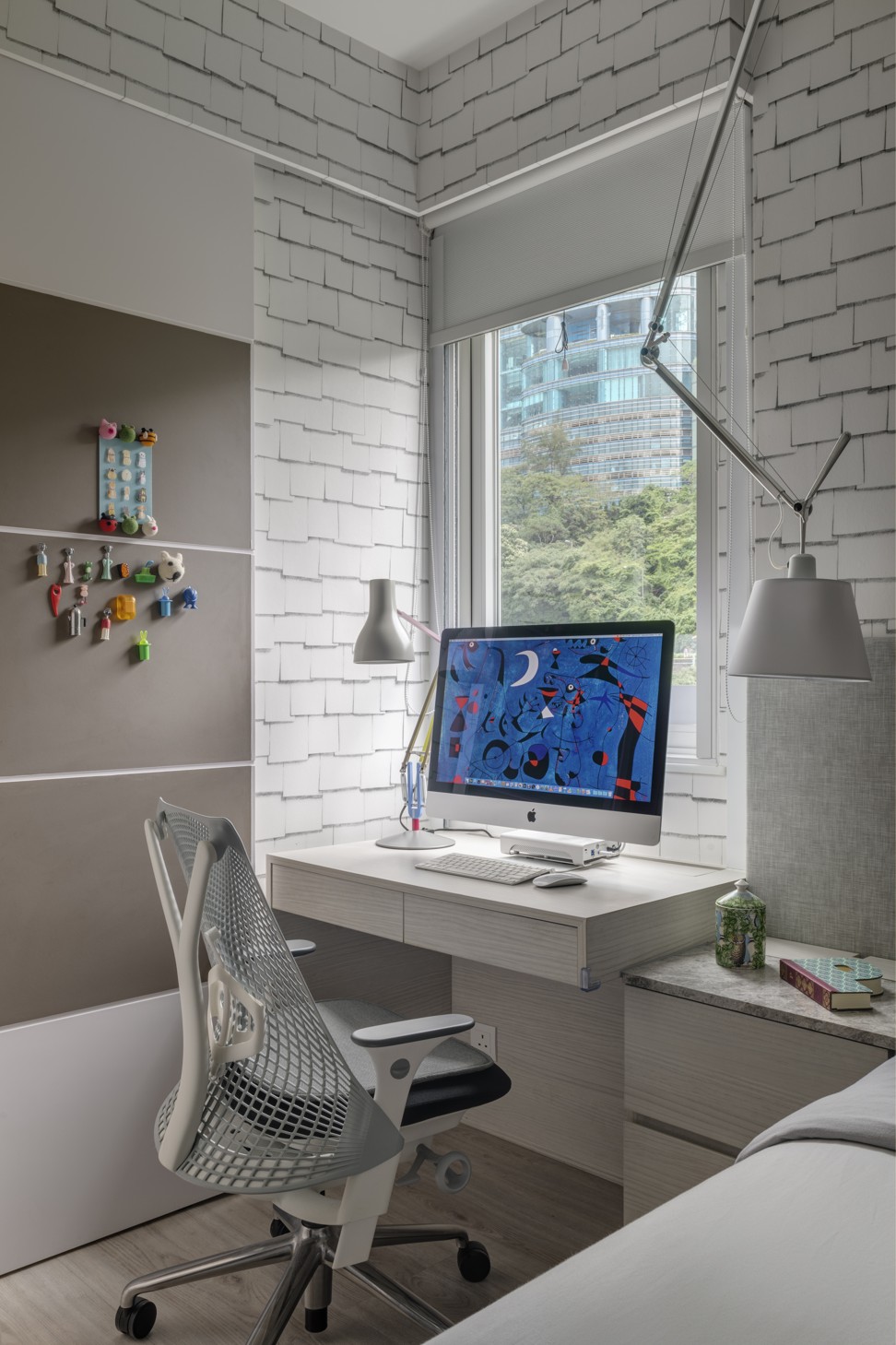 Main suite detail For the study area, PJL Interior Design built a desk (HK$7,500) and sliding door with magnetic noticeboard (HK$7,600) to the en-suite bathroom. The office chair (HK$5,890) was from Herman Miller. The Paul Smith limited-edition Anglepoise table lamp (HK$2,000) was from Lane Crawford.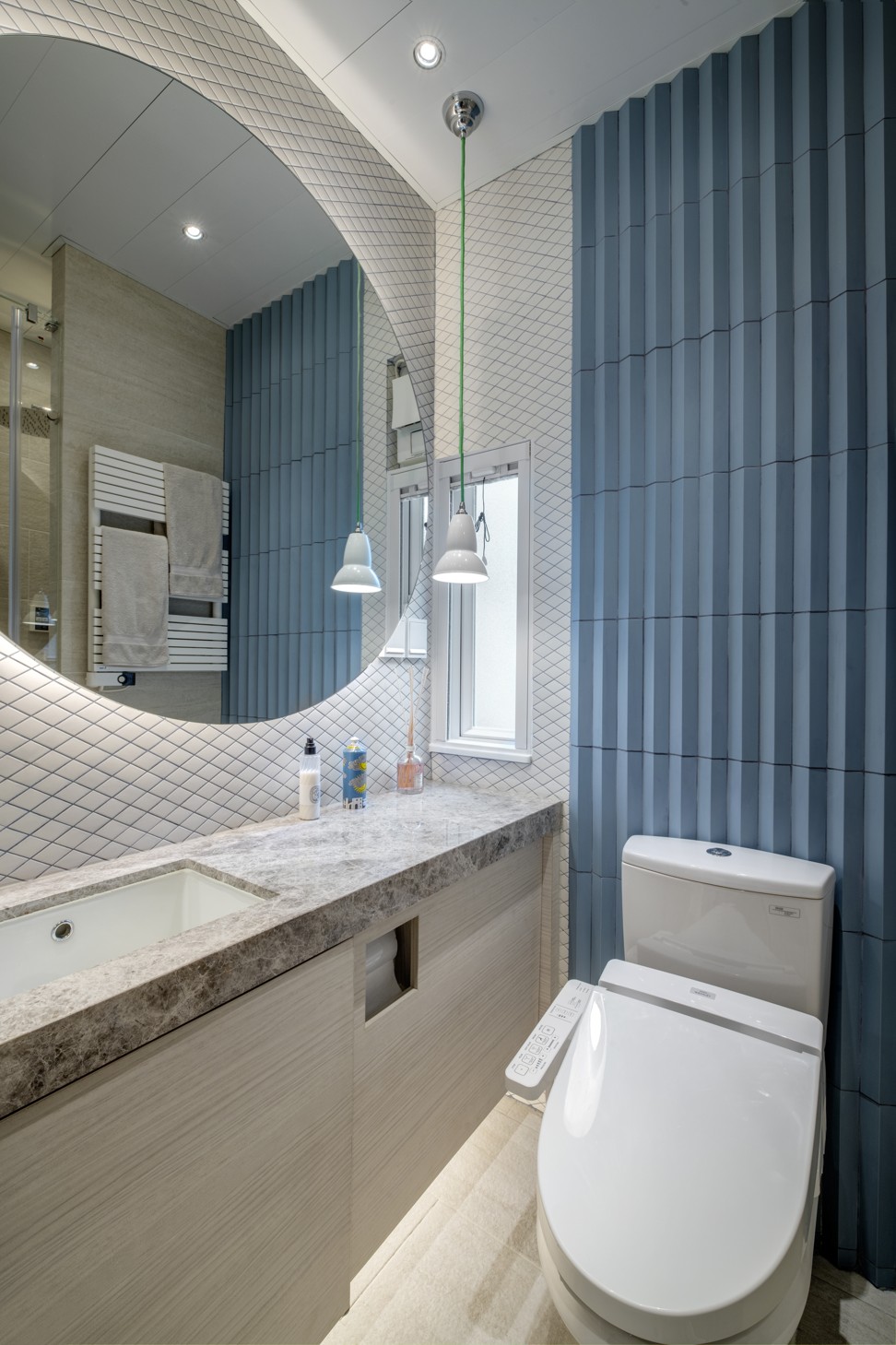 En-suite bathroom PJL Interior Design custom-built the cabinets (HK$18,000), marble countertop (HK$7,000) and backlit round mirror (HK$15,000). The Toto toilet (HK$9,830) was from Leisure Plus. The blue 3D wall tiles (HK$188 per panel) and white diamond-shaped tiles (HK$238 per panel) are by Mutina and came from Anta Building Material Supplier. The pendant lamp (HK$900) was from Colour Living.
---
Tried + tested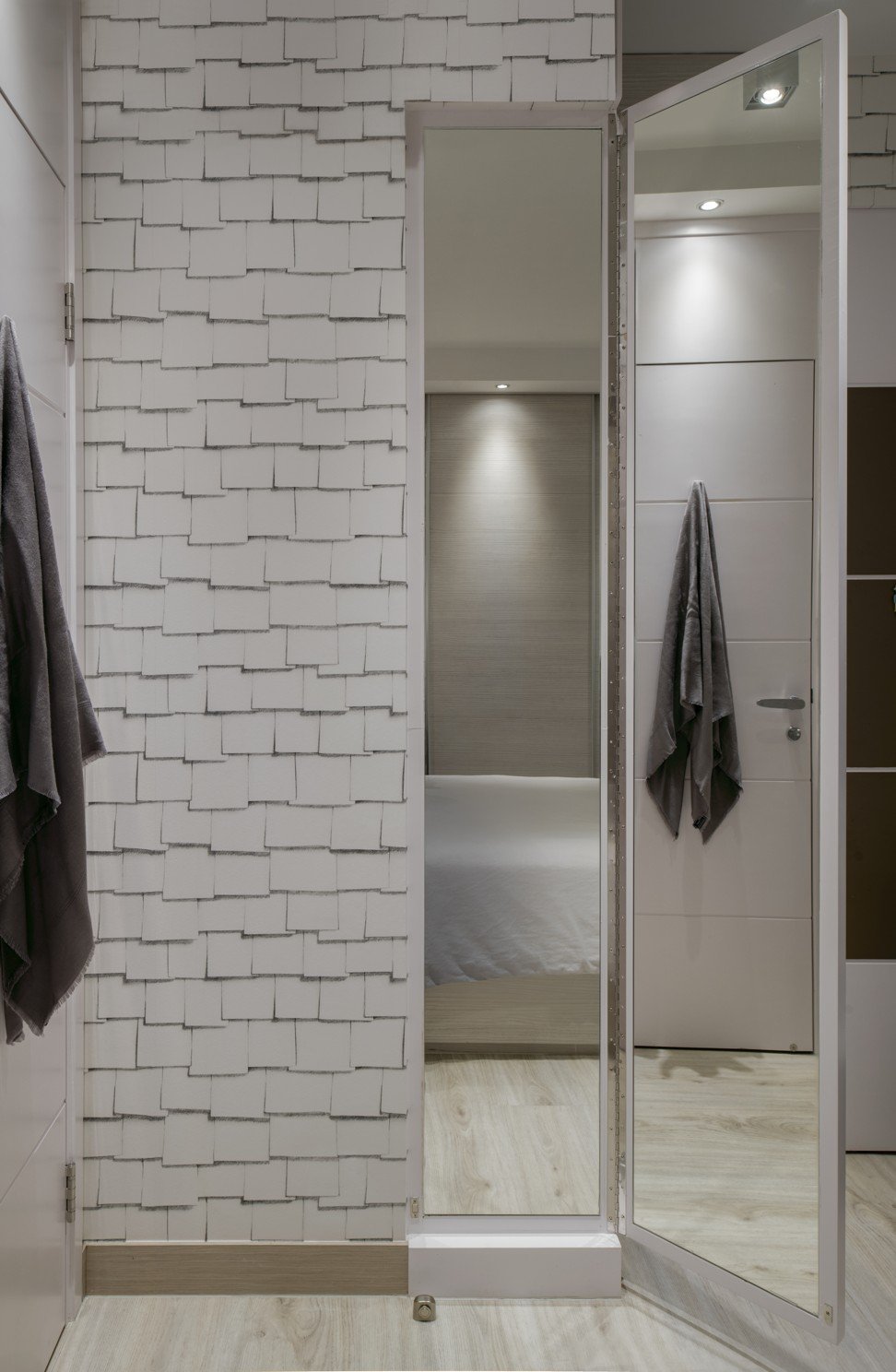 Now you see it … With space at a premium in the main bedroom, Pamela Lee tucked a double full-length mirror behind a door covered in the same wallpaper as the bedroom walls. When the door is closed, it disappears. The recess behind it, accessed from the en-suite bathroom entrance, houses shelving. The mirror and concealed door were custom made for HK$9,000 by PJL Interior Design.