This is a tale of two houses. Sitting side by side in a vivid green tropical garden, a stone's throw from Lantau's south coast, the two 2,100-square-foot properties form a rural bolt-hole for the family of Mary McBain, fund manager and co-owner of homeware store Inside. Between them, McBain and her husband – who married recently after more than a decade together – have four children in their teens and early 20s, who split their time between Hong Kong and Britain.
When they're in Hong Kong, the kids have one house and the adults have the other. It's a set up that suits everyone, with the young people free to invite friends over and make a rumpus while the grown-ups enjoy some peace and quiet next door.
This neat arrangement started as a single house – now mum and dad's, with three bedrooms – acquired and renovated six years ago. The second property, with four bedrooms, was bought and refurbished three years later. The pair of 20-year-old concrete village houses, lacking features and charm, have been transformed. Today, they draw favourable comparisons with homes in other tropical settings, such as Sri Lanka and the Caribbean, a nod to their classic colonial style.
Placing the houses firmly on the south China coast are distinctly Hong Kong touches, including Cathay Pacific-green shutters and intricate balcony railings based on a Chinese screen. "I gave [the pattern] to my brilliant builder and asked him to copy it," McBain says. "In Tai O, there are houses with balconies in concrete patterns, which are a bit similar so it's not out of keeping on Lantau."
Relaxed, comfortable and stylish, these are homes designed for weekends and holidays: think English country style on a tropical trip away. Colourful hammam towels and straw hats hang on racks in the hallways of both houses in a beachy echo of British country-house boot rooms. A stone fireplace forms the focal point of the parents' living space, with a Pan Am poster advertising "The Orient" hanging above the mantelpiece. The palette is a fresh, breezy combination of greens and blues, with pops of red – a Moroccan ottoman, an Indian rug.
All my houses used to be red; the green is a departure. I bought a green oven for the kitchen, and my husband said, 'OK, as long as everything doesn't match'
This is Asian country living, which also happens to be the vibe of Inside. "I was a customer long before I bought into the company," McBain says.
But her home is no showroom for the store. Items from Inside mingle with beloved pieces that have moved with McBain, or her husband, from home to home around the world. Originally from Britain, McBain has had several stints in Hong Kong and also lived in Thailand, Brunei, India and the United States.
"I've had some stuff for 30 years," she says. "All my houses used to be red; the green is a departure. I bought a green oven for the kitchen, and my husband said, 'OK, as long as everything doesn't match.' But then I started buying to go with it. I didn't intend to go green, but it got greener and greener. The greens and blues go so well with the view."
Much of her red-hued furniture ended up next door, including lacquered Chinese cupboards, a painted Tibetan door that belonged to her husband and an art deco chair from Morocco. "This is the green house, that's the red house," McBain says.
What both places have in common is her sure touch. McBain had the vision for the interior – "The internal layout was all wrong; I wanted wooden doors, floors, windows and shutters" – and an excellent contractor to bring it to life. Even so, she called in expert help from a good friend, London-based interior designer Bee Osborn, of Osborn Interiors.
"She came to stay for five days while the house was a building site and made a floor plan, a lighting plan and an electrics plan. When she told me how many down­lights I would need, I was incredulous – there are something like 244. I would have ordered six. She put sockets everywhere and said to use lots of mirrors to make it look larger.
"She can't be blamed for either the colours or the decoration," McBain adds. "She once told an interviewer that her biggest challenge [as an interior designer] was to bring character to a concrete box in Hong Kong."
When it came to renovating the second house, McBain planned the layout, repeat­ing many aspects of the design from the first, notably the exterior. There's an open-plan kitchen ("The idea is the kids make their own breakfast here – they don't; they come next door demanding breakfast") and a big, comfortable sofa.
There's a second sitting room on the third floor, and a cool hang-out space on the rooftop, so there's space for everyone. And their friends.
---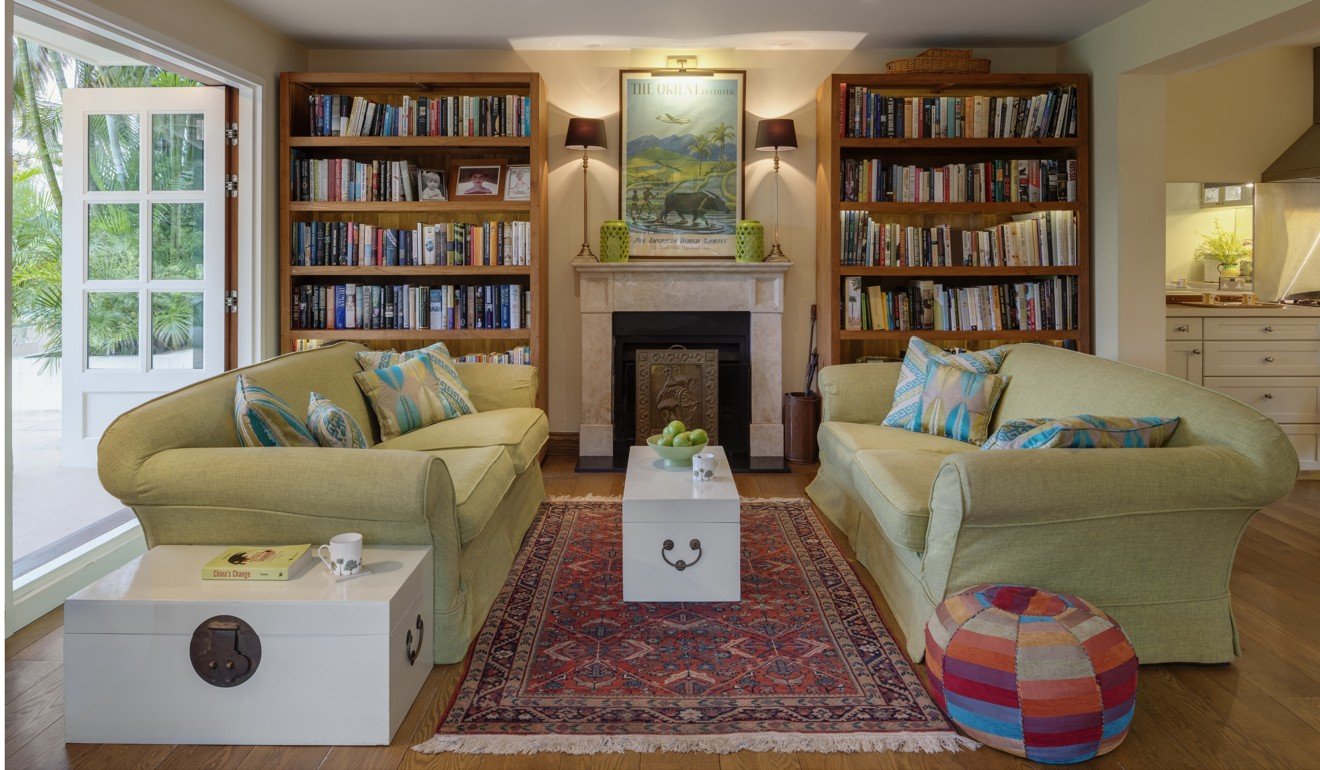 Living room "I can't remember where I bought the old camphor chests, but one got badly chewed by a puppy and we had them repainted so we could repair them without it being too obvious," Mary McBain says of the white Chinese chests in the living space. The room is a model of symmetry, with matching sofas – recovered in fabric from Tequila Kola (cushions from Altfield) – bookcases from Tree and green ceramic candleholders from Inside.
The teak doors and stone mantelpiece were made to order and sourced by the contractor, Szeto Sindow, at Proper Trip Real Estate, in Mui Wo. The rug came from Mumbai and the ottoman from Marrakesh. The Pan Am poster was from Picture This and the brass fireguard once belonged to McBain's grandmother. The lamps on the mantelpiece were from India Jane in Britain.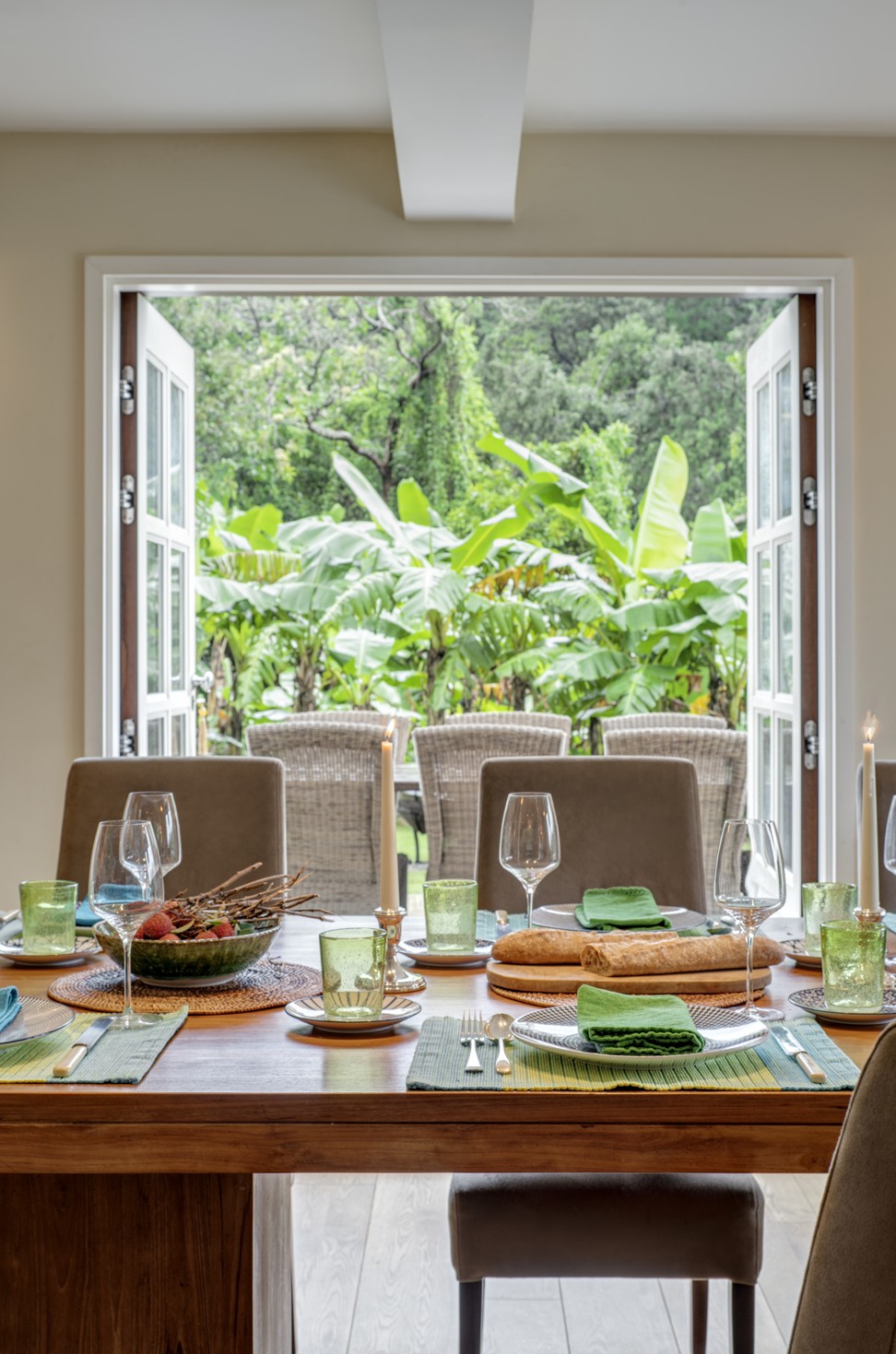 Dining room McBain has owned the dining chairs for years. The table was from Tree and the handloomed linen napkins and tablemats were from Barefoot, in Sri Lanka. The green glasses came from Inside. The Indonesian outdoor table is made from recycled railway sleepers. Like the chairs it came from Birstall.
"It is ridiculous that it was made in Indonesia, shipped to the UK, and then shipped out here again, but buying from Birstall and shipping (along with the sun loungers and other items) gave us far more choice and was cheaper than buying in Hong Kong," McBain says.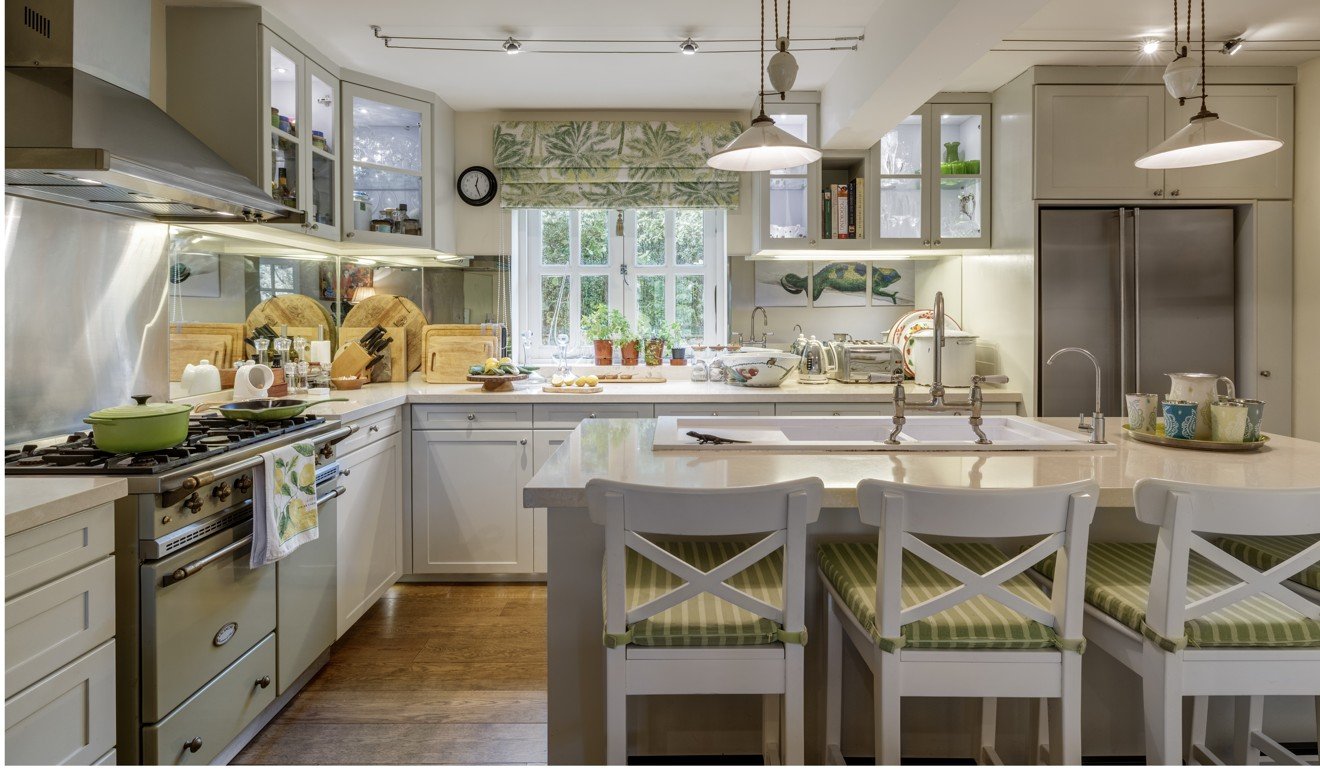 Kitchen The Lacanche oven was the starting point for the green palette. The white walls, custom- made cabinetry (by Proper Trip Real Estate) and bar chairs (from Ikea) and green accents keep the room fresh.
The ceramic pendant lamps were from Holloways of Ludlow and the spotlights from John Cullen Lighting. The chameleon painting was by a friend, Diana Howorth. The blind was made by Wai Kee Home using fabric from Altfield.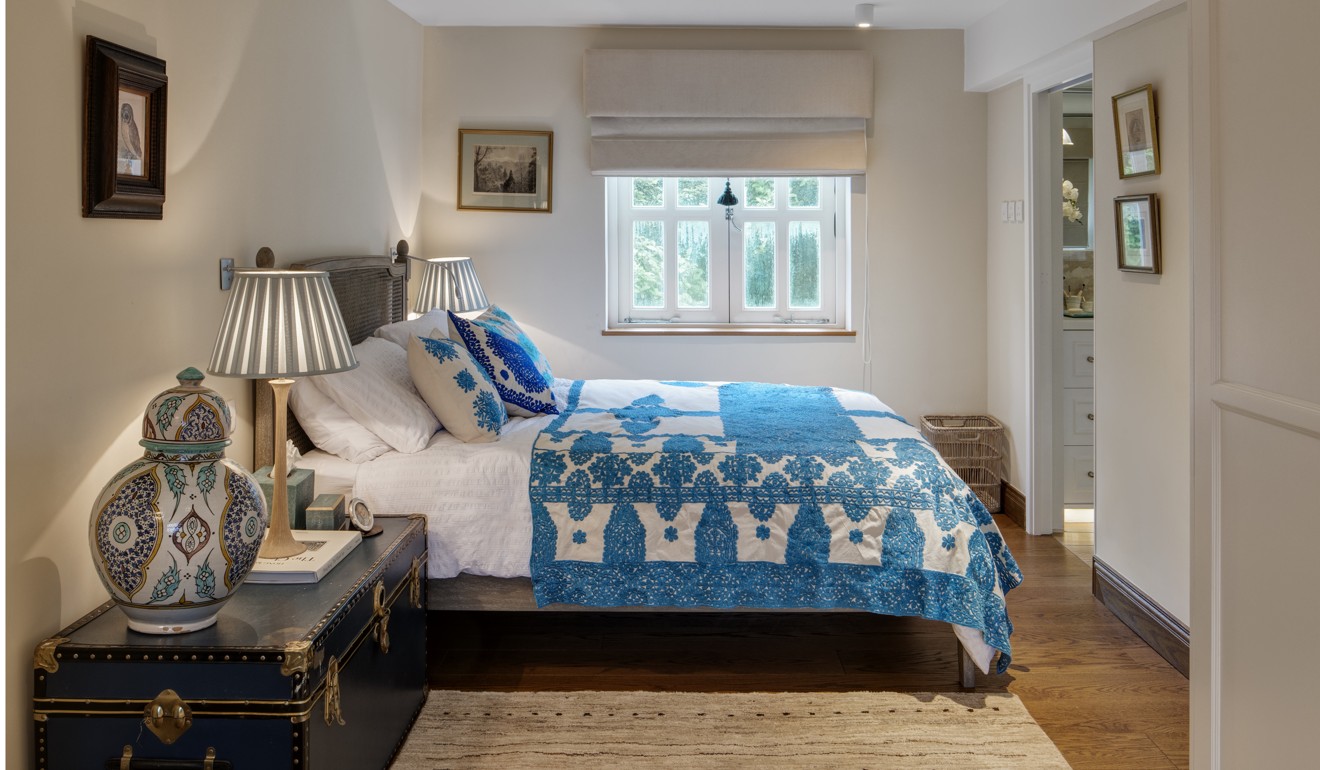 Moroccan bedroom A bedroom in the children's house features the spoils of a shopping trip to a souk in Marrakesh, where McBain found the embroidered bedcover and the large ceramic jar, which sits on McBain's old school chest.
The bed, table lamps and basket were from Inside. The lampshades came from John Lewis, in Britain. The vintage frame (left) is from Douglas MacLeod Period Frames, and the print came from a charity shop.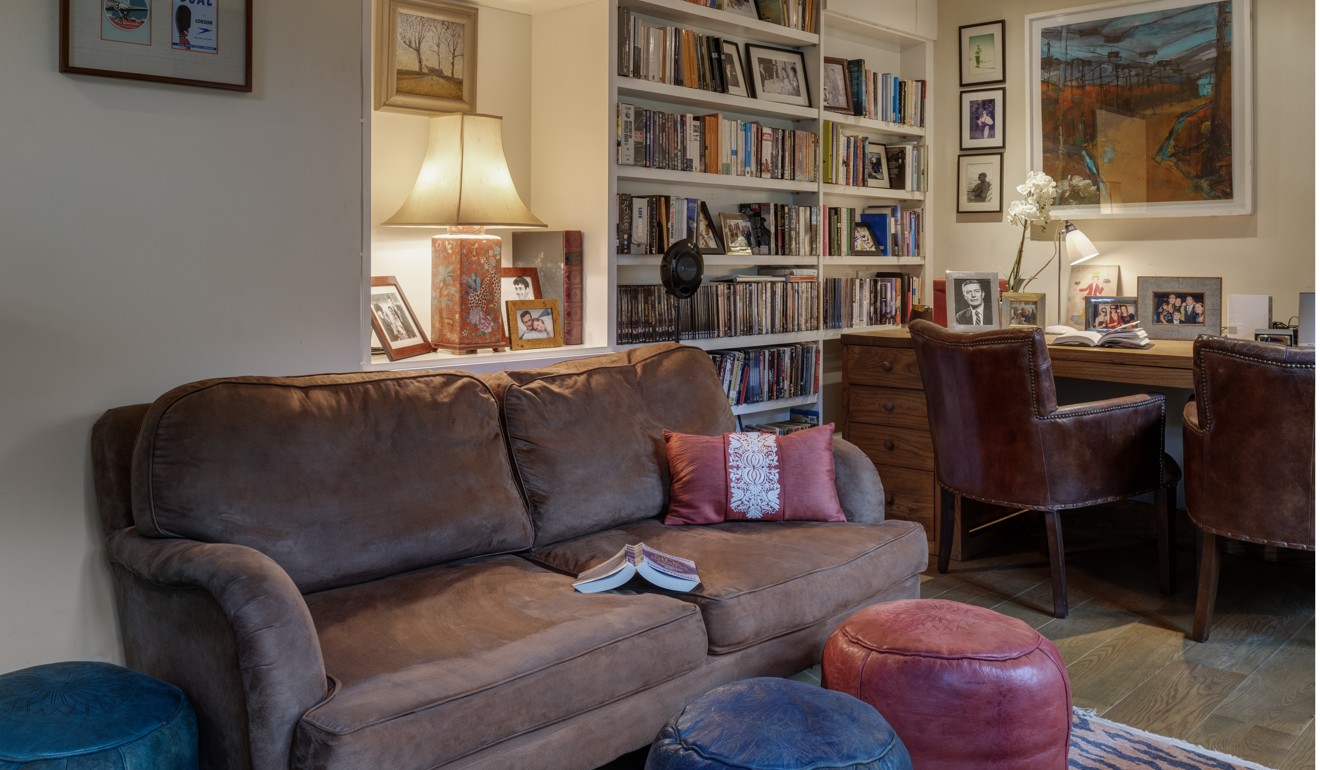 Study The sofa was bought in London years ago and has been recovered several times. The ottomans were from a souk in Marrakesh and the desk was made to order by Tree. The table lamp was from the Conran Shop; McBain created the ceramic lamp from an old vase.
The leather chairs were bought years ago. The bookcase was custom made by Property Trip Real Estate, and the flooring was from Canica. The large painting was by Katherine Hucker, another friend of McBain. The postcard collection came from Picture This. The rug came from Zee Stone Gallery years ago.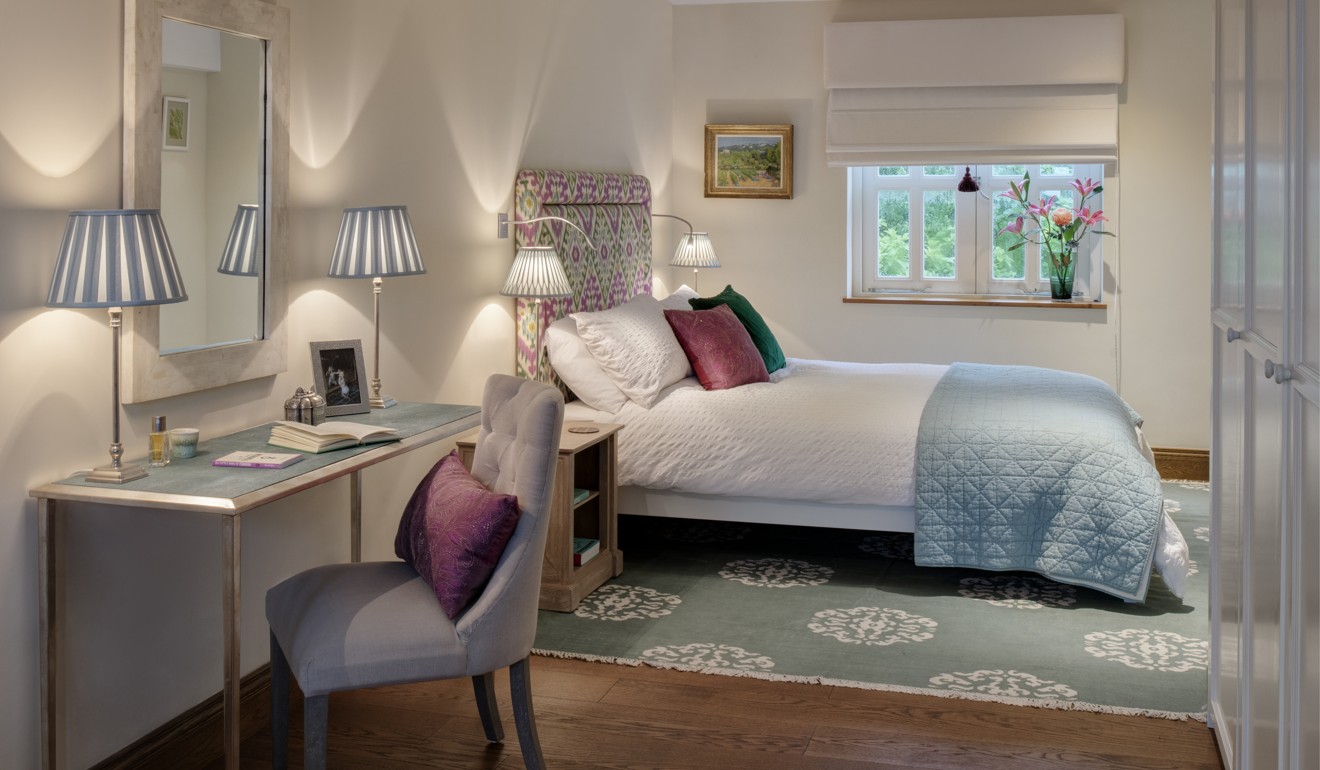 Guest bedroom McBain's daughter chose the Altfield fabric for the headboard years ago, when she was 11 and in love with purple. The bedside table, shagreen desk, mirror, chair and dhurrie were all from Inside. The table lamps came from India Jane.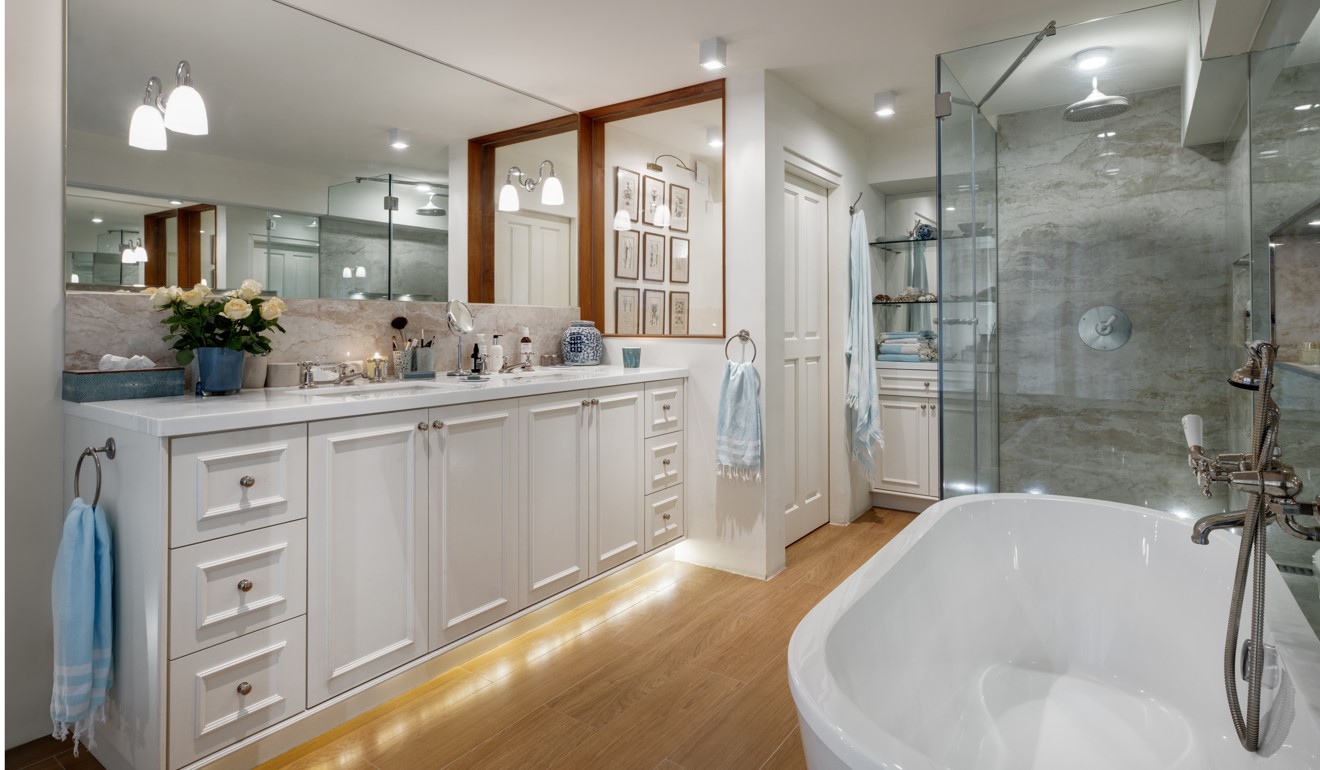 Main en-suite bathroom McBain took friend Bee Osborn's advice in the bathroom, with whole walls of mirrors to maximise the light and space. The taps and shower fittings were from Aston Matthews. The countertop and vanity were custom made by Proper Trip Real Estate. The wall lamps were from Holloways of Ludlow.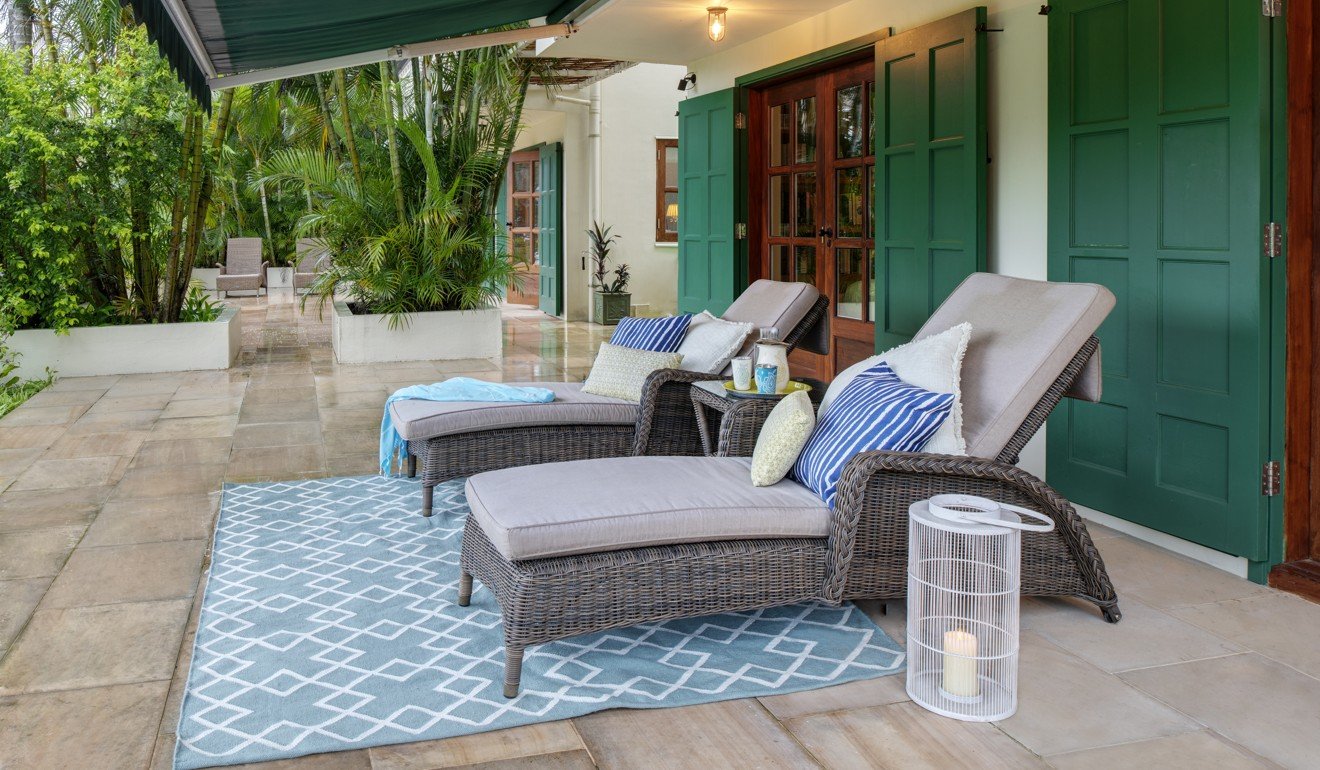 Patio The loungers were from Birstall, in Britain, and the cushions were from Inside. The rug is an indoor-outdoor piece by Weaver Green (available at Inside), made from 100 per cent recycled plastic bottles.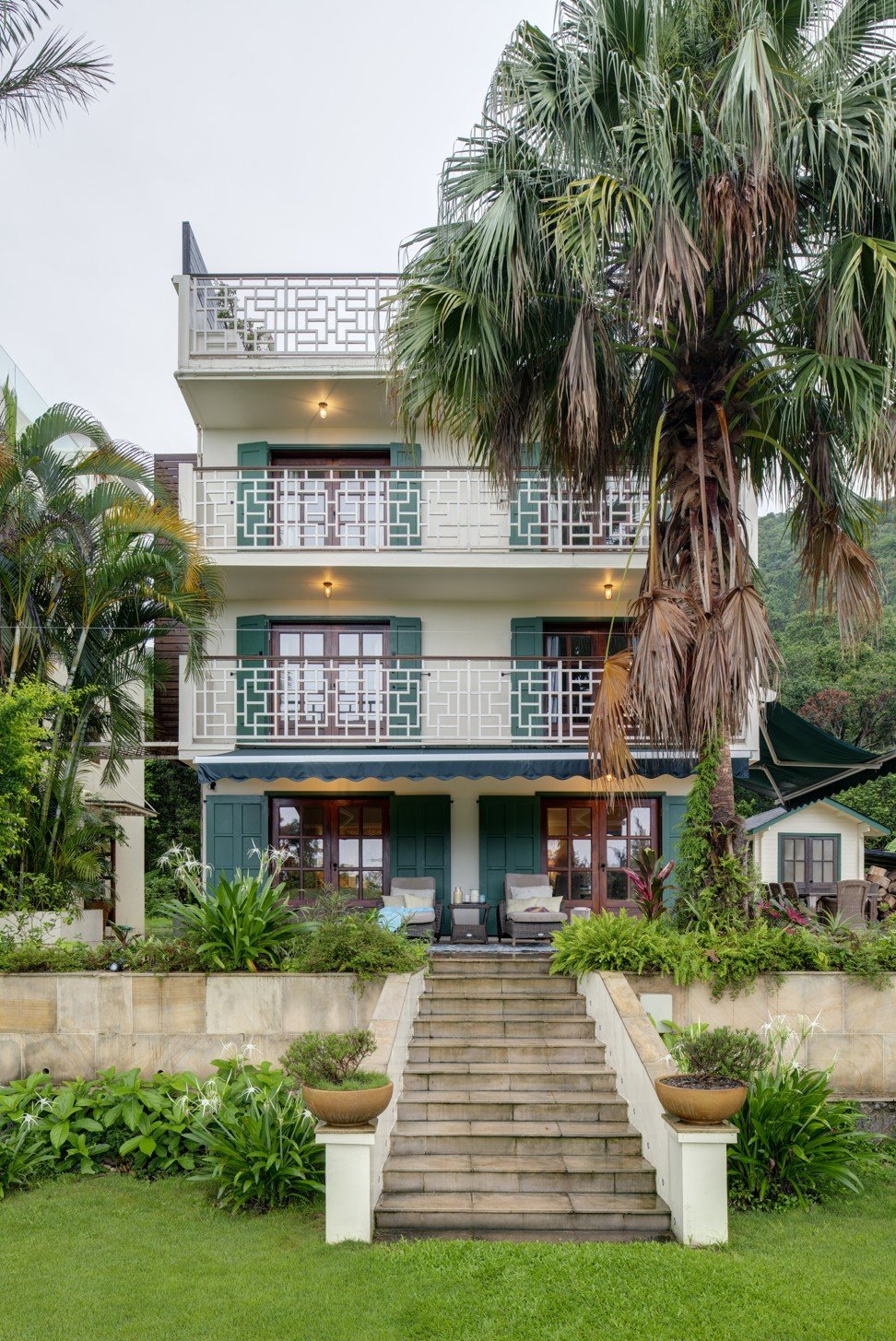 Exterior of parents' house The shutters and ornate balcony railings were custom made by Proper Trip Real Estate. The shed, which replaced an old building on the site, was made to order by a company found on Alibaba, with eaves painted to match the shutters. "It's full of cushions for the outdoor furniture," McBain says.
---
Tried + tested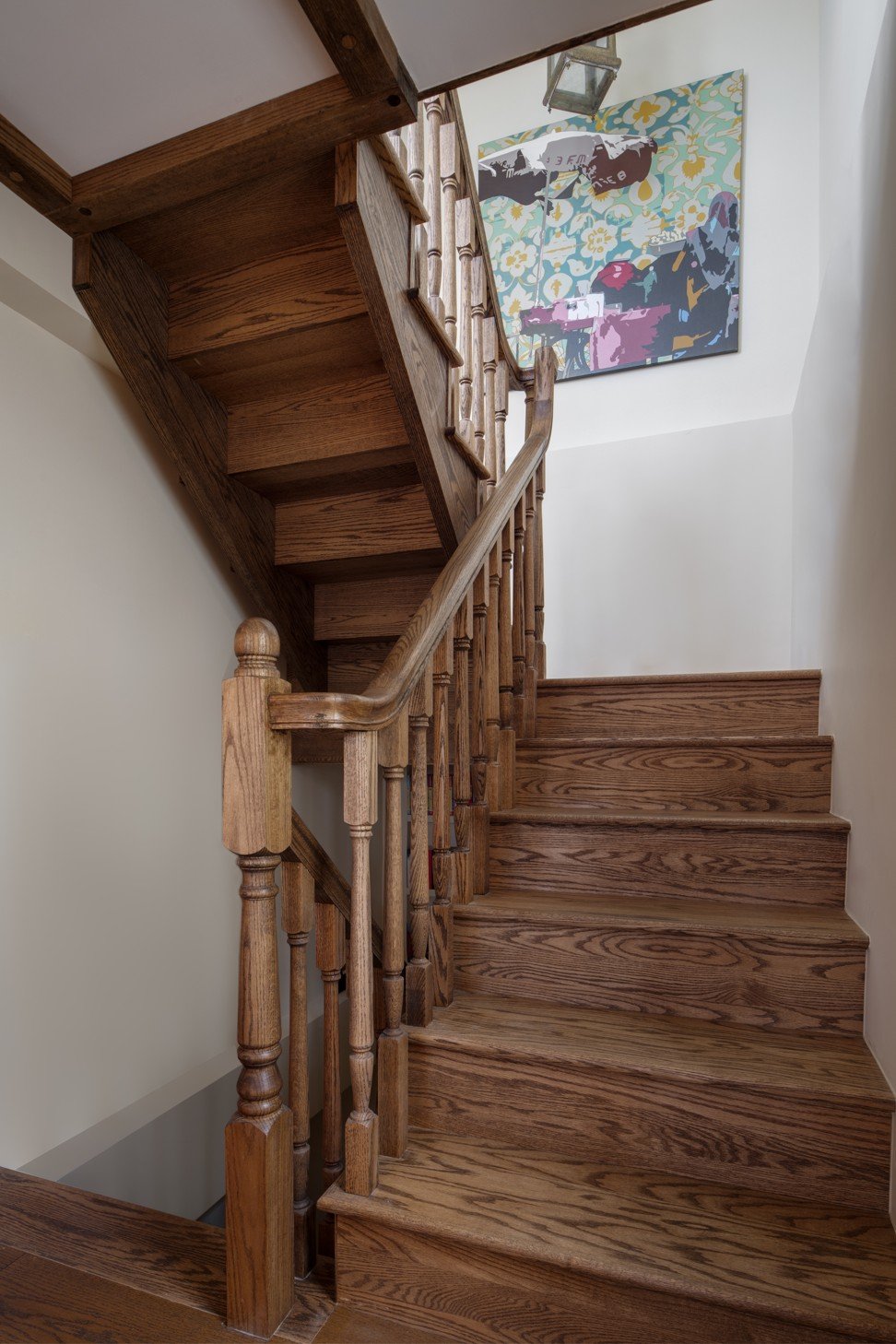 The wooden hill to Bedfordshire No fan of the original concrete stairs, Mary McBain wanted curvaceous, traditional oak staircases to bring warmth and character to her Lantau houses. The solution was a company that makes oak staircases in China for the US market, Canica.