Fish were once carried up from the shore of El Terreno, on the Spanish island of Mallorca, and delivered through a blue-and-white doorway into a beautifully appointed fishmonger. That entrance has become a window, and the building is now home to former Hong Kong resident Cecilie Gamst Berg.
Norwegian Gamst Berg, who teaches Cantonese through her Happy Jellyfish Language Bureau, calls herself a Cantonese fundamentalist and likens her retreat to Mallorca as an exile. After 30 years in Hong Kong, she left in part because of what she calls the city's "Mandarinification".
Mallorca is very like Hong Kong: it's full of expats and it's easy to meet people. And most of all, it's beautiful – I had to live in a beautiful place
To Gamst Berg's relief, the transition to the Mediterranean has not been overly challenging.
"Mallorca is very like Hong Kong: it's full of expats and it's easy to meet people," she says. "And most of all, it's beautiful – I had to live in a beautiful place."
Lamenting the never-ending develop­ment that is making Hong Kong "ugly", she says even Lantau has not escaped the creep of concrete, citing the incinerator planned for Shek Kwu Chau and the artificial islands pro­posed for near Kau Yi Chau and Hei Ling Chau. "I couldn't stand by and watch it," she says.
Yet she hasn't totally escaped Hong Kong in Mallorca, having met fellow Cantonese speakers as well as found a few places where she can enjoy yum cha. And she continues to write and teach (an ex-neighbour on Lantau still takes lessons with her, online), "because the fight goes on".
"I've been hounded out by strong forces," she says about what she feels is a losing battle to keep Cantonese alive in Hong Kong."But it's not too shabby," she adds. "I'm by the Mediterranean and it's not so bad."
Gamst Berg's 1,400 sq ft rented home is on a small street. "The area used to be the Lan Kwai Fong of Palma in the 1970s, [but it] had gone to seed. Now it's on the up again," she says. The house is at least 120 years old, although Gamst Berg says it could be older because land records in Mallorca, as far as she can tell, go back only as far as 1900.
Although it wasn't love at first sight with Mallorca, it was with the house, and its history. Run by the owner's grand­mother when it was a fishmonger, the two-storey house now features on the ground floor an anteroom, a large living area, a kitchen and a media room. Upstairs are two bedrooms and an office, as well as balconies on either side of the building, one of which offers views of turquoise seas.
The traditional Mallorcan house, with striking original tiles and a fresh blue-and-white colour scheme, was in such good condition that there was little Gamst Berg had to do, aside from furnish it, put up shelves and install a washing machine and heater, before moving in. Its rooms are now filled with memories of Hong Kong and mainland China.
Much of her furniture had been collected from abandoned village houses on Lantau, or given to her by friends. She decorated with colourful mementos and photographs taken on her travels, as well as with patterned window film resembling stained glass.
There's just one more thing that needs rectifying, however. "The cooker is electric," exclaims Gamst Berg. "The worst!" As a teacher of Sichuan cooking – and as any Chinese chef will know – a gas cooker is of the essence.
---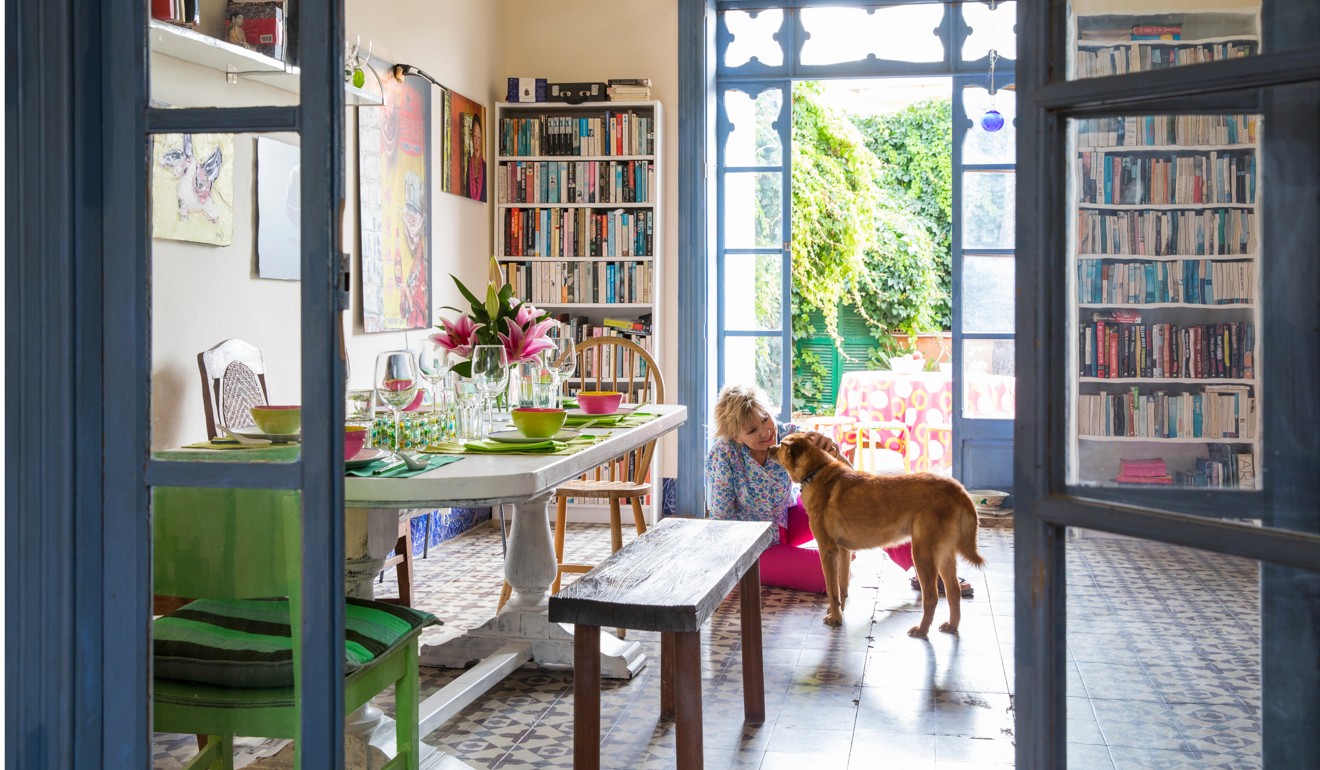 Living room Cecilie Gamst Berg moved to Mallorca, Spain, with her dogs, Lasi (pictured) and Koldbrann. The living room features Ikea's Billy bookcases on either side of the glass doors that lead to the garden. The table was bought on Facebook Marketplace in Mallorca.
The bench was shipped from Hong Kong, having had new legs put on by Gamst Berg's helper, who also painted the lime-green chair. The striped green cushion was made to order in Shenzhen. The two photographs on the wall were taken by Gamst Berg in China. The chair at the other end of the table was a gift from Andrew Brown, who in 2003 became the first non-Chinese to be elected a village head in Hong Kong.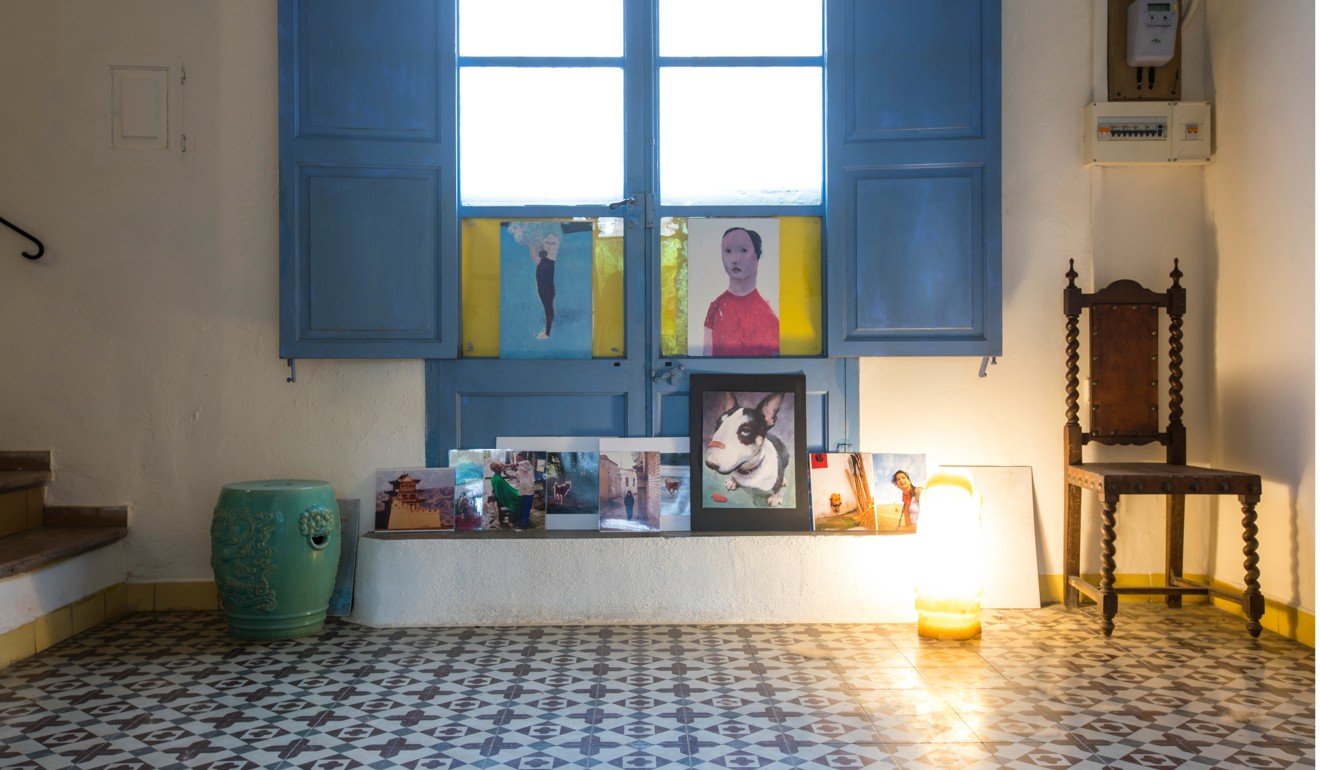 Living room detail The paintings on the window panes are by Hong Kong artist Firenze Lai and were bought from an art shop in IFC Mall, Central, that no longer exists. The dog print is by a young painter who was working in Shenzhen's Dafen Art Village and was a gift. The photo­graphs were all taken by Gamst Berg.
The ceramic stool was found in an empty house in Hong Kong and the chair, which Gamst Berg refers to as her Spanish Inquisition chair, came from her Mallorca property agent and cost €10 (US$11). The window was once a door through which fish were delivered. The panes are covered in made-to-measure window film (Chesham-patterned window film from purlfrost.com; €18.50 per pane), which gives the glass a heritage frosted look.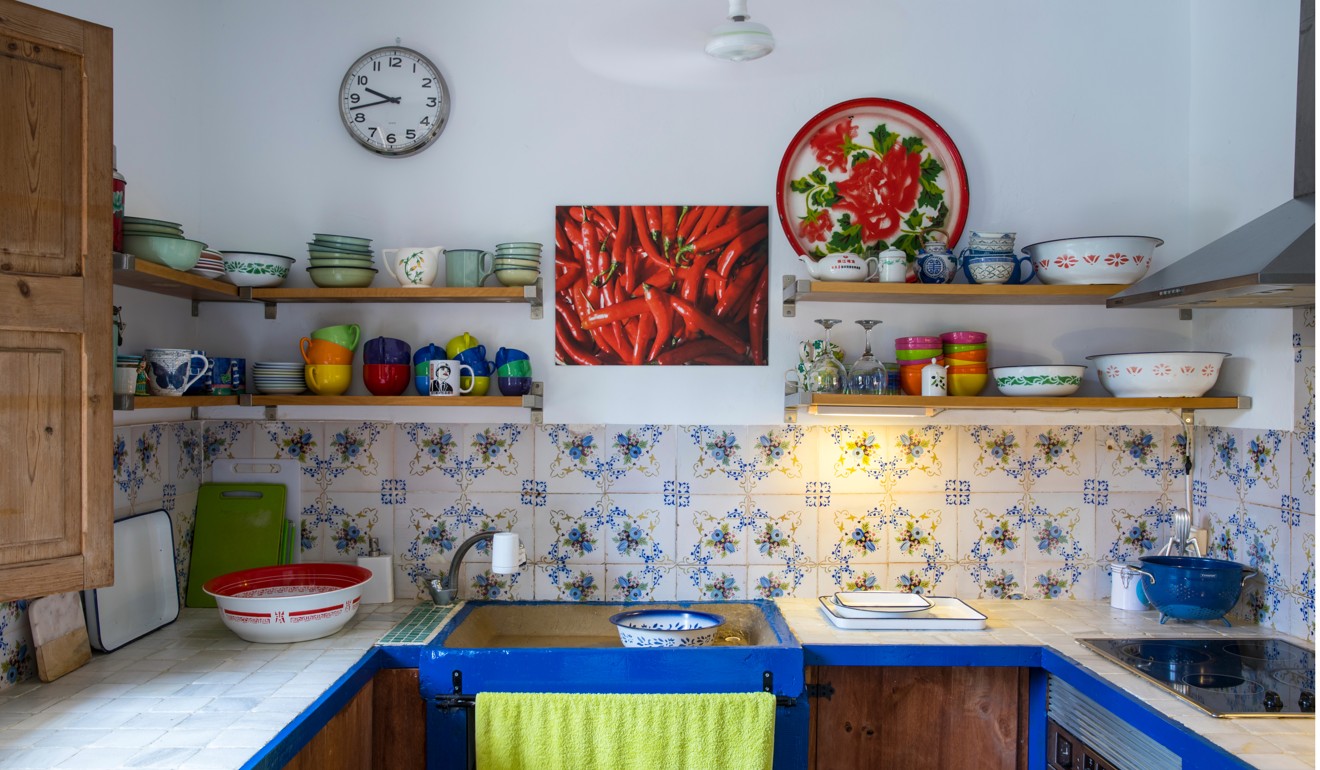 Kitchen The kitchen needed little work, and the tiles are original, but Gamst Berg added the blue paint highlights to what was plain wood. The lime-green towel is a splash of her current favourite colour. The ceiling fan was a Shenzhen purchase and cost about HK$40 (US$5). The photograph of the chillies was taken by Gamst Berg.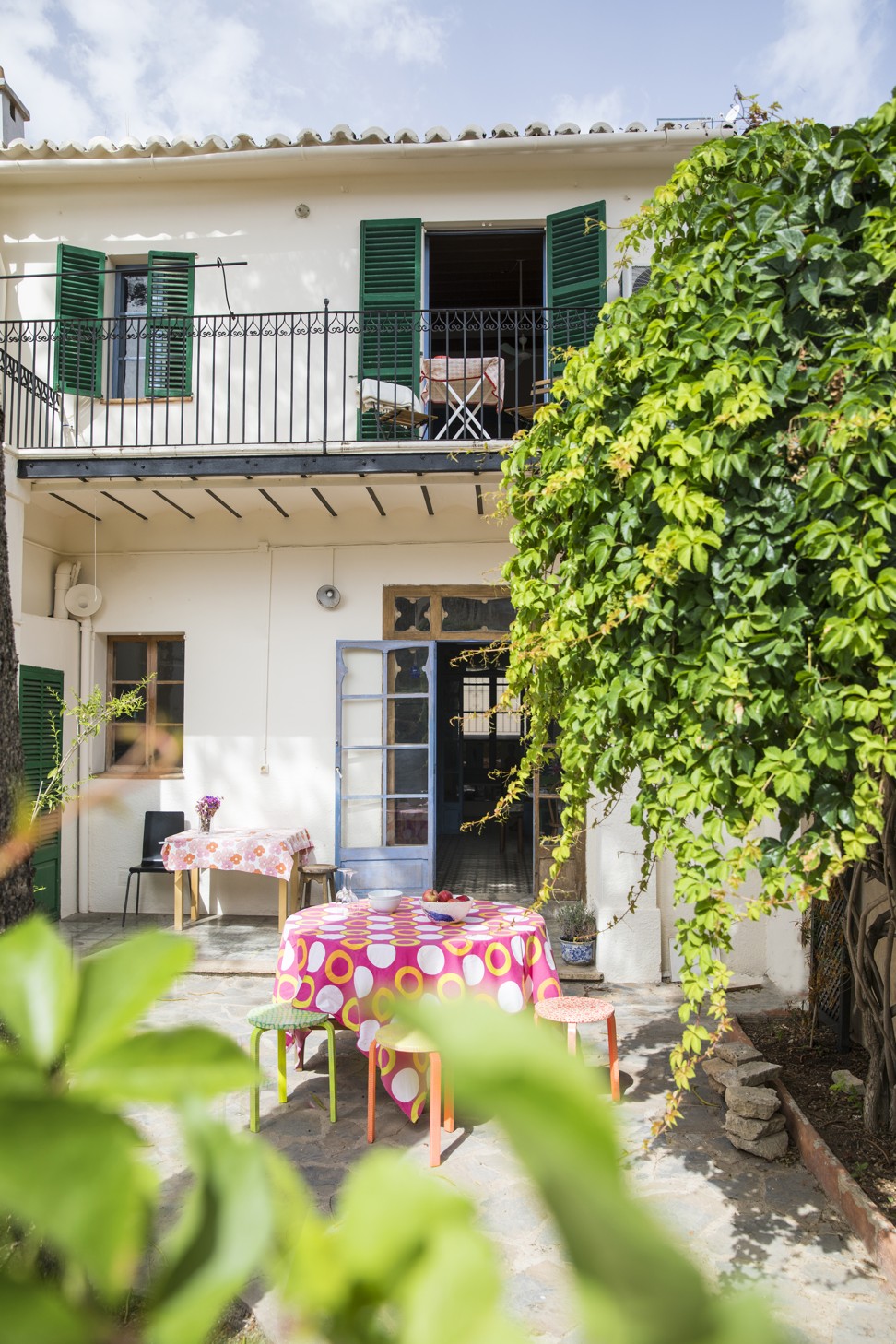 Exterior The terraced property boasts a back garden and balconies on both sides.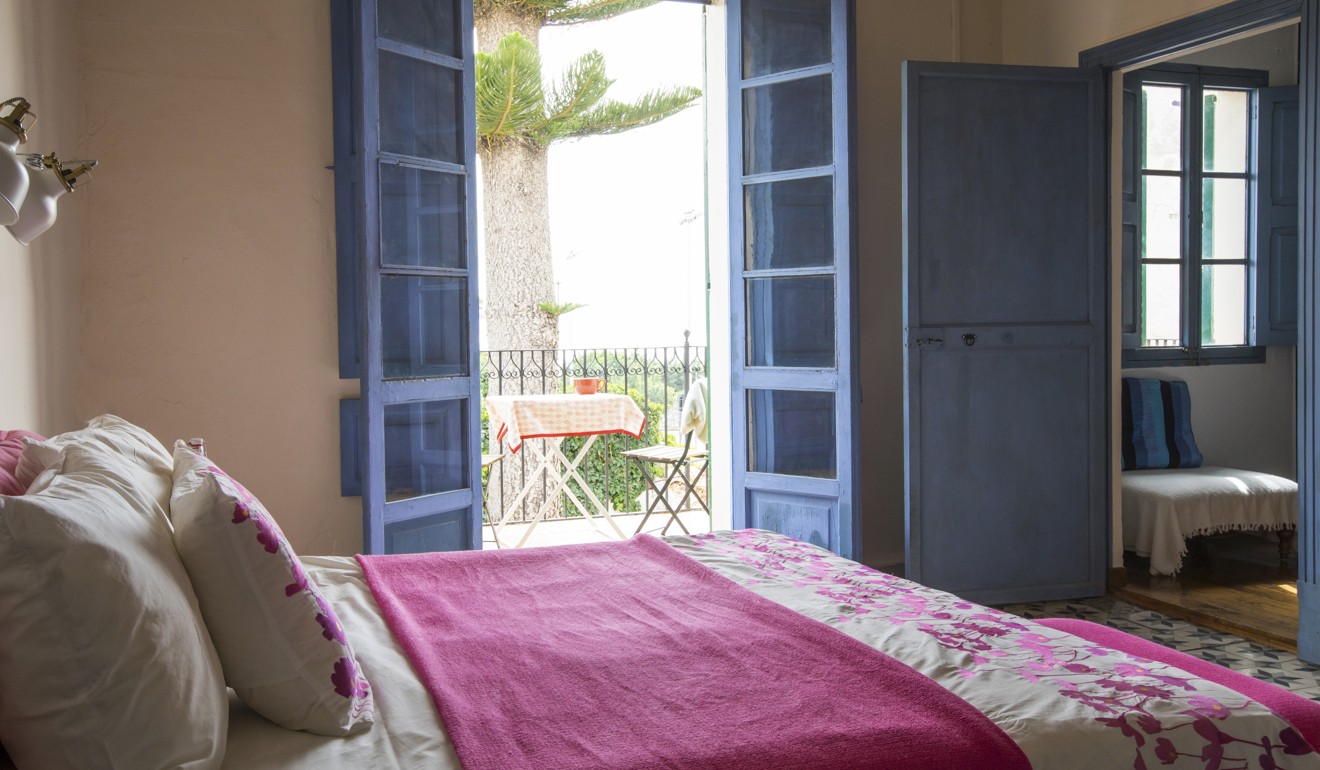 Bedroom The bed came with her from her first rented home in Mallorca. The bathroom is to the right. The balcony offers great views over the Mediterranean. The Härö table (HK$199.90) and Tärnö chairs (HK$99.90 each) came from Ikea.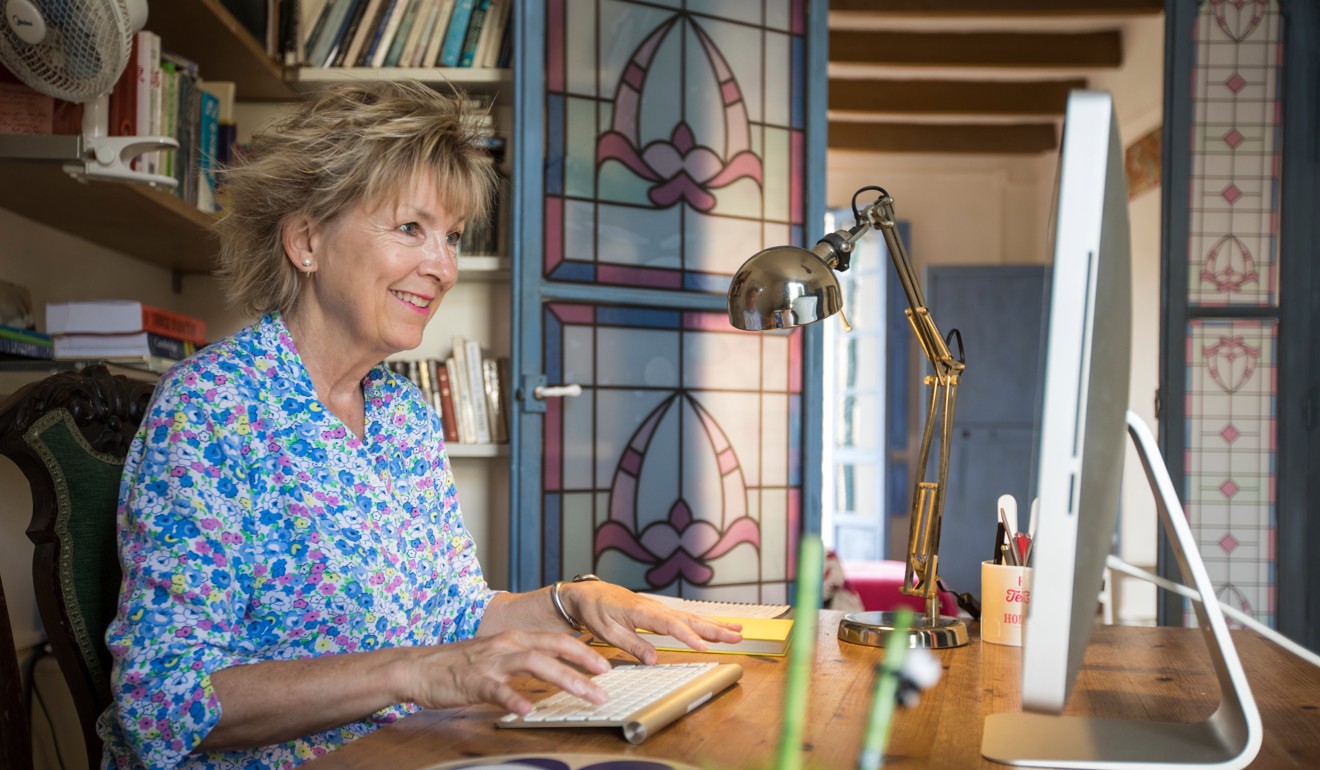 Office The large desk was bought in 1993 from Ikea, which was also the source of the Forsa lamp (HK$199.90). Gamst Berg has given the doors that lead to her bedroom a Victorian feel with window film in an Albert stained-glass design.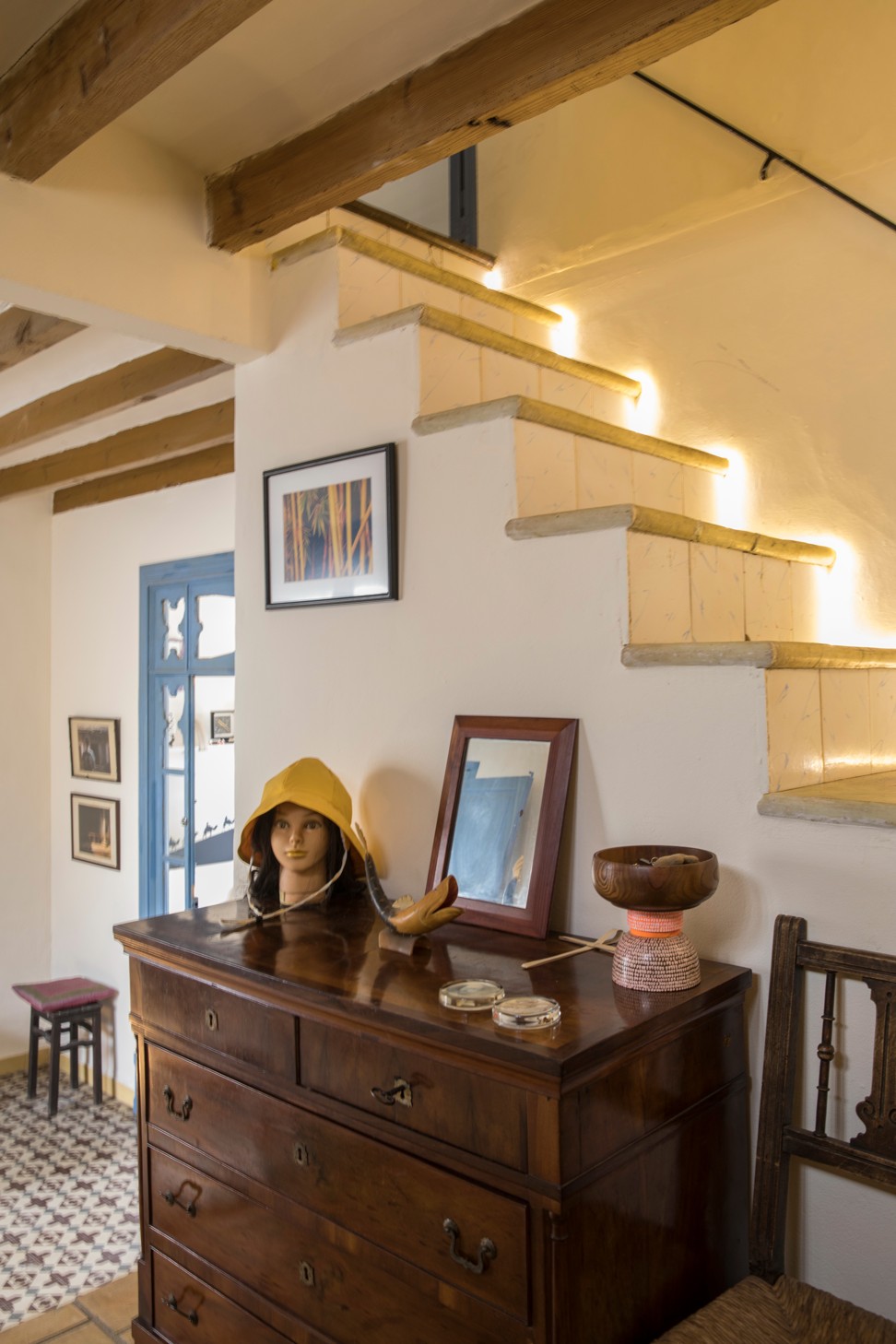 Hallway The chest of drawers came from Gamst Berg's new landlord. Gamst Berg uses the mannequin head, which she found on a road in Guangzhou, as a hat stand for her Sou'wester, a gift from Norwegian friends. The wooden totem bowl, by Hong Kong-based Colombian artist Lina Benjumea, contains keys and loose coins.
---
Tried + tested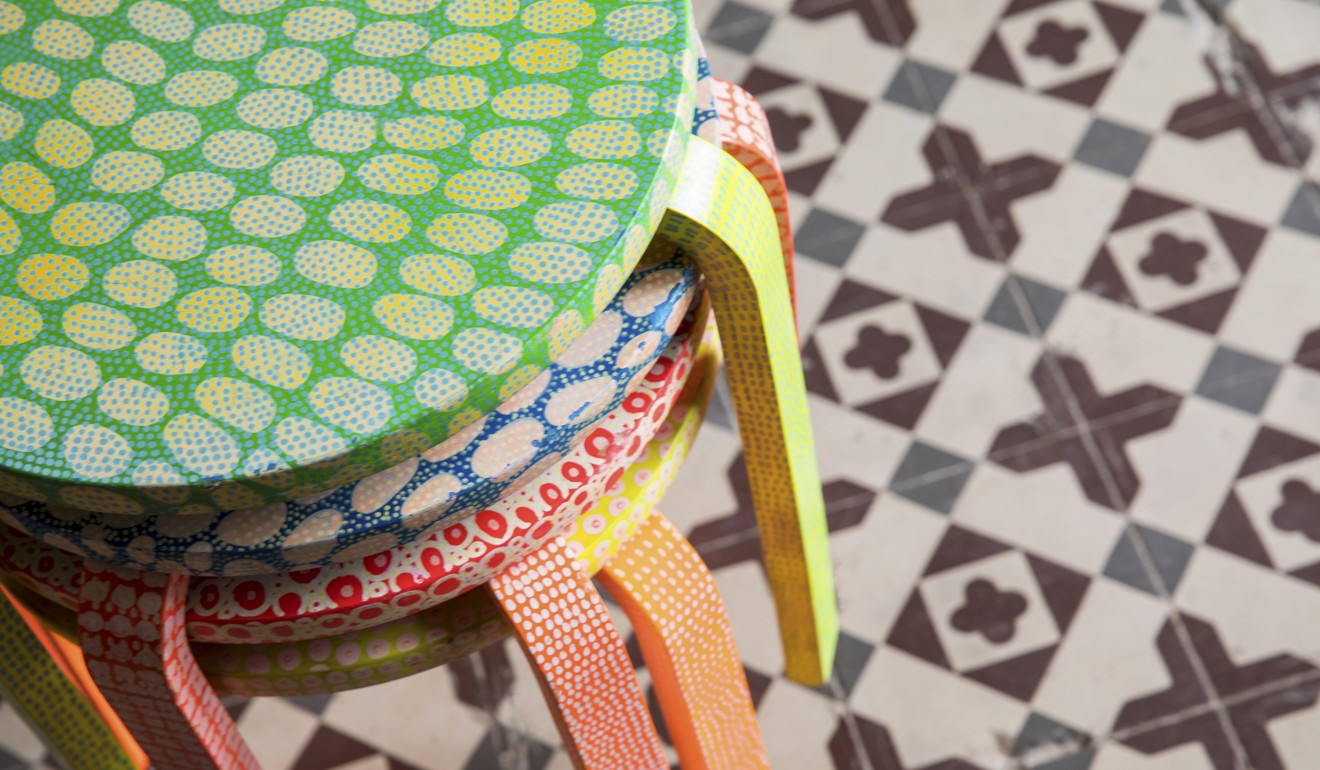 A fresh lick of paint It's easy to prime and primp Ikea's Frosta stools (HK$69.90 each) but these ones were customised by Cecilie Gamst Berg's friend Lina Benjumea, a Hong Kong-based Colombian artist. She deconstructed the stools, taking their four legs down to three, and painted each piece in her colourful style.