It's handy being handy. And engineer-turned-film­maker Song Ze Hua is certainly that. "I spent my childhood building things," he says. "I thought that if there could be a job of inventor, that would be the title I would want to have. Engineering was the closest thing."
So it's no surprise that Song occupied the director's chair in the redesign of his 1,100 sq ft Mid-Levels apartment, which was overseen by Moore Chen Interior.
When he bought the unit 12 years ago – having chosen Mid-Levels because he wanted to be close to both trees and transport – he stripped it back to its concrete shell and set about enlarging the windows and reconfiguring the rooms.
"The most essential thing for a happy living space is good light," he says. "Second is decent ambience that you make yourself."
Living in Hong Kong is a real chal­lenge […] Every­one needs space and that's what this apart­ment was designed for – to create the maximum feeling of space
Layout enhances atmosphere. To make the flat feel larger, Song created two bedrooms from three, and ensured there was ample storage throughout: two sizeable cupboards are built into the wall between the main bedroom and living area, one opening into each space. The kitchen segues into the living area while a porthole door divides the bedrooms and bathrooms from the main living zone.
"It was a jigsaw puzzle but I love it," says Song. "Living in Hong Kong is a real chal­lenge […] Every­one needs space and that's what this apart­ment was designed for – to create the maximum feeling of space."
The flat's layout allows him to work from home, either in his second bedroom, which serves as an office for his production company, or a square zone within the living area. The dining area-cum-second work­space can be closed off using bi-fold doors made with chicken-wire glass, which has nostal­gic appeal, Song says, and prevents people from walking into it.
And the doors serve a secondary pur­pose. "I wanted to be able to put all my scenes on the glass," he says. "When you are looking at a whole film in words there's an immediacy to being able to just glance at any bit of it. Plus there's this sense of the geography of a film, because you get to recognise the way clusters of dialogue and action are on the page. You just get a feel for the balance of things."
A New York loft in Hong Kong – how a creative couple nailed the look
Song's career path is perhaps as unconventional as his home. He abandoned a doctorate in aeronautical engineering to study product design at Central Saint Martins, in London, Britain. Later, work as an animator for various architects led to live-action filming and directing. Song is currently writing the script for a movie to be shot early next year, titled Mrs Tsang's Secret Garden.
His furnishings are eclectic and comprise everything from antiques-market finds to vintage Ikea pieces, to old design classics such as Le Corbusier's LC4 chaise longue. Among them are props from old film and art projects, including a clapper board, a painting and an analogue telephone.
But there's a method to the madness. "Every Asian country I have been to, I have tried to find either ceramics or rugs, because they are things you can use every day," Song says. "You can populate a space really fast with them and make it your own – and they last if they are made properly."
And if the walls seem unusually bare, there's a reason. "I never like putting things on the wall because I think it gives them too much pride of place, unless they really deserve it," he says. "Everything else stays on leaning status."
The untethered paintings, along with the low furnishings and broad windows, add to an overall widescreen feel within the home. "I don't like stuff that's really vertical. This whole apartment is all about horizontals," says Song. "Maybe it's because I like life in CinemaScope."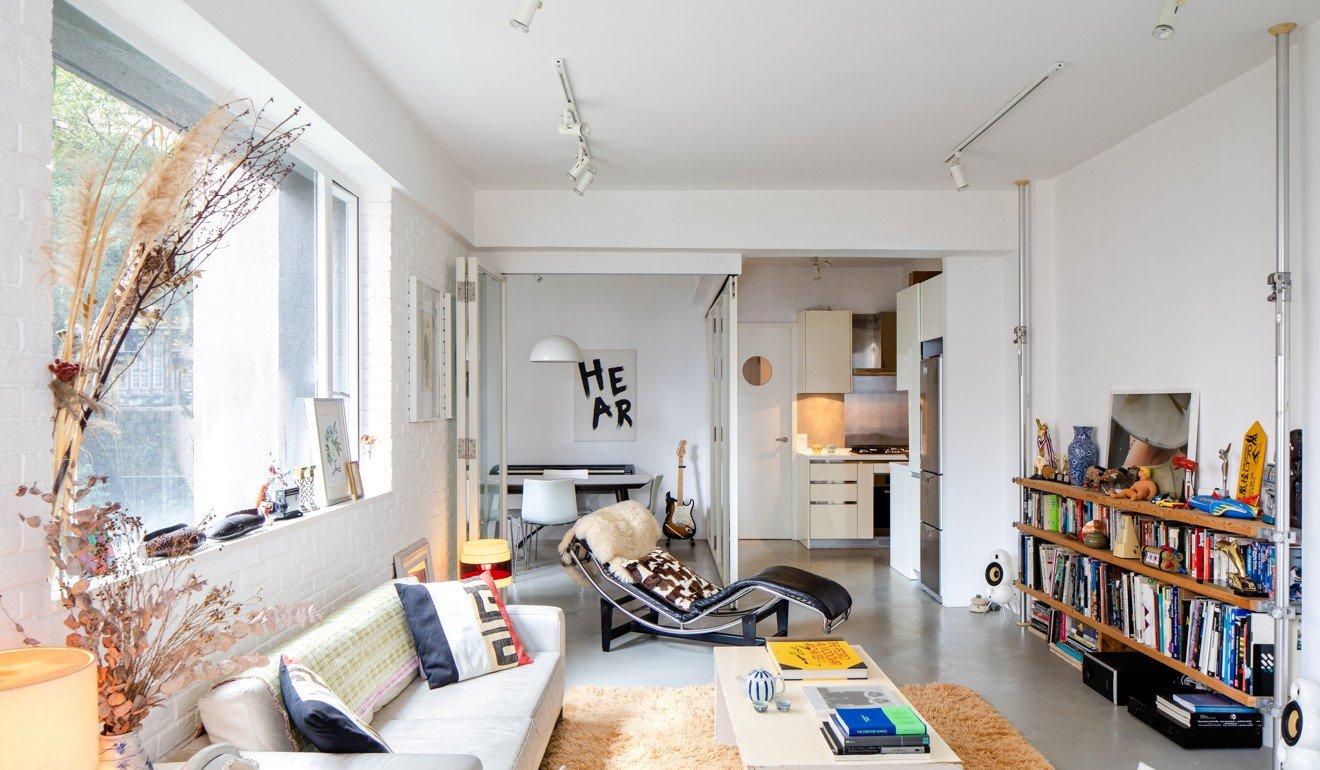 Living areas The white sofa came from Francfranc many years ago. The coffee table was left behind in the flat by its previous owner. Song Ze Hua found the Le Corbusier chaise longue in an old wood shop in Peel Street, Central, covered in sawdust; he paid the shopkeeper HK$500 for it.
Song built the shelving unit on the right (see Tried + tested below). The lamps are both vintage Ikea and the telephone was purchased in Cat Street, used as a prop, then taken home. The wool rug (about HK$14,000) came from Artura Ficus.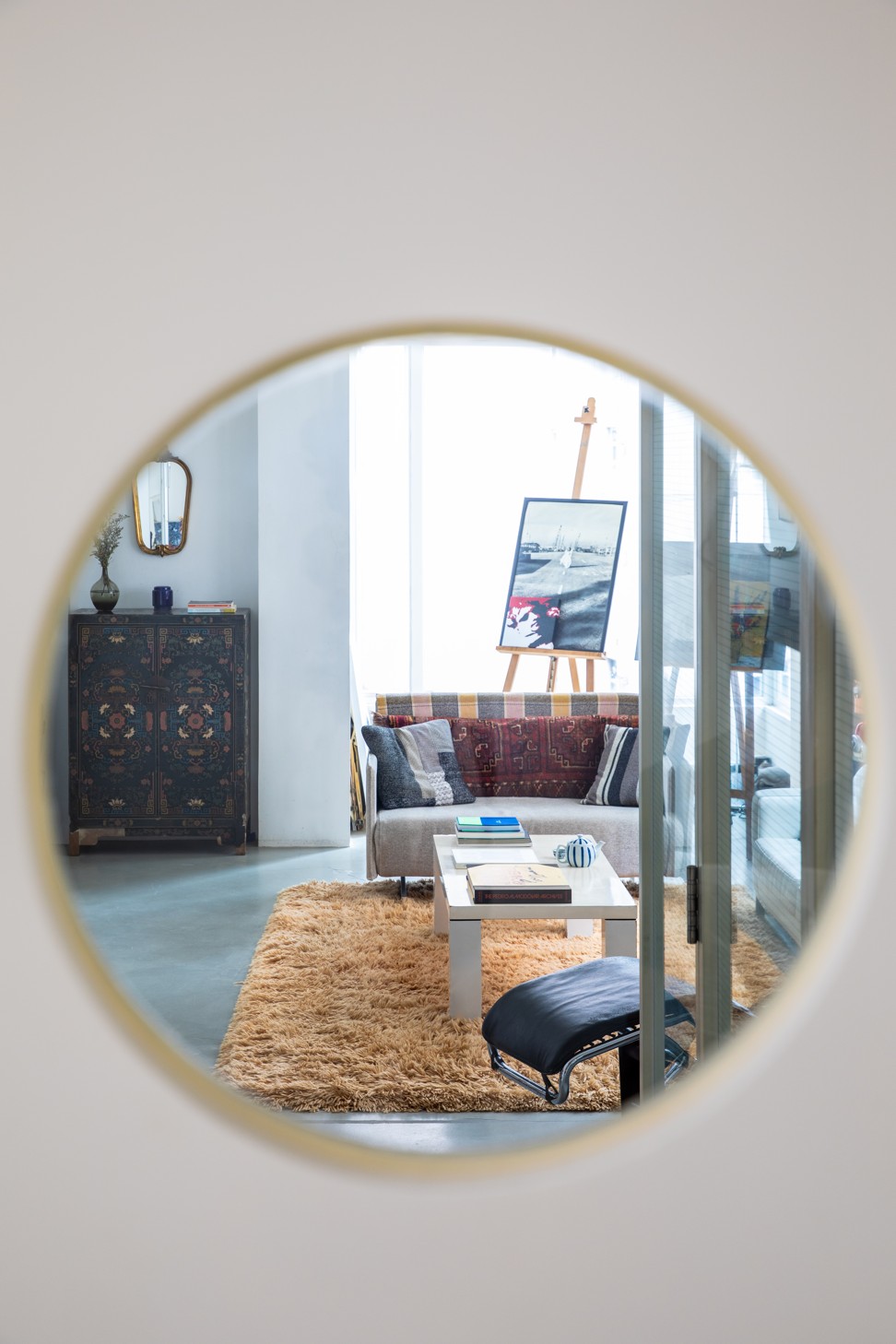 Living area detail The door with porthole window offers a view of the living area from the zone containing the bedrooms and office. The lacquered cabinet, from Shanxi province, was bought in Macau 20 years ago. The early-20th-century mirror above it came from a market in Amsterdam, in the Netherlands.
The easel holds a black-and-white photograph by Hong Kong artist Wanda Choi Wai-chi ([email protected]) and a painting by Song. The sofa bed came from Aluminium (now closed). The Turkmen rug on the sofa dates from the 19th century; it came from Caravan, a carpet shop that used to be on Hollywood Road, Central.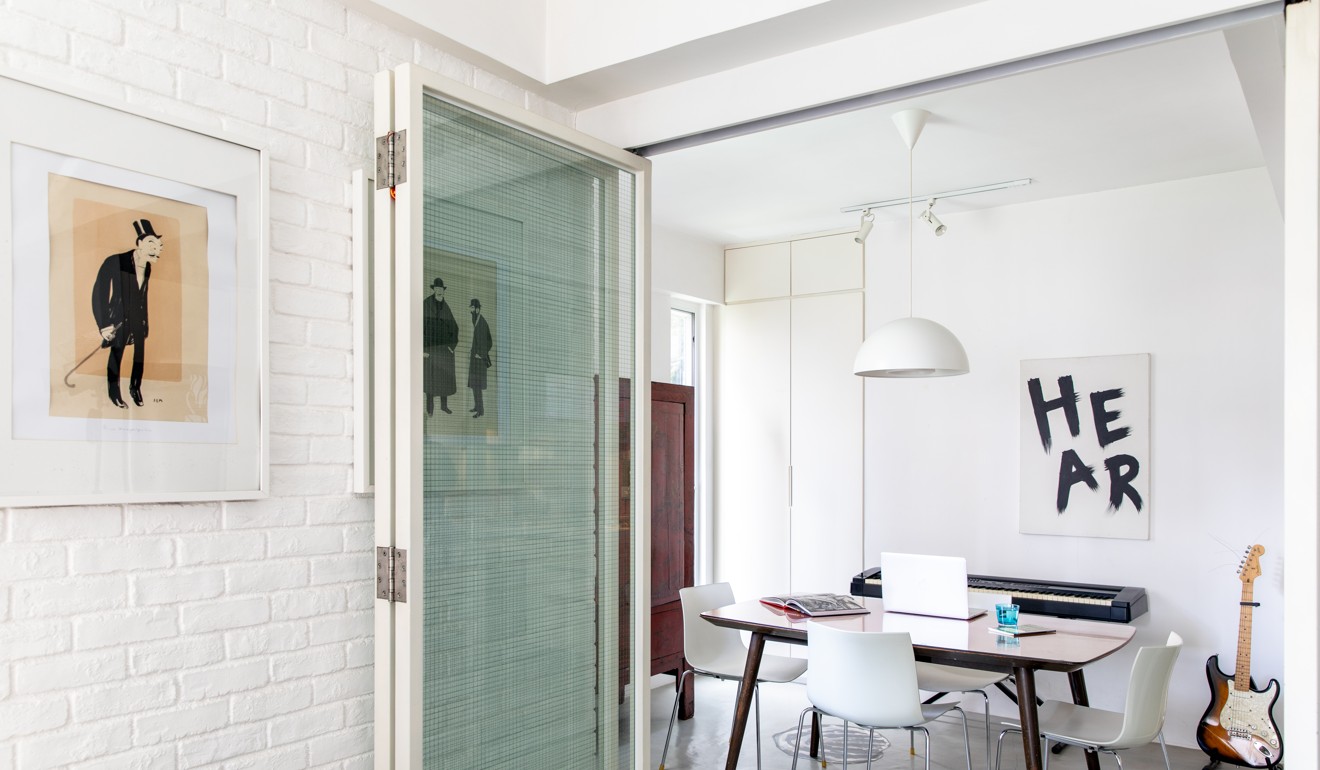 Dining/work room The prints were purchased in Paris and are by the late French caricaturist Georges Goursat, who went by the name Sem. The glass doors were made with the help of Moore Chen Interior, which oversaw the building work in the flat.
The wedding cabinet, from Shanxi, was a gift from Song's parents, who bought it on Hollywood Road in 1999; it's used as an office cupboard. The table was a gift from friends and came from Chen Mi Ji. The chairs were from Arper and were also a gift. The pendant light is the Ikea 365+ Brasa (HK$549). The "HEAR" painting was a prop created for a commercial.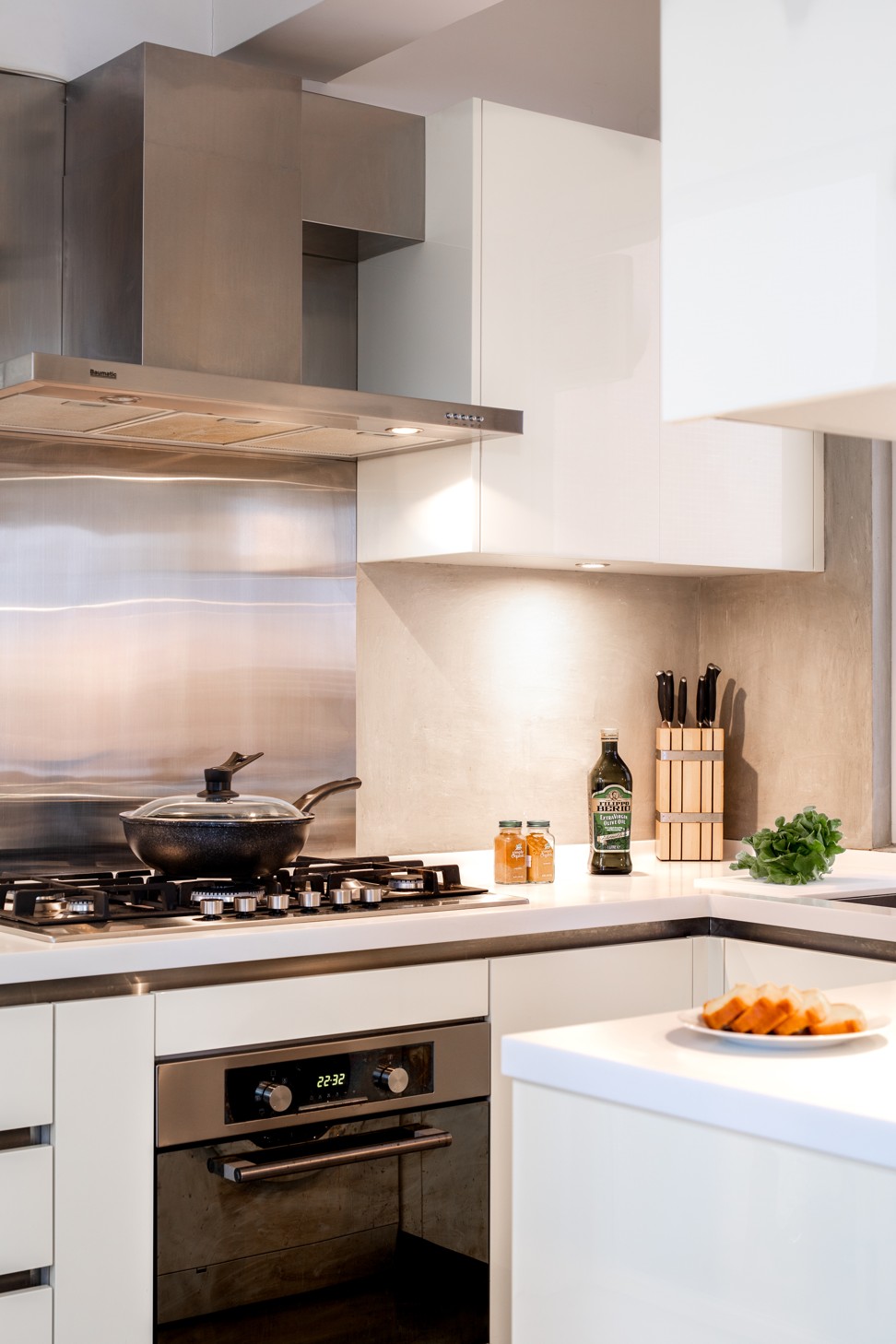 Kitchen The appliances are by Baumatic.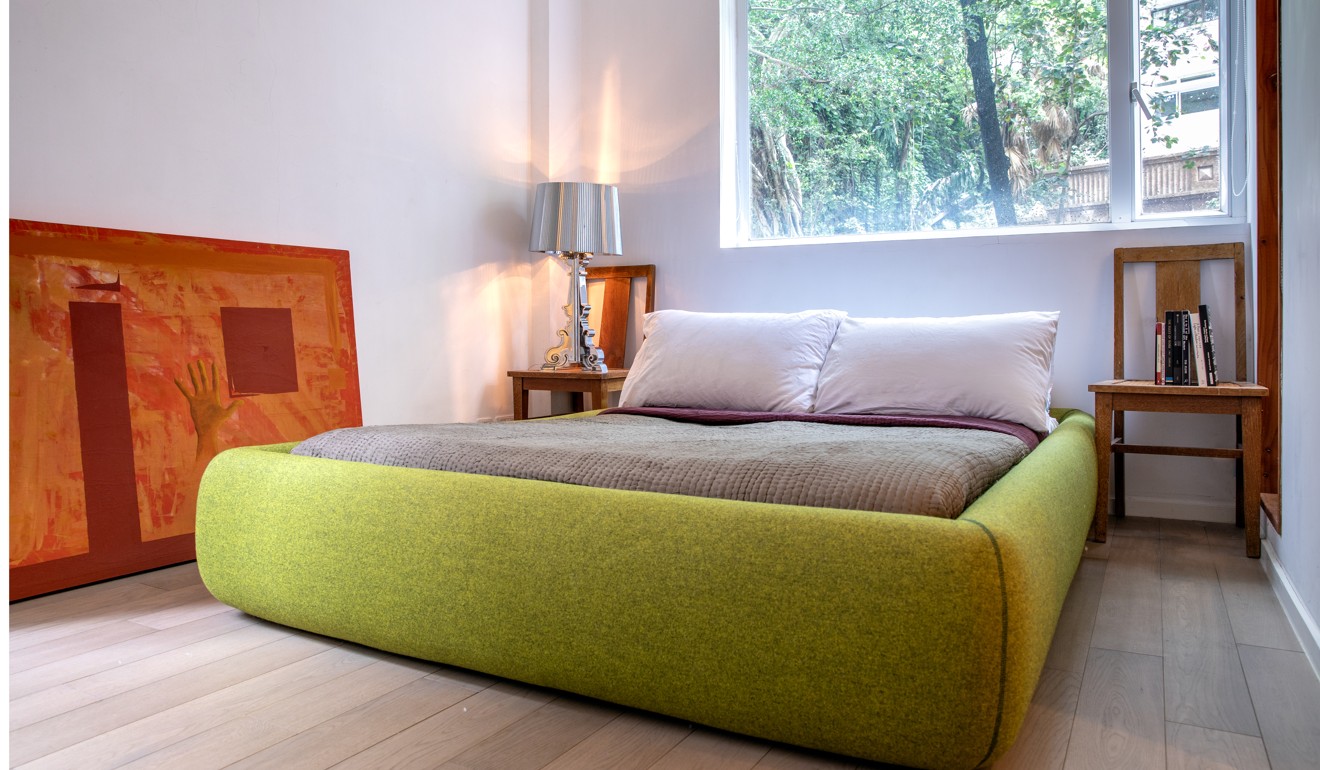 Bedroom The bed is vintage Ikea. The Bourgie lamp by Kartell was bought in the early 1990s. The chairs were saved from a school on Bridges Street, Sheung Wan, that was being refurbished. The painting is by Song.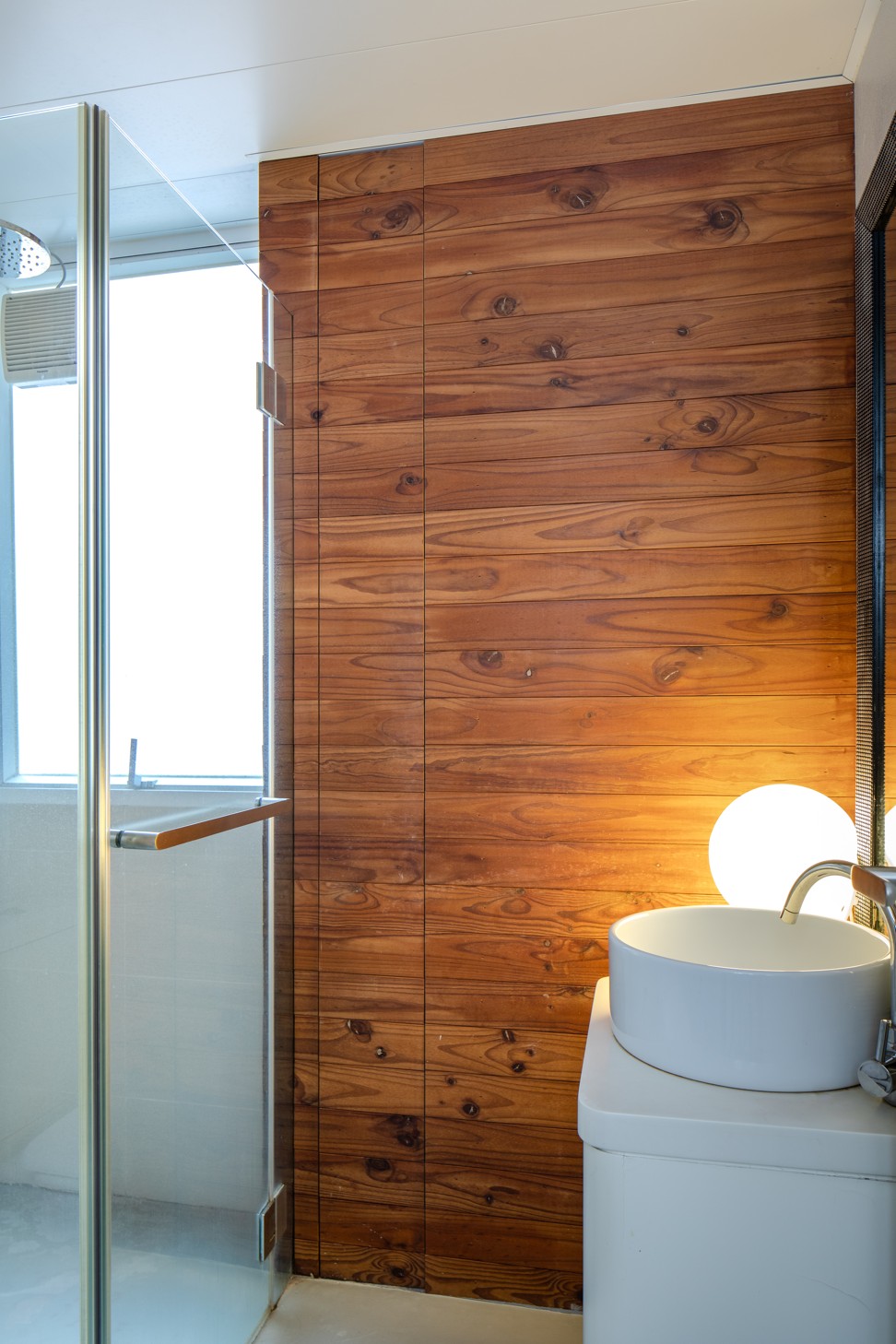 Bathroom The cupboard is faced with hinoki cypress wood, which emits a fragrant pine smell. The lamp is the Fado from Ikea (HK$139.90).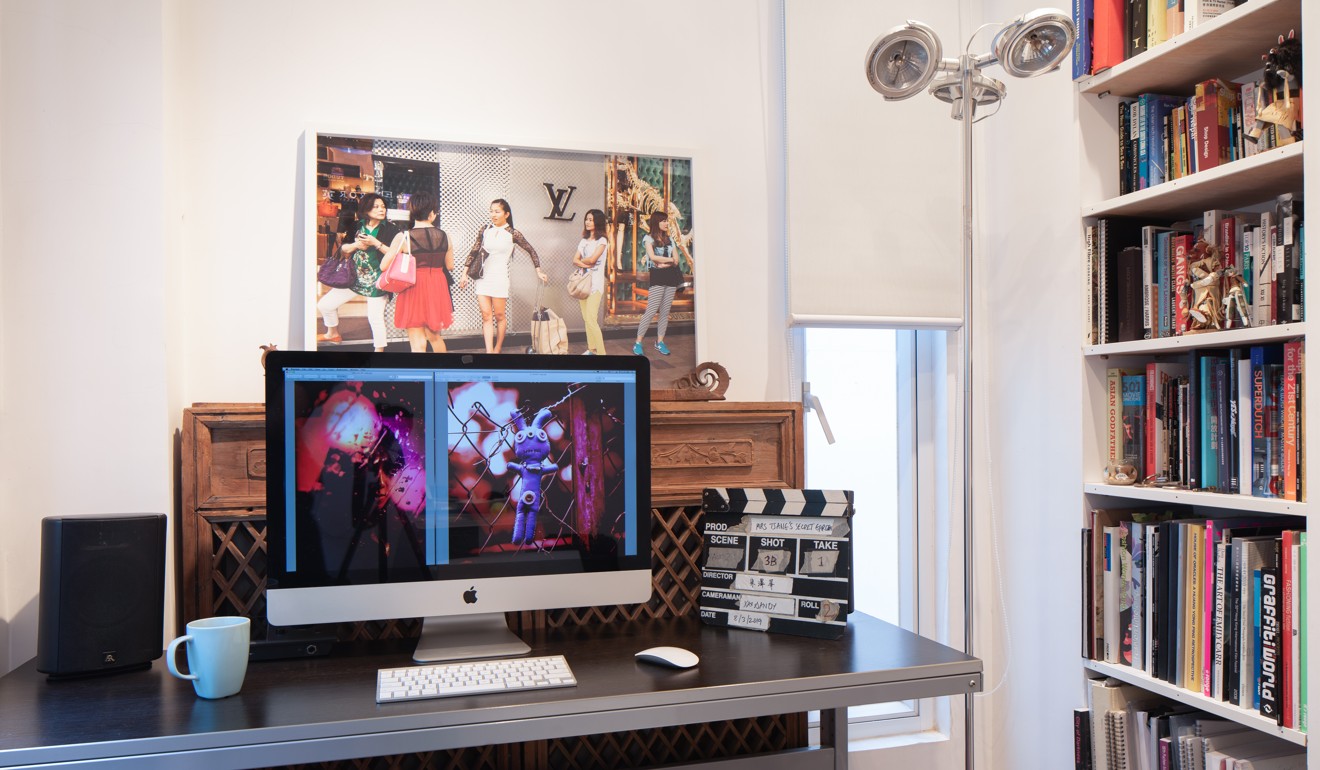 OfficeThe desk was custom made by Song. To save space, he sawed down a deeper desk. The picture is by Martin Parr and came from an art project that Song worked on with the British documentary photographer. The standing lamp is vintage Ikea. The wooden shutters came from a house in Chengdu and were bought at an antiques market there in 1998. The clapperboard was from one of Song's film projects.
---
Tried + tested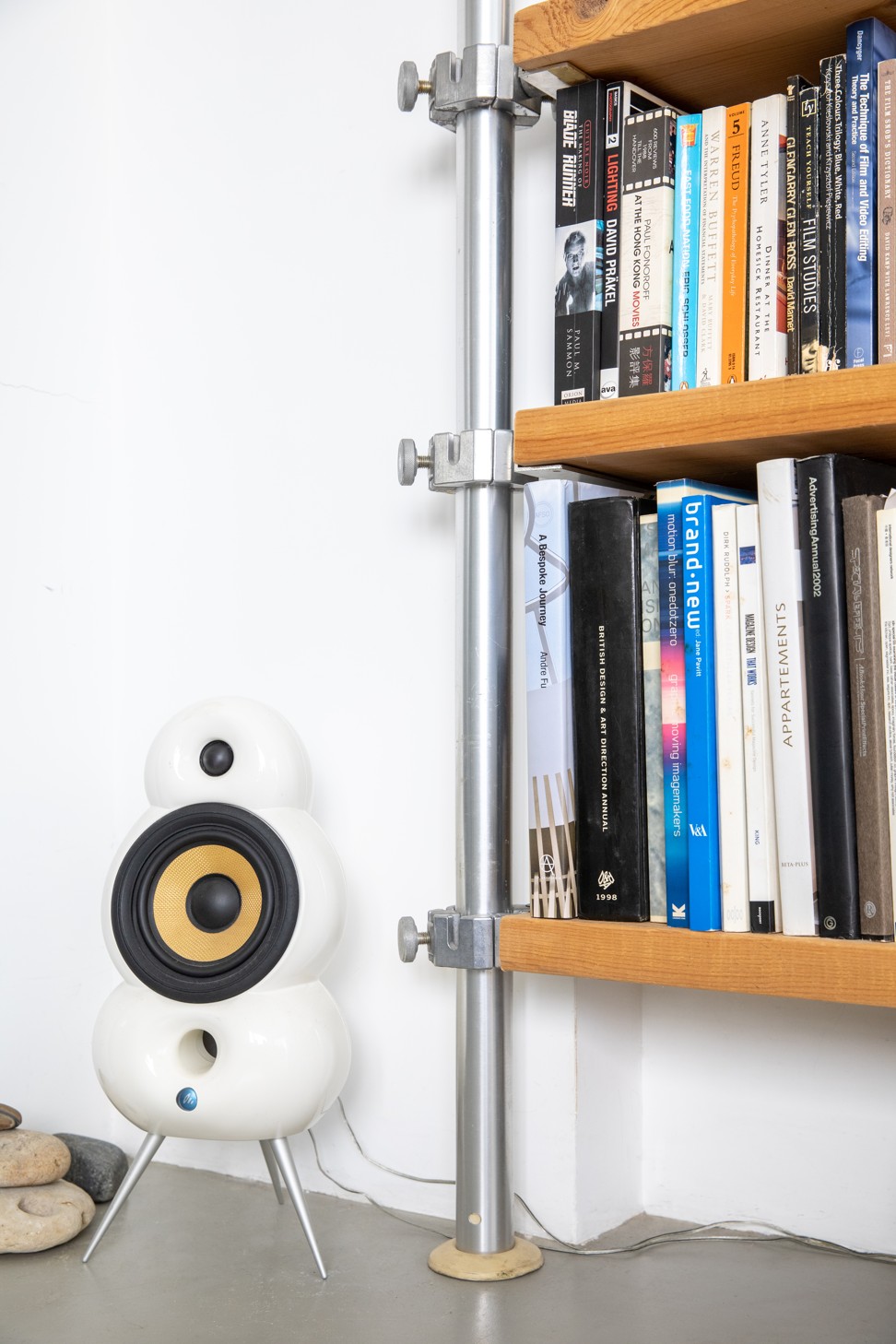 Off the shelf The bookshelf was created with Manfrotto Autopoles, which are often used to hang paper backdrops in photography studios. Song Ze Hu had several L-shaped brackets made and used scaffolding wood for the shelves (each eight-foot plank cost less than HK$100 at a wood shop in Wellington Street, Central), selecting each by hand to ensure they were straight. Song cut the planks, sanded them and put the shelving unit together himself. The shelves can be easily adjusted to the required height.